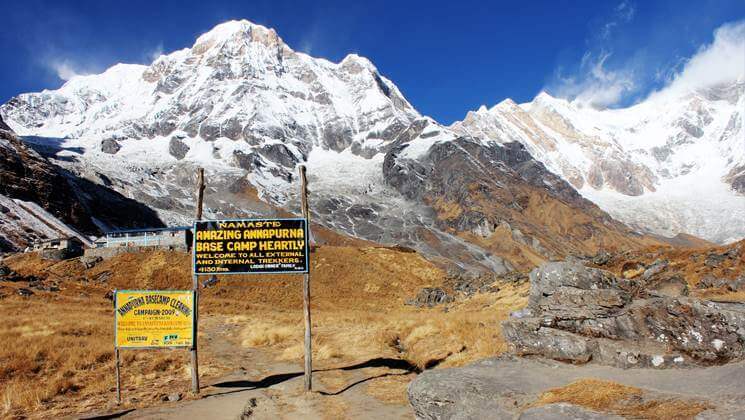 Rapid Base Camp Trip Summary
Base camp Annapurna Hike duration: 07 Days
Base Camp Trek Dificulty: Easy to Moderate
Top Altitude: 4,130m/13,550 feet
Average Walk Hour: 6 Hours daily
Trekking Group-Size: 2-10 People
Trip Mode: Lodge Basis
Best time to hike: February, March, April, May, September, October, November, and December
Foods on trek route: Breakfast, Lunch, and Dinner
Transportation: Car/Plane/bus
Overview
Itinerary
Cost
Group join
FAQ

Annapurna Basecamp Trek
100%
5
star based on –
210
Based on TripAdvisor Reviews
Great organisation by Gokyo treks company with all the information outlined below! Sriram and jayaram, our guides, we fantastic. They were both very knowledgeable, organized and motivating when we needed an extra push. The food and accommodation were organized well and no issues encountered. Would recommend this company for this visiting. – Parisa Zarringhalam, London, England

Amazing trek to ABC with Nepali Friends
100%
5
star based on –
206
Based on TripAdvisor Reviews
Finally…. we did our trekking to ABC.
It has long journey for us, and its really worthy…. to see spectacular view all the way and especially our way from MBC (Machhapuchhere base camp) to ABC (abc). At first we are not sure can we finish our trek to ABC or not.
Together with gokyo trek and expedition, we prepare our journey and route, no doubt they has experience and make our trekking much easier. – Nurhayati Noer, Jakarta, Indonesia

Excellent trek to ABC
100%
5
star based on –
225
Based on TripAdvisor Reviews
Being a novice trekker Gokyo's organised trek with extremely helpful and encouraging guides Shree Ram and porters made it a very memorable experience. Thier prices for abc trek was cpeaper then others. Would highly recommend them to anyone who wishes to trek in Nepal, especially at a very reasonable price without any compromise on the quality! – Sangeetha Thomas, London, England

The best ABC – Sanctuary trek
100%
5
star based on –
227
Based on TripAdvisor Reviews
Organised by the company we had one guide, a guide/porter and an additional 2 porters between 5 of us. Really great bunch to help us along the trek making sure we had everything we needed, calling ahead to book accommodation, organising our food and also internal flights. They can pretty much accommodate for anything of you ask and are all very knowledgable about the trek and Nepal. In addition they were all great to just hang out with and have a laugh.
Truly unforgettable experience. Thank you all very very much. – Christian Laub London, United Kingdom.

The most beautiful abc trek in November
100%
5
star based on –
223
Based on TripAdvisor Reviews
Amazing abc Experience!
I am a Malaysian who did the 10-day abc trek alone with Ram as my guide. This was my first time in Nepal and I have to say that I am highly satisfied with Gokyo Treks. Ammar handled everything from the moment I landed in Kathmandu airport. I had nothing to worry about! The professionalism and hospitality were amazing!
Ram was fantastic as my guide! And my Dhal Bhat buddy! He had very funny jokes and had the local knowledge to point out the things that I would have never noticed myself. He also always went out of the way to make sure I was taken care of all the time.
I had a great time with these guys! At last, I would highly recommend Gokyo Treks to anyone looking to do a trek in Nepal. – Christopher Sien Kuala Lumpur, Malaysia.

ABC Trek with Gokyo Treks
100%
5
star based on –
229
Based on TripAdvisor Reviews
My friend and I hiked the ABC trek through Gokyo Treks and it was a wonderful experience. We were very grateful for our guide Lila, as he took great care of us. Our experience would not have been the same without him, especially as it was during monsoon season and we had to take a few detours because of rain. Gokyo treks is a reputable and honest company, and they did everything they could to make our trip the best possible. I would highly recommend! – Caroline Schauder, Washington DC, District of Columbia

ABC trekking
100%
5
star based on –
250
Based on TripAdvisor Reviews
It was an amazing experience, friendly and great service mind with full of experience tour guide Ram and porter Ram. From the time of welcome, we got great services throughout the trip. Thank you Gokyo Treks for providing us a wonderful memory. – Kanjana Emawat, Bangkok, Thailand
The most unbelieable ABC Trek highlights
Explore Annapurna Himalayas within 360 deg angle standing in abc view point.
Hike through the cultivated fields and watch the splendid views of Annapurna mountain ranges.
Jhinu Natural hot spring and nice waterfalls along the trek routes
Get an experience about various communities like Gurung and other ethnic groups and their local lives.
Adventure ABC Trek notice for base camp visitors:-
The 7 days ABC trekking information stated above is just a guideline. However, the trip is possible to customize at your request to adapt to your specific standards. Local politics, landslides, cancellation of local flights, weather, transport, or a multitude of other factors that are beyond our control can result in a change of schedule during on voyage.
It is, however, very incredible that the itinerary would be extensively altered. If alterations are necessary the leader will decide the best alternative option, taking into consideration the best interests of the whole group. Where a change does occur, we do everything we can to minimize its effect, but we cannot be responsible for the results of changes or delays.
What makes abc short trekking special?
Opportunities for challenging trekking trails or adventure hiking and pleasant strolls are scattered all over this planet. You just need to know where to find them. We at Gokyo Treks and Expedition believe in quality services. Your security and gratification are our concerns.
We are a team of professional, experienced, skilled, and licensed local guides who know the destination much better than others. Not only this but also we give benefits to the local communities and helps to conserve natural resources which reduced costs and consumption.
From US$ 515
5% Off
US$ 490
| | |
| --- | --- |
| No. of people | Price Per Person |
| 1 | USD 685 |
| 2 | USD 490 |
| 3 | USD 490 |
| 4 - 6 | USD 475 |
| 7 - 9 | USD 470 |
| 10 + | USD 450 |
Book Now
Customize Trip
Cost & Departures
Your Trip Your Style!
ITINERARY, COST, DEPARTURES, will adjusted according to your GROUP SIZE NEED TIME
Book with Confidence
Lowest Price Guaranteed.
100% Customizable Trips
No extra booking fees
Excellent Customer Service
Hassle Free Booking.
90 % Repeated customers
Highly Recommended agency
Private/group tour options
Local Guides Company.