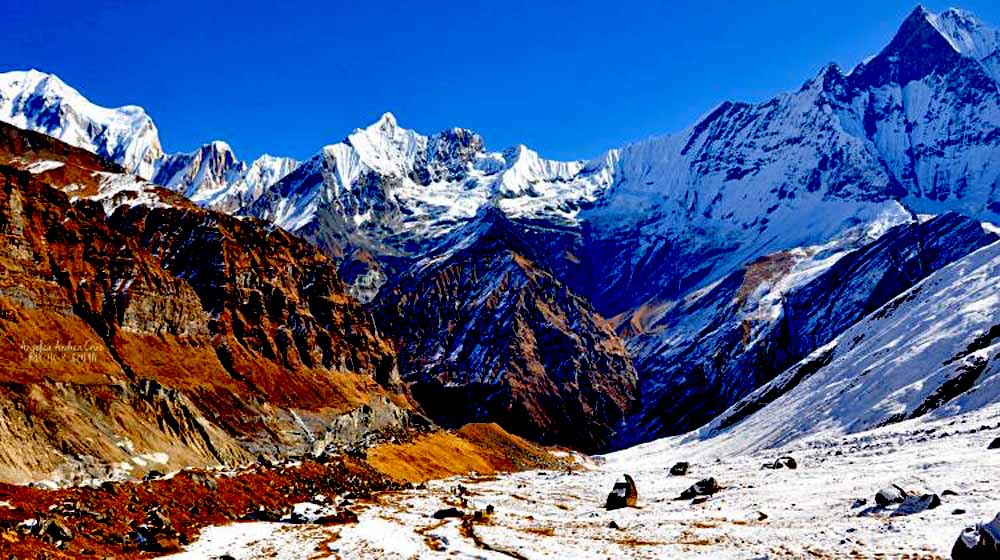 Annapurna hiking in Nepal Himalayas !
Annapurna hiking is located in an area of Annapurna Himalayas in the western part of Nepal. Hike to Annapurna region holds most of the very famous trek routes of Nepal including the Annapurna Range (Annapurna Himal), Dhaulagiri Range and the Kaligandaki River valley. Mount Annapurna fist (8,091m), Annapurna South (7,219m), Nilgiri (7,061 m), Fish Tail (6,993m), and Dhaulagiri I (8,167 m) are top peaks that tourists can view on hiking Annapurna.
Furthermore, there are also some less busy trek routes in Annapurna possible to do within one to two weeks' time. Around Annapurna or Annapurna circuit is the most crowded trek and represents the longest trek in Annapurna. The distance between Kathmandu and Annapurna is 169 km. Likewise, the distance between Kathmandu and Annapurna massif is 178 km straight. Nepal Hike to Annapurna includes several hiking routes. The most scenic and short Annapurna trek is possible to go for 2 to 5 days and customize according to guest wishes.
Moreover, Poonhill and Ghorepani Ghandruk represent the short and best hiking trails in Annapurna peaks. They are also marked as the easiest Annapurna mountain hikes. Likewise, Mustang is geographically a part of the Annapurna province. But the trek to Mustang is subject to special restrictions, describes on the separate page on the restricted Mustang area trek in the Nepal section.
Besides that, about two-thirds of the trekkers in Nepal visit yearly hikes in the Annapurna territory preparing annapurna trekking gears . Because good hiking gears are very important for your trip successful. Annapurna hikes are cheap in terms of easy access, lodges, and comfortable hotels in the hills are plentiful, and very good scenery of both lowland villages and high mountains. Use Gokyo Treks Expedition to design cheap hikes in Nepal, and receive hand-made trips built by local trek operator agency.
Top Annapurna hiking in Nepal seasonal fact during the whole year
December / January / February
Winter time is freezing cold but generally stays with a clear sky. But very attractive time to explore those treks. Fewer trekkers into the routes, nice views of the Himalayas, winter season, cold at night, fresh and attractive.
Winter storms sometimes in high passes like in Thorong la through January and February, but changing weather patterns.
March / April / May
Excellent weather. Best time to explore, not too cold high up, not too warm down lower place. Wonderful weather climate to hike, blooming colorful Rhododendron (Rhododendrons is the national flower of Nepal) and there are more than 30 species of rhododendron in Nepal) flowers on trek routes, the skies are blue and clear, and all views of Himalayan peaks can be seen clearly.
June / July / August
Monsoon season in Nepal is not idle for Annapurna hikes. It has a lot of grassy landscapes and there might be leeches. So, it is not a good idea to trek to Moon soon time.
September / October / November
Monsoon is over around early September, but some drops of rain are still possible, a lot of new flowers along the trek, beautiful waterfalls, and nice landscapes make your trip wonderful.
Top 5 reasons to choose Annpurna hikes in Nepal
There are many reasons to choose for a hike in Annapurna but the top 5 reasons are given here for your reference.
1) Excellent Mountain Views
On your journey to discover the Annapurna trek route, you can enjoy the top mountain view of Annapurna first (8,091m/26,540 ft), Dhaulagiri (8,167m/26,790 ft), Manaslu (8,156m/26,753 ft), Annapurna south (7,190m/23,585 ft), Annapurna II, III, IV, Fish Tail (6,997m/22,952 ft), etc in a row. Reaching crazy Annapurna means you reach the top famous trek route in Nepal.
2) Excellent lodges and nice accommodation facility
Annapurna trek stays very good lodges. They are clean and modern. Locals rebuilt those guest houses installing modern rooms and toilets with hot-cold showers. Teahouses are comfortable with the facilities of double beds and mobile charging is possible.
3) Best hike to Poonhill (3,220m) & Sarangkot Hill (1,591m) & More…
Hike to crazy Poonhill station is easier rather than climbing Khopra ridges. The hike to Poonhill takes a minimum of 3 days but the hike to Sarangkot is just a day tour. Both of them are the best places for a photography tour. Both of these hill station hiking offers an outstanding view of the Annapurna Mountain range including Annapurna first (8,091m/26,540 ft). Likewise, you can touch the glacier, glacial lakes, and beautiful rivers walking in a 4 or 5 days trek.
4) Colorful Rhododendron Trees
Annapurna hiking route in spring is better comparing the autumn season. Trek into the spring, Rhododendron forest turns the colorful lush forest. So, April to late May is the best time to visit. The red rhododendron is the national flower of Nepal. Enjoy the red rhododendron original view in contrast to the snow-covered mountains in the background.
5) Taste Local product
Enjoy the taste of mouth-watering super delicious local food prepared by the Gurung community while you receive warm hospitality at local lodges.