Wildlife tours Nepal is very popular tourist attraction in Himalayas. Nepal is a fascinating country in the world for adventure wildlife tours Nepal and some of the most popular national parks are always best choice among travelers. The certain area of the southern plain land of Terai has well conserved jungles which is natural habitats of various wildlife. Together with typical hospitality and encountering rare endanger animals in nature are main attractions of the wildlife safari tour. Wildlife tours Nepal is an ideal for every holiday travelers those who are seeking for diverse experiences and real fun filled holiday.
Gokyo Treks and expedition company offers comprehensive jungle safari package to enjoy your exotic holiday in Nepal. With us you will have great chance to explore and see some of the world's best Wild life Safari tour destinations which include Chitwan National Park, Koshi Tapu Wild Life Reserve and Bardiya National park. Chitwan National Park is famous to observe Royal Bengal tigers, Rhinoceros and wild elephants. Not only this but also various birds and reptiles are also widely seen in this park. Whereas Koshi Tapu offers best bird sanctuary in Nepal and Bardiya National Park is the best place to see Tiger and their habitat.
Fact about wildlife safari tours during the whole year
December / January / February
Winter time in Nepal but generally clear skies. But still beautiful time to discover wild life safari.
March / April / May
Excellent weather, best time to explore
June / July / August
Monsoon season in Nepal. So, it is not a good idea to do any safari tours while on Monsoon time because chances to see wild life is very low.
September / October / November
Monsoon is over around early of September, but some drops of rains still possible in September but still very nice time to discover wild life activities.
Price:$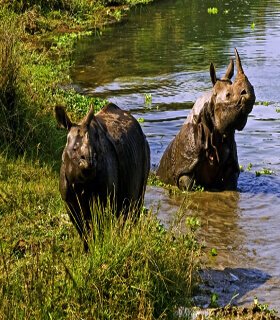 Price:$