Kakani Gurje Bhanjyang Day Tour is one of the most demanding day hiking routes located near Kathmandu. Situated on the 26 kilometers North-west and possible to reach in 90 minutes of bus ride to get Kaule. Kaule is a gateway point for Kakani hikes.
Kakani hill station is equally popular to get heart touching view of glittering mountains. Namely, Annapurna (8,091m), Manaslu (8,165m), Ganesh Himal (7,446m), Lantang lirung (7,245m), and many other snow-covered mountains are possible to see from Kakani hiking route.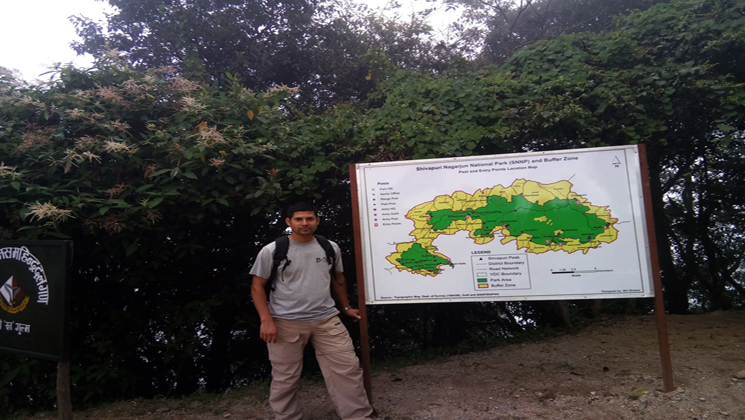 You can also have an outstanding view of Nuwakot Likhu valley and as well as Kathmandu from the height of 6,658 ft. Kakani day tour also provides you with a stunning view of the growing Rhododendrons forest on the mountain slopes begins to bloom in February and stays in bloom for several months, giving the village even more charm.
Thai Airways Memorial Park and the century-old villa used by the British Embassy are the remaining spots to visit here. Thai airways memorial park is built in the memory of the 113 passengers who died in an airplane crash in Ghopte Vir in 1992.
Kakani and Gurje hill station are also popular for the best view, picnic spots, day hiking, cycling, Bird watching, and couples. Walk a little further to Suryachaur to get a beautiful view of Likhu valley landscapes and pristine mountains. Hike at Suryachaur is a paragliding hub near Kathmandu, and the distance is 18-kilo meters roughly. Kakani Shivapuri is a full-day hike that passes through oak, rhododendron, and pine forest.
The view that you can see from here is stirring because it unravels the beauties of nature like any other viewpoint and stands head to head with them and has become the most popular viewpoint. Because it is perfect for swallowing the extensive blessing of nature. Being a combination of leisure and culture, this tour guarantees its visitors for full of fun.
Boudeshwor Cave hiking to enjoy with waterfall
Visiting Jhor Mahankal or Boudeshwor Cave is one of the most religious sites in Kathmandu. The Boudeshwor is one of the names of Lord Shiva offers majestic waterfalls and an ancient cave.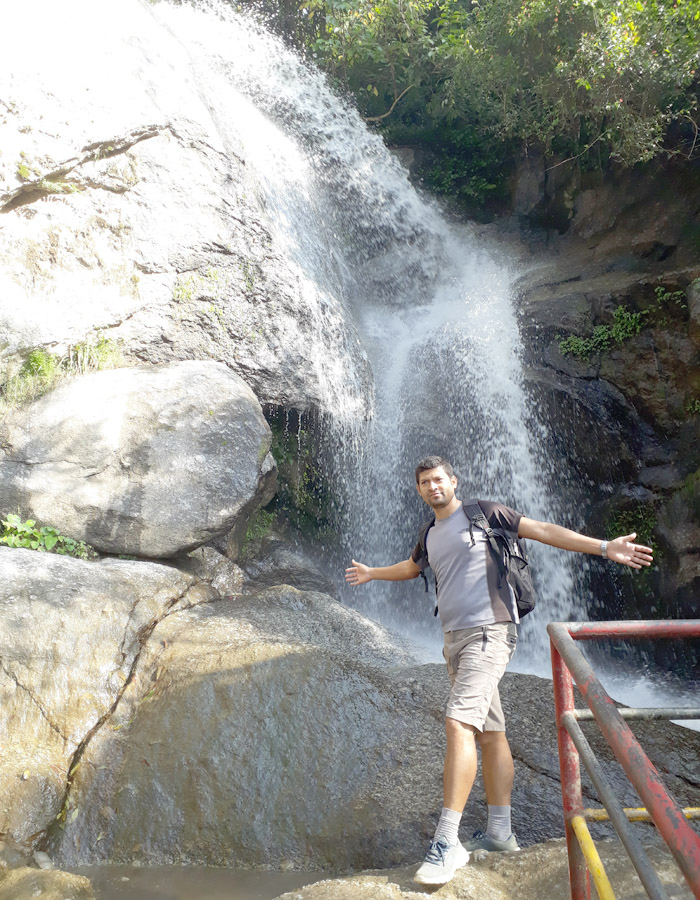 In addition, especially in monsoon time, the spot is busy with local tourists. The waterfall is the most beautiful located in Kathmandu town. Jhor Mahankal temple is also the border village between Kathmandu & Nuwakot district. However, Mahankal temple, Jhor is located next to the beautiful waterfall on the lap of Shivapuri National Park.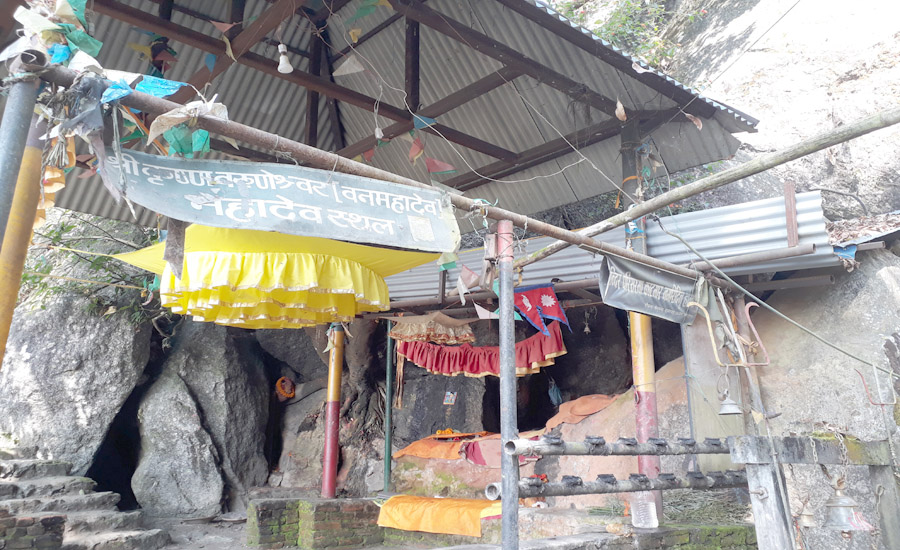 Climb to Surya chaur is another fascination to watch the nearest Langtang Himalayan range including the Ganesh Himal family. A few voyagers said that the view from here is a far better view contrasting with the Nagarkot slope. Furthermore, obviously, as you are voyaging through the public park, you can see a lot of wild creatures and winged animal species along the way.
Kakani Gurje Bhanjyang Day Tour detail itinerary
---
Day 01
Kakani to Gurje Bhanjyang Day Tour. Or Kakani to Gurje day hike.
After the pre-trip meeting, your day tour will start at around 8:00 am. You will have a private vehicle and a professional tour guide along with you to catch a coach to Kaule. Your day tour begins reaching Kaule hill and you can hike at the Kakani hill station to Suryachaur. Kakani to Surya Chaur Hike is one of the best short hikes for all-age travelers.
Besides hiking, Kakani is well known for cycling and mountain biking. It is also one of the hot spots for picnics for the valley's large crowd. Famous for trout and strawberry farming, Kakani greets the visitors to International Mountaineers Memorial Park on its southern side too.
Gurje hill is also popular to watch majestic mountains. The amazing Kakani to Gurje nature walk offers a similar view as you see from the Shivpuri hike. Descend to Boudeshwor cave, waterfall, Jhor Mahankal, and return to Kathmandu. While on your day hiking, you walk through the beautiful rhododendron forests & rice fields. The journey takes about 5 hours of walking the rest of the part, you can drive. If you are interested to walk even longer then you can hike to Tokha Chandeswori temple with a lower route. Kakani to Gurje day hiking is also famous for watching birds and mountains. Return to hotel, trip finish.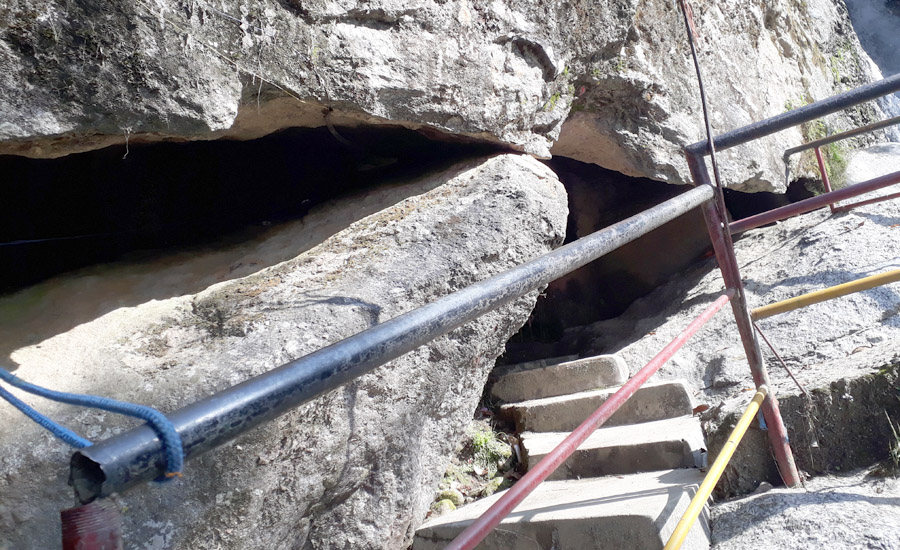 Boudeshwor cave located near Boudeshwor waterfall @Gokyo Treks Agency.
Kakani to Gurje at Shivapuri Day hike Cost Includes :-
Private taxi to Balaju Bus station and catch a regular bus to Kaule hill.
A professional licence holder Tour guide while on Kakaki to Gurje, shivapuri tour.
Shivapuri National Park entrance fees for Tourist and guide.
Nepal Government Tax, VAT and as well as Company service charge.
Kakani to Sury Chaur and Gurje hill hiking Cost Excludes:-
All food and accommodation during your stay in Kathmandu city.
Any kind of laundry service, phone calls, Personal nature expenses like any donation and monuments entrance fees
Tourist travel insurance.
Tips for the Guide (TIPS is highly expected).
Any other things which are not mentioned above.
Mystical Kakani & Gurje hiking highlights
Discover the tallest mountains such as Ganesh Himal, Manaslu and Langtang Range of Earth.
Total length of this hiking is around 10 kilo meters.
Majestic views of Kathmandu city, Likhu valley and some of its heritage sites.
Pure Nature walk through the mixed forest
Optional visit to Jhor Mahankal, Baundeshwor cave and beautiful waterfall.
Opional Visist to Suryachaur big ground to get amazing view
What are the Kakani to Gurje Day hiking tour cost?
With private transport pickup and drop off cost depends on the group size you are travelling to.
With local Bus transport pickup and drop off cost USD 75 each foreigner.
25 % off for a child less than 15 years old.
Kakani Gurje Bhanjyang Day Tour Notes:
The above hiking itinerary is subject to change due to a condition and the months you travel to. Likewise, taking a comfortable private vehicle transfer to Kaule and returning after Boudeshwor Temple to your hotel in Thamel cost rapidly change on the package. Hike from Kakani to Suryachaur Gurje hill is a Guideline showing a tentative hiking plan that we offer. A physical, technical, and natural condition may change the above itinerary hours.
"What makes Kakani to Gurje Bhanjyang day hiking trip special ?"
Opportunities for challenging trekking or hiking and pleasant strolls are scattered all over this planet; you just need to know where to find them. We at Gokyo Treks and Expedition believe in quality services. Your safety and satisfaction is our concern. We are a team of professional, experienced, and licensed local guides who know the destination much better than others.

Kakani to Shivapuri day hike
100%
5
star based on –
120
Based on TripAdvisor Reviews
We had a wonderful trek with our guide Shreeram. He went above and beyond to provide a beautiful one day hike from Kakani to Bhanjyang, a short drive from Kathmandu. The walk itself was stunning – with regular, clear views of the Himalayas – and Shreeram was so helpful and friendly. It was also very easy to arrange the trek. Ammar, our point of contact, was clear and responsive. I would highly recommend Gokyo. Martha Meckenzie, USA.

Amazing Kakani to Gurje Bhanjyang Day Tour with college students
100%
5
star based on –
205
Based on TripAdvisor Reviews
We are a team of 11 people and have booked Kakani to Gurje Bhanjyang Day Tour for my college friends with Gokyo Treks and Expedition. From the initial inquiry to the end of the trip the company was very impressive.
Ammar – the founder of the company was extremely efficient. He answers all of our emails and messages by return. We were extremely fortunate to have Ammar Guni as our local Tour Guide. They were both extremely kind and always wanted to ensure we were safe and happy. Kakani to Gurje hill day hiking was just amazing. Their customer service is excellent, so I would definitely recommend and use this company again. – Sarah Tschedel, Jena city, Germany.
Book a Guide for Kakani to Gurje Day hike in the Shivapuri National Park.