Exploring Nagarjun Hill Day Tour is just amazing. Nagarjun hill day hiking tour is one of the most demanding day hiking routes located near Kathmandu. Nagarjuna hiking tour is a single-day tour and one of the finest hiking destinations near Thamel.
The top elevation of Nagarjuna hill station is 2,128m/6,980 feet, located about 7 kilometers west of the main city ofKathmandu city. The hill station is famous for its dazzling location and the influential Buddhist stupa at its crown.
The glowing view of the Manaslu, Ganesh, and Langtang range is another major attraction of the trip. The hill is accessible by motor road as well which takes about 45 minutes. The total journey is 5 kilometers and takes about 3 hours of day hiking.
Nagarjun hill station is equally popular to get heart touching view of glittering mountains namely Mount Manaslu (8,165m), Ganesh Himal (7,446m), Lantang lirung (7,245m), and many other snow-covered mountains. Moreover, you will have also a great view of Kathmandu. Besides that, the day tour also provides you with a stunning view of the growing Rhododendrons forest on the mountain slopes begins to bloom in February and stays in bloom for several months, giving the village even more charm.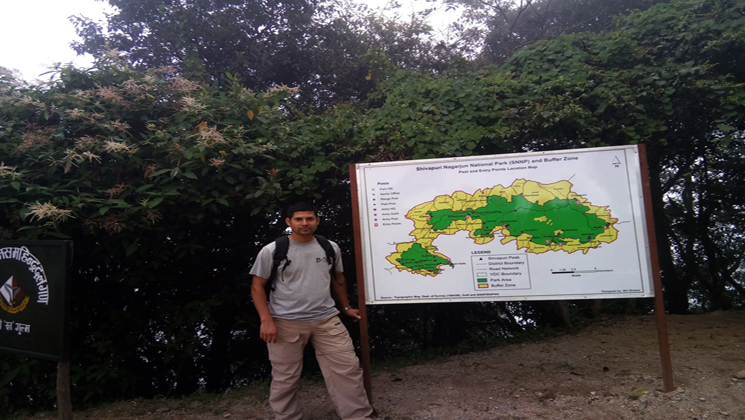 Nagarjun forest is a part of Shivapuri national park. Moreover, the Nagarjun hill station day hike is also popular for the cycling trip and for Bird watching. Thus, it is an enjoyable journey passing through oak, rhododendron, and pine forest.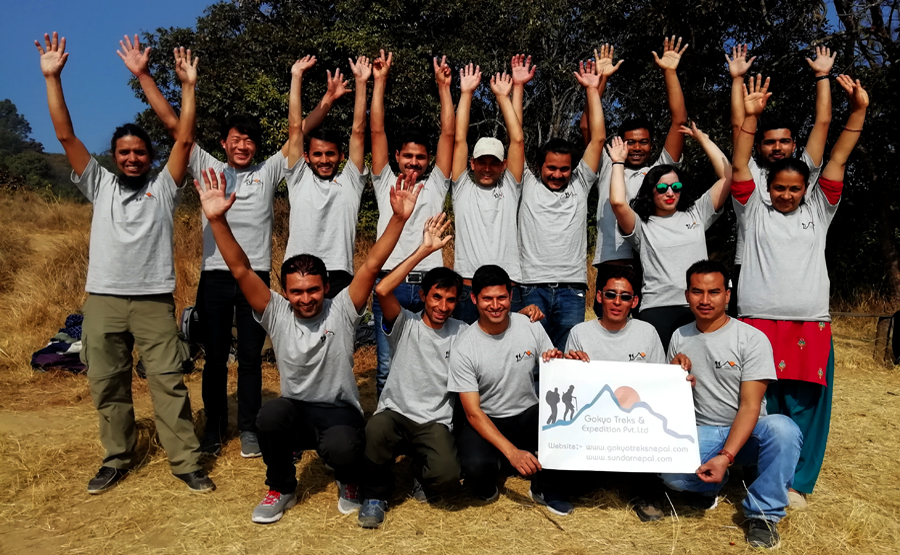 The view that you can see from here is stirring because it unravels the beauties of nature like any other viewpoint and stands head to head with them and has become the most popular viewpoint. Because it is perfect for swallowing the extensive blessing of nature. Being a combination of leisure and culture, this tour guarantees its visitors for full of fun.
Nagarjun hill day tour detail itinerary
Day 1
Nagarjun hill day tour | Nagarjun hill day hiking !
After the pre-trip meeting, your day tour will start at around 8:00 am. You will have a private vehicle and a professional tour guide along with you. Your day tour begins reaching Fulbari gate in Balaju, national Park entrance check post. Then you can hike up to the Nagarjuna hill station – Jamachowk – return. While on your day hiking, you Walk through the beautiful forests. The journey takes about 2 or 3 hours of walking. For the rest of the part, you can drive.
Nagarjun hill day tour Cost Include
Luxury private vehicle to transfer while you are on hiking sightseeing
A professional licence holder government Tour guide while on tour.
Nepal Government Tax, VAT and as well as Company service charge.
A special gift from our company.
Nagarjun hill day tour cost exclude
Nepal entry visa fee cost US$ 40.
All meals and accommodation during the staying your staying in Kathmandu city.
All types of drinks, your travel insurance and fod while on hike.
Tips for the Guide and Driver
Any other things which are not mentioned above
Nagarjun hill day tour highlights
Discover the tallest mountains such as Ganesh Himal, Manaslu and Langtang Range of Earth.
The total length of this hiking is around 12 kilometers.
Majestic views of Kathmandu city, Eye-catching view of Swayambhunath stupa, and some of its heritage sites.
Pure Nature walk through the mixed forest
Nagarjun hill day tour notes:
The above itineraries are subject to change due to a condition beyond our control. This is just a Guideline showing a tentative tour plan and stops. A physical, technical and natural condition may change the above itineraries.
"What makes Nagarjuna hill day tour or day hiking special ?"
Opportunities for challenging trekking or hiking and pleasant strolls are scattered all over this planet. You just need to know where to find them. We at Gokyo Treks and Expedition believe in quality services. Your safety and satisfaction is our concern. We are a team of professional, experienced, well-trained, and licensed local guides who know the destination much better than others.

Nagarjun hill day tour with college students
100%
5
star based on –
209
Based on TripAdvisor Reviews
We are a team of 8 people and have booked Nagarjun hill day tour for my college friends with Gokyo Treks and Expedition. From the initial inquiry to the end of the trip the company was very impressive.
Ammar – the founder of the company was extremely efficient. He answers all of our emails and messages by return. We were extremely fortunate to have Ammar Guni as our local Tour Guide. They were both extremely kind and always wanted to ensure we were safe and happy. Nagarjuna hill day hiking was just awesome. Their customer service is excellent, so I would definitely recommend and use this company again. – Michael Teschdel, Rudolestadt, Thueringhen, Germany.
Book a Day hiking tour in a Najarjun Forest.