How to get cheap Langtang Trek Cost?
How much does Langtang Trek Cost – Transportation, Permits, Meals and other costs? or Langtang combines Gosaikunda Helambu hiking?. It is very difficult to answer you straightly but it's very important to remember the following as your price will depend on it.
How do you go?. And how many days do you want to trek for?. What is Langtang trek cost / itinerary / Guide / Weather / Price / Difficulty?. Langtang trek takes 7-12 days on average. What time of year are you planning to go?. Either October – November or March – April is a busy season that is more expensive.
Who do you buy the trek from?. Travel agent? online group travel? an online agent? in-country guide? local guide?. What type of trek do you want to do?. All-inclusive or with a guide only?.
Just have in mind that the local trekking agency are expert and arrange your trip perfectly so choose the local trek operator rather than a bigger international trek agency. And selecting your trip with a Local trek operator agency, your price is cheaper and you are helping the local economy.
How much does Langtang Trek Cost? – Transportation, Permits, Meals, and Other Costs?
Cost to go on a Langtang trek online with a private company is probably the best way to make your trip cheaper. Langtang trek cost the price ranges USD$600 all the way to USD$900 for an average of 7 to 12 days trek package.
Prices generally include all permits, all bus transfers. Also includes lodge accommodation, meals, a guide, and porters. Prices won't include guest travel insurance, visa fees, trekking equipment. The benefits of booking online are everything pre-arrange for your arrival. You can literally arrive in Kathmandu on day one and head out trekking on day two.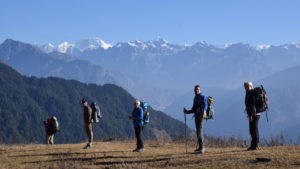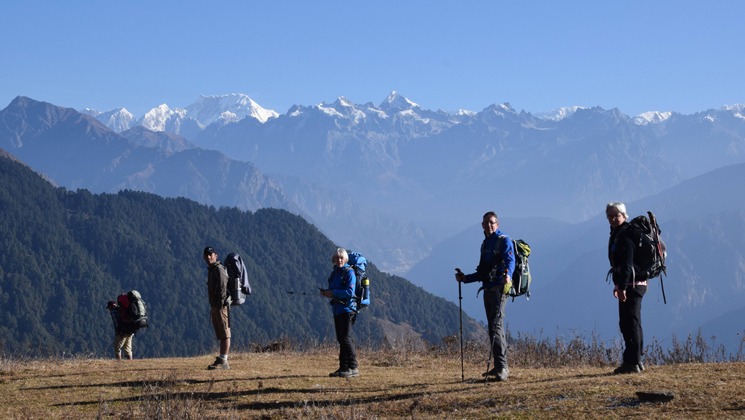 Some things like trek permits or Syabrubensi private jeep transfer are not mentioned and need to clarify in writing. Be aware that it is very important to be aware of "too good to be true prices" online. US$ 800 or even less for the Langtang Gosainkunda trek with a "well-known" agency might well mean you're joining another much larger group that can cause all sorts of problems later on. For example, people not showing up, no choice in accommodation, being with a big group of another nationality you may not like, etc.
In 2018 it's also important to be aware of Nepal's fake helicopter rescue scam which is a link with very cheap treks offer online and in Nepal. Moral of the story? is read this blog page carefully and you'll quickly calculate the cost to go on a Langtang trek on your own needs.
For your clear understanding, we have the breakdown of all costs & budget to go on a Langtang hiking. The private jeep to Syabrubensi cost is US$ 180 per jeep (max.7 person) roughly for one way. Likewise, the guide is US$ 40 for each way.
However, the cost of Langtang glacier trek accommodation into the lodges is generally starting US$ 3 to US$ 8 per night. But they depend upon the quality of lodges that you are choosing the standards. If you just like to choose a clean lodge then it cost US$ 5 per person per night.
Furthermore, hot showers are not included in accommodation prices. So, prepare to pay US$2 for a hot shower. Maybe during the off-peak season, the price of a single room goes a little down and it's easier to bargain a little bit for better prices.
There's also an hourly charging fee for batteries or devices that will set you back about US$2. There are also WIFI internet charges range from US$ 2 rupees to US$ 5. And even then the service is very slow. It's best to send a message home to let them know you are okay.
Moreover, the cost of meals & water on the Langtang panorama trek is Meal prices again vary. Nepali Dal Bhat at the start of a trek can start at US$ 2 and at the high camp go for US$ 9. One liter of bottled water costs on average about US$ 2.
Likewise, the cost of Permits for the Langtang Gosainkunda pass trek– Langtang National Park permit cost US$ 30 while a TIMS card costs US$ 20. If you are on a crazy Langtang trek cost with an agency then the TIMS cost goes down to US$ 10.
In addition, the cost of a guide to go on a Langtang combine Gosaikunda pass trek is depending upon the high season and low season. The cost of trekking guide hire generally starts from US$ 20 to US$ 30 per day. Generally speaking the higher the cost of your local guide the better they should be. They'll put safety first, have a good knowledge of the environment and over the decades of experience, etc.
How much is the Langtang permits cost?. Typical Langtang trek accommodation cost?. How much does the Langtang Meals and drinks cost? Modes of Bus transportation?. What is the duration to complete the Langtang trek?. What is the situation of the trekking trail?.
The highlights about langtang trek 7 days , langtang trek map, Langtang trek itinerary. You can read about the langtang trekking route, langtang trek 5 days, langtang valley trek. Check out the detailed travel plan and read about langtang trek difficulty before you make a plan to visit because it is an easy trek in Nepal best for beginner trekkers. We recommend you buy a Langtang trek route map and check the serious langtang trek altitude.
Thus, these prices only apply to local guides. The cost of a guide-porter or porter-guide cost to go on a Langtang trek usually costs $20 to 25 per day including their Insurance. If you find all this overwhelming or difficult, do consider booking your trip with a local trek agency. Take a review about Langtang trek on Tripadvisor.
---