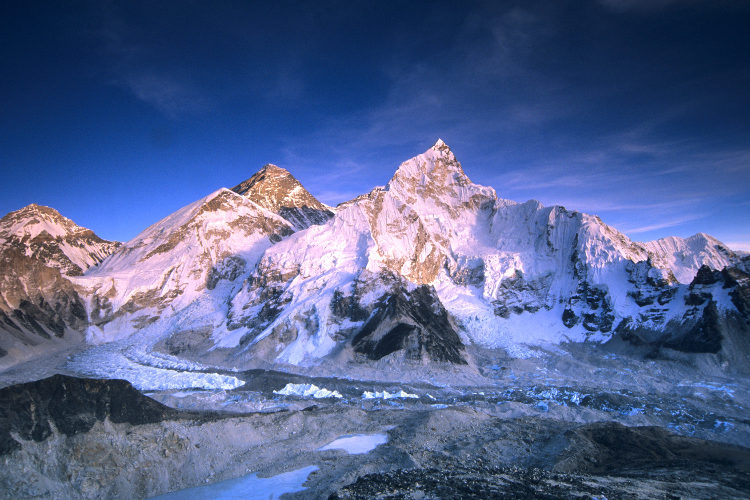 Overview
The Mount Everest base camp tour is awesome! begins with the footsteps of Sir Edmund Hillary and Tenzing Sherpa and ends with an ascent of Kala Pattar hill station. Kalapatthar – mountain black stone is a little peak famous hill station to observe Mount Everest and many other tallest mountains of khumbu region.
Moreover, you can see the tallest mountains, brilliant landscapes, the high mountain villages, and Buddhist monasteries. The everest base camp trek 12 days is an opportunity to experience the local Sherpa hospitality. Our everest base camp tours is in Sagarmatha national park (listed in UNESCO world heritage sites) is outstanding to see the highest mountain of the world, mount Everest at 8,848m, and many of the world's 8,000-meter mountains such as Lhotse, Cho Oyu, and Makalu.
Hike everest base camp elevation – height is about 17,600 feet above sea level. It is possible to ascend 7 days and descend 3 days above Lukla. Lukla airport is very busy and crazy, especially in the tourist season. Everest base camp trek cost is roughly about 1,225 as a minimum to cover your all meals and domestic lukla flights.
According to the Gokyo Trek tour operator agency, Everest Icefall – khumbu glacier with huge ice pinnacles soaring to unbelievable height before reaching the Basecamp. Furthermore, it is suitable for all age walker looking for something a little more challenging and energetic. Our program always includes rest days and build up gradually, in order to acclimatize to the altitude.
The Everest base camp trek difficulty
The trail goes straight forward to lukla airport landing, follow the river valley to mount everest base camp. If it is not for the altitude, the EBC trek slightly climbs every day. The ebc trek route has moderate difficulty because of treeless and lack of oxygen. The viewpoint from Kala Patthar on your return journey is the highest point standing at 5,550 meters but technically an adventure trek to go slow.
Check your everest base camp trek map
Along the Everest base camp trek route, you can walk at your own pace, with plenty of stops for rest. So, hire our expert guide to make your best everest base camp tours unforgettable. A trip to Everest base camp possible to explore in anytime throughout the year.
Itinerary
Everest base camp tour express itinerary details
The tour about ebc 12 days itinerary compared to most walks in this region leading up to the mount everest base camp. The particular route is designed for world travelers who wish to hike to the base camp of the spectacular mountain but are restricted time-wise. Travelers who wish to reach the Everest base camp in a more relaxed manner can try ebc trek itinerary however if this itinerary is not ft you than send us an inquiry for tailor-made itinerary.
Cost
How much does Everest base camp trek-tour cost?
The everest base camp trek 12 days available now on USD 1,225 Per person but the price will vary according to group size. For deluxe and luxury trek plan, we add 3-star hotel deluxe air-conditioned room in Kathmandu and Tourist standard accommodation with attached toilet while on a trek on possible places. AND WE ARE OPEN TO CUSTOMIZE YOUR TOUR AND PACKAGES PRICE AS PER YOUR REQUIREMENTS. International tour leaders are highly encouraged to get discount and attractive complimentary.
Everest base camp tour cost includes:
Group join
We can organize private trek to express everest base camp tour starting at any date that works for you. Please contact us for more information.
Guaranteed – Trip is Guaranteed to run.
Available – Trip is available to run if minimum group size is filled
Limited – Only few space available
FAQ
Question: Is it possible to rent a guide? how to hire a local trek guide?
Answer: Yes of course. If you are not happy to go with the complete full board package trip, still you can hire our expert guide to make your holiday tour safer. However, visit a guide and porter hire or email us for your detail travel inquiry.
Question: Do I need walking polls for Everest base camp tour?
Answer: Walking pools are recommended but not compulsory.
Question: How much additional money do I need per day?
Answer: You can allocate US$ 08 – 10 for a lunch/dinner in Kathmandu and it depends on your spending habits. US$ 7 to 10 US$ each day will be enough to buy bottles of water, chocolates, tea coffee and some drinks while you are on trek.
Everest base camp tour highlights
Discover the best Himalayan view in 360 deg angle from Syangeboche hill and from Kalapatthar.
Amazing view of view of Mt Everest, Lhotse, Nuptse, Amadablam, Thamserku and many other mountains
Sherpa Buddhism, tallest monastery, Local sherpa and their life styles.
Everest base camp tour notice.
As the information stated above is just a guide and standard template what we provide you, however, the trip can be customized at your request to accommodate your specific requirements. Local politics, landslides, cancellation of local flights, weather, transport or a multitude of other factors that are beyond our control can result in a change of itinerary during on trip.
It is, however, very incredible that the itinerary would be extensively altered. If alterations are necessary the leader will decide the best alternative option, taking into consideration the best interests of the whole group. Where a change does occur, we do everything we can to minimize its effect, but we cannot be responsible for the results of changes or delays.
"What makes Everest base camp tour special ?"
Opportunities for challenging trekking or hiking and pleasant strolls are scattered all over this planet; you just need to know where to find them. We at Gokyo Treks and Expedition believe in the quality services. Your safety and satisfaction is our concern. We are a team of professional, experienced, well trained and licensed local guides who know the destination much better than others. Not only this but also we give benefits to the local communities and helps to conserve natural resources which reduced in costs and consumption.

Everest base camp tour review
We booked our trek to EBC via Ammar at Gokyo Treks.
He booked our flights, organise our trekking permits, and guide. He also advises how much we would need to spend each day whilst trekking. Whilst we were booking our trek with Ammar we met a guide who had just returned from EBC who told us what to expect.
When we arrived in Lukla we were met by our guide. We did have to book a porter after two days but our guide was helpful in arranging this. Ammar kept in touch with us during our trek to see how we were and to check the trek was going well.
I would definitely recommend booking a trek with Gokyo Treks – everything was really well organized and easy, he gave us all the information we needed and the guide he organised was good. I would definitely go on another trek with Gokyo Treks if I visit Nepal again. – Sophie Boyce, Shropshire, United Kingdom
Trip Price : USD 1,225 Per Person
Duration of trek: 12 Days
Trek Grading: Moderate
Max Altitude: 5,545m / 18,132 ft
Trekking Hour: 6 Hrs
Group-Size: 2-40 People
Best Time: Oct -May
Trip Mode: Guest House
Meal on Trek: Breakfast, Lunch, Dinner
Transportation: Car/Plane/bus
Cost & Departures
Your Trip Your Style!
ITINERARY, COST, DEPARTURES, will adjusted according to your GROUP SIZE NEED TIME
Inquiry Now
Customize Trip
Book with Confidence
Lowest Price Guaranteed.
Excellent Customer Service
Easy and Hassle Free Booking.
90 % Repeated customers
Travelers Recommended agency
Local Guide's owned company.
Reference person of Gokyo Treks !
Contact in Germany
Klaus Kummer : +49-367-2351-957
Roland Stich: +49-0271-870-031
Dr. Lars : +49-3641-5395-160
Contact in USA
John Erwin: 212-222-6389
Beth Pekol, Chicago: +1 312-364-8924
Eve Quesnel, California: 530-5879-113
Contact in Australia
Mark Panico: +61-402-526-430
Dr. Chris Hislers: +61-419-556-381

Contact in Austria
Verena Laner: +43-650-7110-301
Dorothee Plunger:+43-512-565-255

Contact in Switzerland
Dominik Lee, Zürich: +41-079-3826-028