Guide porter hiring Nepal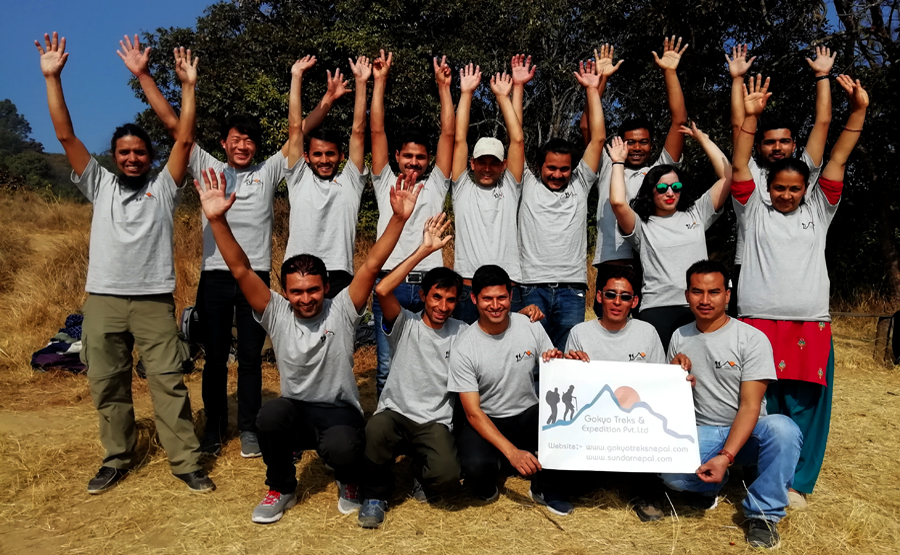 How to book Guide porter hiring Nepal !
How to hire a trekking guide porter for your trekking in Nepal Himalayas ?. Want a Guide porter hiring Nepal Himalaya trekking ?. We have a very good network of professional/licensed holder Guides, Sherpa, Sardar and Porters who have done the trip to Himalaya more than 12 years.
Our guides serve the best quality in trekking, tours, eco-tourism, is to provide our most valuable guest accurate information about Culture, lifestyles, religion, and flora – fauna because they are experienced and well trained by Government of Nepal, Ministry of Civil Aviation and Tourism and dedicated to our job. We recommend you that hire a guide or at least 1 porter cum guide is necessary for a trekking in the remote part of Nepal.
However, if you are not interested to take any special package, but still you can hire our Professional, Experienced guide or just a porter for your trek become more effective. We highly recommend taking at least a sherpa for your trip to Himalaya for your safety and information.
As you are going over the high mountain trek into the remote area there is high chance of altitude of mountain sickness. To avoid unnecessary risks when in case you feel sick or need any kind of help, professional guide or Sherpa could be the best company for you.
They are helpful not only to show trails or share local cultures and sites or carrying your Luggage but also helpful wherever and whenever you need help. Even at nights, your guide runs downhill for fastest support if you are in an emergency to organize the quickest rescue and takes care of you in high mountains.
In addition, a guide shows you the places of interest, describes the tradition, shows a shortcut trail and ask the locals about route condition and makes your holiday more beautifully memorable. Of course, they even help you to update some Nepali phrases.
Hiring a guide in Nepal is very easy. You can search either as trekking guide jobs in nepal or porter guide nepal, you will find alot of information. No matter whether you hire an independent trekking guide in nepal or hiring a porter in nepal, book your trip with us to get excellent service. Hiring a guide for everest base camp or hire a guide for annapurna base camp trek is possible with us.
As I already mentioned above that all of our guides have General Knowledge of First Aid and speaks English – Italian – Spanish – French – Deutsch.
Furthermore if you need any other language speaking guides, we can manage it easily. They all are friendly, honest.
Same like Guides, Our porter is sincere to handle your entire valuable luggage and never say tired from their jobs. This is most beneficial that you are recommended to hire at least Guide/sherpa / Porter from our organization. Regarding the Tips, each and every staff's aspects but it's not compulsory.
Guide porter hiring Nepal: Trek in Nepal with our Sherpa Guides:
Sherpa is an ethnic group and are living in the high mountain of Nepal. They are already adopted with local environments and are working as a field and some of them are working as a job in Tourism since the 1950s. Being living more than 1500m above sea level, they never feel Acute Mountain Sickness. Still now, Sherpa climbing guides are famous in the world.
Trekking in Everest region means the home of Legendary Sherpa. So Hiring Sherpa or Sherpa Guide for your trek is extra beneficial to know real lifestyles and history of Sherpa. Gokyo Treks & Expeditions is Team of Expert local guides company. Our all guides are at least 5 years of Experience in trekking, touring & peak climbing profession. Just give us an opportunity for trekking jobs in nepal to serve you. You can find trekking guide rate and a tour guide rate in nepal given below. The below cost includes the travel and accidental insurance for each Nepali guide or porter.
Gokyo Treks & Expedition's guide hire cost (1 Guide):-
Trekking guide hire for Single (Solo / Individual) Trekker: USD: 25 each day
Trekking guide hire for a group of 2-3 Trekkers: USD 28 Each day
Trekking guide hire for a group of 4 + Trekkers: USD 30 Each day
Gokyo Treks & Expedition's Porter hire cost (1 Porter):
Trekking Porter hire for Single (Solo / Individual) Trekker (Everest region): USD 22 Each day
Trekking Porter hire for a group of 2 Trekkers (for Everest region): USD 25 per day
Trekking Porter hire for Single (Solo / Individual) Trekker (For annapurna, manaslu & langtang regions): USD 22 Each day
Trekking Porter hire for a group of 2 Trekkers (for other regions): USD 25 per day
Cost Includes:
– Daily wages / salary of guide or porter. 
– All meals & Accommodation guide or porter. 
– Insurances & equipment of Guide or porter. 
– Agency service charges & all applicable Government taxes at time of staff hiring!!
Have in mind that
:
all our staffs are fully insured, well paid, well equipped and covered for medical and rescue / evacuation services in case on emergency. Our guides are highly experience and can explain a lot more about the surrounding mountains and landscapes than inexperienced guides. Further more, we have to pay 13% VAT and 10% TAX for selling guide and porter hiring services which are also included in the above price.
Above rates are updated on 10 March 2019.