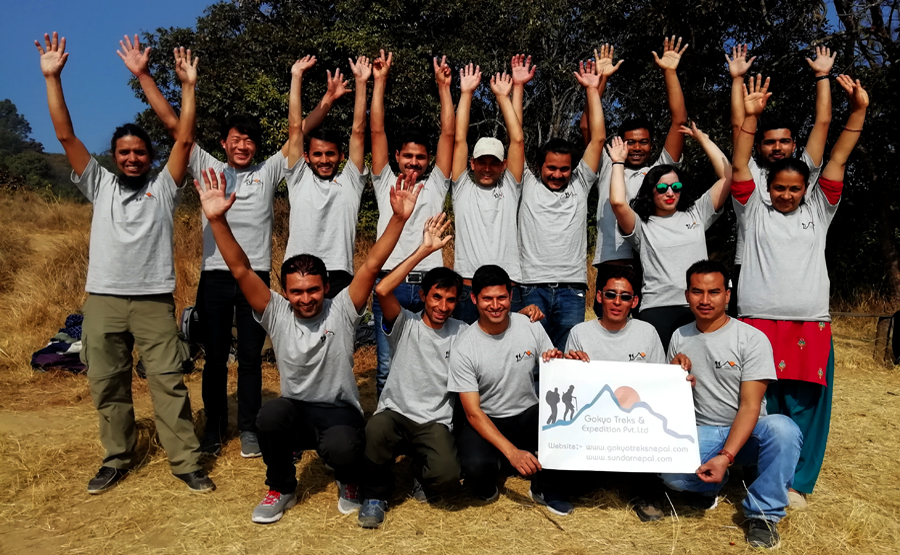 How to book Guide porter hiring Nepal
How to hire a trekking guide porter for your trekking in Nepal Himalayas?. Want a Guide porter hiring in Nepal Himalaya trekking ?. We have a very good network of professional/licensed holder Guides, Sherpa, Sardar, and Porters who have done the trip to Himalaya for more than 12 years.
Our guides serve the best quality in trekking, tours, eco-tourism. They assist you in providing our most valuable guests accurate information about Culture, lifestyles, religion, and flora – fauna. Because they are experienced and well trained by the Government of Nepal, Ministry of Civil Aviation and Tourism and dedicated to our job. We recommend that hiring a guide or at least 1 porter cum guide is necessary for trekking in the remote part of Nepal.
However, if you are not interested to take any special package, but still you can hire our professional guide or just a porter for your trek to become more effective. We highly recommend taking at least a sherpa for your trip to the Himalayas for your safety and information.
As you are going over the high mountain trek into the remote area there is a high chance of altitude of mountain sickness. To avoid unnecessary risks when in case you feel sick or need any kind of help, a professional guide or Sherpa could be the best company for you.
They are helpful not only to show trails or share local cultures and sites or carrying your Luggage but also helpful wherever and whenever you need help. Even at nights, your guide runs downhill for the fastest support if you are in an emergency to organize the quickest rescue and take care of you in high mountains.
In addition, a guide shows you the places of interest, describes the tradition, shows a shortcut trail, and ask the locals about route condition, and makes your holiday more beautifully memorable. Of course, they even help you to update some Nepali phrases.
Hiring a guide in Nepal is very easy. You can search either for trekking guide jobs in nepal or porter guide nepal, you will find a lot of information. No matter whether you hire an independent trekking guide in nepal or hire a porter in nepal, book your trip with us to get excellent service. Hiring a guide for Everest base camp or hiring a guide for the annapurna base camp trek is possible with us.
As I already mentioned above that all of our leaders have General Knowledge of First Aid. They speak English – Italian – Spanish – French – Deutsch. Furthermore, if you need special language speaking guides, we can manage to arrange them. Mountain leaders who are working with us are friendly, easy-going, and honest.
Same like Guides, Our porter is sincere to handle your entire valuable luggage and never say tired from their jobs. This is most beneficial that you are recommended to hire at least a Guide/sherpa / Porter from our organization. Regarding the Tips, each and every staff's aspects but it's not compulsory.
Do you highly recommend to hire a Guide? what does the Cost of hiring a Trekking Guide in Nepal Himalayas?
We recommend you to take at least one Nepali guide or porter-guide on any trek in Nepal in terms of your safety and knowledgeable trip experience. However, many trekkers may think that a guide's job is only to show the trail but a guide is a bank of hiking experience, an organizer, an assistant or a helper, a media to the local people, a non-paid ambassador of Nepal. In addition, he/she is a friend that can help you if you are injured or seriously sick in the high mountains.
Even at night your guide runs down for the fastest help if you are in an emergency to organize the quickest rescue and take care of you in High Mountains. In addition, a guide shows you the places of interest and explains to you about their local tradition. Furthermore, he also asks the locals about the route condition and makes your holiday safe and memorable.
Spring time starting from the beginning of March to late May, is an ideal time for ascending Mt. Everest and some of Nepal's other prominent mountains. During this time we have clearer skies. In the spring monsoon is fast approaching and the skies are always hazy though it is warm even in high altitudes.
Can anybody guess what are the costs associated with hiring a Nepal Mountain Sherpa to hire in the Nepal Himalayas?.
There are several types of nepal trekking package including trekking guides in Nepal. They are starting from basic English speaking to professional English speaking guides. The prices or the salary of the guide depends upon the quality of the Guide you are hiring.
Guide porter hiring Nepal: Trek in Nepal with our Sherpa Guides:
Sherpa is an ethnic group and is living in the high mountains in Nepal. They were born and grew up in local environments. Some of them are working in a Tourism job since the 1950s. Being living between 4,900 feet to 15,745 feet above sea level, they never feel Altitude Mountain sickness. Sherpas are brave and Sherpa climbing guides are famous in the world.
Trekking in Everest region means the home of Legendary Sherpa. So Hiring Sherpa or Sherpa Guide for your trek is extra beneficial to know Sherpa's history. Gokyo Treks agency is a Team of Expert local guides company. Our all guides are at least 10 years of experience in the trekking, touring & peak climbing profession. Just give us an opportunity for trekking jobs in Nepal to serve you.
How much does it COST OF HIRE A TREKKING GUIDE FOR YOUR TREK IN NEPAL HIMALAYAS?
Normally, the cost of hiring a Trekking Guide for your trek in Nepal Himalayas basically depends upon the month you visit. Basic Guide cost starts from Nrs 2,000 (US$ 17) per day but an outstanding TREK GUIDE costs around Nrs 3,300 (US$ 30) per day. Hiring a professional trekking guide is far better because he could communicate with you nicely and can explain the symptoms of high-altitude mountain sickness. The given cost includes all meals and lodges for 1 guide hire per day
We at Gokyo Treks will have to also pay for the Sherpa's health insurance (rates start as low as Rs. 1,500 (US$ 14 for Trek Guide) or 15,000 (US$ 137 for peak climbing guide) per person. And in some instances, for example on certain climbing expeditions, the trek operators must also provide all necessary personal gear for the Sherpa, from special boots to down jackets especially if they will be working in exceptionally high altitudes.
Just have in mind that the local trek agency are experts and arrange your trip perfectly. So choose the local trek operator rather than a bigger international trek agency. And selecting your trip with a Local trek operator agency, your price is cheaper and you are helping the local economy.
Besides that, our guides are experts, trained by the Government of Nepal, Ministry of Civil Aviation and Tourism, and dedicated to our job. We suggest that hiring a guide or at least a porter cum guide is necessary for a trek in the remote part of Nepal.
The busiest time for a trek in Nepal is from September to early December. And the cost of hiring a private Trek tour guide is expensive comparing the low season. You can find the trekking guide rate and a tour guide rate in Nepal given below. The below cost includes the travel and accidental insurance for each Nepali guide or porter.
Thus, take a look below prices about our local guides. We purchase insurance in bulk for our guide-porter or porter-guide. So, do consider booking a guide and porter for your trip with a local trek agency like gokyo treks in Nepal.
Professional Guide and Porter hire cost in a peak season trek in Nepal
| Trekking Guide Hire Cost | Annapurna / Langtang Region | Manaslu / Everest Region |
| --- | --- | --- |
| Solo / Single Tourist travelling privately hiring a private guide cost: | US$ 20 | US$ 20 |
| Travel in a group of 2 + Trekkers: | US$ 21 | US$ 23 |
| Trekking Group Travel within a group of 2 to 6 Tourist | US$ 22 | US$ 25 |
| Professional Trek Porter Hire Cost | Annapurna / Langtang Region | Manaslu / Everest Region |
| --- | --- | --- |
| Hiking porter hire cost (solo / single tourist basis) | US$ 16 | US$ 19 |
| Professional porter hire cost for 2 tourist basis | US$ 18 | US$ 21 |
| Expert Porter cum Guide / Porterguide Hire Cost | Annapurna / Langtang Region | Manaslu / Everest Region |
| --- | --- | --- |
| Guide Cum Porter / Porterguide hire cost for solo tourist | US$ 20 | US$ 22 |
| Professional porter guide hire cost for 2 Tourist basis | US$ 22 | US$ 25 |
Note that the cost of hiring either hiking guide, porter or a porterguide is depends upon the month you travel. Hiring our hiking staffs in a low season is cheaper. So, drop us your email to get lowest deal.
Above given cost includes:-
– Daily wages / salary of guide / porter
– All meals & Accommodation guide / porter. 
– Insurances & equipment of Guide or porter. 
– Agency service charges & all applicable Government TAX at time of staff hiring.
Have in mind that all our staff are fully insured, well paid, well equipped, and covered for medical and rescue/evacuation services in the case of an emergency. All of our hiking guides and expedition guides are covid-19 vaccinated. They are highly experienced and can explain a lot about the surrounding mountains and landscapes comparing other inexperienced guides. Furthermore, we have to pay 13% VAT and 10% TAX for selling guide porter hiring services which are also included in the above price. – The above rates are updated on 1st January 2022.