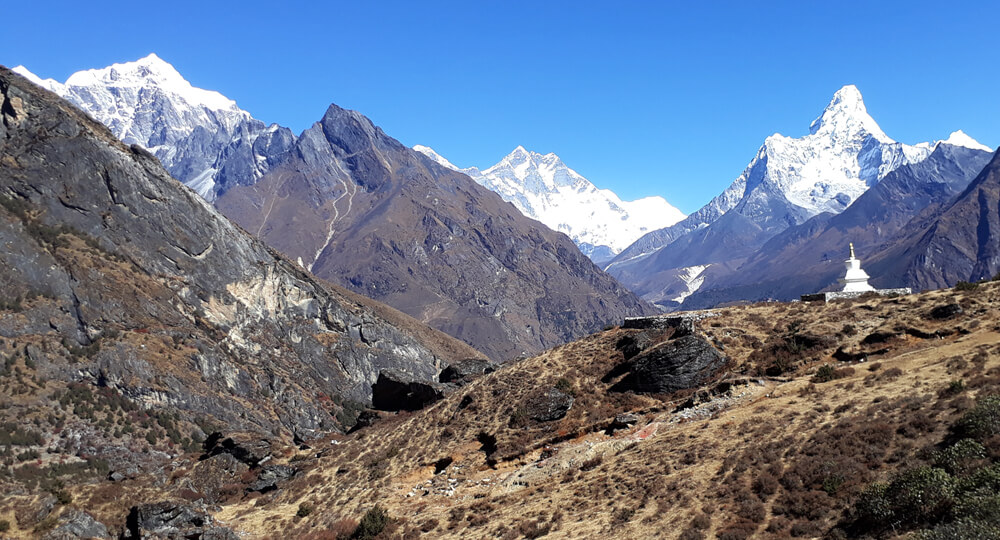 The Vacation Trek in the Himalayas is associated with great adventurers and mountaineers. The Himalayas is the world's most powerful mountain system, containing nine of Earth's ten highest peaks and stretching more than 2,500 km. So, the vacation trek in the Himalayas is a place like no other: majestic and romantic remote.
Nepal is a country of natural and cultural heritage hub and has the best climate in Nepal. Vacation Trek in the Himalayas ascends through mighty hills and Hindu villages passing among rhododendron woodlands, vibrating prayer flags, and iconic mountains as you trek towards base camp.
Hike out into the Langtang, a rarely explored in Nepalese Himalaya, carpeted with Glacial lakes, and wildflowers and framed by a backdrop of sacred peaks. Make your vacation trek in the Himalayas and join our challenging base camp trek, ranked as one of the greatest vacation Trek in the Himalayas.
Vacation trek in the Himalayas, discover ancient cities alive with busy markets and holy monasteries. You might also be one of the few to traverse the Great Himalaya Trail—the world's longest and tallest hiking track. There are many things to do in Nepal. the favorable weather and the temperature especially this time of the year make it best to do outdoor trek tour activities for Nepal.
Furthermore, from inspiring family adventures to technical walking trips on some of the world's most popular trek and challenging peaks are designed carefully to get you deep into the heart of the Himalayas. Thus, join us as we explore the best iconic treks and trails and remote trails of this unforgettable.
What is the best vacation Trek in the Himalayas for 2023/2024?
Moreover, Adventure lovers can choose different trek routes in Nepal which will take you to the base camp. You can experience the majestic mountains. Each program provides a great opportunity to experience Nepalese villages, landscapes, people their cultures.
Visit Nepal and get Himalayan trekking tours with Himalayan trekking companies. Hike either Langtang or Annapurna, there are some short and easy Himalayan hikes for beginners. Search Himalayan trekking packages with Gokyo Treks and Expedition's official webpage where you can find hundreds of Himalayan holidays with Himalayan hiking trails and Himalayan trekking tours cost.
There are literally several of the best hikes in Nepal to explore. Many of these are short, easy, remote, and superior. You can view also an excellent view of Mt. Everest at 8,848.86m and it fulfills your dream to see the top of the world.
Therefore, we have put together a list below of our favorite vacation Trek in the Himalayas that all age hikers will be able to complete. So, use our company Gokyo trek to design your ultimate travel experience, and receive hand-made trips built by the team of local expert Guides.