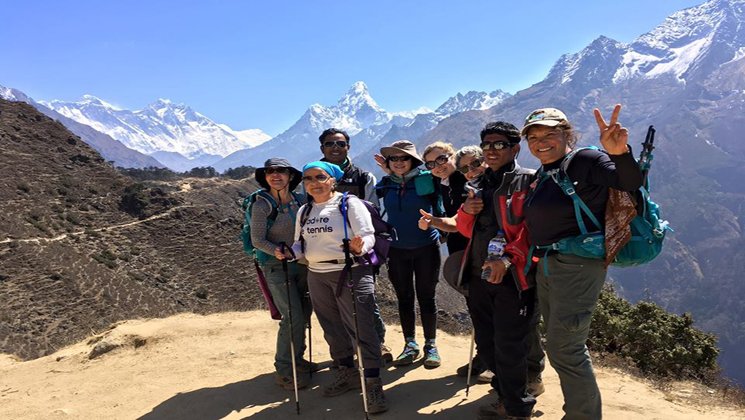 Group trek in Nepal Himalayas is a best choice for group travelers. Whether you are planning a family reunion, a bachelorette weekend, or a friends' getaway, group travel tours can help structure and simplify your vacation.
Your passion is our passion. So, we always try to suit all of the needs of our customers, and understand that some are more comfortable to travel in groups.
Furthermore, we take you personally. You can count on Group Trek Travel Consultants to design the perfect group trip itinerary for your group. …one that is filled with interesting and unique experiences that your group's members will remember for years to come. The agency's particular focus is handling group trek or group trips of 10 or more participants.
Our travel consultants personally escort many of our groups and handle all the details from start to finish including budget planning, marketing assistance, on-site coordination and offer continuous oversight to ensure a terrific and successful outcome.
Want to design the Perfect group trek Itinerary for group trips in Nepal?
Grop treks in Nepal is a special and rewarding mountain holiday offers by gokyo trek . If you have the time and energy to trek, don't miss the opportunity to leave Kathmandu and see the spectacular beauty and the unique culture of Nepal.
Group trek in Nepal seasonal fact during the whole year
December / January / February
Colder time but generally clear skies. But still, a beautiful time to discover some soft adventure trekking in Nepal. Fewer trekkers along the routes, nice views of Himalaya, winter season, cold at night, fresh and beautiful.
Winter storms sometimes in high passes through January and February, but changing weather patterns.
March / April / May
Excellent weather overall in Nepal Himalayas. Best time to explore.
Wonderful weather to trek, blooming colorful Rhododendron (Rhododendrons is the national flower of Nepal) and there are more than 30 species of rhododendron in Nepal) flowers in trek routes, the skies are blue and clear, all views of Himalayan peaks can be seen clearly.
June / July / August
Monsoon season in Nepal
group trek in monsoon is not recommended as it has a lot of grassy landscapes and there might be leeches. But no worry, there are some trekking such as upper Mustang and Dolpo which are located behind the Himalayas and are very less rain. Those areas are in the trans-Himalayan region of Nepal and have dry – desert landscapes so there is very very less rain, so you can trek there.
September / October / November
Monsoon is over around early of September, but some drops of rains still possible, alot of new flowers along the trek, beautiful waterfalls and nice landscapes makes your trip wonderful.