Mardi Himal Trip Summary
Mardi Himal Trek Duration: 6 Days
Mardi Himal Trek Difficulty: Easy to Moderate grade
Mardi Himal Trek Altitude: 3,550m /11,609 feet
Trekking Hour: 6 Hours daily
Traveller Group-Size: 1 – 20 People
Meals on Trek: Breakfast, Lunch, and Dinner
Best Time For Hikes: March, April, May, October, November and December
Trip Mode: Lodge
Transport: Car/Plane/bus
Overview
The Mardi Himal Trek is a less demanding trek route located in the heart of the Annapurna region that offers mystical sceneries including a brilliant mountains view. A trek to Mardi ridge has sparkling rivers, and lush green terraced fields although the route is in high demand from Nepal visitors. Hike to Mardi Himal base camp altitude is 14,760 feet (4,500 meters) and has easy to ascend.
The nature path provides magnificent mountains such as Dhaulagiri (8,167m), Mt. Annapurna (8,091m), Annapurna II (7,937m), Annapurna III (7,555m), Annapurna IV (7,525m), Annapurna South (7,219m), Hiunchuli (6,441m) and Fishtail (6,988m), etc.
Furthermore, Mardi Himal trekking is also known as Mardi peak trek takes you to the beautiful forests, engaging villages, and cultural diversity that one can see on the Mardi trail. Note that, if you are planning to visit the Annapurna trek but worrying about 1 week of vacation time? If or want a short trek in Annapurna, Mardi Himal is the best choice. Check out the Mardi Himal trek pictures in our Instagram profile.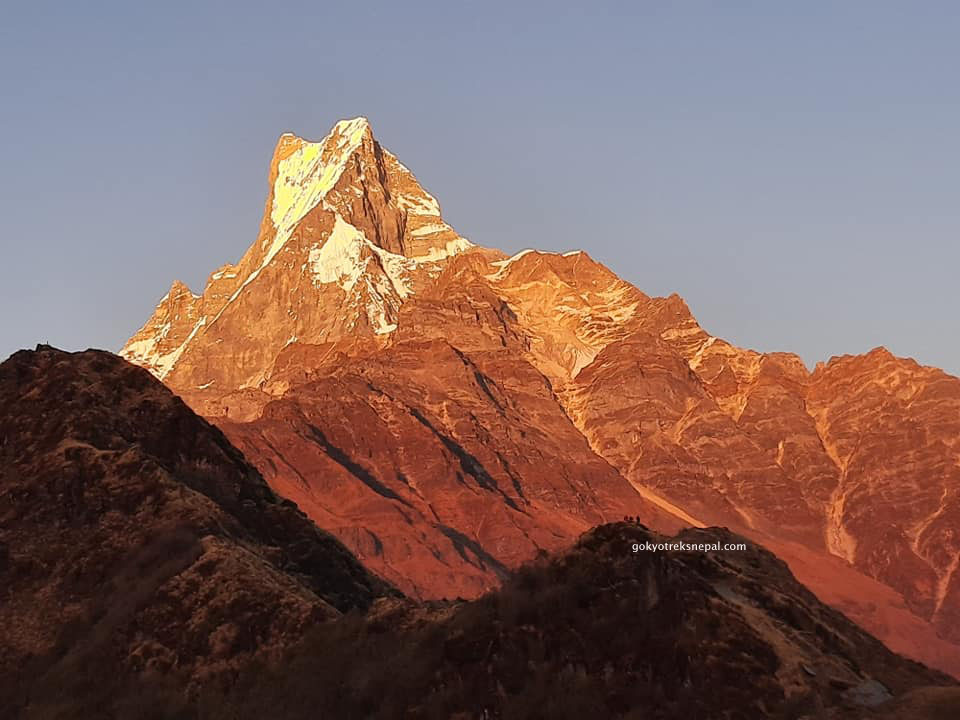 Besides that, exploring Mardi Himal hikes is also regarded as the eco-tourism-based trail that passes through the lush forests filled with Oak, and Rhododendron. A stunning hike at Mardi Ridge is possible to explore in 7 days but is the best 5-days trek in Nepal. In addition, the Mardi Himal trek 5 days is best suited for youth wayfarers to explore the best trekking trail to see Annapurna Range.
We spend most of our days in the camps pleasure the alluring beauty of nature. Visitors may view the variety of wild animals sheltering in the woods. Moreover, the trek provides an opportunity to explore rural villages and communities which are still underdeveloped. The traditional customs and lifestyles of the locals are really worth exploring.
Mardi Himal trek in december
December month hikes to Mardi Himal is also a good idea but it is not the best month as the weather changes quickly in the mountains above 11,000 feet. Until mid-December trek is nice as you get sunny weather and enough warm climate is great. Later on, the weather turns bad and snowy storm.
As the lodges are modern, you will get good food and comfortable beds to sleep in overnight. Basically, in Mardi Himal lodges are open for 365 days but the hotels in the high camp get often closed. The hikes are moderately easy and not very long distances between the guest houses. December has shorter days. Thus, we recommend hiking early means you reach the lodge easily at sunset without having stress. The longest day hike goes on the trek is either from Deurali to Forest Camp or from forest camp to Landrung village.
Can you climb Mardi Himal?
Mardi Himal Peak climbing is technically an easy peak climb in the Annapurna zone. Summit climb involves trekking and hiking up to the Mardi Himal height of 5555 meters. The average walking period in the entire journey ranges between 6/7 hours daily. Climbing the Mardi Himal Peak is a royalty-free peak climbing thus climbing cost is cheaper than other summits. Although it is easier, it requires some physical training to achieve a successful climbing experience that why we advise only professional hikers.
In addition, the best time for Mardi peak climbing is the Autumn seasons which are September, October, and November months. Likewise, climbing in the spring months is also popular. Both the climbing seasons offers climber favorable weather and temperature of the Annapurna region.
Mardi Himal trek route map
Click the image and make a zoom to get a better view of each location where you can stay overnight on your journey to Mardi Himal. Travelers go to Mardi Himal to climb the Mardi peak.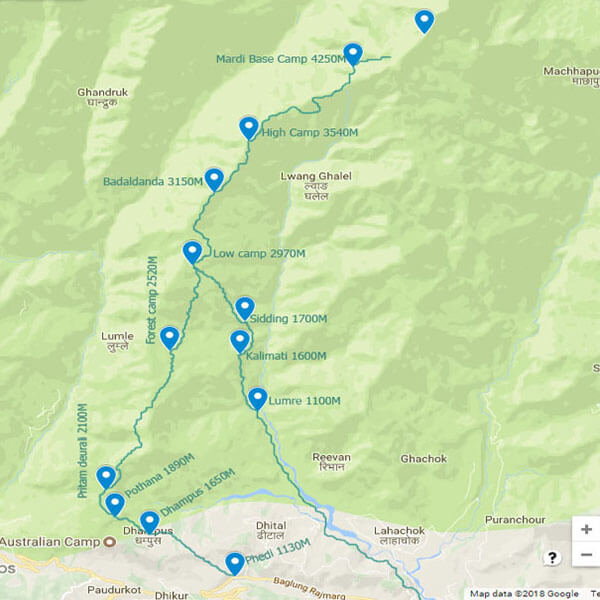 Mardi Himal trek route map.
Foothill to Mardi Himal summit takes 2 days only. Getting summit, and descending downhill to base camp on the same day is tough but many climbers choose this option. Majestic Mardi peak has easy access and an isolated area with breathtaking views of valleys and stunning views of high mountains.
Annapurna conservation is the most-visited national nature conservation in Nepal. Nature Park is an ideal place to capture beautiful mountains in any season. Spring and fall are especially popular, but summer and winter are also great possibilities in this park. Above the Himalayas, a high camp is the best hill to shoot the highest mountains and the valley of the sun.
Aa we mention in the details on the Mardi Himal trek blog, the best months to visit the Mardi Himal route are from March to December except for the rainy months. During those months, the weather is clean, with clear skies, and sunny days. Off the beaten path, the Mardi Himal trek commonly spells as the Mardi ridge trek, is one of the less difficult hiking routes in Annapurna possible to complete at any time (except monsoon) throughout the year.
How much does Mardi Himal Trek Package Cost/Price?
The cost of a Mardi Himal trek package with a Gokyo Treks Agency (local trekking agency) ranges between US$ 425 to us$ 599. Have in mind that the Mardi Himal trek cost will vary according to the group size you are traveling together.
We have also a discount offer for low season hiking on the Mardi Himal route. For example, if you could bring 10+ travelers (except you) to your stumble, you are treated as a group leader. So you can hike the Mardi Himal for free of cost.
Despite that, we usually arrange private trips in order to avoid group tours with unknowns. A private hiking tour gives you a better experience on your hikes. If you value personalization, flexibility, and in-depth experiences, a private trip customized to your personal needs will be the best option.
It is the standard trip package price for 6 days trek. If you 2 tourists hike Mardi Himal costs US$ 540 for 6 days trek according to the given trekking plan. We can modify the trek route and the prices according to your wish. Here is the price list for the Mardi Himal treks.
Price Per Person for 6 days hikes in the Mount Annapurna hills.
| Number of Tourist | Price Per Person |
| --- | --- |
| 1 Person | US$ 599 |
| 2 Person | US$ 540 |
| 3 Person | US$ 540 |
| 4 to 6 person | US$ 520 |
| 7 to 9 Person | US$ 495 |
| 10 and more than 10 Person | US$ 425 |
If you're wondering to know about what is included and what is excluded on this trip price, kindly check on cost given on a tab button.
Itinerary
The best Mardi Himal trek itinerary 4-6 days details
Our trek to Mardi Himal journey is typical, the trek itinerary compares to most walks in this region. The particular hiking route suggests world travelers who wish to hike to the glacier with a normal plan. Hike the Mardi Himal base camp is an off-the-beaten-path trek in Annapurna. Therefore, is this travel plan not perfect for your journey? send us your email for a tailor-made itinerary.
1 Day
Fly to Pokhara, trek to Pritam Deurali (2,100m/6,867 feet) hill, 5 hours
In the morning on breakfast time, Ammar Guni will meet and brief you about your Mardi Himal trek package. After the briefing, the hiking Guide will pick you up at your hotel and drive you straight forward to Kathmandu domestic airport. Guest and guide will fly together to Pokhara, taking about 25 minutes to land at Pokhara airport. Tourists will have an opportunity to relish the best view of the breathtaking Annapurna mountains. And also Langtang and landscape flying to the north over the snow-capped Himalaya and green Mahabharat range to the south are adventurous.
Meet the entire team and take a private transfer, drive Dhampus Phedi. Roughly drive takes about 45 minutes from Pokhara lakeside to Phedi, also a gateway exploring Machhapuchhre model trek . The Dhampus hike ascends all the way up to Dhampus hill with several stone stairs passing through terraced cultivated fields, settlements, and forests. Dhampus village offers an excellent view of the Annapurna mountains ranges inclusive of Mount Fishtail.
After An hour of an easy walk through the rhododendron and oak forest we reach Deurali hill station. The hill station offers an outstanding view of Annapurna South and Hiunchuli to the north, and Pokhara and Phewa Lake to the southeast.
2 Day
Deurali hill station to Forest camp trek (2,500m/8,175 feet), 6 hours
Early morning, you will have a great view of Mountains and as well as Pokhara city. On the way from Deurali to Forest camp hiking is simply easy that the Tourists walk across the Pine Forest trail. The Forest is covered with the most unique flower with lovely plants and vegetation combined with colorful Rhododendrons.
3 Day
Mardi Himal high camp trek (3,550m/11,609 feet), 6 hours
Trek to Low Camp where you can see the most amazing and clear view of Fishtail mountain. Between the journey of Low camp and High Camp, there is a hill station to explore the Himalayas, especially the best trip for photographers. Travelers can hike the best viewpoint and shoot cameras for mountain photography. Annapurna south, Hiun Chuli, Chhomrong – Ghandruk Village, and Mount Fish Tail, are clearly visible from the hilltop. Likewise, the Annapurna province is an acme place for flora and fauna in Nepal, therefore, visitors can see the herbal plants and typical Gurung inhabitants. In addition, night photography is superior to shooting mountains and shining stars.
4 Day
Discover to visit viewpoint or Mardi base camp hike.
The trek starts up having delicious breakfast at the high camp lodge. Hold a packed lunch with drinking water, and begin your Mardi Himal Base Camp hikes. Mardi Himal base camp is located at an altitude of 4,500 meters, the best short trek for every hiker. Hike the Mari Himal is marked as a short hike near Pokhara, therefore, students from different colleges and universities will go for holiday hikes there. Base camp hiking needs to walk over rough and tough rocky mountain trails. If you are a fit backpacker, you can complete this day tour within 6 hours. Through the journey to mbc, you will have an amazing view of the Annapurna mountains series such as Annapurna-I, South Annapurna, Hiunchuli, Gangapurna, Gandarbhachuli, and Fishtail holy mountain.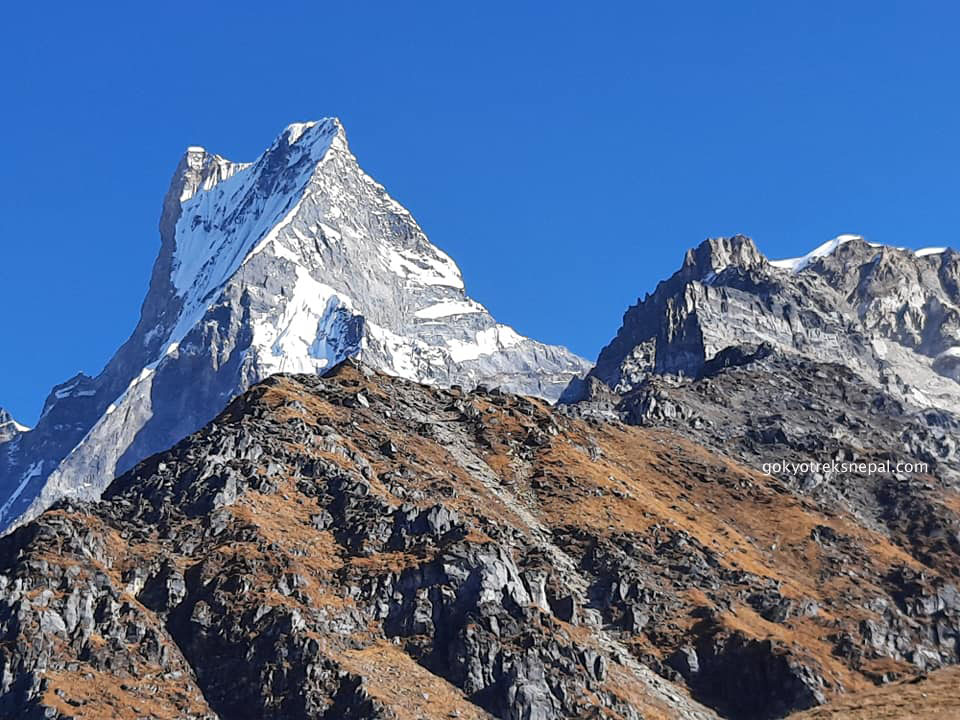 5 Day
High Camp to Siding hiking (1,700m/5,559 feet), 6 hours
Have a breakfast with the brilliant Sunrise view at High camp and descend towards Siding village. Wander back straight descend to the same fine forest to get your lunch at Low camp which is on the way back to Siding village. Siding is a traditional simple native village to stay overnight.
6 Day
Lumre village trek (almost 2 hours). Drive out to Pokhara Fewa lakeside.
Later breakfast, a step towards the Lumiere village where the bus is waiting for tourists. The bus will drop off at Hari Chowk. We take a private vehicle transfer to reach Fewa lakeside of Pokhara city. On your way back to Pokhara, we cross the Seti river where the watercolor is similar to milk. Reaching the town, you can visit some of the gorgeous landmarks of Pokhara city sightseeing.
After Lunch, we start our sightseeing to explore Pokhara city. The worth able places such as Fewa Lake, Devi's Fall, Vishwa Shanti Stupa (World Peace Stupa hiking – extra cost), or Seti George. Likewise, International Mountain Museum (Optional tour if time permits), Tibetan refugee settlement, and Gupteshower Cave. Trip finish.
Not satisfied with above plan?
Are you interested on planning custom trip? this might take 2 to 3 minute.
Cost
How much does Mardi Himal trek cost?
Mardi himal trek 4 days is tough and possible for fit trekkers. 6 days Mardi Himal trek cost US$ 540 per person is a standard trek within twin sharing private trip basis. Likewise, Mardi Himal trek package for Nepali is cheaper than other nationals because of the hiking permit cost . Taking flights from Pokhara to Kathmandu saves your time and riding the bus reduces the trip expenses.
For the deluxe and luxury trekking tour plan, we add Pokhara – Kathmandu airfare, 3 to 5-star category hotel deluxe air-conditioned room in Kathmandu and also in Pokhara. Additionally, we also serve a clean guest house with an attached toilet/bathroom in possible places on wilderness hiking routes. AND WE ARE OPEN TO CUSTOMIZING YOUR TOUR AND PACKAGES PRICE AS PER YOUR REQUIREMENTS. International tour leaders are highly encouraged to get discounts and attractive complimentary.
Mardi himal trek package price includes:
Kathmandu domestic airport transfer with private car.
Single night twin sharing on tourist standard hotel accommodation in Kathmandu with breakfast.
1 night Tourist standard accommodation in Pokhara with Breakfast Plan.
5 Breakfast, 6 Lunch and 5 Dinner during the Mardi Himal tour/trekking days.
Guest house accommodation during the trip in the annapurna mountains route.
Domestic flights: Kathmandu to Pokhara flight airfare with domestic airport departure tax.
Tourist Bus transfer from Pokhara to Kathmandu for Nepali hiking crew members.
Fully escorted trek with English speaking license holder local mountain trekking guide.
Annapurna Conservation Area permits and TIMS permits for Mardi Trekking tours
Bus transfer from Lumre Bus Station to Milan chowk, Pokhara town
Pokhara to Dhampus phedi and from Milan Chowk to Fewa lake side transfer with private vehicle.
Insurance, Food and accommodation and salary of Nepali trekking staffs.
Duffel bag and Sleeping bag – if Necessary (return after the trek).
Seasonal fruits like apple and pomograntes as a deserts for Mardi base camp trekking.
Updated Base Camp Mardi Himal Trek Map 1 piece, trek completion certificate.
Nepal Government Tax, VAT and as well as Company service charge.
Mardi himal trekking package price excludes:
Nepal entry visa fee.
Lunch and Dinner while staying in Kathmandu and Pokhara city.
Any kinds of battery charges, laundry service, phone calls and hot shower during the trekking.
Tourist personal trekking equipments .
Porter to carry your baggage, Individual nature expenses, all types of drinks, and bar bills.
Travel Insurance which covers emergency rescue, evacuation, personal loss or damage.
Any donation and monuments entrance fees and Pokhara sightseeing transfer vehicle cost.
Tips for the crew (Note : TIPS is not compulsory but highly expected)
Any other things which are not mentioned above
Group join
Price and Dates
We can organize private Mardi Himal Trek starting at any date that works for you. Travellers visit Nepal for a photo trip also. If you are a passionate photographer and want 3-7 day photography adventures tours then the Mardi Himal route is the best option. Mardi Himal trek costs for Nepalese are cheaper comparing foreign travelers in terms of hiking permits. Either mardi himal trek 4 days or mardi himal trek 5 days are most demanding for local hikers to get quickly up at 14,000 feet. We can organize a private express Mardi Himal Trekking starting at any date that works for you. Please contact us for more information.
| Departure Date | Availbility | Price | Book |
| --- | --- | --- | --- |
| 10 May, 2022 – 15 May, 2022 | Avaiable | 540 | |
| 20 May, 2022 – 25 May, 2022 | Avaiable | 540 | |
| 10 Sept, 2022 – 15 Sept, 2022 | Avaiable | 540 | |
| 20 Sept, 2022 – 25 Sept, 2022 | Avaiable | 540 | |
| 05 Oct, 2022 – 10 Oct, 2022 | Avaiable | 540 | |
| 10 Oct, 2022 – 15 Oct, 2022 | Avaiable | 540 | |
| 20 Oct, 2022 – 25 Oct, 2022 | Avaiable | 540 | |
| 25 Oct, 2022 – 30 Oct, 2022 | Avaiable | 540 | |
| 05 Nov, 2022 – 10 Nov, 2022 | Avaiable | 540 | |
| 10 Nov, 2022 – 15 Nov, 2022 | Avaiable | 540 | |
| 20 Nov, 2022 – 25 Nov, 2022 | Avaiable | 540 | |
| 05 Dec, 2022 – 10 Dec, 2022 | Avaiable | 540 | |
| 20 Dec, 2022 – 25 Dec, 2022 | Avaiable | 540 | |
| 10 Feb, 2023 – 15 Feb, 2023 | Avaiable | 540 | |
| 20 Feb, 2023 – 25 Feb, 2023 | Avaiable | 540 | |
| 10 Mar, 2023 – 15 Mar, 2023 | Avaiable | 540 | |
| 20 Mar, 2023 – 25 Mar, 2023 | Avaiable | 540 | |
| 25 Mar, 2023 – 31 Mar, 2023 | Avaiable | 540 | |
| 05 Apr, 2023 – 10 Apr, 2023 | Avaiable | 540 | |
| 10 Apr, 2023 – 15 Apr, 2023 | Avaiable | 540 | |
| 20 Apr, 2023 – 25 Apr, 2023 | Avaiable | 540 | |
| 25 Apr, 2023 – 30 Apr, 2023 | Avaiable | 540 | |
Guaranteed – Trip is Guaranteed to run.
Available – Trip is available to run if minimum group size is filled
Limited – Only few space available
FAQ
Freequently Asked Questions
Question: Is pick up service available on my arrival in Kathmandu, Nepal?
Answer: Yes sure! provide us your flights details. Our representative will come to pick up you on Kathmandu international airport.
Question: Do I need the experience to do the express Mardi Himal trek?
Answer: Mardi Himal nature hike is appropriate for enthusiastic hikers who can walk around 5 hours daily with a lightweight daypack. If you have about a little hiking experience before this trip departure, would be better. Otherwise, prior hiking experience is not necessary.
Question: What kind of accommodation can I expect on the express Mardi Himal Trek group?
Answer: We provide you tourist standard accommodation in Kathmandu. Likewise, the lodge accommodation in trekking routes. Every room will have 2 single beds. The rooms are clean with a comfortable bed, mattress, and blanket. Despite that we suggest you take your own sleeping bag if you have one with you otherwise, you may rent necessary hiking gear in the Kathmandu gears shop.
Question: What kind of food can I expect?
Answer: The guest houses are en route and have attached restaurants. They cook a super delicious range of mostly vegetarian such as Pasta, tuna bakes, noodles, rice and potatoes, eggs, bread, and soups. Likewise, dinner and breakfast are provided in the same lodge you spend the night every day and Lunch will serve on the way to the next place where you hike.
Question: How do I get drinking water on fast Mardi lodge trekking?
Answer: Local tea shops are often available to buy water en route where visitors can buy a bottle of mineral water. But we advise against buying mineral water in plastic bottles, as currently there are no provisions for disposing of plastic waste. Instead, you can buy boiled water or AQUA tablets to purify the normal water as the normal water is available at the campsite along the way.
Question: Can I charge my digital camera or other batteries on my trip?
Answer: At a lodge trek, you will have a chance to recharge the battery. We recommend you bring an extra pair in case. Remember to bring your adapters! An extra battery will be recommended.
Question: Are there any communication facilities on Mardi peak trek?
Answer: Buy a local Sim, so you get the telephone and as well as 3G internet services.
Question: Can I use credit cards in Trekking routes?
Answer: No! So, for the holiday travel route, you need to have cash Nepali rupees because credit cards work only in the bigger city areas.
Question: When should I book my trip and what are the payment terms?
Answer: Hike Mardihimal trips book up months in advance, we recommend booking early to avoid any kind of misunderstanding. We will, of course, make every effort to accommodate last-minute bookings as well.
And regarding the deposit, we prefer a 20% advance deposit of the total price of the trip in order to confirm your reservation before you arrive in Nepal. Within that advance deposits, we make all permits, hire a professional hiking guide and porters and also book a hotel in Thamel for you. And the remaining part of the payments, you can pay us on your arrival in Nepal.
Question: Who will carry my luggage on the express Mardi Himal Lodge Trek?
Answer: We do provide porters to transfer your luggage at an extra cost of US$ 17 PER DAY. As we are a responsible trekking tour operator agency, each porter carry a maximum of 23 kilos of your backpack which means 2 guests (12 kg luggage of each guest: 1 porter) basis.
Question: How much distance do I walk each day?
Answer: When walking in the mountains, the distance you cover each day can vary greatly due to gradient, terrain, and altitude. As such it is very hard to give specific distances for each day, however, you need to prepare to walk roughly 5 hours each day.
Question: Do I need walking poles? what about hiking in the winter months?
Answer: Walking poles are recommended but not compulsory. However, it is totally depending upon the months you are traveling to get Mardi Himal base camp. And yes, if you hike in the winter months, we highly suggest going with hiking poles and waterproof hiking boots. They are quite helpful on ascending and descending especially on snowy trails.
Mardi Himal trekking is locally called Mardi ridge or Mardi base camp trekking. The final ascending is up to the viewpoint which is like a mardi mardi himal trek height is 4,00m (14,765 feet) you cover on your journey.
Question: Is there any possibility of hiring a guide? how to hire a local trek guide?
Answer: Yes of course. If you are not happy to go with the complete full board package trip, still you can hire our expert guide to make your holiday tour safer. However, visit a guide and porter hire or email us for your detail travel inquiry.
Question: How much additional money do I need per day?
Answer: You can allocate US$ 08 – 10 for a lunch/dinner in Kathmandu and it depends on your spending habits. US$ 7 to 10 US$ each day will be enough to buy bottles of water, chocolates, tea coffee, and some drinks while you are on your trek.

Mardi Himal and Poon Hill Trek
100%
5
star based on –
300
Based on TripAdvisor Reviews
We had a great time with the trek team, who both looked aft er us well. Our guide Ram was very good at adjusting our schedule on trek, to make best use of the sometimes bad weather, and taking account of our abilities.
The tea houses were better than we expected and were generally well organized too. The hotels organized in Thamel, Pokhara, and Bhaktapur were all perfect for us. The trek up through the forest to the final mountain ridge was very enjoyable, and we did get some fine views between the rain, hail, and snow..- Tony Anthony Rye, London, United Kingdom

The Mardi himal base camp trek in Nepal
100%
5
star based on –
295
Based on TripAdvisor Reviews
Extremely friendly and cooperative operator with very nice staff. fully customized package carefully designed with every customer requirement in mind. And very flexible in service without any extra cost. Best quality service at most economical price.- Ashish Das, XLRI University, India

Mardi himal Trek in February
100%
5
star based on –
300
Based on TripAdvisor Reviews
As suggestion from Mr. Ammar to do Mardi Himal Trek, I found this is a amazing 8 days trek. Not many trekkers, new guesthouses, good meals. Gokyo Treks agency really quick to answer any questions you ask. Guide and porters are friendly and helpful.
I will definitely contact this company for my next trek.- Supachai Tanphan, Bangkok, Thailand.
Mardi Himal Trek Highlights
Discover Annapurna Himalayas within 180 deg angle from Mardi Himal.
Journey through the fertile landscapes, Get an excellent view of Dhaulagiri with the Annapurna family & Fishtail.
Not very demanding trail so very fewer trekkers but nice landscapes on trek routes
Get to know the Gurung and other ethnic groups and their lifestyles.
Mardi Himal trek notice:
The Mardihimal hikes information is just a standard template guideline that we provide you. For Mardi Himal trek solo is also possible but going on a group tour the trip prices will reduce. Furthermore, the group trek makes more un and tourist will have a chance to meet different people from different cultures and countries.
However, Mardi Himal Annapurna Hike is possible to modify at your request to adapt to your specific requirements. Local politics, landslides, cancellation of local flights, weather, transport, or a multitude of other factors that are beyond our control can result in a change of itinerary en route.
Furthermore, it is, however, very incredible that the itinerary would be extensively altered. If alterations are necessary the leader will decide the best alternative option, taking into consideration the best interests of the whole group. When a change does occur, we do everything we can to minimize its effect, but we cannot be responsible for the results of changes or delays.
What makes Mardi Himal trek special?
Opportunities for challenging hiking and pleasant strolls are scattered all over this planet. Hike Mardi Himal is the best hike near Pokhara town you just need to know where to find them. We at Gokyo Treks and Expedition believe in quality services. Your safety and satisfaction journey is a top priority for us.
We are a team of professional, experienced, trained, and licensed local guides who know the destination much better than others. Not only this but also we give benefits to the local communities and help to conserve natural resources which reduced costs and consumption.
From US$ 551
2% Off
US$ 540
| | |
| --- | --- |
| No. of people | Price Per Person |
| 1 | USD 599 |
| 2 | USD 540 |
| 3 | USD 540 |
| 4 - 6 | USD 520 |
| 7 - 9 | USD 495 |
| 10 + | USD 425 |
Book Now
Customize Trip
Cost & Departures
Your Trip Your Style!
ITINERARY, COST, DEPARTURES, will adjusted according to your GROUP SIZE NEED TIME
Book with Confidence
Lowest Price Guaranteed.
100% Customizable Trips
Excellent Customer Service
Hassle Free Booking.
90 % Repeated customers
Highly Recommended agency
Private/group tour options
Local Guides Company.