Exploring Namobuddha Panauti day tour is just an amazing. Namobuddha Panauti day hiking is a most demanding single day tour near Kathmandu city.
The top elevation Namo Buddha hill is 1,750m/5,740 feet, about 38 kilometers east of Kathmandu city. Furthermore, Namobudha hill station is famous for its dazzling location, amazing terraces, temples, and Buddhist Monastery.
Moreover, there is a beautiful namo buddha history and monastery. It is a purely a holy place. According to the legend, the king Mahasattva feed his own flesh to the hungry tigress to save from dying. And this Stupa remained underground for centuries.
Thus, on a fine day, a Shakyamuni Buddha came and got attracted by protuberance and as soon as he clapped his hand the Stupa appeared miraculously. Besides that, Namobuddha to Panauti hiking provides you with the best view of rice terraces, orange farm, & mustard field.
During the hiking, you will have a heart touching mountain views like Manaslu (8,165m), Ganesh Himal (7,446m), Lantang lirung (7,245m), Dorje Lhakpa and many other snow-covered mountains in a row. Moreover, you will have also a great view of Panauti Dhulikhel bazaar.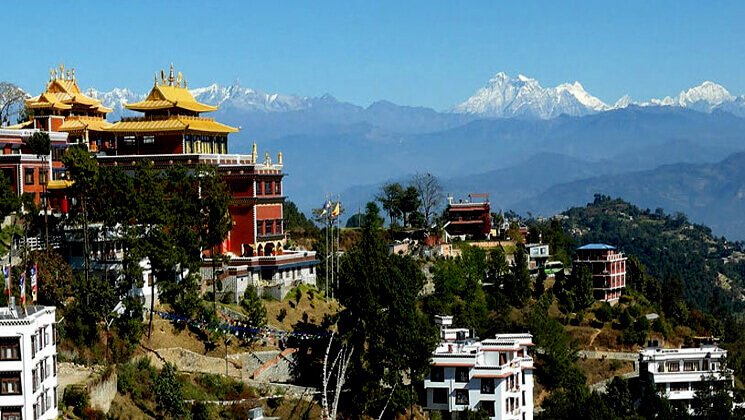 In addition, Namobuddha combine with Panauti, a very relaxing and easy day tour. The trail winds around beautiful villages, along with the foothill, riverbanks, gorgeous rice fields. Moreover, visit Indreshwor Mahadev Temple and a cremation platform of Panauti makes your hiking trip great. Being a combination of leisure and cultural, this tour guarantees its visitors for full of fun.
Namobuddha Panauti day tour itinerary detail
Day 1
Namobuddha Panauti Day Tour | Namobuddha Panauti day hiking !
Today, your day tour will start at around 8:00 am. You will have a private vehicle and a professional tour guide along with you. Your day tour begins reaching Namobuddha Hill. Then you can hike up to the Nmobuddha monastery. You Walk through the beautiful terraces visiting monastery and temples. After sightseeing around, you can walk towards Panauti bazaar. Visit Indreshwor Mahadev Temple and cremation platform. The journey takes about 4 hours of a normal walk. The rest of the part, you might drive.

The Annapurna luxury trekking is great!
100%
5
star based on –
255
Based on TripAdvisor Reviews
We are a team of 8 people and have booked Namobuddha Panauti day tour for my college friends with Gokyo Treks and Expedition. From the initial inquiry to the end of the trip the company was very impressive.
Ammar – the founder of the company was extremely efficient. He answers all of our emails and messages by return. We were extremely fortunate to have Ammar Guni as our local Tour Guide. They were both extremely kind and always wanted to ensure we were safe and happy. Namo Buddha and Panauti day hiking tour just awesome. Their customer service is excellent, so I would definitely recommend and use this company again. – Michael Sohr, Mannheim, Germany.