Namobuddha Panauti Day Tour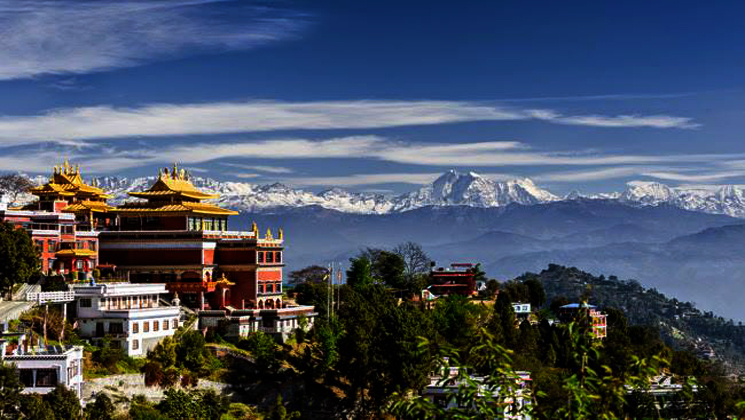 Namobuddha Panauti Tour Summary
Tour Duration: Single Day Tour
Hike Difficulty: Easy tours
Top Altitude: 1,750m/5,741 feet
Hiking Hours: 6-7 Hours
Group-Size: 1 – 14 People.
Best Time to Hike: All months
Transportation: Car / Hiace Van
Namobuddha Panauti day tour promise a perfect blend of relaxation and cultural immersion, guaranteeing its visitors an unforgettable journey filled with joy and wonder. Embarking on the Namobuddha and Panauti day tour is an absolutely incredible experience in the neighborhood of Kathmandu valley. Namo Buddha hill, boasting an impressive elevation of 1,750m/5,741 feet, situted approximately 38 kilometers to the east of the enchanting city of Kathmandu.
Attraction of Namobuddha hill station is of its breathtaking location, featuring mesmerizing terraces, ancient temples, and a serene Buddhist Monastery. Among the notable attractions is the captivating Namo Buddha history and monastery, a place of pure sanctity.
According to the legend, king Mahasattva feeds his own flesh to the hungry tigress to save her from dying. And this tiny stupa remained underground for centuries until a fateful day when Shakyamuni Buddha's presence revealed it miraculously with a single clap of his hands.
Hike from Namobuddha to Panauti bestows visitors with an awe-inspiring panorama of rice terraces, lush orange farms, and golden mustard fields. Traveler's heart filled with wonder as majestic mountain views unfold before your eyes, including the majestic peaks of Manaslu (8,165m), Ganesh Himal (7,446m), Langtang Lirung (7,245m), Dorje Lhakpa, and several snow-covered summits lining the horizon.
The Namobuddha Panauti day tour itinerary details
Today, your day tour will start at around 8:00 am. You will have a private vehicle and a professional tour guide along with you. Your day tour begins reaching at Namobuddha Hill. You can hike up to the Nmobuddha monastery. You Walk through the beautiful terraces visiting monasteries and temples.
After sightseeing around, you can walk towards the Panauti bazaar. Moreover, a magnificent vista of the enchanting Panauti town with Dhulikhel bazaar awaits, adding to the trip's splendor. Visit the Indreshwor Mahadev Temple and it's cremation platform of Panauti, enriching your hiking experience with cultural and spiritual dimensions. The journey takes about 4 hours of a normal walk. The rest of the part, you might drive.
Hike to Namobuddha and Panauti day tour cost includes:
Luxury private vehicle to transfer while you are on Namo Buddha hiking sightseeing
A professional certified Tour guide while on tour.
Nepal Government Tax, VAT, and as well as Company service charge.
A special gift from our company.
Hike to Namobuddha and Panauti day tour cost excludes:
All meals and accommodation during the staying you're staying in Kathmandu city.
All types of drinks, your travel insurance, and food while on a hike.
Gratuities for tour guide [Tip is a culture, so they expect highly]
Any other things which are not mentioned above
Namobuddha to Panauti day tour highlights
Tallest mountains such as Ganesh Himal, Manaslu, and Langtang Range in a row.
Best weather makes the best hiking or village walking into Dhulikhel rice terraces.
Total length of this hike is around 12 kilometers.
Majestic views of Kathmandu city, and some of its heritage sites.
Mixed terraces and landscapes
Departure & Return Departure Point:
Have in mind that we pick up all the travelers from inside the ring road such as your location in Thamel, Lazimpat, Darbar Marg, etc.
What To Expect
A hike from Namobuddha and Panauti stands out as one of the most demanding and rewarding single-day excursions in the vicinity of Kathmandu valley. It's a single day tour of 4-5 hours soft adventure multi-hours tour. See the birds, rice terraces, orange farmlands, Hindu temple, and Buddhist stupa en route.
Panauti consists of a variety of Buddhist and Hindu religious monuments and is considered to be one of the area's most significant medieval sites. It is also believed the most artistic town in Nepal after Kathmandu Valley. The Indreshwar Mahadev temple is one of Nepal's oldest and largest surviving wooden mandirs situated in the center of Panauti Bazaar.
Likewise, the Namo Buddha stupa is also considered to be one of the holiest stupas in Nepal that includes Swayambhunath (Swayambhu Mahachaitya) and the Boudhnath Stupa (Khasti Mahachaitya). This stupa commemorates the Shakyamuni Buddha's sacrifice of his body to a starving tigress and her cubs in his previous life.
Additional Information (TIPS AND TRICKS)
Confirmation will be received at the time of booking
A maximum of 15 people per booking
Travelers with back pain are okay but pregnant, and very old travelers are not advisable.
It's a private hiking/group tour activity.
Cancellation Policy
You can cancel up to 24 hours in advance of the experience for a full refund. For a full refund, you must cancel at least 48 hours before the trip experience's start time. If you cancel less than 48 hours before the Namo Buddha and Panauti tour start time, the amount you paid will not be refunded.
Any changes made less than 24 hours before the experience's start time will not be accepted. Cut-off times are based on the experience's local time.
Namobuddha and Panauti day tour notes:
The above itineraries are subject to change due to a condition beyond our control. This is just a Guideline showing a tentative tour plan and stops. A physical, technical, and natural condition may change the above itineraries.
"What makes Panauti and Namobuddha day tour special?"
Opportunities for challenging day hiking tours are scattered all over this planet but you need to know the right one for your vacation. The Panauti town and Namobuddha hill station hike stand out as a special day tour due to the unique blend of scenic beauty, spiritual significance, cultural richness, and the ease of accessibility, making it a cherished and unforgettable journey for all who undertake it.
We at Gokyo Treks and Expedition believe in quality services. Your safety and satisfaction is our concern. We are a team of professional and licensed local guides who know the destination better.
Namobuddha and Panauti Day Tour Review
Namobuddha Panauti Trekking with a local agency
As a couple, we opted for the Namobuddha Panauti day tour with Gokyo Treks and Expedition, a local agency based in Kathmandu. From the very beginning of our inquiry until the end of the trip, the company's performance was truly impressive.
Ammar, the founder of the agency, demonstrated remarkable efficiency, promptly responding to all our emails and messages. Our luck continued when we were accompanied by Ammar Guni, our local Tour Guide, whose kindness and dedication ensured our safety and happiness throughout the journey. The Namo Buddha and Panauti day hiking tour turned out to be nothing short of awesome.
The company's commitment to customer service was exceptional, leaving us with no hesitation in recommending and using their services again in the future. Our experience with Gokyo Treks and Expedition was simply delightful, and we couldn't have asked for a better adventure.

Response from Gokyo Treks Nepal
Dear Michael Sohr,
Your review has filled us with absolute delight! We emphasize that customer satisfaction is our utmost priority and express our sincere gratitude for the kind words and appreciation.
Your appreciation motivates us to continually strive for excellence in delivering exceptional mountain adventures. We eagerly look forward to welcome you on another remarkable trip in the near future.
Your return will be a true pleasure for us. And we say thank you choosing our services and assure you that we are always available to assist with any questions or assistance needed.
Warm regards, Ammar Guni
To book Namobuddha Monastery and Panauti day tour send to us your Inquiry
From US$ 95
5% Off
US$ 50
| | |
| --- | --- |
| No. of people | Price Per Person |
| 1 | USD 90 |
| 2 | USD 50 |
| 3 | USD 58 |
| 4 - 6 | USD 45 |
| 7 - 9 | USD 38 |
| 10 + | USD 25 |
Book Now
Customize Trip
Cost & Departures
Your Trip Your Style!
ITINERARY, COST, DEPARTURES, will adjusted according to your GROUP SIZE NEED TIME
Book with Confidence
Local Guides Company.
18 Years in Business.
Lowest Price Guaranteed.
100% Customizable Trips
Excellent Customer Service
Hassle Free Booking.
90 % Repeated customers
Highly Recommended agency
Private/group tour options