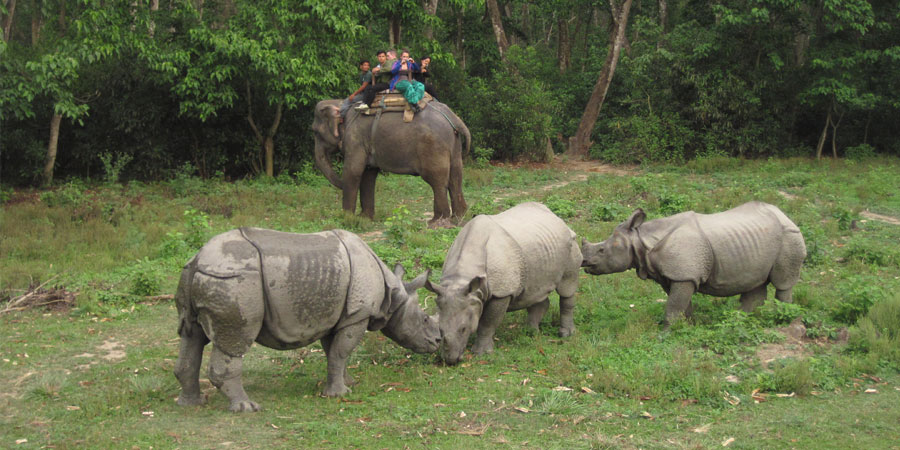 Chitwan Jungle safari tour fact Summary
Duration of Tour: 2 Nights 3 Days
Wildlife Safari Tour Difficulty: Easy Tours
Activity Hour: 5 – 6 Hours Daily
Group-Size: 1 – 15 Tourist
Best Time: March, April, May, October, November and December.
Trip Mode: Resort – Air condition room
Meals on Full Board: Breakfast, Lunch, Dinner
Transportation: Tourist Bus
The Chitwan Jungle Safari is the best popular wildlife sights tour in Nepal. Chitwan National Park is located in southern Nepal that covers 932 square kilometers (360 square miles) and declares a world heritage site by UNESCO in 1979.
Sauraha is a gateway to visiting a National Park that also includes many species of birds and reptiles. Chitwan literally means the heart of the jungle and is home to a diverse range of wildlife, including tigers, leopards, rhinoceroses, elephants, and many different species of birds.
A typical jungle safari tour will include a range of activities, such as elephant rides, jungle walks, canoe rides, and jeep safaris. Tourists will have the opportunity to see some of the park's amazing wildlife up close and learn about their habits and habitats from experienced guides.
One of the highlights of a Chitwan jungle safari tour is the chance to see the endangered one-horned rhinoceros. These majestic creatures are found only in Nepal and are a rare sight in the wild. In addition to the wildlife, the park is also home to several indigenous communities, and you may have the opportunity to learn about their culture and traditions during your visit.
We are an animal lover that also respects animals so we never use Elephant back safari as it is against animal rights. Hence, we use jeep safari in the National Park instead of Elephant back safari which provides an opportunity to get a closer view of the endangered one-horned rhinoceros. Likewise, Park Entrance fees are depending upon the nationality you are traveling to.
Overall, a Chitwan jungle safari tour is an unforgettable experience that offers a unique insight into Nepal's incredible natural beauty and wildlife and culture. It is a must-do for anyone visiting the region.
Best for 2 Nights 3 Days Chitwan wildlife safari tour package program!
| | |
| --- | --- |
| Chitwan Jungle Safari Tour | 2 Nights 3 Days Chitwan Jungle Safari Tours |
| Chitwan Jungle Safari Duration | 3 Days 2 Nights [possible to extend] |
| Category of Hotel | Standard [Deluxe Resort? extra cost] |
| Chitwan Jungle Safari Trip Includes | Breakfast, Lunch, Dinner, entrance fees and activities |
| Chitwan Tour Package Cost | Starts from US$ 150 Per Person [cheapest deal, check group discounts] |
| Activities of Chitwan Jungle Tour Package | Jeep Safari (2-3 hours), Bird Watching, Jungle Walk, Crocodile Breeding Center, Tharu Culture Program & Village Tour |
| Best Season | March, April, May, September, October & November |
Best time to visit Chitwan for a jungle safari tour
The best time to visit Chitwan for a jungle safari tour is during the winter season, which runs from October to March. During this time, the weather is dry, and the temperature is mild, making it ideal for wildlife viewing and exploring the national park.
The monsoon season in Chitwan, which runs from June to September, can make the jungle safari experience challenging due to heavy rainfall and flooded areas. Likewise, the summer season, from April to June, can be hot and humid, which can also make wildlife sightings more difficult.
Therefore, if you want to experience the best of Chitwan's wildlife and natural beauty, plan your visit between October and March. However, it's important to note that the park can be crowded during peak tourist season, so make sure to book your accommodations and tours in advance.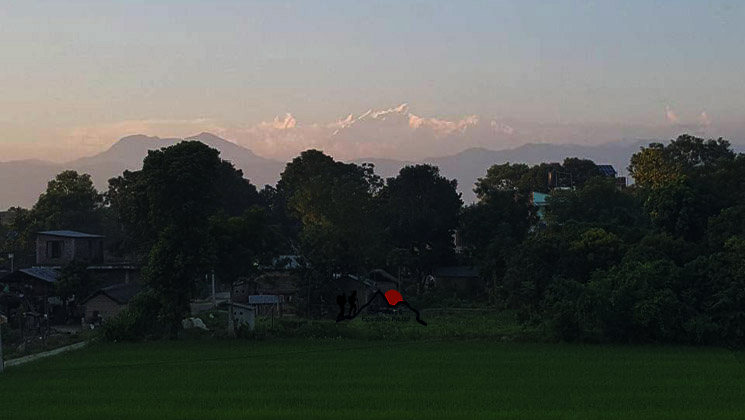 02 Nights 03 Days Chitwan Jungle Safari Tour package [BEST SELLING TRAVEL PLAN]
1 DayWe organize a tourist bus transfer to Chitwan either from Kathmandu or from Pokhara. Our representative will pick you up from the arrival point to the resort where you get refreshed with a welcome drink and brief you about its facilities and safari activities. After being given your programs, an introduction to your room and lunch follows.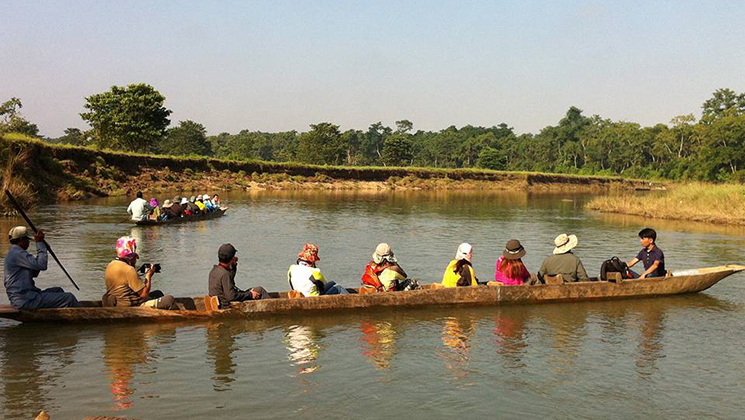 Cultural Tour (visit Tharu Village), Tourist Visitor Center, and riverside sunset view. Likewise, we serve delicious Dinners and visit Tharu cultural activities including stick dance. Return and sleep at resorts.
2 Day Wake up call for Breakfast, Canoeing ride, and on return with a short jungle walk and Elephant breeding center visit. Lunch will serve at the hotel and proceed for a Jungle drive instead of an Elephant back safari. In addition, Dinner in the resort and sleep.
3 DayRoughly wake up at 6:00 am for Tea/coffee and a short excursion for Bird watching. Return to the hotel for a delicious Breakfast and pack your things to proceed to drop you at Sauraha Tourist Bus station for your further journey.
Chitwan Jungle Safari Tour Package Price Includes:-
Arrival and welcome drinks in the Resort.
Chitwan National Park entrance fee.
A Nature Guide during your National Park Tour
All Meals (2 Breakfast, 2 Lunch & 2 Dinner) as per travel plan
2 Nights Standard room with air condition accommodation.
Activity such as Tharu Stick Dance culture program, Village Tour, Elephant Back Safari (or jeep ride option), Elephant breathing Center sightseeing, canoeing – boating on Rapti river, little bird watching with sunrise and sunset etc..).
Nepal Government Tax, VAT, and as well as Company service charge.
Safari Tour completion certificate – you keep as a souvenir.
What's not includes in the price:-
All types of bar bills
Kathmandu to Bharatpur and Return flights.
Bharatpur – Sauraha Hotel Resort – Bharatpur transfer cost.
All meals in Kathmandu.
Kathmandu – Chitwan Sauraha – Kathmandu with Tourist Bus Transfer (both way)
Gratuities for nature guide.
Accommodation in Chitwan Jungle Safari Travel Package
The rooms are all around screened, agreeable, and outfitted with cooling, restrooms with running hot and cold water. Likewise, very good power supply with a high-speed Wi-Fi web, satellite TV, and a snow-covered mountain view.
The Restaurant and Bars
We serve the assortments of our mainland and nearby food varieties, as well as a few extravagant public and worldwide luxuries, in our perfect and roomy café with average Nepali music. Moreover, we are centered around natural and sterile food. At our very much-supplied bar, you can relax and appreciate nearby and imported drinks.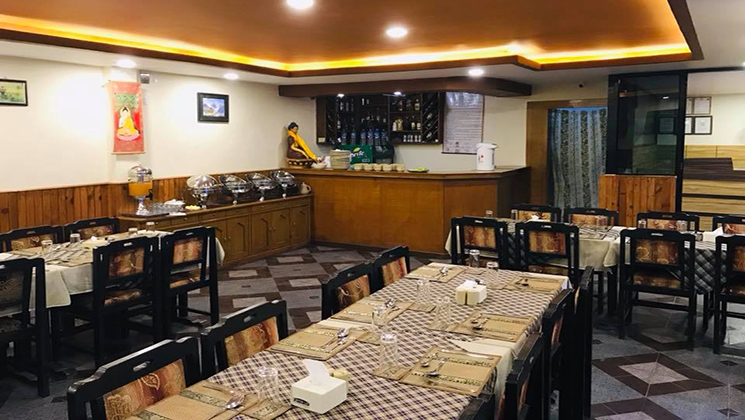 Bharatpur Airport Transfer Information
Doesn't want to take a tourist bus ride either from Kathmandu to Chitwan or from Pokhara to Chitwan? want to go by yourself to the resorts? the bus fare will deduct. Likewise, if you wish to fly to Bharatpur and fly out from Bharatpur, in this case, we pick you up from the Bharatpur airport to the resorts in Sauraha and also from the Resorts to the airport drop at an extra cost.
Chitwan National Park Luxury Safari Tours is possible [Extra Cost]
Visit the Chitwan National park luxury safari tour package is possible nowadays as there are some comfort lodges and hotels available just outside of the park. It's a wonderful way of exploring the incredible Chitwan National Park and going in the researching of most of the wildlife including rhinos, various types of monkeys, deer, and a royal Bengal tiger.
Likewise, the unique spot of Chitwan is one of the few places in the world where you can track tigers on foot and indeed we encounter more tigers in the regions of Chitwan National Parks on foot than anywhere else on Earth.
Besides the wildlife activities, tourists can stay at comfort lodges/hotels at night and get their all meals there. The Luxury tour in Chitwan is the perfect embodiment of wildlife, nature, culture, jungle safari, and life exploration.
List of activities or Things to do in Chitwan Jungle Safari Tour Activity
Buffer zone Jungle Walk 
Jeep Safari Tour
Bird Watching 
Tiger Tracking 
Tharu Culture Dance 
Crocodile Breeding Center 
Local Village Tour 
Visit at Elephant Breeding Center 
Read the top Highlights of Chitwan Jungle Safari Tours.
Home of Royal Bengal Tiger 
Rarely visit the real jungle tour in Nepal 
Explore the jungle with a jungle walk and jeep ride. 
A crowded national park with lots of wildlife sightseeing
Enjoy organic food and local culture 
Get to know the Tharu culture program 
Want to go with something more special wildlife safari tour to watch the Royal Bengal Tiger?
The Bardia Jungle Safari could be the right choice for you to watch Tiger. Distance from Chitawan to Bardiya National Park 290 kilometers far away from Chitwan Sauraha. It is situated in a wildlife sanctuary in mid-western Nepal close to the Karnali River, the public park is without a doubt perhaps Nepal's best spot to recognize untamed life.
Get even better fun and adventure travel and holiday activity in Bardia staying in either Budget or comfort resorts. Staying at Bardia is an ideal retreat from the rushing about of daily existence. We have planned the best packages to visit and see all about Bardia National Park brings to the table with extra fun exercises.
Chitwan Jungle Safari Tour Review
Gokyo lakes + Chitwan safari wonderful
We have just returned back home from Nepal, where we trekked the Gokyo Lake and back over Renjo la pass for 10 days. When we arrived in Kathmandu, we were warmly welcomed by Ammar and his family where we stayed for a few nights.
Also, when the flight was cancelled, Ammar suggested us to go to the Chitwan National Park first (which we planned at the end), and it was a very good choice, because when we came back the weather was good again. So while other travelers would transfer from hotel to the airport and back, we enjoyed the wild life 🙂 .
Our guide was also very nice and like a friend who is travelling with us. 🙂 and since we weren't in a big group we could change our trekk to the other side of Renjo La Pass, but hiking the same way down… we had a wonderful time and are very satisfied

Response from Gokyo Treks Nepal
Dear Tino and Ramona,
Your wonderful feedback is deeply appreciated. We are thrilled that you had a terrific experience with us. Your satisfaction is our utmost priority, and we cannot wait to have the amusement of serving you on another remarkable journey to the Himalayas very swiftly.
Thank you once again, and we eagerly anticipate your return.
Regards, Ammar
Chitwan National Park wildlife with a local Operator
Booked our 3 days 2 nights Chitwan jungle safari tour with Ammar Guni and his agency. Ammar answered very quickly and arranged everything resort and activity in Chitwan. His prices were competitive.
Chitwan National Park is very big but we stayed at Sauraha one of the comfort resort. We saw Royal Bengal Tiger, One Horned Rhinoceros, deers, and multiple birds on our jeep safari. It's worth if you spend 2 full days at least. We were very good taken care of during our stay in Nepal. Thanks, Ammar once again, and hope to visit Bardia next time with you guys.

Response from Gokyo Treks Nepal
Thank you
Best Place to Stay after Tough Hikes
Wonderful park to explore wildlife, have booked for 2 night 3 days package trip with Gokyo agency. There are a lot of crowds during the high season, especially in October / November and March / April.
Luckily, we were in early March, very less tourist in the park, and was in the hotel. We did a jeep safari which was amazing. There is so much more to this park than you would think!
Response from Gokyo Treks Nepal
Thank you
One Horned Rhino with a jeep Safari
We had a great time in Chitwan National Park for our wildlife tour with a reliable agency in Nepal. Ammar, owner of Gokyo Treks agency is an honest man who booked everything for us to make our holiday safe.
As we tired after 12 days of Everest base camp trek, we decided to fly to reach National Park. Ammar quickly arranged our flight to Bharatpur with Yeti Airlines right after landing at TIA domestic. Ammar's friend picked us up from Bharatpur airport to Sauraha at his resort.
They served super delicious meals within a friendly atmosphere.
All activities like Tharu stick dance, hiking at the park, and canoe ride at Rapti river were simply amazing. We saw one-horned Rhinos, multi colorful birds with crocodiles in the river. Sadly we haven't seen Royal Bengal Tiger.
If you are traveling in the Spring months, try out to make a plan to visit Sauraha for Chitwan National Park wildlife tour. Its very interesting and cheap, ask Ammar for the best deal.

Response from Gokyo Treks Nepal
Thank you
Fill properly on the given form to book a Chitwan Jungle Safari Tour Package with us and get a special deal.
From US$ 161
2% Off
US$ 150
| | |
| --- | --- |
| No. of people | Price Per Person |
| 1 | USD 158 |
| 2 | USD 150 |
| 3 | USD 148 |
| 4 - 6 | USD 145 |
| 7 - 9 | USD 142 |
| 10 + | USD 138 |
Book Now
Customize Trip
Cost & Departures
Your Trip Your Style!
ITINERARY, COST, DEPARTURES, will adjusted according to your GROUP SIZE NEED TIME
Book with Confidence
Local Guides Company.
18 Years in Business.
Lowest Price Guaranteed.
100% Customizable Trips
Excellent Customer Service
Hassle Free Booking.
90 % Repeated customers
Highly Recommended agency
Private/group tour options