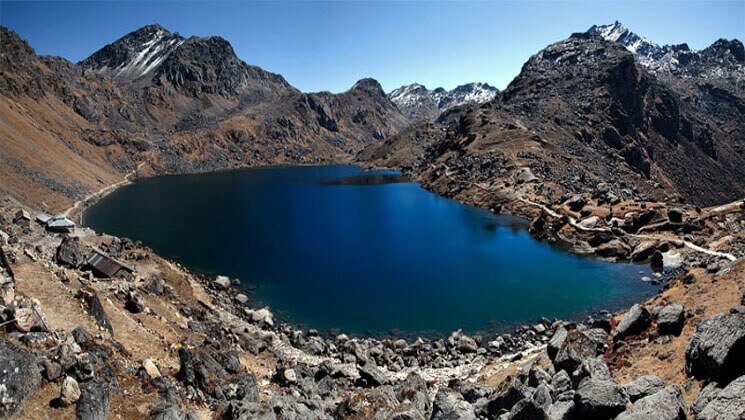 Trip Summary
Hike duration: 10 Days
Trek Grading: Moderate difficulty
High Altitude at Suryakunda lake: 4,610m / 15,121 feet
Trekking Hour: 6 hours
Group-Size: 2 – 20 People
Best Time to Hike: October – May
Trekking Trip Mode: Guest House
Meals on Trekking: Breakfast, Lunch, Dinner
Transportat: Car/Plane/bus
Overview
Gosaikunda pass trek is very famous to explore Red Panda an endanger animal of Nepal Himalayas. An easy to moderate grade Lauribinala pass trek located north of Kathmandu, the capital of Nepal.
Lauribinala with Gosaikunda pass trekking presents very good value with excellent Mountain vistas, magnificent landscapes including clean lodge accommodation with good foods. Most importantly, it is a less crowded trail compare with other most demanding trek routes of Nepal Himalayas.
As a result, Gosaikunda is a holy lake, an important pilgrimage destination for Hindu and Buddhists therefore many people visit this place regularly. Besides that, you can walk over moraine and stone rocks to Suryakunda pass 4,630m/15,140 feet, and descend downhill walking to Helambu.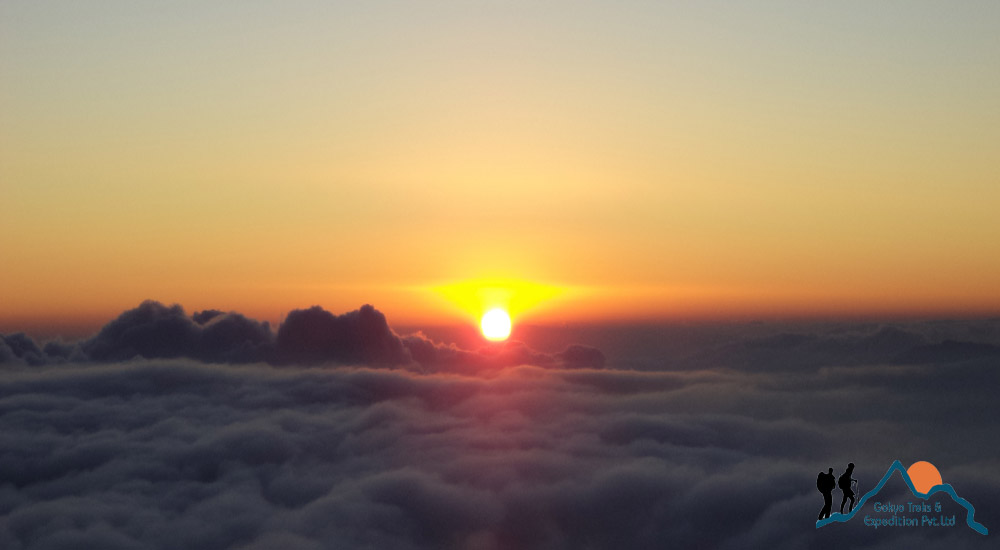 Hike to Gosaikunda lakes and Suryakunda pass is prominent over the most recent few years. Local people have been fabricated modern lodges with current facilities in a large portion of the spots. Langtang National Park is the habitat of several wild animals such as Musk deer, Himalayan black bear, snow leopard, Himalayan wild goat, and particularly birds and wildflowers.
Besides that, you will have the best look at Langtang Lirung (7246m), Gangchhenpo (6,388m), Dokpu (5930m), Naya Kangri (5846m), Yala Peak (6,250m). In addition, many other snowy mountains, rugged rocks, grassy lands, forested green valleys, and as well as holy mountain lakes.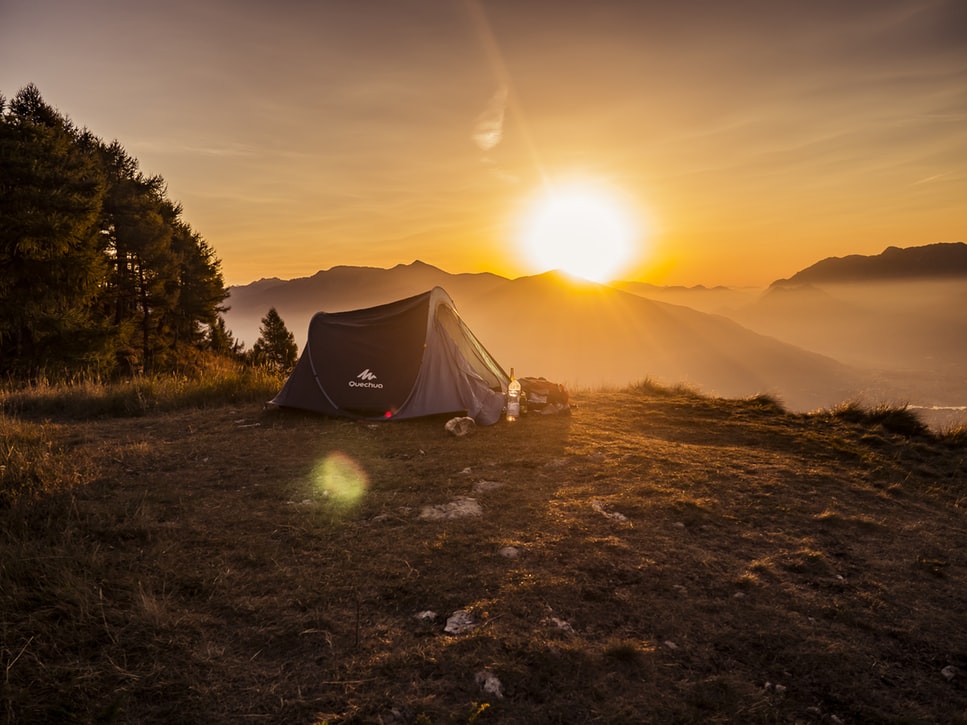 Cultural Helambu trek is equally popular for its natural beauty and wonderful climate with superb views of magnificent snow-covered mountains and as well as Tibetan Buddhism culture. Mainly, the Sherpa ethnic community are inhabitants here. So the travelers can explore Sherpa Buddhism and Gompas. Lauribina la trek can be done at any time throughout the year.
When is the best time for Gosaikunda Pass Hike?
If you want me to say the truth, I must say that you can complete the Gosainkunda pass trek – 7 days or in 8 days with taking enough rest. You can cross Lauribina la continuously Suryakunda pass in all months in all seasons. Wintertime, for example, December, January, February remains more snow and the track isn't simple in view of a sleeper, cold and sloppy, yet the lodges are opening.
Moreover, trek into March, April, May, and June mark the greatest months. They are a high tourism season to visit. The nature trail is dominated by glacial rivers and lush with a delightful Sun shining climate. Likewise, September, October, November speaks to the greatest months to visit as well in terms of the best weather.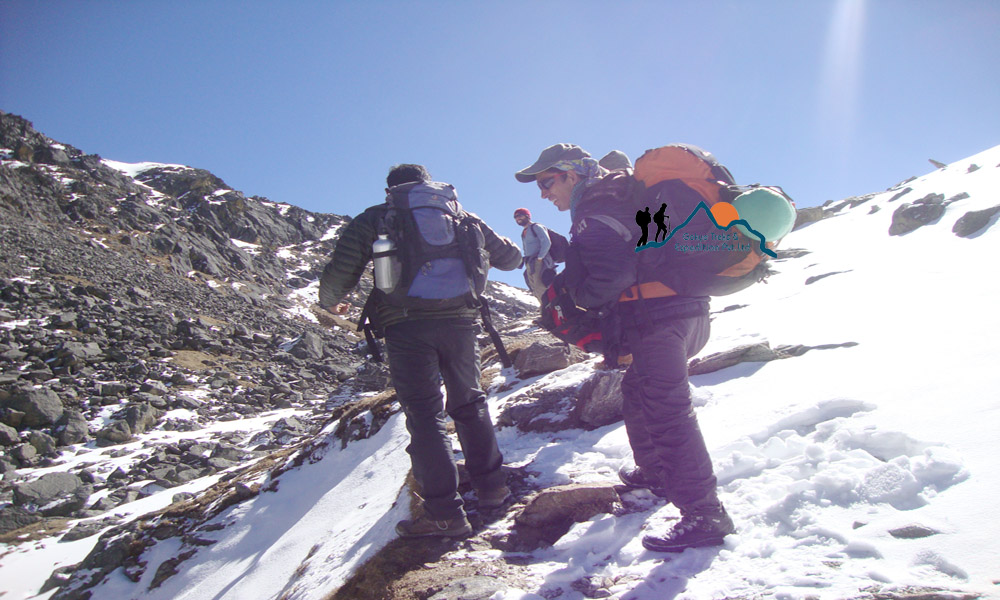 Hiking at Gosainkunda pass is more beautiful because of the best climate, phenomenal Mountain see, wild orchids blossoms, and gloomy lakes. Furthermore, in spring, the trail is unique that covered with varieties of alpine wildflowers, and the forests are multi-colored with colorful rhododendron, orchids, magnolia, and many other floral species. Trek in those months, you can see numerous travelers along the trek route.
Itinerary
Gosaikunda pass trek itinerary detail
Special hike Gosai Kunda Lauribinala pass includes the pristine glacial lakes along the rocky moraine trail until Suryakunda Phedi. Do not miss getting an awesome mountain view from the Suryakunda hilltop. Crossing this Lauribina la, you can walk downhill to get Phedi. The particular route is designed for a world explorer who hikes over Lauribina la with glacial lakes but is walking to get an adventure experience within a short span of time than this itinerary would be the best.
1 Day
Arrival at Kathmandu valley. Transfer to hotel in Thamel
Upon arrival in Kathmandu, Tribhuwan International Airport, we will receive you with private vehicle and transfer to hotel in Kathmandu with breakfast plan. Our representative will give you briefing about your trip.
2 Day
Drive to Dunche Bazzar (1,966m/6,429 feet), 6 hrs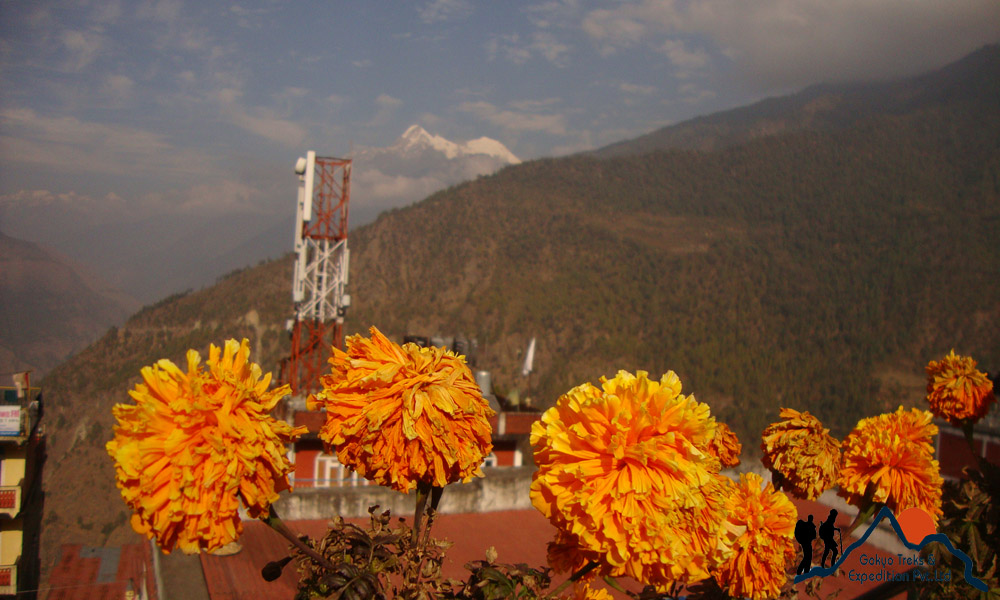 Have a breakfast at the hotel, drive few minutes to catch up coach for Dunche Bazaar with your mountain trekking guide and porters. Enjoy six our scenic drive through Trishuli bazaar with beautiful tiny villages, river valley, and mountains. The bus stops roughly about 30 minutes on highway restaurants for lunch in Trisuli. You reached at Dunche bazaar around 2 o'clock midday. Stay overnight in lodge.
3 Day
Trek ascend to Sing gompa / Chandan Bari (3,330m/10,890 feet) 5 hrs.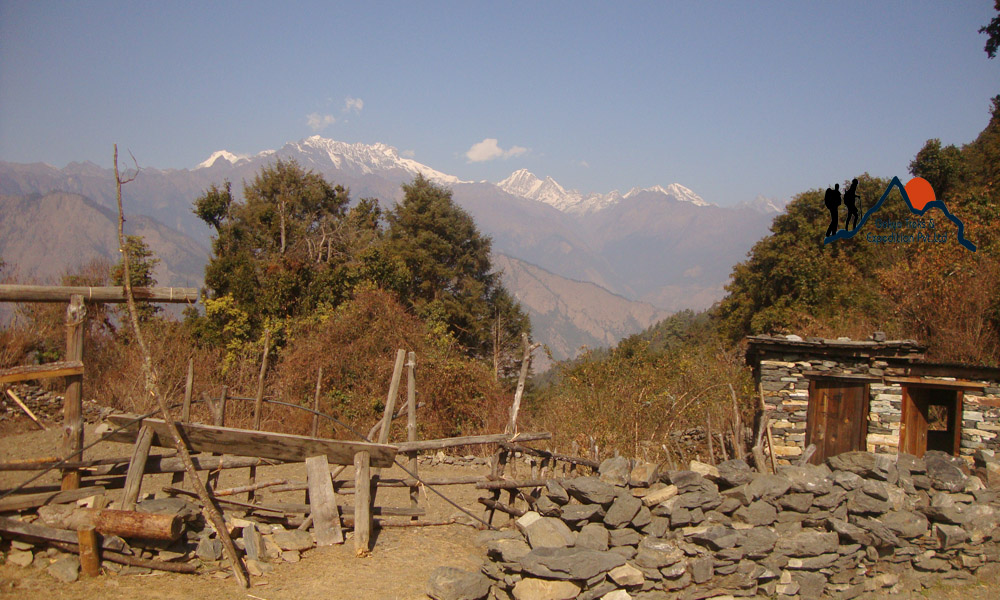 We proceed with stroll through woods incorporates a considerable staircase, in the wake of hiking for around 30 minutes, it's moving up for around 3 hours until you reach Deurali hill. The following stop if Dhimsa, a couple of hours later passing woods of oak, hemlock, and firs, we reach Chandanbari or Singompa.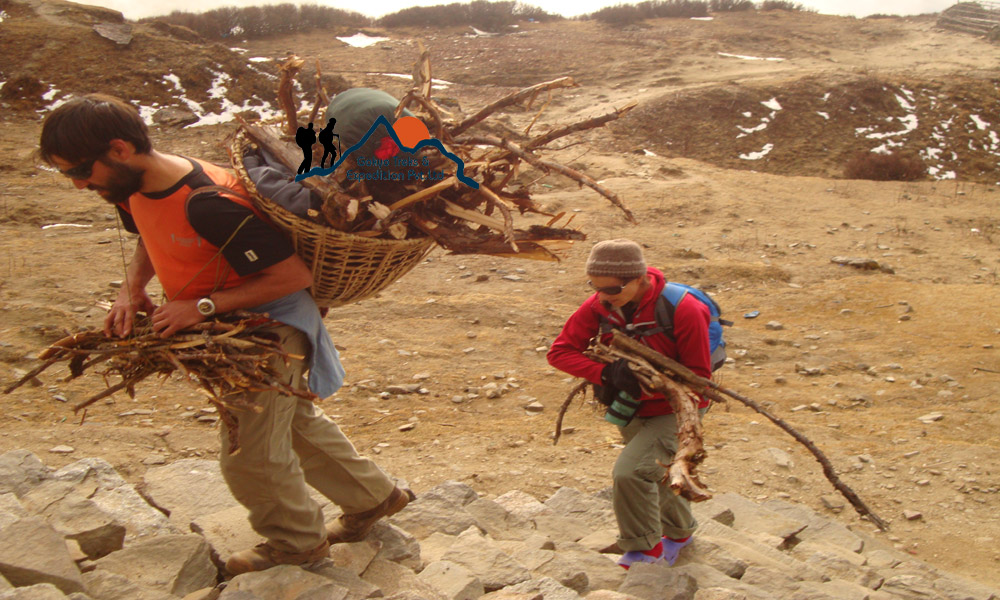 Singompa is a wonderful little stop on the way, with bunches of pleasant inns and a DDC's manufacturing plant where you can purchase Cheese. The vast majority take rest at Singopma and the following day rises to Lauribina take another stop before they reach Gosaikunda. We can see Langtang mountain extend including Ganesh Himal from here. Moreover, there is additionally a Tibetan Monastery on Sing gomba, intrigued individuals can visit there. We remain medium-term at hotel.
4 Day
Gosaikunda lake trek (4,380m/14,370 feet), 6 hours
Trek constant towards Cholangpati, hike through the backwoods of Oak, Hemlock and Firs. At that point, we walk rise to the Lauribina la slope (3,920 meters) station where the best perspective of Gosaikunda lakes (4,460m.), Himal Chuli (7,893m.,) Manaslu (8,156m,), Ganesh Himal (7,406m.), and numerous other littler snowy mountains are hanging tight to see us. On a sunny morning, even the Annapurna range can be seen ascending delicately behind. Toward the north, we would see Langtang Lirung.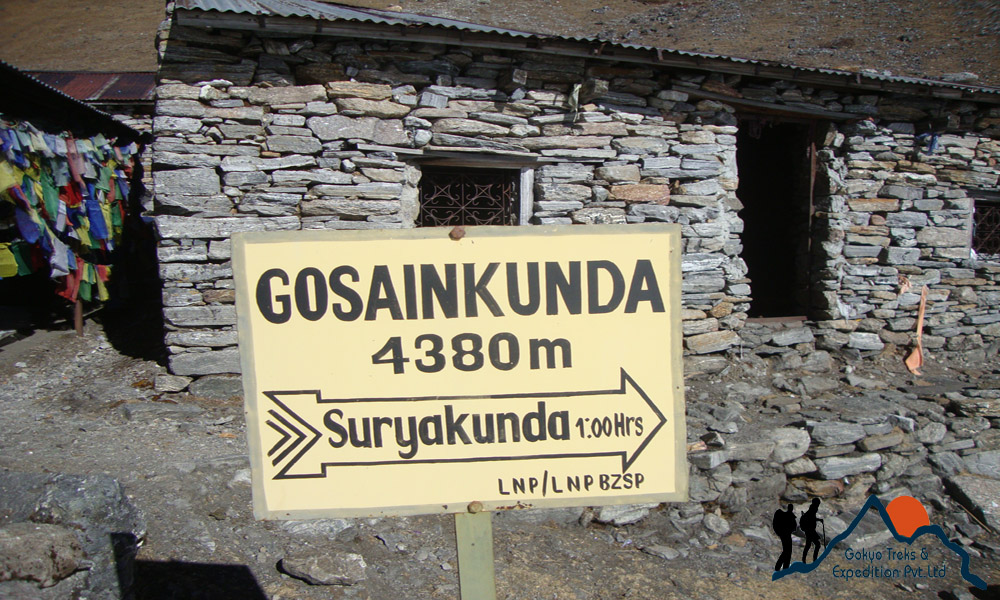 Likewise, at Gosaikunda climbing, you can see a few frigid lakes. Among them, the significant three are Saraswati Kund, Bhairab Kunda and Gosainkunda are generally prevalent. As per a legend, Gosaikunda was made by Shiva when he punctured an icy mass with his trident to get water to extinguish he yearn for having gulped toxic substances.
5 Day
Trek over Suryakunda pass. Descend to Ghopte vir (3,440m/11,283 feet), 7 hrs
The trail leads to the northern side of Gosaikunda Lake. Continue crosses a moraine, passing three more small lakes; you will reach Laurebina La (4,610m/15,121 feet) pass. The mountain trail descends to a National Park Post at Bheri Goth (4,240m) and to Suryakunda Phedi (3,740m). From Phedi the route drops and climbs through scrub bamboo to Dupichaur (3,630m) and descends finally to Ghopte vir.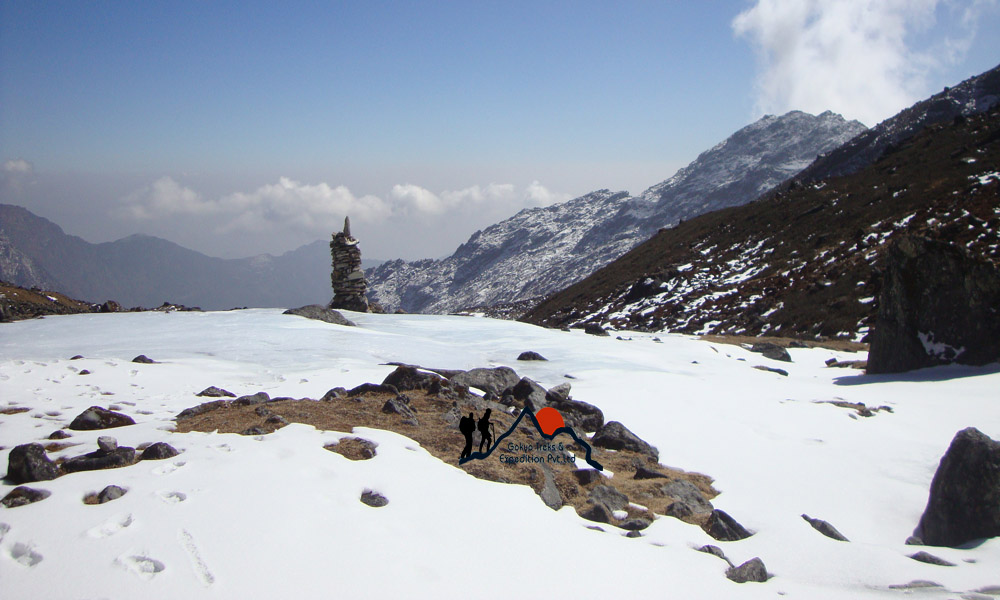 6 Day
Gopte to Tharepati hill station trekking (3,640m/11,903 feet), 4 hrs
Descending from Ghopte the trail makes several ascends and descends across moraines, makes a final ascent to Tharepati observing the fine scenery along the path. Afternoon, hike to the view point to explore the whole Helambu village as well as the famous boarder Himalayas including Xisapangma (Above 8000 m). Stay overnight at guest house in Tharepati.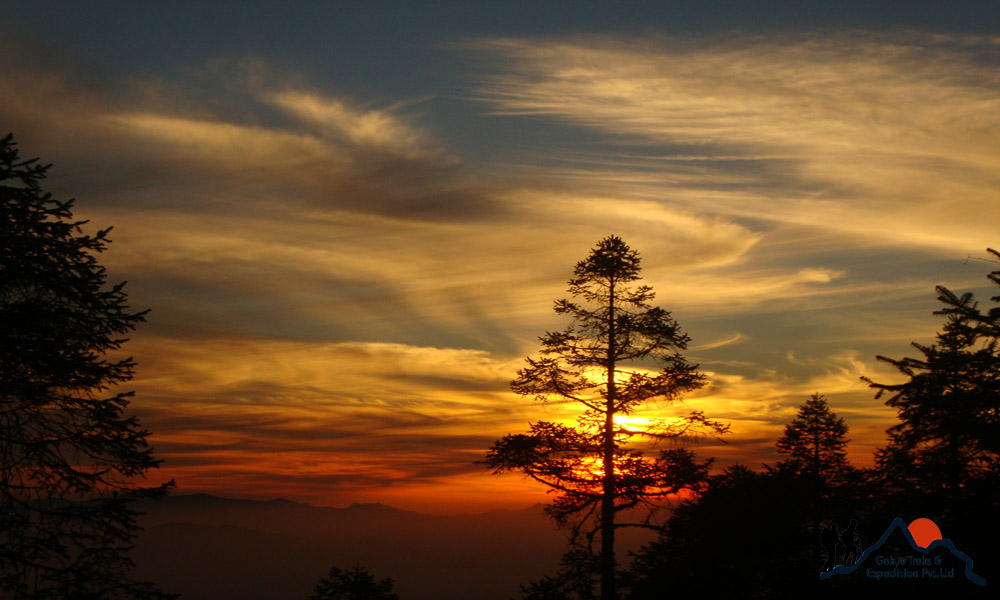 7 Day
Descend down to Gul Bhanjyang (2,140m/6,998 feet), 6 hrs
From Tharepati the journey precedes passing through forests, to Magen Goth (3,420m). Descends through fir and rhododendron forest observing the view of beautiful and glittering peaks on its way to Khutumsang (2,450m). Thus, the muddy path descends to the delightful hill village of Gul Bhanjyang. Stay overnight at a Gul Bhanjyang hotel.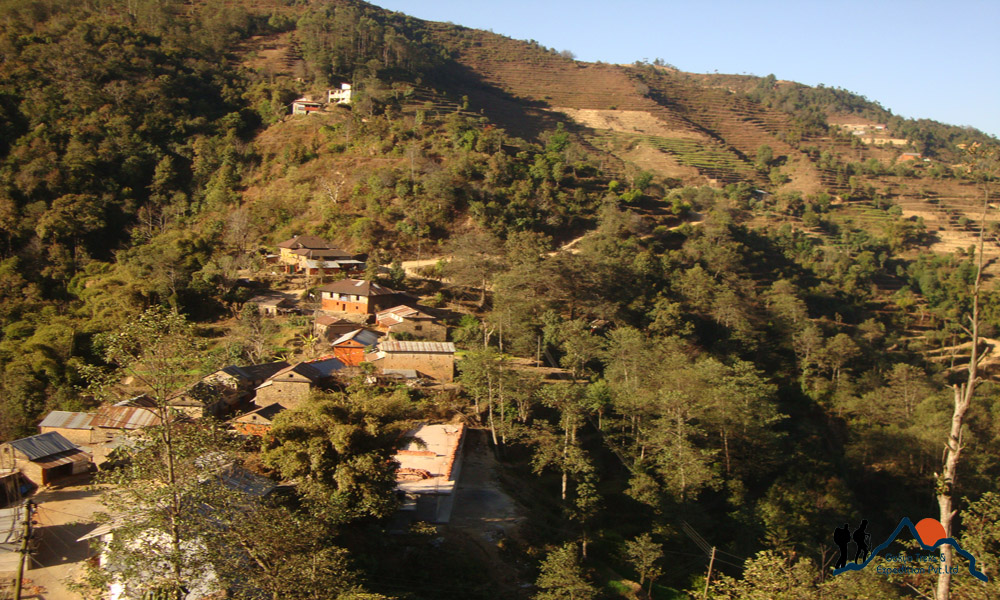 8 Day
Gul Bhanjyang to Chisopani trek (2,134m/6,978 feet), 6 hrs
The trek proceeds with the forested edge moving to Thodang Bettini (2,260m) and to Chipling (2,170m). Making an exceptionally steep plummet the trailheads to Pati Bhanjyang (1,860m), a Brahman and Chhetri town. At that point, the route continues to Chisapani view point where you can explore the mountain sees and the dawn over the Himalaya. Remain medium-term at visitor house in Chisapani.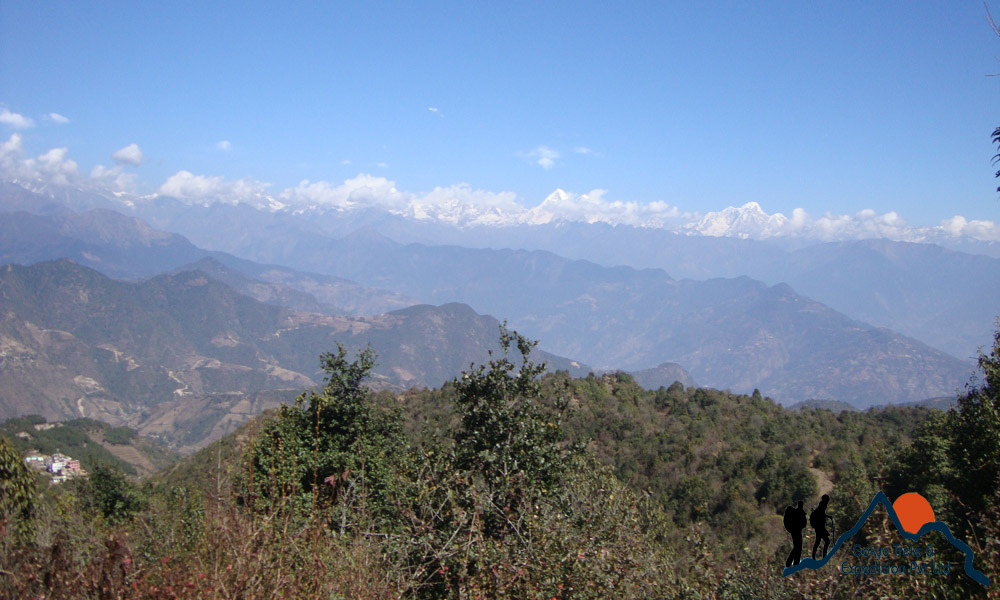 9 Day
Trek to Sundarijal (1,300m/4,264 feet). Drive to Kathmandu city center, 5 hrs.
From Chisopani hill station, the route goes forward through the forest of oak and rhododendron and brings you to Borlang Bhanjyang (2,440m). After a while, you will get to the Army check post where your Shivapuri entrance permit is checked, hike further to Mulkharka (1,800m) from where you will have a spectacular view of Kathmandu valley. Descending through the forest you will reach Sundarijal. Sundarijal has a hydropower station combine with a large water project connecting Melamchi to the Kathmandu water supply. Furthermore, we drive out to the city center of Kathmandu. Transfer to your hotel.
10 Day
Final departure day
Drop you in Kathmandu International Airport onward your final destination and our trip ends. Wish you your wonderful journey.
Cost
How much does Gosaikunda pass trek cost?
Hike to Gosaikunda pass 7 – 9 days is available now on USD 625 per person is standard trek price on double occupancy basis. But of course, the trip price will vary according to group size.
For the deluxe and luxury trek tour plan, we add a 3-star category hotel deluxe air-conditioned room in Kathmandu while on trekking on possible places. AND WE ARE OPEN TO CUSTOMIZE YOUR TOUR AND PACKAGES PRICE AS PER YOUR REQUIREMENTS. International tour leaders are highly encouraged to get discounts and attractive complimentary according to the group size you are coming with.
Lauribina la Gosaikunda pass trek cost includes
Kathmandu international airport transfer by private vehicle car / van / jeep / bus.
2 night's twin sharing tourist standard accommodation in Kathmandu within breakfast plan.
Guided sightseeing by Tour Guide in Kathmandu valley with private vehicles.
Langtang National Park entrance permits and their fees
Shivapuri National Park entrance permits and their fees
Trekkers Information Management System (TIMS) permits and fees
Meals on full board (breakfast, lunch, Dinner) each day during the trek
Kathmandu to Syabrubensi & from Sundarijal to Kathmandu by bus transfer as per itinerary.
All grounded transportation as per itinerary.
Professional English speaking license holder mountain trekking guide.
Experienced porters (2 guest: 1 porter basis) because each porter carry maximum 25 kilogram.
Salary, food, accommodation and their travel insurances for all Nepali crew.
A First Aid medical kit bag.
Updated Gosaikunda trek map 1 piece for each guest.
Nepal Government Tax, VAT and as well as Company service charge.
Hike to Gosaikunda Lauribinala pass trip cost excludes:
Nepal entry visa fee cost US$ 40.
Lunch and Dinner during the staying in Kathmandu
Any kinds of battery charges, laundry service, phone calls and hot shower during the trekking.
Sightseer personal trekking equipments .
Personal nature expenses, any drinks and bar bills.
Your travel insurance (it is mandatory in case of emergency).
Any donation and monuments entrance fees.
Tips for the crew (Note: TIPS is not compulsory but highly expected)
Any other things which are not mentioned above
Group join
We can organize a exclusive private trip Gosainkunda pass trek starting at any date that works for you. Please contact us for more information.
Oct. 25, 2021 – Nov. 04, 2021
USD 625
Nov. 10, 2021 – Nov. 19, 2021
USD 625
Nov. 20, 2021 – Nov. 29, 2021
USD 625
Nov. 30, 2021 – Dec. 09, 2021
USD 625
Dec. 10, 2021 – Dec. 19, 2021
USD 625
Feb 20, 2022 – Mar. 01, 2022
USD 625
March 10, 2022 – March 19, 2022
USD 625
March 20, 2022 – March 29, 2022
USD 625
April 05, 2022 – April 14, 2022
USD 625
April 10, 2022 – April 19, 2022
USD 625
April 25, 2022 – May 03, 2022
USD 625
May 05, 2022 – May 14, 2022
USD 625
Sept 10, 2022 – Sept. 19, 2022
USD 625
Sept 20, 2022 – Sept. 29, 2022
USD 625
Oct. 05, 2022 – Oct. 14, 2022
USD 625
Guaranteed – Trip is Guaranteed to run.
Available – Trip is available to run if minimum group size is filled
Limited – Only few space available
FAQ
Question: Is pick up service available on my arrival day in Kathmandu?
Answer: Yes sure. Provide us your flight details. Our representative will come to pick up you at Kathmandu international airport.
Question: Do I need the experience to do Surya Kunda Lauribinala pass trek group?
Answer: It is suitable for keen trekkers/walkers who are able to walk around 4 or 5 hours in a day, with a lightweight daypack. For this trekking, if you have about a little experience would be better.
Question: What kind of accommodation can I expect on the Gosaikunda pass trek?
Answer: We provide you tourist standard accommodation in Kathmandu and during the trekking routes. the rooms along the routes are clean with a cozy bed with a nice mattress and blankets. However, we recommend you take your own sleeping bags if you have one with you otherwise, you may rent them while you are in Kathmandu.
Question: What kind of food can I expect on this trek?
Answer: On the Gosaikunda lodge basis trek, each and every guesthouse have attached restaurants. They cook a delicious range of mostly vegetarian such as Pasta, tuna bakes, noodles, potatoes, eggs, lentils soup and rice, bread, soups, fresh vegetables.
The dinner and breakfast are provided in the same lodge you spend the night every day and Lunch will be provided on the way to the next place where you hikes.
Question: What opportunities will I have for a shower along express Gosaikunda pass trek?
Answer: As Gosaikunda pass trek is a lodge basis hiking, guests can order shower in the guesthouses and pay directly.
Question: How do I get drinking water on Gosaikunda pass solo trek?
Answer: All places offer nice lodges and shops where Tourists can buy mineral water in a plastic bottle to drink. But, we advise against buying mineral water in plastic bottles, as currently there are no provisions for disposing of plastic waste. Instead, Tourists can buy aqua tablets to purify the normal water as the normal water is available almost everywhere in the mountain trail.
Question: Can I charge my digital camera or other batteries on my trip?
Answer: During the lodge trekking there will be more chances to charge the battery. We recommend you bring an extra pair for in case. Remember to bring your adapters! An extra battery will be recommended.
Question: Are there any communication facilities on Gosaikunda pass hiking?
Answer: In this trek route, you can get telephone services as well as internet services as well.
Question: Is it possible to rent a guide? how to hire a local trek guide?
Answer: Yes of course. If you are not happy to go with the complete full board package trip, still you can hire our expert guide to make your holiday tour safer. However, visit a guide and porter hire or email us for your detail travel inquiry.
Question: Can I use credit cards in Trekking?
Answer: No! So, for the trekking routes, you need to have cash Nepali rupees because credit cards work only in the bigger city areas.
Question: When should I book my trip and what are the payment terms?
Answer: Because our trips book up months in advance, we recommend booking early to avoid any kind of misunderstanding. We will, of course, make every effort to accommodate last minute bookings.
And regarding the deposit, we prefer 20% advance deposit of the total price of the trip in order to confirm your reservation before you arrive in Nepal. And the rest of the payment can be made after your arrival in Nepal.
Question: Who will carry my luggage on the Gosaikunda pass trek?
Answer: We provide porters to transfer your luggage. As we are a responsible trekking tour operator agency, each of our porters carry a maximum 25 kilo of your backpack which means 2 guests (12.5 kg luggage of each guest): 1 porter basis. If you wish to have a private porter, you might also get it on paying an extra cost.
Question: How much distance do I walk each day?
Answer: When walking in the mountains, the distance you cover each day can vary greatly due to a gradient, terrain, and altitude. As such it is very hard to give specific distances on each day, however, you have to be prepared to walk roughly about 5 hours each day.
Question: Do I need walking poles ?
Answer: It is better to hike with walking poles. Learn how to use trekking poles for balance and stability, whether on the sidewalk or on trails. Walking poles can help prevent slips and falls. They are just recommended but not compulsory.
Question: How much additional money do I need per day?
Answer: You can allocate US$ 08 – 10 for a lunch/dinner in Kathmandu and it depends on your spending habits. US$ 7 to 10 US$ each day will be enough to buy bottles of water, chocolates, tea coffee, and some drinks while you are on trek.

Langtang Gosaikunda lake Trek with Gokyo Treks Nepal
100%
5
star based on –
203
Based on TripAdvisor Reviews
It was another trip to Nepal that we visited last July with our polish friends. The trip was nice but some days were raining for some times but luckily we had a great view reaching Kyanjin Gompa, Lauri Bina la and Gosaikunda lakes.
So we had a great view of Langtang Panora including shinning Ganesh Himal. The staffs were super friendly and easy-going so we had no problem to customizing the length of day tour every day. Thank you Gokyo Treks Nepal as we will be returning your beautiful land again in near future. Get connected with us on our Facebook and Whatsapp. – Chris Sabrena Majorca, Spain.

Fantastic trek through Gosaikunda
100%
5
star based on –
213
Based on TripAdvisor Reviews
We had a fantastic time on our trek organised by Gokyo. They listened to our requirements and put together our ideal itinerary for a good price. The trip was faultless, an easy transfer from the airport, a great route and good accommodation. However, the guide (Bishnu) really made the trek. He was fun informative and really good company. Returning to Nepal, I wouldn't want to use anyone else, thoroughly recommended. – Joshua Sams, England.
Brilliant hospitality, professional guides, best experience
100%
5
star based on –
214
Based on TripAdvisor Reviews
My husband and I trekked to the amazing Langtang gosaikunda to Helambu scenic trek in November 2016 with kamal our guide through Gokyo Treks and Expedition. Ammar organised everything for us with perfection. We stayed at Ammar's home after arriving in Kathmandu. What a nice welcoming.
We had an amazing time with our Trek guide who has almost 12 years experience trekking all over the Himalayas in Nepal and Tibet.
We had such an amazing trip. Pictures can not give back the natural beauty of the Himalayas. It was amazing to be in nature far away from civilization. The trekking was hard but it was well worth the effort when we reached the amazing Langtang and Lauribina la. All the villages had simple lodges with great varieties of foods.
I can not recommend enough Goyko Treks and Expeditions. Trip of the lifetime !!
Thank you very much, Ammar and Kamal, for the amazing experience! – Heiner Uwe, Dusseldorf, Germany.
Gosainkunda pass trek highlights
Undergo with the eye catching view from Lauribina la hill station.
Walk through productive fields, colorful Rhododendron, conifers and oak trees.
Best view of Mt.Langtag lirung, Langtag-ri, Langsisa, Langtang Himal … etc.
Gosaikunda a pilgrimage excursion (destination) of Hindu & Buddhist devotees, located at 4,460m.
Experience the Sherpa and other ethnic groups and their life styles.
Gosainkunda pass trek Notes
The information about the trek stated above is just a guideline that we provide you. However, we customize your trip according to your request to accommodate your specific standards. Local politics, landslides, weather, transport, or a multitude of other factors that are beyond our control can result in a change of itinerary during on trip.
It is, however, very incredible that the itinerary would be extensively altered. If alterations are necessary then we decide the best alternative option, taking into consideration the best interests of the whole group. Where a change does occur, we do everything we can to minimize its effect, but we cannot responsible for the results of delays.
"What makes Gosainkunda pass trek special?"
Opportunities for challenging trekking or hiking and pleasant strolls are scattered all over this planet. You just need to know where to find them. We at Gokyo Treks and Expedition believe in quality services. Your safety and satisfaction is our main concern. We are a team of professional, experienced, properly trained, and licensed local guides who know the destination better than others. Besides that, we give benefits to the local communities and helps to conserve natural resources by reducing costs and consumption.
From US$ 658
5% Off
US$ 625
| | |
| --- | --- |
| No. of people | Price Per Person |
| 1 | USD 785 |
| 2 | USD 625 |
| 3 | USD 680 |
| 4 - 6 | USD 615 |
| 7 - 9 | USD 599 |
| 10 + | USD 580 |
Book Now
Customize Trip
Cost & Departures
Your Trip Your Style!
ITINERARY, COST, DEPARTURES, will adjusted according to your GROUP SIZE NEED TIME
Book with Confidence
Lowest Price Guaranteed.
Excellent Customer Service
Hassle Free Booking.
90 % Repeated customers
Travelers Recommended agency
Local Guide's owned company.
Reference person
Contact in Germany
Klaus Kummer : +49-367-2351-957
Martin Aigner: +49 7904 7428
Contact in USA
John Erwin: 212-222-6389
Beth Pekol, Chicago: +1 312-364-8924
Eve Quesnel, California: 530-5879-113
Contact in Australia
Mark Panico: +61 434 784 995
Contact in France
Anne Claire Srdoc: +33 683 549 096
Contact in Austria
Verena Laner: +43 650 7110 301
Dorothee Plunger:+43 512 565 255

Contact in Switzerland
Dominik Lee, Zürich: +41 079 3826 028