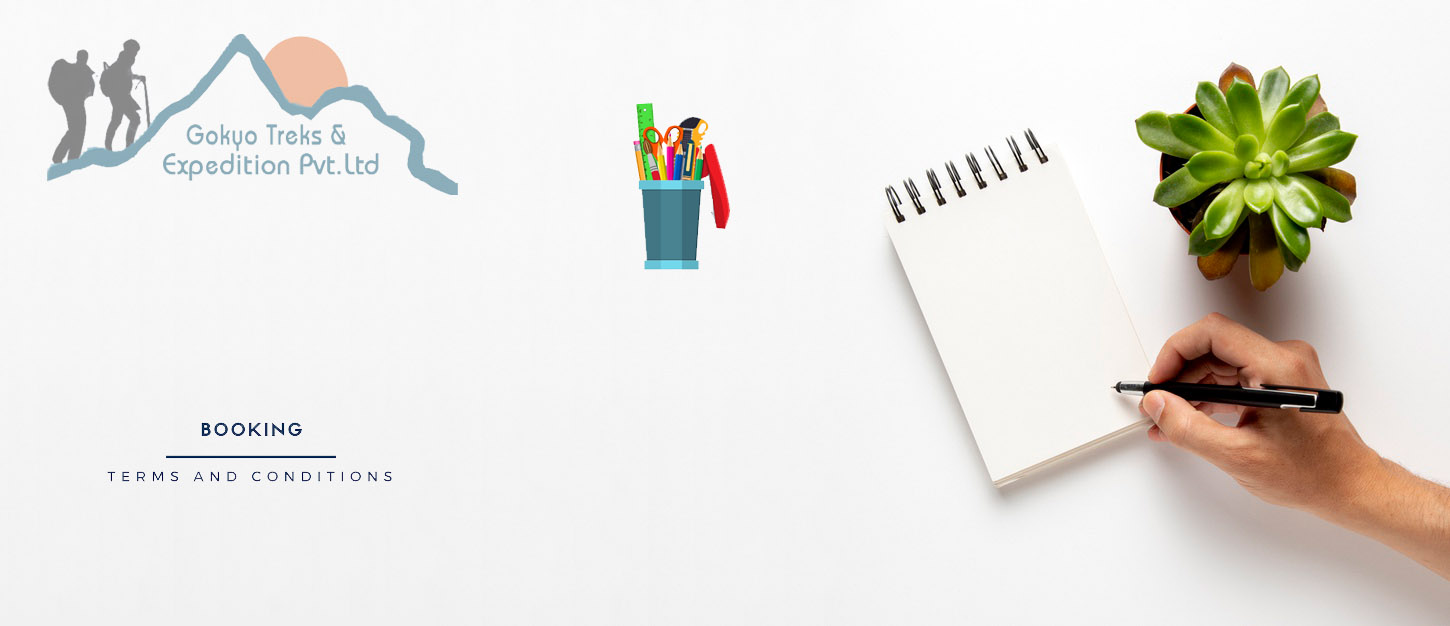 Gokyo Treks & Expedition Pvt Ltd is a fully registered under the law of Nepal Government. It is a trusted local company runs with the team of expert license local guides network based in Kathmandu to offer the best possible service in low cost to our clients.
With an aim of making tourism enhance, we put our all action into making our service better and superior. Your satisfaction our top priority and accepts your bookings under the following terms and conditions.
Risk and Liabilities
Tour trek conducts under the exacting guidelines and strict rules of the travel industry board in Nepal. We are not liable for any modification or cancellation of the trip under an unavoidable condition like a modify in rules and regulations of the country, government restrictions, cancellation of flight, delay, natural disasters, political instability, sickness or accident, the breakdown of the vehicle, etc. If extra cost arises due to such circumstances, clients are borne themselves. Therefore, we highly recommend buying travel insurance.
Incomplete trek/tour
Gokyo Treks agency is not liable for any refunds in case of any incomplete trek, tour, expedition or complete tour prior then planned or whatever the reason from the customer's side.
Postpone the trip
Customer should send a written notice to us 15 days prior to the trip departure date. In case of postponing the tour, a minimum USD 150 will be a charge to cover minimum expenses as a current trip cancellation charge. And the remaining part of the amount will forward transfer for the postpone trip.
Unforeseen Circumstances
In case, If your trip gets canceled due to any unforeseen circumstances like war, natural disasters, or unfavorable climatic conditions, we arrange you another trip. So no worries.
During the tour
In case you commit any unlawful act during your travel, trek, tour, and you are compelled to leave Nepal. We at Gokyo trek agency is not liable for any kind of refunds.
Supplement Charge
On holiday tour or trek packages, rooms or tents are provided on a twin-sharing basis. Thus, a single room supplement charge will be imposed on a client who does not have another tour participant to share a room (tent in camping trekking) with.
Change in Price
We reserve our rights to change the price under various circumstances. Though our action will be reasonable like in the case of some circumstances such as a radical change in foreign currency fluctuation, government actions, inflation, etc. We are not liable to answer anyone for our actions.
Flight delay and Cancellation
Flight delays and cancellations are quite often during the bad weather condition in remote areas in Nepal. They are particularly in Dolpo, Jomsom, Everest region, Annapurna region, Simikot, and Jumla airport, etc. Thus, it is advisable to carry some extra money to buy food and accommodations in case of delays. Gokyo Trek agency is not responsible for any of the additional expenses.
Your personal belongings
If you are taking any types of electronic devices such as cameras, drones, or laptops, carry yourself. The agency GTEPL will not liable for any damage or loss of your luggage or property. They are at your own risk.
Travel Insurance
We highly recommend buying a comprehensive travel insurance package before you travel to Nepal Himalayas. The insurance must cover all the medical expenses, trip cancellation, personal accident, emergency evacuation, and loss of gear and natural calamity, damage or theft of baggage and personal effects, etc.
Warning / Travel alerts
The terms and conditions as described above are applicable only if you book your trip with us directly. If you book your trip with us through any international travel agents or a third party, you shall be liable to their terms and conditions.
No Copying or Editing
No material from GokyoTreksNepal site might be altered, republished, downloaded, replicated, imitated, posted, showed, communicated, performed, authorized, used to make a subsidiary work, moved, sold, or disseminated in any capacity, without our earlier composed assent. You may not case or mirror any material on this site on some other server or other areas. Unapproved utilization of any such material on some other site or PC climate or somewhere else is disallowed.
Protection Policy
Consistently your data will be treated as per Gokyo Treks's Privacy Policy, which is fused by reference into this Agreement. See the details about Privacy and Policy
Coronavirus (New Varrient) Travel Protocole – Booking update
Who will take care of the expense in the event that I get quarantined by the local Government of where I am venturing out to?.
Answer: If you will have symptoms of Coronavirus (covid-19) in where you voyaging, at those conditions, we will help you in looking for clinical assistance according to the counsel of wellbeing authorities. Quarantine – Isolate may exclude contingent upon various nations and their approaches. In the event that you isolate in any spot other than your home countries, at that point we will help you contact your family members and family in pressing cases. A large portion of the movement protection doesn't cover the Covid-19 influenced territory. You can contact your Travel Insurance supplier for more information.
My trip itinerary is later in the year what shall I do? Shall I cancel?
Answer: The Coronavirus circumstance is evolving regularly. In a couple of months, the conditions might be different. On the off chance that all is great, we will work so keep in contact with us and we will refresh you. Along these lines, no compelling reason to cancel at this moment.
Do you take any appointments at this moment?
Answer: Yes we will take appointments right now yet not ahead of time. In case if the conditions are bad we can cancel and that doesn't make any misfortunes to customers.
Have in mind that our protocols are guided by Nepal Government regulations, WTTC (World Travel & Tourism Council), UNWTO (World Tourism Organisation), and include personal protection, extensive disinfecting, and physical distancing measures.
Contact Us
After reading the above detail, if you have more questions about this Agreement, please Contact Us.