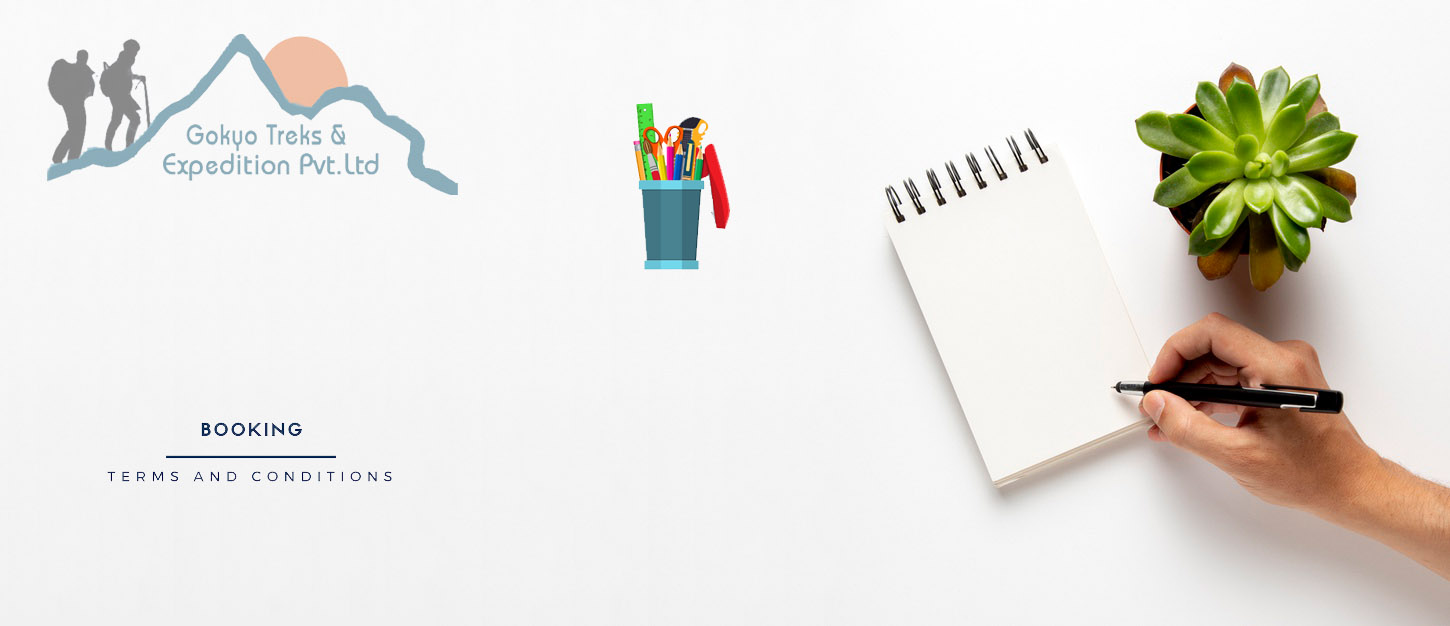 Gokyo Treks & Expedition Pvt Ltd, a registered limited company in Nepal (Registration Number 39829/2006), operates as a travel, trekking, and expedition agency. Locating at Bal Kumari Marga, House Number – 471/64 (first floor), Ranibari -26, Kathmandu.
We take pride in being a trusted local company led by a team of expert licensed local guides based in Nepal. Our mission is to provide exceptional service to our clients while keeping costs affordable.
Our commitment to enhancing tourism drives us to continually improve and excel in our services. Your satisfaction is of paramount importance to us, and we gladly accept your bookings under the terms and conditions outlined below.
General Booking Condition
To book on an exciting trekking and tour adventure in Nepal, Tibet, and Bhutan, please provide a photocopy of your passport. Likewise, 20% deposit of the total trip cost is required to confirm your booking.
This deposit is a non-refundable once paid and will be utilized to secure essential reservations, including accommodations, transportation, trekking permits, and other necessary arrangements. However, the remaining balance for your trekking tour payment can be settled upon your arrival in Kathmandu, just before the commencement of your journey.
Cancellation Policy
If you have made a booking with Gokyo Treks & Expedition and find it necessary to cancel your reservation, please note the following cancellation policy:
Cancellation Request:
All cancellation requests by clients must be submitted in writing and acknowledged by the Company. The date on which the Company receives your cancellation request will determine the applicable cancellation charges.
Refund Eligibility:
If you have made full payment for your trip, you may be eligible to receive a refund in the event of a trip cancellation.
Mandatory Disclosure:
It is imperative that any trip cancellation made by a client be disclosed through written notification and duly acknowledged by the company. The Agency must receive your cancellation request along with the date of submission.
Applicable Charges:
In such cases, the company reserves the right to impose charges on your trip cancellation. These charges are represented as a percentage of the total trip cost as listed on our website brochure.
Supplement Charge
On holiday tours or trek packages, rooms or tents are provided on a twin-sharing basis. Thus, a single room supplement charge will be imposed on a client who does not have another tour participant to share a room (tent in camping trekking) with.
We understand that unforeseen circumstances may necessitate a cancellation, and our policy is designed to fairly address such situations.
Refund of Booking Payment if it has paid in full (100%).
| | |
| --- | --- |
| 45 Days or more | 85 % |
| 44 – 30 Days | 70 % |
| 29 – 15 Days | 50% |
| 15 – 7 Days | 35 % |
| 7 – 0 Days | 0 % |
Kindly be aware that there will be no provision for refunds in the following situations:
Voluntary Departure:
Clients who choose to voluntarily leave a trip for personal reasons, whether based on internal or external factors, after the official commencement of the journey will not be eligible for any refunds of trekking and tour costs.
Non-Utilization of Services:
Refunds will not be issued for any unused accommodations, transportation, sightseeing, meals, or other services that were included in the program but were not utilized by clients during the course of the trip.
We appreciate your understanding of these policies, as they are in place to maintain the integrity and fairness of our pricing structure.
Last-Minute Reservations
For travelers seeking to make last-minute bookings, we are pleased to accommodate such requests for trips within Nepal. To secure a last-minute booking, please ensure that the reservation is made at least 24 hours prior the scheduled departure date of your chosen trip.
In this case, clients are required to make the full payment for the trip immediately upon confirmation. Have in mind that last-minute bookings are not applicable for trips to Bhutan or Tibet. We look forward to assisting you in planning your adventure.
Trip Postponement
If you find the need to postpone your trip to Nepal for personal reasons, notify us of your intention to postpone your trip by providing a written notice. Include the new date you wish to reschedule your departure to.
Once we receive your request, we will transfer all reservations to the new date of departure.
We understand that unforeseen circumstances may arise. Rest assured, we will not charge any additional costs for rescheduling, unless the thing doesn't get changed for the new date.
Travel Insurance
To ensure your safety and health during your activities, all clients are required to have travel insurance that provides comprehensive coverage. This insurance should encompass personal injury, medical expenses, repatriation expenses, helicopter rescue, and coverage for any illnesses that may arise during your trip. Gokyo Treks Agency highly recommends that you obtain this insurance through a reputable travel insurance company in your city or country.
Passport and Visa Requirements
It is essential for all clients to possess a valid passport with a minimum of 6 month's validity from the date of your return. You can obtain the Nepalese visas either from the Nepalese Consulate in your home country or upon arrival at Kathmandu Airport. Please note that the cost of Nepalese visas is the sole responsibility of the clients and should be factored into your travel preparations.
MODE OF PAYMENT
You can make the payment either by wire transfer or via credit card. We accept the following online payment system. While making a payment, fill up the required information and pay the advance amount specified for the given trip.
As you are required to make the 20% payment in advance in order to confirm the Tour and once you pay the amount then you will receive the Invoice for your payment then we will communicate through email for further steps.
SWIFT/ WIRE TRANSFER:
The bank payment details are authorized by the official bank account of Gokyo Treks & Expedition Pvt Ltd.
A. Bank Payment Details: Beneficiary Name: GOKYO TREKS AND EXPEDITION PVT.LTD. Account Number: 13201100003919 (Currency type: USD) SWIFT:NIBLNPKT
Have in mind that the bank service charges related to submitting a deposit are the responsibility of the client.
B. Payment through CREDIT CARD:
Please open the link, for the payment by credit card, it's 3D secured.
Note that Tourist can also send funds through the Western Union Money Transfer which is the fastest and easiest way to send the fund to Nepal. No hassle and hesitation for this proceeding. For this proceeding, the information can be provided in the email corresponding to you. Your invoice confirmation will be sent once we verify receiving the funds.
Guaranteed Departures
When you reserve a trip with us for a specific departure date, rest assured that we are committed to running the trip as scheduled. Even if the group size falls below the minimum requirement due to unforeseen circumstances, we will proceed with the trip. The Gokyo Treks & Expedition team is dedicated to accommodating your travel plans according to your chosen time and schedule.
Physical Fitness
Your health and well-being are of utmost importance, especially when embarking on a Himalayan adventure. To fully enjoy and conquer this journey, it is essential that you are in good physical and mental condition. We encourage you to assess your current health and fitness level to ensure that you are adequately prepared. Our goal is to make your trip a remarkable and unforgettable experience, and we want to help you achieve that.
Risk and Liability
While we strive to provide top-level services and ensure a hassle-free holiday, certain factors beyond our control may necessitate changes to the itinerary. These factors can include government restrictions, natural events like landslides or floods, political unrest, flight cancellations, delays, sickness, or accidents. Some of our trips involve adventure and inherent risks, and it is important to understand that you assume personal responsibility for any damages, injuries, or unforeseen circumstances during the trip. Additional costs arising from such situations will be the responsibility of the clients.
Amendment in Cost
Gokyo Treks & Expedition Pvt Ltd reserves the right to adjust trip prices posted on our website in response to unforeseen circumstances or external factors, such as sudden changes in exchange rates or government actions. We make every effort to maintain the published prices and also offer seasonal trip discounts to suit your budget and preferences.
Injuries & Evacuations
Please note that Gokyo Treks agency does not assume responsibility for injuries, physical conditions, or other medical issues that may arise during the trip. Additionally, your package cost does not include personal client insurance.
Be Responsible for Your Trip
In mountainous regions like Everest and Jomsom in Nepal, domestic flight delays due to adverse weather conditions can occur. In such cases, Gokyo Treks will provide accommodation and meals in the departing city before your trip. We reserve the right to adjust trek routes or use alternative transportation in the event of extended delays, without affecting the trip cost. While we do our best to assist with missed international flight connections, any associated costs will be borne by the clients.
Responsibility for the Clients
During your trip, our tour/trek leader, representing Gokyo Treks, holds complete authority. Any unlawful acts committed by clients may result in their removal from the tour, with no refund provided in such cases. Your cooperation and adherence to local laws and guidelines are essential for a safe and enjoyable journey.
Personal Belongings
During your trip, our agency team will take every precaution to ensure the safety of your belongings. However, in the event of loss or damage to your luggage or personal property, we donot accept responsibility for such occurrences. Please take extra care of your possessions during your journey.
Advertising and Publicity
We may feature client photos and videos on our websites for promotional purposes without prior notification, but we are committed to keep your personal privacy.
Warning
Gokyo Treks and Expedition Pvt Ltd terms and conditions are applicable only if you book your trip with us directly. If you book your trip through any of our travel agents or third party, you shall be liable to their terms and conditions. If any quires related to terms and conditions please feel free to Contact Us.