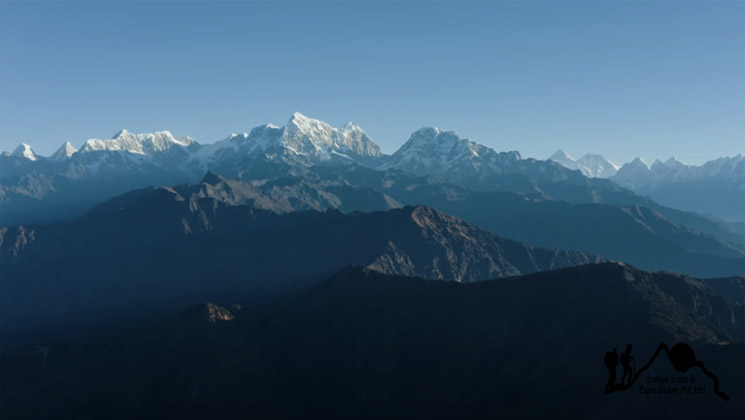 Pikey Peak Trek Summary
Pikey Peak Trek Duration: 06 Days
Pikey Peak Trek Difficulty: Easy to moderate
Max Altitude: 4,065 meters / 13,337 feet
Trek Hour: 6 Hours daily
Hiking Group-Size: 1 – 14 People
Meals on Trek route: Breakfast, Lunch, and Dinner
Best Time to Hike: March, April, May, October, November and December
Trip Mode: Guest House
Transportation: Regular Jeep / Bus [Sharing basis]
Overview
Pikey Peak Trek is magnificent that passes through the rhododendron forest with Sherpa settlements in the Solu Khumbu region of Nepal. The highest point of Pikey peak is situated at an altitude of 4,065m and is a popular trekking destination and a Great Himalayan Trail in Nepal. 
In clear weather travelers can see stunning view of the world's highest mountains including Mount Everest & Makalu. As a scenery from Pikey Peak is breathtaking, and to summit trekking is a great way to experience the beauty of the Himalayas.
In addition to experiencing its natural beauty of Everest foothills, you also get to learn Sherpa culture. Your footsteps will pass with Buddhist chortens, gompas, and stupas that are draped in colorful prayer flags on your route. It's cover in enormous herds of emerald-green livestock including yaks, sheep, and wild mountain goats.
Visitors can see an unmatched vista of Himalayan tapestry from Pikey Peak. Nothing compares to the marvel of enormous mountains as you hike along the meandering path that crosses over raging mountain rivers, through green bamboo woods, and through thick carpets of red, white, and pink wildflowers, golden marigolds, and scarlet rhododendrons.
Moreover, this Pikey peak name is derived from the name of the Sherpa clan deity. During July; local people hold celebrations to worship their clan God, the eastern Chyabo Pikey, as Pikey Hlapchen Karibu. However, trekking in a rainy season is not advisable but other than rainy time in Nepal trekking to Pikey peak is always outstanding.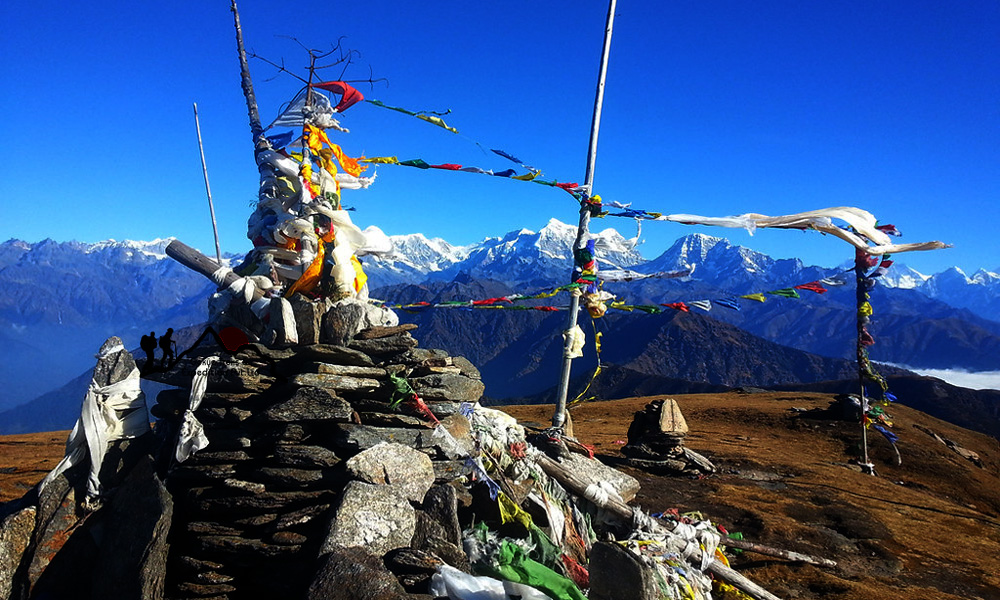 How much is the Pikey Peak Trek Package Cost?
The cost of Pikey peak trek package with a local agency Gokyo Treks Nepal ranges between US$ 340 to US$ 579. However, pikey trip price vary according to the group size you are traveling with and the mode of the transportation you used. However, on given package price will includes transportation, a guide, porters, hotels and food accommodation and hiking permits, facilities.
We have also some discounts for group leaders. However, we often arrange private trips in order to avoid group treks with strangers travelers. A private trek gives you a better experience on your hikes. If you value personalization, flexibility, and in-depth experiences, a private trip customized to your personal needs which can be best option.
Hike to Pikey peak as given here is a standard trip package price for 6 days trek in a lower Solu Khumbu. If you are 2 tourists pikey peak trek cost US$ 445 for 6 days trek as per given hiking plan. We can modify this trek route and price according to your wishes also. Here is the price list for a Pikey treks.
Price Per Person for 6 days hike in the Pikey Peak trek route.
| Number of Tourist | Price Per Person |
| --- | --- |
| 1 Person | US$ 579 |
| 2 Person | US$ 445 |
| 3 Person | US$ 430 |
| 4 to 6 person | US$ 399 |
| 7 to 9 Person | US$ 375 |
| 10 and more than 10 Person | US$ 340 |
If you're wondering to know about what is included and what is excluded from this trip price, kindly check on the cost given on a tab button.
Itinerary
Pikey peak trek itinerary details
Hike-to-pikey peak itinerary compared to most walks in this region leading up to Pikey hill station. It's a special route that designed for world travelers who wish to hike to the spectacular mountain but are restricted time-wise. Travelers who wish to trek in the Great Himalayan Trail (GHT) in a more relaxed manner can try this itinerary. Nevertheless, if the itinerary does not suit you then send us an inquiry for a tailor-made itinerary.
1 Day
Scenic Overland drive to Dhap (2,850m/9,351 feet), 9 hours.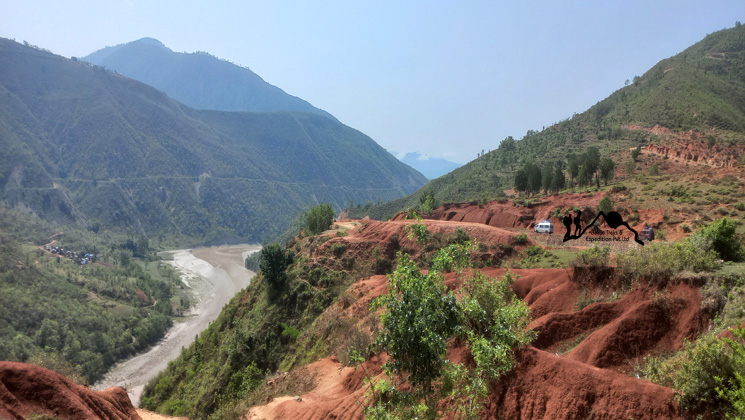 We begin our journey about 5:00 AM in the morning with a drive from Kathmandu to Dhap, passing Sindhuli and impressive Okhaldhunga Bazaar. Okhaldhunga is the headquarters of the Okhaldhunga District in the Sagarmatha Zone of Nepal.
We follow the highway road along the Sunkoshi River banks until you reach Ghurmi Village. On drive, you can sit back and admire the constantly changing landscape with dense forests, terraced rice fields, and countless gushing rivers.
Eventually, we reach Dhap guest houses in the late afternoon as from Kathmandu to Dhap Bazaar distance is 250-kilo meters by road.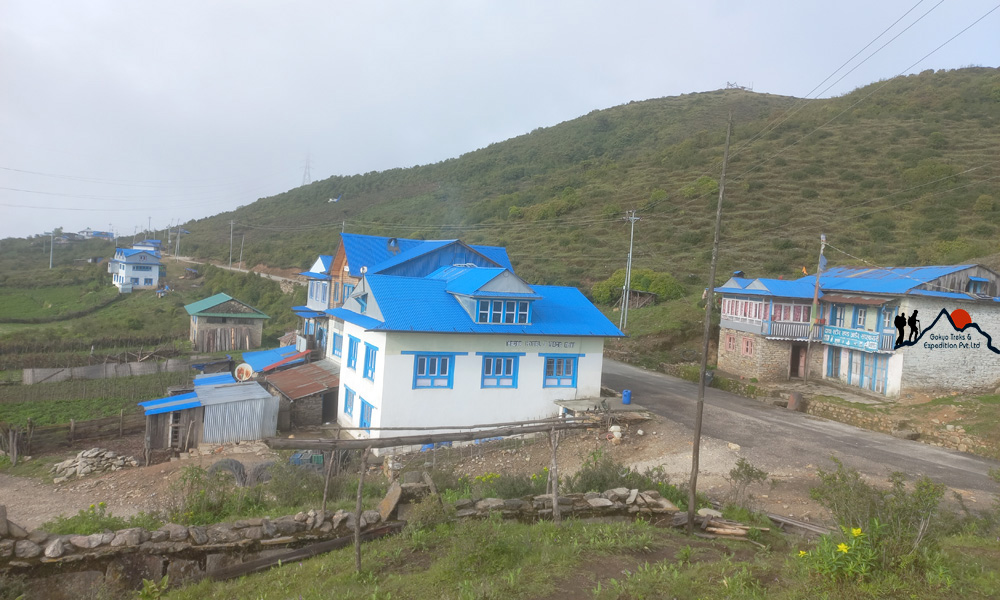 2 Day
Trek to Jhapre (2,820m/9,252 feet), 4 hours.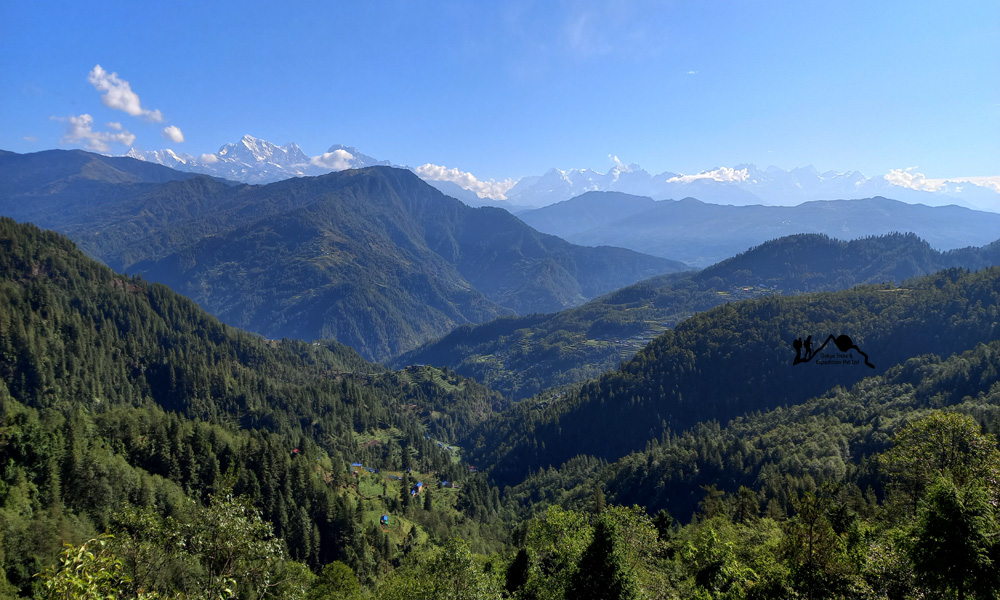 Before the sunrise makes a plan to hike Chagesthan Temple at Jantardhap in the morning. Chagesthan Temple is a hilltop that offers an amazing mountain range that starts from Kanchenjunga to Langtang Including Mount Everest. Numbur, Dudhkunda, Thamserku, Khengtega, Mera peak, salpa la, Ramdung, Manaslu, Dhaulagiri, Gauri Shankar, and Dorje Lhakpa are also clearly visible from this hill.
Spend some time to get sunrise and return to guesthouse for breakfast. Journey from Dhap especially for the first part is amazing because of the landscape and potatoes terrace. As you close to Sigane, you will get the best view of the Numbur mountain range. This path from Sigane follows a street under development for the first 3 hours. Jhapre is a tiny village situated at an elevation of 2920 meters.
Jhapre village is situated over a profound valley with pleasant perspectives of Everest and Numbur Himal. There's a little Buddhist Monastery and stupa where tourists can hike in and watch. Likewise, the distance from Dhap to Jhapre is roughly 13 kilometers where we stop to stay that overnight in a guest house.
3 Day
Jhapre to Pikey base camp trek (3,640m/11,943 feet), 5 hours.
Follow the nature path which ascends to a lush edge at Bhulbhule ridgeline. As you are at the top point, tourists can see countless mountains including Everest, the highest mountain on earth. Not long after Bhulbhule, the path parts and you'll go right to Yak grazing land at Pikey peak base camp. Hike over the ridgeline is possible for skiing in the winter months as the landscape is similar to the European Alps.
Tourists will have Lunch either at Bulbule or at Lamuje guest house and pass some old yak houses and a long mani stone divider. Our walk on to the nature trail is a slope underneath Taklung Danda and goes through a delightful forested path.
In spring months, Rhododendron trees en route make your pikey path astonishing after they bloom. Hike to pikey base camp in springtime is super because of colorful rhododendrons. Jhapre to Pikey Peak base camp distance is 15-kilo meters and we stay overnight in a local Sherpa Guesthouse.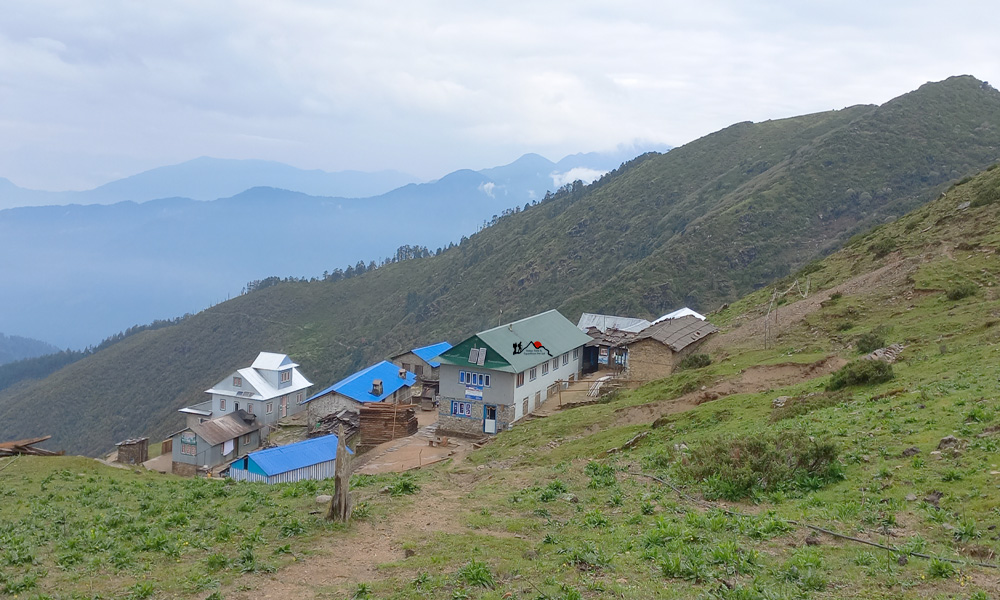 4 Day
Pikey Peak Trek (4,065m/13,337 feet). Further to Junbesi (2,680 m/8,793 feet), 8 hours.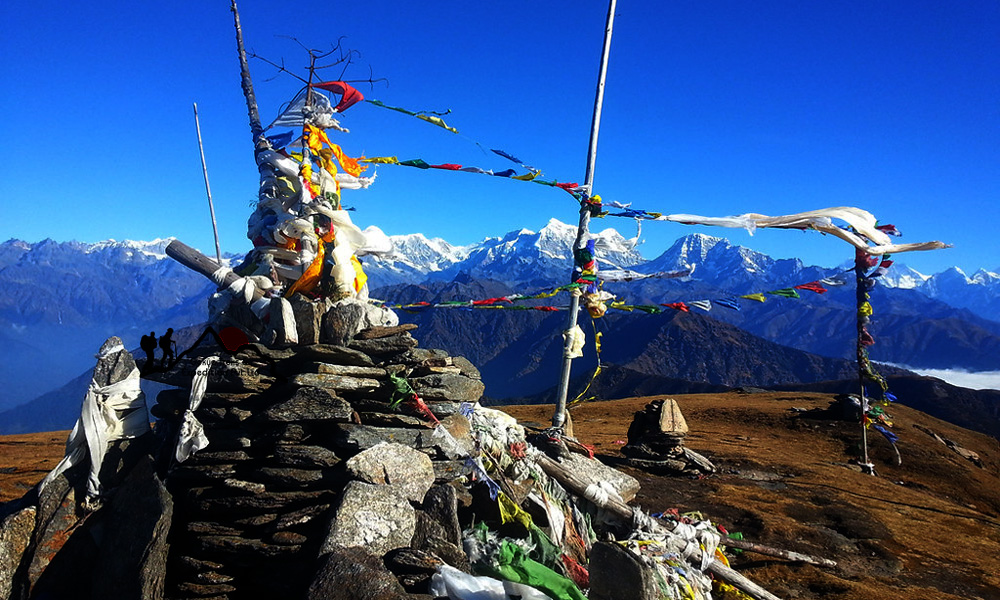 Hike to Pikey peak is a top viewpoint trek in a lower Solu Khumbu territory. Tourists need to walk in a very early morning to get sunrise over the mountains photography. You will see Sun rising over mount Everest (8,848m) including countless summits.
They are Number Chuli (6,959m), Thamserku (6,608m), Kangtega (6,685m), Khatang (6,853m), Kanchenjunga (8,586m), Manaslu (8,163m), Dhaulagiri (8,167m), Gauri Shankar (7,134m), Dorje Lakpa (6,966m) and Langtang. Subsequent to taking in the broad display from Pikey hill, we will plummet to the Junbesi Valley followed by the Lamjura hill station.
You will cross numerous Mani dividers and Chortens prior to arriving at Junbesi. At Junbeshi, tourists can visit an old monastery. Additionally, the distance you cover today is about 22 kilometers, so we can stay overnight at the lodge.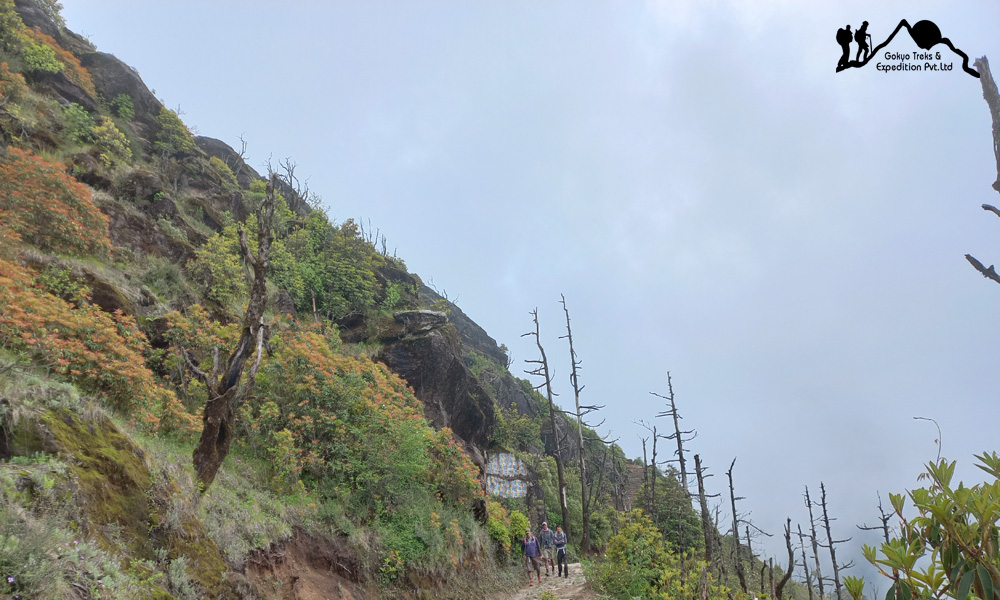 5 Day
Thubten Choling Monastery Hiking and Trek to Phaplu/Salleri (2,362m/7,750 feet), 7 hours.
Hike to Thubten Choling Monastery is a great and worthy walk that we have to ascend 340 meters above Junbesi guesthouses. After breakfast, travelers can hike to monastery for a 3/4 hour round trip hike along the Junbesi Khola with a gentle uphill climb to Thupten Chholing Monastery.
Have a meditation with the local monks and nuns in the monastery and explore the village before you trek back to Junbesi. Thubten Choling Monastery (often spelled Thupten Choling) is situated at an elevation of 3,020m/9,900 feet and is one of the popular side trips to Dudhkoshi destinations around Junbesi.
It's a Buddhist monastery founded by His Holiness Trulsik Rinpoche in the 1960s after fleeing Tibet. The distance from Junbesi town to the stupa of Thuptencholing Monastery is about 7.7 kilometers [4.79 miles] and it's a day trip that takes some hours of hike however if you add an extra day in Junbesi its worthy staying long hours in the monastery to stay with nuns and monks for meditation.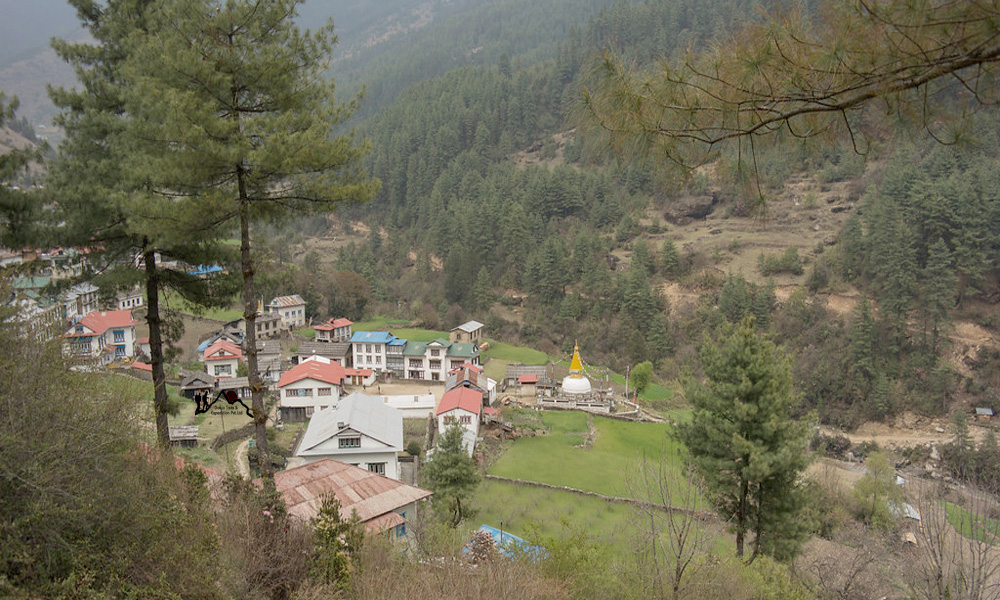 Otherwise, today the trail is gently downhill along with a small stream and can enjoy delicious local food and participate in farewell to our staff. Phaplu is a scenic little village with a few shops, cafés, and restaurants. A number of different treks end in Phaplu Bazaar, as this is where trekkers catch their flight back to Kathmandu.
Solududhkunda is the only municipality in Solukhumbu District in Nepal. This town of Salleri, which is located within the municipality is a headquarter of the Solukhumbu District and offers beautiful lodges, coffee shops, and market place. Tonight we stay in Saleri in a guest house.
6 Day
Salleri to Kathmandu drive out, 9 hours
Our regular jeep to Kathmandu departures around 6 am in the morning every day. Thus, we drive out to Kathmandu with a regular Jeep [shared basis]. You can also either continue for Phaplu to Everest base camp journey or fly out to Kathmandu paying an extra cost (USD 125 per head) which takes about 35 minutes. Upon your arrival transfer to the hotel, and trip finish.
Not satisfied with above plan?
Interested on planning a custom trip? this might take 2 to 3 minutes.
Cost
How much does the Pikey peak trek package price?
Our Pikey peak trek package price US$ 445 per person on double occupancy basis. This package offers a standard trekking experience along a newly promoted off-the-beaten-path route with normal guest houses along the way.
For a deluxe option, we provide comfortable beds with attached private toilets/bathrooms whenever feasible. Additionally, this deluxe plan includes flights from Kathmandu to Phaplu and back as a round trip.
Frequency of flights from Kathmandu to Phaplu can vary depending on the airline and the season. Generally, there are a few flights per week, and the flight schedules as they might have different frequencies on different days or during peak and off-peak seasons.
We are flexible and open to customizing your tour and adjusting the package price according to your specific requirements.
Pikey peak trek package price includes:-
Kathmandu to Dhap & from Salleri to Kathmandu return transfer by a Jeep [sharing basis].
Private taxi transfer (from your hotel – Jeep station on Chabhill – and return) bothway in Kathmandu.
6 Breakfast served with Tea/coffee, 6 Lunch and 5 Dinner during the Pikey trekking tours.
5 Nights Guest House accommodation with a common toilet basis during the trekking days in the lower Solu mountains.
TIMS permit incase if need for Pikey peak trek in Nepal.
Government license holder (Professional) Mountain Trekking Guide.
Assistance Guide [License holder] for more then 7+ Tourist for pikey peak trip.
Necessary porters (1 porter = two guest basis) because each porter carries a maximum of 24 kg of tourist's bag pack.
Seasonal fruits like [Apple, pomegranates..etc] as a dessert after dinner at climbing pikey peak route.
Trek completion certificate and Pikey peak trek map, you keep them as a souvenir.
Well-paid salary, food, accommodation, and insurance of Nepalese guide/porters.
Agency's duffel bag (50 liters capacity), and trek poles if Necessary – return after the trek.
First aid medical kit including Oximeter to check your Oxygen level, Pulse rate to monitor every day to prepare for high altitude risk.
In a worst case, help with all Helicopter Rescue and evacuation arrangements (but not the rescue bills).
Nepal Government Tax/VAT and as well as Company service charge.
Pikey peak trekking package price excludes:-
Lunch and Dinner during the staying in Kathmandu city.
Any kinds of battery charges, laundry service, phone calls, and hot showers during the trekking.
Domestic flights: Kathmandu – Phaplu – Kathmandu as a round trip with airport taxes.
Sightseeing in Kathmandu with a Private vehicle and Guide if you wish to extend the trip.
Tourist personal trekking equipment , nature of expenses, all types of drinks, shower, deserts, bar bills, and Clothing.
Travel Insurance which covers emergency rescue, evacuation, personal loss, or damage.
Any donation and monument entrance fees.
Gratuities for guide and porters [Tip is a culture, so they expect highly].
Group join
Feel free to reach out to us to arrange your personalized Pikey Peak Trekking adventure. We're flexible and can start the trek on a date that suits your schedule. Get in touch for further details and planning.
| Departure Date | Availability | Price | Book |
| --- | --- | --- | --- |
| 05 Dec, 2022 – 10 Dec, 2022 | Available | 445 | |
| 15 Dec, 2023 – 20 Dec, 2023 | Available | 445 | |
| 25 Dec, 2023 – 30 Dec, 2023 | Available | 445 | |
| 10 Mar, 2024 – 15 Mar, 2024 | Available | 445 | |
| 20 Mar, 2024 – 25 Mar, 2024 | Available | 445 | |
| 25 Mar, 2024 – 30 Mar, 2024 | Available | 445 | |
| 05 Apr, 2024 – 10 Apr, 2024 | Available | 445 | |
| 10 Apr, 2024 – 15 Apr, 2024 | Available | 445 | |
| 20 Apr, 2024 – 25 Apr, 2024 | Available | 445 | |
| 25 Apr, 2024 – 30 Apr, 2024 | Available | 445 | |
| 10 May, 2024 – 15 May, 2024 | Available | 445 | |
| 20 May, 2024 – 25 May, 2024 | Available | 445 | |
| 10 Sept, 2024 – 15 Sept, 2024 | Available | 445 | |
| 20 Sept, 2024 – 25 Sept, 2024 | Available | 445 | |
| 05 Oct, 2024 – 10 Oct, 2024 | Available | 445 | |
| 10 Oct, 2024 – 15 Oct, 2024 | Available | 445 | |
| 20 Oct, 2024 – 25 Oct, 2024 | Available | 445 | |
| 25 Oct, 2024 – 30 Oct, 2024 | Available | 445 | |
| 05 Nov, 2024 – 08 Nov, 2024 | Available | 445 | |
| 10 Nov, 2024 – 15 Nov, 2024 | Available | 445 | |
| 20 Nov, 2024 – 25 Nov, 2024 | Available | 445 | |
Guaranteed – Trip is Guaranteed to run.
Available – Trip is available to run if minimum group size is filled
Limited – Only few space available
FAQ
Question: Do I need experience for pikey Pikey Peak Trekking?.
Answer: Pikey Peak Trekking is an easy hike in Nepal best for novice trekkers. Tourists can walk around 5-6 hours every day with a lightweight backpack. However, a special climbing experience does not require it.
Question: Is pick up service available on my arrival in Kathmandu?.
Answer: Yes sure. Provide us with your flight details. Our spokesperson will come to pick up you at Kathmandu international airport.
Question: Can I store my luggage/stuff in Kathmandu?
Answer: Yes, you can leave your luggage at your hotel or at our office. Store your stuff in the Gokyo Treks agency office for free.
Question: Is Pikey peak GHT trekking Safe for the Solo Female Trekkers?
Answer: Absolutely. Nepal is a safe country to travel to for solo travelers; GHT pikey peak is perfectly safe for solo female trekkers. We have been organizing trek even for solo female travelers since its establishment.
Question: What kind of accommodation and food can I expect on pikey trekking?.
Answer: We provide you with tourist standard accommodation in Kathmandu. And during the trekking routes, you will have homestay accommodation. We advise you to take your own sleeping bags if you have one with you otherwise, you may rent them while you are in Kathmandu.
Likewise, all the small guesthouses along the trek route have attached restaurants and they cook a delicious range of mostly vegetarian such as curry rice, Pasta, tuna bakes, noodles, potatoes, eggs, bread, soups, and fresh vegetables.
dinner and breakfast are provided in the same lodge you spend the night every day and Lunch provides on the way to the next place where you are hiking.
Question: What opportunities will I have for a shower en route?.
Answer: Every Guest house stays shower but you need to pay roughly US$3 per shower.
Question: How do I get drinking water on express Pikey Peak Trekking?.
Answer: There are enough places of local houses and shops where you can buy bottled mineral water. But we advise against buying mineral water in plastic bottles, as currently there are no provisions for disposing of these types of plastic waste in the mountain. Therefore, we suggest you buy a metal bottle and water purification tablets before you depart from Kathmandu. You can get water on stream or on local taps easily.
Question: Can I load my digital camera or other batteries on my trip?
Answer: As a lodge trek there are more chances to charge the battery. We recommend you bring an extra pair in case. Remember to bring your adapters.
Question: Are there any communication facilities on Pikey trail?.
Answer: Yes! at this route, buy a Nepal Telecom SIM CARD for telephone call service as well as 3G data.
Question: When should I book my trip and what are the payments terms?.
Answer: Our trips book up months in advance, we recommend booking early to avoid any kind of misunderstanding. We will, of course, make every effort to accommodate last-minute bookings.
And regarding the deposit, we prefer a 10% advance deposit of the total price of trip in order to confirm your reservation before you arrive in Nepal. And remaining part of the payment can be made after your arrival in Kathmandu.
Question: Who will carry my luggage on trek?
Answer: We provide porters to transfer your luggage. As we are a responsible trekking tour operator agency, every porter carry a maximum of 24 kilos of your backpack which means 2 guests (12-kilo luggage of each guest): 1 porter basis.
Question: How much distance do I walk each day?
Answer: When walking/trekking in the mountains, the distance you cover each day can vary greatly due to gradient, terrain, and altitude. As such it is very hard to give specific distances for each day, however, you have to be prepared to walk roughly about 5 hours each day.
Question: Do I need walking poles?
Answer: It is better to hike with walking poles. Learn how to use trekking poles for balance and stability, whether on the sidewalk or on trails. Walking poles can help prevent slips and falls. They are just recommended but not compulsory.
Question: Is there any alternative route to Hike from Jiri to Pikey Base Camp?
Answer: Tourists can plan an alternative hike to Pikey peak from Jiri Bazaar. Jiri is In this way, Jiri to pikey peak lodge Trek takes 3 to 4 days to reach Pikey peak at 13,337 feet. Jiri is a municipality in the Dolakha District in the Bagmati Province of Nepal. Mainly Jirel people are inhibiting this area and the landscape is called Nepal's Switzerland.
Question: How much additional money do I need daily?.
Answer: You can allocate US$ 08 – 10 for a lunch/dinner in Kathmandu and it depends on your spending habits. US$ 7 to 10 US$ each day will be enough to buy bottles of water, chocolates, tea coffee, and some drinks while you are on your trek.
Pikey peak trek highlights
Get amazed while driving via Banepa Sindhuli Bardibas Road .
Scenic view of Rumjatar and Okhaldhunga Bazar of Okhaldhunga District while on a drive.
Fantastic view of Mount Everest, Mount Makalu, and Mount Rolwanling in a single row.
New opened pikey trek route and a part of the Great Himalayan Trail (GHT).
Local Sherpa Hospitality and Sherpa Buddhism, old monastery.
Best time to hike Pikey Peak
The best time to hike Pikey Peak is during the spring (March to May) and autumn (September to November) seasons. During these months, the weather is generally clear, dry, and stable, making it easier to hike and enjoy the views.
In spring season, the temperature starts to warm up, and the rhododendron forests are in full bloom, creating a stunning landscape. Weather is generally dry and stable during this time, making it ideal for hiking.
In autumn season, weather is cool and dry, and the skies are clear, providing excellent views of the Himalayas. Trekking trails are generally less crowded during this time compared to the peak season in spring.
During the summer months (June to August), there is a high chance of rainfall, which can make the trekking trails slippery and difficult to navigate. Similarly, in the winter months (December to February), the temperature can drop significantly, and snowfall can occur, making it challenging to hike. Therefore, it is recommended to avoid trekking to Pikey Peak during these seasons.
Notes for Pikey peak trekkers!
The hikes at the Pikey peak tour stated above is just a standard template guideline that we provide. However, the pikey trip is possible to customize at your request to accommodate your specific terms. Reaching Pikey summit, tourists can also descend to Jiri passing several villages with spending some days. Pikey to Jiri trail is not recommended as often there are no good lodges for food and sleep. Also, Tourists need to walk often stone stairs all the day.
Local politics, landslides, cancellation of local flights, weather, transport, or a multitude of other factors that are beyond our control can result in a change of itinerary during on journey.
It is, however, very incredible that the itinerary would be extensively altered. If alterations are necessary the leader will decide the best alternative option, taking into consideration the best interests of the whole group. When a change does occur, we do everything we can to minimize its effect, but we cannot be responsible for the results of changes or delays.
What makes the Pikey peak trek special?
Opportunities for challenging trekking and pleasant hiking are scattered all over the planet Earth. While a place like Pikey peak is getting popular as short escapes become more popular amongst solo trekking enthusiasts as a fair number of people do explore these trails every week. First safety and success satisfaction are our top priorities.
We at Gokyo Treks and Expedition believe in quality services. We are a team of professional, experienced, and licensed local guides who know the destination much better than others. Not only this but also we give benefits to the local communities and help to conserve natural resources which reduced costs and usage.
Pikey Peak Trek Review
Pikey Peak is the best
Our trek from Dhap to Pikey Peak, exiting in Jiri, was made truly remarkable with the assistance of our guide and porter. Kamal, the guide, was not only friendly but also fluent in English, making communication effortless. The hike to Pikey Peak proved to be one of the top treks in the Everest region, offering breathtaking views of towering mountains, lush green hills, and picturesque valleys.
Milan, our porter, was an absolute gem. He was kind-hearted and carried our backpacks along the trail, lightening our load and allowing us to fully enjoy the journey. His cheerful and friendly demeanor added to the joy of the experience.
Ammar, the owner of Gokyo agency, deserves special praise for orchestrating everything flawlessly. His meticulous arrangements ensured that our trek was nothing short of the best, leaving us with cherished memories to treasure. A big thank you to the whole team for making this trek an unforgettable adventure!
Response from Gokyo Treks Nepal
Thank you Petra for your time to write us a review.
Pikey Peak GHT Trail experience with flexible guide
We booked our trek to Pikey peak trekking with Ammar at Gokyo Treks and Expedition. He booked our Phaplu flights, organise our trekking permits, and guide. He also advised us how much we would need to spend each day whilst trekking. Whilst we were booking our trek with Ammar we met a guide who had just returned from pikey peak who told us what to expect.
Ammar kept in touch with us during our trek to see how we were and to check the trek was going well. I would definitely recommend booking a trek with Gokyo Treks – everything was really well organised and easy, he gave us all the information we needed and the guide was good. I would definitely go on another trek with Gokyo Treks if I visit Nepal again.

Response from Gokyo Treks Nepal
Thank you Dave for your time to send us a review.
From US$ 609
5% Off
US$ 445
| | |
| --- | --- |
| No. of people | Price Per Person |
| 1 | USD 579 |
| 2 | USD 445 |
| 3 | USD 430 |
| 4 - 6 | USD 399 |
| 7 - 9 | USD 375 |
| 10 + | USD 340 |
Book Now
Customize Trip
Cost & Departures
Your Trip Your Style!
ITINERARY, COST, DEPARTURES, will adjusted according to your GROUP SIZE NEED TIME
Book with Confidence
Local Guides Company.
18 Years in Business.
Lowest Price Guaranteed.
100% Customizable Trips
Excellent Customer Service
Hassle Free Booking.
90 % Repeated customers
Highly Recommended agency
Private/group tour options