Dagala Thousand Lakes Trek
Dagala Thousand Lakes Trek Summary
Hiking duration: 8 Days 7 Nights
Dagala Thousand Lakes Trek Difficulty: Easy to Moderate
Highest Elevation: 4,700m/15,416 feet
Average Walk Hours: 6 Hours daily
Trekking Group-Size: 2 – 20 People
Trip Mode: Camping Trip Group Join Basis
Best time to hike: March, April, May, June, September, October, and November
Foods on trek route: Breakfast, Lunch, and Dinner
Transportation: Car/Plane/bus
Overview
The Dagala Thousand Lakes Trek is off a beaten path hike in Bhutan. The trek route of Dagala Thousand Lakes begins above Thimphu Town, the capital of Bhutan, and takes to numerous enthralling high-altitude lakes.
Although your maximum elevation camp is at 14,104 feet the direction takes you as much as a lofty 15,416 feet(4,700m) from where you get mind-blowing mountain views.
Some famous mountains that you could get a glimpse of could be Mount Everest in Nepal, Jomolhari, Masanggang, Jichu Drake, Tiger Mountain in Bhutan, and lots more.
The Dagala Lakes path additionally takes you along the bird-wealthy areas, alpine flowers, appealing meadows, and numerous conventional Bhutanese villages. And in a brief the Dagala Thousand Lakes trek difficulty is a medium degree of difficulty within side the southeast of Thimphu because the nature trail at Bhutan brings you to a massive range of high-altitude lakes.
In addition, the weather in Bhutan especially in the autumn and spring seasons is the most delightful. Therefore, the best milestones to set out on the Dagala Thousand Lakes in Bhutan Trekking are between March to June and September to November.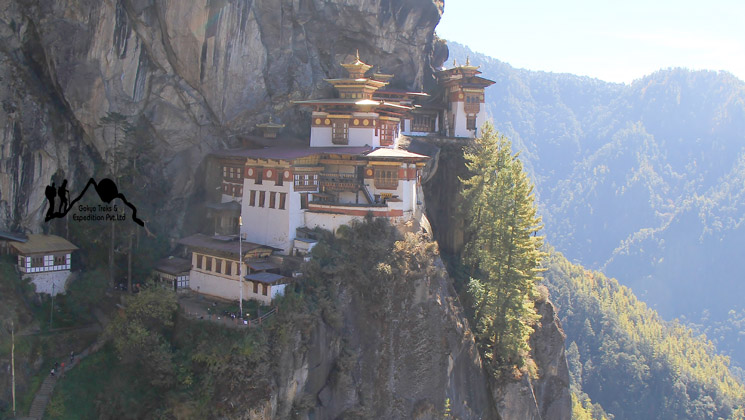 How much is the Dagala Thousand Lakes trek package Cost?
The Dagala Thousand Lakes trek package cost with a Gokyo Treks Agency (local tour partner) ranges between US$ 2550 to US$ 2920. Generally, the trip price will vary according to the group size you are traveling to and the category of hotel you choose en route. However, the price includes transportation, guide, hotels, food and accommodation, and hiking permit facilities.
It is the standard trip package price for 1 week of trekking in Bhutan. If you are 2 tourists Dagala Thousand Lakes trek cost US$ 2780 for 8 days trek according to the given plan. We can modify the trip route and the prices according to your wishes also. Here is the price list for the Dagala Thousand Lakes treks.
Price Per Person for 8 days for Bhutan Dagala Thousand Lakes trekking
| Number of Tourist | Price Per Person |
| --- | --- |
| 1 Person | US$ 2920 |
| 2 Person | US$ 2780 |
| 3 Person | US$ 2710 |
| 4 to 6 person | US$ 2640 |
| 7 to 9 Person | US$ 2570 |
| 10 and more than 10 Person | US$ 2550 |
If you're wondering to know about what is included and what is excluded from this trip price, kindly check on the cost given on a tab button.
Itinerary
The classical Dagala Thousand Lakes Trek itinerary details
An express Dagala Thousand Lakes trek 7 Nights 8 days Days itinerary is a beast for 15+ Age travelers. Take a look at the special lakes trail itinerary as given here.
1 Day
Landing in Paro airport. Paro to Thimphu drive (54 km /1.5 Hours).
Fly at Paro Airport in Bhutan. If you get a left-side seat in the aircraft, you will have spectacular views of the high peaks of the eastern Himalayas. Meet your guide and driver and head towards Thimphu town. Along the drive, stop at Tachog Lhakhang (the Iron Chain Bridge), a temple located across the famous iron chain bridge built over the meandering Pa Chhu (Paro River). Devour yourself to the invigorating ambiance of the cool-sweeping cinch and bright-colored prayer flags. The whole set up a feast to the eye.
Take a smooth hike around town and soak in the atmosphere of this magical capital. Also, visit the archery ground where local teams demonstrate amazing skill with bow and arrow as they practice the national sport of Bhutan. However, If time permits we can also visit a few other Landmark places in Bhutan. Stay overnight in Hotel in Thimphu.
2 Day
Thimphu to Genekha (30 Kms/45 Minutes), Genekha To Gur (3,290m/10,794 feet), 5 hours
You will begin the day by driving from Thimphu for about 45 minutes to the beautiful Genekha village from where your trek starts. Ganesha village is famous for producing Matsutake and chanterelle mushrooms.
You will walk over a donkey path, throughout terraced fields and coniferous forests rich with alpine flora and plenty of birds. You will then descend down to the river and after two hours of a gradual uphill climb, you reach the huge rock platform at 3350m. It's a little hill that offers a picturesque view of the entire valley. After another two hours of trekking, you will reach your campsite at Gur (3,290m), amidst an abundance of wildflowers. The distance from Genekha To Gur is about 7 kilometers with 550m of ascent and 60m of descent. Stay overnight at a Tent camp.
3 Day
Gur to Labatama Trekking (4,300m/14,108 feet), 6 hours [Spectacular View Of Kanchenjunga And Dagala Range].
While trekking across the ridges, one can enjoy the beauty of the rugged mountain vegetation. Today's trek is amidst flowers, wild asparagus (in spring), and large meadows, which refresh your mind and body. Weaving through tiny streams, you will climb gently through scattered birches and rhododendrons to arrive at Pag Labtsa pass (4,250m) marked by huge cairns. From the pass, you will have spectacular views of Kanchenjunga (Sikkim) and most of the Bhutanese Himalayan peaks.
Descending from the pass one will view the entire Dagala range meadows and yak herder's camp. Lunch at a nearby yak herder's camp. You will descend into the Labatama valley and then ascend gradually through the valley passing some yak herder huts till you reach Utsho Lake (4,300m) where golden trout are in abundance. Our campsite is right next to the lake. Stay overnight at the Tent campsite.
4 Day
Exploratory Halt at Labatama.
You will spend the day exploring any one of the nearby lakes such as Relitsho, Hentsho, Sets, and Jagetsho Lakes. These lakes are full of trout and your trekking leader will tell you mystic stories about these lakes. Lunch by the lakeside with a spectacular view around can be a memorable experience. After lunch, you can also attempt to climb the Jomo peak at an altitude of 5,050m. Return to camp by dusk and prepare for the next day. Stay overnight at the campsite.
5 Day
Labatama to Panka Trekking (4,000m/13,124 feet), 6 hours.
You will walk along the western side of Dalatsho up to a saddle at (4520m) from where you have a majestic view of the prominent Himalayan peaks such as Everest (Nepal), Kanchenjunga (Sikkim), Masangang, Tiger Mountain, Tsendagang, and Jichu Drake in Bhutan. From the saddle, the path descends, passing some yak herder huts to the Doccha Chuu River. You will follow the river for a while, staying higher up on the slope until you reach Panka. Here the Himalayan monal pheasants are a common sight, besides yaks and horses. We will camp at Panka (4,000m). the distance from Labatama to Panka is 8 kilometers with 220m ascend and 520 meters of descent. Stay overnight in a tent camp.
6 Day
Trek to Chamgang village (2,460m/8,071 feet) 8 hours hikes. And drive to Thimphu Town.
Today, you will be crossing several passes, each one more impressive than the other. Different varieties of Blue Poppy (June-July) and mountain birds can be found on the trail. Lunch at the point, where one trail leads to Talakha and the other to Wangduephodrang.
After lunch, an hour's gradual climb brings you to the last pass, Tale La (4,180m) from where the views of the Dagala range and Thimphu is superb. Start a long descent through a forest of spruce, birch, juniper, and rhododendrons to Talakha Goempa (3080m). From the Talakha Goempa, you will hike down through mixed vegetation, apple orchards, and feeder road to the Village of Changing. Your car will be waiting here to transfer you to Thimphu. The total distance that we hike today is 14 kilometers with 180m of ascend and 1,540 meters of descent. Stay overnight hotel in Thimpu town.
7 Day
Thimphu to Paro Drive (65 Kms/1 hour), Tiger's Nest Hike, 4 Hours.
In the morning we will stop by General Post Office where you can make a postage stamp with your own picture which can be posted within Bhutan and then head towards Paro.
We can take a steep, 1½-hour hike to a teahouse, where you can enjoy a great view of Taktsang Monastery (its name means "tiger's nest"), perched on a cliff 2,700 feet above the floor of the Paro valley. The hike follows a steep switchback trail through the forest, and after a short break, continue to a closer viewpoint.
On the way back to Paro, we can stop by Kichu Lhakhang, one of the oldest temples in Bhutan. In the evening we can visit Paro town with a street of typical Bhutanese traditional buildings or visit Namgay Artisanal Brewery and try out different flavors of Bhutanese beer. Stay overnight at Hotel in Paro Town.
8 Day
Final Departure
We will drop you at the Paro international airport for your further flights. Dagala Thousand Lakes in Bhutan Trip finish.
Not satisfied with Dagala Thousand Lakes Itinerary?
Are you interested on planning custom trip? It takes only 2 to 3 minutes.
Cost
How much does Dagala Thousand Lakes Trek cost?
The Dagala Thousand Lakes trek price basically starts from US$ 2780 per person on double occupancy basis. However, WE ARE OPEN TO CUSTOMIZING YOUR TOUR AND PACKAGES PRICE AS PER YOUR REQUIREMENTS. International tour leaders are highly encouraged to get discounts for attractive complimentary.
The Dagala Thousand Lakes short hiking price includes:-
Visa for Bhutan Travel
Accommodations in town 3- star Hotel. (Possible to upgrade 4/5-star with additional price)
7 Breakfast, 7 Lunch, and 7 Dinner served with hot tea/coffee en route.
International airfare from Kathmandu to Bhutan and return with departure taxes.
Certified English Speaking Bhutanese Guide
All ground transportation as per described travel itinerary
A sustainable tourism Royalty of USD 65 per person per night.
Mineral Water while traveling
Complimentary from a company [Traditional Hot Stone Bath & 1 Bhutan SIM CARD]
Sleeping tent / Dining tent / Toilet tent with toilet pot/toilet paper.
Hot water bag with cover.
Cook and support staff.
First Aid Box, all required entrance fees en route
Bhutan Government Tax, VAT, and as well as Gokyo Treks Company service charge.
The short Dagala Thousand Lakes Trek price excludes:
Bhutan Travel Insurance
Any Expenses of Personal Nature like donation.
Gratuities for trekking crew [Tip is a culture, so they expect highly].
Group join
Hike Dagala Thousand Lakes is the most beautiful trip in Bhutan. We can organize a private or group joint trip at Dagala Thousand Lakes Bhutan to start at any date if that works for you. Please contact us for more information.
FAQ
Question: Is pick-up service available on my arrival time in Bhutan?.
Answer: Yes sure. Provide us with your flight details. Our representative will come to pick you up.
Question: What kind of accommodation can I expect?
Answer: We do provide you with 3-star category hotel accommodation in the city and also Tent accommodation along the Druk trip. However we recommend you take your own sleeping bags if you have one with you otherwise, you may rent them while you are in Kathmandu.
Question: What kind of food can I expect on the Dagala Thousand Lakes camping trip?.
Answer: We have a professional cook who cooks a delicious range of mostly vegetarian such as potatoes, eggs, Pasta, tuna bakes, noodles, curry rice, bread, soups, and fresh vegetables. Tourists can find a variety of fresh vegetables depending upon the traveling month.
Question: What opportunities will I have a hot shower along treks?.
Answer: As you are camping trekking, we provide you hot water bucket, and you will take a bucket shower.
Question: How do I get drinking water en route?.
Answer: We suggest you bring Aqua tablets to clean the normal water as the normal water is available at the campsite and on the hiking route.
Question: Can I charge my digital camera or other batteries on my trip?
Answer: During the camping tour, there will have no chance to recharge the battery. We recommend you bring an extra pair in case.
Question: Are there any communication facilities on Dagala Thousand Lakes short trek?.
Answer: You will get a Bhutan local SIM CARD. Buy a data pack if you want to use the internet en route.
Question: Can I use credit cards in short Dagala Thousand Lakes Lodge Trek?
Answer: No. to maintain your daily extra expenses, you should walk with the local currency
Question: When should I book my trip and what are the payment terms?.
Answer: Our trips book up months in advance, we recommend booking early to avoid any kind of misunderstanding. We will, of course, make every effort to accommodate last-second bookings.
And regarding the deposit, we prefer a 20% advance deposit [not refundable] of the total price of the trip in order to confirm your booking. And the remaining part of the payment, you pay us on your arrival.
Question: Who will carry my luggage?
Answer: We provide porters to transfer your luggage on the trekking path.
Question: How much additional money do I need per day?
Answer: You can allocate US$ 08 – 10 for lunch/dinner in Kathmandu and it depends on your spending habits. US$ 7 to 10 US$ each day will be enough to buy bottles of water, chocolates, tea coffee, and some drinks while you are on your trek.
Question: How Do I Get To Bhutan?
Answer: There are various air terminals where you can fly into Bhutan. At present two transporters work in Bhutan, Drukair and Bhutan Airlines. Likewise, there are three landline intersections in which you can go into the realm overland.
Question: How Much is the Bhutan Visa Cost?
Answer: Worldwide vacationer visas at an expense of USD $40 applies. This can be paid ahead of time from the Gokyo Treks Agency travel planner. For Indian visa (or VIC) holders, Bangladeshi nationals, and people from the Maldives there is no expense caused.
Question: What does the $200/$250 per day minimum daily package include?
Answer: The $200 each day (low season) and $250 each day (high season) bundle incorporates at least 3-star facilities, costs for food, an accomplished aide, and transportation (with driver) inside the country. Additionally remembered for the cost is a $65 each day Sustainable Development Fee that goes towards free instruction, free medical care, and neediness easing.
Question: Is there a limit On the number of tourists that can enter Bhutan each year?
Answer: There is no restriction on the number of travelers conceded into the country every year. To secure our way of life, customs and indigenous habitat the public authority has embraced a severe approach to High Value, Low Impact Tourism. This strategy is pointed toward drawing in knowing vacationers that will regard the exceptional culture and upsides of the Bhutanese individuals while additionally furnishing the guests with a remarkable stand-out experience.
Question: What celebrations are ideal to watch in Bhutan?
Answer: Get a portion of the top celebrations in Bhutan that you should visit assuming you're arranging an excursion to the world's most joyful country. The top 10 festivals that you can watch in Bhutan are Thimphu Tsechu Festival, Jambay Lhakhang Drup Festival, Wangdue Phodrang Tshechu Festival, Punakha Drubchen, and Punakha Tshechu Festival. Likewise, Paro Tshechu Festival, Haa Summer Festival, Matsutake Festival, Jomolhari Mountain Festival, Nimalung Festival, and Imperial Highland Festival.
Question: Besides Dagala Thousand Lakes Hike, what are the other best trips in Bhutan?
Answer: Bhutan offers both magnificence and assortment with regard to travel in Bhutan. The realm is home to a portion of the world's most troublesome high-height journey, just as plenty of moderate climbs in the woods. Regardless of whether you're a prepared explorer or a total novice, Bhutan has a multi-day excursion to suit your necessities. Attempt the 27-day Snowman Trek, which traverses various high-elevation passes and requires setting up camp in the snow, in the event that you're searching for a requesting high-height trip that could not be overestimated. Assuming that you're searching for a more limited test, the Laya Gasa Trek gives large numbers of similar awards as the Snowman walk yet with fewer downsides. Look at the Jumolhari Trek, and Owl Treks to extend your legs all the more tenderly.
Question: When is the best time to visit Bhutan?
Answer: Bhutan is open all around the year. Spring and summer fill the scene with a heap of widely varied vegetation. Pre-winter projects a radiant Golden shine on the scene. The fresh winter air and the unmistakable skies make it ideal for catching the absolute best Mountain sees. And throughout the entire year, there is a special feeling of harmony and satisfaction in the climate set apart by conventional celebrations as individuals praise the celebrations in old neighborhood customs.
The most unbelievable Dagala Thousand Lakes Trek route highlights
Breathtaking landscapes, crystal clean lakes, and impressive mountain views over 8,000 meters.
Journey across the historic plus nature trails.
Traverse the paths of untamed blossoms.
Hike to Tiger's Nest Monastery or the Taktsang Gompa, an Iconic landmark.
Explore Paro valley and visit the historical sites [Paro Dzong, Ta Dzong, Kichu Lhakhang].
Spend a night in the valley of Thimphu, the only capital in the world without a traffic light.
Notice for adventure Dagala Thousand Lakes Visitors:-
The 7 Nights 8 Days Dagala Thousand Lakes trekking information stated above is just a guideline. However, the trip is possible to customize at your request to adapt to your specific standards. Local politics, landslides, cancellation of local flights, weather, transport, or a multitude of other factors that are beyond our control can result in a change of schedule on tours.
It is, however, very incredible that the itinerary would be extensively altered. If alterations are necessary the leader will decide the best alternative option, taking into consideration the best interests of the whole group. Where a change does occur, we do everything we can to minimize its effect, but we cannot be responsible for the results of changes or delays.
What makes Dagala Thousand Lakes short trekking special?
We at Gokyo Treks and Expedition believe in quality services. Your security and gratification are our concerns. We are a team of professional, experienced, skilled, and licensed local guides who know the destination much better than others. Not only this but also we give benefits to the local communities and help to conserve natural resources which reduced costs and consumption.
Dagala Thousand Lake Trek Review
Dagala Thousand Lakes Hiking
We booked a Bhutan trip with Gokyo Treks Agency. Our Guide Ammar's local representative organized our 8 day Dagala Thousand Lakes trek in a first-class. Our cook Sonam and his entire kitchen crew were just friendly and helpful and the ever-smiling staff is highly appreciated.
Miss you guys, will definitely explore more with your awesome team. Thank you for giving us the best memorable moments, highly recommend.

Response from Gokyo Treks Nepal
Thank you for the review dear Petra
From US$ 2920
0% Off
US$ 2780
| | |
| --- | --- |
| No. of people | Price Per Person |
| 1 | USD 2920 |
| 2 | USD 2780 |
| 3 | USD 2710 |
| 4 - 6 | USD 2640 |
| 7 - 9 | USD 2570 |
| 10 + | USD 2550 |
Book Now
Customize Trip
Cost & Departures
Your Trip Your Style!
ITINERARY, COST, DEPARTURES, will adjusted according to your GROUP SIZE NEED TIME
Book with Confidence
Lowest Price Guaranteed.
100% Customizable Trips
Excellent Customer Service
Hassle Free Booking.
90 % Repeated customers
Highly Recommended agency
Private/group tour options
Local Guides Company.