Island Peak Climbing Summary
Island Peak Climbing Duration: 16 Days
Peak Climb difficulty: Moderate adventure
Summit Height: 6,189m/20,305 feet
Walking Hour: 6 Hours daily
Climb Group Size: 1 – 14 People
Hiking Trip Mode: Guest House + Tent Camp
Best month to climb: March, April, May, October, November and December
Meals: Breakfast, Lunch, and Dinner
Transport: Car/Plane
Overview
Island Peak, also known as Imja Tse, is a popular trekking peak in Nepal, located in the Khumbu region of the Himalayas. It stands at an elevation of 6,189 meters (20,305 feet) and is a popular choice for those who want to combine a trekking adventure with a climb to a Himalayan peak.
Climbing Island Peak requires technical skills, physical fitness, and experience in high-altitude mountaineering. It typically takes around 15-18 days to complete the climb, including acclimatization days and trekking to the base camp.
The climb starts from the Lukla village and follows the classic Everest Base Camp trekking route up to Gorak Shep. From there, the trail turns east towards the Khumbu Glacier, Kongma la and follows the Imja Valley to reach Island Peak Base Camp.
The climb to the summit involves traversing a glacier, climbing steep snow and ice slopes, and navigating a ridge to reach the summit. The climb is challenging, but the panoramic views of the surrounding peaks, including Lhotse, Nuptse, and Makalu, make it an unforgettable experience.
To climb Island Peak, Gokyo Treks agency will arrange for you a licensed guide and obtain the necessary permits from the Nepal Mountaineering Association. It is also important to have the proper equipment, including ice axes, crampons, and a climbing harness.
In general, Island Peak climbing in Nepal is a rewarding and challenging adventure that requires proper preparation, training, and experience. Likewise, climbing the island peak is possible at any time (except winter months) throughout the year.
Itinerary
The Island Peak Climbing itinerary details.
Our island peak climbing crossing over kong mala pass has 16 days itinerary compared to most walks in this region leading up to the summit. The island peak route map is scheduled for a world explorer who wishes to hike to the high passes mountain but is restricted time-wise let us know your own travel route. However, if the climbing itinerary is not fit you then send us an inquiry for a tailor-made itinerary.
01 Day
Arrival in Kathmandu. The world heritage site of Kathmandu valley sightseeing, 4/5 hours.
Upon arrival in Kathmandu, Tribhuwan International Airport, we will receive you in a private vehicle and transfer you to a hotel in Kathmandu with a breakfast plan.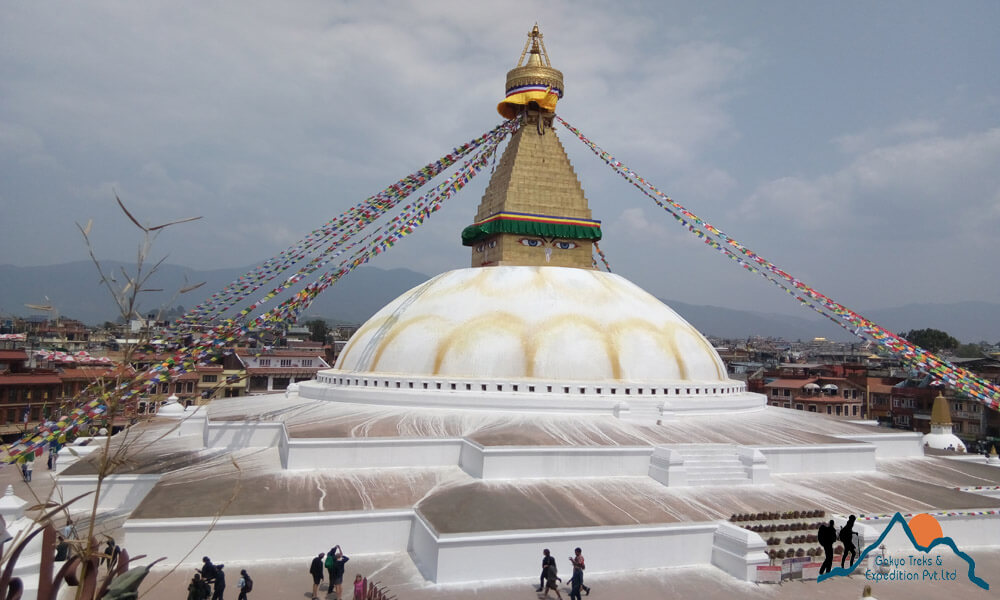 Later breakfast, start the guiding sightseeing to cultural world heritage sites in Kathmandu valley; including visits to Pashupati temple, Hindu pilgrimage sites, the world biggest Bouddha Stupa, visit Swoyambhunath Stupa and historical Kathmandu Durbar Square.
You can see the sights with the Hindu temple, Buddhist monastery, gompas built with special construction, and Kumari (living goddess) in central Kathmandu. Evening pre-trip about Island Peak climbing trip discussion and introduce to our fellow trekking staff for your adventure trip.
02 Day
Fly to Lukla airport. Trek to Bengkar (2,630m/8,629 feet), 5 hours
Take an early flight from Kathmandu to Lukla (2,860m/9,381 feet), seat at north side to get better view. Upon arrival at the Lukla bazaar, meet our entire crew, have breakfast, and begin Lukla to Phakding hike with the hiking crew. Lukla trail to Phakding is a lower Solu Khumbu landscapes go simply up in ascending order.
Hike further with a gentle climb up the mountainside on the left shore of the Dudh Koshi. A little summit, Nupla is just next to you on the opposite bank of the River. Passing several Sherpa villages, we reach Bengkar village.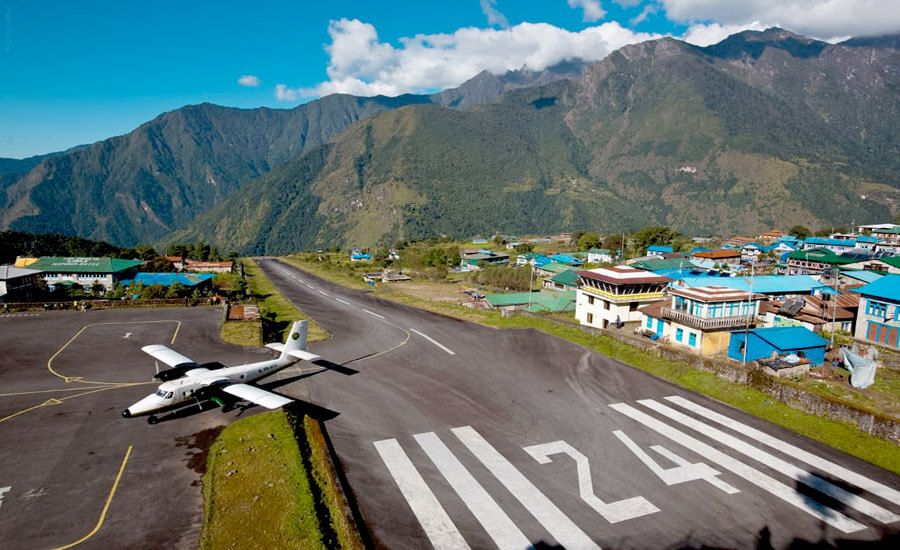 03 Day
Namche Bazaar hikes (3,440m/11,286 feet), 4/5 hours
The Everest trail ascends through the Koshi riverbank into the mountain, through a forest to Chumoa. We continue with many ups and downs; cross a stream, and pass by the tiny Monjo hamlet. We walk the Sagarmatha National Park and check the post office where everyone should pay park entrance fees.
We follow a short walk along the river banks of this valley where the major river put together each other. Crossing over the Hillary bridge, you will have the first excellent view of Mount Everest (8848m) and Lhotse (8516m.). Namche Bazaar is a midpoint for selling trekking gear, food, and other necessary commodities.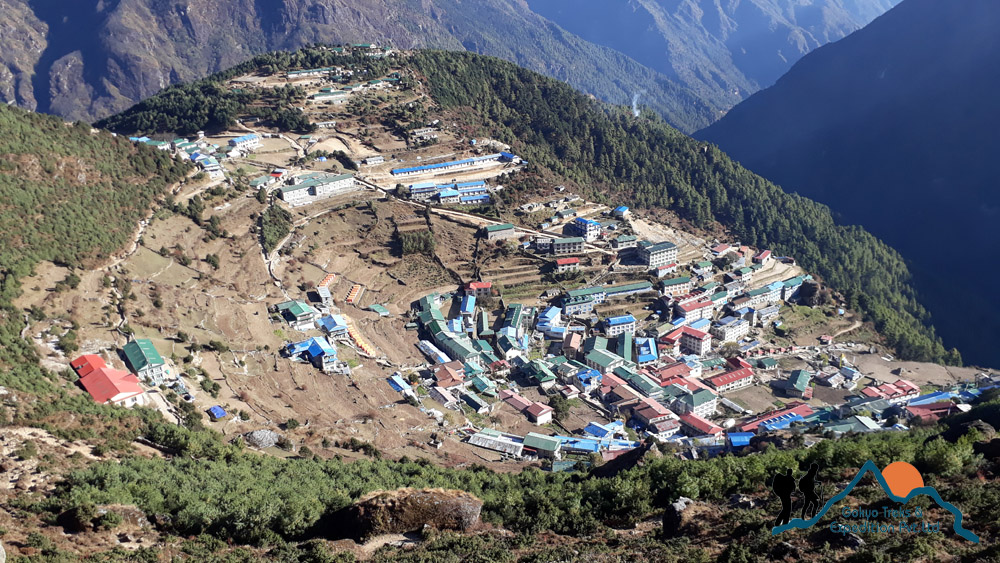 Namche Bazaar view
04 Day
Khumjung trekking (3,780m/12,402 feet) passing Sengboche hilltop, 3 hours
We start with a steep one-hour climb to the Sengboche airstrip (3790m), from where we will slowly ascent towards Khunde passing numerous chorten (stone Buddhist monuments) and hill station. We go to a hill station to have an excellent view of Mt. Everest, Ama Dablam, Thamserku, Nuptse, Lhotse, Tawche, Kwangde, and several other mountains within 360 deg angles.
We walk further to Khumjung village which is the largest village in Khumbu, at the foothill of the sacred peak of Khumbila. Visit Khumjung monastery and Kunde hospital if you have a couple of hours time to look after the Sherpa community.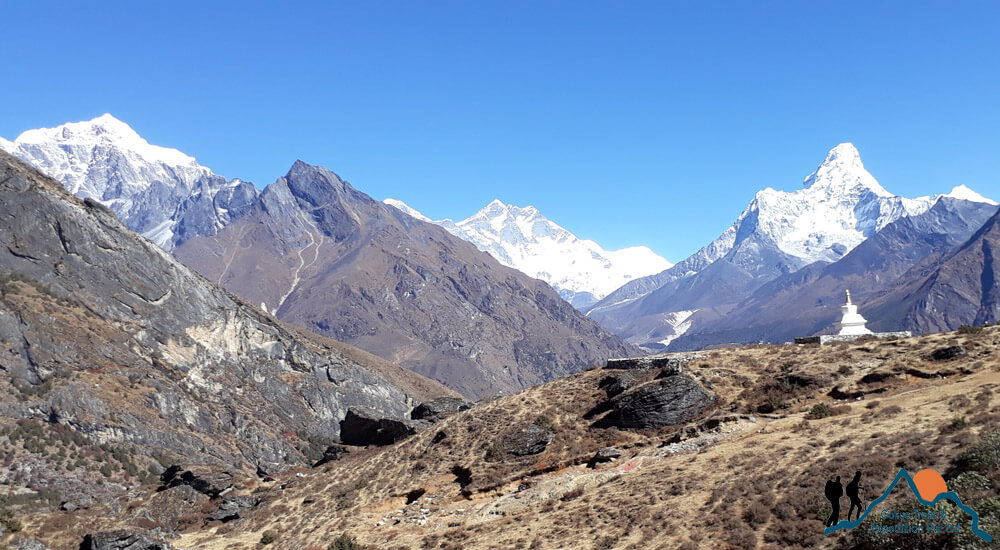 05 Day
Trek to Tengboche Monestery (3,860m/12,665 feet), 5/6 hours
The Everest classical trail goes ahead leaving a steep cliff that drops down to the Dudh Kosi river. Get an amazing panorama of Ama Dablam (6812m), Everest, Lhotse, Nuptse (7855m), and Tawoche (6501m) from your hiking path.
We walk to Tengboche hill passing Trashinga, Phunki Tenga, and the colorful Rohodondrons forest. Monastery Tengboche (Om Mane Padme Hun) grants a good view of sunrise and sunset at Mount Everest and the Ama Dablam skyline.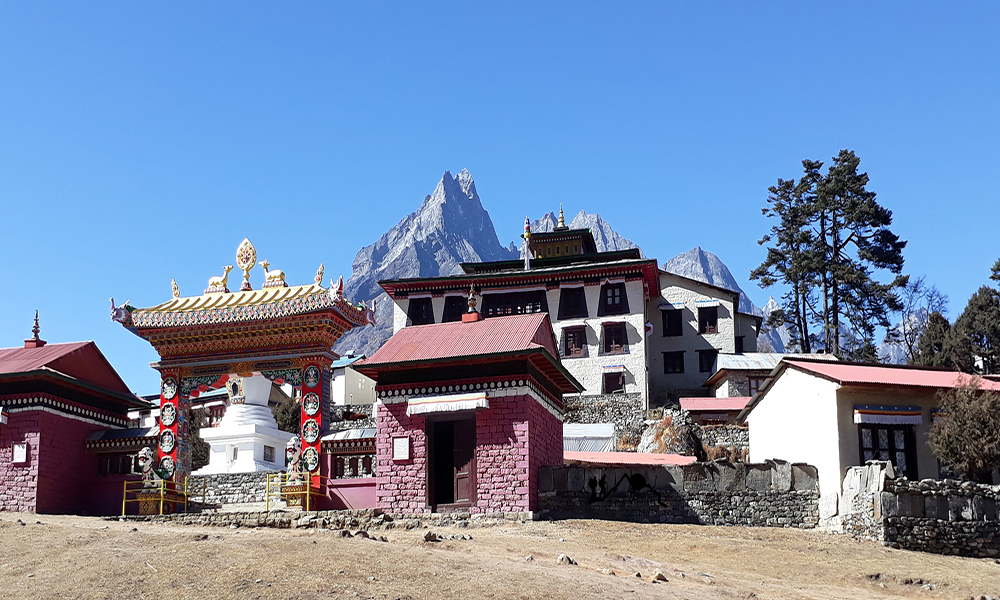 06 Day
Dingboche trek (4,410m/14469 feet), 5/6 hours
We trek leaving Tengboche at the backdrop, we go down passing with rhododendron forest and enter Deboche village. Cross the Imja river suspension bridge, head towards Minlinggo, and enter Imjatse Valley beneath the mighty peaks of Ama Dablam, Nuptse, and Lhotse.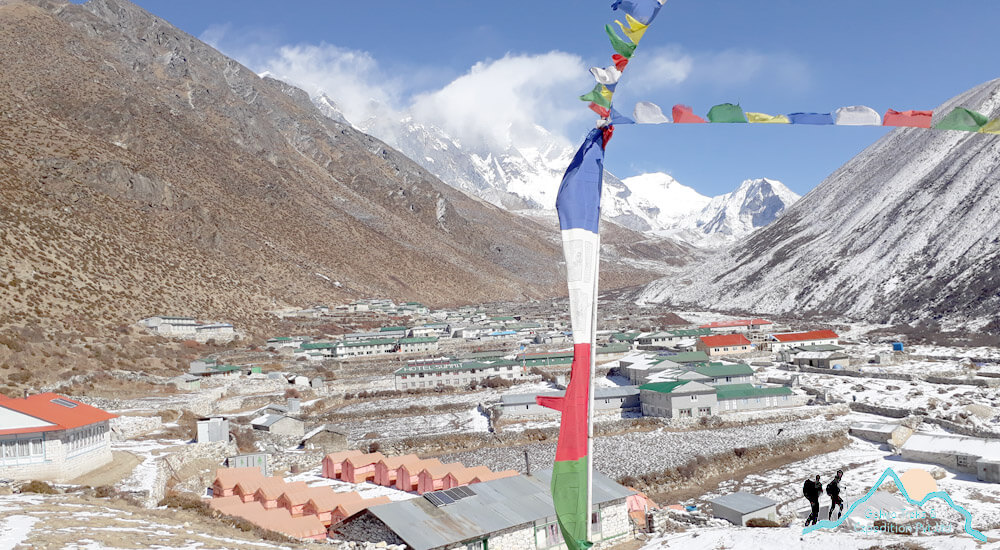 07 Day
Dingboche to Lobuche trek (4,910m/16,109 feet), 5/6 hours
It is our turn to head towards Lobuche from Dingboche which is situated at a distance of five and half hours normal walk. The rocky moraine hiking trail starts right after crossing the bridge at Dughla guest house.
Moreover, the journey provides the best view of big mountains like mount Tawache, Ama Dablam, Pokalde, Kongma-Tse.. etc.
08 Day
Trek to Gorak Shep (5,140m/16,864 feet). Hike to Everest Base Camp, 6/7 hours
Leaving Lobuche, the magical view of mount Pumori and Cholatse, Lobuche, and Amadablam is simply eye-catching. Hike further the rocky mountain icebergs, we reach the sandy ground Gorakshep.
Lunch at Gorak Shep lodge and climb Kala Patthar hill which is located at an altitude of 5550 meters above the sea. Kalapatthar is a mountain of Blackstone. We ascend about 365 meters above Gorak Shep guest house to the Kala Patthar summit takes 3 hours roughly.
The mountain view from Kala Patthar is just perfect to watch the Khumbu icefall, Everest summit, Pumori, Everest base camp, and more in a row.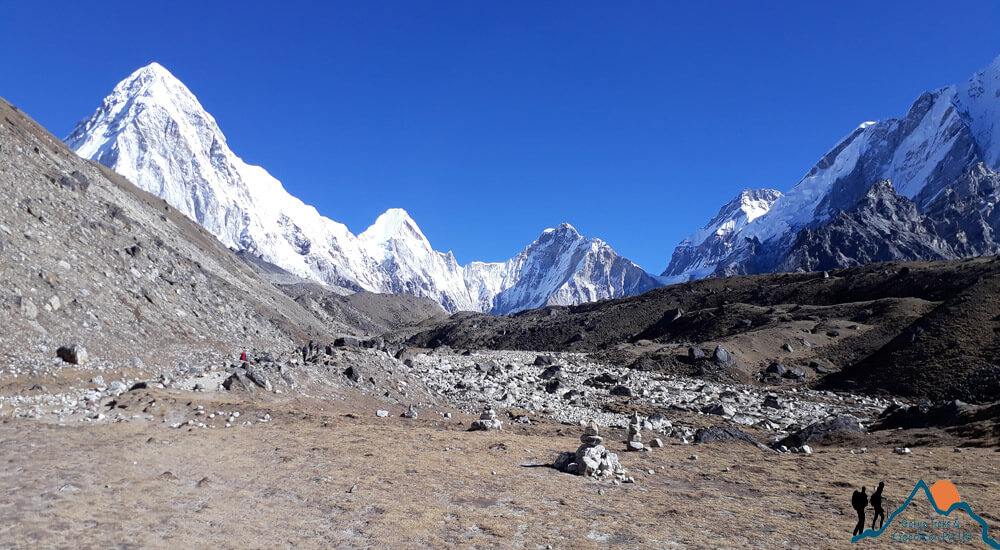 09 Day
Cross Kongma la pass (5,535m/18,160 feet). Descend to Chhukung (4,700m), 9 hours
Check your gears before departure crevasse trail across the Khumbu glacier. Khumbu glacier safari is not an easy-to-reach kongma la. The risky kongma la is 5,535 meters and tenders the best panorama of the Khumbu mountain range. The view from Kongmala and the view from the Island's peak summit offer similarities.
If you are a photographer and trying to find the best possible hill station to capture photo shoots? we recommend the kong mala pass trek route. But the route is a tough and the longest day tour to reach Chhukung lodge.
10 Day
Day as a rest for acclimatization or hike to Chhukung Ridge (5,550m). Descend to a hotel.
Today is acclimatization day. However, planning the best hike? Chhukung Ri is an idle place. Chhukung Ri is a peak located directly above the Chhukung lodge. The climb to Chhukung Ri involves some easy scrambling near the summit.
As you are on the summit, you will have a fantastic view of the Ama Dablam and Amphu Labtsa peaks.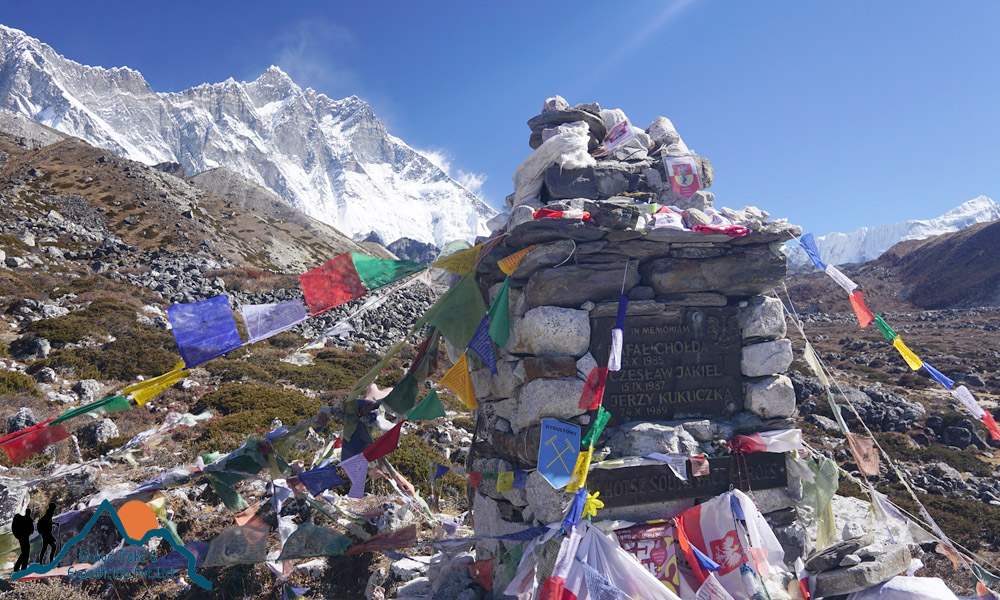 11 Day
Island Peak Base camp trekking (5,080m/16,667 feet), 3 hours
We arrange and recheck all climbing gears in Chhukung before heading to island peak trekking. Hike to Island Peak Base Camp is on a fairly steep trail after checking the guest house. Walk over the Lhotse glacier and also link to the Amphulapcha pass mountain trail.
The Amphu Lapcha pass trek route is located to the southeast of Imja Tsho /Imja glacial lake. As you are in the Island peak base camp guide will instruct you about basic climbing information for the next day's morning climbing. Stay overnight in Tent Camp.
12 Day
Island Peak Summit climb (6,189m/20,306 feet). Descend to base camp. Trek to Chhukung, 11 hours
A tough day that we need to wake up very early morning. Have breakfast at around 1:30 and begin to climb. Have in mind that we need to get summit before noon because in the afternoon it's windy.
The trail moves up beyond the base camp for several hundred meters before striking off the steep hillside. As you are climbing higher the landscape's slope narrower.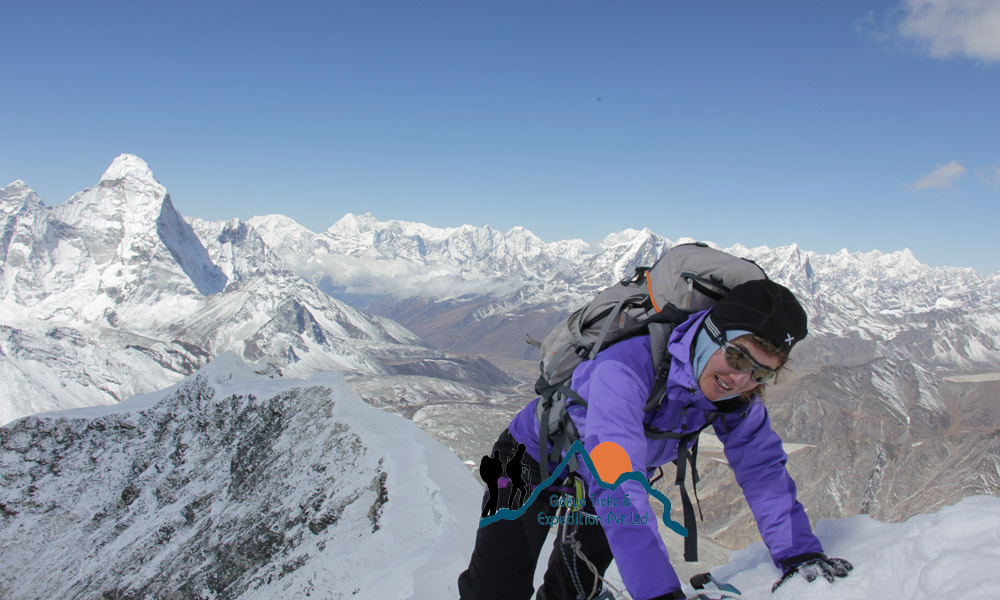 The Trek route follows a ridgeline, that leads to an exhilarating and exposed traverse onto the nose of the summit glacier. In addition, the Sherpa climbing guide will fix a rope if it's required. A steep snow slope leads us onto the summit ridge.
Both fixed rope and climber's rope will be used during the climb for safety. You can use a fixed rope after successfully climbing on a rock. The length of the rope will usually be 350 meters. However, the length of the rope is depended upon the season and crevasses.
There are two newly formed crevasses that are approximately 3 and 4 meters long. Gokyo Treks and the expedition's expert guide will help you to cross to reach the summit. After enjoying the top views, descend down to Island Peak Base Camp.
Clean the base camp and walk further to the Chhukung guest house. In the evening, celebrate our successful Island Peak climbing journey with a climbing party.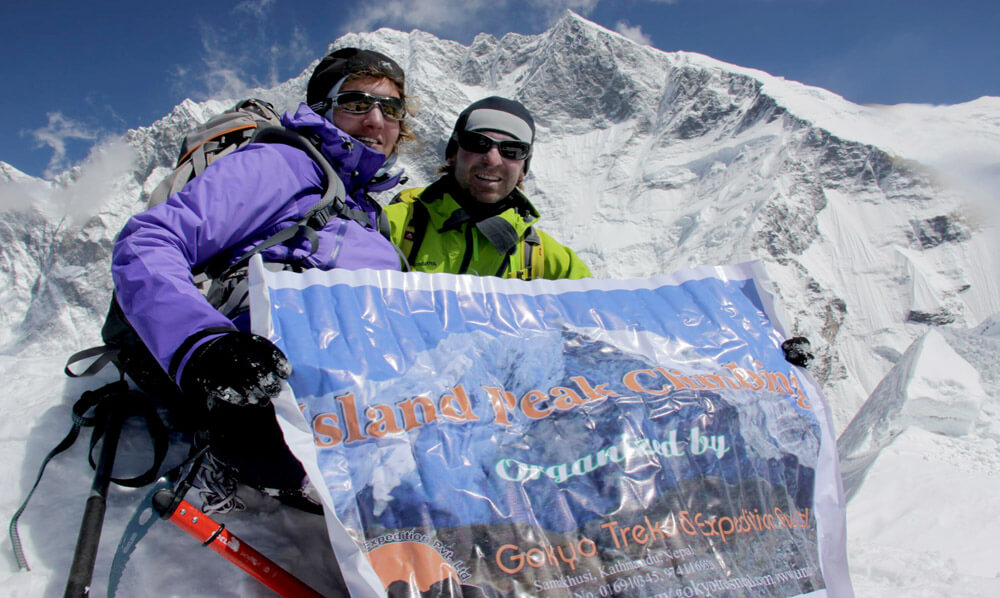 13 Day
Tengboche Monastery trekking, 6/7 hours
From Chhukung resorts, we descend the valley via Imja Khola – in a valley. The trail passes across Dingboche lodges with its stone-walled potato fields, down alpine pastures through the kharkas of Tsura, Orsho, and Shomare to Pangboche village.
Pangboche is the biggest settlement after Khumjung that stays with better guest houses and opens all around the year. Above the Pangboche guest houses, there is an ancient Gompa (monastery), the oldest in the Khumbu territory and once used to boast the brain and hand of a Yeti.
14 Day
Descend to Namche Bazaar (3,440m/11,246 feet), 7/8 hours
Finally, the trek descends from Tyangboche to Namche Bazaar passing several villages. Sanasa and Lagusasa are the most famous ones. You will catch the way descends from Gokyo valley. The trailhead is furthermore twenty minutes to find Amadablam lodge for lunch.
After Lunch at Sanasa, we hike up to Khumjung village where one can visit traditional villages landscapes. You might also visit Hillary Hospital located in Khunde. And in the meantime, we follow the Khumjung Monastery to find another path to reach Namche in the late afternoon.
15 Day
Descend downhill walk to Lukla airport (2,840m/9,318 feet), 7/8 hours
We trek to Lukla with the same trail as we use on ascend. It is the last day of our trekking. Upon arrival at Lukla airport, Buddha lodges we take a rest.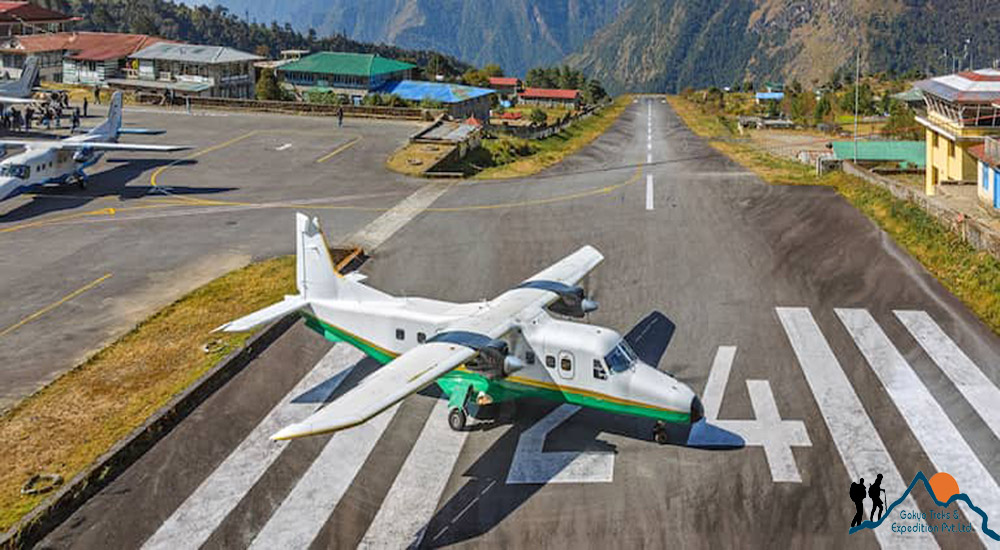 16 Day
Scenic Mountain flight from Lukla to Kathmandu Tribhuvan international airport. Trip Finish
We board our early flight from Lukla to Kathmandu airport. Upon arrival at Kathmandu Tribhuvan international airport, we arrange a return transfer back to your hotel. In the afternoon, go shopping or request us to discover Kathmandu as a guided trip at an additional cost.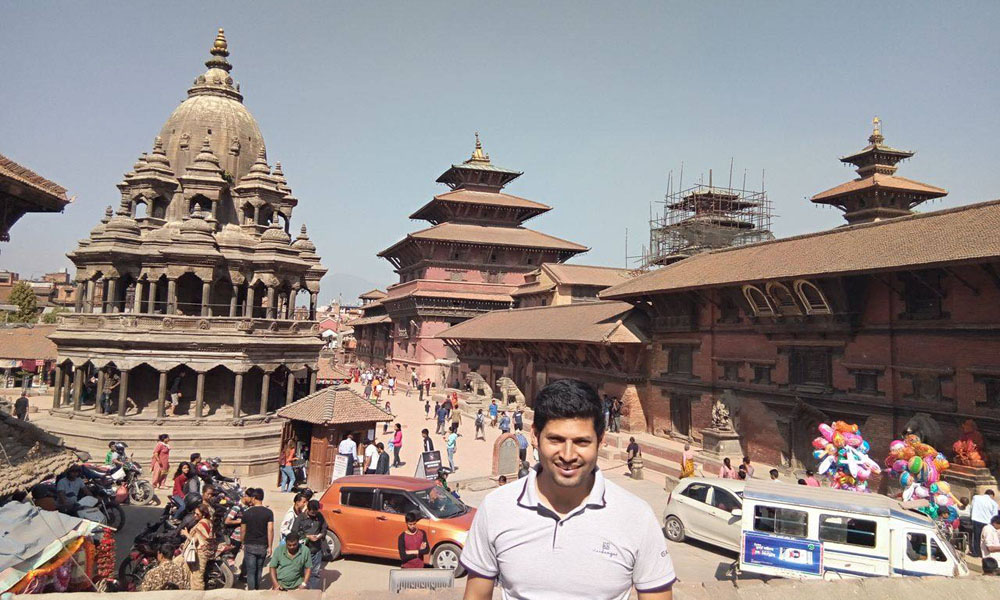 Kathmandu valley sightseeing with a private tour guide. Trip ends.
Not happy with this climbing plan?
Are you interested in planning a custom trip? this might take 2 to 3 minutes.
Cost
How much does the Island peak climbing package price?
Climbing the island peak package price US$ 1825 is a standard climbing price on a double occupancy basis. Climbing prices are depending upon the climber's size and the service you choose.
In the last couple of years, many international climbers are demanding to go on Island peak climbing 1 night 2 days package after Chukung village. Gokyo Treks agency is aware of those concerns and if a guest requests such service, we can arrange climbing permits, guide, food, and climbing gears to attempt the summit successfully.
For the deluxe and luxury trekking & climbing plan, we add a 3-5 star category hotel deluxe air-conditioned room in Kathmandu with breakfast. Likewise, Tourist standard guest house accommodation with an attached toilet/bathroom is possible en route. AND WE ARE OPEN TO CUSTOMIZING YOUR TOUR AND PACKAGE PRICE AS PER YOUR REQUIREMENTS.
Top Island peak climb price includes:-
Kathmandu international airport pick up on your arrival in Kathmandu with a private Car/VAN.
Single night double bedroom accommodation in a Tourist standard hotel in Kathmandu.
A high-experience, English-speaking certified mountain Sherpa Guide [salary, food, drinks, accommodation, Transport, and insurance].
An assistant guide will provide for 5+ group tourist.
Kathmandu – Lukla – Kathmandu round trip domestic airfare with applicable airport tax.
15 Breakfast, 14 Lunch, and 14 Dinner during the trekking and climbing.
Guest House accommodation during the trek routes.
Tent accommodation with unlimited climbing foods while on Island peak base camp.
Required number of porters during the trek (one porter = two guest basis) because each porter can carry a maximum of 24 kg of your bag pack.
Island peak climbing permits fees, Sagarmatha National Park entry permits, and Pasanglamu Municipality entrance fees.
Group climbing equipment including ropes, harness, ice screws…. etc.
Kathmandu city world heritage sites tour guide and private car transfer.
Well-paid salary, food, accommodation, and insurance of Nepalese guide and porters.
Agency's duffel bag (50 liters capacity), and trek poles if Necessary – return after the trek.
First aid medical kit including Oximeter to check your Oxygen level, Pulse rate every day to save you from higher altitude risk.
In a worst case, help with all Helicopter Rescue and evacuation arrangements (but not the rescue bills).
Updated Island peak climbing route map and a climbing certificate – keep them as souvenirs.
Nepal Government Tax, VAT, and as well as Company service charge.
Island peak climb package price excludes:-
Nepal entry visa fee US$ 40.
Lunch and Dinner during the staying in Kathmandu city.
Any kinds of battery charges, laundry service, phone calls, and hot showers during the trekking.
Trekking and climbing gears for each foreigner (personal) and clothing.
-10 comfort fresh Sleeping bag rental cost per piece US$ 2 per day.
Kathmandu city world heritage sites entrance fees.
Personal nature expenses, all types of drinks except island peak climbing days, and bar bills.
Travel Insurance which covers emergency Rescue, Evacuation, loss, or damage.
Any donation and monument entrance fees.
Gratuities for guide and porters [Tip is a culture, so they expect highly]
Any other things which are not mentioned above
Group join
As checking island peak facts, the climbing tour is possible to complete within 10 days, if you wish to go express to the island peak and descend to Lukla. However, we can organize a private Island Peak Climb combined with each trek starting at any date that works for you. Please contact us for more information.
| Departure Date | Availbility | Price | Book |
| --- | --- | --- | --- |
| 25 Mar, 2023 – 10 Apr, 2023 | Avaiable | 1825 | |
| 10 Apr, 2023 – 26 Apr, 2023 | Avaiable | 1825 | |
| 20 Apr, 2023 – 05 May, 2023 | Avaiable | 1825 | |
| 25 Apr, 2023 – 11 May, 2023 | Avaiable | 1825 | |
| 10 May, 2023 – 26 May, 2023 | Avaiable | 1825 | |
| 20 May, 2023 – 05 Jun, 2023 | Avaiable | 1825 | |
| 10 Sept, 2023 – 26 Sept, 2023 | Avaiable | 1825 | |
| 20 Sept, 2023 – 05 Oct, 2023 | Avaiable | 1825 | |
| 05 Oct, 2023 – 21 Oct, 2023 | Avaiable | 1825 | |
| 20 Oct, 2023 – 05 Nov, 2023 | Avaiable | 1825 | |
| 25 Oct, 2023 – 11 Nov, 2023 | Avaiable | 1825 | |
| 10 Nov, 2023 – 26 Nov, 2023 | Avaiable | 1825 | |
| 20 Nov, 2023 – 06 Dec, 2023 | Avaiable | 1825 | |
| 20 Mar, 2024 – 06 Apr, 2024 | Avaiable | 1825 | |
Guaranteed – Trip is Guaranteed to run.
Available – Trip is available to run if minimum group size is filled
Limited – Only few space available
FAQ
Question: Is pick-up service available on my arrival in Kathmandu, Nepal?
Answer: Yes sure. Provide us with your international flight details. Our representative will come to meet and greet you. We pick you up from TIA airport Kathmandu to your hotel in Thamel.
Question: Do I need the experience to climb the island peak?.
Answer: Yes, the basic experience of trekking is required to attempt this climbing adventure.
Question: What kind of accommodation can I expect en route?
Answer: We provide you with available tourist standard accommodation during the trekking days. The rooms are clean cozy beds with nice mattresses and blankets. But the sting and dirt of the blanket often and are available only for Nepali guides and porters. To sleep healthy, we recommend you take your own four seasons sleeping bags. If you have one with you otherwise, you may rent four season sleeping bag from Thamel gear house while you are in Kathmandu.
Question: What kind of food can I expect in Island peak climbing?
Answer: All the guesthouses along the trek routes have attached restaurants. They cook a delicious range of mostly vegetarian such as Pasta, tuna bakes, noodles, potatoes, eggs, rice, lentils, bread, soups, and fresh vegetables.
Question: What opportunities will I have for a shower en route?.
Answer: As you hike guest house trekking, all the lodges have a shower which you can get on pay. During the climbing period at Island peak base camp for 1 night and 2 days, showers are not available.
Question: How do I get drinking water on Peak Climbing days?
Answer: Tourists can buy mineral water en route but we advise against buying mineral water in plastic bottles in the Himalayas, as currently there are no provisions for disposing of those plastic waste. We recommend you bring Aqua tablets to purify the normal water as the normal water is available at the stream and local taps almost everywhere. While you climb the island peak, you can get boiled water on camp, so you can fill it on your own bottle and take it along with you.
Question: Can I charge my digital camera or other batteries on my trip?
Answer: Yes! the climbers can charge the battery on pay. We recommend you bring an extra pair in case. Remember to bring your adapters! And we recommend you take extra batteries along with you.
Question: Are there any communication facilities?
Answer: Everest Link is an internet service provider founded in 2014 that provides high-speed internet and Wi-Fi in the Everest Region. It is the only internet provider at the island peak climbing trail, making it the world's tallest internet service.
If you wish to stay connected with better WIFI to your family, friends, or business, we suggest you buy Everest Link internet. It's better than other NETWORK connections and you can buy an Everest link card easily in the shops, hotels, or any small lodges in the Everest zone.
Question: Compare the island peak vs Kilimanjaro peak climbing and hiking?
Answer: According to our Mountain climbers says, climbing up Mt Kilimanjaro sounds like an incredible encounter. We get the sense it's more a test of patience, stamina, or endurance, and largest mountain altitude sickness rather than something that is physically challenging. It is great to hear why you think climbing Mt Kilimanjaro is an incredible challenge.
However, Climbing Island peak is a better adventure than Kilimanjaro peak as it is located in the depth of Khumbu valley. The trip starts with a fly and goes up to 20,300 feet within a short span of time.
Question: Can I use credit cards to pay additional expenses while on imja valley trekking?
Answer: Normally not. You need to have cash Nepali rupees because credit cards won't work in the mountain. But if you are wishing to stay in a luxury hotel along the routes, then you can pay the difference amount to the hotel directly via your credit card. In this way, credit card works.
Question: When should I book my trip and what are the payment terms?
Answer: Because our trips book up months in advance, we recommend booking early to avoid any mistakes. We will, of course, make every effort to accommodate last-minute bookings.
And regarding the deposit, we prefer a 20% advance deposit (not refundable) of the total price of the trip in order to confirm your reservation before you arrive in Nepal. And the rest of the payment can be made after your arrival in Kathmandu.
Question: Who will carry my luggage on express Island Peak Climbing?
Answer: We provide porters to transfer your luggage. As we are a responsible trekking tour operator agency, every porter carry a maximum of 24 kilos of your backpack which means 2 guests (12 kg luggage of each guest): 1 porter basis.
Question: How much distance do I walk each day?
Answer: When walking/trekking in the mountains, the distance you cover each day can vary greatly due to gradient, terrain, and altitude. As such it is very hard to give specific distances on each day, however, you need to walk roughly about 5 hours each day.
Question: Where can I organize my personal climbing gear?.
Answer: If you have those climbing gear at your home bring them along with you. If you don't have them, you can rent them in Chhukung village. In Chuhkung's guest house, you can get all those gear on rent.
Question: How much additional money do I need per day?
Answer: You can allocate US$ 08 – 10 for a lunch/dinner in Kathmandu and it depends on your spending habits. The cost of about US$ 7 to 10 each day is enough to buy bottles of water, chocolates, tea coffee, and some drinks while you are trekking.
Climb the Island Peak Permit Cost
Mount Island peak climbing permit fees totally depends upon the climbing season that you apply to attempt. Each climbing permit fee for Nepali climbers costs Nrs 2,000 rupees. Likewise, the climbing permit cost for foreigners is diversified according to the climbing months.
| | |
| --- | --- |
| Months / Seasons | each international tourist climber |
| Spring season (March to May) | US$ 250 per climber |
| Autumn season (September to November) | US$ 125 per climber |
| Winter season (December to February) | US$ 125 per climber |
| Summer season (June to August) | US$ 70 per climber |
Island Peak Climbing highlights
Detect the best Himalayan view in 360 deg angles from Renjo la, Klapatthar, and Kongma la.
Best view of Everest mountain including Lhotse, Nuptse, Amadablam, Cholatse, Cho Oyu, Thamserku ..etc
Challenging Island peak summit offers the best scenery of all Khumbu Himalayas.
Sherpa Buddhism, an ancient monastery, Local sherpa, and their lifestyles.
How to get to the Island peak?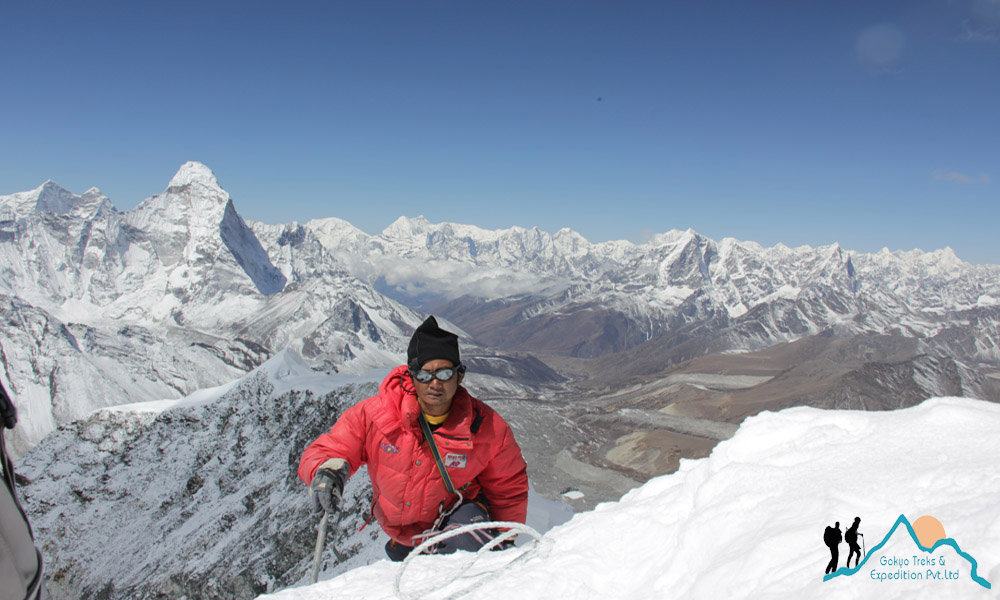 The Island peak is more easily accessible than you might think. If you're wondering how to get to the Imja peak summit, know that you will need to fly and then hike for some days.
If you're planning to base yourself in the closest airports would be:- Ramechap Airport – Lukla Airport: 20 minutes flight.
Kathmandu airport – Lukla airport (direct flight): 35 minutes
Lukla airport – Island peak base camp trekking: 8 days
Purchase Adventure Travel Insurance.
I hope you don't board without adventure travel insurance. If you do, you better think again. Adventure travel insurance is arguably the most important thing to have on hand (after your passports and visas) for a trip like climbing an island peak. Many climbers had to use their travel insurance multiple times on the road, even though they were healthy.
You never know when something might happen especially while you are climbing. Take comfort in knowing that whether your flight gets canceled or you wind up sick and in the hospital, you will be covered. Many climbers go with purchasing Travel Insurance for each and every one of your travelers.
Pack for your Island Peak Climbing Adventure
What you pack will depend on what time of the year you visit Island peak. Remember that you'll be in a towering mountain territory though so, no matter what, pack layers. While your clothing may vary, there are equipment checklist travel essentials that we recommend bringing on your trip. From packing essentials to climbing outdoor essentials, hiking essentials, camping essentials, and more… We've got you covered. Still, confused? ask us for special and additional climbing gear.
Notes for Island peak climbers
The climbing Island peak information stated above is just a sample guideline with a tentative trip plan. Island Peak is actually a training peak for those attempting the Everest Summit Expedition. That alone speaks mass about the degree of skill and effort needed for a successful climb. Island Peak summit climbing is a moderate climb that is possible for all climbers via a registered licensed trekking agency.
However, during the trip, is possible to modify your request to accommodate your specific requirements. Local politics, landslides, cancellation of local flights, weather, transport, or a multitude of other factors that are beyond our control can result in a change of itinerary during on hiking trip.
It is, however, very unlikely that the itinerary would be substantially altered. If alterations are necessary the leader will decide the best alternative option, taking into consideration the best interests of the whole group. When a change does occur, we do everything we can to minimize its effect, but we cannot be responsible for the results of changes or delays.
"What makes Island Peak Climbing special?"
To climb island peak is challenging adventure that requires proper preparation, training, and experience. We at Gokyo Treks and Expedition believe in quality services. Your safety and satisfaction is our concern.
We are a team of professional, experienced, well-trained, and licensed local guides who know the destination much better than others. Not only this but also we give benefits to the local communities and help to conserve natural resources which reduced costs and consumption.
Island peak climbing Traveller's Review
Great Experience Climbing 6K Mountain
We did Island peak climbing with a high pass trek combo package from the Gokyo agency. It was a great experience climbing 6K mountain. It is a long day climbing to get Island peak summit but it was well worth it.
Lots of interesting things to learn about the glacier and other high mountains summit while having great journey. Ammar, owner of the agency arranged almost everything for our climbing trip and everything went well. We would book them again in a heartbeat.

Response from Gokyo Treks Nepal
Thank you David for your time sending us a climbing trip feedback.
High Passes Trek with Island Peak climbing in Everest Zone
My son suggested a hike in the Everest area and I jumped at the chance. We study about five companies and settled with Gokyo Treks & Expedition after checking out staff insurance, trip reviews, and licensing of the companies. Finally, we found this company as a genuine tour operator and we book everything with Ammar and his agency. Ammar met us on our arrival at the hotel and ensured our guided trip to Kathmandu for the second day went well.
Bimal was our guide, he met us at the airport and brought us to our hotel. He led us to the airport for the short flight to Lukla getting us through customs swiftly. We spent 16 days with him; he was remarkable the whole journey taking care of our needs and keeping us safe.
We had asked Ammar to put us in the best lodges and he did modify a better guesthouse with a cost difference. Overall we had an excellent adventure and I would recommend using Gokyo Treks travel agency for any trip to Nepal. – Henry and Vanessa Robbins, Zermatt, Switzerland
Response from Gokyo Treks Nepal
Thank you Henry for your time to send us a review. We hope to serve you again for your 8k mountains soon in the Himalayas.
Awesome Island Peak Climb!
Awesome Island Peak Climb! Fur Galzen was a fantastic Sherpa guide, very knowledgeable and helpful and always willing to take great pictures for everyone.
They also suggest for hiking and climbing equipment where to buy and rent, which is great so you don't ruin your shoes in the muddy trail. The honest agency and friendly Sherpa guide were a great must-do experience!
Response from Gokyo Treks Nepal
Thank you Rachel for your feedback. We will be very much looking forward to serving you next climbing in the Himalayas.
Amazing climbing, Great experience
My oldest Son and I had such a wonderful climbing adventure trip with Nawang Chonga Sherpa. We had never such as High Mountain climbed before but Sherpa Guide Nawang made sure we had the necessary equipment and explained everything.
The whole time was just amazing except some steps near the Summit. It was difficult for me but hardly touch the summit with his perfect guidance. Totally happy and I would highly recommend Gokyo Treks & Expedition agency and Nawang if you are looking for an unforgettable and amazing climbing journey to Island peak.

Response from Gokyo Treks Nepal
Thank you William for the time to send us your feedback.
From US$ 1836
2% Off
US$ 1825
| | |
| --- | --- |
| No. of people | Price Per Person |
| 1 | USD 2398 |
| 2 | USD 1825 |
| 3 | USD 1795 |
| 4 - 6 | USD 1750 |
| 7 - 9 | USD 1690 |
| 10 + | USD 1599 |
Book Now
Customize Trip
Cost & Departures
Your Trip Your Style!
ITINERARY, COST, DEPARTURES, will adjusted according to your GROUP SIZE NEED TIME
Book with Confidence
Lowest Price Guaranteed.
100% Customizable Trips
Excellent Customer Service
Hassle Free Booking.
90 % Repeated customers
Highly Recommended agency
Private/group tour options
Local Guides Company.