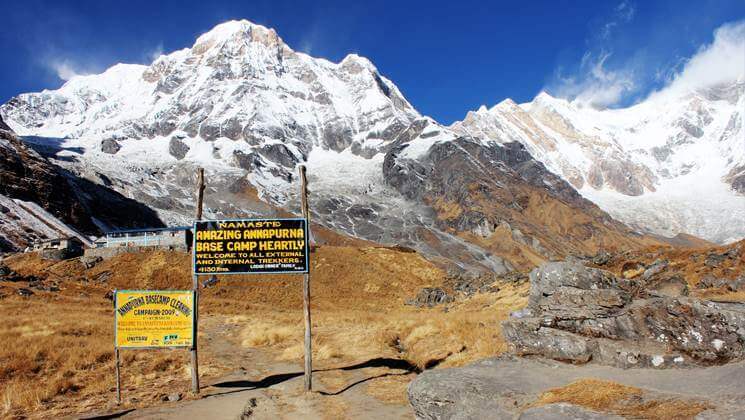 Annapurna Base Camp Trek Summary
Hike duration: 9 Days
Trek Difficulty: Easy to Moderate
Annapurna Base Camp Height: 4,130 meters/13,550 feet
Trekking Hour: 6 Hours
Group-Size: 1 – 10 People
Best Time: March, April, May, October, November and December.
Trip Mode: Guest House
Meals on Trek route: Breakfast, Lunch, and Dinner
Transportation: Car/Plane/bus
Overview
The Annapurna base camp trek with the high glacial valley is a wild Himalayan country surrounding ten of the most impressive mountains in Nepal, including Annapurna I, Annapurna II, and Fish Tail. The Annapurna Base Camp Trek itinerary is designed to focus on those who travel 9 to 10 days time for trekking in the Annapurna region.
Mount Annapurna 1st is the eighth tallest mountain (8,091 meter/26,546 feet) on earth and is one of the most impressive peaks in the world. Immerse in the beauty of the impressive landscape and wander along the lush rhododendron and oak trees to appreciate the splendor of the Annapurna mountains range.
The Annapurna base camp treks combine with some most spectacular mountain scenery, providing a fascinating insight into the modern hill life of Nepal. If you explore the Annapurna Sanctuary in good weather months in the fall and spring, you can expect clear mornings and evenings and a glowing panorama of snow-capped mountain peaks and starry skies.
Travel to the Annapurna base camp consolidates with the absolute best mountain landscape, giving an outstanding knowledge into the depth of mountain lifestyles. Furthermore, the Annapurna base camp trek route takes you through the fascinating traditional Gurung villages and greets you with warm hospitality.
The Annapurna region trek is located in the central but western part of Kathmandu, the capital of Nepal. Nepal has diversity in the landscape including flat land to the high Himalayas. It is the country of Lord Buddha and Mt Everest is 8,848 meters above sea level.
How much does for Annapurna Base Camp Package Trip Cost?
The Annapurna base camp trek cost depends upon the month and the group size you are traveling to and the service you choose. The cost of the Annapurna Base Camp Trip Package with a Gokyo Treks Agency (local trek agency in Nepal) ranges between US$ 575 to US$ 780.
We also have the best travel deals for group leaders. For example, if you could bring 10+ travelers (except you) to your trip, you are treated as a group leader. So you can hike the base camp Annapurna for free of cost. Besides that, the Annapurna base camp trek cost for Nepali is cheaper than for foreigners because of Annapurna permits. Taking flights from Kathmandu to Pokhara and from Pokhara to Kathmandu saves your time and riding the bus reduces the trip expenses.
It is the standard trip package price for 8 nights 9 days trek. If you are 2 tourists Annapurna base camp trek cost US$ 675 for 9 days trek according to the given plan. We can modify the trek routes and the prices according to your wishes also. Here is the price list for the Base camp treks.
Price Per Person for 9 days for Annapurna base camp trekking
| Number of Tourist | Price Per Person |
| --- | --- |
| 1 Person | US$ 780 |
| 2 Person | US$ 675 |
| 3 Person | US$ 670 |
| 4 to 6 person | US$ 625 |
| 7 to 9 Person | US$ 599 |
| 10 and more than 10 Person | US$ 575 |
If you're wondering to know about what is included and what is excluded on this trip price, kindly check on cost given on a tab button.
Itinerary
Annapurna Base Camp Trek itinerary
Hike to Annapurna base camp 9 days itinerary is compared to most walks in this region leading up to the base camp. The particular hiking route is designed for world travelers who wish to hike to the base camp with a normal daily travel plan. Tourists can choose a trip plan for their dream hikes to touch the Annapurna foothills either short or long trip itinerary..
However, if traveling within a week's time for the Annapurna base camp lodge trek? try Annapurna base camp trek 7 days trip planning.
The trail goes straight to the Annapurna Base Camp or take a detour to Ghorepani Poon Hill or take a smaller detour to Ghandruk museum. You can make the climbing stop and return stop at different villages. Of course, taking different routes causes minus or plus 2-3 days. For travelers who wish to reach the Annapurna base camp in a more relaxed manner? take a look at this itinerary.
1 Day
Overland Bus drive to Pokhara (1,015m), Transfer to Fewa lakeside, 7 hours
Meeting with greeting, check all Annapurna trekking gears before departure. Take a bottle of water and drive to the Tourist Bus station at Sorekhutte Tourist Bus Park. Together with the Guest, a guide and porter will overland drive from Kathmandu to Pokhara city.
While on a tourist bus journey, you will have gorgeous landscapes with colorful rice terraces. Reaching Pokhara takes about 7 hours by Bus/car [and 25 minutes by flight cost US$ 85 Per tourist]. In the afternoon you will be with your trekking Guide to discern the Phewa lake in Pokhara.
Guest House
6:30 AM
Breakfast only
900m
210 Km
2 Day
Drive to Ulleri, 4 hours. And Ghorepani trek (2,875m/9,432 feet), 4 hours
After breakfast, overland Bus drive to Ulleri (2,055m/6,742 feet) village through Birethanti check-post and Nayapool Bazaar. As it is a cheap poon hill trek, you drive all way from Pokhara to Ulleri village. A shared jeep transfer is also available for interested travelers.
Utilizing Pokhara to Ulleri Jeep/Bus Ride is the most effective way to get away from the precarious uphill of Ulleri. As the Ulleri village comprises in excess of 3200 stone steps going as far as possible. In addition, you can follow the hiking plan to reach Ulleri and take lunch.
Furthermore, Ulleri offers a scenic view of Mount Fishtail (a virgin mountain Machhapuchhare) and Mt. Hiunchuli (6,441m.). Additionally, there is a South Annapurna (7,219m) grad view in front of us. Now, our trail is quite easier to pass across the Rhododendron woods and shadowy trees and ascend gently up to the final camp at Ghorepani village. It's a tough day hike to reach Ghorepani Guest houses.
Guest House
7:00 AM
Breakfast, Lunch, Dinner
2,874m
35.1 Km
3 Day
Poon Hill hiking (3,220m/10,564 feet) & trek to Tadapani hill (2650m/8,694 feet), 7 hours
Today very early in the morning, we hike together to Poon Hill to enjoy the sunrise view over Mt. Dhaulagiri (8167m.), Tukuche Peak (6920m.), Nilgiri (6940m.), Varaha Shikhar (7847m.), Mt. Annapurna I (8091m.), Annapurna South (7219m.), Annapurna III (7855m.), Machhapuchhare (6993m.), Annapurna IV (7525m.), Annapurna II (7937m.), Lamjung Himal (6931m.) and other numerous snow-capped mountains.
Dowhhill hike to Ghorepani village, have a hot breakfast at Lodge, and immediately begin our trek to Tadapani (2,650m.). The hiking trail often walks through the lush rhododendron forest, the wildflower makes the jungle colorful in spring when they bloom.
Guest House
5:00 AM
Breakfast, Lunch, Dinner
3,220m
8 Km
4 Day
Sinuwa Guest House Trek (2,320m/7,612 feet), 8 hours
It is very easy trek by descending gently all the way through Rhododendron, oak and other kinds of dense forests. We will hear different kinds of birds chirping on the way to Kimrung Khola.
Ascend immediately steeply and walk at a level for 50 minutes and gently steeps and flat to Chomrong danda. Chomrong hill is the only gateway to reach Annapurna Base Camp. Some folks spell ABC trekking and are possible directly drive to Jhinu and begin short ABC trek days.
Lunch at Chomrong Guest House. Chomrong is the biggest Gurung settlement in this territory. Tourists will achieve a brilliant view of Mt. Annapurna south, Hiunchuli, and the virgin peak Mt.Machhapuchhre. Further, you will put your first step with a stone step to the iron bridge at Chomrong River and about three hundred meters up hill hike to Sinuwa village.
Guest House
7:45 AM
Breakfast, Lunch, Dinner
2,320m
12 Km
5 Day
Himalaya Hotel hiking (2,870m/9,416 feet), 6 hours
After Sinuwa, the trail heads with a dense forest to bamboo place. The bamboo place offers some nice lodges with hot showers and private bathrooms. On the way, lucky tourists see wildlife like wild boar, monkey, rhesus, and other wild birds including the Danphe pheasant.
Guest House
8:00 AM
Breakfast, Lunch, Dinner
2,870m
11 Km
6 Day
Machapuchhare Base Camp Trek (3,700m/12,140 feet), 6 hours
We start to go over Deurali viewpoint and walk further to MBC. There are two different trails ahead of us; we follow the best way according to the season to Bagar and to MBC. These areas are the most possible for avalanches and always be careful during the journey.
You should have good information from your experienced guide who is organized by Gokyo Treks & Expedition, before you start your journey to Fish Tail base camp. However, take your steps to ascend seriously as there are already some people who lost their lives falling from massive avalanches from the Deurali viewpoint to Bagar in between. The trail after began to Fishtail base camp is pretty safe. The moderate difficulty hike of the base camp fish tail is marked as a holy mountain trek in Nepal.
Guest House
8:00 AM
Breakfast, Lunch, Dinner
3,700m
10 Km
7 Day
Annapurna Base Camp Trek (4,130m/13,550 feet) & descend down to Dovan
Today, we walk all the way uphill to the base camp locating at 13,435 feet. The Annapurna mountain holiday ascend across the left-hand stream of the Modi Khola. You can see the sunrise with a natural Panoramic spectacular view from the viewpoint of ABC.
From here we can see Annapurna 1st, Annapurna south, Barah Shikhar, Tent peak, Machapuchhare Hiunchuli, and many more snow-capped mountains as well as glaciers. Later breakfast in ABC, just exit to Machapuchhare base camp to meet the hiking crew and descend down to Dovan guest house succeeding ABC trail.
Guest House
6:00 AM
Breakfast, Lunch, Dinner
4,130m
13.4 Km
8 Day
Jhinu Hot spring trek (1,500m/4,921 feet), 6 hours
The trail descends to Jhinu Danda leads through bamboo and Rhododendron forest with superb mountain views from Sinuwa hilltop. Have in mind that the trail from Dovan to Bamboo is most subject to avalanches also.
The trail leads down and up to stone steps to Chhomrung village. Furthermore, we hike continues down to Jhinu Danda where we can enjoy with natural hot spring "a place of tranquility" located on the Modi River banks.
Guest House
8:00 AM
Breakfast, Lunch, Dinner
1,500m
14.7 Km
9 Day
Trek to Siwai or Nayapool. Overland drive to Fewa lakeside Pokhara, 4 hours
After visiting natural hot spring, we walk further to cross an iron bridge. The path to Sewi is rough and tough with ups and downs through bamboo bushes. As soon as you reach sewai, our guide will check the local jeep (passenger collection basis) to get out to Phewa lakeside in Pokhara.
Phewa lake is equally popular as Fewa lake, most common for its ambient lakeside provides the Annapurna mountains with fine views. In the late afternoon, you can relax sitting on the Fewa lake coast or shopping or whatever. Guest can stay in Pokhara as long as they want in that case our guide and porters will return to Kathmandu by Bus.
Guest House
8:00 AM
Breakfast, Lunch, Dinner
900m
4.3 Km walk
Not satisfied with above travel Itinerary?
Are you interested on planning custom trip? It takes only 2 to 3 minutes.
Cost
Annapurna Base Camp Trek cost
Besically, the budget Annapurna base camp trek package price is the US $ 675 per person. However, the base camp trekking package for Nepali is cheaper. For the luxury, comfort, and deluxe trekking tour plan, we add Kathmandu – Pokhara – Kathmandu round trip airfare, 3-star hotel in Kathmandu (BB PLAN), and 2-star hotel accommodation in Pokhara (BB plan) with attached bathroom while on possible places in trekking routes. AND WE ARE OPEN TO CUSTOMIZING YOUR TOUR AND PACKAGES PRICE AS PER YOUR REQUIREMENTS. International tour leaders are highly encouraged to get discounts and attractive complimentary.
9 days Annapurna Base Camp Trek Package Price Includes:-
Single night double bedroom accommodation in a Tourist standard hotel in Kathmandu.
1-night double bedroom accommodation in a Tourist standard hotel in Pokhara
9 Breakfast, 9 Lunch, and 8 Dinner during the hiking in the mountains.
Guest house accommodation during the trip in the Annapurna mountains.
Tourist Bus transfer from Kathmandu – Pokhara – Kathmandu as a round trip.
Fully escorted trek with English-speaking license holder local guide and every 2 guests 1 Porter basis.
Annapurna Conservation Area permits and TIMS permits for Trek tour.
Pokhara Fewa lake side to Ulleri by a local Bus/Jeep [shared basis] transfer.
From Sewai to Phewa lake side transfer by Jeep [shared] basis.
Duffel bag and Sleeping bag – if Necessary (return after the trek).
Updated Annapurna base camp trek map for each guest, keep it for souvenir.
Seasonal fruits like apple and pomegranates as a deserts for base camp trekking.
Insurance, Food and accommodation, and salary of Nepali trekking staff.
Agency's Certificate of appreciations after the successful base camp trekking
Nepal Government Tax, VAT and as well as Company service charge.
9 days Annapurna Base Camp Trekking Package Excludes: –
Nepal entry visa fee.
Lunch and Dinner during the staying in Kathmandu and Pokhara city.
Any kinds of battery charges, laundry service, phone calls, and hot showers during the trekking.
Personal gears for trekking and Clothing.
Personal nature expenses, any drinks and bar bills.
Travel Insurance which covers emergency Rescue and Evacuation.
Donation and monuments entrance fees.
Gratuities for guide and porters [Tip is a culture, so they expect highly].
Other things which are not mentioned above
Group join
Price and Dates
We can organize a private Annapurna Base Camp Trek starting at any date that works for you. Please contact us for more information.
| Departure Date | Availbility | Price | Book |
| --- | --- | --- | --- |
| 05 Oct, 2022 – 14 Oct, 2022 | Avaiable | 675 | |
| 20 Oct, 2022 – 29 Oct, 2022 | Avaiable | 675 | |
| 25 Oct, 2022 – 04 Nov, 2022 | Avaiable | 675 | |
| 10 Nov, 2022 – 19 Nov, 2022 | Avaiable | 675 | |
| 20 Nov, 2022 – 29 Nov, 2022 | Avaiable | 675 | |
| 05 Dec, 2022 – 16 Dec, 2022 | Avaiable | 675 | |
| 10 Feb, 2023 – 19 Feb, 2023 | Avaiable | 675 | |
| 28 Feb, 2023 – 02 Mar, 2023 | Avaiable | 675 | |
| 10 Mar, 2023 – 19 Mar, 2023 | Avaiable | 675 | |
| 20 Mar, 2023 – 29 Mar, 2023 | Avaiable | 675 | |
| 25 Mar, 2023 – 04 Apr, 2023 | Avaiable | 675 | |
| 10 Apr, 2023 – 19 Apr, 2023 | Avaiable | 675 | |
| 20 Apr, 2023 – 29 Apr, 2023 | Avaiable | 675 | |
| 25 Apr, 2023 – 04 May, 2023 | Avaiable | 675 | |
| 10 May, 2023 – 19 May, 2023 | Avaiable | 675 | |
| 20 May, 2023 – 29 May, 2023 | Avaiable | 675 | |
| 10 Sept, 2023 – 19 Sept, 2023 | Avaiable | 675 | |
| 20 Sept, 2023 – 29 Sept, 2023 | Avaiable | 675 | |
Guaranteed – Trip is Guaranteed to run.
Available – Trip is available to run if minimum group size is filled
Limited – Only few space available
FAQ
Frequently Asked Questions
Question: I am a beginner trekker. Do I need the experience for the Annapurna base camp trek?
Answer: Actually Not. But it is suitable for keen trekkers/walkers who are able to walk around 4 or 5 hours in a day, with a lightweight daypack. For beginner trekkers, if you have about a little experience would be better. Some nomadic backpackers are planning an Annapurna base camp trek for 4 days but it's just running like express ABC tracks which are not good for other tourists.
Question: Is pick up service available on my arrival day in Kathmandu?
Answer: Yes sure. If you provide us with your flight details then you should do a request then our representative will come to pick up you at Kathmandu international airport.
Question: Can I store my luggage/stuff in Kathmandu or in Pokhara?
Answer: Yes, you can leave your luggage at your hotel or at our office. Store your stuff in the Gokyo Treks agency office for free.
Question: Is this trekking Safe for the Solo Female Trekkers?
Answer: Absolutely. Nepal is a safe country to travel to for solo travelers; this trek is perfectly safe for solo female trekkers. We have been organizing the Annapurna base camp trek even for solo female travelers since its establishment.
Question: What kind of accommodation can I expect on the Annapurna Base Camp lodge trek?
Answer: We provide you tourist standard accommodation in Kathmandu and during the trek routes. The rooms along the routes are clean with a cozy bed with a nice mattress and blankets. However we suggest you take your own sleeping bags if you have one with you otherwise, you may rent them while you are in Kathmandu. If you are confusing what to pack for the ABC hike then click the backpacking essentials for details.
Question: What kind of food can I expect on the basecamp lodge trek?
Answer: The guest houses on Annapurna Base Camp Trail, have attached restaurants. They cook a delicious range of mostly vegetarian such as Pasta, noodles, curry, eggs, tuna bakes, potatoes, rice, bread, soups..etc. Fresh vegetables are available depending upon the traveling months. Dinner and breakfast are provided in the same lodge you spend the night every day and Lunch will be provided on the way to the next place where you are going.
Question: What opportunities will I have for a shower along with base camp trekking?
Answer: All the guesthouses along the trekking routes provide a shower, so no worries.
Question: How do I get drinking water on the ABC lodge trek?
Answer: Tourists can often buy mineral water either at tea shops or in the guest house at the base camp trekking route. But be that as it may, we advise against buying mineral water in plastic bottles, as currently there are no provisions for disposing of plastic waste. Instead, Tourists can buy cooked water or bring Aqua tablets to refine the normal water as the normal water is available almost everywhere en route.
Question: Can I charge my digital camera or other batteries on my base camp trek budget?
Answer: On lodge trekking, there will be more chances to charge the battery. But we recommend you bring an extra pair in case. Remember to bring your own adapters!
Question: Are there any communication facilities on lodge base camp Annapurna Trekking?
Answer: At the base camp hike route, Wayfarers can get telephone services as well as the internet.
Question: Can I use credit cards in Trekking?
Answer: Not yet! So, for the hiking routes, you need to have cash Nepali rupees because credit cards work only in the bigger city areas.
Question: When should I book my trip and what are the payment terms?
Answer: Because our trips book up months in advance, we recommend booking early to avoid any kind of misunderstanding. We will, of course, make every effort to accommodate last moment bookings.
And regarding the deposit, we prefer a 20% advance deposit of the total trek price in order to confirm your reservation before you arrive in Nepal. And the remaining part of the payment, you can pay us at the office on your arrival in Nepal.
Question: Who will carry my luggage on the express Annapurna base camp group trek?
Answer: We provide porters to transfer your luggage. As we are a responsible trekking tour operator agency, each of our porters carries a maximum of 24 kilos of your backpack which means 2 guests (12 kg luggage of each guest): 1 porter basis.
Question: What is the best time to trek in Annapurna Nepal? and how to prepare for the Annapurna base camp trek?
Answer: The autumn months of mid-September, October, and November recognize as the best sunny days and have crystal weather. Abc trek in autumn season is busiest for trekking holidays. The monsoon rains have cleared the sky of dust and the views often get spectacular. The landscapes are amazing and the valleys are still green and the weather is mild, so trekking tours are even more enjoyable. The Spring season starting from March until the end of May also a good time to visit the Nepalese mountains as the weather is great. Visiting in springtime, you can walk into the deep and colorful Rohodendrons forest where the chances to look at wild animals are higher. Very good preparation for those treks is important so kindly check the trekking gears before you go.
Question: How difficult is the Annapurna base camp trek?
Answer: The Annapurna base camp trek is difficult in walking over the landscapes and the distance of your trek duration is normal. The total Annapurna Base Camp trek distance is 115 kilometers roughly. In general, the Annapurna Base Camp hike takes about 10 to 12 days walking 10 – 12 kilometers every single day but depending upon your tour itinerary.
Question: How much distance do I walk each day?
Answer: When walking in the mountains, the distance you cover each day can vary greatly due to gradient, terrain, and altitude. It is very hard to give specific distances for each day, still, you have to prepare to walk roughly about 5 hours each day.
Question: Is the Annapurna base camp trek dangerous?
Answer: The ABC trail, especially above Deurali Hill, stays a lot of avalanche places, so it is a less dangerous trail but walking above Bagar is completely safe. In terms of altitude acclimatization, it is safe to trek because you reach only up to 13,547 feet of Base Camp hikes spending 4-5 days above Pokhara town. Despite that, ABC hikes in winter are dangerous in terms of numerous avalanches. Book your trip with Gokyo Treks and go with a professional guide who knows the trail condition better.
Question: Is it possible to hire a trekking guide for the Annapurna base camp hike? how to hire a local guide?
Answer: Yes it is possible. If you do not want to book a complete full board package trip, you can hire our expert guide to make your mountain holiday tour safer. Be that as it may, visit a guide and porter hire cost or email us for your detail travel inquiry to get price deal.
Question: Can I trek alone in Nepal?
Answer: Trekking alone, you can save a lot of things. Nepal is still a cheap travel destination in Asia. The fewer estimation of your budget will run throughout your trek. If you trek alone/privately, you pay only for TIMS, Conservation or national park entrance permit, lodge, and food.
Question: Is Annapurna base camp trek safe? or is it safe to trek in Nepal?
Answer: Generally, Nepal is a safe country. Nevertheless, there have been instances of petty crime. You can travel to Annapurna safely without any obstacles. Hiking the base camp without a guide, especially in the wintertime is dangerous in terms of avalanches and snowfall. So we highly recommend you to take at least 1 trek guide to make your trip safe.
The Annapurna deaths along the Annapurna basecamp are higher comparing the Annapurna circuit deaths/death rate. As soon as you reach a Hinko cave, the most dangerous part of the Annapurna avalanche appears. In addition, as you are hiking at Bagar, another avalanche spot comes where several trekkers died in the past years. Likewise, while you hike the basecamp viewpoint, sometimes a massive avalanche fall and hits the basecamp glacier, and comes up the Earthquake.
Simply to write the Annapurna death rate is low but every year trekkers are dying on hiking of falling huge snow rocks. In October 2014, at least 43 people were killed, and roughly about 176 injured, as a result of snowstorms and avalanches on and around Annapurna, including trekkers from Nepal, Israel, Slovakia, India, Poland, and Canada. Between 10 and 50 people were thought likely to be missing.
Recently, 8 trekkers including a Nepali guide, porter, and 5 Koreans also died near Hinko cave after falling big avalanche. Have in mind, that if you are traveling during monsoon or in the extreme wintertime, stay connected with us to get free travel advice regarding landslides, floods, drowned, and travel safety while hiking.
Question: Do I need trekking poles?
Answer: It is better to trek with trekking poles. Learn how to use trekking poles for balance and stability, whether on the sidewalk or on trails. Traveling poles can help prevent slips and falls. They are just recommended but not compulsory.
Question: How much additional money do I need per day?
Answer: You can allocate US$ 08 – 10 for a lunch/dinner in Kathmandu and it depends on your spending habits. US$ 7 to 10 US$ each day will be enough to buy bottles of water, chocolates, tea coffee, and some drinks while you are on your trek.
Annapurna Base Camp Trek highlights
Annapurna base camp or ABC trek offers a great view of the Annapurna range within 360 deg angle.
Ramble through cultivated fertile fields, Excellent views of Annapurna range with Fishtail.
Natural hot spring (Jhinu) and nice waterfalls along the trek routes
Endure the Gurung and other ethnic groups and their daily life.
Annapurna base camp trek distance
Many travelers speaks base camp Annapurna treks as an Annapurna base camp tour. Abc tour or Annapurna tour is just awesome as it simply astonishing multi-day tours around 6 hours walk roughly every day. Majestic Annapurna Base camp hike – hiking tour is the most demanding trek route possible to visit in 7 days without stopping from Kathmandu. Because Annapurna base camp trek distance is 67 kilometers long roughly.
Besically Base Camp trek is 94.1 kilometers if you pass via the poon hill hiking route. However, the rapid base camp hike is only 67 km long and visitors can hike in 7 days to and from Pokhara.
If a tourist chooses the Annapurna base camp trek for 7 days / 5 days, you can rapidly reach the base camp skipping Poon hill tower. In addition, you can also download the Annapurna base camp map to measure the Annapurna base camp height yourself.
When is the best time of the year to trek Annapurna Base Camp?
What is the best time in a year to trek at Annapurna Base Camp? – depends on the experience you are looking to have. Trekking Annapurna base camp is one of the most popular trek routes in the Nepal Himalayas. It is an easy shorter trek than other high-altitude treks in Nepal.
Hiking the Annapurna base camp incorporates diverse terrain, tradition, and wildlife. Along with the most spectacular and close-up view of Annapurna mountain range including Annapurna first, Fish Tail, and Dhaulagiri.
Trekking to Annapurna Base Camp and hike to Poonhill viewpoint is one of most favorite things to do. I have trekked to Annapurna base camp and Poon hill over 30 times taking the foreigner group. And experience that I always prefer when there are going to be fewer people on the base camp trail.
The Annapurna mountain territory has it all, sheer beauty, dramatic massive mountains, friendly people, adventure trails, and an experience that will stay with you forever. The exciting expansive views will leave you mesmerized. Standing at the base camp of the world's tallest mountain and trekking up to the famous and classic view of Mount Annapurna family including Fish Tail is truly breathtaking.
There are two specific trekking seasons. The best months to trek to Annapurna Sanctuary are pre-monsoon (February, March, April and May) and post-monsoon (late September, October, November and December). It is possible to make this iconic journey in February and September but we prefer the above for our treks into Annapurna base camp. My personal favorites are March, April, Mai, late October, November, and December.
You can trek to Annapurna Base Camp in January and February but it will be very freezing higher up (-10C/-14F to – 15C/-5F) and it can dump snow on the base camp trail at any time of year. If you are planning on trekking to Annapurna Base Camp in these months, you are definitely going to need more time for weather delays. Weather conditions can be more challenging in these winter months.
When planning your trek into the Annapurna region you need to consider the months listed above. Do you want to be there when the base camp is very busy and alive with climbers aiming for the summit? Do you want to have a clearer sky for good photography? You need to consider this in your track planning.
In addition, many people know a few about Nepal but they know much about Mount Annapurna. And trekking in the Annapurna region is a dream for everyone. Mountain Annapurna base camp holiday trek starts from Pokhara – a gateway to the Annapurna area. You can reach Pokhara city either by bus or 25 minutes flight from Kathmandu.
Spring and Autumn are the preferred time to trek to the Annapurna region. During this time, you can see the hiking trail busy with the trekker's caravan. Sometimes difficult to get cozy rooms. To avoid all these, and walk in the complete wilderness, why not trek in December? This time when many avoid treks fearing the cold. But trust us! You will not regret on decision.
Best time of the year to trek Annapurna Base Camp is either in Spring (March to May) or Autumn (October to December) to stay clear skies. Annapurna base camp trek difficulty also depends upon the time you are exploring. The Autumn and spring months are the best time to visit. Moreover, there are many other popular trek routes connecting with Abc.
Annapurna base camp treks even more scenic and joyful in the spring season as the whole forest along the trail turns red, pink, and white with rhododendron flowers. The amazing Annapurna trek is possible at any time throughout the year.
Why is the Annapurna Base Camp trekking is the most popular trekking in the world?
The Annapurna base camp trekking is one of the most famous treks in the world. It literally brings you face to face with an eight-thousander – for a moderate-difficult trek.
Maybe there is a question like which is the best month to travel to Annapurna Base Camp to have the best weather?. How difficult is it to trek to the Annapurna base camp and over Poon Hill?. When is the best time to visit Annapurna Base Camp? What is the best time of year to hike the Annapurna base camp?.
The best time to visit Annapurna trek is either in Spring (March to May) or Autumn (October to December) in this time weather is very clear. You can also make a plan to hike the Annapurna base camp either in December, January, February, May, or June. So you can see the pristine Himalayas and impressive landscapes. And take a review about Annapurna Trek in Tripadvisor.
How long is the Annapurna base camp trek?
The Annapurna Base Camp Trekking takes about 7 to 10 days. It depends upon your trip itinerary how you plan and the length of walking days. The itinerary we suggested here is about 9 days but it can extend more as per your wish. In this base camp hike plan, the trip conducts from Nayapul (approximately 90 minutes drive out from Pokhara town) and going north up to Ghorepani and meets the top famous viewpoint at Poon Hill tower.
What is ABC trek?
Magical Annapurna Base Camp Trek is also popular as an abc trek in Nepal that is quite easy and soft adventure trekking in Nepal comparing other high altitude treks. Abc trek incorporates diverse terrain, culture, local lifestyles, and wildlife. We customize your ABC treks depending on your itinerary and length of walking days. The Annapurna base camp trek itinerary presented here takes 9 days, starting from Nayapul (90 minutes drive) and going north up to Ghorepani and the famous viewpoint at Poon Hill.
This is incredible! The fascinating Annapurna massif includes the world's tenth highest peak ie Mount Annapurna I (8,091 meters) holds an almost fatal attraction for mountaineers. It has the highest fatality ratio among the eight-thousanders. A trek to ABC holds several treasures for the mountain lover.
Annapurna Base Camp Trek Review
Annapurna Sanctuary Trek
It was an amazing experience, with friendly and great service mind with full of experience tour guide Ram and porter Ram. From the time of welcome, we got great services throughout the trip. Thank you Gokyo Treks for providing us a wonderful memory.

Response from Gokyo Treks Nepal
Thank you dear Kanjana Emwat for your wonderful comments about the Annapurna Base Camp Trek, 4,130 meters above sea level in Nepal with a guide and a porter.
ABC trek in June 2019 with Rajesh
I would highly recommend Gokyo Treks. Communication with Ammar was seamless and he provided a very clear breakdown of trek options, their corresponding costs, and a meetup in Kathmandu the day prior to our trek. Our tour guide Rajesh went above and beyond his tour guide duties during our trek through ABC. He treated our group as his own family, making sure that we were safe and comfortable throughout our time on the mountain. We will definitely be using Gokyo Treks again if we are lucky enough to return to Nepal!
Response from Gokyo Treks Nepal
Dear Guest Alice T, California, USA
Greetings from Gokyo Treks & Expedition Pvt Ltd, Nepal. Thanks a lot for your excellent review about Annapurna Sanctuary trek – Annapurna base camp trek 4,130 meters above the sea level in Nepal with our guide Rajesh and porters. So, we are very much pleased that you are highly satisfied and writing us an excellent experience exploring Nepal. Be in touch as we are looking forward to serve you again for your other holidays in Nepal Himalayas!
With best regards,
Ammar Raj Guni
Annapurna Basecamp Trek
Great organization by Gokyo treks company with all the information outlined below! Sriram and Jayaram, our guides, we incredible. They were both very knowledgeable, organized, and motivating when we needed an extra push.
The food and accommodation were organized well and no issues were encountered. Would highly recommend Gokyo Treks Company to all visitors.
Response from Gokyo Treks Nepal
Namaste dear Parisa Zarringhalam, London
Thanks a lot for your time to write us your review about the Annapurna Base Camp trek in Nepal in May 2018. We are very happy and be in touch as we are looking forward to serving you again for your other holidays in Nepal Himalayas!
With best regards, Ammar Raj Guni
Amazing Annapurna Base Camp Experience!
I am a Malaysian who did the 10-day Annapurna Base Camp trek alone with Ram as my guide. This was my first time in Nepal and I have to say that I am highly satisfied with Gokyo Treks. Ammar handled everything from the moment I landed at Kathmandu airport. I had nothing to worry about! The professionalism and hospitality were amazing!
Ram was fantastic as my guide! And my Dhal Bhat buddy! He had very funny jokes and had the local knowledge to point out the things that I would have never noticed myself. He also always went out of the way to make sure I was taken care of all the time.
I had a great time with these guys! At last, I would highly advise Gokyo Treks to anyone looking to do a trek in Nepal.
Response from Gokyo Treks Nepal
Namaste dear Christopher Sien, Kuala Lumpur, Malaysia,
Thanks a lot for your time to write us your review about the Annapurna Base Camp trek in Nepal in March 2018. We are very happy and be in touch as we are looking forward to serving you and your family again on other holidays in Nepal Himalayas!
With best regards, Ammar Raj Guni
Annapurna Base Camp Trek Note!
The Annapurna mountain holiday base camp excursion information as stated above is just a guide and standard template plan that we provide. But we can modify this basecamp trekking plan according to your request to accommodate your specific requirements. Local politics, landslides, cancellation of local flights, weather, transport, or a multitude of other factors that are beyond our control can result in a change of itinerary during the trip.
It is, however, very incredible that the itinerary would be extensively altered. If alterations are necessary the leader will decide the best alternative option, taking into consideration the best interests of the whole group. When a change does occur, we do everything we can to minimize its effect, but we cannot be responsible for the results of changes or delays.
What makes the crazy Annapurna base camp trekking special?
Opportunities for challenging trekking or hiking and pleasant strolls are scattered all over this planet earth. You just need to know where to find the right hikes similar to base camp. Annapurna base camp trek solo is also possible for guest who wants to travel privately. Travel solo or on an individual trip is more comfortable and 100% flexible rather than group treks.
We at Gokyo Treks and Expedition believe in quality services. Your safety and satisfaction is our concern.
We are a team of professional, experienced, and licensed local guides who know the destination better. Not only this but also we give benefits to the local communities and help to conserve natural resources which reduced costs and consumption.
From US$ 711
5% Off
US$ 675
| | |
| --- | --- |
| No. of people | Price Per Person |
| 1 | USD 780 |
| 2 | USD 675 |
| 3 | USD 670 |
| 4 - 6 | USD 625 |
| 7 - 9 | USD 599 |
| 10 + | USD 575 |
Book Now
Customize Trip
Cost & Departures
Your Trip Your Style!
ITINERARY, COST, DEPARTURES, will adjusted according to your GROUP SIZE NEED TIME
Book with Confidence
Lowest Price Guaranteed.
100% Customizable Trips
Excellent Customer Service
Hassle Free Booking.
90 % Repeated customers
Highly Recommended agency
Private/group tour options
Local Guides Company.