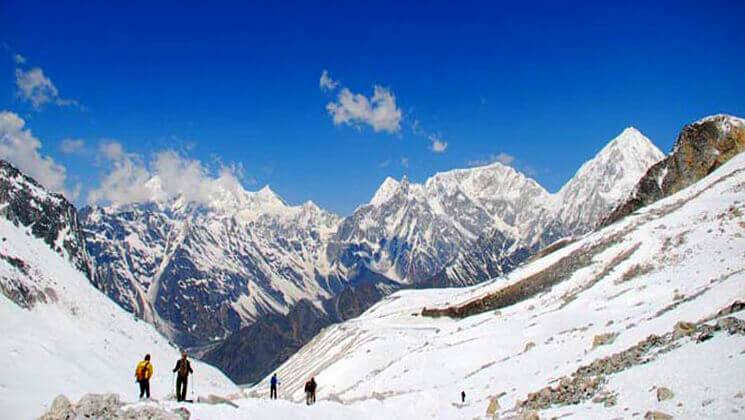 Overview
Rupina la pass trek lies almost 127 Km northwest from Kathmandu on the lap of Manaslu Range. It is an adventure pass 4,610m, tough and mostly snow covered from October until the end of April.
Crossing pass, the big rocks are another challenge because of moving. Than passing some glacial lakes and Buddha Himal glacier we touch the main classical Manaslu trek at Ngayak Phedi of Gorkha district.
Rupina la is a geographically spectacular and unbeaten trail of the Lower Manaslu region. Rupina La Pass Trek starts from Gorkha bazaar after driving 6 hours from Kathmandu. We pass a nice rice terrace. The waterfall is impressive. Typical houses and local people lifestyle really touch your heart.
Rupina la pass trek is geographically spectacular and culturally fascinating. Trek to Rupina La pass is less touristic area trek lies on the foothill of Manaslu and officially opened for tourist in 1991.
Furthermore, the views of Manaslu (8,163m), peak 29 (7,879m) Himal Chuli (7,893m) and Boudha (6,672m) are wonderful here. Crossing about Rupina la pass 4,610 meters, we catch the main classical Manaslu circuit trek and also cross another challenging Larkya pass trek of Manaslu. There are no lodges in some places so we can do this trek as an alpine-style tent camping trek. Trek to Rupina la pass is possible to do in any time (except winter) throughout the year.
Itinerary
Rupina la pass trek itinerary detail
Our Rupinala pass is combine with Manaslu circuit classical trek around 20 days itinerary compared to most walks in this region. The particular route is designed for world travelers who wish to hike in this trek with relaxing manner itinerary however if you are planning with limited time wise than take a look this special itinerary on Around Manaslu short trek – 13 Days .
Day 1
Arrival at Kathmandu valley
Upon arrival in Kathmandu, Tribhuwan International Airport, we will receive you with private vehicle and transfer to hotel in Kathmandu within B/B plan. Our representative will give you information about further programs.
Day 2
World heritage sites tour in Kathmandu, 6 hours !.
All aspects of gear and conditions are discussed to make sure you're fully prepared for the trip. After lunch, we explore this medieval capital. We visit Boudhanath, also known as Little Tibet. Visit Pashupatinath, holy temple of Hindu where the cremation takes place by the holy river Bagmati. Later we visit Kathmandu Durbar Square and Syambhunath Stupa. And transfer to hotel.
Day 3
Drive to Gorkha bazzar to Gyampesal (1,300m/4,251 ft), 8 hours.
As our crew is ready, we drive to Gyampesal directly. After 10-15 minutes we cross Kathmandu valley and follow Prithivi High way as well as beside the Trisuli River, crossing the Trisuli River we will arrive Abu Khaereni to Gyampesal via historical place Gorkha Bazaar.
Day 4
Trek to Thotnery (1,650m/5,396 ft), 6 hours.
This is first day walk in this trek, after having hot breakfast we start to hike our destination passing through villages Deurali, Mulabari and visit Nice Sita cave and we stop somewhere to have lunch in suitable place then we start continue to our destination, and 5-6 hours walk we will reach our final destination Thotnery.
Day 5
Crossing Darche Danda 3220m, further to Nambai Kharka (2,915m/9,532 ft), 7 hours
The trail leads to gradually up to Darche Danda which is the excellence viewpoint. After this viewpoint we descent to Nambai Kharka 300m. During this day we walk through villages and kharka as well as nice and cool forest, we stop for lunch in the middle of walking hour in a suitable place for a lunch stop then some hours walking after we reach Nambai kharka.
Day 6
Trek to Barpak village (1,915m/6,262 ft), 5 hours.
Brapak is a big Ghale and gurung settlement. Villagers are engaging in Ex-Indian and British Army so they have good economy growth from remittance and there is good access of internet as well as hydro electricity for their villages.
Day 7
Rest Day in Barpak village to explore around.
Barpak village produces many ex-army men in British and India, is also known popular man Late Capt. Gaje Ghale – awarded by famous Victoria Cross medal. Clustered stone-roofed houses, stone built narrow alleys and panoramic view of Buddha Himal are the major attractions of Barpak. Brapak has small but nice houses with modern amenities like toilets, shower, and internet facilities inside the house.
Day 8
Trek to Gai Kharka (2,900m/9,483 ft), 7 hours
Saving energy in Barpak village again we begin to walk for next destination Gai Kharka. This day descent to tumsiak village and following Daraudi Khola and all way ascent to Gai Kharka, crossing the beautiful forest and quite place then we will arrive Gai Kharka.
Day 9
Trek to Rubinala Phedi (3,800m / 12,426 ft), 5 Hours.
This is quite short walk but quite high compare to previous day walk and nice place too, which is called Sanrung Kharka as well as Rubina La Phedi, base camp of Rubina la pass. So it should be quite interesting place and night for next day crossing our main destination of trip.
Day 10
Trek over Rubinala Pass & to Boudha Himal Base Camp (3,600m/11,772 ft ), 7 hours.
A tough day trek because of step up and moving stones trail. This is a highest trail during the Rubina la Pass which is located at an altitude of 4,720m /15,434 ft. Trek ascend to Rubina La summit takes roughly about 4 hours than descend down hill to Buddha himal base camp takes another 3 hours.
Day 11
Trek to Jhon Kharka (2,960m/9,679 ft), 6 hours
Today we walk next to the glacier to Jarang 3420m and then we follow trail to Jong kharka between of chhuling khola and rebing khola, viewing Gorkha himal, himal chuli, Bouddha himal, peak 29 and many others peaks then we reach to Jhong kharka
Day 12
Trek to Nyak phedi (2,340m/7,652 ft), 5 hours.
Having a hot breakfast we start to walk our destination, this days we walk through the forest and some villages, most of part is descending part to get Ngayak phedi. We follow on the left side of chhilung khola passing through Gomna and Serang village to Nyak village.
Day 13
Trek to Ghap (2,100m/6,867 ft) 7 hours.
Follow the trail upstream of Deng River – a tiny village of 4 houses. We walk through a newly built rock tunnel from here, thus avoiding the traditional steep climb. At Ghap, the Tibetan culture begins with Mani stones and chortens all around. Stay overnight at guest house.
Day 14
Trek to Lho (3,200m/10,464 ft) 7 hours.
Crossing the wooden bridge over Budhi Gandaki, we follow the path lined with houses that are interspersed with cultivated fields. At Namru, there is a police check post again. After Namru, across the Hinan river originating from Linda Glacier and continue on to Sho. Naike peak, Manaslu north (7,774 m) and Manaslu (8,150 m) are visible from here. Tonight we fix the camp near a spring at Lho gaon – a small village. Stay overnight at lodge / guest house.
Day 15
Trek to Sama gompa (3,500m/11,445 ft) 6 hours.
You will pass the stone gate and long Mani stone wall of the village after Lho with full view of Peak 29 ahead. You can make a side excursion to Pungen Glacier from here to get a very close up view of Manaslu. Follow the lateral moraine of Pungen Glacier toward Sama. From the village of Sama, it takes another 20 minutes to reach Sama Gompa for night halt. Stay overnight at guest house.
Day 16
Samagaon exploration day.
We will spend a day here in order to acclimatize and adjust to the thinning of the air and also for local excursion to visit Birendra lake. Return to lodge for stay overnight.
Day 17
Trek to Samdo (4,500m/14,715 ft) 5 hours.
Today, we climb a terraced hill on the opposite bank of Budhi Gandaki River from here toward a most remote permanent settlement to Samdo. Here amid the most sever conditions of nature live some 200 in forty houses check-by-jowl. Stay overnight at guest house.
Day 18
Cross Larkya La (5,215m/17,053 ft) and trek Bhimthang (3590 m) 8 hours.
We first climb towards Cho Chanda and then slowly head steeply uphill towards the snowed-up pass. From the top the panorama is magnificent: Himlung Himal (7,126 m), Cheo Himal (6,820 m), Gyagi Kung, Kang Kuru (6,981 m) and the Annapurna II (7,937 m). The descent is steep, through moraines, towards Bhimphedi. Stay overnight at lodge / guest house.
Day 19
Trek to Tilje (3,900m/12,753 ft) 5 hours.
The route gets easier. We start with a gentle climb through paddy fields towards the small Karcha La pass and descend through big tree and rhododendron forests to Tilje. Stay overnight at guest house.
Day 20
Trek to Tal (1,725m/5,640 ft) 5 hours.
Follow the trail downstream of Marshyangdi River, passing through the scattered villages to reach Tal village for overnight stay. Stay overnight at guest house.
Day 21
Trek to Jagat (1,300m/4,251 ft) 5 hours.
Today the trail runs gently downstream of the river passing the village of Chamje and Himal pani We will have overnight stay at Jagat. Overnight at guest house
Day 22
Drive to Kathmandu
After breakfast, At morning time, we drive back through the scenic countryside and during the route will stop for lunch in Besisahar than we drive back to Kathmandu. On arrival at Kathmandu guide will transfer to the hotel and rest of the day relax or explore the surrounding areas and overnight at hotel.
Day 23
Final departure day
Drop you in Kathmandu International Airport onward your final destination and our trip ends. Wish you your wonderful journey !!
Cost
How much does the Rupina la pass trek cost?
This trip is available now on USD 1,950 per person is standard trek price on double occupancy basis. But of course, the trip price will vary according to group size.
For the deluxe and luxury Tent style trekking tour plan, 3-star category hotel deluxe air-conditioned room in Kathmandu (BB PLAN) with attached bathroom while trekking on possible places. AND WE ARE OPEN TO CUSTOMIZE YOUR TOUR AND PACKAGES PRICE AS PER YOUR REQUIREMENTS. International tour leaders are highly encouraged to get discount and attractive complimentary.
Rupina la pass trekking cost include:
Kathmandu international airport transfer by private vehicles.
2 nights twin sharing Tourist standard accommodation in Kathmandu with Breakfast plan
Meals on full board: Breakfast, Lunch and Dinner each day during the trekking days
Fully escorted trek with fluent English speaking license holder local guide and each 2 guest 1 Porter basis.
Guest house basis accommodation while you are on trekking days
Alpine style camping with food and accommodation above Brapak to Ngayak phedi.
Around Manaslu special trekking permits USD 70 per person per week
Annapurna Conservation Area permits and Manaslu conservation permits and their fees.
World heritage sites seeing transfer by private vehicle.
Bus transfer from Kathmandu to Gyampesal and return from Jagat to Kathmandu
All land transportation as per written on above itinerary.
Food and accommodation and salary of Nepali trekking staffs.
Insurance of guide and porters.
Nepal Government Tax, VAT and as well as Company service charge.
A special gift from our company.
Rupina la pass trekking Cost Exclude :
Nepal entry visa fee cost US$ 40.
Lunch and Dinner during the staying in Kathmandu city.
Any kinds of battery charges, laundry service, phone calls and hot shower during the trekking.
Personal trekking equipment and Clothing.
Personal nature expenses, any drinks and bar bills.
Your travel insurance (it is mandatory in case of emergency).
Any donation and monuments entrance fees.
Tips for the crew (Note : TIPS is not compulsory but highly expected)
Any other things which are not mentioned above
Group join
We can organize private rupina la pass combine with Larke pass Trek starting at any date that works for you. Please contact us for more information.
FAQ
Question: Is pick up service available if my arrival day in Kathmandu
Answer: Yes sure !! If you provide us your flight details then you should do request then our representative will come to pick up you on Kathmandu international airport.
Question: Do I need the experience to do Rupina la pass trekking
Answer: It is suitable for keen trekkers/walkers who are able to walk around 4 or 5 hours in a day, with a lightweight daypack. For this trekking, if you have about the little experience would be better.
Question: What kind of accommodation can I expect on Rupina la pass trek
Answer: We provide you tourist standard accommodation in Kathmandu and tented accommodation on trek routes where the lodges are not available. However we recommend you to take your own sleeping bags if you have one with you otherwise, you may rent it while you are in Kathmandu.
Question: What kind of food can I expect in Rupina la pass trek
Answer: Our professional cook cooks a delicious range of mostly vegetarian such as Pasta, tuna bakes, noodles, potatoes, eggs, dhal bhat, bread, soups, fresh vegetables (variety depends on the season)
The dinner and breakfast are provided in the same lodge you spend the night every day and Lunch will be provided on the way to the next place where you are going.
Question: What opportunities will I have for a shower along Rupina la pass trek
Answer: Tea house trekking all the lodges they have a shower which you can get it somewhere paying and somewhere without paying however if you are in camping trekking – we provide you hot water bucket then you will take a bucket shower.
Question: How do I get drinking water on Rupina la pass trekking group
Answer: You can buy bottled mineral water to drink most of the places but we advise against buying mineral water in plastic bottles, as currently there are no provisions for disposing of these. Instead, we provide you with boiled water or bringing chlorine tablets to purify the normal water as the normal water is available in campsite/along the way.
Question: Can I charge my digital camera or other batteries on my trip
Answer: During the lodge trekking there will be more chances to charge the battery. We recommend to you bring an extra pair for in case. Remember to bring your adapters! An extra battery will be recommended.
Question: Is there any communication facilities on Rupina la pass trekking
Answer: Only some places you can get telephone services. So we recommend you to buy a local SIM card while you are in Kathmandu.
Question: Can I use credit cards in Trekking
Answer: No!. Not for trekking so you need to have all in Nepali rupees to pay your bills because credit cards work only in the bigger city areas.
Question: When should I book my trip and what is the payments terms
Answer: Because our trips book up months in advance, we recommend booking early to avoid any kind of misunderstanding. We will, of course, make every effort to accommodate last minute bookings.
And regarding the deposit, we prefer 20% advance deposit of the total price of the trip in order to confirm your reservation before you arrive in Nepal. And rest of the payment can be made after your arrival in Nepal.
Question: Who will carry my luggage on Rupina la pass trekking
Answer: We provide porters to transfer your luggage. As we are a responsible trekking tour operator agency, each of our porters carry maximum 25 kilo of your backpack which means 2 guests (12.5 kg luggage of each guest): 1 porter basis.
Question: How much distance do I walk each day
Answer: When walking in the mountains, the distance you cover each day can vary greatly due to a gradient, terrain, and altitude. As such it is very hard to give specific distances on each day, however, you have to be prepared to walk roughly about 5 hours each day.
Question: Is it possible to rent a guide? how to hire a local trek guide
Answer: Yes of course. If you are not happy to go with the complete full board package trip, still you can hire our expert guide to make your holiday tour safer. However, visit a guide and porter hire or email us for your detail travel inquiry.
Question: Do I need walking polls
Answer: Walking pools are recommended but not compulsory.
Question: How much additional money do I need per day
Answer: You can allocate US$ 08 – 10 for a lunch/dinner in Kathmandu and it depends on your spending habits. US$ 7 to 10 US$ each day will be enough to buy bottles of water, chocolates, tea coffee, and some drinks while you are on trek.
Rupina la pass trek highlights

Adventure rupina la offers picturesque turbulent river gorges, pristine lakes with nice waterfalls.
The trek has unique cultural blend of Tibetan, less tourist, Nepali people, and their life styles.
Tibetan Buddhism culture, Diversified unspoiled Eco systems
Fantastic views of Mt. Manasalu, Mt. Himchuli, Mt. Ganesh and others, Larkya la pass (5153m).
Rupina la pass trek note:
The above itineraries are subject to change due to a condition beyond our control. This is a Guideline showing tentative camp night stops. Physical, technical and natural condition may change this above itineraries.
"What makes Rupina la pass trek special ?"
Opportunities for challenging trekking or hiking and pleasant strolls are scattered all over this planet; you just need to know where to find them. We at Gokyo Treks and Expedition believe in the quality services. Your safety and satisfaction is our concern. We are a team of professional, experienced, well trained and licensed local guides who know the destination much better than others.
Trip Price : USD 1,950 Per Person
Duration of trek: 23 Days
Trek Grading: Moderate
Max Altitude: 5215m /17,053 ft
Trekking Hour: 6 Hrs
Group-Size: 2-20 People
Best Time: Oct -May
Trip Mode: Guest House + Tent Basis
Meal on Trek: Breakfast, Lunch, Dinner
Transportation: Car/Plane/bus
Cost & Departures
Your Trip Your Style!
ITINERARY, COST, DEPARTURES, will adjusted according to your GROUP SIZE NEED TIME
Inquiry Now
Customize Trip
Book with Confidence
Local Guide's owned company.
Lowest Price Guaranteed.
Excellent Customer Service
Easy and Hassle Free Booking.
90 % Repeated customers
Travelers Recommended agency
Reference person of Gokyo Treks !
Contact in Germany
Klaus Kummer : +49-367-2351-957
Roland Stich: +49-0271-870-031
Dr. Lars : +49-3641-5395-160
Contact in USA
John Erwin: 212-222-6389
Beth Pekol, Chicago: +1 312-364-8924
Eve Quesnel, California: 530-5879-113
Contact in Australia
Mark Panico: +61-402-526-430
Dr. Chris Hislers: +61-419-556-381

Contact in Austria
Verena Laner: +43-650-7110-301
Dorothee Plunger:+43-512-565-255

Contact in Switzerland
Dominik Lee, Zürich: +41-079-3826-028