Rupina La Pass Trek Summary
Trekking Duration: 16 Days
Trek Difficulty: Easy to Moderate
Larkya la Pass Elevation: 5,106 meters/16,752 feet
Trekking Hour: 6 hours daily
Hiking Group-Size: 2 – 12 People
Best Time: April, May, September, October, November
Trip Mode: Tent Camp + Lodge Basis
Foods: Breakfast, Lunch, and Dinner
Transportation: Car/Jeep/bus
Overview
The Rupina la pass trek offers a stunning view of Manaslu (8,163m), peak 29 (7,879m) Himal Chuli (7,893m), and Boudha (6,672m). Rupina la pass 4,610 meters is a less demanding trails that situated 127 Km northwest of Kathmandu on the lap of Manaslu Range.
The big rocks along the Rupina la are just adventures as they are moving while crossing. Walk further passing some of the glacial lakes on the foothill of Buddha Himal glacier, further to touch the main classical Manaslu trek at Ngayak Phedi in the Gorkha district.
A trail to Rupina La is a geographically spectacular and adventure and beaten trail in the Lower Manaslu region. it's wilderness and hazard trek that start from Baluwa (about 12-kilo meters rough road after Gorkha bazaar) after driving 9 hours from Kathmandu. Baluwa, a sandy ground passing tiny villages, rivers, and nice rice terraces.
Hike at Rupina la is a majestic journey because of geographically spectacular and culturally fascinating. Additionally, the waterfall en route is tall and impressive. Typical houses and local people's lifestyles really touch your heart. Trek to Rupina La is a less touristic area trek that lies on the foothill of Manaslu and officially opened for tourists in 1991.
Many places don't stay in lodges therefore, we arrange a tent camping trek. It is a wilderness excursion and is possible to explore in all months except winter months December, January, February, and March.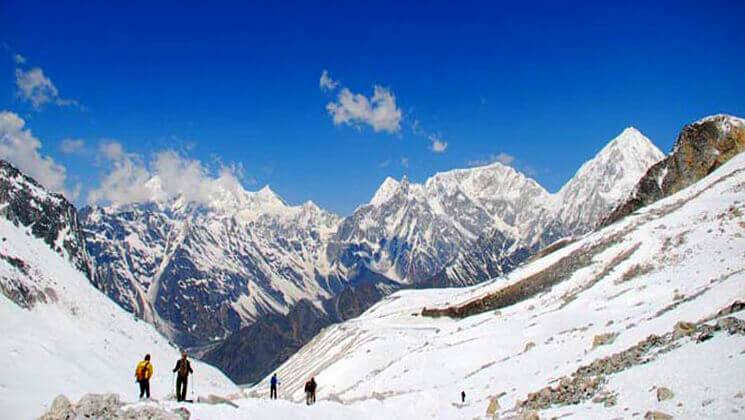 How much does Rupina La Trek Package Cost/Price?
The cost of the Rupina la trek package with a Gokyo Treks Agency ranges between US$ 1790 to US$ 2325. But of course, the Rupina la pass trek in Gorkha trip cost varies according to the group size you are traveling to and the service you choose.
However, we often arrange private trips in order to avoid group tours with strangers. A private tour gives you a better experience on your hikes. If you value personalization, flexibility, and in-depth experiences, a private trip customized to your personal needs will be the best option.
It is the standard trip package price for 16 days trek. If you are 2 trekkers Rupina La pass trek cost US$ 1950 for 16 days trek according to the given trekking plan. We can modify the trek route and price according to your wishes also. Here is the price list for Rupina La treks.
Price Per Person for 16 days hike in Rupina la route.
| Number of Tourist | Price Per Person |
| --- | --- |
| 1 Person | US$ 2325 |
| 2 Person | US$ 1950 |
| 3 Person | US$ 1925 |
| 4 to 6 person | US$ 1898 |
| 7 to 9 Person | US$ 1850 |
| 10 and more than 10 Person | US$ 1790 |
If you're wondering to know about what is included and what is excluded from this trip price, kindly check on the cost given on a tab button.
Itinerary
Rupina la pass trek itinerary details.
Our Rupinala pass plus Manaslu circuit is a classical trek. Around 18 days trek itinerary compared to most walks in the Manaslu Zone region. We created a rupina la trek route for world explorers who wish to hike in a relaxing manner can try this itinerary. However, if you are planning with limited time-wise, take a look at this special itinerary on Around Manaslu short trek – 13 Days.
1 Day
Arrival at Kathmandu valley. World heritage sites tour in Kathmandu, 3/4 hours.
Landing at Kathmandu international airport and transfer to your hotel in Thamel downtown. All aspects of hiking gear and conditions are discussed to make sure you're fully prepared with hiking gear to cross Rupina la and Larkyala.
Later lunch, we explore Kathmandu city. In ancient times, Kathmandu town was marked as a city of glory. We visit Boudha stupa, Pashupati temple – Hindu's most holy temple where the cremation takes place at the holy river Bagmati. If time permits, we visit Kathmandu Durbar Square and Living Goddess Temple. In the evening, check your hiking gear with a guide and buy or rent necessary gear in Thamel stores. In the evening, Ammar Guni will brief you about Rupina la trek information.
2 Day
Overland drive to Gorkha Bazaar & to Baluwa (755m/2,477 feet), 8-9 hours.
As our crew is ready, we drive to Gongabu Bus station to get a coach to Baluwa at the Daraudi Riverbank. Kathmandu to Baluwa bazaar takes about 8 hours bus ride passing over most historic sites, including Gorkha palace. The journey over Prithivi Highway beside the Trishuli River is great. Its scenic countryside drives passing beautiful hamlets and mystical landscapes. Likewise, we follow the Marsyangdi riverbank and continue to drive further to Abu Khairani Bazaar.
Moreover, we get to Gorkha Durbar and finally reach Baluwa in a few hours. The overland drive from Gorkha palace to Baluwa distance is about 12 kilometers. Palace Gorkha to Baluwa has an off-road drive on a gravel road. The place is located on the bank of the Daraudi River valley farmland. Have in mind that we can arrange for you a comfortable 4WD jeep drive from Kathmandu to Baluwa at an extra cost. Stay overnight at Tent.
3 Day
Barpak village trek (1,915m/6,283 feet), 6-7 hours.
Today, our hiking path follows the upstream of the Daraudi River passing the paddy field to the right flank of the stream. Hike for around 3 hours to get to a scenic place for a lunch spot before steps climbing. The nature path rises higher up, and a dazzling perspective of the stream valley and Buddha Himal (6,672m) on the foundation can be seen incredibly. Trail raises however dry terraced cultivating field and crowds cover. Still, the present hikes step towards the biggest Barpak, Ghale Gurung settlement.
Barpak is a big Ghale and Gurung settlement almost the biggest village in the entire Gorkha District. Villagers are engaging in the Ex-Indian and British Army, so they have good economic growth from the remittance. As they have hydroelectricity, people can use the internet and watch TV news. Barpak hiking is worth an early evening explore the village that exposes social culture, life living, and village community.
4 Day
Exploring Barpak village
Barpak village produces many ex-army men in British and India, is also known popular man Late Capt. Gaje Ghale – awarded by famous Victoria Cross medal. Clustered stone-roofed houses, stone-built narrow alleys, and a panoramic view of Buddha Himal are the major attractions of Barpak. A massive earthquake disaster in 2015 collapsed the Brapak village and rebuild again. So, they have tiny guest houses with modern amenities like toilets, a shower, and internet facilities inside the homestay.
5 Day
Gai Kharka trek (2,900m/9,515 feet), 6-7 hours
Saving energy in Barpak village again we begin to walk for next destination Gai Kharka. This day descent to tumsiak village and follow Daraudi Khola and all way ascent to Gai Kharka, crossing the beautiful forest and quiet place then we will arrive at Gai Kharka.
6 Day
Rubinala Phedi trek (3,800m/12,468 feet), 6-7 hours.
It's one of the long days walks that we have to cross over the Daraudi River. But the Rubin la phedi journey is intriguing as we go to Sanrung Kharka. Rubina La Phedi is a Rupina la base camp or base camp of Rubina la pass. Our expert Guide search nice camping grounds to set up a campsite on the Daraudi River bank before you head up the difficulty rupin la.
7 Day
Rupina la Pass & to Boudha Himal Base Camp (3,600m/11,811 feet), 6-7 hours.
A tough day, especially trek difficulty day ascends uphill to Rupina la hilltop. The step-up and moving stones trail of Rupina la pass is difficult to descend. This is the highest trail during the Rubina la Pass, located at an altitude of 15,434 feet. Trek ascend to Rubina La summit takes about 4 hours then descend to Buddha Himal base camp hikes takes another 3 hours. There is also a little hut with a limited tourist capacity where people like to stay overnight.
8 Day
Rupina la base camp to Jhon Kharka hikes (2,960m/9,712 feet), 5-6 hours
Today, we walk next to the glacier campsite to Jarang at 3420m. The nature trail to Jong kharka between of chhuling Khola and rebing Khola, Tourists can see Gorkha Himal, Himal chuli, Bouddha Himal, peak 29. Stay overnight at the campsite.
9 Day
Nyak Phedi hike (2,340m/7,677 feet), 5-6 hours.
Having a hot breakfast at camp, we start to walk to our destination, this day we walk through the forest and some villages, most of the part descending part to get to Ngayak Phedi. We follow on the left side of chhilung Khola passing through Gomna and Serang village to Nyak village.
10 Day
Ghap village trek (2,100m/6,890 feet) 6-7 hours.
Follow the trail upstream of Deng River – a tiny village of 4 houses. We walk through a newly built rock tunnel from here, thus avoiding the conventional steep climb. At Ghap, the Tibetan culture begins with Mani stones and shortens all around.
11 Day
Lho gaon trek (3,200m/10,499 feet), 6-7 hours.
Crossing the wooden bridge over Budhi Gandaki, we follow the path lined with houses that are interspersed with cultivated fields. At Namru, there is a police check post again. After Namru, across the Hinan river originating from Linda Glacier, and continue on to Sho. Naike peak, Manaslu north (7,774 m), and Manaslu (8,150 m) are visible from here. Tonight, we fix the camp near a spring at Lho gaon – a small village.
12 Day
Sama gompa trek (3,500m/11,483 feet) 5-6 hours.
You will pass the stone gate and long Mani stone wall after Lho with a full view of Peak 29 ahead. You can make a side excursion to Pungen Glacier from here to get a very close-up view of Manaslu. Follow the lateral moraine of Pungent Glacier toward Sama. From the village of Sama, it takes another 20 minutes to reach Sama Gompa for an overnight stay.
13 Day
Manaslu Base Camp Hiking, 6-7 hours or explore Samagaon and Samdo Trek (4,500m/14,764 feet), 3 hours.
We spend almost half a day here in order to acclimatize travel buddy. As you stay in Samagaun you can hike the Manaslu Base Camp, Phungen Gompa, and local excursions to visit Birendra lake. Manaslu base camp hiking trail is a thin steep ascent to a slope and to a moraine but the view of the Himalayan glacier, turquoise lake, and the mountains from all angles is just splendid.
Trekking to Manaslu Base Camp takes approximately 5/6 hours because the distance from Samagaun to Manaslu Base Camp is 5.1 kilometers. You can travel and talk with your guide to make it happen. Travel buddy returns to Samagaun guest house for delicious Lunch.
Later lunch, we climb a terraced hill on the opposite bank of Budhi Gandaki River from here toward a most remote permanent settlement to Samdo. Village Samdo is a tiny settlement with 200 people in forty local houses. Samagaon to Samdo trek distance is 16.4 km (10.17 miles) and takes about 3 hours.
14 Day
Cross Larkya La pass (5,215m/17,110 feet) and trek to Bhimthang (3590 m) 7-8 hours.
Climb to Cho Chanda and then slowly head steeply uphill towards the snowed-up pass. From the top hill high pass, the Manaslu panorama is magnificent. Likewise, hikers can watch the Himlung Himal (7,126 m), Cheo Himal (6,820 m), Gyagi Kung, Kang Kuru (6,981 m), the Annapurna II (7,937 m), etc. The descent trail to Bimthang is steep through moraines. Likewise, the distance from Samdo to Bimthang is 16.3 kilometers (10.2 miles).
15 Day
Tilje village hikes (3,900m/12,796 feet) 8-9 hours.
Today, the hiking route gets easier. We start with a gentle climb through paddy fields towards the small Karcha La pass and descend through big tree and rhododendron forests to Tilje village. The distance from Bimthang to Tilje is 26 kilometers (16.12 miles) and takes about eight hours.
16 Day
Overland drive to Besisahar (800m/2,625 feet) and return Kathmandu town, 9-10 hours. Trip finish.
Today Follow the trail downstream of the Marshyangdi River, passing through the scattered villages to reach Dharapani. Later on, an overland drive runs gently downstream of the river passing the Chamje village. Continue to drive through the scenic countryside and during the route will stop for lunch in Besisahar, we drive back to Kathmandu. On arrival at Kathmandu, a guide will arrange a transfer to the hotel. In this way, our trip ends and we wish you a wonderful journey and further destination.
Not satisfied with above plan?
Are you interested in planning a custom trip? this might take 2 to 3 minutes.
Cost
How much does the Rupina la pass trek package price?
An adventure Rupina La package price US$ 1950 per person is the standard trek price on double occupancy basis. For the deluxe and luxury Tent style trekking tour plan, 3-5 star category hotel deluxe air-conditioned room in Kathmandu with breakfast. AND WE ARE OPEN TO CUSTOMIZING YOUR TOUR AND PACKAGES PRICE AS PER YOUR REQUIREMENTS.
Off the beaten Rupina la pass trekking price includes:-
Kathmandu international airport transfer on your arrival in Nepal with a private Car transfer.
Single night double bedroom Tourist standard accommodation in Kathmandu with breakfast plan.
15 Breakfast, 15 Lunch, and 14 Dinner served with tea/coffee during the hikes.
Tent accommodation and camping food supplies serve with TEA/COFFEE along the rupin la hiking.
Around Manaslu special trekking permits are USD 100 per person per week.
Annapurna Conservation Area permits and Manaslu conservation permit fees.
World heritage sites seeing with a guide and a transfer with a Non AC private car.
Local Bus transfer from Kathmandu to Baluwa till trek starting point on a sharing basis.
Available jeep ride (Passenger collection basis) transfer from Tal to Besisahar Bazaar.
Fully escorted trek with an English-speaking license holder local guide and each 1 guest 1 Porter basis.
Micro Bus or Mini Bus transfer back from Besisahar to Kathmandu (Passenger collection basis).
Insurance, Food and accommodation, and salary of Nepali trekking Guide, cook, and porters.
Seasonal fruits like apples and pomegranates as a dessert after dinner for Rupina la trekking.
Trek certificate and Rupina La trek map – keep them as a souvenir.
Agency's duffel bag (50 liters capacity), and trek poles if Necessary – return after the trek.
First aid medical kit including Oximeter to check your Oxygen level, Pulse rate to monitor every day to prepare for high altitude risk.
In a worst case, help with all Helicopter Rescue and evacuation arrangements (but not the rescue bills).
Nepal Government Tax, VAT, and as well as Company service charge.
Off the beaten Rupina la pass trek price excludes:-
Nepal entry visa fees are US$ 40.
Lunch and Dinner during the staying in Kathmandu city.
Any kinds of battery charges, laundry service, phone calls, and hot showers during the trekking.
Tourist personal trekking equipment's and Clothing.
-10 comfort fresh Sleeping bag rental cost per piece US$ 2 per day.
Personal nature expenses, and bar bills.
Travel Insurance which covers emergency rescue, evacuation, personal loss, or damage.
Any donation and monument entrance fees.
Gratuities for guide, cook, and porters [Tip is a culture, so they expect highly].
Any other things which are not mentioned above
Group join
We can organize private rupina la pass combined with Larke pass Trek starting at any date that works for you. Please contact us for more information.
FAQ
Question: Is pick-up service available on my arrival day in Kathmandu?
Answer: Yes sure. Provide us with your flight details and request for pickup. Our representative will come to pick up you at Kathmandu international airport.
Question: Do I need the experience to do Rupina la pass trekking?.
Answer: It is suitable for keen trekkers/walkers who are able to walk around 4 or 5 hours a day, with a lightweight daypack. For this trekking, if you have a little experience would be better.
Question: What kind of accommodation can I expect on Rupina la pass trek?.
Answer: We provide you tourist standard accommodation in Kathmandu and tent accommodation on trek routes where the lodges are not available. However, we advise you to take your own sleeping bag if you have one with you otherwise, you may rent it in the Thamel market in Kathmandu.
Question: What kind of food can I expect in Rupina la pass trek?.
Answer: Our professional cook cooks a delicious range of mostly vegetarian such as Pasta, tuna bakes, noodles, potatoes, eggs, bread, soups, rice, and fresh vegetables. Similarly, we serve dinner and breakfast at the same place you spend the night every day and Lunch will be served on the way to the next place where we hike.
Question: What opportunities will I have for a shower along Rupina la pass trek?.
Answer: If you are camping or trekking – we do provide you hot water bucket then you will take a bucket shower.
Question: How do I get drinking water on Rupina la pass trekking group?.
Answer: You can buy bottled mineral water often at the guesthouses. But we advise against buying mineral water in plastic bottles, as currently there are no provisions for disposing of these plastics. Instead, we provide you with boiled water on a camping day. And bring Aqua Tablets to purify the normal water as the normal water is available in almost all places en route.
Question: Can I charge my digital camera or other batteries on my trip?.
Answer: During the lodge trekking, the Tourist will have a better chance to recharge the battery. We recommend you bring an extra pair in case. Remember to bring your adapters! An extra battery will be recommended.
Question: Are there any communication facilities on Rupina la pass trek?.
Answer: We recommend you buy a local SIM card while you are in Kathmandu. In this way, you will have often internet (buy a cheap DATA Pack) and call at home at a cheap price.
Question: When should I book my trip and what are the payment terms?
Answer: Because our trips book up months in advance, we recommend booking early to avoid any kind of misunderstanding. We will, of course, make every effort to accommodate last-minute bookings.
And regarding the deposit, we prefer a 15% advance deposit in the total price of the trip in order to confirm your reservation before you arrive in Nepal. And the rest of the payments can be made on your arrival in Nepal.
Question: Who will carry my luggage on Rupina la pass trek?.
Answer: We provide porters to transfer your luggage. As we are a responsible trekking tour operator agency, each of our porters carry a maximum of 24 kilos of your backpack which means 2 guests (12 kilos luggage of each guest): 1 porter basis.
Question: How much distance do I walk each day?
Answer: When walking in the mountains, the distance you cover each day can vary greatly due to gradient, terrain, and altitude. As such it is very hard to give specific distances for each day, however, you have to be prepared to walk for roughly about 5 hours each day.
Question: Is it possible to rent a guide? how to hire a local trek guide?.
Answer: Yes of course. If you are not happy to go with the complete full board package trip, still you can hire our expert guide to make your holiday tour safer.
Question: Do I need walking poles?
Answer: Better to hike with walking poles, no matter which type of hiking poles you are using. Learn how to use trekking poles for balance and stability, whether on the sidewalk or on trails. Trekking poles can help prevent slips and falls. They are just recommended but not compulsory.
Question: How much additional money do I need per day?
Answer: You can allocate US$ 08 – 10 for a lunch/dinner in Kathmandu and it depends on your spending habits. US$ 7 to 10 US$ each day will be enough to buy bottles of water, chocolates, tea coffee, and some drinks while you are on your trek.
The best of Rupina la pass trek highlights

Adventure rupina la offers picturesque turbulent river gorges and pristine lakes with nice waterfalls.
The trek has a unique cultural blend of Tibetan, less tourist, Nepali people, and their way of life.
Tibetan Buddhism culture, Diversified unspoiled Ecosystems.
Fantastic views of Mt. Manasalu, Mt. Himchuli, Mt. Ganesh, and others, Larkya la pass (5153m).
Notes for Rupina la pass trekkers!
Majestic Rupina la journey is an adventure high pass trek in Nepal. Hike Rupina la is possible with a camping + lodge basis trip the last couple of years which helps to reduce tour costs. Reaching the summit is a slippy and moving rock, the hiking just across the pass is adventurous. The route is totally wilderness from Brapak village until Gap settlements thus only tent camp is possible. The high adventure trek itinerary as stated above is subject to modification according to your wishes. This is a Guideline showing tentative camp night stops. The physical, technical, and natural conditions may change this above itinerary on the field while on an operation.
What makes Rupina la pass trek special?
Opportunities for challenging trekking or hiking and pleasant strolls are scattered all over this planet. You need to know where to find them. First safety and success satisfaction is our prime concern.
We at Gokyo Treks and Expedition believe in quality services. We are a team of professional, expert, and licensed local guides who know the target destination better than others.
Rupina La Pass Trek Review
The most Scenic Rupina la trip
Watching the most popular trek route videos, we finally decided to visit adventure off the beaten path rupina la trek in Manaslu, Nepal.
Reading the reviews in the internet forum, we choose Gokyo Treks Agency for our 2 weeks trip in Rupina la pass trek starting from the Historical Gorkha palace.
We were 3 tourists from Tirol, me, my wife and a daughter ulli had a great time with our friendly guide Som. Sorry to say that we couldn't cross over Rupina la due to over snowing in mountains. But we had a great spectacular view near Rupina la summit and Daraudi river valley.
We returned and follow downhill to visit Laprak village and further down at Machhakhola to catch the main trail. We have a great time with Nepali trekkers while we were spending our 2 weeks in Rupina la adventure. Thank you Gokyo Treks for arranging the best hiking crew and made our journey safe. We can't wait to return for Rupinala again in October 2022. – Frank Schmutzler, Garmisch, Bavaria, Germany.
Response from Gokyo Treks Nepal
Thank you Frank for the review. Next time, make a plan at least 2 weeks earlier or until early November so we can cross both passes without any trouble. Stay connected and hoping to serve you again in the near future.
Rupina la + Larkya Pass Just Unbeliable
We are two person myself and my partner had an amazing time in Nepal. We choose rupina la combine with larkya la pass trek route with Gokyo Treks and Expedition agency.
Ammar, who answered all of our questions in order to make our travel itinerary better. The company were honest and helpful, so we felt safe and were able to amend the itinerary slightly when we needed to. The trek was well organized and with enough time to acclimatise and enjoy the side trips en route.
Our Guide was Ram, very experienced and put a lot of effort into making sure we were fit and well each day. The day trek over both high passes were very strenuous and in bad conditions. Ram helped us handling the situation and would have struggled without him. We definitely want to return to Nepal for our next trip to Everest Base Camp with the same company and same guide. Well worth the money. – Markus and Suzanne Wirth, Maria-Theresien-Straße Innsbruck, Austria.
Response from Gokyo Treks Nepal
Thank you Markus and Suzanne for your precious time reviewing Rupina la and Larkya La pass trekking in Nepal. We hope to serve you again for your next trip to the Himalayas.
From US$ 2053
5% Off
US$ 1950
| | |
| --- | --- |
| No. of people | Price Per Person |
| 1 | USD 2325 |
| 2 | USD 1950 |
| 3 | USD 1925 |
| 4 - 6 | USD 1898 |
| 7 - 9 | USD 1850 |
| 10 + | USD 1790 |
Book Now
Customize Trip
Cost & Departures
Your Trip Your Style!
ITINERARY, COST, DEPARTURES, will adjusted according to your GROUP SIZE NEED TIME
Book with Confidence
Lowest Price Guaranteed.
100% Customizable Trips
Excellent Customer Service
Hassle Free Booking.
90 % Repeated customers
Highly Recommended agency
Private/group tour options
Local Guides Company.