Kathmandu World Heritage Sites Tour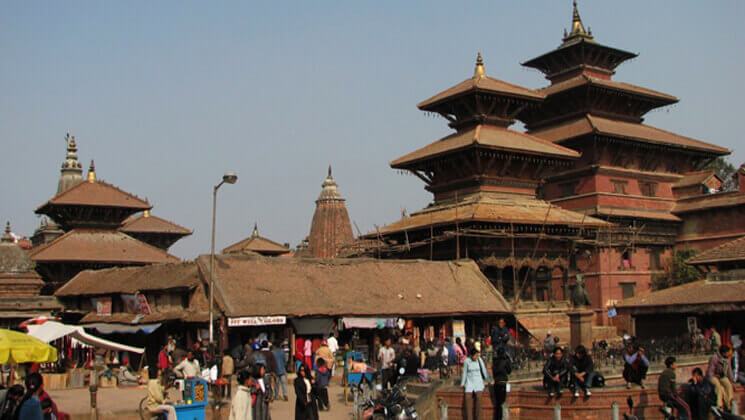 Kathmandu World Heritage Sites Tour Summary
Sightseeing duration: 6 – 7 Hours
Number of Tourist: 1 – 15 People
Sightseeing places: 4 World heritage sites tour in Kathmandu
Best time for sightseeing: All months (12 Months)
Transportation: Car / Hiace Van [Private Trip]
Kathmandu is a city located in the central region of Nepal. Locates at 27.70 latitudes and 85.32 longitudes and it is situated at an elevation of 1,350 meters above sea level. Kathmandu has a population of about 2,442,271 making it the biggest city in the Central Region.
Kathmandu is the capital city of Nepal and it operates in the Nepali time zone. The city of glory is called Kathmandu town is a gateway to explore the mountain holidays. Furthermore, before you proceed with any of your adventure trips toward the Himalayas, you can explore Kathmandu as a day tour visiting of its UNESCO heritage sites.
You can hire a private tour guide to make your historical tour knowledgeable and unforgettable. Request us for a private tour with a local guide If you are a solo or group traveler to get personalized trip experience within affordable cost.
Moreover, hiring a local guide is not only a matter of cost but helps in various ways to make your entire trip meaningful. Furthermore, you can get an experience of a lifetime by visiting cultural heritage in the Kathmandu valley with the scenic views of mountains and landscapes.
The tour includes world heritage sites in Kathmandu valley , some beautiful tramples, and ancient monasteries as-as well as the oldest markets in Town.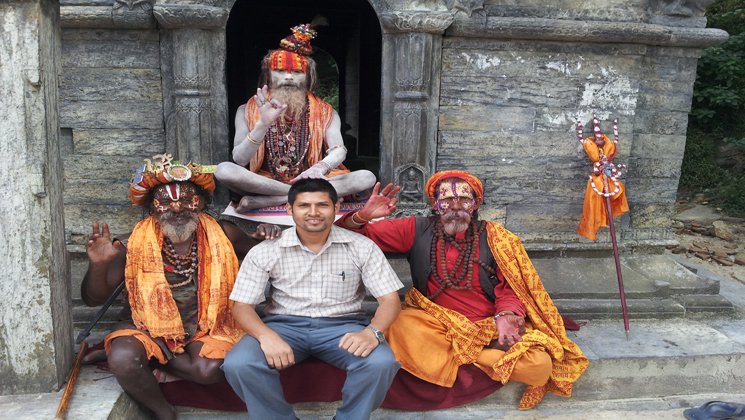 Besides that, if you are a single guest, our expert guide will take you to the world heritage sites in Kathmandu with a motorbike, so you can do a motorbike tour. You can explore the World Heritage Sites Tour in Kathmandu all day throughout the year.
Kathmandu World Heritage Sites Tour with a professional tourist guide is a way to get an amazing experience visiting the historic town. Trips to Kathmandu are a historical and majestic town where you can find some of the world heritage sites in Kathmandu.
Pre-trip meeting and sightseeing around the Kathmandu valley.
Your sightseeing trip or a spiritual tour will begin from the tourist hub Thamel at around 9 am. The professional and licensed holder of the Government guide perhaps Ammar Raj Guni will come to pick you up with a private car or Hiace van (depending on the number of tourists). The sightseeing today includes:-
9: 45 am, Pashupatinath Temple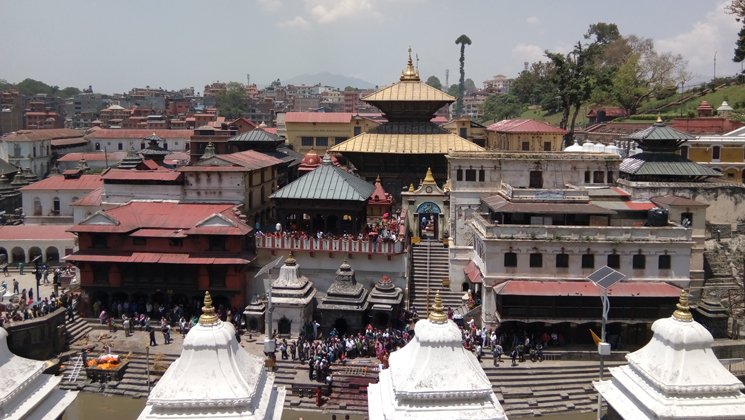 The Hindu Temple Pashupatinath is situated roughly 5 kilometers east of Kathmandu, the sanctuary of Lord Shiva. Lord Shiva Temple Pashupatinath has two stair brilliant rooftops and silver entryways that are viewed as the holiest place of worship of Hindus.
Pashupatinath is one of the Hindu most holy shrines, equally popular as Nepal's cultural landmark. The richly-ornaments pagoda houses the holy Linga, or phallic symbol, of Lord Shiva. Chronicles indicate the temple's existence prior to 400 AD. Devotees can take a ritual dip in the holy Bagmati River flowing beside the temple.
11: 45 am, Boudhnath Stupa sightseeing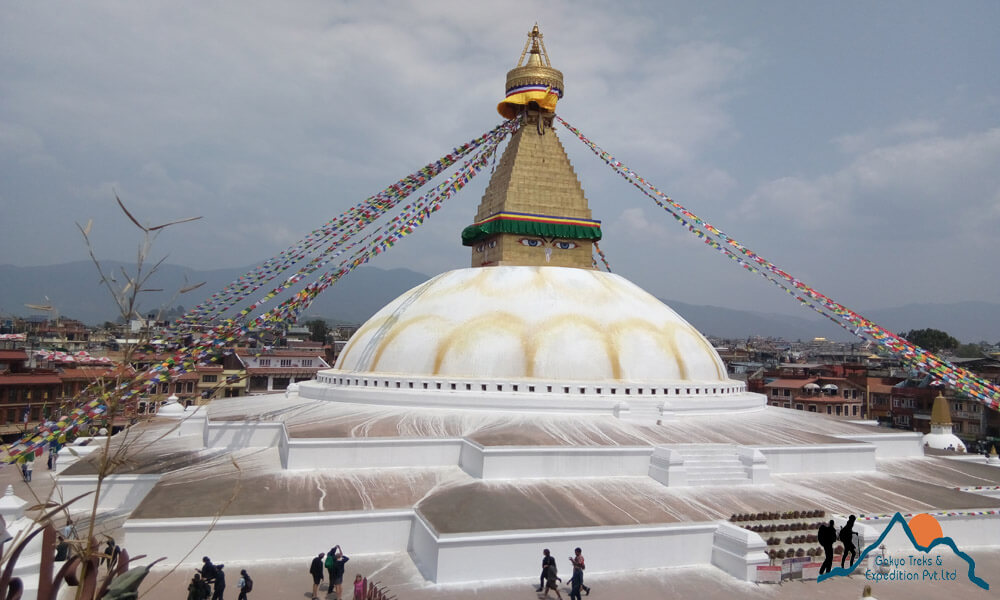 The Stupa of Boudhanath is about 8 kilometers east of Kathmandu. This old colossal – titanic Stupa is one of the greatest on the planet and the focal point of Buddhism on the planet. It was recorded in the UNESCO Heritage Monument in 1979.
The stupa Boudhanath is Nepal's national landmark and most busy cultural heritage site. It is the largest stupa in the valley. The first tiny stupa at Boudhanath was built sometime after 600 AD, when the Tibetan king, Songtsen Gampo, transformed to Buddhism.
It looms 36 meters high and presents one of the most fascinating specimens of stupa design. Choose any one rooftop restaurant for special food and take in stunning panoramic views.
1: 45 pm, Swayambhunath Stupa Tour:
Swayambhunath Stupa, on the hillock, is one of the holiest Buddhist locales in Nepal enrolled in the World Heritage Site. Hike to the western hilltop to watch over the valley.
The huge Swayambhunath stupa is a national landmark, and one of the holiest Buddhist sites in Nepal. It is set up and linked to the creation of the Kathmandu valley out of a primordial lake. Many travelers speak of a Monkey temple.
3: 15 pm, Kathmandu durbar square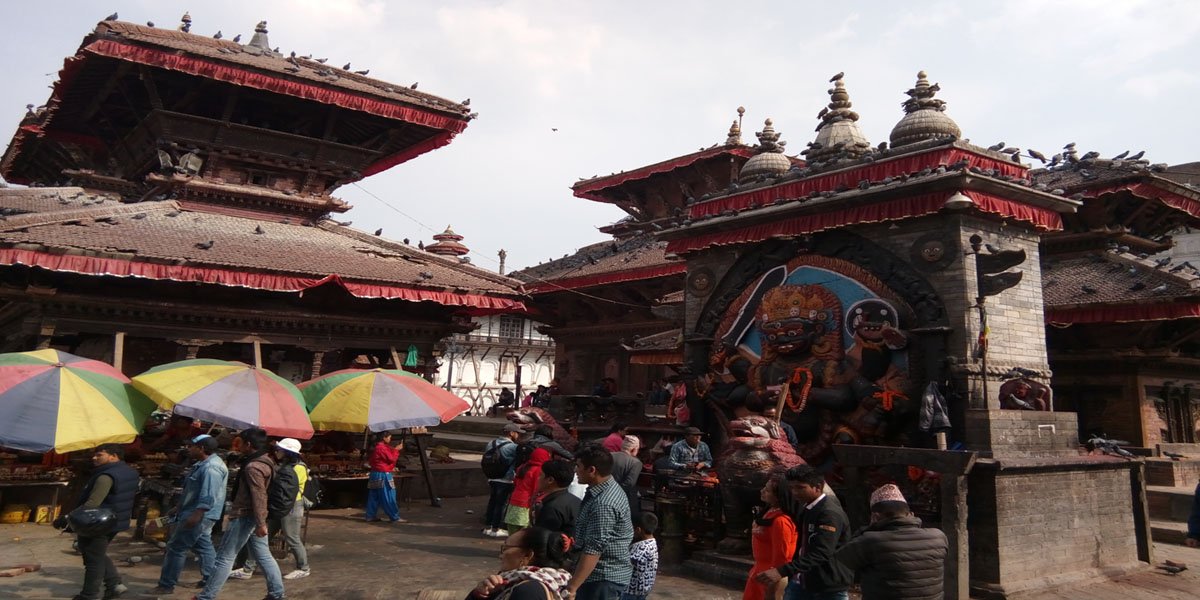 Later on, continue for a city visit through Kathmandu visiting Durbar Square. Durbar Square in Kathmandu is equally popular as Basantapur Durbar square, a complex of royal residences, years, and sanctuaries worked between the twelfth and eighteenth hundred years.
It used to be the place of the old Malla rulers of Kathmandu. This complex of palaces, courtyards, and temples, built between the 12-17 centuries, used to be the seat of the ancient Malla kings of Kathmandu.
An intriguing piece here is the 17th- century stone inscription set into the wall of the palace with writings in 15 languages. Durbar Square is the social, religious, and urban focal point of the city. There are also three museums inside the palace building.
How many World Heritage Sites are there in Nepal?
UNESCO has listed 4 world heritage sites in Nepal. Chitwan National Park and Sagarmatha National Park are listed under the section of UNESCO Natural World Heritage Sites in Nepal. Similarly, there are other 7 sites in Kathmandu Valley that count together as one, and the birthplace of Lord Buddha called Lumbini is listed in UNESCO Cultural World Heritage Sites.
In particular, there are 7 world heritage sites inside the Kathmandu valley, are super famous for Newari art and craftsmanship. Three palaces such as Kathmandu Durbar Square, Patan Durbar Square, and Bhaktapur Durbar Square in the Kathmandu Valley, belong to the three Newar kingdoms situated there before unification.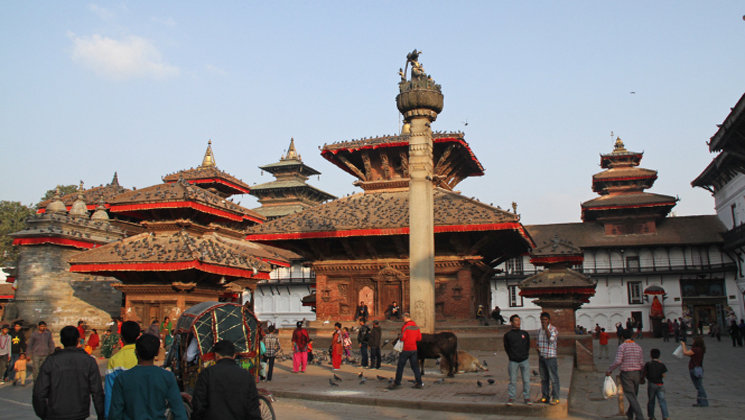 In addition, Swayambhunath stupa, Pashupati Nath temple, Changu Narayan temple, and Swayambhunath stupa are UNESCO World Heritage Sites.
The name Hanuman-Dhoka Durbar came from the statue of Hanuman setup from King Pratap Malla at the entrance of the royal palace in 1672 AD. It is also equally popular as a Kathmandu durbar square in Kathmandu city.
King Prithvi Narayan Shah, set up a palace in 1770 as a Basantapur Durbar (palace). The whole complex is popular as Kathmandu Durbar Square. In 1979, it is enlisted in the world heritage site.
Kathmandu Weather and climate
Generally, bad weather does not affect your travel to visit Kathmandu and it's heritage sites. You can visit the world heritage sites at any time during the year. Nepal welcomes beautiful clear skies, blue skies and sunny, fresh air, and incredible views.
January, February, March, April, May, September, October, November, and December are perfect months to discover the town. They are the best months to visit Kathmandu word heritage sites as dry days make city tours easier and offer good visibility.
Likewise, you can also tour on monsoon days but whether often gets cloudy and rains, therefore, we recommend you go with a raincoat or umbrella.
Besides that, there are thirty-six different tribes (36 ethnic groups) that speak over 100 different languages. You see the oldest town and its history with local people, and their culture which are the highlights of Kathmandu valley's world heritage sites.
4 World Heritage Sites Tour Highlights
Discover the Kathmandu World Heritage Sites of Kathmandu valley.
Enjoy a mixed Art and culture and history of Kathmandu city
Discover the Buddhist pilgrimage sites and Hindu pilgrimage sites in Kathmandu
Explore the Hindu temple at Pashupati nath the holiest temple of Nepal
Get closer to Bagmati River to understand better about the Hindu's cremation platform.
Kathmandu City Tour Package Cost?
The Kathmandu city tour package cost will be depending upon the group size you are traveling to and the means of transportation you choose. The fixed departure cost is shared on the basis of your travel group size.
Kathmandu city solo tour costs a little bit more expensive rather group travels in terms of private guide and transportation. Have in mind that the tour guide cost is going to share by the number of a person you are traveling together with.
To cover the complete Kathmandu valley tours, it includes three sister cities like Patan and Bhaktapur besides Kathmandu. To cover all, you need a minimum of 2 full-day tours inside Kathmandu valley including Patan Durbar square and also as well as Bhaktapur.
The transportation by private car cost depends upon the places you go and the air conditioning you choose for. And the cost is for inside Kathmandu or to Bhaktapur or Patan.
What includes in the package Price
Air-conditioned private vehicle with fuel and driver for 6-7 hours
Experienced English-speaking certified tour guide
All government Taxes/VAT & Gokyo Treks Agency service charge.
What's not-includes in the Price
Pashupatinath Temple sightseeing entrance fee Rs 1,000.
Boudhnath stupa sightseeing entrance fee Rs 400.
Swayambhunath Stupa sightseeing entrance fee Rs 300.
Museums and other monuments fee.
Gratuities for tour guide [Tip is a culture, so they expect highly].
Your Lunch and dinner (cost about US$ 5 to US$ 7 per meal depending upon what and where you prefer to eat).
Departure & Return Departure Point:
Have in mind that we pick up all the travelers from inside the ring road such as your location in Thamel, Lazimpat, Darbar Marg, etc.
What To Expect
This is the World Heritage Site tour in Nepal that goes for a 6 to 8 hours day trip. See Hindu and Buddhist pilgrimage places. Therefore, you can people, their culture, their life way of life, and the amazing view of Kathmandu valley from Swayambhu Stupa hill station.
Additional Information (TIPS AND TRICKS)
Confirmation will be received at the time of booking
wheelchair accessible entire the tour
A maximum of 25 people per booking
Travelers with back pain, pregnant, and very old travelers are also welcome.
It's a private tour/activity.
Cancellation Policy
You can cancel up to 24 hours in advance of the experience for a full refund. For a full refund, you must cancel at least 24 hours before the experience's start time. If you cancel less than 24 hours before the experience's start time, the amount you paid will not be refunded.
Any changes made less than 24 hours before the experience's start time will not be accepted. Cut-off times are based on the experience's local time.
Notes for world heritage sites in Kathmandu Visitors!
The Kathmandu world heritage sites tour itinerary for a full day of sightseeing in town is subject to change due to a Travel conditions. Covid-19 travel protocol might affect your travel plan, so please let us know on time if there are any changes that might occur.
What makes world heritage sites tour in Kathmandu very special?
The Kathmandu Valley is renowned for its rich cultural heritage, and it is home to several World Heritage Sites that are of great significance to both locals and visitors. A Kathmandu World Heritage Sites tour is special because it provides an opportunity to explore and experience the history, art, and architecture of the Kathmandu Valley.
We at Gokyo Treks and Expedition believe in quality services.
Your safety and satisfaction are our concern. We are a team of professionals and experienced and licensed local guides who know the destination better.
Kathmandu City World Heritage Sites Tour Traveller's Review
Kathmandu city tour
Prior to my trip to Nepal, I opted for Kathmandu city tours, and upon arrival, everything was impeccably organized. I was truly impressed by their professionalism and the extensive knowledge they possessed about Nepal. Their commitment to excellence was evident in their constant inquiries about areas for improvement and their attentive care for us throughout the journey.
A heartfelt thank you goes out to Ammar and Ram for making my experience in Nepal so memorable and enjoyable. Their dedication and expertise truly enhanced my trip, and I am grateful for their outstanding service.
Response from Gokyo Treks Nepal
Dear Camila Av.,
Your review has filled us with absolute delight! We emphasize that customer satisfaction is our utmost priority and express our sincere gratitude for the kind words and appreciation.
Your appreciation motivates us to continually strive for excellence in delivering exceptional city tours. We eagerly look forward to welcome you on another remarkable trips in the near future.
Your return will be a true pleasure for us. Thank you choosing our services and assure you that we are always available to assist with any questions or assistance needed.
Warm regards, Ammar Raj Guni
Kathmandu city Tour with awesome guide Ammar.
I chose all about Kathmandu world heritage sites tour before going to Nepal and when I arrived, everything was already organized. I really loved their professionalism and all the information about Nepal. They always ask what they can improve and they are very careful with us!
Thank you, Ammar for making our holiday awesome.

Response from Gokyo Treks Nepal
Thank you Camila for your time to review Kathmandu city world heritage sites. Hoping to welcome you for your next trip in the Himalayas in near future.
Wonderful introduction to the city.
My girlfriend and I really enjoyed our Kathmandu City Tour with Gokyo Treks. Anmar was fantastic throughout; replying to emails and questions promptly, re-arranging the time at late notice and even meeting us at our hotel. He also introduce us to our our guide. It was a fantastic introduction to the city (before we headed off trekking), taking in the sights of Pashupati Nath, Swayambhunath (monkey temple), Boudhanath stupa and Kathmandu Durbar Square.
Having a local guide made things so much easier and less stressful as he was able to arrange and negotiate better taxi prices, whilst also showing us sights and giving us information that we would have otherwise missed. Overall, I'd highly recommend Anmar and Gokyo Treks' Kathmandu City Tour.
N.B. Taxis and admission to attractions are not included in the price of the guide.

Response from Gokyo Treks Nepal
Namaste Tom for your time to review us. Thank you
Short visit to Kathmandu
As we were only passing through Kathmandu, I used Gokyo to plan and organise our time before leaving the UK. Ammar was most helpful, responding promptly to my queries and providing useful suggestions. We were able visit the World Heritage Sites of Kathmandu, go walking in the Shivapuri NP, take an early morning flight to Everest and surrounding mountains, visit Nagarkot and Bhaktapur during our stay.
Drivers and guides were all provided which made life very easy. Ammar and his team did a great job. If we are lucky enough to return to Nepal we will definitely use Gokyo again.
Response from Gokyo Treks Nepal
Thank you Edinburgh Donald for your amazing review about our service of your visiting Kathmandu city and its heritage sites. Hoping to serve you again.
To book the Kathmandu world heritage sites tour, send us your Inquiry
From US$ 90
2% Off
US$ 60
| | |
| --- | --- |
| No. of people | Price Per Person |
| 1 | USD 88 |
| 2 | USD 60 |
| 3 | USD 50 |
| 4 - 6 | USD 40 |
| 7 - 9 | USD 28 |
| 10 + | USD 22 |
Book Now
Customize Trip
Cost & Departures
Your Trip Your Style!
ITINERARY, COST, DEPARTURES, will adjusted according to your GROUP SIZE NEED TIME
Book with Confidence
Local Guides Company.
18 Years in Business.
Lowest Price Guaranteed.
100% Customizable Trips
Excellent Customer Service
Hassle Free Booking.
90 % Repeated customers
Highly Recommended agency
Private/group tour options