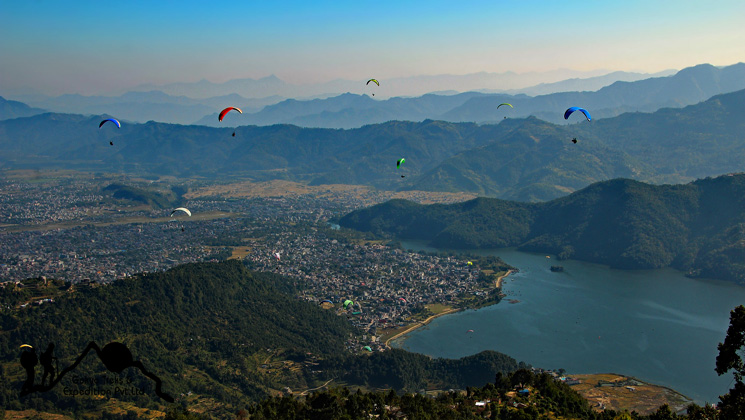 Pokhara City Tour Summary
Tour duration: 6-7 Hours [Single Day]
Difficulty Level: Easy tour
Highest Elevation: 1,500 meters / 4,921 feet
Travelers Group Size: 1 – 15 People
Best time: All months
Transportation: Car / Van
Pokhara city tour includes the most amazing places such as Phewa Lake, Begnas Lake, Rupa Lake, Mahendra Gupha, the Davis Fall, the gorge of the Seti River. The town is beautiful and situated on the foothills of the Annapurna Mountains. Likewise, it's 200 kilometers away from Kathmandu, the capital of Nepal.
Pokhara valley is a gateway to explore the popular Annapurna mountain trails. You can see Annapurna, Dhaulagiri, and Manaslu three peaks above 26,240 feet or 8,000m from an elevation of below 1000m within a very close aerial, distance.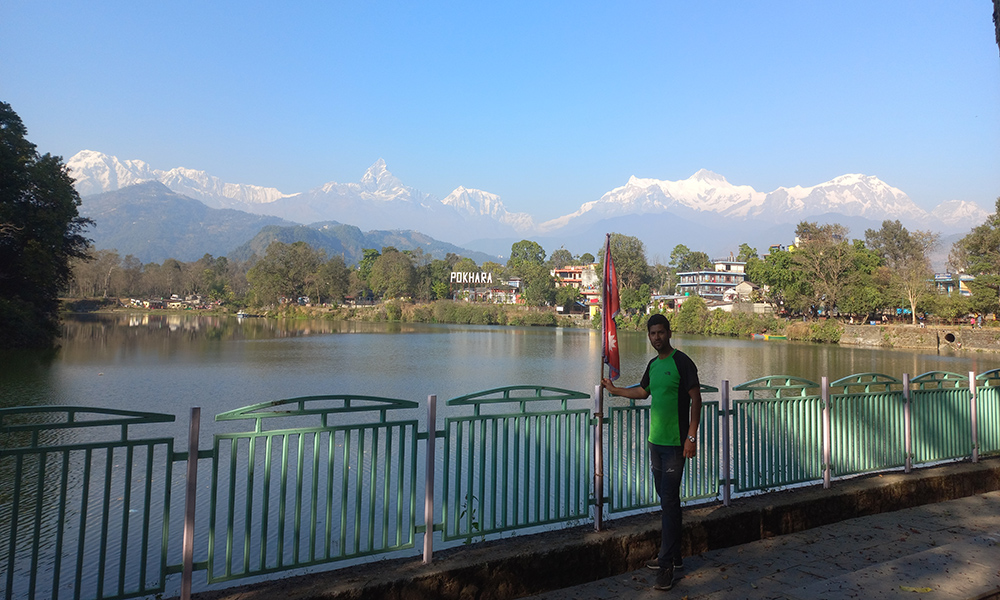 Furthermore, the serenity of Phewa Lake and the magnificence of Fishtail summit 6,997 meters and the five peaks of the Annapurna range rising behind it create an ambiance of magic. So, our local expert tour guide will take tourists to the most popular places in Pokhara while on a day tour/sightseeing.
Pokhara City day tour highlights
Discover the tallest mountains such as Dhaulagiri, Manaslu, and Annapurna Range of Earth.
The Fish Tail, a holy mountain in Nepal Himalayas.
Majestic views of Pokhara city, Eye-catching view of Word Peace stupa, and some of the amazing sites.
Boat on the Phewa lake to get to Tal Barahi Temple on an Island.
Mysterious Devi's Fall and formation of Cave.
Get to know about Tibetans and Their daily lifestyles in Tibetan refugee camps.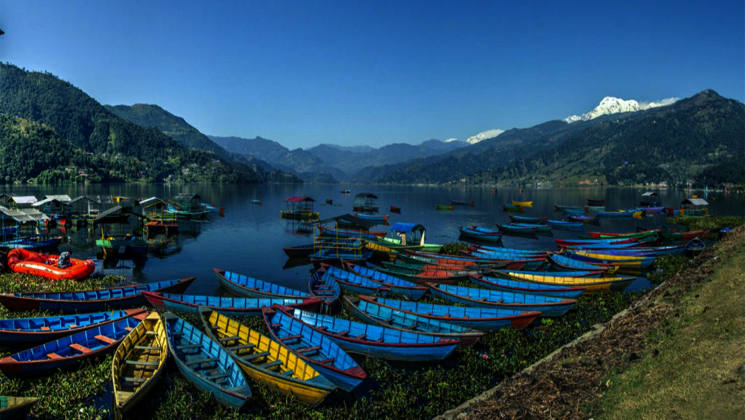 Majestic Phewa lake is another tourist attraction where people can boat to reach Tal Barahi temple. While walking at Phewa lakeside, you can see the development of Pokhara tourism, art, and pictures and check out the evening Pokhara nightlife. Visit the Hindu temple Barahi and get a glimpse of the Annapurna mountain range while surfing on Phewa lake, which is the best scenic place for couples while on a Pokhara City tour in Nepal. In addition, Pokhara sightseeing day tour is one of the most demanding and best-selling trips in Nepal.
Pokhara city tour itinerary in details
Pokhara's entire day visit is an intriguing excursion that makes a bounty of visual open doors for explorers. Partake in the regular and social interests of Pokhara alongside a captivating walk around the road. In this exhaustive entire-day city visit, explorers will be given the chance to acquire knowledge about the spot and the attractions that have been made. Look over additional data on the spots that you will visit during the tour.
Tal Barahi Temple [Start at 8 AM – 9:30 AM]
We start our day tour at 8 am by Boating at Phewa Lake and sightseeing at Tal Barahi Temple. Located on the island of Phewa Lake, stands the Barahi Temple which is an exceptionally revered Hindu Temple of Pokhara. The boat slowly takes you to the temple on the small island called Tal Barahi Temple, giving you as much time as you want for you to spend in the temple. You can get into any other boat after you are done. It's a MUST SEE site during a day visit to Pokhara as it holds a both normal and profound meaning of the valley.
David Fall [9:30 AM – 11:15 AM]
Patale Chango called David's fall is a beguiling cascade named after David, who cleared away in the fall of 1961. It is situated around 2 kilometers southwest of Pokhara Airport on the Siddhartha Highway. Near the Davis Fall lies Gupteswor Cave, a strangely hallowed cave that holds a limestone figure, Kamdhenu cow, and Shiva Temple. Likewise, partake in the Tibetan floor covering weaving room and cloister at a nearby distance.
Lunch Break from 11:15 AM to 12:15 PM.
Bindyabasini Temple [12:15 AM – 01:45 PM]
Another significant touring area for a day visit in Pokhara is Bindybasini Temple, worked in the sixteenth 100 years. This blessed sanctuary is committed to Goddess Durga where various Hindu pioneers rush to perform heavenly exercises.
Seti River Gorge [01:45 PM to 03 PM]
Enjoy the short drive to KC Bridge and watch the shocking Seti Gorge (50 meters) with a smooth stream and an engineered overpass.
Mahendra Gufa [03 PM to 05 PM]
Mahendra Gufa is a lovely cavern found north of Pokhara close to the Seti River. It is a baffling and uncommon cavern in Nepal containing Stalagmites and Stalactites. The cavern safeguards the sculpture of Lord Shiva for a long time.
Begnas Lake [Optional Tour 3 hours – EXTRA COST]
Another significant touring area for Pokhara's entire day city visit is dazzling Begnas Lake, a 30-minute drive from Pokhara. You can either walk around the lake or lease to paddle the boat or essentially appreciate nature. Interested travelers plan to go paying an extra cost.
Lord Shiva Statue in Pumdikot, Pokhara [Optional Tour 3-4 hours]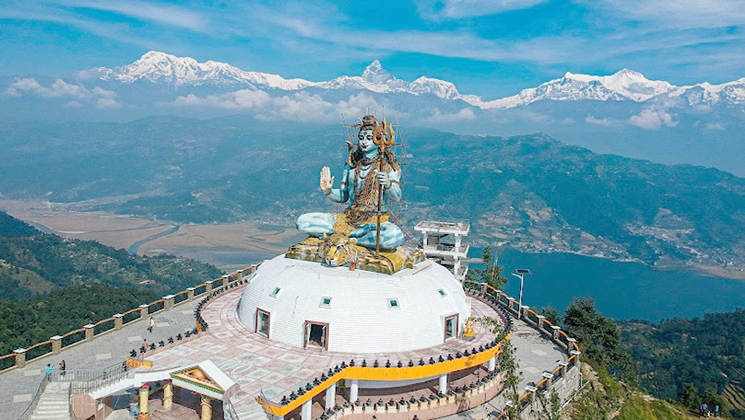 Shiva Sculpture Pumdikot is another significant attraction of the Pokhara Tours. Nepal's Tallest Master Shiva Sculpture in Pokhara is an arising neighborhood fascination for homegrown and worldwide explorers. The Shiva Sculpture in Pumdikot was implicit in Mathura of India and afterward carried here to Nepal and introduced. It's situated in the south in Pokhara at 4,920 feet in height, is Shiva Damaru which is the greatest in Asia.
Word Peace Stupa Hike [Optional Tour 4/5 hours]
Hike to Word Peace Stupa is an ideal day tour. Enjoy boating on Phewa lake and walk uphill throughout the forest to Peace stupa, roam the peace stupa ground, and you'll be rewarded with sweeping views of the Phewa lake and Himalayan peaks. Tourists can optionally hike down past Devi's Falls and the Gupteshwor Cave, to complete a fun and active day of sightseeing in Pokhara. Interested travelers plan to go paying an extra cost.
What's Included in the package costs:-
Private car/van transfer to the above given touristic places as per itinerary.
A professional certified Tourist guide while on touring Pokhara.
Nepal Government Tax, VAT, and as well as Company service charge.
Tour completion certificate as a gift from our agency.
What's not included in the Pokhara City tour package cost:-
All meals and entrance fees on the day tour.
All types of drinks, your travel insurance.
Gratuities for guide and driver [Tip is a culture, so they expect highly]
Any other things which are not mentioned above
Departure & Return Departure Point:
Have in mind that we pick up all the travelers from your hotel at Phewa Lakeside Pokhara and also after the tour, we drop you at the same place.
What to expect on Pokhara City Tours?
About 65% of Nepal visitors explore Pokhara Tour at the last minute of their holidays. Majestic town Pokhara city is a scenic town with green lakes and the tallest Mountains less than 5/6 kilometer distance. The town lies at an altitude of 3,000 feet above sea level. Pure and natural beauty are the richest things in Pokhara. Imagine yourself getting an amazing view of the impressive Himalayas.
The mystical land of Pokhara city is the land of the Magars and Gurungs who have earned worldwide fame as Gurkha soldiers. Brahmins, Chhetris, and Thakalis are other major communities living in the town. Pokhara city is a destination of travelers' choice. International Mountain Museum, Butterfly Museum, World Peace pagoda tour, and Sarangkot sunrise-sunset tour will add on request.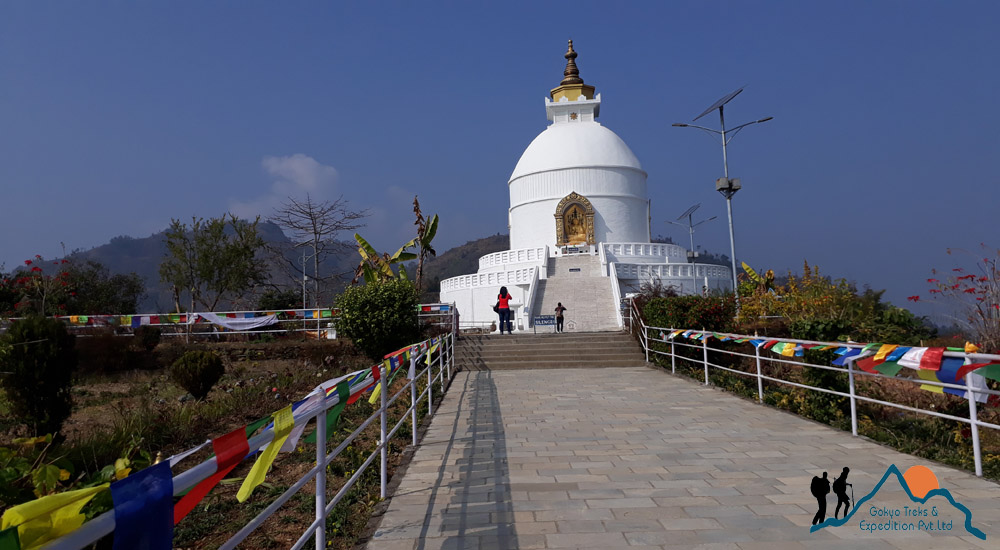 Additional Information (TIPS AND TRICKS)
Confirmation will be received at the time of booking
a wheelchair is not accessible entire the tours.
A maximum of 25 people per booking
Travelers with back pain are okay but not recommended for pregnant, and very old travelers.
It's a private tour/activity.
Cancellation Policy
You can cancel up to 24 hours in advance of the experience for a full refund. For a full refund, you must cancel a minimum of 24 hours before the experience's start time. If you cancel less than 24 hours before the experience's start time, the amount you paid will not be refunded.
Any changes made less than 24 hours before the experience's start time will not be accepted. Cut-off times are based on the experience's local time.
Pokhara city tour notice for travelers:-
The above itineraries are subject to change due to a condition beyond our control. This is just a Guideline showing a tentative tour plan and stops for a private trip. or Covid-19 travel protocol might affect your travel plan, so please let us know on time if there are any changes that might occur.
"What makes Pokhara city day tour special?"
Opportunities for amazing tours are scattered all over this planet. You need to know where to find the right one. We at Gokyo Treks and Expedition believe in quality services. We are a team of professional, experienced, well-trained, and licensed local guides who know the destination much better than others.
Pokhara City Tour Traveler's Review
There are no reviews yet. Be the first one to write one.
Book a Guide and a private transfer for Pokhara City day tours with us.
From US$ 97
2% Off
US$ 55
| | |
| --- | --- |
| No. of people | Price Per Person |
| 1 | USD 95 |
| 2 | USD 55 |
| 3 | USD 48 |
| 4 - 6 | USD 42 |
| 7 - 9 | USD 35 |
| 10 + | USD 30 |
Book Now
Customize Trip
Cost & Departures
Your Trip Your Style!
ITINERARY, COST, DEPARTURES, will adjusted according to your GROUP SIZE NEED TIME
Book with Confidence
Lowest Price Guaranteed.
100% Customizable Trips
Excellent Customer Service
Hassle Free Booking.
90 % Repeated customers
Highly Recommended agency
Private/group tour options
Local Guides Company.