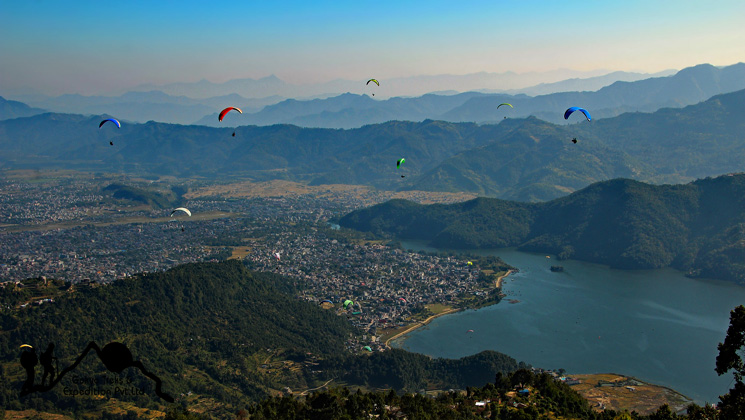 Pokhara City Tour Summary
Tour Package Duration: 2 Nights 3 Days
Level of Difficulty: Easy level
Maximum Elevation: 1,600 meters / 5,250 feet
Number of Tourist: 1 – 14 People
Best time: All months
Foods on Tour: Breakfast only
Accommodation: Tourist Standard Hotel
Transportation: Car / Van [Private Trip]
Pokhara city tour includes the most amazing places such as Shiva temple, Peace Stupa, Phewa Lake, Begnas Lake, Mahendra Gupha, the Davis Fall and truly Seti River gorge. The town is splendid and situated on the foothills of the Annapurna Mountains.
Pokhara valley is a gateway to explore the popular Annapurna mountain trails. You can see Annapurna, Dhaulagiri, and Manaslu three peaks above 26,240 feet or 8,000m from an elevation of below 1000m within a very close aerial, distance.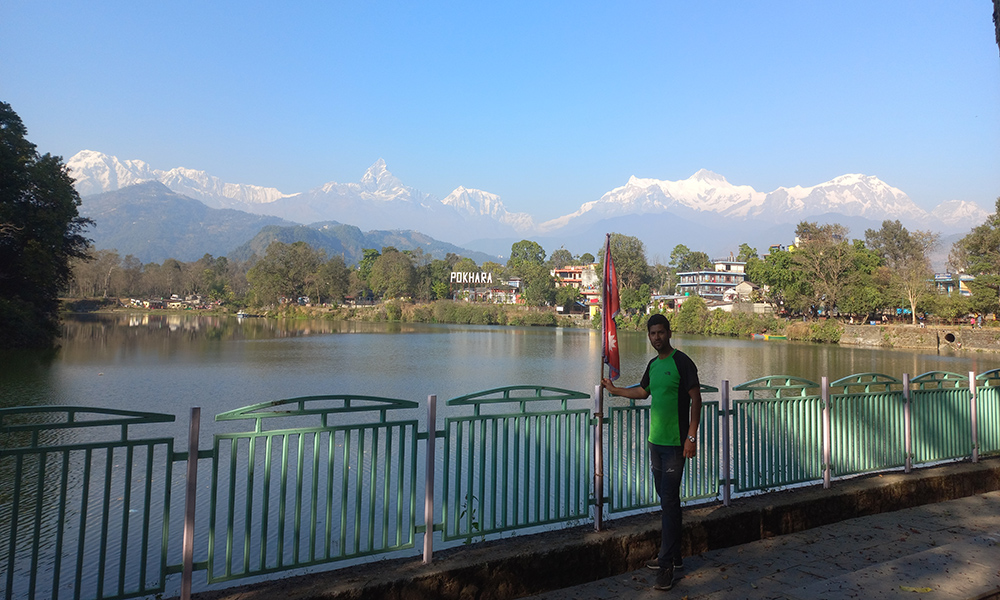 Furthermore, the serenity of Phewa Lake and the magnificence of Fishtail summit 6,997m and the five peaks of the Annapurna range rising behind creates an ambiance of magic. Consider what activities you'd like to do on your Pokhara visit. Options could include boating on Phewa Lake, paragliding, trekking, or cultural experiences with local communities.
Likewise, determine your budget for the tour package because they can range from budget-friendly to luxury, so there are options for various price ranges. However, the best time to visit Pokhara may depend on the season. Be sure to check the weather and choose a package that aligns with your preferred travel dates.
Pokhara City Tour Highlights
Discover the tallest mountains such as Dhaulagiri, Manaslu, and Annapurna Range of Earth.
The Fish Tail, a holy mountain in Nepal Himalayas.
Pumdikot Shiva Statue at 1500m is Shiva Damaru which is the biggest in Asia.
Shanti Stupa in Pokhara is the first World Peace Pagoda in Nepal and seventy-first pagoda built by Nipponzan-Myōhōji in the world.
Majestic views of Pokhara city, Eye-catching view of Word Peace Stupa, and some of the amazing sites.
Boat on the Phewa lake to get to Tal Barahi Temple on an Island.
Mysterious Devi's Fall and formation of Cave.
Get to know about Tibetans and their daily lifestyles in Tibetan refugee camps.
2 Nights 3 Days Pokhara city tour itinerary in details
Pokhara's entire day visit is an intriguing excursion that makes a bounty of visual open doors for explorers. Partake in the regular and social interests of Pokhara alongside a captivating walk around the road. In this exhaustive entire-day city visit, explorers will be given the chance to acquire knowledge about the spot and the attractions that have been made. Look over additional data on the spots that you will visit during the tour.
1 Day
Arrival in Pokhra international airport. Transfer to hotel. Start to seeing the sights as given below spots.
You will land in Pokhara in teh morning time. Our professional guide will pick you up from the Pokhara international Airport, and transfer to the Hotel. After refreshments, we start to explore the heritage sites.
Pumdikot Shiva Statue [9:30 – 10:30]
The Pumdikot Shiva Statue offers a breathtaking vantage point perched at an elevation of 1,500 meters above sea level. This location boasts the second tallest Shiva statue in Nepal, second only to the Kailashnath Mahadev Statue.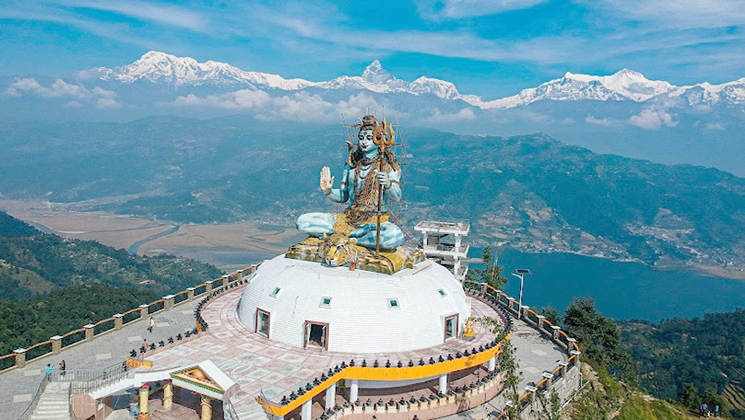 Nestled on the hill station overlooking Phewa Lakeside, the Pumdikot Shiva Statue stands tall at 51 feet, gracing the summit of an immense dome within a captivating theme park. The temple's grandeur extends to a towering height of 108 feet in total.
To reach the Shiva Statue, a charming 108-step stairway winds through an enchanting garden, enhancing the overall experience. Additionally, the park houses 108 Shiva Linga sculptures, adding to its spiritual allure. Additionally, admission to this magnificent statue is entirely free for all visitors, making it a must-visit destination for those exploring the area.
World Peace Pagoda [11:00 – 12:30]
The "World Peace Stupa" in Pokhara, Nepal, is a prominent Buddhist monument that symbolizes peace and harmony. Also known as the "Shanti Stupa" in Sanskrit, it offers panoramic views of the surrounding Himalayan mountains and the picturesque Phewa Lake.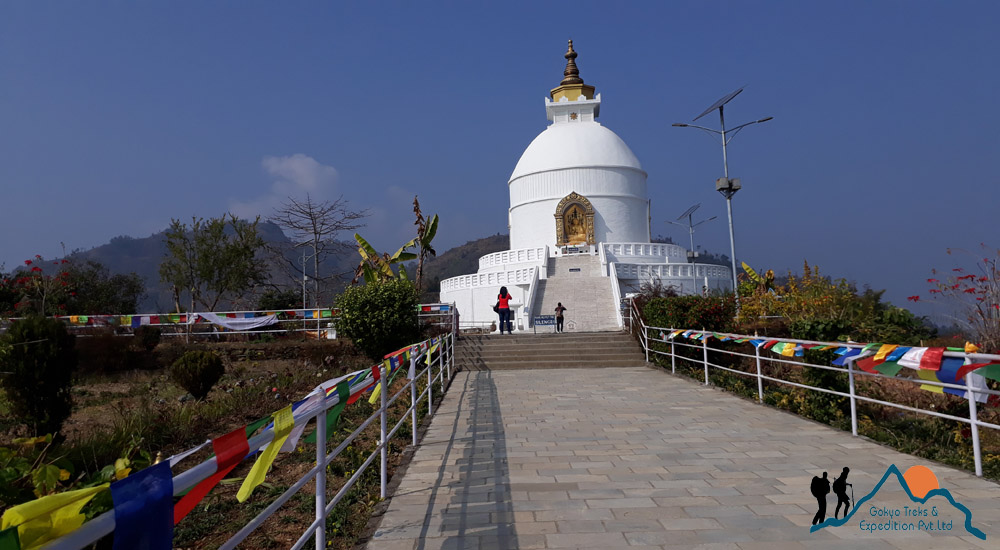 The World Peace Stupa was constructed as a joint effort between Japanese Buddhists and the local community in Pokhara. It stands as a symbol of world peace and a place for meditation and reflection. Visitors can reach the Stupa by hiking up a scenic trail or by taking a boat across Phewa Lake and then climbing a series of steps to reach the top.
The Stupa itself is an impressive white structure with golden spires and beautiful Buddha statues. It's a serene and tranquil place where visitors can enjoy both the cultural and natural beauty of Pokhara while contemplating the concept of peace. The panoramic views from the Stupa are especially breathtaking, and it's a popular spot for tourists and pilgrims alike.
Davi's Fall [13:00 – 14:15]
Patale Chango called David's fall is a beguiling cascade named after David, who cleared away in the fall of 1961. It is situated around 2 kilometers southwest of Pokhara domestic airport at the Siddhartha Highway. It's a unique and mesmerizing waterfall that has a fascinating history and is named after a tragic incident.
This waterfall is formed by the Pardi Khola stream, which vanishes underground and reemerges as Devi's Fall. The water flows through a natural tunnel and drops down into a gorge, creating a spectacular cascade. Likewise, It has easy access by road and is a common stop on many tours of Pokhara.
Gupteswor Mahadev Cave [14:30 – 15:30]
The Gupteshwor Cave is a significant cave system located in the city of Pokhara, Nepal, and it holds cultural and religious importance. It is situated near the popular tourist area of Pokhara, specifically in the northwestern part of the city. It's conveniently located and easily accessible for tourists.
Cave of Gupteswor Mahadev is considered sacred by Hindus, and it is dedicated to Lord Shiva, one of the principal deities in Hinduism. Inside the cave, you will find a stalagmite that is worshipped as a representation of Lord Shiva, making it a place of pilgrimage for Hindu devotees.
Inside the cave has a limestone that has formed naturally over centuries due to the erosion caused by the flowing water of the nearby Davis Fall (Devi's Fall). Likewise, the cave is characterized by its impressive stalactites and stalagmites, which create intriguing formations in various chambers.
Tibetan Refugee Camp [15:40 – 16:30]
Tibetan refugee settlements are primarily located in different parts of Nepal, including areas in Kathmandu and some other regions. These settlements often have cultural centers, monasteries, and handicraft shops where you can learn about Tibetan culture, art, and history.
If you're interested in visiting Tibetan refugee settlements in Nepal, you might consider going to places like Boudhanath Stupa in Kathmandu, where you can find a significant Tibetan community and cultural sites. However, it's always a good idea to verify the current locations and conditions of such settlements before planning your visit.
Phewa Lake and Tal Barahi temple visit [16:45 – 18:00]
Majestic Phewa lake is another tourist attraction where people can boat to reach Tal Barahi temple. While walking at Phewa lakeside, you can see the development of Pokhara tourism, art, and pictures and check out the evening Pokhara nightlife.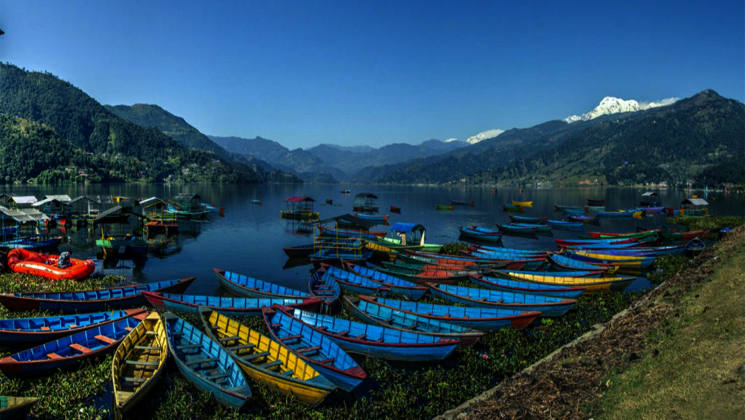 Visit the Hindu temple Barahi and get a glimpse of the Annapurna mountain range while surfing on Phewa lake, which is the best scenic place for couples while on a Pokhara City tour in Nepal. In addition, Pokhara sightseeing day tour is one of the most demanding and best-selling trips in Nepal.
2 Day
After Breakfast, start the city tour as per given places.
Bindyabasini Temple [8:30 – 9:30]
Bindyabasini Temple is a popular Hindu temple located in the city of Pokhara, Nepal. It is dedicated to the goddess Bindyabasini, who is considered to be an incarnation of the goddess Durga. Devotees visit the temple to seek blessings and perform various rituals. Main Bindyabasini shrine is one of Pokhara's oldest temples, dated to the late 18th century, said to have been built by King Prithvi Narayan Shah.
For the specific rituals, people can visit by standing in line for darshan, which involves viewing the idol or image of the goddess. Devotees offer flowers, fruits, and other symbolic offerings to the deity during this time. You can participate in the daily aarti (ritual of waving lamps) conducted at the temple, usually performed in the morning and evening. During aarti, lamps are lit, and bhajans (devotional songs) are sung in praise of the goddess.
People also donate money or items to the temple as a way of showing their devotion and contributing to the upkeep of the sacred site. Sometimes, spiritual discourses or bhajan sessions are organized in the temple premises. You can participate in these to enhance your spiritual experience.
Seek blessings from the temple priests, who may offer you tika (a red mark on the forehead) and prasad (blessed food) as a sign of divine grace. Some people prefer to sit quietly in the temple premises for meditation and reflection, seeking inner peace and spiritual insight.
Seti River Gorge [10:00 to 10:30]
The Seti River Gorge is a stunning natural wonder located in the Pokhara Valley of Nepal. It is renowned for its dramatic and deep gorge, as well as the milky white river that flows through it.
Seti Gorge is situated in the vicinity of Pokhara, a popular tourist destination in Nepal. Pokhara is known for its beautiful lakes, mountains, and natural attractions, and the Seti River Gorge is one of its notable features. It has carved a deep and narrow path through the rocky terrain over millions of years. The river originates from the Annapurna region and flows down into the Pokhara Valley.
One of the most striking features of the Seti River Gorge is its depth and with steep cliffs rising on both sides of the river. The river itself is known for its distinctive milky-white appearance, which is due to the high levels of sediment it carries from the mountains.
Mahendra Gufa [12:00 – 13:30]
Mahendra Gufa is a lovely cavern found north of Pokhara close to the Seti River. It is a baffling and uncommon cavern in Nepal containing Stalagmites and Stalactites. The cavern safeguards the sculpture of Lord Shiva for a long time.
Begnas Lake [14:00 – 17:00]
Get an additional touring spots to experience the extra fun in extra cost. These are significant touring area for Pokhara's entire city visit is dazzling Begnas Lake, a 30-minute drive from Pokhara. You can either walk around the lake or lease to paddle the boat or essentially appreciate nature. Interested travelers plan to go paying an extra cost.
3 Day
After Breakfast, get an extra fun tour choosing adventure beyond the imaginations as per given here.
Phewa Lakeside to Srangkot Hike
Sarangkot is a popular hill station located to the northwest of Pokhara, and it offers stunning views of the Annapurna mountain range, including the iconic Mount Machapuchare (Fishtail). To get from Phewa Lakeside to Sarangkot, you can hike in the morning, it's a scenic hike that takes a two to three hours, and it offers you a chance to enjoy the beautiful landscape and local culture along the way.
Travelers can hire a taxi or a private car/jeep to take you from Phewa Lakeside to Sarangkot hill tower or via Riding the Annapurna cable car paying an extra cost. These are the convenient option if you prefer not to walk or if you have limited time.
Sarangkot Zipline Option [Extra Fun- Extra Cost]
The Superman Zipline in Sarangkot, Pokhra debut in October 2021, offers a unique twist on the traditional zipline experience. Distinguishing itself from the standard zipline, the Superman Zipline allows thrill-seekers to soar through the air in a superman-like position.
The upper station of this exhilarating adventure is situated at Sarangkot, perched at an impressive elevation of 1,550 meters above sea level. Descending to the lower station located in Hemja, riders cover a vertical drop spanning an impressive 600 meters.
What sets the Superman Zipline in Pokhara apart is its claim to being the fastest zipline in the world. Riders can expect to traverse the 1,850-meter distance in a mere one minute, achieving an average speed of a breathtaking 140 kilometers per hour. This heart-pounding experience is unmatched in terms of speed, steepness, and distance, making it a one-of-a-kind thrill ride. In just about 50 seconds, you'll find yourself at the bottom, having experienced an adrenaline-pumping adventure like no other.
Paragliding from Sarangkot Option [Extra Fun- Extra Cost]
Paragliding from Sarangkot Hill offers an exhilarating and breathtaking adventure. Sarangkot is renowned as one of the world's best paragliding spots due to its stunning panoramic views of the Annapurna mountain range, including the iconic Mount Machapuchare (Fishtail), as well as the picturesque Phewa Lake below.
Upon reaching the launch point on Sarangkot Hill, you'll meet your experienced paragliding pilot. They will provide you with a safety briefing and help you put on the necessary gear, including a harness and helmet.
Sunrise and sunset flights are particularly popular due to the stunning colors and lighting conditions during these times. With your pilot guiding you, you'll take off from the hill's slope, and as soon as the parachute-like wing catches the wind, you'll be soaring gracefully into the sky. The sensation of freedom and weightlessness is truly remarkable. trip Finish.
What's Included in the package costs:-
Private car/van transfer for 2 days as per given itinerray places [7-8 Hours].
Phewa Lakeside to Srangkot Phedi transfer when going to Sarangkot hike.
2 Nights Double bed Tourist standard hotel on Phewa Lake side with breakfast.
Boat on the Phewa lake to get to Tal Barahi Temple on an Island [Boat Sharing basis].
Sightseeing spot entrance fees while on day tour.
Pokhara international Airport transfer on your arrival.
A professional certified Tourist guide while on tour in Pokhara.
Nepal Government Tax, VAT, and as well as Company service charge.
Tour completion certificate as a gift from Gokyo Treks agency.
What's not included in the Pokhara City tour package cost:-
Lunch, dinner and drinks on tour.
All types of drinks, your travel insurance.
Gratuities for guide and driver [Tipping is a culture, so they expect highly]
Extra fun activities such as Cable car riding, Zip Lining..etc.
Departure & Return Departure Point:
Have in mind that we pick up all the travelers from your hotel at Phewa Lakeside Pokhara and also after the tour, we drop you at the same place.
What to expect on Pokhara City Tours?
A 3-day tour of Pokhara, Nepal, offers tourists a wonderful opportunity to explore the natural beauty, cultural heritage, and adventure activities in this picturesque city. They typically arrive in Pokhara either by flight or by bus from other major cities in Nepal.
After checking in at their chosen accommodation, tourists can relax and get oriented with the city. Many tourists head to Phewa Lake's Lakeside area, a bustling hub of restaurants, shops, and hotels. You can enjoy a leisurely walk along the lakeside promenade, take a boat ride on the lake, or simply relax by visiting the heritage sites as per given above.
Explore the Pumdikot at "Shiva Statue" and to the World Peace Pagoda for panoramic views of the city and the surrounding mountains. Likewise, visit this ancient Hindu temple dedicated to Goddess Bindabasini, located in the heart of the city. It offers a glimpse into the local culture and religious practices.
Get to know the mesmerizing Devi's Fall, also known as Patale Chhango, and the nearby Gupteshwor Cave, which has a sacred cave temple dedicated to Lord Shiva. Enjoy a relaxing evening by the lakeside, dining at one of the many restaurants offering a variety of cuisine options. Some places also have live music or cultural performances.
Additionally, going at the international Mountain museum is a great place to learn about the history of mountaineering in the region and the culture of the Sherpa people. Early in the morning, tourists often go to Sarangkot (paragliding, and zip-lining) to witness a spectacular sunrise over the Annapurna and Dhaulagiri mountain ranges. It's a popular spot for paragliding as well.
Additional Information (TIPS AND TRICKS)
Confirmation will be received at the time of booking
a wheelchair is also accessible entire the tours.
A maximum of 25 people per booking
Travelers with back pain are okay but not recommends for pregnant.
It's a private tour/activity.
Cancellation Policy
You have the option to receive a full refund if you cancel your booking at least 72 hours prior to the start of the experience by providing a suitable written notice. However, if you cancel within 72 hours of the experience's start time, no refund will be issued.
Please note that any changes request within 72 hours of the experience's start time cannot be accommodated. All timing considerations are base on the local time of the experience.
Notes for Pokhara city visitors:-
The best guides for exploring the touristic sites of Pokhara town are typically local certified Tour guides who have an in-depth knowledge of the area's history, culture, and natural attractions. We have a great network of professional guides who can provide valuable insights and a more immersive experience.
If you prefer not to book an entire package trip, you have the option to arrange for a tourist guide exclusively for a Pokhara city sightseeing. Additionally, when you book with us, you can take advantage of our affordable Pokhara sightseeing car transfer rates.
The above itineraries are subject to change due to a condition beyond our control. This is just a Guideline showing a tentative tour plan and stops for a private trip. It's a standard tour package but if travelers wish to go better comfort tour with Air Condition car or a luxury holiday in Pokhara, we can modify the travel plan adding luxury hotel (Barahi Hotel or Bar Peepal Resort) on your preferences. Please let us know on time if there are any changes that might occur.
"What makes Pokhara city day tour special?"
Opportunities for amazing tours are scatter all over this planet. The Pokhara city sightseeing experience holds a unique appeal for foreign tourists due to its breathtaking natural beauty, serene lakes, majestic mountains, and the rich cultural tapestry of the region.
Exploring the sights in Pokhara with Gokyo Treks & Expedition Pvt Ltd becomes exceptionally special because of their unparalleled expertise in the region. Their knowledgeable guides offer an insider's perspective on Pokhara's natural beauty, culture, and adventure opportunities, ensuring a truly memorable and enriching experience for every traveler.
3 Days 2 Nights Pokhara City Tour Traveler's Review
There are no reviews yet. Be the first one to write one.
Book a Guide and a private transfer for Pokhara City sightseeing with us.
From US$ 509
2% Off
US$ 250
| | |
| --- | --- |
| No. of people | Price Per Person |
| 1 | USD 499 |
| 2 | USD 250 |
| 3 | USD 230 |
| 4 - 6 | USD 215 |
| 7 - 9 | USD 199 |
| 10 + | USD 175 |
Book Now
Customize Trip
Cost & Departures
Your Trip Your Style!
ITINERARY, COST, DEPARTURES, will adjusted according to your GROUP SIZE NEED TIME
Book with Confidence
Local Guides Company.
18 Years in Business.
Lowest Price Guaranteed.
100% Customizable Trips
Excellent Customer Service
Hassle Free Booking.
90 % Repeated customers
Highly Recommended agency
Private/group tour options