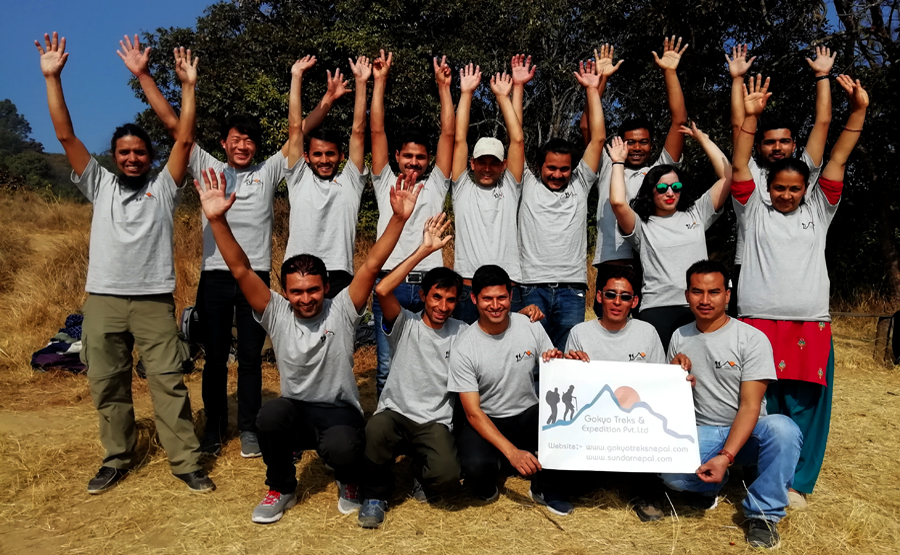 Why with Gokyo treks Nepal tour agency?
Gokyo treks agency is a legally certified travel company operating for more than a decade and founded by travel enthusiasts who have passion and love for the Himalayan culture. It is only because of trust and full Government registered trek tour operator agency recruiting expert local trek guides.
They have accumulated a vast knowledge of tourism culture, its management aspects, and sustainable strategies. Furthermore, the company always considers the way of affecting the local community and environment in our operating areas. Giving back to the local economy using local manpower and local product is also our main objective.
Gokyo Trek Agency is your on-the-ground professional DMC in Nepal. Browse our great list of Tours, which are ready to adjust to your brand's needs. We are an expert, authentic local travel agency that has led the way in creating the very best travel experiences throughout Nepal. We all know travel is a demanding modern trade and with over twenty-two years of skill, we are serving travelers. 
You are spending your hard-earned money to visit an unfamiliar country. We understand that financial protection is thought when picking an organization to book travel or holidays through. Gokyo office holds a License with the authority to work adventure experience under the management of the Nepal Government and the corporate office location is on its own property. Take a look at the tourism Business Licenses which add an extra level of financial security to your booking.
We realize that the last thing you need to stress over while you're arranging your travel and holidays that could only be described as epic is whether your cash is in safe hands. As the main Adventure supplier, we must ensure your funds are secure, so when you book with us you have no worries at all. Take a look at the 20 best key points to understand why with Gokyo Treks agency.
1. Personal service and your own travel advisor!
As we are a Destination Management Company (DMC), we never resell programs. It is a Tourist guide's owned company so our prices are unbelievably lowest. Going now and again is an upsetting trial, thus we charge you a serious cost where you don't feel cheated. When you make an inquiry with us, the company owner Ammar Raj Guni is your personal travel consultant. Don't worry about public holidays, we are ready to respond 24 hours every day and 7 days a week. Not only this but we are also supporting the client via social media phone as well. So you can email, WhatsApp, or call on the phone directly to make your trip itinerary better. We answer you promptly because client support makes us happy.
2. Exclusive Online Deals & Earlier Savings!
The prices we advertise on our website and send to you via our optional email newsletter. We do provide you with last-minute operator specials, early-bird specials, and EXCLUSIVE SAVINGS ensuring the quote we provide you is the best value everywhere in Nepal.
3. No Booking Service Fees
We do not charge booking service fees. As a specialist tour operator in Nepal, we take a personal interest in all our clients. And take great pride in the loyalty our customers have shown us since our inception.
4. No hidden extras
We believe in an honest, upfront pricing structure so you know exactly what the tour will cost before you book. On our group tours, we avoid local payments, 'optional extras', or forcing our clients to go through the annoying procedure of splitting every meal bill.
5. Added value
We also realize to be a successful small travel organizer it's imperative we deliver the best experience we can through whatever facilities are available to us.
Accommodation:
On the entirety of our days off we expect to furnish you with the best convenience accessible. Basically, by hiking in the Himalayas, Tourists will have local accommodation and again no waste management to speak of.
Transport:
Your vehicle is additionally a significant aspect of your vacation understanding and we offer a wide assortment of transport choices relying upon the location.
Administration:
On our customized visits we expect to offer assistance esteem that is difficult to coordinate. For instance, we help you to get a local SIM card from the telecom office. So whenever you need, you can use a call at your home or use wifi for a quick connection.
6. Staffs trek Equipment and safety
Our field staff (guides, porters, cooks, and Sherpas) are fully equipped to handle the mountain condition. Never compromise to provide the best equipment for the trek, tour, and climbing staff. Good and effective equipment underpins your successful and enjoyable life experience while on a trek job. We often announce the trekking guide vacancy in Nepal to collect fresh guide's biodata in order to serve better for our clients. In addition, safety is the main concern of our company thus all of our guides know the high altitude sickness. So we provide full coverage travel insurance for all our hiking staff to secure their job and to be responsible for their work.
7. Safety and insurance for Guest
Before you leave home, we help you prepare, with concise information about your trip insurance , the terrain, the climate, local customs, etc. We are in constant communication with our field officers and monitor all aspects of government policy and whether that may affect your trip. When voyaging you ought to make the most of your opportunity and let us stress over your security. In the unlikely event of an emergency, helicopter rescue or Horse Rescue is available during treks and expeditions.
8. Family-Friendly Packages
Experience isn't only for thrill-seekers, it's for each and every individual who needs to encounter life in an unexpected way. At the Gokyo trek agency, we have deliberately chosen agendas uncommonly intended for families who can appreciate an excursion loaded up with experience and holding.
Choose a Private Trip
If you already know who you would like to take your adventure with and would prefer to enjoy your hiking holiday experience with your own group of friends, then we've got good news! All of our trips are also available as private tours. Our private adventure specialists are on hand to give you a quote or talk you through some of the different options that we offer.
9. A Purposeful Travel
Our motivation for this organization is to illustrate Nepal yet you may have your own motivation for the movement, our main responsibility is to comprehend and convey. No two design is the equivalent, consequently, we ensure that we comprehend you independently and create our directing in a way that considers you to encounter what you sought.
10. Always Changing & Growing Up
We are self-aware of our mission and vision which is to make happiness via hiking. We try daily to improve the products. Wherever you want to go, whatever you want to gain, We bring it to serve you.
11. Fast & Convenient Online Booking
Though you want to take a tour through the Internet or directly with us, the method of booking trips is fast. Likewise, the payment terms are very clear and convenient for you.
12. We are against child labor
We at Gokyo Treks Agency don't employ children. All of our tour guides, porters, climbing Sherpa and outdoor camping cooks are over 20 years of experience. The owner of this company has checked strictly these candidates' National identity cards to recognize their age and permanent address.
13. Sort out Your Group Travels
Gathering holiday can on occasion be extremely unpleasant to facilitate, this is the place are our experts step in aiding your sort out everything without trading off anybody's needs. Our skill lies in giving both, individual and gathering trekking administrations; we pick aides, agendas, and hardware depending on your requirements.
14. Local destination experts
Travel Leaders are certified specialists who have completed training and traveled to the most popular tourist destinations, such as Everest, Langtang, and Manaslu. Their specialized knowledge allows you insights and personal recommendations no online site can offer you.
15. Unlimited changes prior to 40 days
You can make unlimited alterations to your booking up to 40 days before your tour starts, for any reason. Changing the tour, changing the date, and changing participants, are no costs for the changes at all.
16. Flexible travelers and their group size and discounting Policy
There is no limitation on the participant. Our minimum requirement for operation is one person. We are happy to make a trip departure on your time, budget, and requirement. Some travelers ask how can I go to Nepal on a budget. before their trip booking with us. We seriously understand their budget trip and make a special plan for them. Likewise, If you want to travel alone, as a couple, or with a family member, we organize trips accordingly. Special price packages are also available for student groups or groups of 10+ people.
17. Minimal Impact on Culture and Nature
Beauty of Nature and the cultural verities of Nepal are the main economy we believe. We never undertake any activity that goes against nature and culture cause of unregulated tourism activities. On a camping trek, we always use gas and kerosene instead of firewood to cook, and rubbish is well disposed of by our well-trained staff.
Non-disposable rubbish is carried out with us for well disposed off. We use tap water with purification tablets for a drink to minimize the rapid pollution growth of plastic in the Himalayas. The tap water is fresh running water coming down from the Himalayas. This is a tiny example of our company for the minimal impact of tourism activities on nature.
18. Responsible travel
Granted the renowned 5-star responsible travel status by AITO (Association of Independent Tour Operators), dependable the travel industry has consistently been a vital aspect of our organization ethos and our experiences are planned with the neighborhood individuals, culture, and eco-framework as a primary concern.
19. Happy and repeated customers (98% Success rate)
We are the winner of the world's largest trusted travel site Trip Advisor's certificate of excellence award, 2015, 2016, 2017, 2018, 2019, 2020, 2021 & 2022.
.
This reward is the result of teamwork's constant hard work, great integration, and cooperation. Written reviews of the previous client's experience on Trip advisor can be checked out. Whereas on Youtube, you see the video describing feedback and response about our overall service by our valued clients from the trekking spot.
Lastly, you can see the official Gokyo Treks and Expedition pages uploading the current activities of photos, and videos, on other social media including Facebook, Linkedin, Twitter, Google +, Pinterest, and many more.
20. Indoor/Outdoor Client Care
When Clients book trips, we take care of all the necessities. Design your travel plan – itinerary carefully adding for proper acclimatization. Serve with a well-trained guide that gives details of remote emergencies and is well-versed in local politics, culture, customs, and conditions. In the case of serious accidents or illnesses, we arrange an emergency helicopter rescue cover from your insurance policy. 
21. Social responsibility:
We aim to make sure all of our staff are happy and well paid in their job. Our aim is to provide necessary health and educational facilities to school children located in remote areas of Nepal. Community development foundation is a Non-Government – not profit organization to educate school children. 10% profit from the net income of the Gokyo Trek agency, every year have been supporting the community school projects (charity …. https://www.facebook.com/cdfnepal) in remote parts of Nepal for school children for their education and as well as their health care.