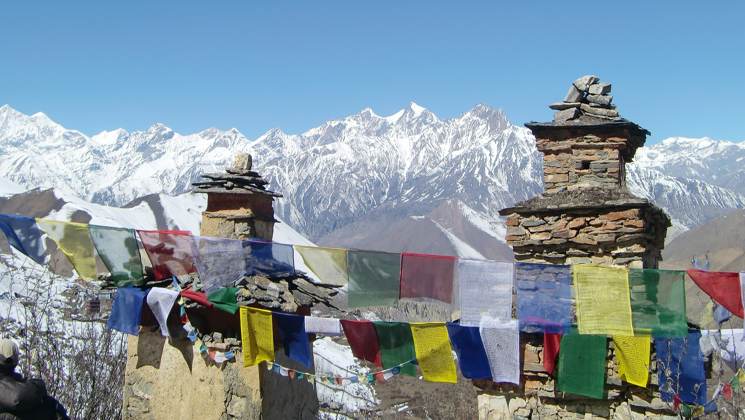 Kali Gandaki Valley Trip Summary
Kali Gandaki Valley Hike Duration: 9 Days
Kaligandaki Valley Trek difficulty: Easy Grade
Highest Elevation: 3,800m/12,468 feet
Walk Hour: 6 Hours daily
Trekking Group – Size: 1 – 20 People
Foods and Trek: Breakfast, Lunch, and Dinner
Best Months to Explore: March, April, May, October, November and December.
Trip Mode: Guest House Basis
Transportation: Car/Plane/bus
Overview
The Kali Gandaki Valley Trek explores the tremendous diversity of the Annapurna region following the old trade route to Tibet along the bank of the Kali Gandaki river valley. The river valley of Kali Gandaki is known as the deepest gorge in the world, Kali Gandaki Gorge is estimated to be roughly 6,000 meters deep. But the very bottom still has yet to be confirmed, while the mountains surrounding it reach an utmost height of almost 6,000 meters (18,000 feet).
Hike at Kali Gandaki is also famous to collect Shaligram fossils, revered as one of five non-living forms of Lord Vishnu. The Kali Gandaki river source coincides with the Tibetan border and the Ganges-Brahmaputra watershed divide. The tributary then flows south through the ancient kingdom of Mustang.
The trek is brilliant in attracting over 75% of all trekkers (more than 30,000 annually) are visiting the Kali Gandaki Canyon. Furthermore, the hiking trail marks Dhaulagiri icefall from where the tourist can review the Annapurna and Dhaulagiri ranges through the beautiful Himalayan settlements. Despite that, the best time to visit Muktinath of Kali Gandaki valley is either in the autumn season or the spring season.
Jomsom is the district headquarter of Mustang district, of Nepal. You can trek into that trek route tourist standard to luxury hotels in Jomsom and as well as in Muktinath paying an extra cost. Because of the Muktinath tour package what we have designed is on the basis of twin sharing traveler standard lodge accommodation basis.
Moreover, the majestic Kali Gandaki Gorge Trek is religiously important to both Hindus and Buddhists. The main shrine is a pagoda-shaped temple dedicated to Lord Vishnu; there are 108 waterspouts around the Temple. Jwala Mai temple nearby contains a spring and an eternal flame fed by natural gas underground.
Since ancient times, divine flames of jwala have been worshiped as Jwaladevi (the goddess of flame). Likewise, the Muktinath trek passing poon hill is even more amazing and interesting in spring as the whole forest along the trail turns red, pink, and white with rhododendron flowers. Kali Gandaki trekking tour is possible to explore at any time throughout the year.
How to reach Muktinath?
Check with us the regular price from Pokhara to Muktinath jeep fare if you are driving by local or private jeep. The price variation is on the months that you are traveling.
Another interesting fact is, that you can Muktinath yatra by helicopter from Pokhara. In the high season, we also use charter flights from Kathmandu to Muktinath helicopter, the fare is roughly US$ 4,300 for each charter helicopter.
In addition, if you travel to Beni then Beni to Jomsom distance is 95.7 kilometers and possible to reach with an overland drive in 6 hours 30 minutes. However, if you are traveling for only 2/3 days and want to visit Muktinath temple? then choose the flight option. We recommend you to take Kathmandu to Muktinath by flight to get to Muktinath as the quickest way if you have a group of travelers.
How much is the Kali Gandaki Valley Trek Package Cost?
The cost of the Muktinath trek package with a Gokyo Trek Agency (a local agency in Kathmandu Nepal) ranges between US$ 650 to US$ 850. Of course, the Kali Gandaki valley trek cost varies according to the group size you are traveling to. We also have discount deals for low season hikes to Mustang. For example, if you could bring 10+ travelers (except you) to your trip, you are treated as a group leader. So you can hike the Kali Gandaki territory free of cost.
However, we often arrange private trips in order to avoid group tours with strangers. A private tour gives you a better experience on your hikes. If you value personalization, flexibility, and in-depth experiences, a private trip customized to your personal needs will be the best option.
Hike the Muktinath is a standard trip package price for 8 days trek. If you are 2 visitors hike to Muktinath costs US$ 750 for 8 days trek according to the given hiking plan. We can modify the trek route and the prices according to your wishes also. Here is the price list for Kali Gandaki Valley Treks.
Price Per Person for 8 days hikes in the Annapurna teritory.
| Number of Tourist | Price Per Person |
| --- | --- |
| 1 Person | US$ 850 |
| 2 Person | US$ 750 |
| 3 Person | US$ 750 |
| 4 to 6 person | US$ 720 |
| 7 to 9 Person | US$ 690 |
| 10 and more than 10 Person | US$ 650 |
If you're wondering to know about what is included and what is excluded on this trip price, kindly check on cost given on a tab button.
Itinerary
The best of Kali Gandaki Valley Trek itinerary details
Muktinath tour at Kali Gandaki canyon classical itinerary about 7 nights 8 days compared to most walks in Annapurna mountain trails. The particular Nilgiri and Dhaulagiri hiking route is designing for globetrotters who wish to hike in a more relaxed manner. However for travelers who wish to explore ice fall view trek quickly but are walking with limited time wise ask us for a tailor-made itinerary.
1 Day
Express drive to New Bridge, 8/9 hours. Trek to Birethanti Bazaar (1,065m/3,494 feet), 30 minutes.
Guide will meet you at your hotel and drive to Gongabhu Bus station to get a regular coach to New Bridge. Driving a regular bus, you will have beautiful landscapes on the way. During the drive, you will pass some of the most scenic places in Pokhara city. The total length of a drive today is about 8/9 hours.
Optional: You can take a flight from Kathmandu to Pokhara paying an extra cost for each foreigner, takes only 25 minutes then we drive to New bridge with a private taxi. Birethanti village is a scenic place of beautiful lodges and center points for the Modi river valley.
2 Day
Ghorepani trek (2,875m/9,430 feet), 6 Hours
Today, for the first part of the journey, we take a local bus near to Tikhedungha settlements. From Tikhedungha, we start our hike. we ascend steeply for the first 2 hours and ascend softly passing through Ulleri (2,070m.) and Banthanti.
Additionally, you will see a good view of Machhapuchhare known as mount Fish Tail (6,997m.), mount Hiunchuli (6,441m.), and as well as Annapurna (7,219m) south. Now, our trail is quite easier passing through Rhododendron and shadowy trees and ascending gently up to the final camp at Ghorepani guest house at upper Ghorepani village.
3 Day
Early morning hike at Poon hill tower. Descend to Tatopani (1,050m/3,444 feet), 7/8 hours
Wake up and check sunrise time in Poon hill today. Hike early in the morning to reach Poon Hill at 3,220m to get impressive rising sun. It is the highest hill station to achieve the best rising sun in the morning.
Tourists can get the rising sun with rays at Dhaulagiri (8,167m.), Tukuche Peak (6,920m.), Nilgiri (6,940m.), Varaha Shikhar (7,847m.), Mount Annapurna I (8,091m.), Annapurna South (7,219m.), Mt. Annapurna III (7,855m.), Machhapuchhare (6,993m.), Annapurna IV (7,525m.), Annapurna II (7,937m.), Lamjung Himal (6,931m.)..etc. Moreover, there are other numerous snow-capped shinning mountains together with those popular mountains in a row.
While on a hike, we walk through nice villages, and Rhododendron forest, the beautiful flower makes the jungle colorful in spring when they bloom. Descend downhill to get a hot delicious breakfast at Ghorepani lodge and continuously walk downhill all the way to Tatopani. Tatopani is a local Nepali name for a natural hot spring.
4 Day
Ghasa Trekking (2,013m/6,603 feet), 6/7 hours
Follow the trail that ascends gently up the Kali Gandaki Gorge, the deepest gorge in the world, towards Dana village surrounded by orange groves. During the Annapurna trails, you come across locals who are selling oranges. Just beyond the small hamlet of Rupse, a thundering waterfall cascades down beside the trail. Rupse is a gorgeous waterfall in Nepal and one of the top 10 most beautiful waterfalls in the world. Thereafter, the trail enters the steepest and narrowest section of the gorge. You will find the layered stone path well-constructed and wide. Continuously hike towards Ghasa recognized as a Thakali village where you see several flat-roofed Tibetan-style houses.
5 Day
Marpha village trek (2,667m/8,748 feet), 7/8 hours
The trek ascends crossing the wide valley of Kaligandaki. Throughout the trek, you will be enjoying many ethnic villages with a sparse population of Gurung, Thakali, and a few Tibetans. Larjung village is a gateway to hiking to Dhaulagiri Icefall which takes about 3 hours (optional). Continue hiking trail goes through Kali Gandaki riverside across the Apple orchard, you can eat apples if it happens to be the fruit season. Marpha is a big community enriched by a Buddhist Monastery in between the village.
6 Day
Muktinath trek (3,795m/12,448 feet), 8 hours
You continue to follow the wide valley of the Kali Gandaki, passing several villages. The wind generally picks up after about midday, but will at least be blowing at our backs as you head up to Jomsom (2,730m/8,955 feet), the landscape becomes increasingly arid and impressive with its mixture of browns, yellows, and grey, contrasting with the white snowcaps mountain. Kagbeni is another important pilgrimage site and a gateway to exploring Lomanthang. As you reach Jharkot, you can visit an ancient Shakya Monastery believed to be built in the 15 century.
7 Day
Muktinath temple hiking. Descend to Jomsom (2,730m/8,927 feet), 5 hours
In the morning, you can visit the Muktinath temple which is an important pilgrimage destination for Hindu and Buddhist. Here you come across Natural flaming which really exhilarates you. You can enjoy a holy bath at 108 Mukti Dhara. From the Muktinath temple garden, you can see an excellent view of Dhaulagiri (8,167m), Nilgiri (7,061m.)..etc. Descend down to a hotel for breakfast, collect your all gears and retrace your steps to Jomsom Bazaar. If you are fit enough after reaching Jomsom, make a plan to go to Dhumba lake.
Optional day hikes to get Dhumba lake
Dhumba Lake is a wonderful, clear water lake located at the Mount Nilgiri Base Camp. Trekkers can reach Dumba lake walking about 5.5 kilometers from Jomsom airport. You can begin the trek by coming to Jomsom Bus Park and intersecting the wooden extension there to arrive at the left half of the runway. Along the journey, you'll locate a signboard pointing towards the best approach to Dhumba Lake/Thini Village.
The principal achievement of the trek to get to ancient Thini Village is roughly 5 kilometers from Jomsom. The following half-kilometer trek will take you to Dhumba Village and thusly to Dhumba Lake. The backdrop of Dumba lake is the Himalayas, which are outstanding. There's a small rest stop near the pool. There's also a circumferential path to walk around the lake to better enjoy the natural beauties. In the evening you celebrate the trek completion party with the trekking crew.
8 Day
Morning, Jomsom to Pokhara flight, 25 Minutes
Get the early flight takes about only 25 minutes to reach Pokhara. The flights are available within the morning time. The strong breeze blows during and after and frequent change in the weather prevents the flight from being landed and taken off in the afternoon. During the flights in the morning, the sky looks very clear. So you are amazed at the Annapurna Himalaya best view and return to Kathmandu by a Bus. Our trip ends, we wish you your wonderful journey further.
Not satisfied with above plan?
Are you interested on planning custom trip? this might take 2 to 3 minute.
Cost
How much does Kali Gandaki Valley Trek cost?
This Kali Gandaki Valley Trek price is USD 750 per person on a double occupancy basis. Taking flights to and from Pokhara saves your time and riding buses reduces the trip expenses. For deluxe and luxury trekking plans, we add Kathmandu – Pokhara – Kathmandu round trip airfare, 3 to 5-star category hotel deluxe air-conditioned room in Kathmandu with a breakfast plan. Likewise, 2 to 5-star hotel standard accommodation in Pokhara with breakfast plan and with attached toilet/bathroom while on trekking routes. AND WE ARE OPEN TO CUSTOMIZE YOUR TOUR AND PACKAGE PRICE AS PER YOUR REQUIREMENTS. International tour leaders are highly encouraged to get discounts and attractive complimentary.
Kaligandaki valley Trek Tour Package Price includes:-
Kathmandu international airport transfer with a private car/taxi.
Single night twin sharing tourist standard accommodation in Kathmandu.
Domestic flight: Jomsom to Pokhara city airfare with applicable tax on your return.
8 Breakfast, 7 Lunch and 7 Dinner at Kaligandaki valley trek tours.
Guest house basis trekking accommodation while on mustang trekking days.
Regular Bus (Baglung Bus Yatayat) transfer from Kathmandu – New Bridge.
Fully escorted trek with English speaking license holder local guide and each 2 guest = 1 Porter basis.
Annapurna Conservation Area permits and TIMS permits for Kaligandaki valley Treks.
Pokhara domestic airport to your hotel on Phewa lake side transfer with a private taxi.
Insurance, Food and accommodation and salary of Nepali trekking Guide and porters.
Updated Muktinath trek map 1 piece for each guest.
Agency's Certificate of appreciations after the successful Muktinath trekking.
Nepal Government Tax, VAT and as well as Company service charge.
Kali Gandaki Valley Trek Package Price Excludes:-
Nepal entry visa fees US$ 40.
Lunch and Dinner during the staying in Kathmandu and Pokhara city.
Any kinds of battery charges, laundry service, phone calls and hot shower during the trekking.
Tourist personal trekking equipments and Clothing.
Personal nature expenses, all types of drinks and bar bills.
Travel Insurance which covers emergency rescue, evacuation, personal loss or damage.
Donation and monuments entrance fees.
Tips for the crew (Note: TIPS is not compulsory but highly expected)
Other things which are not mentioned above
Group join
We can organize private Kali Gandaki Valley Trek or Muktinath Tour starting at any date that works for you. Please contact us for more information.
| Departure Date | Availbility | Price | Book |
| --- | --- | --- | --- |
| 10 May, 2022 – 17 May, 2022 | Avaiable | 750 | |
| 20 May, 2022 – 27 May, 2022 | Avaiable | 750 | |
| 10 Sept, 2022 – 17 Sept, 2022 | Avaiable | 750 | |
| 20 Sept, 2022 – 27 Sept, 2022 | Avaiable | 750 | |
| 05 Oct, 2022 – 12 Oct, 2022 | Avaiable | 750 | |
| 10 Oct, 2022 – 17 Oct, 2022 | Avaiable | 750 | |
| 20 Oct, 2022 – 27 Oct, 2022 | Avaiable | 750 | |
| 25 Oct, 2022 – 01 Nov, 2022 | Avaiable | 750 | |
| 05 Nov, 2022 – 12 Nov, 2022 | Avaiable | 750 | |
| 10 Nov, 2022 – 17 Nov, 2022 | Avaiable | 750 | |
| 20 Nov, 2022 – 27 Nov, 2022 | Avaiable | 750 | |
| 05 Dec, 2022 – 12 Dec, 2022 | Avaiable | 750 | |
| 20 Dec, 2022 – 27 Dec, 2022 | Avaiable | 750 | |
| 10 Feb, 2023 – 17 Feb, 2023 | Avaiable | 750 | |
| 20 Feb, 2023 – 27 Feb, 2023 | Avaiable | 750 | |
| 10 Mar, 2023 – 17 Mar, 2023 | Avaiable | 750 | |
| 20 Mar, 2023 – 27 Mar, 2023 | Avaiable | 750 | |
| 25 Mar, 2023 – 31 Mar, 2023 | Avaiable | 750 | |
| 05 Apr, 2023 – 12 Apr, 2023 | Avaiable | 750 | |
| 10 Apr, 2023 – 17 Apr, 2023 | Avaiable | 750 | |
| 20 Apr, 2023 – 27 Apr, 2023 | Avaiable | 750 | |
| 25 Apr, 2023 – 01 May, 2023 | Avaiable | 750 | |
Guaranteed – Trip is Guaranteed to run.
Available – Trip is available to run if minimum group size is filled
Limited – Only few space available
FAQ
Question: Do I need the experience to do Kali Gandaki Valley Trekking?
Answer: No. Earlier hiking experience is not essential.
Question: Is pick up service available on my arrival day in Kathmandu?
Answer: Yes sure. Provide us with your flight details and request to pick up. Our representative will come to pick up you at Kathmandu international airport.
Question: Can I store my luggage/stuff in Kathmandu?
Answer: Yes, you can leave your luggage at your hotel or at our office. Store your stuff in the Gokyo Treks agency office is for free.
Question: Is Muktinath Annapurna trekking Safe for the Solo Female Trekkers?
Answer: Absolutely. Nepal is a safe country to travel to for solo travelers; kali gandaki trek is perfectly safe for solo female trekkers. We have been organizing the trek even for solo female travelers since its establishment.
Question: What kind of accommodation can I expect to express Kali Gandaki Valley Treks?
Answer: We provide you tourist standard accommodation in Kathmandu and during the trekking routes. the rooms along the routes are clean with a cozy bed with a nice mattress and blankets. However, we recommend you take your own sleeping bags if you have one with you otherwise, you may rent them while you are in Kathmandu.
Question: What kind of food can I expect on the mustang trek?
Answer: All the guest houses/lodges in Annapurna trekking, have attached restaurants. They cook a delicious range of mostly vegetarian such as Pasta, tuna bakes, noodles, potatoes, eggs, rice and lentils, bread, soups, and fresh vegetables. Dinner and breakfast are provided in the same lodge you spend the night every day. Likewise, we serve Lunch on the way to the next place where you go.
Question: What opportunities will I have for a shower along with Kali Gandaki Valley Trekking?
Answer: The guesthouses along the trekking trail, offer 24 hours of hot showers. You can get often for free of cost and only sometimes you do need to pay.
Question: How do I get drinking water on a short Jomsom Muktinath Lodge Trek?
Answer: There are enough hotels on Kali Gandaki valley hiking routes where you buy bottled mineral water. But we advise you against buying mineral water in plastic bottles, as currently there are no provisions for disposing of these. Instead, tourists can buy safe drinking water or buy AQUA tablets to purify the normal water as the normal water is available at the campsite en route.
Question: Can I charge my digital camera or other batteries on my trip?
Answer: During the lodge trekking there will be more chances to charge the battery. We recommend you bring an extra pair in case. Remember to bring your adapters! An extra battery will be recommended.
Question: Are there any communication facilities on Kali Gandaki Valley Trekking?
Answer: Yes. The best thing to do is you can buy a Nepal Telecom SIM card. So, you will have easy to call your home country at a cheap price and also you can use 4G internet buying data pack as per your wish.
Question: Can I use a credit card payment in Kali Gandaki valley Treks?
Answer: Only some luxury hotels, accept credit card payments. Not everywhere. So better to bring cash along with you.
Question: When should I book my trip and what are the payment terms?
Answer: Because our trips book up months in advance, we recommend booking early to avoid any kind of misunderstanding. We will, of course, make every effort to accommodate last-call bookings.
And regarding the deposit, we prefer a 20% advance deposit of the total price of the trip in order to confirm your reservation before you arrive in Nepal. And the rest of the payment can be made after your arrival in Nepal.
Question: Who will carry my luggage on the kali Gandaki valley Trek?
Answer: We provide porters to transfer your luggage. As we are a responsible trekking tour operator agency, each of our porters carries a maximum of 25 kilos of your backpack which means 2 guests (12.5 kg luggage of each guest): 1 porter basis.
Question: How much distance do I walk each day?
Answer: The distance you cover on hiking each day can vary greatly due to a gradient, terrain, and altitude. As such it is very hard to give specific distances for each day, however, you need to prepare to walk roughly about 5 hours to cover an average of 8 kilometers.
Question: Is it possible to rent a guide? how to hire a local trek guide?
Answer: Yes of course. If you are not happy to go with the complete full board package trip, still you can hire our expert guide to make your holiday tour safer. However, visit a guide and porter hire or email us for your detail travel inquiry.
Question: Do I need walking poles?
Answer: It is better to hike with walking poles. Learn how to use trekking poles for balance and stability, whether on the sidewalk or on trails. Walking poles can help prevent slips and falls. They are suggested but not necessary.
Question: How much additional money do I need per day?
Answer: You can allocate US$ 08 – 10 for a lunch/dinner in Kathmandu and it depends on your spending habits. US$ 7 to 10 US$ each day will be enough to buy bottles of water, chocolates, tea coffee, and some drinks while you are on your trek.

Muktinath Trekking, Chitwan National Park, Nagarkot hikes
100%
5
star based on –
202
Based on TripAdvisor Reviews
We have done 2 treks with Ammar and his crew. Our guide, Som, was fantastic and the porters happy and reliable. Ammar is great to deal with. We are coming again next year and will use Gokyo Treks. Dr Rob H Australia- Dr. Robert Arthur Hilton, Melbourne city, Australia !.

Muktinath and Dumba Lake Trek
100%
5
star based on –
211
Based on TripAdvisor Reviews
We met Ammar in 2010, arranged some hikes for our friends sometimes. In 2017 September, we hike to Muktinath with our friends. Ammar suggested for optional visit at Dumba Lake. Yes, we did. We made a great trip but Dumba lake hiking was even better because of out from the noice. If you are true hiker want to visit some cool places in Mustang, donot miss to Dumba lake trekking.
Our Guide was Ammar and he arranged almost everything like booking lodges, porters, private jeeps, all permits, and jomsom to pokhara flights. Once again, thank you and looking forward to go another trip with you guys. – Dr Isable, Michael and friends, Salzburg, Austria.
The best Kali Gandaki Valley Trek Highlights and its side trips
See the mount Annapurna mountain range within 160 deg angle from poon hill sites
Hike Dumba lake in Mustang is also beautiful located on the foothill of Nilgiri Mountain.
Most demanding trek tour by Hindu and Buddhist pilgrimage devotees.
Natural hot spring TATOPANI, beautiful Rupse cascade along the trek routes.
Experience the Gurung, Magar and Thakali ethnic groups and their local life styles.
The Kali Gandaki Valley Trek Note:
The Jomsom airport to Muktinath temple tour information stated above is just a standard template guideline. However, the tour is possible to amend your request to accommodate your specific requirements. Local politics, landslides, cancellation of local flights, weather, transport, or a multitude of other factors that are beyond our control can result in a change of itinerary during on trip.
It is, however, very incredible that the itinerary would be extensively altered. If alterations are necessary the leader will decide the best alternative option, taking into consideration the best interests of the whole group. When a change does occur, we do everything we can to minimize its effect, but we cannot be responsible for the results of changes or delays.
What makes Kali Gandaki Valley Trek trip special?
Hike at Kali Gandaki gorge is an amazing trip for your life journey. However, opportunities for challenging similar trekking are scattered all over this planet. You just need to know where to find them. We at Gokyo Treks and Expedition believe in quality services. Your safety and satisfaction is our concern.
We are a team of professional, experienced, well-trained, and licensed local guides who know the destination much better than others. Not only this but also we give benefits to the local communities and help to conserve natural resources which reduced costs and consumption.
From US$ 789
5% Off
US$ 750
| | |
| --- | --- |
| No. of people | Price Per Person |
| 1 | USD 850 |
| 2 | USD 750 |
| 3 | USD 750 |
| 4 - 6 | USD 720 |
| 7 - 9 | USD 690 |
| 10 + | USD 650 |
Book Now
Customize Trip
Cost & Departures
Your Trip Your Style!
ITINERARY, COST, DEPARTURES, will adjusted according to your GROUP SIZE NEED TIME
Book with Confidence
Lowest Price Guaranteed.
100% Customizable Trips
Excellent Customer Service
Hassle Free Booking.
90 % Repeated customers
Highly Recommended agency
Private/group tour options
Local Guides Company.