Circuit Annapurna Trip Summary
Annapurna Circuit Trek Duration: 17 Days
Annapurna Circuit Trek Difficulty: Moderate
Thorong La height: 5,416 meters / 17,770 feet
Trekking Hour: 6 hours daily
Annapurna Hiking Group-Size: 2 – 20 People
Best Time: March – December
Trip Mode: Guest House
Meals on Trek Route: Breakfast, Lunch, and Dinner
Transportation: Micro Bus / Jeep Ride Bus
Overview
The Annapurna circuit trek is top first most popular trek destination of Nepal, rich in diverse culture and flora and fauna. The length of around Annapurna Trek route varies between 160 to 230-kilo meters (ie.100-145 miles).
Annapurna round trek grants an outstanding scenery of Mt.Dhaulagiri (8,167m), Mt.Annapurna Ist (8,091m) Mt.Manaslu (8,163 m), Mt.Annapurna II (7,937m.), Mt.Annapurna III (7,555m), Mt.Annapurna IV (7,525m). Additionally, tourist can see mount Annapurna south (7,219m), Mt.Nilgiri (7,041m), Mt.Fishtail (6,998m), Mt.Hiunchuli (6,441m), Mt.Lamjung (6,986m),Tukuche peak (6,920m), Tilicho peak (7,134m).
While you trek in Annapurna circuit, you can see the settlements of diverse communities such as Brahmin, Chhetri, Tibetian sherpa, Thakali, Magars, Tamang, Gurung. In addition, you can see some wild animals such as Mountain ram (mountain sheep), Himalayan Thar, Mountain Goat, snow Leopards, Jackal, pheasant birds, long-tail birds ..etc.
Marsyangdi river valley in the east and the Kaligandaki valley in the west are another top attraction of circuit annapurna. Hike around the Annapurna is a part of the great Himalayan trek in Nepal.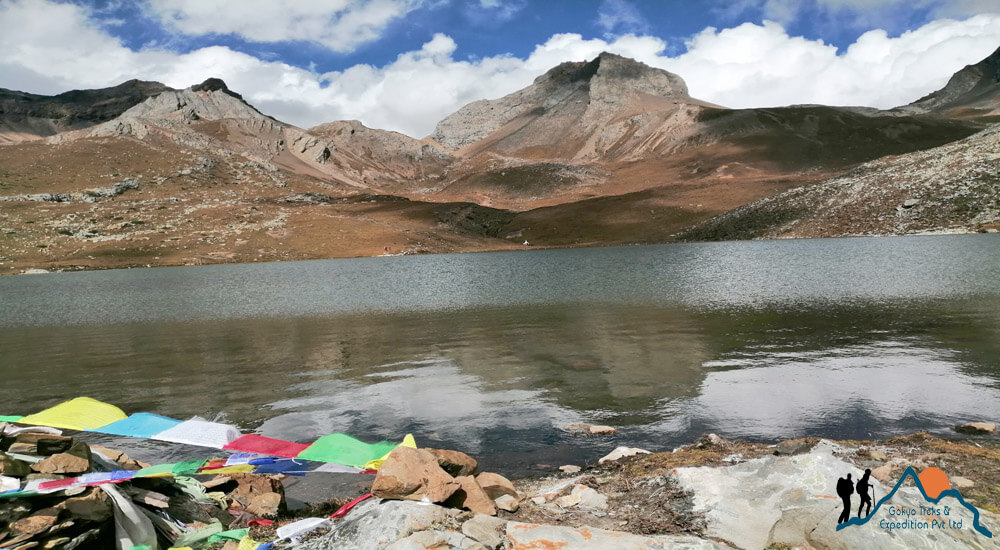 The Kali Gandaki river source is a Nhubine Himal Glacier. In addition, Kali Gandaki Gorge is the world's deepest gorge, skirted by the giant Dhaulagiri and Annapurna Himalayan range. Thorong la is recognized as the widest pass located over rocky moraine at an altitude of 5,416m/17,710 feet above sea level.
In October 2014, something like 43 trekkers were killed because of heavy snowstorms and torrential slides in and around Annapurna, subsequently bringing about Nepal's most noticeably awful truly journeying disaster. The latest report of human loss has been that of 17 January 2020, because of avalanches set off by weighty snowfall.
annapurna circuit trek map
It's easy to get Annapurna circuit trek map from google search but you can also buy a hardcopy map from Gokyo Treks and Expedition's office in Nrs 250 rupees. The map is about 1:50,000 scale with 500 series and publish from Himalayan Map House, Thamel. You can also download the Annapurna circuit map pdf in google
The Best Annapurna circuit trek combines with annapurna base camp itinerary detail.
Circuit trek combine with abc route is also a part of great Himalayan trekking in Nepal. Kaligandaki is the world's deepest gorge, skirted by the giant Dhaulagiri and Annapurna Himalayan range, Rupse is the most astonishing fountain of Nepal and the most beautiful waterfalls in the world. Rupse Falls commonly speaks as a Rupse Chhahara is a beautiful waterfall that lies on the Beni-Jomsom Highway. Likewise, Poonhill is the most demanding trek for sunset & sunrise tours, and annapurna base camp trek is a great place to touch above 8000-meter mountains takes roughly 23 days to complete.
Thorong la mark as the widest pass located over rocky moraine at an altitude of 17,770 feet above sea level. Windstorms and huge snowfall happen every winter season. It is hard to cross over Thorong la pass without taking an expert Guide, especially in the early morning. The circuit is usually the best hike from Manang to Mustang in a counter-clockwise direction.
Annapurna Circuit vs Annapurna Base Camp Trek
According to Gokyo Treks Nepal, many trekkers choose Annapurna Circuit hike as it is the top most popular trek around the world. The Around Annapurna trek falls in the moderate level of difficulty among the other trekking in Nepal. Annapurna short circuit is a relatively more strenuous trek comparing base camp. Yet, unlike the Annapurna Base Camp trek, encircles the entire Annapurna Range. Hike Annapurna Circuit together Annapurna Base Camp marks the longest trek route in the Annapurna range. Hence, AC TREK is harder than the ABC trek.
The most significant is in terms of altitude level and difficult range. Annapurna base camp hike is 4,130 meters whereas circuit trek is 5,416 meters above sea level. In addition, Abc trek is more dangerous in terms of avalanches but circuit Annapurna trek doesn't stay with the avalanche place except for landslides near Thorong La Phedi. However, both adventure begins from 2,625 feet.
How much does for Annapurna Circuit Package Cost/Price?
The cost of Annapurna Circuit Trip Package with a Gokyo Treks & Expedition Pvt Ltd (a local and guide's owned trekking agency in Nepal) ranges between US$ 1,099 to 1,550. It is the standard trip package price for 17 days trek. The cost totally depends upon the group size you are coming with and the month you travel.
The Annapurna circuit trek cost for Indian is cheaper comparing to other foreign tourist because of SAARC Tourist trek permits cost. Additionally, we also have discount offer for tour leader that, if you could bring 10+ travelers (except you) to your trip, you are treated as a group leader. So you can hike Annapurna circuit free of cost.
If you are 2 person and want to make this trip with us, it costs US$ 1,099 for 17 days trek according to this trekking plan. We can able modify the trek routes and the prices according to your wishes also. Here is the price list for the ACT.
Price Per Person for 17 days Trekking
| Number of Tourist | Price Per Person |
| --- | --- |
| 1 Person | US$ 1,550 |
| 2 Person | US$ 1,150 |
| 3 Person | US$ 1,290 |
| 4 to 6 Person | US$ 1,140 |
| 7 to 9 Person | US$ 1,125 |
| 10 and more than 10 Person | US$ 1,099 |
If you're wondering to know about what is included and what is excluded on this trip price, kindly check on cost here on a tab buttun.
Itinerary
Annapurna Circuit Trek itinerary details
Our trek around Annapurna is a classical with 16 days itinerary compared to most walks in this region. The particular route is designed for globetrotters who wish to Annapurna Circuit hiking with a relaxing manner itinerary however if you are planning with limited time-wise? take a look at this special itinerary on Annapurna Circuit short trek – 10 Days which would be a more appropriate choice.
01 Day
Arrival at Kathmandu valley
Upon arrival in Kathmandu at TIA airport, we come to pick you up and transfer you to the hotel. The hotel accommodation in Kathmandu with a breakfast plan. Our representative will brief you on circuit Annapurna trekking information.
02 Day
Micro Bus drive to Besisahar (760m/2,485 feet). Local Bus to Nagdi village, 8 hours.
Around 6:30 am in the morning, our guide will come to pick you up at your hotel. Drive to Gongabhu New Bus Park station to catch the Bus to Besisahar. The distance between Kathmandu and Besisahar is 110 km and the road distance is 174.5 km. While on a drive, you have stunning snow-capped mountain scenery. On arrival at Besisahar, we take a local bus/jeep (passenger collection basis) and drive further Nagdi village via Bulbule Lodges. The total drive requires about 8 hours with an adventure bus ride. Stay overnight at a local guest house.
03 Day
Chamje trekking (1,400m/4,578 feet), 6 hours
Hike to Syange Bazaar. Syange offers with an amazing waterfall located at an altitude in 3,510 feet. As we continue our hikes, cross Marsyangdi River suspension bridge, follow the river to the Jagat before climbing to Chamje.
04 Day
Bagarchhap trek (2,160m/7,063 feet), 5 hours.
The day begins with the rocky mountain trails subsequent the Marsyandi Rivers steadily uphill to Tal at 1675m, the first village of Manang district. We make a trail verse crossing a wide, flat valley.
The journey continues up and down to Dharapani village at 2,200 feet. Bagarchhap is a Tibetan influence village located at an altitude of 7,0085 feet. Local Tibetans design along with the village surrounded by apple Orchards and maize fields.
05 Day
Chame Hotspring trek (2,630m/8,600 feet), 5 hours.
The nature path continue over the jungle, but across the river, to Kopar lodge at 2590m, we can see a chame guest houses. Chame is the Manang district headquarter. We rewards the Annapurna II fine views as you approach Chame & two small hot springs. Along with this travel route, we are introduced to a local community said to have migrated from Tibet a long time past, noticeable by their different features. With them, they have bought local Tibetan house designs and maintained their ways.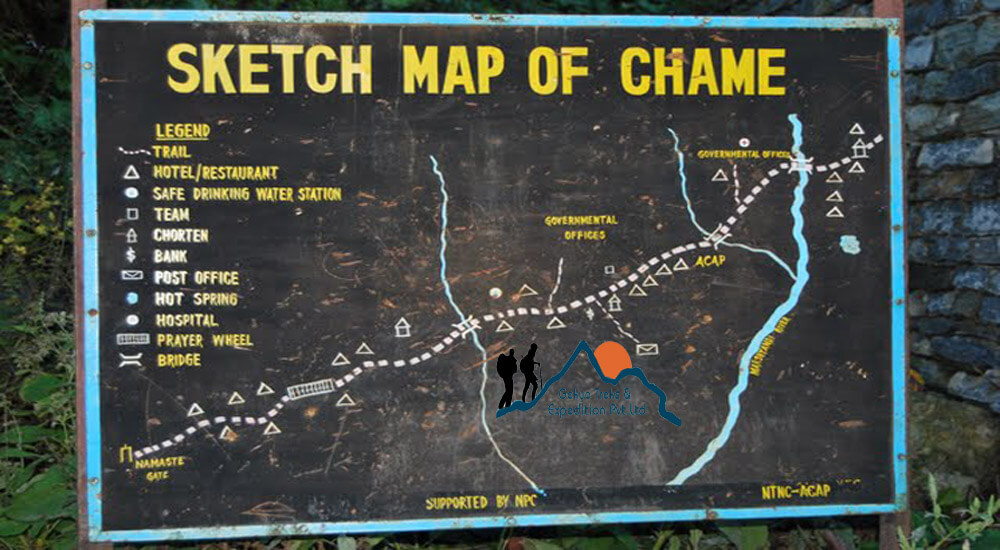 06 Day
Upper Pisang village trek (3,300m/10,791 feet), 5 hours.
The day starts through deep forest in a steep and narrow valley, crosses a river on a long bridge. We cross the bridge and climb Paungda Danda rock face really begins to appear. The impressive trail joins to climb to Pisang, which extends between 3200 – 3300 meters. Upper Pisang village is worthy to hike to see Manangies and their lifestyles staying a bit higher altitudes.
07 Day
Ngawal to Manang hikes (3,540m/11,576 feet), 8 hours.
The cultural trail leads you through the drier upper part of the Manang district, cut off from the full effect of the monsoon by the Annapurna Range. People of this region herd the yaks & raise crops for part of the year. They also continue to enjoy special trading rights gained way back in the 17th century. If you are a nomadic hiker or easy route backpacker, follow the alternate easy trek route to Humde airport alongside the Marsyandi valley.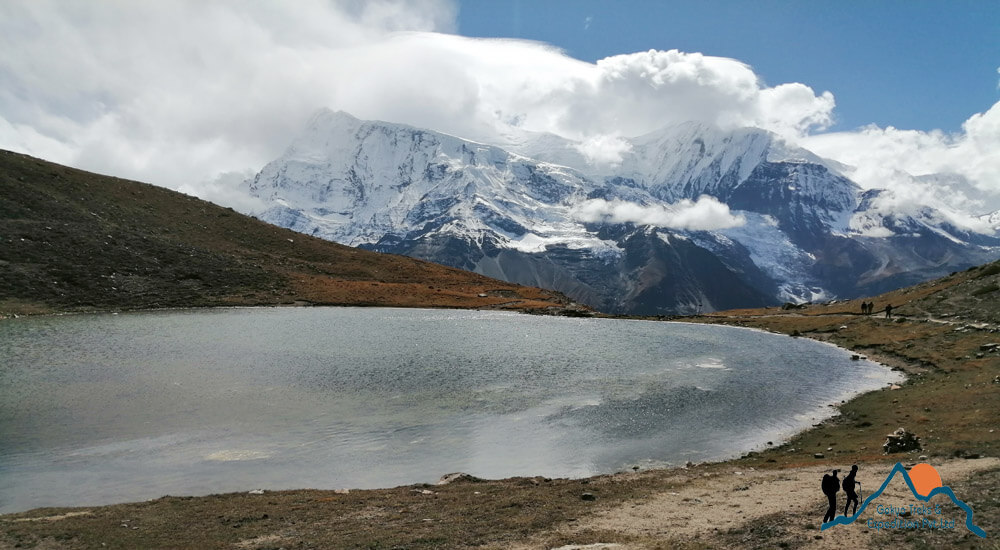 The southern route by Humde, with its airstrip, at 3,325 meters which involves less climbing and easy ascending. The northern route pass over Ghyaru, a typical Buddhist village. Across the Gharu hiking trail, tourists catch a better mountain scenery that follows the northern bank of the Marshyangdi river. This higher trek route is best for the photographer. Furthermore, the hiking trail is totally picturesque, and Braga and Manang villages are partially hidden but impressive.
08 Day
Acclimatization day. Manang village day tour.
Acclimatize day in Manang. Hiking and village excursion is not compulsory. However, we recommend you to spend doing some fine walks to either ice lake or Gangapurna glacier lake. Ice lake Hike is one of the best day hikes in the Trans Himalaya to watch almost the best panorama of Annapurna mountains including Gangapurna plus Tilicho peak and impressive dry valley. Likewise, hike Gangapurna glacier lake is an easy day tour to watch the best view of Manang guest houses and the daytime is best to gain altitude.
09 Day
Yak Kharka trekking (4,050m/13,244 feet), 4 hours.
Hike continues uphill leading through cultivated land of Tanki Manang village. Continue walk along the Jarsang Khola valley, we reach Yak Kharka. You can discern some Himalayan Yaks, grazing on the ground.
10 Day
Thorong Phedi Trek (4,450m/14,552 feet), 3 hours.
After ascending for two hours the grassy Yak trail descends to cross the river at 4310m. We climb further to Thorong Phedi guest house at 4,450 meters passing landslide areas. At Thorong la base camp, the guest houses are nice and clean which also provides very good cuisines, Bakery as well as Internet fasclities.
11 Day
Thorong La pass (5,416m/17,769 feet) ∓ Muktinath Trek (3,800m/12,426 feet), 10 hours.
A hard and challenging day tour starts roughly at 4 am in the morning. Use the best mountain hardware and be ready to hit the trail. At sunrise, we need to set out early to complete to cross over Thorong La pass (5,416m). Nepal hiking journey at Thorong la is the top ten long-distance walks and best hikes in the world. The rocky mountain trail is steep right from the start, but with a slow and steady pace, we should reach the summit within 4 hours roughly.
In addition, Prayer flags await us at the highest point of our hikes. Tourists can buy a cup of tea at the widest pass Thorong la tea shop. Descent to Muktinath town is long, but the journey offers a superb mountain view. Muktinath is a large settlement with several modern comfortable lodges.
Optional Hikes!
Walking long day hikes crossing over Thorong La, perhaps you may tire. So, tourists can take a Bus ride on the adventure road downhill from Muktinath to Tatopani. In this way, the guest can complete the ac trek shorter and quicker. Many backpackers use backpacking travel guides and skip those 3 days hikes and climb again Tatopani to Poon hill to secure breathtaking Sunrise. Thus, hikers can drive from Muktinath to Tatopani road if they have a short time hiking in the Annapurna. So, we are open to your suggestion to modify the special itinerary to make your travel better.
12 Day
Marpha village trek (2,665m/8,715 feet), 7 hours
Hikes at Jharkot shakyapa monastery is to see Buddhist Monks if you want. Walk along with the Kali Gandaki river sandy road. The Gandaki River, also familiar as the Narayani and the Gandak, is one of the major rivers in Nepal and a left-bank tributary of the Ganges in India. We have Lunch at Jomsom Bazaar and walk further to Marpha. Marpha is a lovely village with apple orchards and the sweet smell of cider. Several great bakeries produce apple puff pastry and apple cakes in this village.
13 Day
Trek to Ghasa village (2,013m /6,583 feet), 6 hours
From Marpha to Ghasa is a popular as a Annapurna north view trail because from Kalo Pani area, tourists can observe Annapurna first. But the best view of Annapurna mountains is ultimately from Poon hill tower. Later kalo pani and Lete, we descend steeply through the woodlands to Ghasa, the final Thakali small town and the southern-most limit of Tibetan Shakyapa Buddhism. Kalopani in English is black water because there is a black lake above Kalo Pani villages in Mustang district. Furthermore, the beginning part of the rough trail is stretched at an almost flat level up to Kalopani and begins descending steeply to Ghasa.
The first part of the trek passes through the windy area wrapped with pine trees, rhododendron forests, and birches. The surrounding area of Ghasa is a famous destination for bird watching and wild Marijuana. Mt. Nilgiri North (7061m.)-Central (6940m.), and Nilgiri South (6839m.), Annapurna I (8091m.), Dhaulagiri I (8167m.), and Tukuche peak (6920m.) looks terrific.
14 Day
Tatopani trek (1,190m/3,891 feet), 7 hours
We begin our Tatopani trek and its flagstone-paved streets before following the Kali Gandaki Gorge which is deepest gorge in the world and the last remnants of Tibetan influence in the valley. Our trail takes us through the villages of Dana. Get an impressive Rupse waterfalls as it is a most beautiful waterfalls in the world. Waterfall Rupse is a beautiful waterfalls in Nepal. Our evening's accommodation is in a delightful Tatopani lodge. The meaning of TATO PANI is a hot water in Nepali.
15 Day
Ghorepani trek (2853m/9,329 feet), 7 hours
Likewise, Tatopani takes us away from the Kaligandaki Gorge and towards the Gar Khola River. Scenery changes once again as large rice terraces appears. From Chitre we ascend several steps until we finally see the blue roofs of Ghorepani right above us.
An adventure hikes over mixed forest offers scenic Himalayan and village views. Ghorepani has a strong Tibetan influence, and you could purchase jewelry almost everywhere.
16 Day
Poon Hill Sunrise trek. Descend to Pokhara city, 7 hours
Early morning, hike to poon hill for sunrise view over the Himalayan horizon. Reaching Punhill station, just climb poon hill tower to get an Annapurna Mountain glimpse. Poon Hill hike is located at an altitude of 10,548 feet above sea level for the best mountain view. The hilltop is very popular to see the Himalayan panorama especially in the sunrise over the Annapurna massif. Moreover, tourists can notice Annapurna South, Fishtail, Dhaulagiri, and Blue mountain (Nilgiri),…etc within a row. Get back at the lodge, take breakfast, and start to walk down a hill to reach Hile (1,520m/ 4,970 feet).
After Lunch, we trek 6 hours downhill further easy walking to reach Nayapool where a private taxi transfer is waiting for us. Drive around 1:30 hours to reach Fewa lakeside of Pokhara city. Check-in the hotel and your trekking crew will salute you with your work and last night's celebration together.
17 Day
Drive out to Kathmandu, The capital of Nepal. Final departure day
Morning we'll drive back through the scenic countryside and during the route will stop for breakfast & lunch. It takes 7 hours back to Kathmandu. Right on arrival at Sorekhutte Tourist Bus park, your guide will arrange a transfer to the hotel. In the evening time, we drop you at Kathmandu International Airport for your further flights. We wish you a wonderful journey.
Cost
How much does Annapurna Circuit Trek cost?
Either Annapurna hikes or Annapurna circuit trek price is US$ 1,150 is standard trek price on double occupancy basis. And of course, the trip price will vary according to group size. Taking flights to and from Pokhara saves your time and riding the bus reduces the trip expenses.
In addition, for the comfort – luxury circuit trek option, we add Pokhara – Kathmandu airfare, 3-star category hotel deluxe air-conditioned room in Kathmandu (BB PLAN), and 3-star hotel standard accommodation in Pokhara (BB plan) with attached bathroom while on trekking on possible places on extra cost. AND WE ARE OPEN TO CUSTOMIZE YOUR TOUR AND PACKAGES PRICE AS PER YOUR REQUIREMENTS. International tour leaders are highly encouraged to get discounts and attractive complimentary.
Adventure Annapurna Circuit Trekking Package includes:
Kathmandu international airport transfer by private vehicles.
2 nights Twin sharing basis Tourist standard hotel accommodation in Kathmandu within Breakfast plan
1 night Twin sharing basis Tourist standard hotel accommodation in Pokhara within Breakfast plan
Meals on full board: Breakfast, Lunch and Dinner each day during the annapurna hikes
Fully escorted trek with English speaking license holder local guide and each 2 guest 1 Porter basis.
Annapurna Conservation Area permits and TIMS permits for Trek routes
Nayapool to Fewa lake side of Pokhara transfer with a private taxi.
Bus transfer from Kathmandu – Besisahar and from Pokhara Fewa lake side Tourist bus park to Sorakhutte, Kathmandu.
All land transportation as per written on above itinerary.
Food and accommodation and salary for Nepali trekking staffs.
Security of accedential insurance of guide and porters.
Nepal Government Tax, VAT and as well as Company service charge.
Top Annapurna Circuit Trekking Package Exclude :
Nepal entry visa fee cost US$ 40.
Lunch and Dinner during the staying in Kathmandu and Pokhara city.
Any kinds of battery charges, laundry service, phone calls and hot shower during the trekking.
Personal trekking equipment and Clothing.
Expenses like personal nature, any drinks, deserts and bar bills.
Your travel insurance (it is mandatory in case of emergency).
Any donation and monuments entrance fees.
Tips for the crew (Note : TIPS is not compulsory but highly expected)
Any other things which are not mentioned above
Group join
AC trek in Nepal is also the best day hikes in the world. Many beginner hikers says that crossing Thorong la is the hardest day hikes in the world. However, we can organize private Annapurna Circuit Trek starting at any date that works for you. Please contact us for more information.
Trip Date
Availability
Price
Book
March 20, 2022 – April 06, 2022
USD 1,150
April 05, 2022 – April 22, 2022
USD 1,150
April 10, 2022 – April 27, 2022
USD 1,150
April 25, 2022 – May 11, 2022
USD 1,150
May 05, 2022 – May 22, 2022
USD 1,150
Sept 10, 2022 – Sept. 27, 2022
USD 1,150
Sept 20, 2022 – Oct 07, 2022
USD 1,150
Oct. 05, 2022 – Oct. 22, 2022
USD 1,150
Oct. 15, 2022 – Oct. 31, 2022
USD 1,150
Oct. 25, 2022 – Nov. 11, 2022
USD 1,150
Nov. 10, 2022 – Nov. 27, 2022
USD 1,150
Nov. 20, 2022 – Dec. 07, 2022
USD 1,150
Nov. 30, 2022 – Dec. 17, 2022
USD 1,150
Guaranteed – Trip is Guaranteed to run.
Available – Trip is available to run if minimum group size is filled
Limited – Only few space available
FAQ
Question: Is pick up service available on my arrival day in Kathmandu?
Answer: Yes sure. Provide us your flight details. Our representative will come to pick up you at Kathmandu international airport.
Question: Do I need the experience to do Annapurna Circuit Treks?
Answer: Actually in Annapurna Circuit Trekking is suitable for enthusiastic walkers who can walk around 4 in a day, with a lightweight daypack. If you have little experience with carrying little day packs? better for going around the Annapurna trek.
Question: What kind of accommodation can I expect on express Annapurna Circuit Trekking?.
Answer: We provide you tourist standard accommodation in Kathmandu and lodge accommodation at trek routes. Rooms at the guesthouse are clean with a comfortable bed with a nice mattress and blankets. However we recommend you take your own sleeping bags if you have one with you otherwise, you may rent them while you are in the Kathmandu gears shop.
Question: What kind of food can I expect in rapid Annapurna round trek?.
Answer: All the lodges on round Annapurna treks, have attached restaurants. They cook a yummy range of mostly vegetarian meals such as Pasta, tuna bakes, noodles, potatoes, eggs, curry rice, bread, soups. The dinner and breakfast are provided in the same lodge you spend the night every day and Lunch will be provided on the way to the next place where you are going.
Question: What opportunities will I have for a shower along Annapurna Circuit lodge Trek?.
Answer: Over the lodge hikes, they have a hot shower which you can get often on pay. Although, if you upgrade your accommodation plan to a double bedroom with a private toilet bathroom then the cost of a hot shower will not charge extra. So please let us know the types of rooms you want to have for circuit Annapurna hikes.
Question: How do I get drinking water on AC lodge Trekking?.
Answer: Hikers can buy water at a safe drinking water station in various hiking camps. Tourists can purchase bottled mineral water either at hotels or at local shops en route. But, we advise against buying mineral water in plastic bottles, as currently there are no provisions for disposing of plastic waste in the mountains. So, we advise you to bring Aqua tablets to purify normal water to drink. Normal tap water is available in almost every station, stream, river, and village.
Question: Can I charge my digital camera or other batteries on my Annapurna Circuit tour?.
Answer: As you go lodge basis trek, you can certainly charge the battery. We recommend you bring an extra pair in case. Remember to bring your own adapters! An extra battery will be recommended.
Question: Are there any communication facilities on Annapurna circuit hiking?.
Answer: Around Annapurna hiking route, Tourists can purchase a local NTC sim card to get the telephone and 3G Internet facilities.
Question: Can I use credit cards in Trekking?
Answer: No! So, for the AC trek, you need to have cash Nepali rupees because credit cards don't accept in the mountains.
Question: Is Annapurna Circuit still worth it?
Answer: There is no question or confusion that traveling Annapurnas is certainly worth doing. As talked about it is feasible to stay away from the motorable road in many places because of New Annapurna Trek Trail [NATT]. Both of these treks are acceptable choices in case you are searching for a hotel-based journey in Nepal.
Question: When should I book my trip and what are the payment terms?
Answer: Because our trips book up months in advance, we recommend booking early to avoid any kind of misunderstanding. We will, of course, make every effort to hold last-minute bookings.
And regarding the down payment, we prefer 20% advance deposit of the total price of the trip in order to confirm your reservation before you arrive in Nepal. And the remaining part of the payment can pay on your arrival in Nepal.
Question: Who will carry my luggage quickest around Annapurna Treks?.
Answer: We do provide porters to transfer your luggage. As we are a responsible trekking tour operator agency, each of our porters carries a maximum of 25 kilos of your backpack which means 2 guests (12.5 kg luggage of each guest): 1 porter basis.
Question: How much distance do I walk each day?.
Answer: When walking in the mountains, the distance you cover each day can vary greatly due to a gradient, terrain, and altitude. The total length of the hiking route varies between 160–230 km (100-145 miles), depending on where motor transportation is used and where the trek is ended. This trek crosses Marshyangdi and Kali Gandaki river valleys and encircles the Annapurna Massif. As such it is very hard to give specific distances each day. However, you need to prepare roughly about 5-6 hours daily.
Question: Where is around Annapurna Trek located?.
Answer: Annapurna Circuit is equally popular as around Annapurna trek. Magical around Annapurna goes over the widest Thorong la pass. The total length of around the Annapurna trek route varies between 160–230 kilometers (100-145 miles). It is depending on dirt road transportation is used and where the trek is ended.
Question: Is Annapurna Circuit dangerous?.
Answer: Thorongla 5,416m mark one of Nepal's widest passes and one of highest passe crossing it is potentially dangerous. In terms of altitude acclimatization, the safest hike goes from Manang to Mustang which is east to west. Nature walk up to the pass from Manang is typically a soft adventure with less difficulty. But it is a long way at high elevation, which can cause problems. Likewise, every year solo trekker has been missing in the Himalayas losing the right trail at the high altitude because of walking alone without hiring a guide and porter.
Question: How dangerous is Annapurna?.
Answer: Of the 14 peaks over 8,000 meters (26,200 feet), Annapurna was the first to be climbed, in 1950 by French Expedition, but it's also the least climbed and the most dangerous. According to Gokyo Treks and expedition, with a death rate of 35 percent, compared to K2's 26.5 percent and Mt. Everest's 3.87 percent, Annapurna is the deadliest mountain in the world.
Question: Is it possible to hire a trekking guide? how to hire a local trek guide for ac trek?.
Answer: Yes of course. If you are not happy to go with the complete full board package trip, still you can hire our expert guide to make your holiday tour safer. However, visit a guide and porter hire or email us for your detail travel inquiry.
Question: Do I need trek poles?.
Answer: It is better to trek with trekking poles. Before hiking in Nepal, learn how to use trekking poles. It helps you balance and stability, whether on the sidewalk or on hiking trails. Walking poles can help prevent slips and falls. They are just recommended but not obligatory.
Question: How much additional money do I need per day?.
Answer: You can allocate US$ 08 – 10 for a lunch/dinner in Kathmandu and it depends on your spending habits. US$ 7 to 10 US$ each day will be enough to buy bottles of water, chocolates, tea coffee, and some drinks while you are on trek.
Annapurna Circuit Trek
100%
5
star based on –
209
Based on TripAdvisor Reviews
Gokyo Treks was really affordable and easy to liaise with. We texted Ammar on a regular basis prior to the trip to clarify details, and he was always very responsive. The guides and porters catered to our needs and the side treks that we wanted to go for, but they were also wary about our safety and were honest with the risks involved. The guides took good care of our meals, and made sure we were well enough when we fell ill from the cold and AMS. They were really awesome! Thank you Bishnu, Sabin and Bir. Highly recommend!, – Grumpy Cheng, Singapore.
Around Annapurna Circuit 16 days
100%
5
star based on –
304
Based on TripAdvisor Reviews
We pre-booked a guide with Gokyo less than a week before the start date and chatted with Ammar to arrange the details. He asked us to send a deposit of 100usd which seemed fair and although it felt a little unsecure to make a money transfer before meeting the guy, we understood his reason.
Upon arrival in Katmandou, Ammar and Kamal whom would be our guide for the next 16 days came to meet us at our hotel and finalized the details.
The next morning, Kamal came to pick us up at our hotel and we left for the bus to Beshisahar, where we started the trek.
Kamal Bahadur Khatri, speak a good English, and is probably the best guide we could have hired. He was very friendly and became a good friend during our time together. He went beyond our expectations and always make sure we'd stop in the best tea house and often deal for our room rates.
My wife got terrible blisters and was forced to continue with sandals for some time. Kamal kindly proposed to carry her bag when badly needed. When we arrived at Manang, the weather forecast was not good and Kamal made the call to push a little and go through Thorang La Pass before the snowstorm (wich blocked the way and kept many trekkers for almost a week).
We were debating either hire a guide or go by ourselves, but im pretty sure that giving the time of the year, the weather and our trekking experience, we would not have made it through without Kamal.
Overall, our experience with Gokyo tour agency was great, but mainly because our trek with Kamal was absolutely amazing. – Bencon C, England

Epic Hiking Trails – Annapurna Circuit 15 Days
100%
5
star based on –
233
Based on TripAdvisor Reviews
Gokyo has done a wonderful job in making our hiking trip a success. Ammar was very helpful and responsive in our planning stage by addressing most of our concerns and followed up closely with our group.
Shreeram was assigned to us as our guide and we were so lucky to have him. We were well taken care of throughout the trek. Shreeram was always checking up on us and making sure we were doing ok. He was attentive to our needs and always willing to accommodate us. He was observant and quick to solve our minor issues along the way, i,e my shoes were almost broken on Day 1 (i din't even notice) but he noticed it and immediately super glued it during lunch and now my shoes are stronger than before! Most importantly, we felt safe and comforted throughout the trek.
Credits to the entire team including our 2 strong and fast porters Dev ∓ Surendra for bringing us across Thorong La Pass and back down to Kathmandu safely with our bags. I am very happy with Gokyo Treks services. The itinerary was well organized and flexible according to our pace. Guide/porters were super chilled and fun people to hang with! We had so much fun together! This trip was filled with wonderful scenery and epic trails because we had experienced and capable people to guide and advise us along the way. Thank you!, Lee Janey, Quala Lumpur, Malaysia.

Annapurna Circuit Trek Review
100%
5
star based on –
216
Based on TripAdvisor Reviews
I did the Annapurna circuit and had a wonderful time. The circuit is a bit touristic, but still the nature is phenomenal and in the off season its really not crowded, in May the weather is still great. I did the tour with a great company which Id like to write about here.
Gokyo Treks ∓ Expeditions are really professional and care a lot about their costumers. They can provide you nearly everything and the prices are really reasonable, especially compared to other trekking agencies. Everyone I met were very friendly and welcoming and I always had a good feeling travelling with Gokyo Treks. I did the Annapurna circuit with one guide and had an excellent experience, so from my point I can just give a strong recommendation.
If you have any questions or need for information feel free to contact me: napoleon.d@web.de. – Joschka Plume, Hamburg, Germany

Brilliant hospitality, service and organisation
100%
5
star based on –
214
Based on TripAdvisor Reviews
I returned home about 10 days ago from an amazing trip in beautiful Nepal! I booked trekking in Annapurna in advance with Gokyo Treks and Expedition and could not be happier about my decision. Ammar Guni, manager of the agency, offered me to stay at his house in Kathmandu before and after the commencement of the trekking.
Ammar and his family treated me as a friend, not as a client. They are very warm people who ensured I am well and safe and made me feel at home. The house is located about 25′ by taxi from the airport in a quiet neighborhood and is just a 20′ walk on foot from touristic Thamel, which makes it an excellent location to explore Kathmandu. Ammar organized the trekking to perfection. He was proactive in informing me prior to my departure to the weather conditions that could affect my trekking and suggested alternatives.
Ammar assigned me as porter-guide Kamal. I could not have been more content. Kamal is the best guide ever. He took care of me when I was sick and made sure that I eat properly and take my medicine, selected nice tea houses and bargained accommodation prices, motivated me when the altitude and exhaustion had taken a toll on me, in short, he was my guardian angel during the whole trekking. He is an experienced and knowledgeable guide and a beautiful soul. Judging from Kamal, I am 100% that all the guides, who work at Gokyo Treks, are experienced and reliable.
Apart from organizing the trekking, Ammar also informed me of sights I could visit during my stay at Kathmandu and even booked the taxis to and from the airport, always at the best prices. Moreover, his nephew accompanied me on the day of my arrival at the city center to purchase trekking equipment.
With all these services Ammar went far beyond his role as a trekking agent. The professionalism, generosity, and hospitality of Ammar, his team, and his family are exceptional! He made my trip to Nepal a memorable experience. I could not have chosen a better agency. I will definitely be back! If you have doubts, whether to book with Gokyo trekking or not, just BOOK -Aikaterini Sylla, Brussels, Belgium,
The best Annapurna Circuit Trek
100%
5
star based on –
164
Based on TripAdvisor Reviews
This past May (2016) I completed the Annapurna Circuit in 15 days, largely thanks to the guiding services provided by Gokyo Treks and Expedition. At the start of my trip, I had planned to hike Manaslu but due to an illness with my trekking partner, I had to change plans last minute. Fortunately, Ammar (owner of Gokyo) was able to help me and provide info, which ultimately led to me choosing Annapurna. During my 2 days in Kathmandu, Ammar and his family also provided a very nice and convenient homestay while helping me prepare for my trek (buying jackets, etc.).
The trek itself was everything I had imagined and more – my guide, Kamal (KC) was helpful and knowledgeable. He knew the best routes to take and provided me assurance, help, and motivation when necessary (i.e. when I had some stomach issues). KC was also more than just a guide – by the end, he became a friend. He's somebody I felt very comfortable around, kept things interesting, and even taught me some Nepalese (bistare bistare). I'd highly recommend not only Gokyo Treks but also KC as a guide. Additionally, the prices offered by Gokyo were the best I could find when compared to several other agencies. Finally, the services Gokyo provides to the community (schools, tutoring, etc) made it a no brainer to choose them. Hopefully, this review will help others make their decision – having an experienced guide made everything so much easier (knowing what lodging, food places, etc.) – George Alver Robert,
Best Agency with Best Guide
100%
5
star based on –
298
Based on TripAdvisor Reviews
My Big plan was trekking Annapurna Circuit, but almost halfway to Thorong La the weather became worsen. And my guide Bharat Dhakal adviced me not to continue because its too dangerous. Very disapointed at that time. But after reading news that some people missing because of the landslide, I really thank to Bharat. He saved my life. For Gokyo trek agency and Ammar, they gave me really good price. Thank you so much guys. Will be back next year. – Jordanio A Bhaktinegara, .

Annapurna circuit – Thorong la trek
100%
5
star based on –
304
Based on TripAdvisor Reviews
We had a very tight schedule and Ammar (the owner) worked with us to create a schedule that worked with the time and budget we had allocated.
We had a great time with this trek. Our guide (Ram) and porter (Devi) are wonderful and we cannot recommend them enough. Ram and Devi listened to our requests and adjusted the pace and journey based on how we where feeling. Everything was really well organized once we leave Kathmandu. The guide was very attentive to our health and always give great suggestions. This company is owned and operated by Nepalese, using local companies is better for the economy of Nepal.
The weather was wonderful (November) and the trip was everything we hoped for. – Monika and Jerry, Texas, USA.

Annapurna Circuit trekking Best experience
100%
5
star based on –
161
Based on TripAdvisor Reviews
Ammar Raj Guni is a perfect and very reliable agent for arranging your trekking. He has also much experience as a guide, so he always knows where he is talking about. His prices are really competitive. His calculations were transparant, our trek was some days longer then arranged, but at the end we got no unexpected costs. He works with local people from the small villages and he treats them very socially. So during the two days we stayed at his house, we felt ourselves very comfortably. I strongly recommend his agency if you're visiting Nepal. – Doreleijers Hendrikus, Geldrop, The Netherlands.
Annapurna Circuit Trek Highlights
Picturesque villages, turbulent river gorges with nice waterfalls.
Visit almost ancient Buddhist monastery in Braga village – Go to visit the beautiful Manang village also
Thorong La (5,416m) is the highest and widest pass of this valley offers an awesome view of the complete Annapurna massive.
The Pilgrimage town of Muktinath, Typical Eco-Museum in Jomsom, Views of Dhaulagiri Icefall, The world deepest gorge in the Kali Gandaki River valley.
Best time to hike Annapurna circuit
There are mainly two best seasons for Annapurna circuit hikes. They are springtime (March, April, and May) and autumn (mid-September to late November). Basically, these months are the busiest times though, and the trail gets rowdy. If you want to avoid the crowds then there is the option to trek during winter. However, you will need to be fairly hardy as the temperatures can drop quite dramatically, particularly at night. Likewise, you can hike in the summertime while the temperature is warm but rains often. Thus, the best time to visit Thorong la pass trek is obviously April and October. So you can touch the pristine Himalayas and marvelous landscapes. Due to cross Thorong La pass difficulties, the circuit is usually walked in a counter-clockwise direction.
We at Gokyo Treks agency run Annapurna circuit trek group every time of year. We also have some trips to circuit Annapurna every wintertime. So, book your trip with us on your favorite date to departure with our leading professional AC trek guide.
Magic Annapurna circuit trek 14 days
The 14 days Annapurna Circuit Trek commences at Besisahar the foothill of Lamjung Himal. Trek ascends all the way uphill to the widest Thorong la pass. Our circuit trek 14 days will end at Beni Bazaar walking via the New Annapurna trekking trail (NATT Trail). The 14 days Annapurna circuit hike is possible also in winter but better to go further by checking the weather forecast. Crossing Thorong la is a moderate hazard in the wintertime so better to prepare well hiking gears accordingly.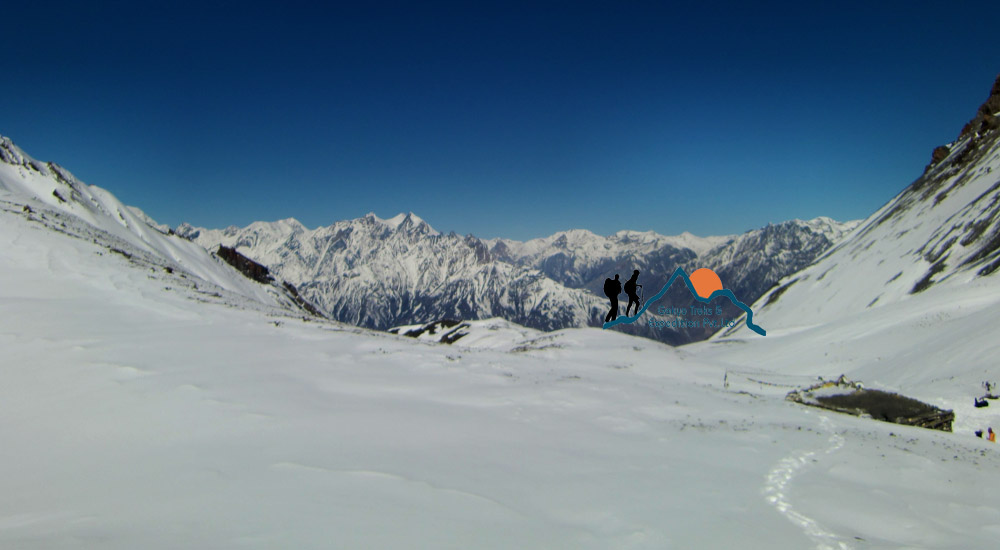 Traveling clockwise the longer ascent and shorter descent from west to east is too much for many people to manage in one day. Annapurna Circuit Trek can be done any time throughout the year.
Annapurna Circuit Trek Note:
The Annapurna Circuit Hike information stated above is just a standard template guideline. If you are a domestic tourist and searching for annapurna circuit trek cost for Nepali? ask us for the best deal. Although, the nature trail is possible to customize at your request to accommodate your specific requirements. Local politics, landslides, cancellation of local flights, weather, transport, or a multitude of other factors that are beyond our control can result in a change of itinerary en route.
It is, however, very incredible that the itinerary would be extensively altered. If alterations are necessary the leader will decide the best alternative option, taking into consideration the best interests of the whole group. Where a change does occur, we do everything we can to minimize its effect, but we cannot be responsible for the results of changes or delays.
What makes Annapurna Circuit Trek special?
Opportunities for challenging nature walks and pleasant strolls are scattered all over this planet. You just need to know where to find them. We at Gokyo Treks and Expedition believe in quality services. Your safety and satisfaction is our concern. We are a team of professional, experienced, and licensed local guides who know the destination better. Not only this but also we give benefits to the local communities and helps to conserve natural resources which reduced costs and consumption.
From US$ 1210
5% Off
US$ 1150
| | |
| --- | --- |
| No. of people | Price Per Person |
| 1 | USD 1550 |
| 2 | USD 1150 |
| 3 | USD 1290 |
| 4 - 6 | USD 1140 |
| 7 - 9 | USD 1125 |
| 10 + | USD 1099 |
Book Now
Customize Trip
Cost & Departures
Your Trip Your Style!
ITINERARY, COST, DEPARTURES, will adjusted according to your GROUP SIZE NEED TIME
Book with Confidence
Lowest Price Guaranteed.
Excellent Customer Service
Hassle Free Booking.
90 % Repeated customers
Travelers Recommended agency
Local Guide's owned company.
Reference person
Contact in Germany
Klaus Kummer : +49-367-2351-957
Martin Aigner: +49 7904 7428
Contact in USA
John Erwin: 212-222-6389
Beth Pekol, Chicago: +1 312-364-8924
Eve Quesnel, California: 530-5879-113
Contact in Australia
Mark Panico: +61 434 784 995
Contact in France
Anne Claire Srdoc: +33 683 549 096
Contact in Austria
Verena Laner: +43 650 7110 301
Dorothee Plunger:+43 512 565 255

Contact in Switzerland
Dominik Lee, Zürich: +41 079 3826 028