Kongde Peak Climbing Summary
Kongde Climbing Duration: 13 Days
Kongde Climbing difficulty: Moderate to Strenuous
High Altitude: ‎6,187m /20,299 feet
Trek hours: 6 Hours
Group-Size: 2 – 8 People
Best Time to Climb: March, April, May, October, and November
Trip Mode: Lodge + Tent Camp
Foods: Breakfast, Lunch, and Dinner
Transportation: Car/Plane/bus
Overview
The Kongde peak climbing itinerary covers the highlights of the Everest massif, villages, and the glacier. Kondge ridge is a common peak that is situated in the Mahalangur mountain range into the depth of Mount Everest, Solukhumbu District, Nepal.
The Kongde peak is equally popular as a kwandge peak climbing in Nepal. It is opened for climbing under the National mountaineering association in 1975. NMA declares to climb Kongde Peak in a group B category mountains. The summit offers a splendid view of Everest (8,850m), Nuptse (7,879m), Lhotse (9,501m), Lhotse Shar (8,383m), Makalu (8,475m), Baruntse (7,720m), and Thamserku, Cho-Oyu, etc.
The usual ascent to Kongde Peak is marvelous. It is depending on the conditions but is difficult to ascend. Professional climbers should attempt these peaks, though it is partially saved with fixed ropes.
According to our past climbers, we have designed the Kongde peak climbing itinerary cautiously to allow for gradually ascending and proper acclimatization. The best season to climb is either March to May or September to mid-November months. If the itinerary is not suitable for you, we design another itinerary as per your request and the duration of the holiday.
Itinerary
The Kongde peak climbing itinerary details.
Our Kongde peak climbing 13-day itinerary is a sample plan. Climbing travelers, who wish to go up to the Kongde summit by taking a normal plan or want to have a private customized plan? email us your thoughts.
01 Day
Arrival at Kathmandu valley
Upon arrival in Kathmandu, Tribhuwan International Airport, we will receive you in a private vehicle and transfer you to a hotel in Kathmandu. Our representative will brief you on to climb of Kongde Peak travel plan information.
02 Day
Cultural heritage site of Kathmandu City Tour, 7 hours.
Visit the prime cultural heritage sites in Kathmandu Valley with professional Tourist Guide Ammar. The day tour includes the Pashupatinath temple, Bouddhanath Stupa, Swayambhunath, and a historical Kathmandu Durbar Square. In the evening, pre-trip conversation with our fellow trekking staff for your adventure trip.
03 Day
Kathmandu to Lukla flight and hike to Bengkar village (2630m/8,629 feet), 5 hours
Take an early plane from Kathmandu to Lukla terminal at 2,840m, seat at north side to get a better look. Upon arrival at Lukla bazaar, meet our entire group, have breakfast, and proceed to hikes. The journey goes further with a gentle rise in the mountainside of the Dudh Koshi River. Passing several Sherpa localities, we reach Bengkar village.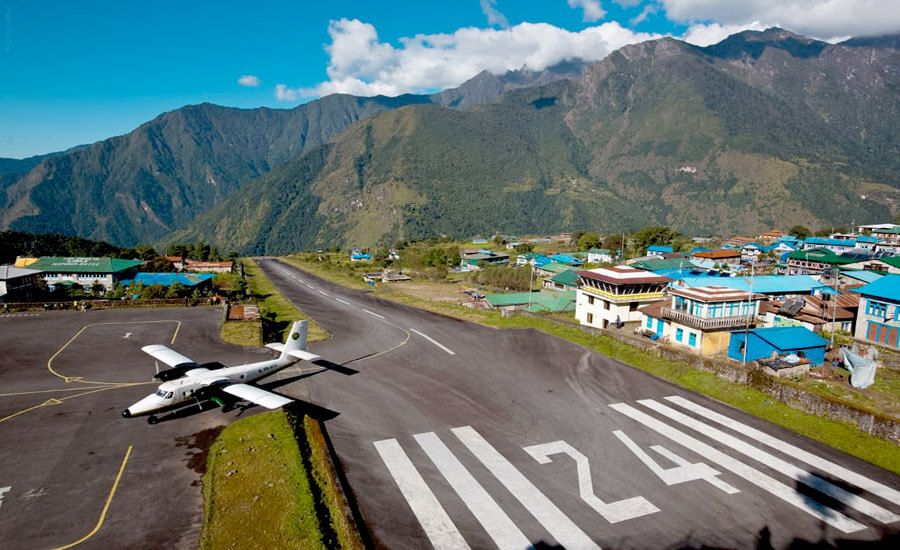 04 Day
Namche Bazaar hikes (3,440m/11,286 feet.), 6 hours
The trail ascends through the Koshi riverbank into the mountain, through a forest to Chumoa. We continue along the trail with many ups and downs; cross a stream, and pass by the tiny Monjo village. We come to the Sagarmatha National Park office to pay for entrance fees. Crossing over the Hillary Bridge, the trek begins the steep ascent to Namche Bazar. On the way, we have first-rate Everest (8848m) and Lhotse (8516m) mountain views. Namche Bazaar is a central core of the area for food, hiking gear, and other necessary goods.
05 Day
Khumjung trek (3,780m/12,402 feet). Sengboche hill hikes, 3 hours
We start with a steep one-hour climb to the Sengboche airstrip (3790m). We ascend slowly uphill towards Khunde passing numerous chorten (stone Buddhist monuments) and hill stations. Tourists can see an excellent view of Mt. Everest, Ama Dablam, Nuptse, Lhotse, Tawche, Kwangde, Thamserku, and more mountains in a row. Khumjung is almost flat ground, a foothill of Khumbila mountain.
06 Day
Khumjung to Thame Trek (3,800m/12,468 feet), 4 hours
We walk up to the Thamo passing the forest and terraced farmlands. In Thamo, we can visit the Khari Gompa where we find Nuns and monks. From there we ascend to the Thame village sprawling village. From the village, we can see the stunning view of the mountains like Thamserku, Kananga, Kusum Kanguru, etc.
07 Day
Kongde Base Camp Trek (4,910m/16,110 feet), 5 hours
Only very few climbers demand to climb kwangde peak. So during the climbing journey, the trekking and climbing crew have to make a little path to go. Therefore it takes more time than expected.
08 Day
Climb Kongde High camp (5,464m/17,927 feet), 5 hours
You can prepare climbing gear and be ready for demo climbing with your climbing guide. Hike to high camp however today's climbing journey is a little tough as the trail is rough rocky moraine.
09 Day
Kwangde Summit climbing (6,162m/20,217 feet). Return to Kongde base camp (4,910m/16,110 feet), 8 hours
Check all gears and ready to climb Kwangde peak. It is a tough adventure mountain to climb. Because of the ice rocky trail, reaching the summit at 20,219 feet is not easy but the view is awesome. You can see the best Everest view including several other high mountains within a row. Return to the base camp to clean and stay overnight.
10 Day
Descend to Phakding village (2,610m/8,563 feet), 6 hours
Your downhill journey is picturesque today. The journey starts from the windy base camp to the Dudh Kosi river bank at Phakding village. You can see your ultimate way to the Everest Trail that you took 8 days before. This route is unique, as the settlements are just off the main trail and the Sherpa here don't usually see trekkers.
11 Day
Return to Tenjin Hillary airport at Lukla Bazaar (2,840m/9,318 feet), 4/5 hours
An easy tours today to get back at Lukla airport. We travel to Lukla Bazaar with the same trail that we use on our ascending. It is the last day of our climbing. Our guide will go to the airline counter to reconfirm the return light to Kathmandu for the next morning.
12 Day
Scenic Mountain flight from Lukla to Kathmandu Tribhuvan international airport.
We board our early flight from Lukla to Kathmandu terminal. Upon arrival at Kathmandu Tribhuvan international airport, we arrange a return transfer to your hotel. In the afternoon, go shopping or request us to discover Kathmandu as a guided trip at an additional cost.
13 Day
Final departure day
Drop you in Tribhuwan International Airport (TIA) onward your final destination flight. Trip ends. Wish you a wonderful trip back home.
Not satisfied with above plan?
Are you interested in planning a custom trip? this might take 2 to 3 minutes.
Cost
How much does Kongde peak climbing cost?
The Kongde peak climbing cost USD 2390 is the standard trek price on a double occupancy per person basis. For the deluxe and luxury trekking tour plan, we add a 3-5 star category hotel deluxe air-conditioned room in Kathmandu valley with a breakfast plan. Tourist standard room accommodation with the attached toilet/bathroom in possible places en route. AND WE ARE OPEN TO CUSTOMIZING YOUR TOUR AND PACKAGE PRICE AS PER YOUR REQUIREMENTS.
Kongde peak climbing cost includes:-
Kathmandu international airport picks up on your arrival in TIA by private vehicle.
2 nights double bedroom Tourist standard hotel accommodation in Kathmandu with breakfast plan.
Government license holder – Professional Trekking Guide for complete trip
Professional NMA REGISTERED Mountain Guide [salary, bonus, equipment & Insurance] for Kongde peak climbing (2 nights 3 days).
Domestic flight tickets Kathmandu – Lukla – Kathmandu round trip with applicable airport taxes
12 Breakfast, 10 Lunch, and 10 Dinner during the trekking and climbing days
Clean lodge accommodation during the trekking and Tent accommodation with unlimited climbing foods while on peak climbing time.
Required a number of porters during the trek (one porter = one guest basis) because our porter can carry a maximum of 24 kg of your bag pack.
Kongde Peak climbing permit fees, Sagarmatha National Park entrance fees, and also Pasang Lamu Municipality entrance fees.
Group climbing equipment including ropes, ice screws, snow bars, harness… etc.
Well-paid salary, food, accommodation, and insurance of Nepalese staff.
Agency's duffel bag (50 liters capacity), and trek poles if Necessary – return after the trek.
First aid medical kit including Oximeter to check your Oxygen level, Pulse rate every day to save from high altitude risk.
In a worst case, help with all Helicopter Rescue and evacuation arrangements (but not the rescue bills).
Nepal Government Tax, VAT, and as well as Company service charge.
Kongde peak climbing cost exclude :
Lunch and Dinner during the staying in Kathmandu city.
Any kinds of battery charges, laundry service, phone calls, and hot showers during the trekking.
trekking and climbing equipment (personal) and Clothing.
Personal nature expenses, any drinks, and bar bills.
Travel Insurance which covers emergency rescue, evacuation, personal loss, or damage.
Any donation and monument entrance fees.
Gratuities for climbing crew [Tip is a culture, so they expect highly].
Any other things which are not mentioned above
Group join
We can organize private Kongde peak climbing starting on any date that works for you. Please contact us for more information.
FAQ
Question: Do I need experience with Kongde peak climbing?
Answer: Climbing mountains in the Himalayas is not easy. If you have some hiking experience something above 4000 meters with a lightweight backpack, you can do this trip. But if you have some basic climbing skills before ascending to Kongde peak is better and safer.
Question: Is pick up service available on my arrival day in Kathmandu?
Answer: Yes sure. Provide us with your flight details and request for pickup. Our representative will come to pick up you at Kathmandu international airport.
Question: Can I store my luggage/stuff in Kathmandu?
Answer: Yes, you can leave your luggage at your hotel or at the agency office. Store your stuff in the Gokyo Treks agency office for free.
Question: Is Kongde peak climbing Safe for Solo Female Climbers?
Answer: Absolutely. Nepal is a safe country to travel to for solo climbers; this journey is perfectly safe for solo female climbers. We have been organizing the trek and climb even for female travelers since its establishment.
Question: What kind of accommodation can I expect on Kongde peak climbing?
Answer: We provide you tourist standard accommodation in Kathmandu and a normal room during the hikes. The rooms are clean comfy beds with nice mattresses and blankets. However, we recommend you take your own sleeping bags if you have one with you. Otherwise, you may rent it while you are either in Kathmandu or in Lukla Bazaar.
Question: What kind of food can I expect in Kongde peak climbing?
Answer: The guesthouses along the trek routes have attached restaurants. They cook a delicious range of mostly vegetarian such as Pasta, tuna bakes, noodles, potatoes, eggs, rice curry, bread, and soups. Dinner and breakfast are provided in the same guest house you spend the night every day and Lunch will be provided on the way to the next place where you are going. Despite that, for climbing days you will have climbing food served with hot drinks such as tea/coffee prepared by our professional cook.
Question: What opportunities will I have for a shower along with climbing and trekking?
Answer: Guest house trekking all the lodges they have a shower which you can get it on pay.
Question: How do I get drinking water on Kongde peak climbing?
Answer: There are hotels and shops where you can buy bottled mineral water. However, we advise against buying mineral water in plastic bottles, as currently there are no provisions for disposing of these. We recommend you bring chlorine tablets to purify the normal water as the normal water is available at the campsite along the way.
Question: Can I charge my camera or other batteries on my trip?
Answer: Until Kongde foothills, Guests can recharge a battery in the guest houses on pay. We advise you to bring an additional pair in case. Remember to bring your adapters! And we recommend you take extra batteries along with you.
Question: Are there any communication facilities for Climbing kongde peak?
Answer: Everest Link is an internet service provider founded in 2014 that provides high-speed internet and Wi-Fi in the Everest Region. It is the only internet provider at the Kongde climbing trail, making it the world's tallest internet service.
If you wish to stay connected with better WIFI to your family, friends, or business, we suggest you buy Everest Link internet. It's better than other NETWORK connections and you can buy an Everest link card easily in the shops, hotels, or any small lodges in the Everest zone.
Question: Can I use a credit card in Trekking days to pay my extra expenses?
Answer: No. You need to have cash Nepali rupees because credit cards work only in bigger cities or in luxury hotels.
Question: When should I book my trip and what are the payment terms?
Answer: Because our trips book up months in advance, we recommend booking early to avoid any kind of misunderstanding. We will, of course, make every effort to accommodate last-minute engagements.
And concerning the down payment, we prefer 20% advance deposit of the total price of the trip in order to confirm your reservation before you arrive in Nepal. And the rest of the payment can be made after your arrival in Kathmandu.
Question: Who will carry my luggage on express Kongde peak climbing?
Answer: We provide porters to transfer your luggage. As we are a responsible trekking tour operator agency, every porter carries a maximum of 25 kilos of your backpack which means 2 guests (12.5 kg luggage of each guest): 1 porter basis.
Question: How much distance do I walk each day?
Answer: When walking/trekking in the mountains, the distance you cover each day can vary greatly due to a gradient, terrain, and altitude. As such it is very hard to give specific distances on each day, however, you have to be prepared to walk roughly about 5 hours each day.
Question: Where can I organize my personal climbing gear?
Answer: If you have those climbing gear at your home bring them along with you. If you don't have them, you can rent them either in Kathmandu or at Name Bazaar.
Question: How much additional money do I need per day?
Answer: You can allocate US$ 08 – 10 for a lunch/dinner in Kathmandu and it depends on your spending habits. US$ 7 to 10 US$ each day will be enough to buy bottles of water, chocolates, tea coffee, and some drinks while you are on your trek.
Kongde peak climbing highlights
Discover the eye-catching sights of Mt Everest, Lhotse, Nuptse, Makalu, Thamserku ..etc
Kongde peak summit offers the best scenery of all Khumbu mountains and sherpa villages.
Sherpa Buddhism, ancient Buddhist monastery, Local sherpa people and their lifestyles.
Notes for Kongde peak climbers!
The climbing kongde information stated above is just a standard guideline. However, the trip is possible to modify at your request to accommodate your specific conditions. Local politics, landslides, local flight cancellation, weather, transport, or a multitude of other factors that are out of our control can result in a change of schedule during on trip.
It is, still, very unlikely that the itinerary would be substantially altered. If modifications are necessary the leader will decide the best alternative option, taking into consideration the best interests of the whole group. When a change does occur, we do everything we can to minimize its effect, but we cannot be responsible for the results of changes or delays.
"What makes Kongde peak climbing special?"
Opportunities for adventure peak climbing are scattered all over this planet. You just need to know where to find them. We at Gokyo Treks and Expedition believe in quality services. Your safety and satisfaction are our prime concerns.
We are a team of professional, experienced, trained, and licensed local guides who know the objective much better than others. Not only this but also we give benefits to the local communities and help to conserve natural resources which reduced costs and consumption.
Kongde peak climbing Traveller's Review
There are no reviews yet. Be the first one to write one.
From US$ 2946
5% Off
US$ 2390
| | |
| --- | --- |
| No. of people | Price Per Person |
| 1 | USD 2799 |
| 2 | USD 2390 |
| 3 | USD 2380 |
| 4 - 6 | USD 2325 |
| 7 - 9 | USD 2250 |
| 10 + | USD 2125 |
Book Now
Customize Trip
Cost & Departures
Your Trip Your Style!
ITINERARY, COST, DEPARTURES, will adjusted according to your GROUP SIZE NEED TIME
Book with Confidence
Local Guides Company.
18 Years in Business.
Lowest Price Guaranteed.
100% Customizable Trips
Excellent Customer Service
Hassle Free Booking.
90 % Repeated customers
Highly Recommended agency
Private/group tour options