Expedition Summary
Annapurna expedition duration days: 52 Days
Expedition difficulty: Extreme Technical
Annapurna i Height: 8,091m / 26,545 feet
Climb hours: 6 Hours average
Climber Group Size: 1 – 8 People
Best for Summit climb: April, May and June Month
Trip Mode: Full board Tent Camping
Meals: Breakfast, Lunch, and Dinner
Transportation: Private Jeep / Car
Overview
Mount Annapurna I expedition is rarely attempting in a mountain, the world's most treacherous mountains to climb. First Annapurna is only the tenth tallest mountain in the world, but it ranks as one of the most dangerous. The mountain is located in Nepal along a 55-kilometer (34-mile) ridge just east of the Gandaki River, which has carved one of the deepest river gorges in the world.
For the first time in the expedition history, Maurice Herzog led a French expedition to its summit through the north face in 1950, making it the first eight-thousand-meter peak ever successfully climbed. The entire Annapurna massif and surrounding area are protected within the 7,629-square-kilometre (2,946 sq mi) Annapurna Conservation Area, the first and largest conservation area in Nepal.
The word "Annapurna" is derived from Sanskrit meaning the giver of food and nourishment. Anna signifies "food" or "grains" and pūrṇa signifies "full, complete, and great. It is accepted that Mount Annapurna in the Himalayas is named after her as the goddess is accepted to be one of the little girls of Himavat, the lord of the mountains. The Western world names her the "Hindu God of Cooking," thinking of her as having a relationship with food things. The Annapurna Conservation Area is home to several world-class treks, including Around Annapurna Trek and Annapurna Sanctuary .
The Annapurna summit at 8,091m offers a gorgeous view of Annapurna mountain itself and some other supreme mountains that include mountains Dhaulagiri, Fish Tail, Lamjung Himal, Tukuche Peak, Nilgiri – Blue Mountain, and Manaslu peaks. The summit of Annapurna is a really aesthetic point with stunning 360º views and nothing higher around. The mighty Annapurna is difficult to climb comparing other greatest peaks in the Himalayas.
Annapurna I has the greatest fatality rate of all the 14 eight-thousanders. As of March 2012, there have been 52 deaths during ascents, 191 successful ascents, and nine deaths upon descent. The ratio of 34 deaths per 100 safe returns on Annapurna I is followed by 29 for K2 and 21 for Nanga Parbat.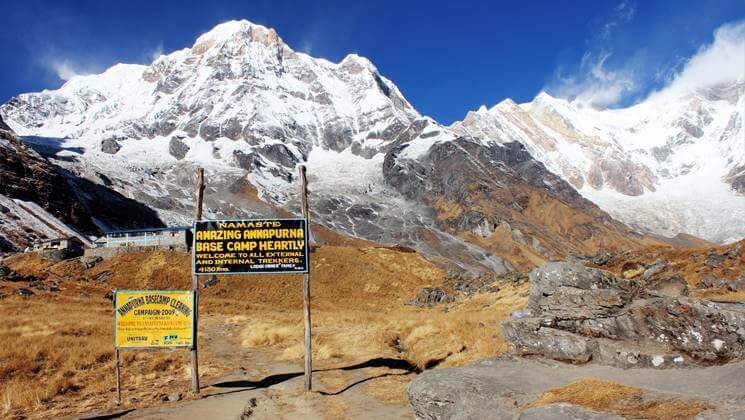 Therefore, before climbing the Annapurna summit, we advise you highly that you complete at least two to five international or high-altitude climbing expeditions. Vinson Mount, Aconcagua, Denali, and Himalayan mountains such as Tent Peak (Tharpu Chuli) , Chulu East Peak , and Lobuche East Climbing are all marvelous preparation.
Guided or non-guided
A coordination just undertaking will be less expensive yet you should act naturally sufficiently on the mountain. Guiding trips clearly incorporate an episode for the guide, which is more costly for a western guide compared to a Nepali Sherpa Guide.
Bottled oxygen or not
The vast majority is bottled oxygen yet for the rare sorts of people who don't, it's saving. One bottle costs around US$ 465 and most customers utilize seven on a standard endeavor.
Itinerary
Mount Annapurna I expedition itinerary details.
Our Annapurna ist Mountain expedition 42 days itinerary is just a sample plan. Expedition in the Annapurna climbing itinerary is very special. As per our past climber's suggestion, we have designed the Annapurna 1 expedition itinerary cautiously to allow for gradually ascending and proper acclimatization. If the itinerary is not suitable for you, we modify the expedition travel plan as per your request and the duration of the holiday. We are happy to send you the detailed expedition travel itinerary at your request.
Cost
How much does the Mount Annapurna I expedition cost?
The Mount Annapurna 1 expedition cost is roughly US$ 14,850 is the standard trek price on a double occupancy per person basis. But of course, the trip price will vary as per expedition group size. For the deluxe and luxury trekking tour plan, we add a 5-star category hotel deluxe air-conditioned room in Kathmandu with a breakfast plan. AND WE ARE OPEN TO CUSTOMIZE YOUR TOUR AND PACKAGES PRICE AS PER YOUR REQUIREMENTS.
Mount Annapurna I expedition cost includes:
Airport transportation as per your arrival date to join the Annapurna Ist expedition.
4-star category hotel accommodation in Kathmandu on Bed with Breakfast plan
Domestic flight: Kathmandu to Pokhara and return round trip airfare as per the expedition itinerary.
Jeep transfer from Pokhara Airport to Ghandruk village and return from Himal Pani (foothills of Ghandruk guest houses) both ways as per climbing above climbing plan.
Full board high altitude meal while trekking to base camp and climbing Annapurna Ist
Annapurna I summiteers climbing Sherpa (01 Sherpa: 02 climber's ratio)
Required number of porters as per the expedition group size.
Group climbing gears like rope, ice bar, etc for the Annapurna Ist expedition.
Annapurna I expedition peak climbing permit and all government taxes.
Annapurna conservation area permit fee for the expedition.
Liaison officer with all his expenses while on the Annapurna 1 climbing expedition.
Expedition Manager, Expedition cook, support crew, and porters with their types of equipment, daily wages, food, insurance, etc.
All camping gear including base camp tents, dining tent with table and chair, kitchen and toilet tent, etc
Mountain Hardware high altitude tents while climbing the Annapurna I mountain
Emergency Oxygen with regulator and mask while on the Annapurna first expedition.
EPI gas and burner for the high climb.
Gamow bag / Portable Altitude Chamber (PAC) All necessary climbing hardware group equipment
Agency's duffel bag (50 liters capacity) and hiking poles if Necessary – return after the trek.
Satellite Phone and Walkie-Talkie in case of emergency (pay guest).
First aid medical kit including Oximeter to check oxygen level and Pulse rate every day to save you from higher risk.
In a worst case, help with all Rescue and evacuation arrangements (but not the rescue bills).
Nepal Government Tax, VAT, and as well as Company service charge.
Mount Annapurna First expedition cost excludes :
Lunch and Dinner during your staying in Kathmandu town.
Medical and personal high-risk insurance.
First Annapurna Summit climbing bonus US$ 500 USD minimum for each climbing Sherpa guide.
Applicable permit fees and custom charge for Sat phone, communication equipment, and commercial filming while on Annapurna I expedition.
Any kinds of battery charges, laundry service, phone calls, and showers en route.
Personal trekking and climbing equipment ..
Personal nature expenses, any types of alcoholic drink, and bar bills.
Your travel insurance (it is mandatory in case of emergency).
Any donation and monument entrance fees.
Gratuities for the expedition staff [Tip is a culture, so they expect highly].
Any other things which are not mentioned above.
Group join
We can organize a private Mount Annapurna 1st expedition starting at any date that works for you. Please contact us for more information.
FAQ
Question: What sort of accommodation can I expect on the Mount Annapurna I expedition?.
Answer: You will have tent accommodation while on trekking and climbing days.
Question: Is pick up service available on my arrival day in Kathmandu, Nepal?.
Answer: Yes sure. Supply us with your flight details, We will come to pick up you at Kathmandu international airport.
Question: Can I store my luggage/stuff in Kathmandu or in Pokhara?
Answer: Yes, you can leave your luggage at your hotel or at our office. Store your stuff in the Gokyo Treks agency office for free.
Question: Is this trekking Safe for Solo Female Trekkers?
Answer: Absolutely. Nepal is a safe country to travel to for solo travelers; this trek is perfectly safe for solo female trekkers. We have been organizing the Annapurna base camp trek even for solo female travelers since its establishment.
Question: What kind of food can I expect in the Mount Annapurna 1 expedition?.
Answer: Our professional cook cooks a delicious range of mostly vegetarian foods. They are like noodles, potatoes, Pasta, tuna bakes, eggs, bread, soups, and fresh vegetable rice until base camp. From base camp to Annapurna 1 expedition day, Tourists will have climbing food. They are depending upon the available seasons. We serve food with hot drinks such as tea/coffee.
Question: How do I get drinking water on expedition Annapurna Himalaya?.
Answer: We serve you pure drinking water after purifying using AQUA TABS while on camping days.
Question: Are there any communication facilities on Climbing Annapurna?
Answer: We can help you to arrange a satellite phone to call in an emergency and you pay on a call basis. So, you can acquire telephone services.
Question: When should I book my trip and what are the payments terms?.
Answer: Because our trips book up months in advance. We recommend booking early to avoid any misunderstanding. About US$ 10,000 non-refund­able deposit upon con­fir­ma­tion of your eli­gi­bil­i­ty to join the expedition. US$ 9,000 non-refund­able bal­ance due 100 days pri­or to departure. Likewise, If you transfer money to our bank account, you should pay also the bank service charge.
No refunds on the deposit, nor bal­ance pay­ment will be pro­vid­ed for Expe­di­tion due to the huge expense incurred planning/​facilitating such an expedition. And the rest of the payment, you can pay on your arrival in Kathmandu, Nepal.
Question: Who will carry my luggage?
Answer: We do provide a high-altitude porter/Sherpa to transfer your luggage depending upon the group size.
Question: Where can I organize my personal climbing gear?
Answer: Hiring the best expedition gear is a must as you go 8,000 mountain climbing. The branded gears are expensive as their life is longer than cheaper gears. Nonetheless, If you have those climbing gear at your home bring them along with you. If you don't have them, you can rent them in Kathmandu.
Question: How much additional money do I need per day?
Answer: You can allocate US$ 08 – 10 for a lunch/dinner in Kathmandu and it depends on your spending habits. US$ 12 to 15 US$ each day is almost enough to buy bottles of water, chocolates, tea coffee, and some drinks while you are in Kathmandu.
Mount Annapurna I expedition highlights
Discover the eye-catching sights of Annapurna mountains including Mt Manaslu, Dhaulagiri, Fish Tail, Gangapurna..etc.
The summit offers the best scenery of popular mountains in Annapurna massif.
Experience the Eight thousand (8,000 meters) mountain climbing and super popular hiking trail.
Adventure Annapurna Climbing Permit Cost
Annapurna 1 expedition permit fees totally depend upon the expedition season that you apply to attempt. Normally the climbing permit cost in the spring season is US$ 1800, in the autumn season US$ 900, and for the winter and summer seasons is US$ 450 per person. In addition, there are other fees for example a trash fee of $3,000 for a group.
Mount Annapurna first expedition Note.
The Annapurna 1 expedition information stated above is just a standard template guideline. The expedition plan is possible to tailor at your request to accommodate your specific terms. Local politics, landslides, local flight cancellation, weather, transport, or a multitude of other factors that are out of our control can result in a modification of schedule during travel.
It is, nonetheless, improbable that the agenda would be generously adjusted. On the off chance that adjustments are essential the pioneer will choose the best elective choice, thinking about the best worries of the entire gathering. Where a change happens, we do all that we can to limit its impact, yet we can't be liable for the after-effects of changes or postpone them.
What makes Mount Annapurna 1st expeditions special?"
Opportunities for adventure climbing – expeditions in a low elevation mountain are scattered all over the planet Earth. You just need to recognize where to find the tallest one. We at Gokyo Treks and Expedition agency believe in quality services. First safety and success is our prime concern.
We are a team of professional, experienced, trained, and licensed local guides who know the purpose much better than others. Not only this but also we give benefits to the local communities and help to conserve natural resources which reduced costs and consumption.
Expedition Annapurna Traveller's Review
There are no reviews yet. Be the first one to write one.
US$
| | |
| --- | --- |
| No. of people | Price Per Person |
| 1 | USD |
| 2 | USD |
| 3 | USD |
| 4 - 6 | USD |
| 7 - 9 | USD |
| 10 + | USD |
Book Now
Customize Trip
Cost & Departures
Your Trip Your Style!
ITINERARY, COST, DEPARTURES, will adjusted according to your GROUP SIZE NEED TIME
Book with Confidence
Local Guides Company.
18 Years in Business.
Lowest Price Guaranteed.
100% Customizable Trips
Excellent Customer Service
Hassle Free Booking.
90 % Repeated customers
Highly Recommended agency
Private/group tour options