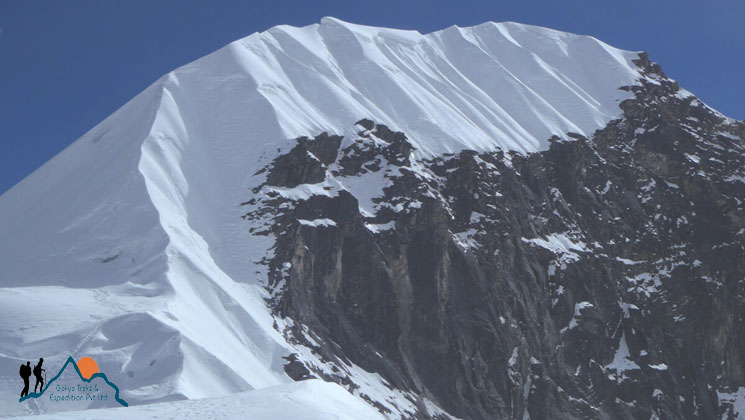 Tent Peak climbing Summary
Peak climbing Duration: 13 Days
Climbing Grade: Moderate adventure
Summit Height: 5,663m / 18,580 feet
Walking Hour: 6 Hours daily
Group-Size: 1 – 14 People
Best Time to Climb: March, April, May, October, November and December
Trip Mode: Guest House + Tent Camping
Meals: Breakfast, Lunch, and Dinner
Transportation: Car/Plane/Bus
Overview
Tent Peak Climbing is a mind-blowing and challenging approach in the Annapurna region of Nepal. Majestic Tent Peak is equally popular as Tharpu Chuli peak and offers the best view of Annapurna massive including the Gangapurna and Fishtail mountains.
Furthermore, Tent peak is located on the lap of Annapurna's first and less technical challenging itinerary specially designed for adventure trekkers. The itinerary covers perhaps the most underlined scenery of local people's lifestyles, pristine rivers, wildlife, and the mystical Annapurna range within Annapurna hikes.
Hikes at Annapurna sanctuary are a part of our journey. You can see the tallest Annapurna mountains, Gurung villages, splendid landscapes, lush green forests, and some of the oldest local inhabitants along the trip.
It has a great opportunity to experience the local Magar and Gurung community hospitality. Moreover, climbing the Tent peak summit is a great adventure but the summit provides an excellent view of almost the top summit highlights of the Annapurna region.
In addition, climbing Tent peak is the top most popular trekking peak in the Annapurna zone, Nepal. Roughly 5% of visitors of Modi valley, plan to climb because Tent peak deaths are very very low, and possible to climb except in winter months.
How much is the Tent peak Climb Package Cost/Price?
The cost of the Tent peak climbing package with a Gokyo Treks Agency (local climbing operator agency in Nepal) ranges between US$ 1595 to US$ 1980. Of course, the Tent peak climbing cost will vary as per the service you choose. However, the given package price includes transportation, a guide, porters, hotels and food accommodation and hiking permits, facilities.
It is the standard climbing package price for 13 days climb. If you are 2 people Tent Peak climb cost US$ 1750 for 13 days for summit climbing according to the given trekking plus climbing plan. We can modify the climbing itinerary and the prices according to your wish. Here is the price list for the Tent peak climb.
Price Per Person for 13 days for Tent peak climb.
| Number of Tourist | Price Per Person |
| --- | --- |
| 1 Person | US$ 1980 |
| 2 Person | US$ 1750 |
| 3 Person | US$ 1725 |
| 4 to 6 person | US$ 1698 |
| 7 to 9 Person | US$ 1650 |
| 10 and more than 10 Person | US$ 1595 |
If you're wondering to know about what is included and what is excluded from this trip price, kindly check on the cost given on a tab button.
Itinerary
The Tent Peak Climbing itinerary detail
Annapurna sanctuary hikes combined with Tent peak climbing have 13 days itinerary compared to most walks in this region leading up to the summits. The Tent peak route map is designed for a world explorer but is restricted time-wise. But for travelers who wish for sanctuary trekking plus climbing in a more relaxed manner then try this itinerary. However, if this itinerary is not fit you then send us an inquiry for a bespoke itinerary.
01 Day
Arrival at Kathmandu valley. The world heritage site of Kathmandu valley sightseeing, 4-5 hours.
Arrival in Kathmandu, Tribhuwan International Airport, we pick you up and drop you at your hotel in Thamel, Kathmandu. After refreshments, we start with our guided sightseeing to cultural world heritage sites in Kathmandu valley. It includes visits to the Pashupatinath temple, Hindu pilgrimage sites, the world's biggest Bouddhanath Stupa, and historical Kathmandu Durbar Square. You can see the sights with the Hindu temple, Buddhist monastery, gompas built with unique architecture, and Kumari (living goddess) in central Kathmandu. Evening pre-trip discussion and introduction with our fellow climbing team staff for your adventure tent peak climbing trip.
02 Day
Morning fly to Pokhara city. Jeep drive to Kyumi & Trek to Jhinu (1,780m), 7 hours
We come to your hotel to pick you up and arrange to go to Kathmandu domestic airport terminal. You can fly to Pokhara, which takes about 25 minutes roughly. You can see the stunning landscapes and mountain views from the aircraft while on Kathmandu to Pokhara flight.
Pokhara is very popular for the panoramic view of the majestic Himalayas such as Annapurna, Machapuchare in the north, Dhaulagiri peak in the west, Lamjung Himal, and Manaslu in the east. Reaching Pokhara, Meet the entire team and straight drive to Kyumi passing via Nayapoo l and Birethanti bazaar. The journey takes about 6 hours roughly for an overland drive and Jhinu village hiking.
03 Day
Dobhan Guest house hiking (2,520m/8,268 feet), 7 hours
Hike to Jhinu hot spring in the morning for sightseeing (if you wish). In addition, the trail climbs steadily up the side of the valley to Chomrong village. Chomrong village is also the best place to get a brilliant Himalayan view of mount Annapurna south and Hiunchuli and the virgin peak Mount Fishtail (Machhapuchhre). We hike and continue to Dobhan where we stay overnight.
04 Day
Trek to Hinko cave / Deurali lodge (3,200m/10,499 feet), 6 hours
Today, your hikes go within the dense bamboo forest and you can see 2 lodges at Himalaya Hotel. Leaving the hotel Himalayas, we ascend up to Hinko cave. If you are lucky enough, you can see wildlife like wild boar, monkeys, rhesus, and other wild birds including the Danphe pheasant. Hinko cave is basically one of the borderlines for extreme adventure avalanches. Almost every year, trekkers are swept away by massive avalanches in wintertime. Cross the river bank and hike up to Deurali lodges.
05 Day
Annapurna Base Camp hikes (4,130m/13,550 feet), 5 hours
There are two different trails ahead of us; we follow the best way according to the season to Bagar and to Fishtail base camp. These areas are the most possible for avalanches and always be careful during the basecamp hike. Later Bagar, hike to base camp is safe.
06 Day
Visit Annapurna Base Camp hill station for photography.
Today is a rest day to acclimatize your body. So you can hike to the Annapurna base camp viewpoint for photography. Check your climbing gears and ready to go further.
07 Day
Tent Peak Base Camp hikes (4,250m/13,944 feet), 6 hours
Leave your trekking crew at the basecamp. Take your climbing gear and ready to go tent peak base camp with your climbing guide. The journey takes roughly about 6 hours if the weather is clear enough. Stay overnight in a Tent camp.
08 Day
Climb High Camp (5,230m/17,160 feet), 4 hours
Today, you can go to high camp which takes about a four-hour journey to walk over the grassy moraine. Preparation for climbing gear for the next morning. Stay overnight in a Tent camp.
09 Day
Tent peak climbing day (5,695m/18,685 feet). Get to the summit and Descend to Base Camp (4,130m/13,550 feet), 9 hours
Very early morning, begin to climb to the summit around 2-3 AM at night with the help of headlight. We climb on a rocky trail for about 2 hours. We walk on level snow for around an hour, then climb on a steep slope of 70 degrees for about 100 meters to get summit which is tough. So, we use fixed ropes to reach the final summit. After successfully ascending the tent peak summit, we go down to the final Annapurna base camp cleaning the high camp.
10 Day
Descend downhill to Dovan lodges, 9 hours
After breakfast, walk all the way to normal basecamp. The trail follows along with the stream of the Modi River. You can see the sunrise with a natural Panoramic spectacular view from the trail. Furthermore, we can see Annapurna 1st, Annapurna south, Barah Shikhar, Tent peak, Machapuchhare Hiunchuli..etc. Not only this but also you can get a glimpse of several other snowy peaks within 360 deg angles in a row. Furthermore, hike downhill to Machapuchhare base camp (mbc) for lunch. We can meet the entire crew either in ABC or in mbc and descend to Dovan passing a rocky mountain trail. Stay overnight at Dovan guest houses.
11 Day
Dobhan to Jhinu Hot spring hiking (1,780m/5,840 feet), 7 hours
The trail descends to Jhinu Danda leads through bamboo and Rhododendron forest with superb mountain view from Sinuwa. Have in mind, that the trail from Dovan to Bamboo is most subject to avalanches also. The trail leads down and up to stone steps to Chhomrung village. And descend down to Jhinu Danda where we can enjoy natural hot springs on the banks of the Modi River.
12 Day
Jhinu Danda to Nayapul. Drive out to Pokhara city
After breakfast, the trek leads through intermittent bamboo and mixed forest. During the journey, you can pass through several villages, terraced and as well as flat land. You will have a plane surface from Syualibazar until Nayapool. After checkout from the Annapurna Conservation office, we trek 30 minutes furthermore to reach Nayapul where the car is waiting. Overland drive to Pokhara in a car takes about 90 minutes.
13 Day
Overland drive to Kathmandu city. Refreshments and drop to international Airport.
Morning we'll drive back through the scenic countryside and during the route will stop for breakfast & lunch. It takes 7 hours back to Kathmandu. Upon arrival at Kathmandu, we drop you at Kathmandu International Airport onward to your final destination and our trip ends.
Not satisfied with above plan?
Interested in planning a custom trip? this might take 2 to 3 minutes.
Cost
How much does Tent peak climbing Package Price?
Many climbers are demanding to go Tent peak climbing 1 night 2 days package after basecamp. Gokyo Treks Nepal agency is aware of those issues and If a guest requests such service, we can arrange climbing permits, guide, food, and climbing gears to attempt the summit.
For the deluxe and luxury trekking tour plan, we add a 3-5 star category hotel deluxe air-conditioned room in Kathmandu & Pokhara City with breakfast. Likewise, a comfortable room accommodation with a standard toilet/bathroom in the possible places en route. AND WE ARE OPEN TO CUSTOMIZING YOUR TOUR AND PACKAGES PRICE AS PER YOUR REQUIREMENTS.
Top Tent peak climbing cost includes:
Kathmandu international airport pick up on your arrival at Kathmandu airport with a private car.
Single night double bedroom accommodation in a Tourist standard hotel in Kathmandu.
Single night double bedroom accommodation in a Tourist standard hotel in Pokhara lakeside.
A high experience, helpful, friendly, knowledgeable, English-speaking well trained, Government license holder climbing Sherpa Guide [salary, Transport, equipment, and insurance].
Domestic flight tickets Kathmandu to Pokhara one-way trip with applicable airport taxes
12 Breakfast, 12 Lunch, 11 Dinner during the Tent peak climbing and trekking days.
Guest House accommodation during the trekking and Tent accommodation while climbing the tent peak.
Kathmandu city world heritage sites tour guide with a private car transfer service.
Required a number of porters during the trek. (one porter = 1 guest basis) because each of our porters can carry a maximum of 24 kilograms of your bag pack.
Tent peak climbing permit fee, and Annapurna conservation permit and TIMS permit fee.
Tent accommodation with unlimited climbing foods while on peak climbing time
Group climbing equipment including main ropes, ice screws, …. etc.
Well-paid salary, food, accommodation, and insurance of Nepalese staff.
Agency's duffel bag (50 liters capacity), and trek poles if Necessary – return after the trek.
First aid medical kit including Oximeter to check your Oxygen level, Pulse rate to monitor every day to prepare for high altitude risk.
In a worst case, help with all Helicopter Rescue and evacuation arrangements (but not the rescue bills).
Tent peak climb map and Climbing Certificate of successful climbing – keep them as souvenirs
Nepal Government Tax, VAT, and as well as Company service charge.
Tent peak climbing cost exclude :
Lunch and Dinner during the staying in Kathmandu city.
Any kinds of battery charges, laundry service, phone calls, and hot showers during the trekking.
Trekking and climbing gears for each foreigner (personal) and clothing.
Personal nature expenses, any types of drinks (except climbing days), and bar bills.
Travel Insurance which covers emergency rescue, evacuation, personal loss, or damage.
Any donation and monument entrance fees.
Gratuities for climbing crew [Tip is a culture, so they expect highly]
Any other things which are not mentioned above
Group join
As checking Tent peak facts, the climbing tour is possible to complete within 10 days, if you wish to go express to Tent peak climbing. However, we can organize private Tent Peak Climbing starting on any date that works for you. Please contact us for more information.
FAQ
Question: Is pick-up service available on my arrival day in Kathmandu?.
Answer: Yes sure. Provide us with your flight details and request for airport pickup. Our agent will come to pick up you at TIA, Kathmandu international airport.
Question: Do I need experience in Tent peak climbing?
Answer: Climbing tent peak is suitable for professional trekkers who can walk about 5 hours daily with a lightweight rucksack. If you have some walking experience somewhat above 3000 meters, you can complete the Tent peak successfully attempt.
Question: What kind of accommodation can I expect on climbing Tent peak?
Answer: We provide you tourist standard accommodation in Kathmandu and during the trekking normally but the rooms are clean cozy bed with nice mattress and blankets. However, we recommend you take your own sleeping bags if you have one with you otherwise, you may rent them while you are in Kathmandu.
Question: What kind of food can I expect in Tent peak climbing?.
Answer: The guesthouses en route have an attached restaurant. They cook a delicious range of mostly vegetarian such as Pasta, tuna bakes, noodles, potatoes, eggs, bread, soups, and rice with seasonal vegetables. Moreover, dinner and breakfast are provided in the same lodge you spend the night every day and Lunch will be provided on the way to the next place where you are going. However, on climbing days you will have climbing food that serves with hot drinks.
Question: What opportunities will I have for a shower along with climbing and trekking?.
Answer: Guest house trekking all the lodges they have a shower which you can get it on pay.
Question: How do I get drinking water on Tent Peak Climbing?.
Answer: During the trekking route there are all places hotels and shops where you can able to buy mineral water and you can buy it for drinking but however we advise against buying mineral water in plastic bottles, as currently there are no provisions for disposing of these. We recommend you bring chlorine tablets to purify the normal water as the normal water is available at the campsite along the way.
Question: Can I charge my digital camera or other batteries on my trip?
Answer: During the guest house trekking there will be chances to charge the battery on pay. We recommend you bring an extra pair in case. Remember to bring your adapters! And we recommend you take extra batteries along with you.
Question: Are there any communication facilities at Tent peak climbing?
Answer: In this trek route, you can get telephone services as well as internet services.
Question: Compare the Tent peak vs Kilimanjaro peak climbing and hiking?.
Answer: According to our climbers says, climbing up Mt Kilimanjaro sounds like an incredible encounter. We get the sense it's more a test of patience, stamina or endurance, and high mountain altitude sickness rather than something that is physically challenging. It is great to hear why you think climbing Mt Kilimanjaro is an incredible challenge.
However, Climbing Tent peak is a better adventure than Kilimanjaro as it is located in the depth of the Modi river valley. The trip starts with a fleet and goes up to 20,300 feet within a short span of time.
Question: Can I use credit cards in Trekking?.
Answer: No. You need to have cash Nepali rupees because credit cards don't accept in mountain lodges. Credit cards accept only in bigger cities to pay for restaurants and lodges.
Question: When should I book my trip and what are the payments terms?.
Answer: Because our trips book up months in advance, we recommend booking early to avoid any kind of misunderstanding. We will, of course, make every effort to accommodate last-minute bookings.
And regarding the deposit, we prefer 20% advance deposit of the total price of the trip in order to confirm your reservation before you arrive in Nepal. And the rest of the payment can be made after your arrival in Kathmandu.
Question: Who will carry my luggage on express Tent Peak Climbing?
Answer: We provide porters to transfer your luggage. As we are a responsible trekking tour operator agency, every porter carry a maximum of 24 kilos of your backpack which means 2 guests (12 kg luggage of each guest): 1 porter basis.
Question: How much distance do I walk each day?
Answer: When walking/trekking in the mountains, the distance you cover each day can vary greatly due to gradient, terrain, and altitude. As such it is very hard to give specific distances for each day, however, you have to be prepared to walk for roughly about 5 hours each day.
Question: Do I need walking poles for Tent Peak Climbing?
Answer: It is better to hike with walking poles. Learn how to use trekking poles for balance and stability, whether on the sidewalk or on trails. Walking poles can help prevent slips and falls. They are just recommended but not compulsory.
Question: Where can I organize my personal climbing gear?
Answer: If you have those climbing gear at your home bring them along with you. If you don't have them, you can rent them from the Thamel gears shop.
Question: How much additional money do I need per day?
Answer: You can allocate US$ 08 – 10 for lunch/dinner in Kathmandu. It depends on your spending habits. US$ 7 to 10 US$ each day will be enough to buy bottles of water, chocolates, tea coffee, and some drinks while you are on your trek.
Tent Peak Climbing highlights
Discover the best Himalayan view in 360 deg angle from the Tent peak summit.
Best view of Mt Annapurna, Fishtail, Hiunchuli, and Gangapurna ..etc
Challenging Tent peak summit offers the best Mountain scenery in of the Annapurna district.
Local Gurung and Magar communities, hospitality, and their daily lifestyles.
Notes for Tent peak climbers!
Impressive climbing Tent peak information stated above is just a standard template guideline that we serve you. However, the climbing plan is possible to modify at your request to accommodate your specific requirements. Local politics, landslides, cancellation of local flights, weather, transport, or a multitude of other factors that are beyond our control can result in a change of itinerary en route.
It is, however, very unlikely that the itinerary would be substantially altered. If alterations are necessary the leader will decide the best alternative option, taking into consideration the best interests of the whole group. When a change does occur, we do everything we can to minimize its effect, but we cannot be responsible for the results of changes or delays.
"What makes Tent Peak Climbing special?"
Opportunities for adventure peak climbing are scattered all over this planet. You just need to know where to find them. We at Gokyo Treks and Expedition believe in quality services. First safety and success is our prime concern.
We are a team of professional, experienced, trained licensed local guides who know the destination much better than others. Not only this but also we give benefits to the local communities and help to conserve natural resources which reduced costs and consumption.
Tent Peak Climbing Review
There are no reviews yet. Be the first one to write one.
From US$ 1842
5% Off
US$ 1750
| | |
| --- | --- |
| No. of people | Price Per Person |
| 1 | USD 1980 |
| 2 | USD 1750 |
| 3 | USD 1725 |
| 4 - 6 | USD 1698 |
| 7 - 9 | USD 1650 |
| 10 + | USD 1595 |
Book Now
Customize Trip
Cost & Departures
Your Trip Your Style!
ITINERARY, COST, DEPARTURES, will adjusted according to your GROUP SIZE NEED TIME
Book with Confidence
Local Guides Company.
18 Years in Business.
Lowest Price Guaranteed.
100% Customizable Trips
Excellent Customer Service
Hassle Free Booking.
90 % Repeated customers
Highly Recommended agency
Private/group tour options