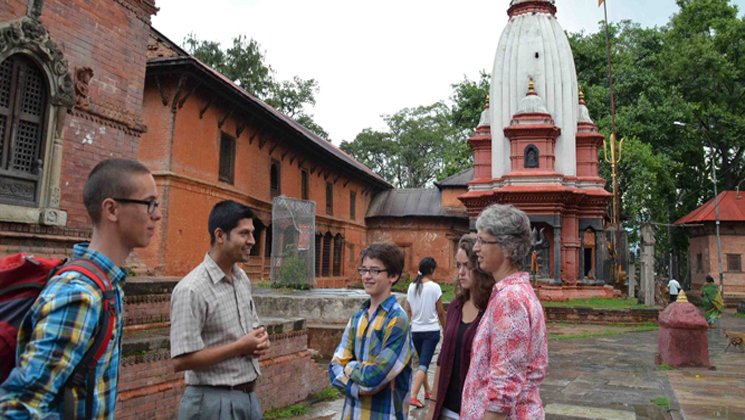 Family Holiday in Nepal Summary
Sightseeing duration: Multi Day Tours
Touring Hours: 6/7 Hours Daily
Sightseeing Group-Size: 1 – 15 People
Best time for Tour: All months (except monsoon months)
Transportation: Car / jeep / Hiace Van
Nepal is a great destination to experience a unique and adventurous family holiday. Through the mystical Himalayas which have 8 of the world's 10 highest peaks, it has world-renowned attractions, therefore, a family holiday is very popular in Nepal.
The country offers a range of activities and attractions suitable for families, including trekking, hiking, wildlife safari, jeep safari, short walking, and cultural tours. Furthermore, there are many things for the family to do and some free attractions and activities that can fill a family trip on a budget.
Family relaxes not just from deep-rooted recollections, they likewise split your family away from the typical daily schedule, opening your brains to new societies, food sources, and encounters, and as per research, they are even useful for your health! They want to escape from their busy life schedule to relax on vacation or escape to Nepal for soft adventure holidays.
Let's explore a family holiday tour customized for families with kids with local experts that includes fascinating cultural sightseeing, spectacular views, and heritage sites. In addition, You will find a wide variety of family-friendly accommodations, convenient restaurants, efficient services, and welcoming staff. During the school holidays, we can also run all types of private tours for families as per their personal interests at a low cost.
Family holidays in Nepal tour highlights
Inspect the tallest mountains of Earth and experience of rural lifestyles.
Enjoy a mixture of the history and culture of Kathmandu and Pokhara city and its World Heritage sites.
As the best and easy place, Tourists can trek the tour with children also.
Help kids to learn the Buddhist pilgrimage sites of Boudhanath Stupa and Swayambhunath Stupa and more…
Explore the Hindu monuments "Pashupati Nath" the holiest temple and see How Hindu climates in Nepal.
The best of family holiday tour package itinerary details
1 Day
Arrival and pre-trip meeting and Kathmandu valley city tour. 5/6 hours
Meet you at your hotel in Thamel and begin your sightseeing trip around 12:00. The professional certified tour guide will come to pick you up for sightseeing at the heritage sites in Kathmandu.
Kathmandu, the capital city of Nepal, is rich in culture, history, and art. It is home to seven UNESCO World Heritage sites, making it a must-visit destination for anyone who has an interest in history and culture. Here's a suggested itinerary for a single-day tour in Kathmandu city, visiting its World Heritage Sites:-
12:45 pm: Boudhanath Stupa
Next, head to the Boudhanath Stupa, one of the largest stupas in the world. This site is considered the holiest Tibetan Buddhist site outside of Tibet. You can walk around the stupa, observe people chanting prayers, and admire the colorful prayer flags.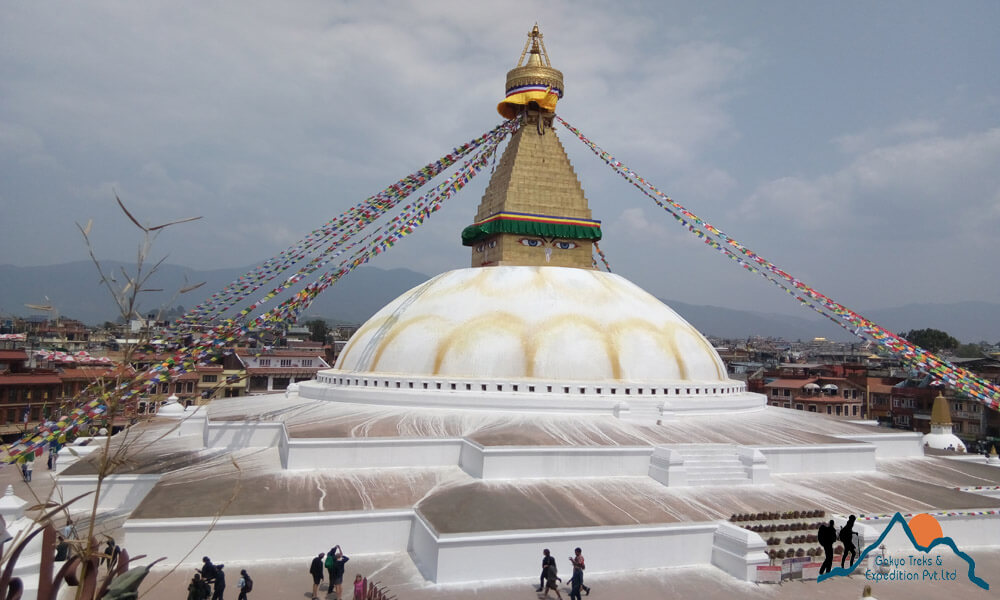 1:30 pm: Lunch
There are many local restaurants near Boudhanath Stupa where you can have lunch. Try some of the local delicacies like momos, dal bhat, or Newari cuisine.
2:30 pm: Pashupatinath Temple
After lunch, head to the Pashupatinath Temple, one of the most important Hindu temples in the world. The temple is located on the banks of the Bagmati River and is dedicated to Lord Shiva. You can walk around the temple, observe the cremation rituals on the riverbank, and learn more about Hindu culture.
4:30 pm: Kathmandu Durbar Square
End your day at the Kathmandu Durbar Square, a complex of palaces, courtyards, and temples that date back to the 12th century. The complex is located in the heart of the city, and it is a great way to experience the city's rich history and culture. You can also see the Kumari, the living goddess of Nepal, who resides in one of the palaces.
5:45 pm, Asan Tole Sightseeing
Asan is a ceremonial, market, and residential square in central Kathmandu, the capital of Nepal. It is one of the most well-known historical locations in the city and is famed for its bazaar, festival calendar, and strategic location. Visit Akash Bhairav temple and Annapurna Temple in Asan tole on your walk back to the hotel.
This itinerary covers the four UNESCO World Heritage sites in Kathmandu, so you'll get a good sense of the city's history and culture in just one day. However, if you have more time, you can explore other parts of the city and try other local activities.
2 Day
Get a Sunrise from Nagarkot Hill. Visit Changu Narayan Temple and Bhaktapur Royal Palaces, 8/9 hours
If you have a day to spare in Kathmandu, I would recommend starting early and heading to Nagarkot to catch the sunrise, followed by a visit to the Changu Narayan temple. Here's a suggested itinerary:
4:30 am: Drive to Nagarkot
Nagarkot is located about 32 km east of Kathmandu, and the drive takes about an hour. The road to Nagarkot is scenic, and you'll pass through beautiful villages and terraced fields. Once you reach Nagarkot, you can hike up to the viewpoint to catch the sunrise.
6:30 am: Sunrise at Nagarkot
The sunrise from Nagarkot is one of the most beautiful sights in Nepal. Travelers can see a stunning panoramic view of the Himalayan range, including Mount Everest, Kanchenjungha, Dhaulagiri, Everest, Xishapangma..etc on a clear day. You can also enjoy a cup of tea or coffee at one of the local cafes while taking in the view.
8:00 am: Breakfast in Nagarkot hill
After watching the sunrise, head to one of the local restaurants in Nagarkot for breakfast. You can try some of the local specialties, such as aloo paratha or chana masala.
9:30 am: Drive to Changu Narayan Temple
After breakfast, drive down to the Changu Narayan Temple, which is located about 13 km east of Kathmandu. The temple is dedicated to Lord Vishnu and is one of the oldest temples in Nepal, dating back to the 4th century.
11:00 am: Sightseeing at Changu Narayan Temple
The Changu Narayan Temple is a UNESCO World Heritage site, and it has many intricately carved stone and metal sculptures. You can also observe the daily puja (worship) ceremonies and learn about the history and culture of Nepal.
12:30 am: Bhaktapur Durbar Square
At Bhaktapur Durbar Square, tourists can experience the collection of pagoda-style and shikhara-style temples grouped around a 55-window palace. Likewise, you can visit a 55-window palace, the art gallery, the statue of King Bhupatindra Malla, Pashupati Temple, Sundari chowk, Taleju Temple…etc.
Additionally, visit Nyatapola temple (five-storeyed) in Taumadhi square, Dattatraya temple, and Peacock windows carved in 15th-century in Bhaktapur Nepal. Likewise, Siddha Pokhari is an artificial rectangular pond located near the main gate of Bhaktapur Durbar Square.
1:30 pm: Lunch at the Palace Restaurant
After visiting the temple, head to one of the local restaurants in the area for lunch. You can try some of the Newari cuisine, such as chatamari or bara.
2:30 pm: Return to Kathmandu. Rest and Relax
After lunch, drive back to Kathmandu. Depending on the traffic, the drive can take anywhere from 30 minutes to an hour. After a long day of sightseeing, take some time to relax and rest in your hotel. You can also explore the local markets and buy some souvenirs to take back home.
This itinerary is a great way to explore the natural and cultural beauty of Nepal in a day. However, if you have more time, you can also visit other nearby attractions while returning from Bhaktapur palace square.
3 Day
Drive with a Tourist Bus to Sauraha Bazaar, 4/5 hours
Early morning around 7 am, we drive from Kathmandu to Sauraha with a tourist bus. It takes roughly about five hours to journey passing amazing landscapes. Our representative from the resorts will come to pick you up from the bus station to the resorts. Get refreshed with a welcome drink and brief you about its facilities and safari activities. After being given your programs, an introduction to your room and lunch follows.
Cultural Tour (visit Tharu Village), Tourist Visitor Center, and riverside sunset view. Likewise, we serve super delicious Dinners and visit Tharu cultural activities including stick dance. Return and sleep at resorts.
4 Day
Wildlife activities day tour in Chitwan, Sauraha. 6-7 hours
Wake up call for Breakfast, Canoeing ride, and on return with a short jungle walk and Elephant breeding center visit. Lunch will serve at the hotel and proceed for a Jungle drive instead of an Elephant back safari. We respect the animals therefore, we don't use Elephant back safari in Chitwan National Park. In addition, Dinner in the resort and sleep.
5 Day
Departure to Pokhara City. 5/6 hours drive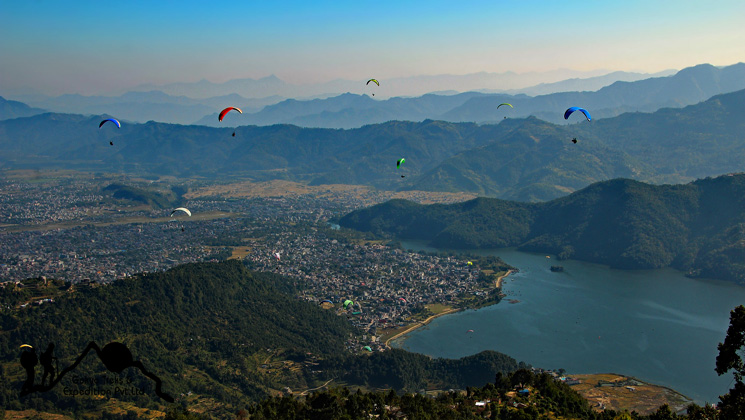 Roughly wake up at 6:00 am for Tea/coffee and short excursion for Bird watching. Return to the hotel for a delicious Breakfast and pack your things to proceed to drop you at Sauraha Tourist Bus station for your further journey to Pokhara City.
Drive to Pokhara takes about five hours, another tourist exotic destination with fabulous scenery of the surrounding landscapes, lakes, and the close view of Annapurna- Manaslu range of mountains including the majestic towering Mt. Machhapuchare 'The Fish Tail'. On reaching Pokhara, we check into the hotel, situated near the beautiful Phewa lake. After refreshment, we head for an afternoon walk by the lakeside where there are many shops and delightful restaurants.
6 Day
Full Day Tour in Pokhara. 6-7 hours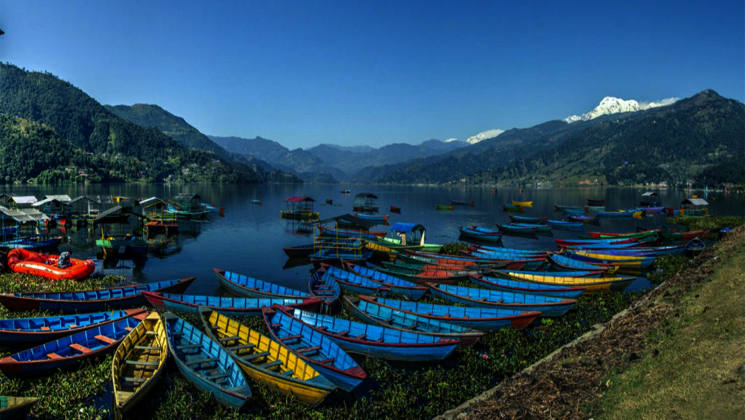 Pokhara is a beautiful city located in central Nepal and is known for its stunning lakes, picturesque mountain ranges, and adventure sports. It's amazing town with several landmarks where to get outstanding views of Mt. Annapurna (8,091 m), Mt. Dhaulagiri (8,167 m), Mt. Machhapuchhre (6,993 m), etc. Here is a one-day tour itinerary for you to explore the best of Pokhara:-
Early Morning: Sunrise at Sarangkot
Start your day early and head to Sarangkot, a popular hill station near Pokhara. From here, you can witness the sunrise over the majestic Annapurna mountain range. The panoramic view of the Himalayas is simply breathtaking.
After sunrise, head back to Pokhara and visit Devi's Fall. This waterfall is located in the southern part of Pokhara and is also known as Patale Chango. It is an underground waterfall that flows into a cave and emerges as a stream. Likewise, we can visit also Gupteshwor cave and the Tibetans Refugee camp.
Midday: Lunch at Lakeside
Head to Lakeside, which is located on the banks of Phewa Lake, and enjoy lunch at one of the many restaurants here. You can also take a stroll along the lake and enjoy the scenic views.
Afternoon: Boating in Phewa Lake
After lunch, take a boat ride on Phewa Lake. You can rent a small rowboat or a paddleboat and explore the lake. The lake is surrounded by lush green hills and provides a peaceful and tranquil atmosphere.
Late Afternoon: Peace Pagoda [Optional tours]
Next, visit the Peace Pagoda, a Buddhist monument that is located on top of a hill overlooking Pokhara. It is a great spot to watch the sunset and take in the stunning views of the Annapurna mountain range.
Evening: Dinner and shopping in Pokhara
Finally, end your day with dinner at one of the local restaurants in Pokhara and explore the local markets for souvenirs and handicrafts. That concludes your one-day tour of Pokhara! Enjoy the scenic beauty and adventure of the city.
7 Day
Drive to Kathmandu, 7-8 hours via Prithvi Highway.
After a great time at Pokhara with a magnificent view of the Annapurna-Manaslu-Dhaulagiri and the striking Mt. Machapuchhare, the drive continues for nearly 7/8 hours, on reaching Kathmandu check into respective hotels.
After refreshments, a short hike to get to Swayambhunath Stupa called Monkey Temple. Swayambhunath Stupa, one of the most iconic and sacred sites in Kathmandu also listed under the UNESCO heritage sites in Nepal. The stupa is located on a hill, and it is a great way to see the city's skyline. The temple is also home to many monkeys, which gives it the nickname "Monkey Temple."
8 Day
Everest Mountain Flight Tour [roughly 1-hour flight]. Transfer to the International Airport.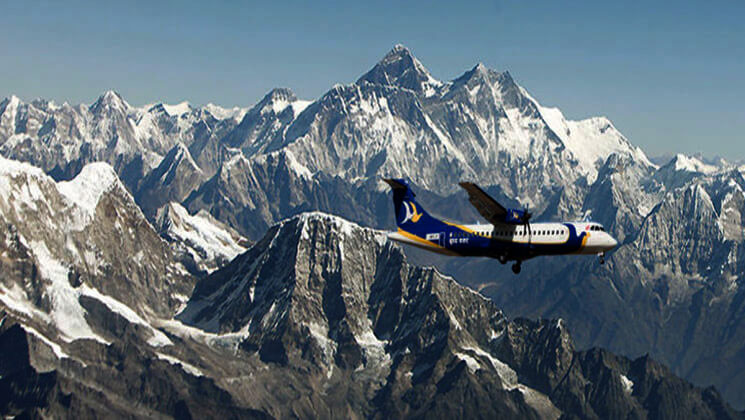 Proceed to drive to the Kathmandu airport domestic terminal for the mountain flight tour to experience Everest and many other high mountains. Mount Everest Sightseeing with a flight tour is the best way to view the beautiful Mountain range in a short duration without hiking from Kathmandu.
Tourists can explore the tallest mountains by taking a roughly one-hour flight to Everest. After your successful scenic Himalayan flights, we help you to transfer to the international flight departure hall. Trip finish.
The Weather on tours
Generally, bad weather does not affect your travel to visit different cities in Nepal. You can visit the heritage sites at any time during the year but going to the Nagarkot and Sarangkot hill stations requires good weather to see Mountain's vista. Nepal welcomes beautiful clear skies and sunny, fresh air, and incredible views.
January, February, March, April, May, September, October, November, and December are perfect months to discover the town. They are the best months to visit multiple sites tours as dry days make city tours easier and offer good visibility.
Likewise, you can also tour on monsoon days but whether often gets cloudy and rains, therefore, we recommend you to go with a raincoat or umbrella.
Family Holiday Tour Cost?
Travel and a holiday package tour cost depend upon the group size you are traveling to and the means of transportation you choose en route. The fixed departure cost is shared on the basis of your travel group size and the service you choose. Likewise, if you choose a luxury travel package, we add 3-5 star category hotels/resorts en route.
Additionally, a private solo tour cost a bit more expensive rather a group travel in terms of private guides and transportation. Have in mind that the tour guide cost and the vehicle cost are going to share by the number of a person you are traveling together for tours.
7 nights 8 days tours include Chitwan, Pokhara, Kathmandu valley (Bhaktapur, and Kathmandu city) itself. To cover multiple sites, you need a minimum of 8 to 9 full-day tours. The transportation by private car/van cost depends upon the places you go and the air conditioning you choose.
What's included in the Package Price
Airport transfer with an air-conditioned vehicle with fuel and driver as per the above plan.
3 Nights Double Bed room accommodation in a Tourist Standard Hotel in Kathmandu with Breakfast.
2 Nights Double Bed room with air condition accommodation in a Tourist Standard Resort in Chitwan Sauraha with Breakfast, Lunch, and Dinner serve with tea/coffee.
Elephant Ride Jungle Safari [optional to Jeep Drive], Canoeing and Jungle Safari in Chitwan National Park as per above plan.
Chitwan National Park Entry Fees.
2 Nights Double Bed room accommodation in a Tourist Standard Hotel in Pokhara with Breakfast.
Kathmandu airport transfer with a private car on Mountain Flight tour.
Mountain flight air ticket to experience the tallest Himalayas Including the Everest mountains.
Inside Kathmandu and Pokhara City touring spots transfer with a private Car/Taxi/VAN.
Certified English-speaking tour guide for a family holiday.
A bottle of mineral water while on a long day driving.
T-shirt and Tour Completion Certificate as a gift from the company side.
All government TAX/VAT & Gokyo Treks Agency service charges.
What's not-includes in the Price
Pashupatinath Temple sightseeing entrance fee Nrs 1,000.
Boudhnath stupa sightseeing entrance fee Nrs 400.
Swayambhunath Stupa sightseeing entrance fee is NRs 300.
Changu Narayan Temple entrance fee Nrs 350.
Bhaktapur Durbar square tour entrance fee Nrs 1,500.
Pokhara City tour all entrance fees.
Museums and Other monuments fees.
Your Lunch and dinner (cost about US$ 5 to US$ 7 per meal depending upon what and where you prefer to eat).
Extra activities and transportation.
Personal donation and Tip for tour Guide.
Departure & Return Departure Point:
Have in mind that we pick up all the travelers from inside the ring road such as your location in Thamel, International airport, Lazimpat, Darbar Marg, etc.
What To Expect
This is all about a family holiday in Nepal that goes for 7 nights 8 days. Kathmandu, the Capital city is the first destination for family tours. Tourists can experience ancient art and architecture, culture, and wood carving.
Likewise, Swyambhunath Stupa and Boudhanath Stupas provide a glimpse of Buddhist culture and the practice along the giant structure of stupas and monasteries. The holy Hindu Temple, Pashupatinath is the other best thing to explore in Kathmandu.
Chitwan tour, you'll get the highlights of cultural, natural, and adventure holidays. In addition, Pokhara, offers luxurious hospitality, stunning mountains view, lakes, food, street walks, and numerous adventure activities making this city a prime destination for adventure lovers.
Additional Information (TIPS AND TRICKS)
Confirmation will be received at the time of booking
a wheelchair is also accessible on the entire tour
A maximum of 15 people per booking
Physically and mentally okay families with kids are welcome to join this tour.
It's a private tour activity.
Cancellation Policy
You can cancel up to 72 hours in advance of the experience for a full refund. For a full refund, you must cancel at least 72 hours before the experience's start time. If you cancel less than 72 hours before the tour's start time, the amount you paid will not be refunded.
Any changes made less than 72 hours before the tour's start time will not be accepted. Cut-off times are based on the experience's local time.
Notes for Family holiday tours
As Nepal has roughly 80% Hindu people, they have special festivities each and every season that are identified as national family holidays. The above itineraries are subject to change due to conditions beyond our control. This is a Guideline showing tentative camp night stops. The physical, technical, and natural conditions may change this above itinerary.
What makes the family holiday in Nepal tours special?
a family holiday in Nepal can be a very special experience due to the country's rich cultural heritage, diverse natural landscapes, and range of adventurous activities. Nepal is a perfect destination for families looking to create lasting memories and enjoy quality time together.
We at Gokyo Treks and Expedition believe in quality services. Your safety and satisfaction is our concern. We are a team of professionals and experienced and licensed local guides who know the destination better.
Family Holiday Review
Excellent honest service for our students
Ammar was very kind in answering all our questions regarding our student holiday tour in Nepal. We wanted to arrange a combo trip (that includes 4 days of trek plus 2 days of city tours) for our students. He arranged airport transfer, hotel boking, Everest tour, Kathmandu valley tour including all local transportation. Thanks again, Ammar. – Mak Mueller, Weimer, Germany

Response from Gokyo Treks Nepal
Thank you Mark for your feedback.
To request a family holiday tour package and the daily travel plan, send to us your Inquiry for the best tour package and price.
From US$ 945
5% Off
US$ 725
| | |
| --- | --- |
| No. of people | Price Per Person |
| 1 | USD 898 |
| 2 | USD 725 |
| 3 | USD 715 |
| 4 - 6 | USD 675 |
| 7 - 9 | USD 625 |
| 10 + | USD 590 |
Book Now
Customize Trip
Cost & Departures
Your Trip Your Style!
ITINERARY, COST, DEPARTURES, will adjusted according to your GROUP SIZE NEED TIME
Book with Confidence
Local Guides Company.
18 Years in Business.
Lowest Price Guaranteed.
100% Customizable Trips
Excellent Customer Service
Hassle Free Booking.
90 % Repeated customers
Highly Recommended agency
Private/group tour options