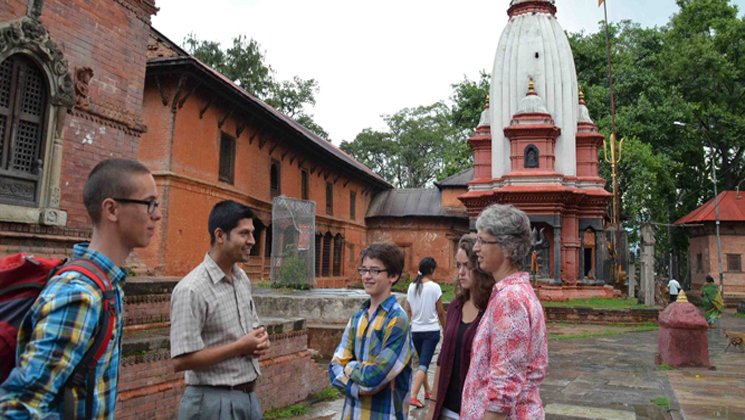 Family holiday in Nepal is basically visiting Nepal families with children. The family enjoys discovering the world through guided tours in Nepal Himalayas for its oldest architecture, exotic wildlife viewing, cultural exploration, art and architectural sightseeing, and more.
Furthermore, on a family tour in Nepal, our local guides accompany each step so that you can see the authentic cultures and the tradition of the different tribes. We have a friendly environment with cozy accommodation for children to welcome. Moreover, your family keeps a pleasing balance of relaxation and adventure while traveling with Gokyo Treks agency.
There are several activities for a Nepal holiday. You can visit and explore family trekking holidays and choose various trips according to your interests. Little hiking either Nagarkot – Chisopani or Sarangkot – Dhampus is the most highlighted hike that is possible for trekking tours with children.
Besides that, you can also visit with family including children to visit some of the world heritage sites in Kathmandu. In addition, you can also visit Chitwan National Park for wildlife tours or Bardia Jungle Safari Tour. Staying either in Chitwan or Bardiya National Park with the chance to bathe with the working elephants. Both places are the best place to see wild animals including Tigers.
Why family holiday is very popular in Nepal?
Family holiday is very popular in Nepal as it the heaven for family holidays. It's incredibly safe and relaxed and you're never far from the next great experience. All across the country, you'll find a wide variety of family-friendly accommodation, accessible restaurants, efficient services, and welcoming staff.
From world-renowned attractions like mount Everest tour with mountain flight, a jeep safari holiday, jungle safari tour, world heritage tour has something for the whole family. Furthermore, there are many things for the family to do in Nepal.
Either you can visit heritage sites, hill stations for Sunset-Sunrise or mystical lakes, you can get the highest level of satisfaction. There are many free attractions and activities that can fill a family trip. Here are some tips for bringing your family to Nepal on a budget.
Besides that, Gokyo Treks & Expedition holidaymaker company owned by local guides, register in 2005 under the law of Nepal Government. It's a trusted and certified family holiday operator agency that makes your holidays better. The best family holidays operator company commits the best service at a reasonable price.
Through the mystical Himalayas which has 8 of the world's 10 highest peaks. We provide outstanding excursions such as Rafting, Jungle safari, Bungy jump, Trekking, and Walking Tours. We also operate Annapurna, Mustang, Langtang, Manaslu, Everest, and more family holidays in Nepal on request.
Nepal trek operator makes your family travel more enjoyable at the lowest price. Gokyo holiday operator arranges small to the big group as upon the suggestions. Moreover, we also arrange adventurous hiking, trek, jungle safari, peak climbing, wilderness expeditions trek, family tour adventures, group holidays with professional service.
Your satisfaction is our goal and thus we are always conscious to make your holiday the most memorable lifetime experience. Take a review about family holidays in Tripadvisor.
List of the family holiday tour packages in Nepal !
Family relaxes not just from deep-rooted recollections, they likewise split your family away from the typical daily schedule, opening your brains to new societies, food sources, and encounters, and as per research, they are even useful for your wellbeing!. They want to escape from their busy life schedule to relax on vacation or escape to Nepal for soft adventure holidays. One investigation found that individuals get back from excursions more joyful and more relaxed. Thus, we arrange for families who want to escape Nepal for holidays or escape Nepal for vacation.
Likewise, we arrange all kinds of family tours in Nepal including special places to visit in Nepal with a family to offer a Nepal family tour package. So, stop dreaming, and let's explore a family holiday tour in Nepal customized for a family with kids with local experts.
Similarly, to make your best family trekking Nepal with families and kids we include some fascinating cultural sightseeing, spectacular views, and cities. You can also visit Pokhara city and its heritage sites with family. And we arrange your Nepal family holiday tours privately with your group departures. During the school holidays, we can also run all types of private tours as per your interests.
Family holidays in Nepal tour highlights
Discover the tallest mountains of Earth and experience of rural life styles.
Enjoy a mixture of history and culture of Kathmandu and Pokhara city and its World Heritage sites.
As a best and easy places, Tourist can trekking tour with children also.
Learn the Buddhist pilgrimage sites of Boudhanath Stupa and Swayambhunath Stupa and more…
Explore the Hindu temple at Pashupati nath the most holy temple of Nepal.
Family holiday travel and tour Notice for visitor
As Nepal has roughly 80% Hindu people, they have special festivities each and every season that are identified as national family holidays. The above itineraries are subject to change due to conditions beyond our control. This is a Guideline showing tentative camp night stops. The physical, technical, and natural conditions may change this above itinerary.
"What makes this trip special ?"
Make your family holidays full of happy and fun times which when looking back you find memories that remain a dream come true. So, let us help you create a wonderful family tours experience at the perfect place for you and your children. We at Gokyo Treks is a family tour operator agency that operates family tours packages. Your safety and satisfaction is our prime concern. We are a team of professional, expert, and licensed local guides who are with you on your family adventures and know the destination better than others.