Overview
Langtang Gosaikunda Trek is most popular to investigate Red Panda a indenger creature in Nepal found north from Kathmandu city. Exploring Langtang gosaikunda lakes is less swarmed trekking trail contrasting and other prominent treks in Nepal.
Moreover, the Langtang Gosaikunda trek route goes towards over the bank of the river and green valley and typical villages destroyed by massive earthquake disaster in 2015. The legislature of Nepal including some individuals remake trek path, so it's simple currently to return there. The local survivals rebuild the lodges with present-day luxuries. Besides that the langtang gosaikunda trek introduces a grand landscape of langtang mountain range, high hill station and yak pastures. 
The Langtang Gosaikunda trekking in Nepal is famous in terms of natural and cultural diversity. The return to Langtang trek itinerary is basically very popular after the Earthquake in 2015. Many travelers are still curious to know about nature walk to the mystical Langtang with the Gosainkunda trek.
langtang trek in Nepal is the best for novice trekkers. In addition, the Gosaikunda trek 5 days is most demanding for all ages. As Gosainkunda lake is a religious tour, there are many cultural tourists from all around the world. According to Gokyo treks nepal agency experts, there are roughly about 108 different lakes locating in its surroundings.
Many local tourists from different parts of Nepal often visit there for the best short hiking. And Gosainkunda trek cost for Nepali is absolutely cheaper comparing foreign nationals but depends upon the service you book over travel agency.
Langtang National Park is home of a few wild creatures, for example, Musk deer, Himalayan mountain bear, snow panther, Himalayan wild goat, and especially winged animals and wildflowers.
In spring, the trail covers with assortments of high wildflowers, orchids, magnolia, and numerous other botanical species, and the timberlands are vivid on account of sprouting rhododendron.
Other than that, you will have the best perspective of Mt. Ganesh Himal family, Mt.Langtag lirung (7,246m), Langtang-ri, Langsisa crest, Langtang Himal, Ganjala top. Trekkers who plan to hire a private Langtang Gosainkunda trek guide, we can also help you to book a professional private guide who cares for your complete journey with logistic support.
The professional expert local guide hiring via Gokyo trek has a lot of benefits that they care about your holiday in the best secure way so you can reach your destination point. The cost of rent guide is cheaper but still not the cheapest one because we pay them a very good salary to use their professionalism.
Divine lake Gosaikunda situated at an elevation of 4,380 meters is a blessed lake and essential journey goal for Hindus and Buddhist individuals. As per the legend, there are 108 unique lakes encompassing and every one of their names is from Lord Shiva. Hike to Langtang Gosaikunda course is conceivable to do in whenever consistently.
Itinerary
Langtang Gosaikunda Trek itinerary details
Our Langtang village combine with pilgrimage Gosaikunda lakes is a classical trek itinerary compared to most walks in this region leading up to the glacier. The specific route is intended for world explorer who wishes to hike to Langtang glacier but walking in a more relaxed manner than take a look at this itinerary.
Day 01
Arrival at Kathmandu valley. Transfer to hotel
Upon arrival in Kathmandu, Tribhuwan International Airport, we will receive you with private vehicle and transfer to hotel in Kathmandu with breakfast plan. Our representative will brief you about your trip.
Day 02
Overland drive to Syabrubesi Bazaar (1,460m/4,788 feet), 7 hrs
Have a morning meal at the lodging, drive couple of hours for Syabrubeshi with your mountain trekking local expert guide with porter. About seven our overland drive through Trishuli bazaar with lovely little towns, waterway valley, and mountains. The transport stops generally around 30 minutes on thruway eateries for lunch in Trisuli. Reach at to Syabrubeshi bazaar around 2 or 3 o'clock in the afternoon.
Day 03
Lama hotel trek (2,560m/8,396 feet), 6 hours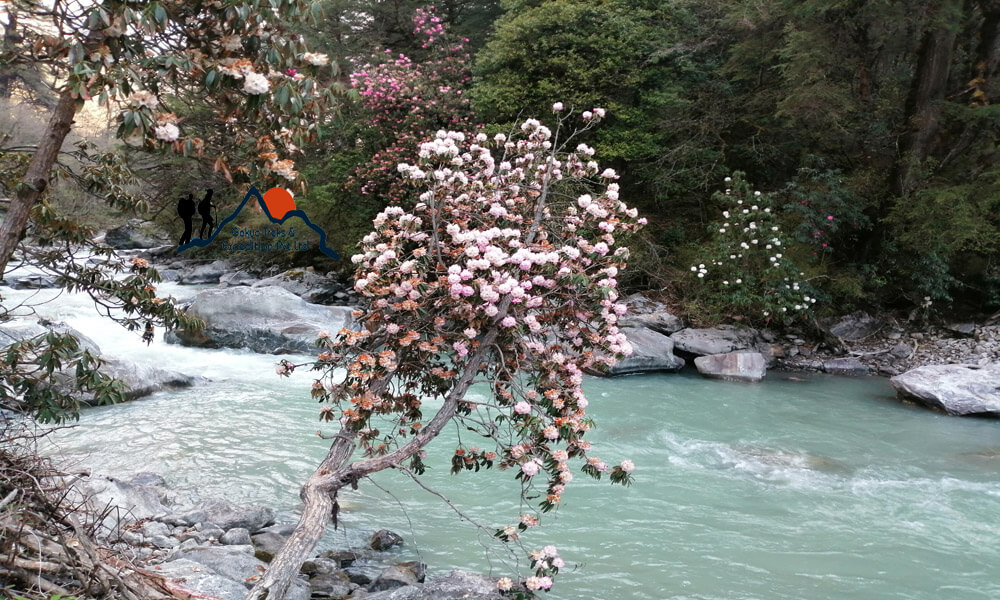 You begin your strolling at your very own pace and the trail rises for around two hours through the woods pursued by a move of around a hour to achieve Bamboo town where you'll stop for lunch. The trail is decent and you pursue the upstream and can be seen winged animals life around the shrubs. Colonies holding tight a precipice are another fascination for the guests on strolling. From here you will again steeply move through the bamboo backwoods to achieve the Lama Hotel. Medium-term at Guesthouse.
Day 04
Langtang trek (3,455m/11,332 feet), 6 Hours
Today you will have a charming walk and finish the trail rhododendron and pine timberland for around three hours to reach Ghoda Tabela where you will stop for lunch. This encompassing zone thick wild living space zone and numerous little babblers with a lot of herbals plants. In addition, you can stroll along a grand trail that takes you to Langtang town where you will unwind at night. Have as a top priority, Langtang entire valley was annihilated by a gigantic Earthquake calamity in last April 2015 and afterward modify once more.
Day 05
Trek to Kyanjin Gompa (3,817m/12,519 feet). Sightseeing day, 4 hours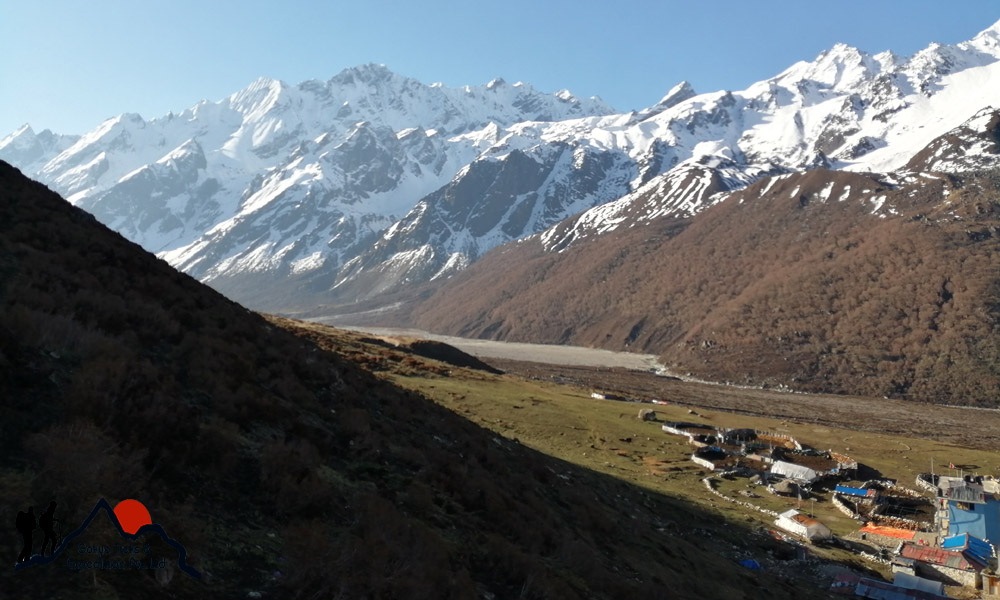 Kyanjin Gompa is the last destination of your trekking at an altitude of 3,817m / 12,519 ft above sea level. From here you will have beautiful views of Mt Ganchempo and Mt. Langtang Lirung. You will visit surrounding area like Yak cheese Factory, Kyanjin Monastery and local houses. Overnight at Guesthouse.
Day 06
Kyanjin RI trek. optional to climb Tsherko Ri, 5 hours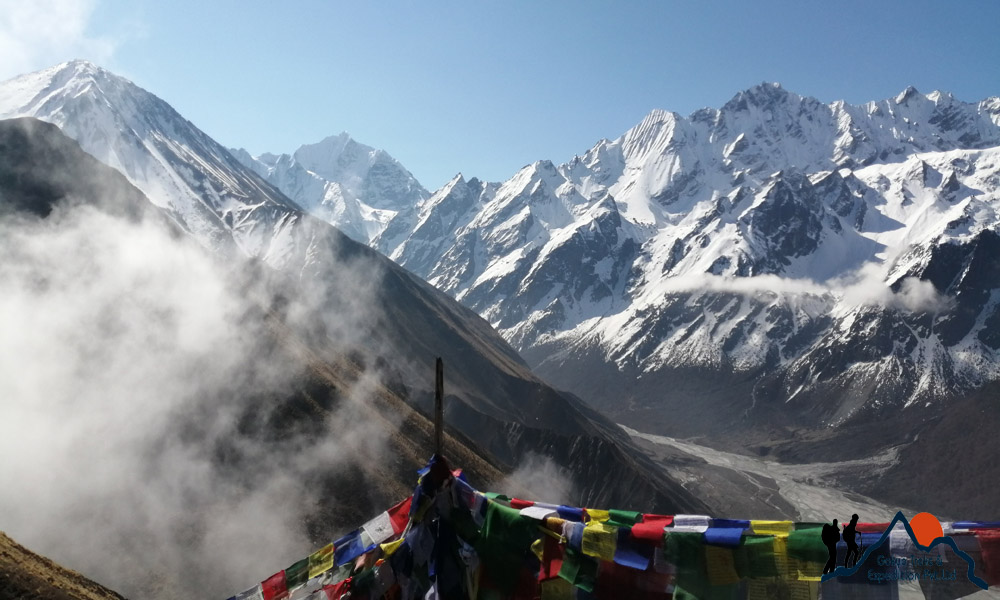 Climb to Kyanjin edge to get a super perspective of Langtang Himalayan range incorporates Mt.Langtag lirung, Langtag ri, Langsisa pass, Langtang Himal, Ganjala top, Yala top, and numerous other fringe crests. Besides, in the event that you are intrigued your guide will take you to ascend Tsherko Ri (5,150m) top to encounter far superior perspectives of mountains (a discretionary). At that point visit Langtang icy mass and Langshisha Kharka (the lovely yak field arrive). Return back to a similar mountain stop at Kyanjin for a rest.
Day 07
Trek descend down to Ghoda Tabala (3,000m/9,810 feet), 6 hours
Trek back from Kyanjin Gompa to Ghoda Tabela This morning you retrace your steps to Ghoda Tabela. Its scenic hikes, because of pleasent day trip.
Day 08
Trek to Thulo syabru (2,260m/7,390 feet), 6 hours
Today shortly ascend to Upper Rimche, descend to Langtang Khola and cross the bridge, easy walk to Bamboo and gently descend to Landslide lodge. Few minutes of walking ascend, cross the river and ascend to Thulo Syabru.
Day 09
Hike from Thulo Syabru to Gosaikunda lake (4,380m/14,370 feet), 7 hours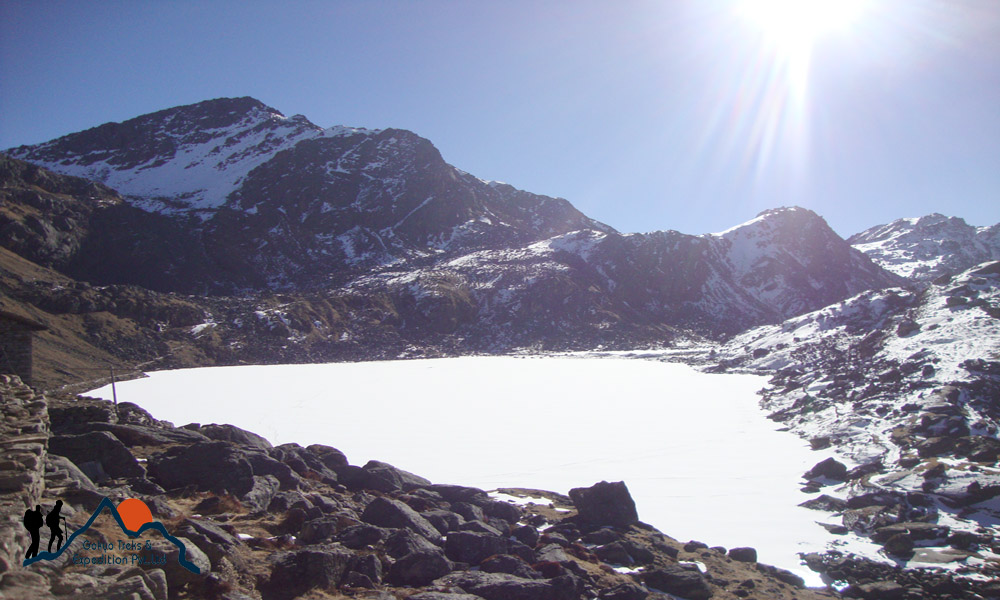 Trek rise tough through Foprang hill (3,200m.) passing Dursagang (2,660m) village. Great perspective of Langtang Himal, Ganesh Himal, Tibetan Mountain again strolling through the woods of Oak, Hemlock, and Firs timberland. Lunch at Cholangpati keeps on rising tough to reach Gosaikunda (4,460m.) passing Lauribinayak La (3,920m.). We pursue a tough trail with emotional perspectives of Himal Chuli (7,893m.,) Manaslu (8,156m,) and Ganesh Himal (7,406m.).
On a sunny morning, you can experience the clear Annapurna summits while ascending delicately behind. Toward the north, we can see Langtang Lirung and more popular summits. At Gosainkunda lake, we can see twelve different types of lakes and the names are derived from Lord Siva. Among them, the significant three lakes are Saraswati Kund, Bhairab Kunda, and Gosainkunda.
Accordig to the legend, Gosainkunda was made by Shiva when he punctured an ice sheet with his trident to acquire water to extinguish his year for having drink fast toxic substance.
Day 10
Gosainkunda lake hikes. Descend to Sing Gompa (3,250m/10,628 feet.), 6 hours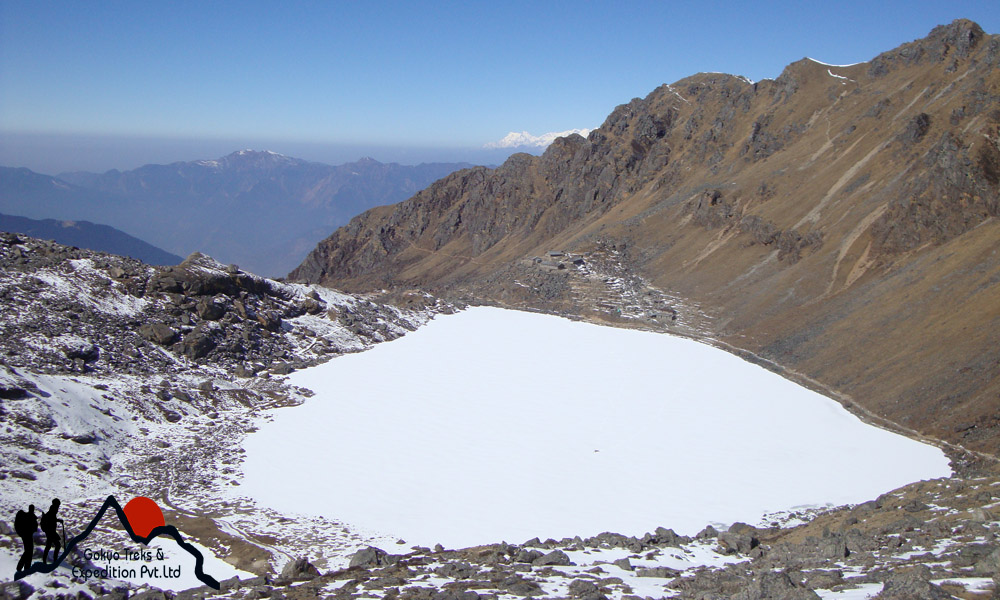 Hike to Gosaikunda viewpoint to watch amazing scenery of Langtang mountain range and sightseeing around the pristine Gosainkunda lake. The view from Gosainkunda hill station is just superb, almost one of the top most popular hill stations in the Langtang region. Especially the best place to visit for a photographer.
We recommend you to hike for some hours this part of the lakes and trek descend from Gosainkunda to Sing Gompa (3,250m). Our trail slides downhill walk the whole distance passing Lauribanayak. You will have a glorious mountain view from the lauribina la temple. From Cholang pati to Chandanbari, we particularly hike through Oak wooden trees, Hemlock, and Firs. Achieving the last goal, we can see a Buddhist Monastery and DDC cheddar processing plant.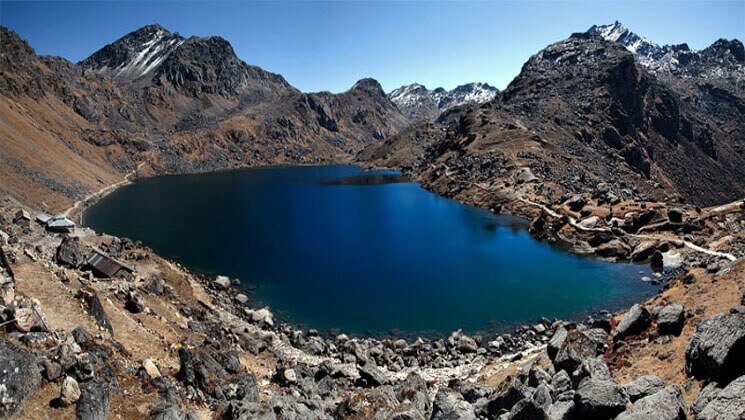 Day 11
Downhill walk through langtang forest to Dhunche Bazaar (1,950m/6,377 feet), 6 hours
The first part of the trail descends through pine, silver oak and rhododendron forests with marijuana plants up to suspension bridge over the Sing Gompa Stream. From this point, our path goes even through some human settlements and reaches Dhunche bazzar, the headquarters of Rasuwa district.
Day 12
Overland drive back to Kathmandu with same road.
After breakfast, get a ready for another road adventure to return Kathmandu city. The journey takes roughly about 6 hours from Dunche to Kathmandu. In the late evening, you can walk around Thamel, the significant traveler goal of Kathmandu. You can do some very late shopping of something precious for your family and relatives.
Day 13
Final departure day
Drop you in Kathmandu International Airport forward your last goal and our excursion closes. Wish you your magnificent adventure.
Cost
How much does Langtang Gosaikunda Trek cost?
Hike to Langtang Gosaikunda is available now on USD 825 per person on a double occupancy basis. At this price, we offer you Tourist Standard accommodation in Thamel, Kathmandu and of course the trip price will vary according to group size.
For the deluxe and luxury trek tour plan, we add 3-star category hotel deluxe air-conditioned room in Kathmandu (BB PLAN) and with attached bathroom while on trekking on possible places. AND WE ARE OPEN TO CUSTOMIZE YOUR TOUR AND PACKAGES PRICE AS PER YOUR REQUIREMENTS. International tour leaders are highly encouraged to get discount and attractive complimentary.
Langtang Gosaikunda trekking cost includes
Kathmandu international airport transfer by private vehicle car / van / jeep / bus.
2 night's twin sharing tourist standard accommodation in Kathmandu with breakfast plan.
Langtang National Park entrance permits and their fees
Trekkers Information Management System (TIMS) permits and fees
Meals on full board (breakfast, lunch, Dinner) each day during the trek
Kathmandu to Syabrubensi & from Dunche to Kathmandu by bus transfer .
Professional English speaking license holder mountain trekking guide.
Experienced porters (2 guest : 1 porter basis) because each porter carry maximum 25 kilogram.
Salary, food, accommodation and their travel insurances for all Nepali crew.
A First Aid medical kit bag.
Nepal Government Tax, VAT and as well as Company service charge.
Langtang Gosaikunda trek cost exclude :
Nepal entry visa fee cost US$ 40.
Lunch and Dinner during the staying in Kathmandu
Any kinds of battery charges, laundry service, phone calls and hot shower during the trekking.
Guided sightseeing by Tour Guide in Kathmandu valley with private vehicles.
Personal trekking equipment and Clothing.
Personal nature expenses, any drinks and bar bills.
Your travel insurance (it is mandatory in case of emergency).
Any donation and monuments entrance fees.
Tips for the crew (Note : TIPS is not compulsory but highly expected)
Any other things which are not mentioned above
Group join
We can organize private Langtang ridge with Gosaikunda trek starting at any date that works for you. Please contact us for more information.
Feb 20, 2021 – March 04, 2021
March 10, 2021 – March 22, 2021
March 20, 2021 – April 02, 2021
April 05, 2021 – April 17, 2021
April 10, 2021 – April 22, 2021
April 25, 2021 – May 07, 2021
May 05, 2021 – May 17, 2021
Sept 10, 2021 – Sept. 22, 2021
Sept 20, 2021 – Oct 02, 2021
Oct. 05, 2021 – Oct. 17, 2021
Oct. 25, 2021 – Nov. 07, 2021
Nov. 10, 2021 – Nov. 22, 2021
Nov. 20, 2021 – Dec. 02, 2021
Nov. 30, 2021 – Dec. 12, 2021
Dec. 10, 2021 – Dec. 22, 2021
Guaranteed – Trip is Guaranteed to run.
Available – Trip is available to run if minimum group size is filled
Limited – Only few space available
FAQ
Question: Is get benefit accessible on my entry day in Kathmandu?
Answer: Yes beyond any doubt !! In the event that you give us your flight's subtleties and request to pickup. Our delegate will come to get you at the Kathmandu AIRPORT terminal.
Question: Do I require the experience to do Langtang Gosaikunda Trek?
Answer: It is reasonable for sharp trekkers/walkers who can stroll around 4 or 5 hours in multi-day, with a lightweight daypack. For this trekking, in the event that you have about a little experience would be better.
Question: What sort of settlement would I be able to expect on Langtang Gosaikunda Trek?
Answer: We give you visitor standard settlement in Kathmandu and amid the trekking courses. The rooms are spotless with a comfortable bed with decent sleeping cushions and covers. Anyway, we prescribe you to take your own camping beds whether you have one with you else, you may lease it while you are in Kathmandu.
Question: What sort of sustenance would I be able to expect in this trek?
Answer: All hotels they have joined eatery and they cook a flavorful scope of for the most part veggie-lover, for example, Pasta, fish heats, noodles, potatoes, eggs, dhal bhat, bread, soups, new vegetables (assortment relies upon the season)
The supper and breakfast are given in a similar cabin you go through the night consistently and Lunch will be given while in transit to the following spot where you are going.
Question: What openings will I have for a shower along with lodge Langtang Gosaikunda Trek solo?
Answer: All hotels they have a shower which you can get it someplace paying and someplace without paying nonetheless on the off chance that you are in outdoors trekking – we give you a boiling water pail, you will take a container shower.
Question: How would I get drinking water on Langtang Gosaikunda Trekking?
Answer: During the trek route, there are generally puts lodging and shops where you can ready to purchase mineral water and you can get it for drinking yet anyway we prompt against purchasing mineral water in plastic jugs, as presently there are no arrangements for discarding these. Rather, we give you bubbled water or bringing chlorine tablets to decontaminate the typical water as the ordinary water is accessible in campground/along the way.
Question: Can I charge my computerized camera or different batteries on my trek?
Answer: During the hotel trekking there will be more opportunities to charge the battery. We prescribe you bring an additional combine for in the event that. Make sure to bring your own connectors!
Question: Is there any Telephone service on Langtang Gosaikunda Trek route?
Answer: Yes! you can get telephone service. We recommend you to buy a local SIM card to call and use a 3G data pack.
Question: Can I use charge cards in Langtang Gosaikunda Trekking?
Answer: No! Along these lines, for Langtang Gosaikunda Trek route, you need money Nepali rupees since charge cards work just in the greater city areas.
Question: When should I book my outing and what are the terms of the installment?
Answer: Because our treks book up a long time ahead of time, we prescribe booking right on time to stay away from any sort of misconception. We will, obviously, bend over backward to suit a minute ago appointments.
Furthermore, with respect to the store, we lean toward 20% development store of the absolute cost of the outing so as to affirm your reservation before you touch base in Nepal. Also, whatever remains of the installment can be made after your landing in Nepal.
Question: Who will convey my gear on express Langtang Gosaikunda Trek?
Answer: We give watchmen to exchange your gear. As we are a mindful trekking visit administrator office, every one of our strong porter carry maximum 24 kilos of your backpack which implies 2 visitors (12 kg baggage of every visitor): 1 doorman premise. In the event that you wish to have a private doorman, you may likewise get it on paying an additional cost.
Question: How much separation do I walk every day?
Answer: When strolling in the mountains, the separation you cover every day can change significantly because of an inclination, landscape, and height. All things considered, it is extremely difficult to give explicit separations on every day, be that as it may, you must be set up to walk generally around 5 hours each day.
Question: Do I require strolling surveys?
Answer: Walking pools are suggested however not necessary.
Question: Is it possible to hire Langtang Gosaikunda trek guide? how to book a local trek guide?
Answer: Yes of course. If you are not happy to go with the complete full board package trip, still you can hire our expert guide. However, visit a guide and porter hire or email us for your detail travel inquiry.
Question: How much extra cash do I require per day?
Answer: You can distribute US$ 08 – 10 for a lunch/supper in Kathmandu and it relies upon your ways of managing money. US$ 7 to 10 US$ every day will be sufficient to purchase containers of water, chocolates, tea espresso, and a few beverages while you are on trek.
langtang Gosaikunda trek highlights
Discover langtang Himalayas within 360 deg angle from Kyanjin ri / Tserkuri hill.
Cultivated potatoes fields, colorful Rhododendron, conifers and oak trees en route.
Best view of Mt.Langtag lirung, Langtag-ri, Langsisa, Langtang Himal, Ganjala peak
Gosaikunda lakes – pilgrimage destination of Hindu devotees, located at 4,380m above sea level.
Experience the Sherpa and other ethnic groups and their life styles.
Trekking Langtang Gosaikunda trek notice for visitor:
The Langtang Gosaikunda hikes stated above is just a standard trip guideline. However, the travel plan is possible to modify at your request to accommodate your specific requirements. Local politics, landslides, cancellation of local flights, weather, transport, or a multitude of other factors that are beyond our control can result in a change of itinerary during on trip.
It is, however, very incredible that the route would be extensively altered. If alterations are necessary the leader will decide the best alternative option, taking into consideration the best interests of the whole group. Where a change does occur, we do everything we can to minimize its effect, but we cannot be responsible for the results of changes or delays.
"What makes Langtang Gosainkunda trek special?"
Opportunities for challenging trekking or hiking and pleasant strolls are scattered all over this planet. You just need to know where to find them. We at Gokyo Treks and Expedition believe in quality services. Your safety and satisfaction is our concern.
We are a team of professional, experienced, well trained, and licensed local guides who know the destination much better than others. Not only this but also we give benefits to the local society and helps to conserve natural resources which reduce costs and consumption.

Best company, professional guides, best experience.
100%
5
star based on –
232
Based on TripAdvisor Reviews
My husband and I trekked to the amazing Langtang gosaikunda scenic trek in October 2016 with Umesh our guide through Gokyo Treks and Expedition. Ammar organised everything for us with perfection. We stayed at Ammar's home after arriving in Kathmandu. What a nice welcoming.
We had an amazing time with our Trek guide Umesh who has almost 20 years experience trekking all over the Himalayas in Nepal.
We had such an amazing trip. Pictures can not give back the natural beauty of the Himalayas. It was amazing to be in the nature far away from civilization. The trekking was hard but it was well worth the effort when we reached the amazing langtang Himalayas. All the villages had simple tea houses and plentyful food options.
I can not recommend enough Goyko Treks and Expeditions. Trip of the lifetime !!
Thank you very much Ammar and Umesh for the amazing experience ! – Esther Deak, Melbroune Australia.

The best Langtang Gosaikunda Lake trek with gokyotreks
100%
5
star based on –
221
Based on TripAdvisor Reviews
Its our third trip with gokyo trekking agency in Nepal. We visited Langtang gosaikunda lakes trek in January 2019. Ammar was very helpful in communication with fast respond in friendlier way. We confident totally to complete this trip. The guide and porters were great and the private jeep transfer Kathmandu to syabrubensi and from Dunche to Kathmandu was safe.
We spend our one of the best moment in Langtang mountains for 10 days langtang gosaikunda lakes trek. Thanks a lot for making my trip just awesome.- wienna-me, Innsbruck, Austria.
Trip Price : USD 825 Per Person
Hike Duration: 13 Days
Trek Grading: Easy – Moderate
Altitude: 4,460m / 14,584 ft
Trekking Hour: 6 Hrs
Group-Size: 2-15 People
Best Time: Oct -May
Trip Mode: Guest House
Meal on Trek: Breakfast, Lunch, Dinner
Transport: Car/Plane/bus
Cost & Departures
Your Trip Your Style!
ITINERARY, COST, DEPARTURES, will adjusted according to your GROUP SIZE NEED TIME
Inquiry
Customize Trip
Book with Confidence
Local Guide's owned company.
Lowest Price Guaranteed.
Excellent Customer Service
Easy and Hassle Free Booking.
90 % Repeated customers
Travelers Recommended agency
Reference person of Gokyo Treks !
Contact in Germany
Klaus Kummer : +49-367-2351-957
Roland Stich: +49-0271-870-031
Dr. Lars : +49-3641-5395-160
Contact in USA
John Erwin: 212-222-6389
Beth Pekol, Chicago: +1 312-364-8924
Eve Quesnel, California: 530-5879-113
Contact in Australia
Mark Panico: +61-402-526-430
Dr. Chris Hislers: +61-419-556-381

Contact in Austria
Verena Laner: +43-650-7110-301
Dorothee Plunger:+43-512-565-255

Contact in Switzerland
Dominik Lee, Zürich: +41-079-3826-028