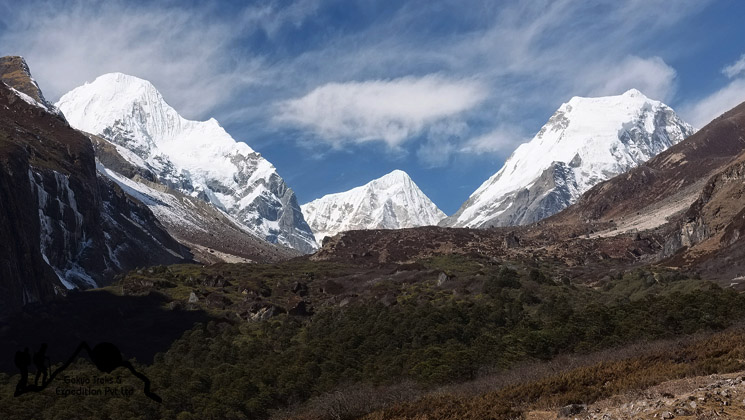 Makalu Base Camp Trek Summary
Base Camp Trek Duration: 17 Days
Trekking Hour: 6 Hours
Base Camp View Point Height: 5,300m/17,389 feet
Trip Mode: Lodge based
Makalu Trek Difficulty: Easy to Moderate grade
Group-Size: 1 – 12 People
Best Time to Visit: March, April, May, October, November and December
Foods on Trek: Breakfast, Lunch, and Dinner
Transportation: Car/Plane/Jeep
Overview
The Makalu base camp trek takes you into the depth of towering summits that offers a splendid view of Mount Makalu (8,475m/27,713 feet) itself and Mt. Chamlang Himal (7,290m/23,838 feet). The hike to Makalu Base Camp route is the most remote and a less demanding trek in the eastern part of Nepalese Himalaya.
Furthermore, Barun Valley is a scenic mountain valley situated at the base of Mount Makalu in the Sankhuwasabha district of Nepal. Arun and the Barun Valley located along the Makalu base camp trekking route, which is located in Makalu Barun National Park was established in 1992 as Nepal's eight National Parks.
Arun River in the east and the Sagarmatha National Park in the west boundary of Makalu nature park (2330 square kilometers) are inhabitants by wild animals such as wolves, Monkeys, foxes, and snow leopards. A trek to Makalu is glorious as there are a lot of different varieties of blooming flowers and possible to visit all months except the winters.
Likewise, the Makalu base camp trek difficulty is an adventure but not the hardest trek in Nepal. Therefore, if you are looking for an adventure into the unspoiled Himalayan landscapes and a not-a-hard trek, then Makalu trekking is the right choice for you.
How much does the Makalu Base Camp Trek Package Cost/Price?
The cost of the Makalu base camp trek package with a Gokyo Treks local guide-owned agency in Nepal ranges between US$ 1398 to US$ 2095. Of course, the Makalu base camp trek cost will vary according to the group size you are traveling with and the means of transport you use. However, the given package price includes transportation, a guide, porters, hotels and food accommodations, and hiking permit facilities.
Likewise, the Makalu base camp trek cost for Nepali is slightly cheaper because of the Tumlingtar flight airfare. Tourists can drive from Kathmandu to Tumlingtar Bazaar across the scenic road for an optional journey.
We have also discount deals for hiking groups. For example, if you could bring 10+ travelers (except you) on your trip, you are treated as a group leader. So you can hike to Makalu for 50% on discounts.
However, we often arrange private trips in order to avoid group tours with strangers. A private base camp tour gives you a better experience on your hikes. If you value personalization, flexibility, and in-depth experiences, a private trip customized to your personal needs will be the best option.
It is the standard trip package price for 16 days Makalu trek. If you are 2 Tourists Makalu base camp trek cost US$ 1598 for 16 days trek according to the given trekking plan. We can modify the trek route and the prices according to your wishes also. Here is the price list for the Makalu Base Camp treks.
Price Per Person for 16 days hike in the Makalu base camp territory.
| Number of Tourist | Price Per Person |
| --- | --- |
| 1 Person | US$ 2095 |
| 2 Person | US$ 1598 |
| 3 Person | US$ 1580 |
| 4 to 6 person | US$ 1498 |
| 7 to 9 Person | US$ 1450 |
| 10 and more than 10 Person | US$ 1398 |
If you're wondering to know about what is included and what is excluded from this trip price, kindly check on the cost given on a tab button.
Itinerary
Makalu Base Camp Trek itinerary details
Our trek to Makalu base camp (mbc) is a classic trek itinerary compared to most walks in Makalu territory. The particular Makalu base camp trek route is designed for world nomads who wish to hike in a more relaxed manner take a look at this itinerary. However for travelers who wish to do this route quickly but are walking with limited time wise then email us for a customized itinerary.
01 Day
Landing in Kathmandu valley (1,348m/4,423 feet). Kathmandu World Heritage sites tour, 3-4 hours.
Upon arrival in Kathmandu, Tribhuwan International Airport, we receive you in a private vehicle and drive to the hotel in Kathmandu with a breakfast plan.
All aspects of trek gear and conditions are discussed to make sure you're fully prepared for the MBC trek, and any last-minute questions are answered. After lunch, our professional guide takes you to explore the heritage sites of Kathmandu such as Swayambhunath Stupa and Old Kathmandu durbar square. Later we visit Asan tole the oldest market in Nepal. And transfer to the hotel where Ammar Guni will brief you about your Makalu base camp hike information.
02 Day
Kathmandu to Tumlingtar flight (410m), 40 Minutes. Drive to Num (1,490m/4,889 feet), 5-6 hours.
We take scenic flight from Kathmandu to Tumlingtar airstrip. Flight to Tumlingtar either with Buddha or Yeti Airlines aircraft takes about 40 minutes roughly to cover 193 kilometers distance by plane.
However traveling by road distance is 500.8 kilometers and takes about 24 hours to drive from Kathmandu which we don't advise our clients. Tumlingtar is located at an altitude of 1,504 feet and is a gateway to exploring Makalu Trek, meeting the entire hiking crew, and taking a local jeep ride further to Num Village.
Overland drive to Num village at (1,560m/5,118 feet) takes 6 hours on rough road. Along the journey, travelers can see some of the top beautiful mountains, hills, and the valley across the road drive. Furthermore, overland drives pass through the rhododendron forests. Continue our drive to the ridgeline and pass a small stream to the Num village. The overland drive via road distance from Tumlingtar to Num is 29 milo meters where Sherpas and Rai, are inhabitants.
Tea House
Breakfast, Lunch, Dinner
1,560m
03 Day
Trek to Sedua Lodge (1,500m/4,921 feet), 5 hours
Trek to Lumbang through the cornfields. The trail drops very steeply through a jungle to the Arun River (660m) bridge. We climb steeply to a primitive tea shop through corn and buckwheat field. Moving along the rocky path and tiny terraces planted with corn and barley, we make a long, steep rough climb to Sedua village.
Tea House
Breakfast, Lunch, Dinner
1,500m
10.1 Km walk
04 Day
Tashi gaon trekking (2,100m/6,890 feet), 6 hours
Walk to Kasuwa Khola to Gyang (1,770m). It is a pleasant walk through fertile fields and forested areas from Hindrungma to Rupisa village. Through the nature hiking trail, we cross meadows and several streams, we climb to the Tashi Gaon. Tashi Gaon is the Sherpa village, the last permanent settlement in the valley.
Tea House
Breakfast, Lunch, Dinner
2,100m
13.50 Km walk
05 Day
Kauma Danda trekking (3,500m/11,484 feet), 6 hours
Kauma Danda is equally popular as a khongma danda has a viewpoint to see the amazing view. Trek to Chipla ridge, continue to climb past two small streams, and switch back up the ridge in forests to a Kharka at 2900 meters and up to a saddle and Unshisha, a tiny meadow at approx. 330 meters. Now the path joins the ridge that separates the Iswa and Kasuwa drainages. Walk further to get to Dhara kharka ridge and descend to reach Kauma.
Tea House
Breakfast, Lunch, Dinner
3,500m
15 Km walk
06 Day
Dobato trekking (3,862m/12,671 feet), 6 hours
Walk steeply through Rhododendron forests to the top of the ridge, with a large Mani wall. We get superb views of Chamlang, Peak 6. From the pass, we descend to another lake and steeply ascend through large boulders to the Tutu La. After about 150 meters descending we reach the Mumbuk community. Mumbuk/Nambuk is a place at an altitude of 3,540 meters to the viewpoint to get outstanding sights of colorful landscapes. Continue hiking further to Dobato to stay overnight at the guest house.
Tea House
Breakfast, Lunch, Dinner
3,862m
18 Km walk
07 Day
Yangle Kharka Trek (3,557m/11,670 feet), 7 hours
We walk through birch and rhododendron forest, to reach Yangle Kharka. Climb Yangle Kharka, and cross Barun Khola to reach Nhe Kharka at 3,700 meters above the sea. There is a small gompa on the south side which offers great mountains in all directions.
Tea House
Breakfast, Lunch, Dinner
3,557m
15.50 Km walk
08 Day
Trek to Langmale Kharka (4,410m/14,469 feet), 7 hours
Beyond the Nhe Kharka, we follow the north bank of the Barun Khola for a while. Barun Valley makes a huge S-shaped curve and the walls rise almost vertically between 1500 to 2000 meters above the river, but the wilderness trail climbs gently as we approach Ripok Kharka.
Still, on the north side of the Barun, turns westward and leaves the rhododendron forests for the alpine tundra. Reach Merek at 4,100 meters above the sea to get a splendid view. Continue to walk to Tadhosa, where a small teashop exists. From here, we cross a stream that flows from Shiva's Dhara (Shiva's waterfall), a most popular pilgrimage sites for Hindu people. It is also believed that the water flows from Tibet Plateau.
Above Ripok Kharka, the route crosses a rocky crest with a few goths and then ascends alongside a moraine formed by the Barun Glacier. Mount Pyramid Peak, Peak 4, Chamlang, Peak 3, and Peak 5 are clearly visible en route. Continue hiking further to Langmale Kharka to stay overnight at the lodge.
Tea House
Breakfast, Lunch, Dinner
4,410m
18 Km walk
09 Day
Makalu base camp trek (4,870m/15,978 feet), 6 hours.
Trek descend gradually to a minor pass about 100 meters above Makalu Base Camp. Again descend to a stream, and cross on stone rocks to the base camp on the west bank of the river. Visitors can see the south face of Makalu Mountain's terrific view. The large buttress of the south face rises across from the base camp. On an ascent, you can view Peaks 6, 7, and Baruntse (7,220m); Everest and Lhotse complete in a panorama. Gaining Makalu Base Camp height is not complicated in terms of altitude. However, a hike to Makalu base camp is one of the top treks to research flora and fauna. Stay overnight at the lodge.
Tea House
Breakfast, Lunch, Dinner
4,870m
15 Km walk
10 Day
Hike to Makalu Base Camp Viewpoint (5,300m/17,389 feet), 4 hours
There are many things to do on your day trip like you can visit the Swiss base camp or at Hillary camp. But, check the Makalu base camp weather forecast because the Base Camp hike to explore around for a few hours is tough. Hike the Viewpoint at 5,300 meters above the sea is a hidden trail in the Himalayas. Get your guide with your private hiking gear and follow the thin rugged trail ascending at Ridgeline viewpoint. It's about 430 meters above the Makalu base camp lodges. Tourists can achieve the glorious mountain scenery including the glacial lake en route. Likewise, reaching the hill station, you can see the best view of several mountains like Everest, Lhotse, and Nuptse as well as close-up, dramatic views of Makalu, Peak 7, Peak 6, and Peak 4. The round trip to reach the Makalu base camp viewpoint rapidly takes about 4 hours.
Tea House
Breakfast, Lunch, Dinner
5,300m
21 Km walk
11 Day
Visit Barun Pokhari. Hike descend to Yangle Kharka, 6-7 hours
In the morning after breakfast, Tourist can hike to visit Barun Pokhari popular as a origin of Barun River. It's also popular as a Seto Pokhari. It is one of the highest altitude lakes in Nepal's Makalu Barun National Park. Similarly, it is also ranked among the world's highest altitude lakes. In addition, during the winter season, the lake is frozen and you will get to witness the spectacular view of the frozen lake.
After exploring Seto Pokhari, we return to a guest house to meet the entire crew members, pack your entire hiking gears, collect the trash, and continue your hike descend to Yangle Kharka. Yangle kharka is situated at an altitude of 3,557 meters above the sea.
Tea House
Breakfast, Lunch, Dinner
5,300m
21 Km walk
12 Day
Yangle Kharka to Dobato trekking (3,500m/11,484 feet), 6 hours
Leaving Yangle Kharka, we trek across the Shipton La and descend to Khongma. And continue your hike to Dobato Guest House to stay overnight.
Tea House
Breakfast, Lunch, Dinner
3,500m
23 Km walk
13 Day
Dobato to Khongma Danda trek (3,500m/4,922 feet), 5 hours
Leaving Khongma, we trek across the Keke la pass at 4,170m and Shipton's la pass at 4,125m. As we get higher, our muscle gets tire however the journey help us better for body and soul. The high pass is not difficult thus we continue further at Khogma Guest House to stay overnight.
Tea House
Breakfast, Lunch, Dinner
3,500m
18 Km walk
14 Day
Khongma Dada to Tashi Gaon trek (2,100m/6,890 feet), 5 hours
Leaving Khongma, we trek across the kauma la pass and continue to sadema to reach Tashi Gaon.
Tea House
Breakfast, Lunch, Dinner
2,100m
16 Km walk
15 Day
Descend to Num village trek (1,560m/5,118 feet), 8 hours
We continue descending through the forests, streams and the tiny villages, we reach at Nu village where we started our Makalu base camp journey. Tourists can achieve splendid views of the Makalu and Chamlang mountains en route.
Tea House
Breakfast, Lunch, Dinner
1,560m
20 Km walk
16 Day
Num to Tumlingtar by Jeep Transfer (410m/1,345 feet), 6 hours
The trail traverses the fields and the villages with high uphills and the low downhill villages to reach our final destination trip. The overland jeep drive takes about six hours roughly but it can take longer if the track condition is worse. Finally, cross the Arun River to get Tumlingtar Hotel. It is the final day of the Makalu base camp hikes so the entire crew will have a party celebration with dance and singing songs.
Tea House
Breakfast, Lunch, Dinner
410m
29 Km walk
17 Day
Fly back to Kathmandu. Departure back to home flight.
Early in the morning, we fly back to Kathmandu with scenic short mountain views. It takes about 40 minutes to reach in Kathmandu and transfer to the hotel. In the evening, Drop you at Kathmandu international airport onward to your final destination and our trip ends. Trip finish.
Not satisfied with Makalu travel plan?
Are you interested on planning a custom trip? this might take 2 to 3 minutes.
Cost
How much does the Makalu base camp trek package price?
The Makalu Base Camp trek package price of US$ 1598 per person is a standard trek price on double occupancy basis. It's one of the best wilderness trek routes in Nepal in terms of flora and fauna but with fewer tourists because of less publicity.
For the deluxe and luxury trekking tour plan, we add a 3-5 star category hotel deluxe air-conditioned room in Kathmandu with a breakfast plan. Likewise, we serve local guest house accommodation en route. However, WE ARE OPEN TO CUSTOMIZING YOUR TOUR AND PACKAGES PRICE AS PER YOUR REQUIREMENTS.
Makalu Base Camp Trek Package Price Includes:-
Kathmandu International/ domestic airport transfer as per the given plan.
Single night double bedroom accommodation in a Tourist standard hotel in Kathmandu.
Domestic Flights (Kathmandu – Tumlingtar – Kathmandu) round trip fares with required airport tax.
16 Breakfast set, 15 Lunch, and 15 Dinner [main course] serve with a cup of tea/coffee while on Makalu base camp hike.
15 nights available lodge accommodation along the journey.
Private jeep 4WD transfer from Tumlingtar to Num village and return to Tumlingtar airport hotel.
Makalu base camp trek permits (Makalu Conservation & National Park entrance fees)
Fully escorted trek with English-speaking license holder local Guide.
An assistant guide will provide for 7 plus group tourists.
Required a number of porters (Each porter carries a maximum of 24 kilos of tourist baggage which is going to be 2 guest luggage is equal to 1 porter basis).
Makalu Hiking equipment, Insurance, and other facilities for Nepali trekking guide and porter.
Makalu base camp trek map & Trek completion certificate – Keep yourself
Agency's duffel bag (50 liters capacity), and trek poles if Necessary – return after the trek.
First aid medical kit including Oximeter to check your Oxygen level, Pulse rate to monitor every day to prepare for altitude mountain risk.
In a worst case, help with all Helicopter Rescue and evacuation arrangements (but not the rescue bills).
Nepal Government Tax, VAT, and as well as Company service charge.
Makalu Base Camp Trek Package Price Excludes:-
Lunch and Dinner during the staying in Kathmandu city.
Any kinds of battery charges, laundry service, phone calls, and hot showers during the trekking.
Tourist personal trekking equipment's .
Personal nature expenses, all types of beverage drinks, desserts like Chockletes, and bar bills.
Travel Insurance which covers emergency rescue, evacuation, personal loss, or damage.
Any donation and monument entrance fees.
Gratuities for guide and porters [Tip is a culture, so they expect highly].
Group join
We can organize your private Makalu base camp Trek (mbc treks) starting on any date that works for you. If not, please write to us with your travel inquiry.
FAQ
Question: Is pick-up service available on my arrival day in Kathmandu?
Answer: Yes sure. Provide us with your flight details. Our representative will come to pick up you at Kathmandu international airport.
Question: Do I need the experience to do Makalu base camp trek?
Answer: As a matter of fact the Makalu base camp hike is best suited for tourists who can walk around 5 hours daily with a lightweight daypack. If you have a little experience would be better to complete it on time.
Question: Can I store my additional luggage/stuff in Kathmandu?
Answer: Yes, you can leave your luggage at your hotel or at our office. Store your stuff in the Gokyo Treks agency office is for free.
Question: What kind of accommodation can I expect on the express Makalu base camp trek?
Answer: We provide you tourist standard accommodation in Kathmandu and basic homestay accommodation on trekking routes. If you definitely plan to go to Makalu then rent or buy the best camping gear before your departure. However we recommend you take your own sleeping bags if you have one with you otherwise, you may rent them while in Kathmandu.
Question: What kind of food can I expect on this trek?
Answer: During the Makalu Base Camp lodge basis trekking, Homestay will provide food and sleeping rooms. They often cook delicious food for Makalu trekkers. Likewise, if you choose a full camping tent trek, our professional cook prepares a super delicious range of mostly vegetarian meals. They are Pasta, tuna bakes, noodles, rice, potatoes, eggs, bread, soups, and fresh vegetables according to our client's demand.
Question: What opportunities will I have for a shower along the Makalu trek?
Answer: As you are on a lodge base trek, you can buy hot water for showers. However, if you choose a tent camping trek, we do provide you with a hot water bucket then you will take a bucket shower.
Question: How do I get drinking water on Makalu with Arun Valley Trekking?
Answer: MBC trek routes, are all places hotels and shops where you can able to buy mineral water en route. But we advise against buying mineral water in plastic bottles, as currently there are no provisions for disposing of this plastic waste. Instead, we advise you to buy boiled water or bring aqua tablets to purify the normal water as the normal water is available at local taps, streams, or at the campsite.
Question: Can I charge my digital camera or other batteries on my trip?
Answer: Hiking through the local houses or guest houses will have more chances to charge a battery. We recommend you bring an extra pair in case. Remember to bring your own adapters!
Question: Are there any communication facilities at Makalu Base Camp for short trekking?
Answer: Campers can often get telephone services as well as internet service.
Question: Can I use credit cards in Makalu Base Camp Trekking?
Answer: No. You need to have cash Nepali rupees because credit cards work only in the bigger city areas.
Question: Is there any possibility for Makalu Base Camp Trek Solo?
Answer: Yes. Makalu base camp trek solo is also possible if you single person travels with our hiking guide-porters. Hike to Makalu is perfectly safe for solo female trekkers. We have been organizing the trek even for solo female travelers.
But the condition is, that you are not allowed to cross the border to Kanchenjunga conservation areas. However, crossing the Kanchenjunga conservation to go to some parts of its villages (Kimathangka, Chepuwa, Hatiya, and Pawakhola) you must need restricted area permits. It requires a special permit, trek with a minimum of two hikers permit issued by the Department of Immigration of Nepal.
Question: When should I book my trip and what are the payment terms?
Answer: Because our trips book up months in advance, we recommend booking early to avoid any kind of misunderstanding. We will, of course, make every effort to accommodate last-minute bookings.
And regarding the deposit, we prefer a 25% advance deposit of the total price of the trip in order to confirm your reservation before you arrive in Nepal. And the rest of the payment can be made after your arrival in Nepal.
Question: Who will carry my luggage to lodge Makalu Base Camp Trekking?
Answer: We provide porters to transfer your luggage. As we are a responsible trekking tour operator agency, each of our Porter carries a maximum of 25 kilos of your backpack which means 2 guests (12.5 kg luggage of each guest): 1 porter basis.
Question: How much distance do I walk each day?
Answer: When walking in the mountains, the distance you cover each day can vary greatly due to gradient, terrain, and altitude. As such it is very hard to give specific distances on each day, however, you have to be prepared to walk roughly about 5 hours each day.
Question: Do I need walking poles?
Answer: It is better to hike with walking poles. Learn how to use outdoor light poles for balance and stability, whether on the sidewalk or on trails. Walking poles can help prevent slips and falls. They are just recommended but not compulsory.
Question: Is it possible to hire a local professional trekking guide for Makalu Base Camp trekking?
Answer: Yes of course. If you are travelling in a tight budget for Makalu base camp trekking and have no wish to book the complete full board package trek, you can hire our expert local guide. The Guide hire cost is cheaper but still not the cheapest one because we pay them a very good salary to use their professionalism. Email to us to get a cost quotation for a local guide hiring in details.
Question: How much additional money do I need per day?
Answer: You can allocate US$ 08 to 10 for a lunch/dinner in Kathmandu and it depends on your spending habits. US$ 7 to 10 US$ each day will be enough to buy bottles of water, chocolates, tea coffee, and some drinks while you are on your trek.
Mountain Makalu base camp trek highlights
Explore Makalu base camp trekking including several excellent Himalayan views.
Visit Arun valley (deepest valley on earth) and as well as Varun Valley along the journey.
Diverse in flora and fauna and rich in local cultural heritages.
Currently Makalu base camp trek is possible to explore staying at a lodge basis at a cheaper price
Experience the mixed ethnic group's Sherpa, Limbu, Rai, and Gurung and their local lives.
Best time to Hike to Makalu base Camp Route
The best time to hike to Makalu Base Camp is during the spring (March to May) and autumn (September to November) seasons. During these months, the weather is relatively stable and dry, with clear skies, mild temperatures, and lower chances of rainfall or snowfall. The views of the Himalayas and surrounding landscapes are also spectacular during this time.
However, it's important to note that weather conditions can still be unpredictable in the Himalayas, and it's always best to check the latest weather forecasts and trail conditions before embarking on any trek. Additionally, it's recommended to have prior trekking experience and to hire a licensed guide and porter to ensure safety and support during the journey.
Makalu Base Camp trek difficulty
The Makalu Base Camp trek is considered a challenging trek in the Himalayas. It is known for its remote and rugged nature, which requires a high level of physical fitness, endurance, and previous trekking experience. Take a look some factors that contribute to the difficulty of the Makalu Base Camp trek:
High Altitude:
The trek reaches high altitudes, with the base camp located at around 4,800 meters (15,748 feet). Acclimatization is crucial to avoid altitude sickness, and the thin air at higher altitudes can make hiking more strenuous.
Terrain or Geographic landscape:
Your footsteps to Makalu trail involves steep ascents and descents, traversing through diverse landscapes such as dense forests, rocky sections, and moraines. It has rugged terrain and uneven paths require good balance and sturdy footwear.
Length and duration:
The Makalu Base Camp trek typically takes around 16 to 18 days to complete. It covers a considerable distance, including long walking days and multiple high passes, which requires a good level of physical stamina and mental determination.
Remote and isolated:
This MBC trek is relatively less frequented than other popular treks in Nepal, making it more remote and isolated. Limited teahouse accommodations and facilities along the trail mean that trekkers often need to carry camping equipment and provisions.
Weather conditions:
Weather conditions in the region can be unpredictable and harsh, especially during the winter and monsoon seasons. Trekkers may encounter cold temperatures, strong winds, and snowfall, which can add to the difficulty and challenges of the trek.
It's important to note that trekking difficulty can vary from person to person based on individual fitness, experience, and preparation. Proper physical training, acclimatization, and hiring an experienced guide or joining a reputable trekking agency can greatly enhance your safety and enjoyment during the Makalu Base Camp trek.
Notice for Makalu base camp trekkers!
The information stated above is just a sample guideline that we serve tourists. However, the travel plan is possible to modify at your request to accommodate your specific requirements. Local politics, landslides, cancellation of local flights, weather, transport, or a multitude of other factors that are out of our control can result in a change of itinerary during on trip.
It is, however, very incredible that the itinerary would be extensively altered. If alterations are necessary the leader will decide the best alternative option, taking into consideration the best interests of the whole group. When a change does occur, we do everything we can to minimize its effect, but we cannot be responsible for the results of changes or delays.
What makes Makalu base camp trek special?
A trek to Makalu Base Camp takes you through some of the most remote and untouched parts of the Himalayas. The Makalu route offers stunning views of the world's fifth-highest peak, Makalu, as well as other majestic peaks such as Everest, Lhotse, and Chamlang.
The trail passes through beautiful rhododendron forests, high-altitude passes, and picturesque Sherpa villages, offering an unforgettable experience for adventurous trekkers.
We believe in the quality of services and your safety and satisfaction is our concern. We are a team of professional, experienced, and licensed local guides who know the destination much better than others. Not only this but also we give benefits to the local communities and help to conserve natural resources which reduced costs and consumption.
Makalu Base Camp Trek Review
Makalu Base Camp Trek in Off the Beaten Path
Just recently, we undertook the awe-inspiring Makalu Base Camp trekking adventure in Nepal. The journey was long and challenging, but the breathtaking vistas that unfolded along the way made every step truly worthwhile. Initially, there was some uncertainty about our ability to complete the trek, but we persevered with determination.
In our pursuit of a successful trek, we joined forces with the experienced team at Gokyo Trek and Expedition. Their guidance and preparations proved to be invaluable as we explored the high Himalayas along the routes. The team's expertise made our hiking experience significantly smoother and more enjoyable, instilling us with confidence to conquer each leg of the journey.
The entire expedition was nothing short of extraordinary, with majestic views surrounding us at every turn. It was an adventure we will cherish for a lifetime.

Response from Gokyo Treks Nepal
Dear Petra Jank,
Your review of Makalu base camp has filled us with absolute delight! Your satisfaction is our top priority, and we are thrilled to learn that you had a wonderful experience with our services. Your kind words mean the world to us, and we are sincerely grateful for your appreciation.
Your words of encouragement serve as a powerful motivation for us to continue delivering exceptional Himalayan adventures. We eagerly await the opportunity to serve you again on another remarkable trip in the near future. Your return will be a true pleasure for our team.
Thank you once again for choosing us and for sharing such positive feedback. Should you have any further questions or require any assistance, please do not hesitate to reach out to us.
Warm regards, Ammar
From US$ 1682
5% Off
US$ 1598
| | |
| --- | --- |
| No. of people | Price Per Person |
| 1 | USD 2095 |
| 2 | USD 1598 |
| 3 | USD 1580 |
| 4 - 6 | USD 1498 |
| 7 - 9 | USD 1450 |
| 10 + | USD 1398 |
Book Now
Customize Trip
Cost & Departures
Your Trip Your Style!
ITINERARY, COST, DEPARTURES, will adjusted according to your GROUP SIZE NEED TIME
Book with Confidence
Local Guides Company.
18 Years in Business.
Lowest Price Guaranteed.
100% Customizable Trips
Excellent Customer Service
Hassle Free Booking.
90 % Repeated customers
Highly Recommended agency
Private/group tour options