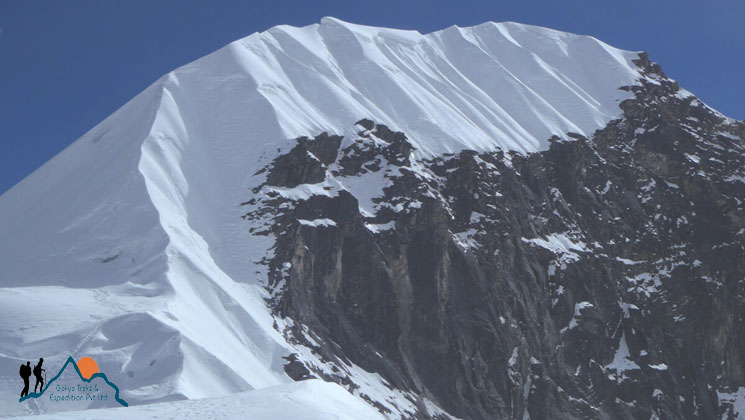 Trip Summary
Trip Duration: 17 Days
Climbing difficulty: Moderate Adventure
Summit Elevation: 6,584m/21,602 feet
Walking Hour: 6 Hours
Group-Size: 2-6 People
Best Time: April to October
Trip Mode: Guest House + Tent Camp
Meals on Trek: Breakfast, Lunch, and Dinner
Transport: Car/Plane/bus
Overview
The Chulu west peak climbing is a conspicuous impressive mountain that locates into the heart of Annapurna region in Nepal. Gorgeous Chulu west peak is situated near letder in Manang District in between Annapurna renge and Thorong la summits.
The west side of Chulu peak summit offers an excellent view of Mount Manaslu (8,163m), Mt. Annapurna II (7,937m), III, and IV, Gangapurna, Glacier Dome, Tilicho Peak, and as well as numerous other peaks. Furthermore, the Chulu west peak itself is 6,419 meters, the most popular climbing Peak among the trekking peaks.
Adventure chulu peak is equally speaking as a Julu peak. Moreover, the climbing itinerary covers perhaps the most underline scenery of local people's lifestyles, pristine rivers, wildlife, and of mystical Annapurna range within Chulu west peak base camp hiking.
Hikes around the Annapurna with west chulu expedition, you can see the tallest Annapurna summits, Gurung villages, splendid landscapes, lush green forests. Likewise, you can see further some of the oldest local inhabitants along the annapurna trip which has a great opportunity to experience the local Magar, Manangis, and Gurung community hospitality.
The mountaineering association gives an official altitude is 6,429m. Many climbers are confused as to the exact location of these two peaks as the range has 4 or more summits in the immediate vicinity which are unmarked in maps of this area. As a result, many climbing parties have mistakenly climbed one of these peaks thinking it to be Chulu West or far east. It is usually understood that with the permit to climb either east or west chulu mountain an attempt can be made to the nearby peak as well.
In addition, climbing the Chulu west peak summit is great in terms of scenery & the summit provides an excellent view of almost the top highlights of the Annapurna mountains, lakes, and the Marshyangdi river valley.
Itinerary
The Chulu west peak climbing itinerary details
The particular Chulu west peak climbing route is designed for globetrotters who wish to Thorong la pass hiking combine with Chulu west peak climbing. Nonetheless, if you are planning with limited time-wise and want to descend from Thorong la? try this itinerary. If you wish to continue your journey over Thorong la pass? write to us with your list plan.
1 Day
Arrival at Kathmandu valley
Upon arrival in Kathmandu, Tribhuwan International Airport, we will receive you with private vehicle and transfer to hotel in Kathmandu within breakfast plan. Our agent will brief you Chulu west peak climbing itinerary and other necessary climbing and trek programs.
2 Day
Bus drive to Besisahar (760m/2,485 feet) – Dharapani (1,810m/5,937 feet), 10 hours.
Early morning, guide will come at 7.00 am in the morning to pick you up. We have 7 hours of driving to Besishar, 185 kilometers far from Kathmandu valley. On arrival at Besisahar, you will witness stunning snow caped mountain scenery. Besisahar is a gateway exploring Annapurna where to start lodge basis Annapurna circuit trek.
Local jeep drive starts from Besisahar to Dharapani village. It is a local jeep ride on a passenger gathering basis. Want to rent a private jeep drive? (cost is USD 150 additional). However, the driving distance between Besisahar to Dharapani is 330 km and takes about 5 hours roughly. The length of time is depending on the road condition and road traffic. Begins with the off-road drive with a local jeep following Marshyangdi Streams steadily uphill. We make a trail verse crossing a wide, flat valley. The trek journey starts up and down to Dharapani at 1,890 meters.
3 Day
Trek to Chame hotspring (2,630m/8,600 feet), 5 hours.
Stone entrance Chorten typical of the Tibetan influenced villages. Bagarchhap is the typical flat-roofed stone houses of local Tibetans design along with the village surrounding with apple Orchards and maize fields.
Contine the journey throughout the forest, we reach Chame Bazaar. Chame is the headquarters of the Manang district. Tourist can get Annapurna II impressive view and two tiny hot springs. Along with the circuit trekking path, tourists can introduce to a local community who have been migrated from the open Tibet border.
4 Day
Pisang village trek (3,300m/10,791 feet), 6 hours.
The day starts through deep forest in a steep and narrow valley, crosses a river on a long bridge. Continuously cross another bridge at 9,971 feet, from where the view of the soaring Paungda Danda rock face really begins to appear. From there the trail joins to climb to Pisang, which sprawls between 3200 to 3300 meters. Sustain manangis lifestyles and tonight we stay at Upper Pisang.
5 Day
Trek to Braga village (3,475m/11,398 feet), 7 hours.
The trail leads you through the drier upper part of the Manang district, cut off from the full effect of the monsoon by the Annapurna Range. People of this region herd the yaks & raise crops for part of the year. They also continue to enjoy special trading rights gained way back in 1784.
We have alternate pathways north and south of the Marsyandi River. The southern route goes to Humde airport at 3,325 meters which involves less climbing than the northern route via Ghyaru, though there are better views on the trace that follows the northern bank of the river. Hikes through the past the picturesque but partially hidden village of Braga at 3,475 meters near the center point of Manag.
6 Day
Manang Trekking (3,5519m/11,542 feet), 1 hour only (Acclimatization day).
Hike about 1 hour to reach at the main downtown of Manang village. As today, is an acclimatize day, you can rest to save energy but we recommend you to spend doing some fine walks to Gangapurna viewpoint and Gangapurna glacier and return. That helps your body for proper acclimatization. There are many things to do in Manang. You can also visit the ice lake… the more information, you can find in the Annapurna circuit trek 10 days blog .
7 Day
Yak Kharka hikes (4,050m/13,244 feet), 5 hours only.
Trek leads through cultivated potatoes land with majestic landscapes around Tanki Manang. Reaching at Gunsang lodges, trail makes an ascent of nearly 500 meters to the Yak Kharka. Yak Kharka lodge locating at an altitude in 4,000 meters where the many yaks and vegetation steadily more scanty.
8 Day
Chulu west base camp trekking (4,900m/16,077 feet), 7 hours
Take a hot breakfast with sunrise. Around 8 am, we conduct our camping and climbing journey to Chulu west base camp trekking. We fix our campsite on the better viewpoint of tallest Annapurna over the clouds.
9 Day
Base camp to Chulu west high camp (5,600m/18,374 feet), 6 hours
The camping outdoor journey ascend over the grassy morriane to High camp at 18,374 feet above the sea level. Hiking over the grassy trail and sleepery morriane makes your journey more tough and fatigue.
10 Day
Chulu west summit climbing day (6,419m/21,060 feet). Descend to Base camp, 12 hours
The journey goes along the trail admiring the quick-changing landscape as we reach higher elevations. Early morning around 2am, we continue our target Chulu west peak climbing taking enough time. As you go highier the trail gets sleeper and icyrock. After a successful summit ascend, we go down to the normal basecamp to stay overnight.
11 Day
Reserve day in case of bad weather
Since the best weather is not guaranteed, we need to take an extra day while going on climbing. If we are unable to summit the Chulu West Peak on the scheduled date due to bad weather or some other reason, such as someone in the group having acclimatization problems, the reserve day will be very advantageous.
12 Day
Base Camp to Thorong Phedi trek (4,450m/14,552 feet), 6 hours roughly.
A longer day hiking to go from Base camp to either Thorong la Phedi or at high camp, depends upon your choice. The trail until Leder is grassy. Later on, we need to cross Thorong la river and passing one of the most dangerous stone slides areas. There are good lodges and offers very good food, Bakery, as well as Internet and telephone facilities.
13 Day
Thorong la pass trekking (5,416m/17,710 feet). Descend to Muktinath Temple, 8 hours.
Today is challenge day rather than others. We begin our trip very early in the morning. At sunrise, as we need to set out early to complete the crossing of the Thorong la at 5,416 meters. The trail is steep right from the start, but with a slow and steady pace, we should reach the thorong la summit in 4 hours of hiking.
From Thorong la to Muktinath trek takes about another 4 hours downhill walk from Thorong la Annapurna mountain. Prayer flags and hot tea await us as we reach the higher point en route. Our descent to Muktinath Temple is long, also stressful because of walking over the snowy slopes. But the border Himalayas and the Dhaulagiri family view are simply astonishing. Muktinath Temple has a large settlement with several fine lodges installed in modern facilities.
14 Day
Jomsom Bazaar hikes (2,713m/8,872 feet.), 4 hours.
Majestic view with the mustang landscapes makes your journey incredible. We climb to the Lubra Danda and walk down to the Lubra village, one of the picturesque Thakali villages. In addition, The journey offers a superb view of the Dhaulagiri, Nilgiri, Tukuche, and other surrounding snow-capped peaks in front of you. The wide and flat sandy trail goes along the kali Gandaki riverbanks leads to the district headquarters of Mustang. There are several verities of fine lodges and luxury hotels that offer you delicious foods that perhaps recover your body.
15 Day
Jomsom to Pokhara flight (25 minutes) & drive to Kathmandu valley, 7 hours
All the Jomsom flights are available during the morning time cause after 9 AM windstorm starts. A strong breeze blows during and after and frequent changes in the weather prevent flights from landing and taking off in the afternoon. During the flights in the morning, the skies look very clear which allows you to enjoy splendid views of different mountain peaks.
As soon as we land at Pokhara airport, then we take a bus back to Kathmandu. The bus drive takes about seven hours roughly. After a little refreshment, drop you at the international airport for your further flights.
16 Day
Final departure to the Kathmandu international airport.
Drop you to the International Airport kathmandu for your onward destination and our trip ends. Wish you your wonderful journey.
Cost
How much does Chulu west peak climbing cost?
The Chulu west peak climbing cost US$ 2,450 is standard trek price on a double occupancy basis. But of course, the trip price will vary according to group size. Many climbers are demanding to go Chulu west peak climbing 1 night 2 days package after Pisang village. Gokyo Treks Nepal agency is aware with those issues and If guest requests for such service, we can arrange climbing permits, guide, food and climbing gears to attempt the summit.
For the deluxe and luxury trekking tour plan, we add 3-stars category hotel deluxe air-conditioned room in Kathmandu (BB PLAN) and Tourist standard accommodation with attached bathroom while trekking on possible places. AND WE ARE OPEN TO CUSTOMIZE YOUR TOUR AND PACKAGES PRICE AS PER YOUR REQUIREMENTS. International tour leaders are highly encouraged to get discounts and attractive complimentary.
Adventure Chulu west peak climbing cost includes:
Kathmandu international airport pick up on your arrival in kathmandu airport with private vehicles.
2 nights Twin sharing Tourist standard hotel accommodation in Kathmandu with breakfast plan.
A highly experience, helpful, friendly and knowledgeable, English speaking well trained, Government license holder climbing Sherpa Guide with all his salary, food, drinks, accommodation, Transport and insurance.
Domestic flight tickets Jomsom to Pokhara one way trip with applicable airport taxes
Micro Bus drive transportation from Kathmandu to Besisahar while on going.
Local jeep drive starts from Besisahar to Dharapani on ascending.
Everyday Foods (Breakfast, Lunch, Dinner) during the trekking and climbing days.
Guest House accommodation during the trekking and Tent accommodation while on climbing periods.
1 professional cook and kitchen staff dependsing upon the group size you are coming with.
Required number of porters during the trek.(one porter = 1 guest basis) because each of our porter can carry maximum 22 kilogram of your bag pack.
Chulu west peak climbing permits fees, Climbing guide bonus and climbing guide's insurance.
Tent accommodation with unlimited climbing foods while on peak climbing time
Well paid salary, food, accommodation and insurances of Nepalese staffs.
Annapurna conservation permits and TIMS permits and as well as their fees.
Nepal Government Tax, VAT and as well as Company service charge.
Chulu west peak climbing cost exclude :
Nepal entry visa fee cost US$ 40.
Lunch and Dinner during the staying in Kathmandu city.
Any kinds of battery charges, laundry service, phone calls and hot shower during the trekking.
Trekking and climbing gears for each foreigner (personal) and clothing.
Personal nature expenses, any drinks and bar bills.
Your travel insurance (it is mandatory in case of emergency).
Any donation and monuments entrance fees.
Tips for the crew (Note: TIPS is not compulsory but highly expected)
Any other things which are not mentioned above
Group join
As checking Chulu west peak facts, the climbing tour is possible to complete within 12 days, if you wish to go express to Chulu west peak climbing. However, we can organize private Chulu west peak climbing combine with Everest base camp trek starting at any date that works for you. Please contact us for more information.
FAQ
Question: Is pick up service available on my arrival day in Kathmandu?
Answer: Yes sure. Provide us your flight details and request for airport pickup. Our agent will come to pick up you at TIA, Kathmandu international airport.
Question: Do I need experience for Chulu west peak climbing?
Answer: This trip is suitable for experienced trekkers who can walk roughly about 4 or 5 hours daily with a lightweight daypack. If you have some walking experience something above 3000 meters, you can do this trip..
Question: What kind of accommodation can I expect on climbing Chulu west peak?
Answer: We provide you tourist standard accommodation in Kathmandu and during the trekking normal but the rooms are a clean cozy bed with nice mattress and blankets. However, we recommend you take your own sleeping bags if you have one with you otherwise, you may rent them while you are in Kathmandu.
Question: What kind of food can I expect on Chulu west peak climbing days?
Answer: The guesthouses en route, have attached restaurants. They cook a super delicious range of mostly vegetarian meals such as Pasta, tuna bakes, noodles, potatoes, eggs, dhal, curry rice, bread, soups. The dinner and breakfast are provided in the same place you spend the night every day and Lunch will be provided on the way to the next place where you pass. However, for climbing days you will have climbing food serve with hot drinks at our campsites.
Question: What opportunities will I have for a shower along with climbing and chulu mountain trekking?
Answer: Guest house trekking all the lodges they have a shower which you can get it on pay.
Question: How do I get drinking water on Chulu west peak climbing?
Answer: During the trekking route there are all places hotels and shops where you can able to buy mineral water and you can buy it for drinking. But we advise against buying mineral water in plastic bottles, as currently there are no provisions for disposing of these. We recommend you bring Aqua tablets to purify the normal water as the normal water is available almost everywhere in the annapurna trail.
Question: Can I charge my digital camera or other batteries on my trip?
Answer: Climbers can recharge the battery on pay at guest houses before basecamp. We recommend you bring an extra pair in case. Remember to bring your adapters! And we recommend you to take extra batteries along with you.
Question: Are there any communication facilities on Chulu west peak climbing?
Answer: While on the trek route, you can get telephone services as well as internet services but better to go with a satellite phone while on climbing periods.
Question: Compare the Chulu west peak vs Kilimanjaro peak climbing and hiking?
Answer: According to our climbers says, climb up Mt Kilimanjaro sounds like an incredible encounter. We get the sense it's more a test of patience, stamina or endurance, and high mountain altitude sickness rather than something that is physically challenging. It is great to hear why you think climbing Mt Kilimanjaro is an incredible challenge.
However, Climbing Chulu west peak is a better adventure vs Kilimanjaro as it located in the depth of Marshyangdi river valley. The trip starts with a fly and goes up to 20,300 feet within a short span of time.
Question: Can I use credit cards in Trekking?
Answer: No. You need to have cash Nepali rupees because credit cards don't accept in mountain lodges. Credit cards accept only in bigger cities to pay for restaurants and lodges.
Question: When should I book my trip and what are the payment terms?
Answer: Because our trips book up months in advance, we recommend booking early to avoid any kind of misunderstanding. We will, of course, make every effort to accommodate last moment bookings.
And regarding the deposit, we prefer 20% advance deposit of the total price of the trip in order to confirm your reservation before you arrive in Nepal. And the rest of the payment can be made after your arrival in Kathmandu.
Question: Who will carry my luggage on express Chulu west peak climbing?
Answer: We provide porters to transfer your luggage. As we are a responsible trekking tour operator agency, our every porter carry a maximum of 25 kilos of your backpack which means 2 guests (12.5 kg luggage of each guest): 1 porter basis.
Question: How much distance do I walk each day?
Answer: When walking/trekking in the mountains, the distance you cover each day can vary greatly due to a gradient, terrain, and altitude. As such it is very hard to give specific distances on each day, however, you have to be prepared to walk roughly about 5 hours each day.
Question: Do I need climbing poles for Chulu west peak climbing?
Answer: It is better to hike with walking poles. Learn how to use trekking poles for balance and stability, whether on the sidewalk or on trails. Walking poles can help prevent slips and falls. They are just recommended but not compulsory.
Question: Where can I organize my personal climbing gears?
Answer: If you have those climbing gears at your residence bring them along with you. If you don't have them, you can rent them in Thamel gears shop.
Question: How much additional money do I need per day?
Answer: You can allocate US$ 08 – 10 for a lunch/dinner in Kathmandu. It depends on your spending habits. US$ 7 to 10 US$ each day will be enough to buy bottles of water, chocolates, tea coffee, and some drinks while you are on trek.

Chulu west peak climbing was great with Nepali Friends
100%
5
star based on –
193
Based on TripAdvisor Reviews
We were a group of 2 Austrian Travellers, started on September 22nd from Kathmandu to Chulu west peak climbing tour. Ammar made almost everything reservation for our trip such as climbing trip, Jomsom-Pokhara flight tickets, private coach, private jeep (of course we paid extra cost), hotel reservation etc.
Ammar welcomed us at Tribhuwan international airport (TIA), picked us to the center point of Thamel. Meeting our mountain guide Pasang, we arranged all hiking gears together.
3 of our other porters recruited from the agency also. They recognized almost all lodges and the local people. They were strong, friendly, and easy-going.
Furthermore, Ammar´s rates are quite decent, much cheaper comparing other agencies. Don´t hesitate to ask further questions, I am happy to answer, and had a good time there. – Tina Mayer and family, Innsbruck town, Austria
Chulu west peak climbing highlights
Discover the best Himalayan view in 360 deg angle from Chulu west peak summit.
Best view of Mount Annapurna, Fishtail, Hiunchuli and Gangapurna ..etc
Challenging Chulu west peak summit offers the best Mountain scenery of all Annapurna region.
Local Gurung and Magar cummunities, hospitality and thier daily life styles.
Chulu west peak climbing Notes
The Chulu west mountain information stated above is just a standard template guideline that we provide Tourists. However, the expedition trip is possible to modify at your request to accommodate your specific requirements. Local politics, landslides, cancellation of local flights, weather, transport, or a multitude of other factors that are beyond our control can result in a change of itinerary during on trip.
It is, however, very unlikely that the itinerary would be substantially altered. If alterations are necessary the leader will decide the best alternative option, taking into consideration the best interests of the whole group. Where a change does occur, we do everything we can to minimize its effect, but we cannot be responsible for the results of changes or delays.
"What makes Chulu west peak climbing special?"
Opportunities for expedition or climbing are scattered all over this planet. You just need to know where to find them. We at Gokyo Treks and Expedition believe in quality services. Your safety and satisfaction is our concern. We are a team of professional, experienced, and licensed local guides who know the destination much better than others. Not only this but also we give benefits to the local communities and helps to conserve natural resources which reduced costs and consumption.
From US$ 2579
5% Off
US$ 2450
| | |
| --- | --- |
| No. of people | Price Per Person |
| 1 | USD 2750 |
| 2 | USD 2450 |
| 3 | USD 2550 |
| 4 - 6 | USD 2425 |
| 7 - 9 | USD 2399 |
| 10 + | USD 2375 |
Book Now
Customize Trip
Cost & Departures
Your Trip Your Style!
ITINERARY, COST, DEPARTURES, will adjusted according to your GROUP SIZE NEED TIME
Book with Confidence
Lowest Price Guaranteed.
Excellent Customer Service
Hassle Free Booking.
90 % Repeated customers
Travelers Recommended agency
Local Guide's owned company.
Reference person
Contact in Germany
Klaus Kummer : +49-367-2351-957
Martin Aigner: +49 7904 7428
Contact in USA
John Erwin: 212-222-6389
Beth Pekol, Chicago: +1 312-364-8924
Eve Quesnel, California: 530-5879-113
Contact in Australia
Mark Panico: +61 434 784 995
Contact in France
Anne Claire Srdoc: +33 683 549 096
Contact in Austria
Verena Laner: +43 650 7110 301
Dorothee Plunger:+43 512 565 255

Contact in Switzerland
Dominik Lee, Zürich: +41 079 3826 028