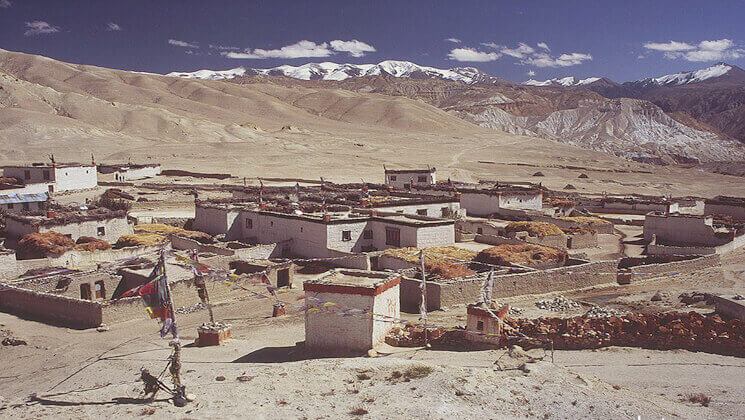 Upper Mustang Trek Summary
Trek Duration: 13 Days
Difficulty Level: Moderate
High Altitude: 4,190m / 13,747 feet
Trek Hours: 6/7 hours daily
Group-Size: 2 – 12 People
Best Time: April, May, October, and November
Trip Mode: Guest House
Meals on trek route: Breakfast, Lunch, and Dinner
Transportation: Jeep / Plane / Bus
Overview
The Upper Mustang trek is one of the less demanding trails, a perfect destination to see Buddhists Monasteries. Lo manthang is the Business hub of an entire mustang and a relatively very beautiful trek along the permitted routes.
Lo-Mustang, the capital city of the entire upper Mustang, is bounded by a wall by its surroundings and ruled by a Jigme Palvar Bista king. The Trans Himalayan region of Mustang is rich in its own unique culture and ritual. Like other trekking routes, the Mustang lo Manthang trek offers Mount Dhaulagiri (8,167m/26,796 feet) and Annapurna I (8,091m/26,546 feet) the highest peaks in the world. In addition, Tourists can enjoy the view of multiple high mountains over 6000 meters while on trekking days.
The entire upper territory of Mustang trek is the ultimate gateway to the mysterious world of the ancient Buddhist kingdom of Mustang, also called Lo. Furthermore, it is also a doorway to exploring lo manthang town and the corolla border to get to Tibet. Nepal mustang is frequently traveling to visit local and international tourists. About 1000 tourist visits Mustang yearly which is a great help to mustang Nepal's tourism economy.
Pictures of Mustang are just awesome and best for all photographers to capture those magnificent arid landscapes. Make a list of the most important tourist places to visit in Mustang to shoot. The Muktinath trek is another attraction that you make a combination on your journey over Gyula pass.
In addition, Muktinath is a Vishnu temple, sacred to both Hindus and Buddhists situated on the foothill of Thorong la peak. It is said that one has to be gifted to get the divine presence (darshan). Muktinath, Sri Devi Thayaar, and Sri Murthy are the main deities here.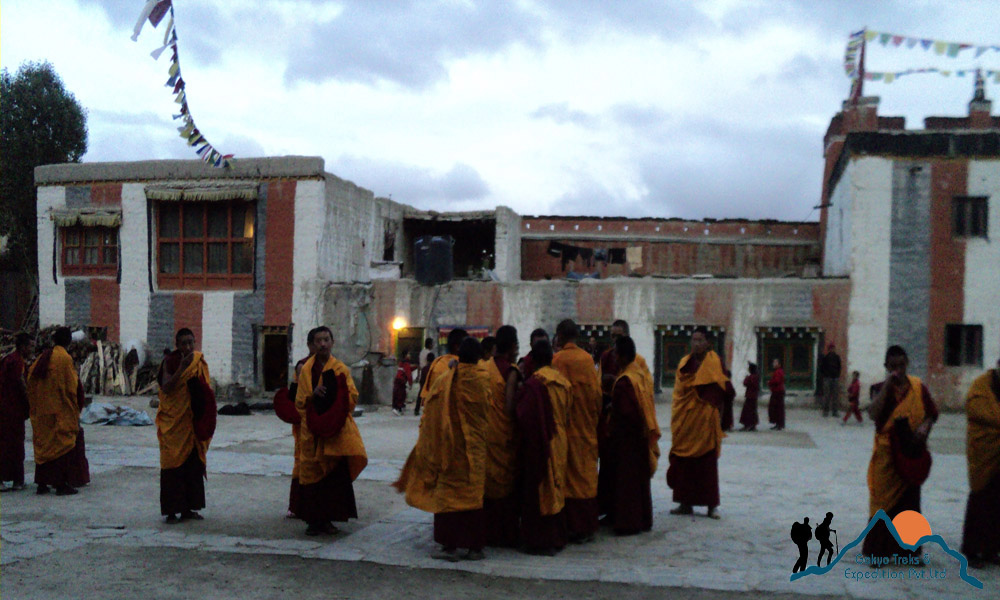 Besides that, we use our expertise to design the upper mustang trek itinerary seriously to make your holiday better. Most of the classical trail is destroyed by roads therefore the number of mustang visitors is decreasing.
Upper mustang trek 10 days is most popular in the Mustang region but you can complete it in a week with a jeep drive from Jomsom airport. If you have no longer than a week's time for upper mustang then try out a private jeep tour in Mustang. In this way, you can complete the Lomanthang tour including the Corolla border rapidly in 4/5 days apart from Kathmandu/Pokhara tour.
upper mustang trek map
The Upper Mustang trek has a moderate level of trek difficulty in terms of the daily walking hours are roughly seven hours over the sands. It is not as comfortable as the easy treks nor as difficult as the strenuous level treks. However, you can modify the difficulty level of the Upper Mustang trek like most treks to a certain degree to suit your demands.
Fees for the Upper Mustang trek permit?
Mustang restricted permits in all nations including India cost: US$ 500 per person for 10 days and USD 50 per additional day. Likewise, ACAP (Annapurna Conservation Area Project Permit) is US$ 25 or NPR 3000. And for SAARC Nation ACAP permit cost NPR 1,000 and TIMS NPR 200.
Trek in Upper Mustang has a barren landscape of eroded sandstone pillars and discontinuous moraine terraces, which together present a colorful mosaic made up principally of earthen reds, yellows, and browns. Mustang trekking lying under the rain shadow of the Himalayas is possibly the last remnant of pristine Tibetan culture. Forbidden and remote rest of the World.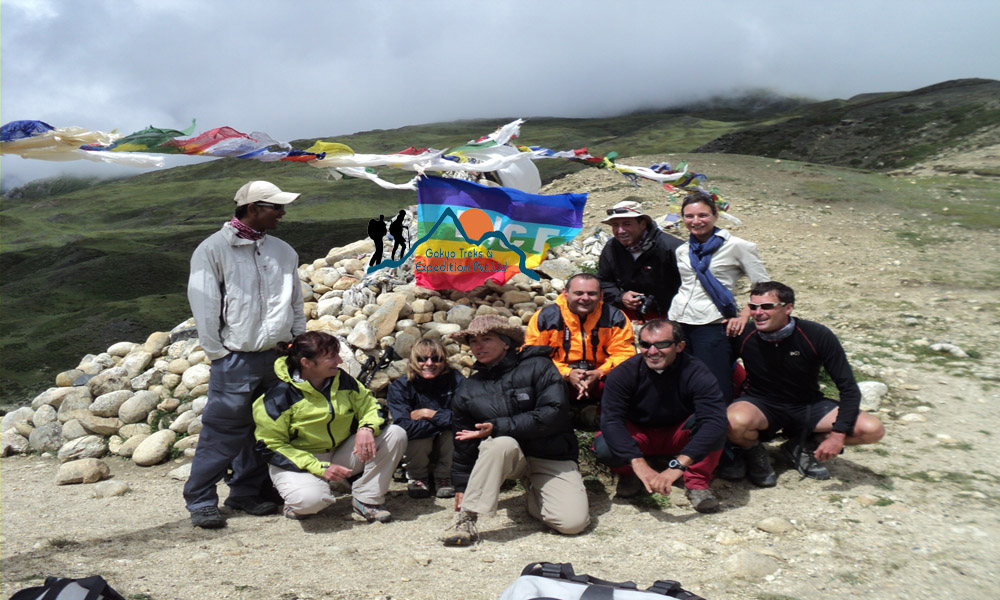 How much is the upper Mustang Trek Package Cost?
The cost of the Upper Mustang trek package with a local trekking agency Gokyo Treks in Nepal ranges between US$ 1425 to US$ 2092. But of course, the Upper Mustang trek cost will vary according to the group size you are traveling to and the service you choose. Although taking flights from Kathmandu to Pokhara to Kathmandu saves your time and riding the bus reduces the trip expenses.
Get a special upper mustang trekking package deal as given here on our website. Each trip is customized to fit the client's needs and group size, and the price of each trip we organize is different. The trip's price is calculated keeping in view the type of services and accommodation chosen by our guest. To offer you a personalized and smooth vacation experience, we create trips that suit your taste and travel at low cost.
It is the standard trip package price for 12 days trek. If you are 2 tourists upper mustang trek cost US$ 1590 for 12 days trek according to the given trekking plan. We can modify the trek route and the prices according to your wishes also. Here is the price list for the Upper Mustang treks.
Price Per Person for 12 days hike in the Upper Mustang route.
| Number of Tourist | Price Per Person |
| --- | --- |
| 1 Person | US$ 2092 |
| 2 Person | US$ 1590 |
| 3 Person | US$ 1560 |
| 4 to 6 person | US$ 1525 |
| 7 to 9 Person | US$ 1475 |
| 10 and more than 10 Person | US$ 1425 |
If you're wondering to know about what is included and what is excluded on this trip price, kindly check on cost given on a tab button.
Itinerary
Upper mustang trek itinerary details.
Mustang is a windy valley. Hike Mustang trekking is classical with a short, itinerary compared to most walks in this region. The particular route is designed for world travelers who wish to hike to the upper mustang hike but are restricted time-wise. Travelers who wish to reach Lo Manthang and back in a more relaxed manner can try this best plan. However, email us if you need a customized itinerary.
01 Day
Kathmandu valley arrival day
Landing in Kathmandu, Tribhuwan International Airport. We pick you up in a private vehicle and move to the hotel location in Thamel. After all financial settlement and taking your passport we go to the immigration office to make mustang special permits. In the evening again, Ammar Guni will meet and brief you about your upper mustang trip and last-minute questions.
02 Day
Overland drive to Pokhara city (9,00m/2,953 feet), 6/7 hours.
Drive to Pokhara by tourist bus. On the way, we will see the natural beauty like the Trisuli river which is most popular in Nepal for rafting and we will follow the way almost the bank of the Trisuli and Marsyandi River when we arrive in Pokhara transfer to the hotel.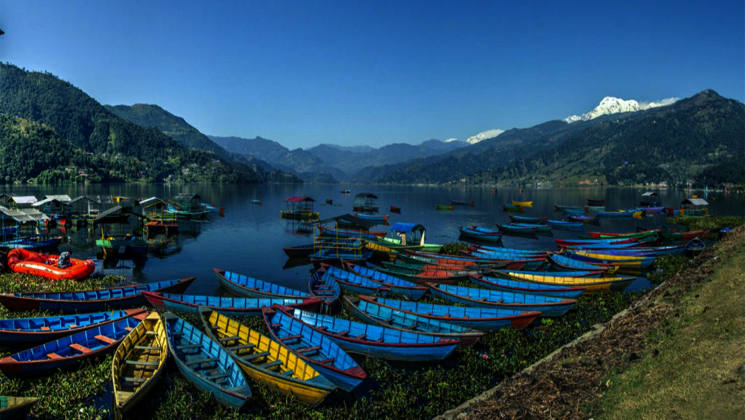 03 Day
Pokhara to Jomsom airport fly. Hike to Kagbeni (2,800m/9,187 feet), 3/4 hours
Early morning flight from Pokhara to Jomsom airport. Jomsom airport is situated at an altitude of 2,720 meters, the District headquarters of Mustang. Your mustang hike begins right after landing in Jomsom Bazaar. On the first day, we walk to Kagbeni. Kagbeni fort is the gateway of the Upper Mustang, where you can make your eyes busy with the breathtaking views of Nilgiri, Dhaulagiri, Tukuche peak, and Dhampus. Kagbeni is the most interesting typical Tibetan village and the entry point of the upper Mustang for an overnight stop.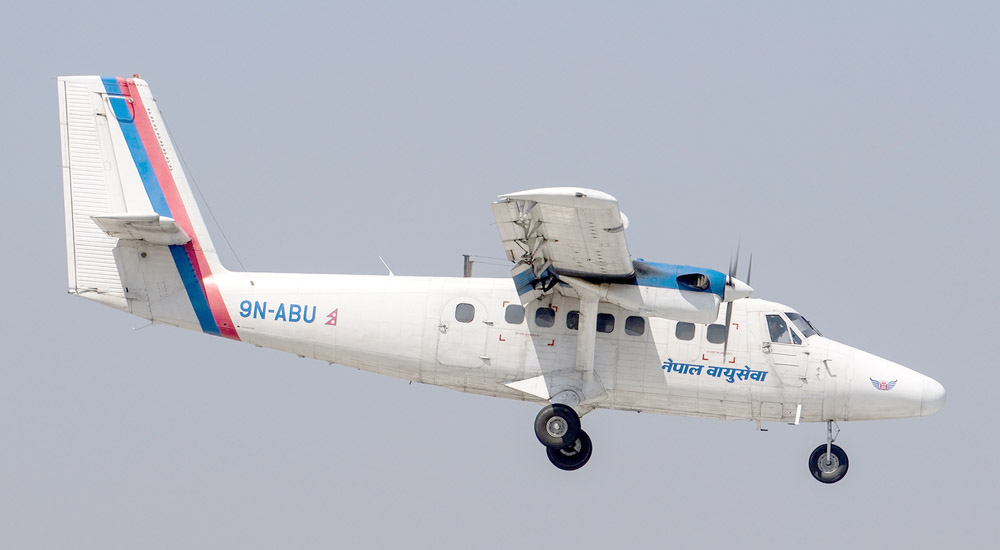 04 Day
Kagbeni to Chele trekking (3,100m/10,171 feet), 6/7 hours
The trail leads up toward the east bank of the Kaligandaki that climbs over many ridges as it heads north and reaches Tangbe Village. The town has narrow alleys among white-washed houses, and fields of buckwheat, barley, wheat, and apple orchards. The Nilgiri peaks, dominate the southern skyline of Kagbeni. The trek now leaves the Kaligandaki valley and climb steeply up a rocky gully to Chele guest houses.
05 Day
Chele to Gheling trek (3,570m/11,713 feet), 7/8 hours
The climb continues along steep, treeless, waterless terrain, along the side of the impressive steep canyon to pass and cairn of rock at 3,540 meter. Then the trail makes a long gradual descent to some chortens on a ridge, and the trail descends further into a Samar village.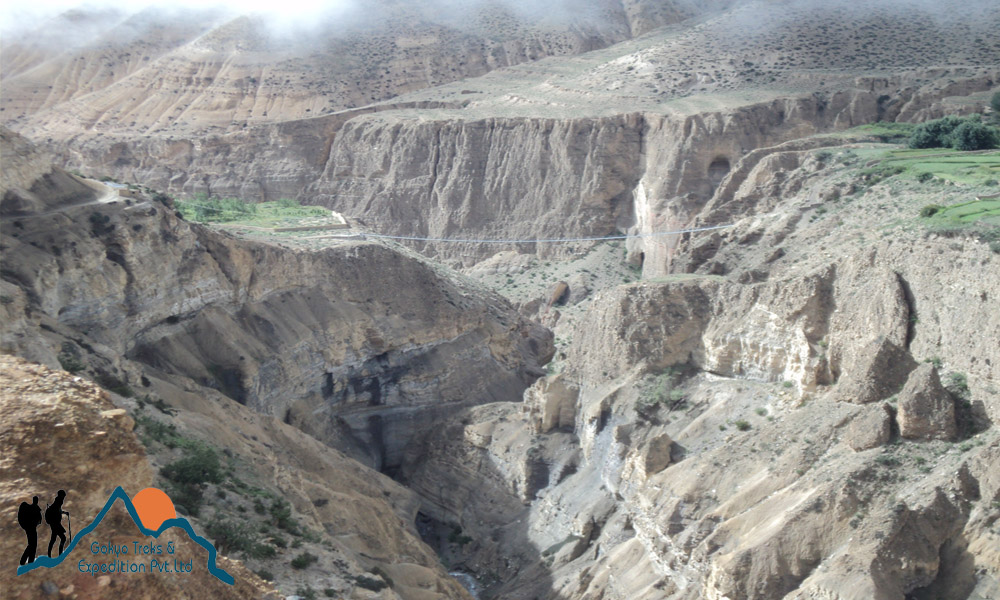 The Annapurna, still dominated by Nilgiri, is visible far to the south. The route climbs sharply up and down over a series of high passes.
06 Day
Geling to Tsarang trek (3,560m/11,680 feet), 7/8 hours
From Gelling, the trail climbs gently to the interesting NYLA pass and descends below the blue, gray and red cliffs. Crossing a steel bridge of the Tangmar chu (river), we will arrive at a prayer MANI WALL perhaps the longest and most splendid stretch of mani wall in Nepal. Climbing over another pass at 3,600 meters, the route makes a long gentle descent to Tsarang. Tsarang is a village development committee in the Mustang District in the Dhawalagiri Zone of northern Nepal. The huge five-story white Dzong and red Gompa is an interesting visit to observe collections of statues and Thankas paintings of seated Buddha.
07 Day
Lo Manthang trek (3,840m/12,599 feet), 5/6 hours
The trail descends about 100 meters down from Charang, crosses the Tsarang Chu and climbs steeply up a rocky trail to a cairn on a ridge and continues to climb. Finally, from a ridge at 3,850 meter, there is a perfect view of the walled city of Lo. After a short descent, cross a stream then climb up into the plateau of Lo- Manthang.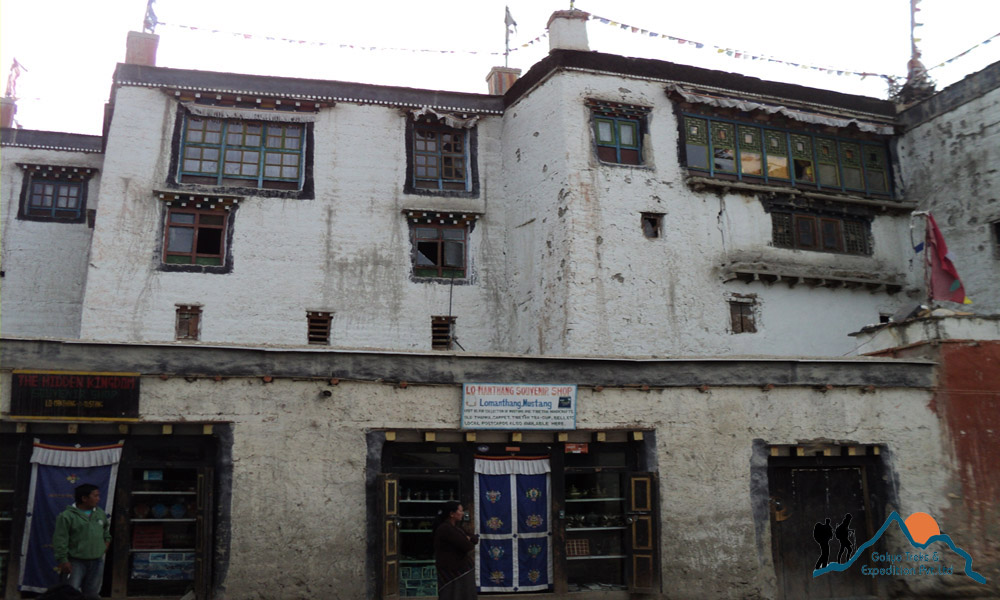 08 Day
Lo-Manthang day tour. Day hiking exploring around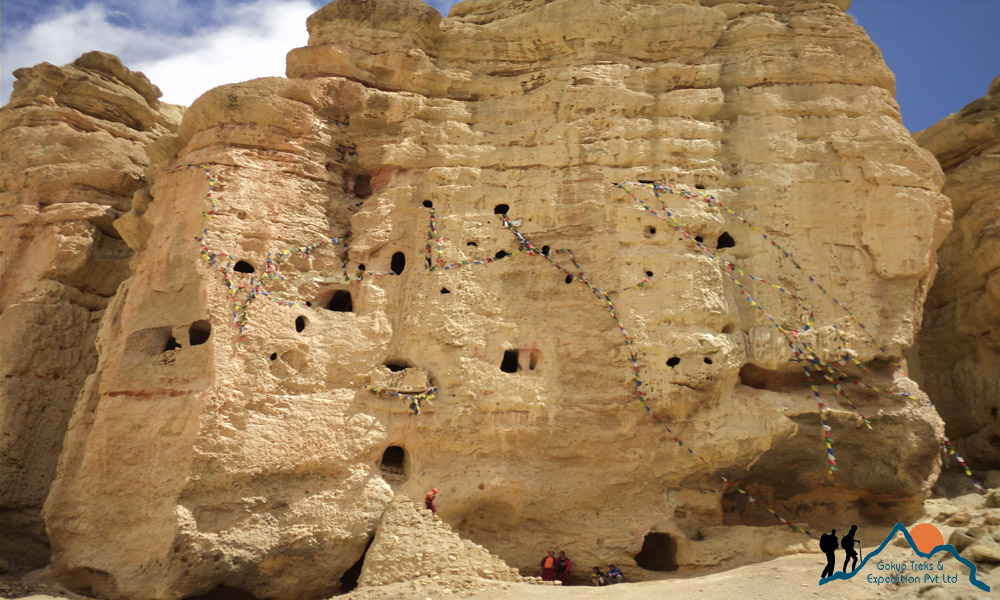 Another day in Lo – Manthang gives you an opportunity to explore its many sights; the Tall Champa Lakhang (God house,) the red Thugchen Gompa, Chyodi Gompa, and the Raja's Palace. As well as to look at the surrounding panoramic views of the Tibetan Plateau and the Himalayas. Besides Lo-Manthang there are two other interesting valleys worth visiting.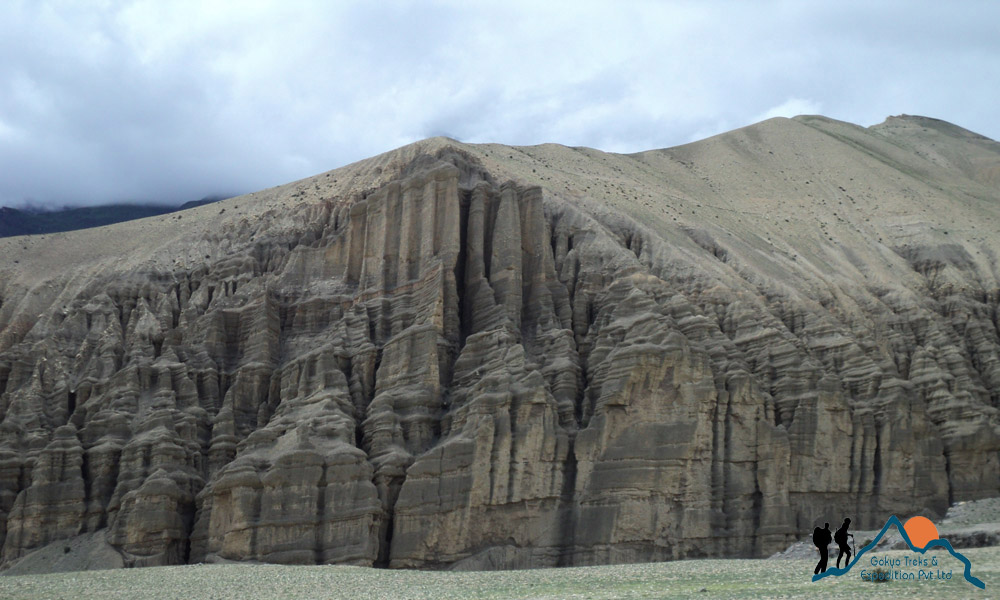 The western valley Tingkhar, the sight of Raja's summer palace, Kimling and Phuwa as well as the Namgyal Gompa (The Monastery of Victory) is the newest and most active Gompa in Lo. In the eastern valley lies the Chosar settlement, also rich in gompas and the valley is the main trading route to Lhasa.
09 Day
Descend from Lo-Manthang to Dhakmar (3,520m/11,549 feet), 8/9 hours via Ghar Gompa.
This is an opportunity to visit two other villages on your return trek. The trail climbs steadily to the pass marked by a cairn, offering a last glimpse of Lo-Manthang. Cross the highest pass this trek and arrive in Ghar Gompa (3920 Meters). This monastery is very old comparing the Samye monastery in Tibet, supposed to be built around 730 AD. Crossing the pass around 4100 meters, we descend down to Dhakmar village (3,520 meters) to stay overnight.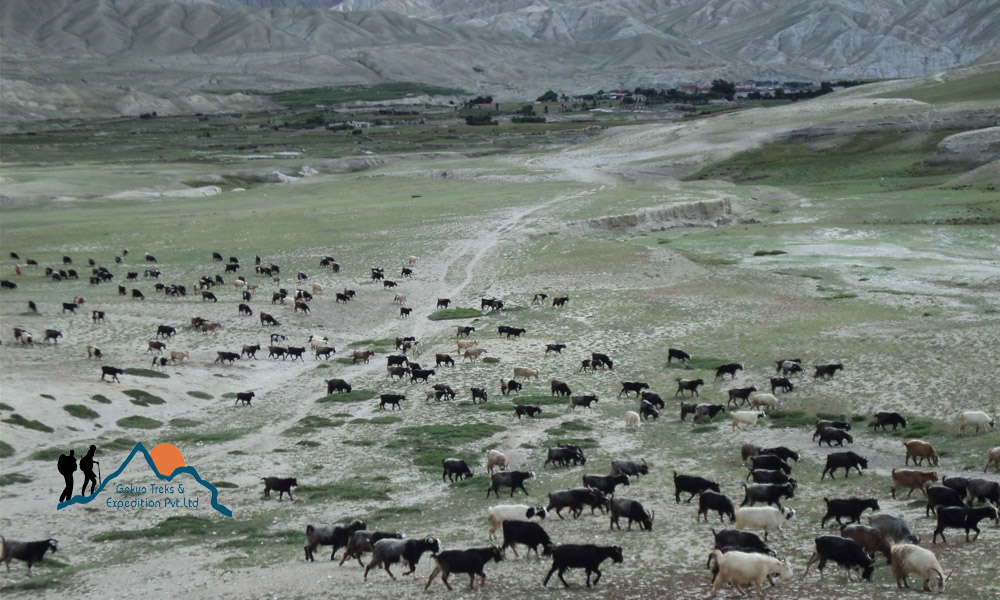 10 Day
Trek descend from Dhakmar to Samar (3,540m/11,615 feet), 6/7 hours
From Dhakmar the way goes down to until Ghami (3,460 meter) the huge greenery village in Mustang where we can see the ancient monastery and stupas with. You can see the local houses here like caves. The trail goes ascends until Nyi La pass and descends to Samar through the same route.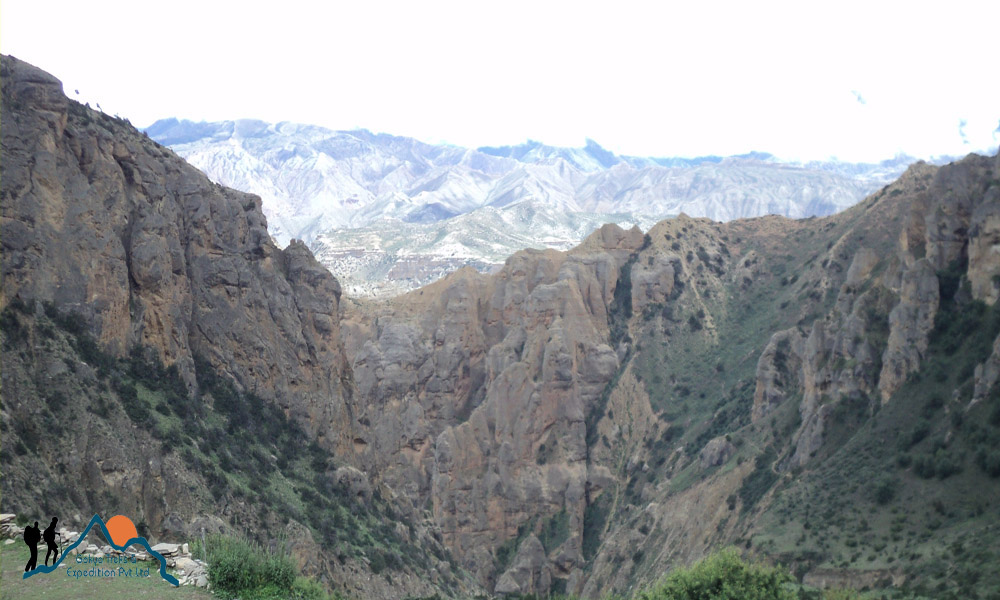 11 Day
Samar to Kagbeni fort Trek (2,800m/9,187 feet). Further Jomsom airport trek (2,720m/8,924 feet), 7/8 hours
Today, we trek descend to Chhusang village. The trail offers panoramic red stone cliffs. While you are in mustang hiking, you are surrounded by desert-dry landscapes including beautiful 35+ mountains. After Chhusang, we climb to Tangbe village foothills and finally reach Kagbeni fort for a lunch stop.
Later lunch, we continue our trek to Jomsom airport walking at the bank of Kaligandaki River. Hike especially from Kagbeni to Jomsom is windy in the afternoon thus better to walk with sunglass. As you hike, you can hunt the Saligram fossils in the Kali Gandaki river. Ammonites were shelled cephalopods that died out about 66 million years ago. Fossils of them are found in the Kali Gandaki river, sometimes in very large concentrations. Therefore, discovering ammonite fossils in the Kali Gandaki valley is very popular in this zone.
Walk further to the Annapurna conservation check post, check out all permits, and a few steps further, we reach our hotel in Jomsom. Interested tourists can hike at Jomsom eco-museum for a better view of Kali Gandaki valley and Annapurna peaks.
12 Day
Fly out from Jomsom to Pokhara, 25 minutes. Pokhara Sightseeing,
Early morning we fly to Pokhara with thrilling spectacular Mountain View including Dhaulagiri, Nilgiri, Annapurna South, Annapurna I, and Machhapuchre during the flight. Transfer to the hotel to check in for a hot shower and relax. In the afternoon, the guide will assist you with your sightseeing visiting Devis falls, Gupteswor cave, and Boating in Phewa Lake to visit Tal Barahi Temple. There are top restaurants on the lakeside for dinner so you can explore the best ones and try them by yourself. You can also invite your Guide for Dinner.
13 Day
Overland drive out to Kathmandu, Nepal. Trip Finish.
Morning we'll drive back through the scenic countryside and during the route will stop for breakfast & lunch. The journey back to Kathmandu [Gokyo Treks sales office] takes about 7 hours. You can take a shower and we arrange a transfer for you to drop you at Kathmandu international airport for your further journey. Trip Finsih
Not satisfied with above plan?
Are you interested in planning a custom trip? this might take 2 to 3 minutes.
Cost
How much does the Upper Mustang trek cost?
Nepal upper mustang trek price is USD 1590 per person on a double occupancy basis. The 11-night 12 days hike in Mustang is a lodge basis trekking cheap deal that we can offer tourists.
For the deluxe and luxury mustang trekking tour plan, we add Kathmandu – Pokhara – Kathmandu round trip airfare, 3-star category hotel deluxe air-conditioned room in Kathmandu (BB PLAN) and 2-star hotel standard accommodation in Pokhara (BB plan) with attached bathroom while on trekking on possible places. AND WE ARE OPEN TO CUSTOMIZING YOUR TOUR AND PACKAGES PRICE AS PER YOUR REQUIREMENTS. International tour leaders are highly encouraged to get discounts and attractive complimentary.
Upper Mustang trek package price includes:-
Kathmandu international airport transfer with a private car on your arrival.
Single night double bedroom accommodation in tourist standard hotel in Kathmandu.
2 night Tourist standard accommodation on Phewa lakeside in Pokhara town.
12 Breakfast, 11 Lunch and 11 Dinner during the Mustang trekking days.
Clean guest house accommodation on the Mustang trek route.
Domestic flight: Pokhara – Jomsom – Pokhara as a round trip airfare with airport tax.
Tourist Bus transfer from Kathmandu to Pokhara and also from Pokhara to Kathmandu as a round trip.
Annapurna Conservation Area permit fees.
Special Upper Mustang hiking permits cost USD 500 for 10 days for each guest.
Pokhara city sightseeing (Devi's fall and Gupteswor Mahadev cave) transfer by private vehicle.
Fully escorted trek with an English-speaking license holder local trekking guide.
Professional porter as per the group size. Each 2 guest luggage (12 kg + 12 kg) = 1 Porter basis.
An assistant guide will provide for 7 plus group tourists.
Insurance, Food, accommodation, and salary of Nepali trekking staff.
Seasonal fruits like apples and pomegranates as a desert for Mustang trekking.
Trek certificate and the latest lomanthang – upper mustang trek map, you keep them as a souvenir.
Nepal Government Tax, VAT, and as well as Gokyo Treks & Expedition Company service charge.
Upper Mustang trekking package price excludes:-
Nepal entry visa fee US$ 40.
Lunch and Dinner during your stay in Kathmandu and Pokhara city.
Any kinds of battery charges, laundry service, phone calls, and hot showers during the trekking.
Tourist personal trekking equipments rental charges.
Personal nature expenses, all types of drinks, and bar bills.
Travel Insurance which covers emergency rescue, evacuation, personal loss, or damage.
Pokhara sightseeing vehicle cost is extra
Any donation and monuments entrance fees.
Gratuities for guide and porters [Tip is a culture, so they expect highly].
Any other things which are not mentioned above
Group join
We can organize a group to join Upper Mustang trekking starting on any date but we can also run this private trip if that works for you. Please contact us for more information.
FAQ
Question: Is pick-up service available on my arrival day in Kathmandu?
Answer: Yes sure. Provide us with your TIA arrival flight details and request for pickup. Our representative will come to pick up you at Kathmandu international airport.
Question: Can I store my luggage/stuff in Kathmandu?
Answer: Yes, you can leave your luggage at your hotel or at our office. Store your stuff in the Gokyo Treks agency office is for free.
Question: Do I need experience for express Upper Mustang trek?.
Answer: It is suitable for keen trekkers/walkers who are able to walk around 4 or 5 hours a day, with a lightweight daypack. For this trekking – yes, you need to have experience in high altitude – somehow about 9,000 feet above sea level.
Question: What kind of accommodation can I expect at Upper Mustang trek lodge?.
Answer: We provide you with tourist standard accommodation in Kathmandu and during the trekking routes. Rooms in the routes are clean with a cozy bed with a nice mattress and blankets. However we recommend you take your own sleeping bags if you have one with you otherwise, you may rent them while you are in Kathmandu.
Question: What kind of food can I expect in express Upper Mustang trek?.
Answer: All the guest houses/lodges in the trekking have attached restaurants. They cook a delicious range of mostly vegetarian such as Pasta, tuna bakes, noodles, potatoes, eggs, bread, and soups, fresh vegetable rice.
dinner and breakfast are provided in the same lodge you spend the night every day and Lunch will be provided on the way to the next place where you are going.
Question: How do I get drinking water on Upper Mustang standard lodge trekking?.
Answer: There are enough places where you can buy bottled mineral water to drink but we advise against buying mineral water in plastic bottles, as currently there are no provisions for disposing of these. Instead, we provide you with boiled water or bring chlorine tablets to purify the normal water as the normal water is available at the campsite/along the way in the camping trekking.
Question: Can I charge my digital camera or other batteries on my trip?
Answer: During the Tea house trekking there will be more chances to charge the battery. We recommend you bring an extra pair in case. Remember to bring your adapters!
Question: Are there any communication facilities on Upper Mustang lodge trekking days?
Answer: Yes it is possible. You can get telephone service but we advise you to buy a local SIM card for calls and a 4G network. You can buy a daypack as per your wish.
Question: Can I use credit cards in Upper Mustang lodge trek?.
Answer: No possible till now.
Question: When should I book my trip and what are the payment terms?.
Answer: Because our trip book up months in advance, we recommend booking early to avoid any kind of misunderstanding. We will, of course, make every effort to accommodate last-minute bookings.
And regarding the deposit, we prefer a 15% advance deposit [non-refundable] of the total price of the trip in order to confirm your reservation before you arrive in Nepal. And rest of the payment can be made after your arrival in Kathmandu.
Question: Who will carry my luggage on the Upper Mustang trek?
Answer: We do provide porters to transfer your luggage en route daily. As we are a responsible trekking tour operator agency, every porter carries a maximum of 25 kilos of your backpack which means 2 guests (12 kg luggage of each guest): 1 porter basis.
Question: How much distance do I walk each day?
Answer: When walking/trekking in the mountains, the distance you cover each day can vary greatly due to gradient, terrain, and altitude. As such it is very hard to give specific distances for each day, however, you have to be prepared to walk roughly about 5 hours each day.
Question: Do I need walking poles for the Upper Mustang trek?
Answer: It is better to hike with lightweight walking poles. Learn how to use trekking poles for balance and stability, whether on the sidewalk or on trails. Walking poles can help prevent slips and falls. They are just recommended but not compulsory.
Question: Is there any possibility to hire just a guide and permits?.
Answer: Considering the budget of backpacker travelers, we also offer expert Local Guide/porter hiring services for the Upper mustang trek in Nepal. Normally, to make a special permit for Upper Mustang Trek need a minimum of two people in a group. If you are 2 trekkers and want to go hiring a guide, it is possible to go with the Gokyo Treks Nepal agency.
Question: How much additional money do I need per day?
Answer: You can allocate US$ 08 – 10 for a lunch/dinner in Kathmandu and it depends on your spending habits. US$ 7 to 10 US$ each day will be enough to buy bottles of water, chocolates, tea coffee, and some drinks while you are on your trek.
Upper Mustang trek highlights

Discover Annapurna and Dhaulagiri family and some of the border mountains.
Best trek in the monsoon periods in Nepal as they are situated in the rain shadow of the Himalayas.
Ancient caves and Buddhist Gompas.
Walk into the Trans Himalayan region through dry cultivated fields, Excellent view of mount Dhaulagiri and the Blue Mountain family.
Hidden kingdom with World's deepest gorge Kali Gandaki valley
Meet the mixed communities with shakye muni Buddhism and their lives..
Upper Mustang trek note:-
Upper Mustang is a restricted area in Nepal therefore solo trekking is prohibited. To obtain trek permits, we need a minimum of 2 tourists with passports and valid visas. If you are a solo traveler, no worry, we assist you in searching for other travelers to share Mustang trek permits. As soon as you have trekking permits, you can hike Mustang by just hiring a licensed Guide at the least.
Magical mustang hike information as stated above is just a standard template guideline that we serve you. However, a mustang travel plan is possible to modify at your request to accommodate your specific requirements. Local politics, landslides, cancellation of local flights, weather, transport, or a multitude of other factors that are beyond our control can result in a change of schedule during on trip.
It is, however, very incredible that the itinerary would be extensively altered. If alterations are necessary the leader will decide the best alternative option, taking into consideration the best interests of the whole group. When a change does occur, we do everything we can to minimize its effect, but we cannot be responsible for the results of changes or delays.
What makes Upper Mustang trek special tour?.
Opportunities for challenging trekking are scattered all over this planet. You just need to know where to find the right one. We at Gokyo Treks and Expedition believe in quality services. First safety then success satisfaction is our prime concern.
We are a team of professional and trained and licensed local guides who know the destination much better. Furthermore, we give benefits to the local communities and help to conserve natural resources which reduced costs and consumption.
Upper Mustang Trek Review
Excellent trek. Reliable and honest agency
We booked our Upper Mustang Trek with Ammar and we are very happy we did it. Gokyo Treks is an agency you can rely on. They are honest, take care of their groups and guests. Ammar called every day more than one time a day to check how we were doing. We felt protected and safe. All the trek has been organized perfectly, faultless. Som (the master guide) is a perfect companion. He is there when you need him but he does not bother you with unnecessary attentions.
What else to say: we will do more treks with them hopefully very soon. We have found THE agency and we recommend it to all of you.
Response from Gokyo Treks Nepal
Thank you dear guest Raffela for sending us your trip feedback.
Upper Mustang Trek is just awesome
In 2007, I trekked to the EBC and walked the Annapurna circuit with Gokyo Treks and Expedition. It was a wonderful experience. I even spent a few days in Amar's village with his family after my trip.
This year I planned to trek the upper Mustang and watch the Tiji Festival in Lo Manthang with my daughter. I started coordinating with Amar Guni late last year. He provided a great itinerary. Communication was very efficient. Everything has been finalized.
Unfortunately, I got sick during my overland trip from Lhasa to Kathmandu and I had to cancel the Upper Mustang trek at the last minute. Amar was very considerate and sympathetic to my situation. I hope I would be able to return to Nepal in the near future and do another trek.
I highly recommend Gokyo Treks and Expedition to anybody who wants to have an adventure in Nepal.

Response from Gokyo Treks Nepal
Thank you Philip for your words.
Professional Guide and super friendly service
Great trek, run by competent people, a special guide called SOM and a nice carrier. Fantastic landscapes and unforgettable encounters. Gokyo Treks is the right agency to make a trek in Nepal!!! Thanks at all!.
Response from Gokyo Treks Nepal
Thank you Christiano Lissoni for your timne to review Uper Mustang trekking in Nepal.
Best Agency, Excellent service
Great trek, run by competent people, a special guide called SOM Shrestha and Kamal Khatri and a nice carrier. Fantastic landscapes and unforgettable encounters. Gokyo Treks is the right agency to make a trek in Nepal!!! Thanks at all!. – Cristiano Lissoni, Milano, Italy.
Response from Gokyo Treks Nepal
Thank you Christiano for the time to review your trek with us. We hope to welcome you again for your trip in the Himalayas again.
From US$ 1622
2% Off
US$ 1590
| | |
| --- | --- |
| No. of people | Price Per Person |
| 1 | USD 2092 |
| 2 | USD 1590 |
| 3 | USD 1560 |
| 4 - 6 | USD 1525 |
| 7 - 9 | USD 1475 |
| 10 + | USD 1425 |
Book Now
Customize Trip
Cost & Departures
Your Trip Your Style!
ITINERARY, COST, DEPARTURES, will adjusted according to your GROUP SIZE NEED TIME
Book with Confidence
Lowest Price Guaranteed.
100% Customizable Trips
Excellent Customer Service
Hassle Free Booking.
90 % Repeated customers
Highly Recommended agency
Private/group tour options
Local Guides Company.