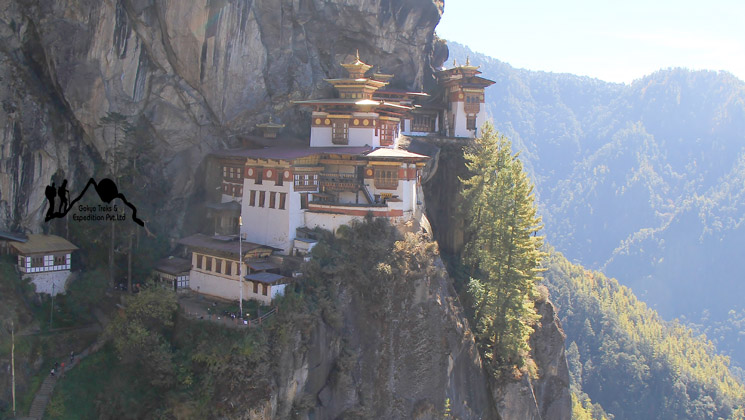 Druk Path Trek Summary
Hike duration: 6 Nights 7 Days
Trek Difficulty: Easy to Moderate
Top Altitude: 4,420m/14,502 feet
Average Walk Hour: 6 Hours daily
Trekking Group-Size: 2 – 20 People
Trip Mode: Lodge Basis Group Tours
Best time to hike: March, April, May, June, September, October, and November
Foods on trek route: Breakfast, Lunch, and Dinner
Transportation: Car/Plane/bus
Overview
The Druk Path Trek is the most popular hike in Bhutan. Hiking at Druk path is a genuinely simple climb to embrace as the distances between rest camps are actually short. The Druk path in Bhutan takes you across the woodlands of fir, blue pine, and bantam rhododendrons at heights running between 2400-4200 meters. Explorers will show up at Jimiling Lake, whose perfectly clear waters are home to tremendous trout on their third-day treks.
Besides that, the Druk Path trail passes across the lovely regular scene of high edges, typical hills, and perfect lakes while simultaneously offering the chance to visit some old Lhakhang, dzongs, and towns.
This journey additionally offers climbers strange and amazing sights of Mt. Gangkar Puensum, the most elevated unscaled top on the planet. Autumn and spring season hikes in Butan are most delightful. Therefore, the best occasions to set out on the Druk Path in Bhutan Trekking are between March to June and September to November.
Druk Path Trek Difficulty
The Druk Path Trek or tour is the most effective way to see the regular ponders that lie between the two significant urban areas Paro and Thimphu. The high mountains and hills and precipices take in the wonderful landscape of the uninhabited mountains. Through the woodlands find isolated religious communities and translucent lakes high over the mists; you can snatch the genuine nature's soul while on this journey. And surely the Druk path trek difficulty is easy to moderate adventure.
Another popular hike in Bhutan is to visit "Tiger's Nest" situated at a rise of 10,000 feet above sea level. You will likewise visit not many social destinations in the given travel schedule.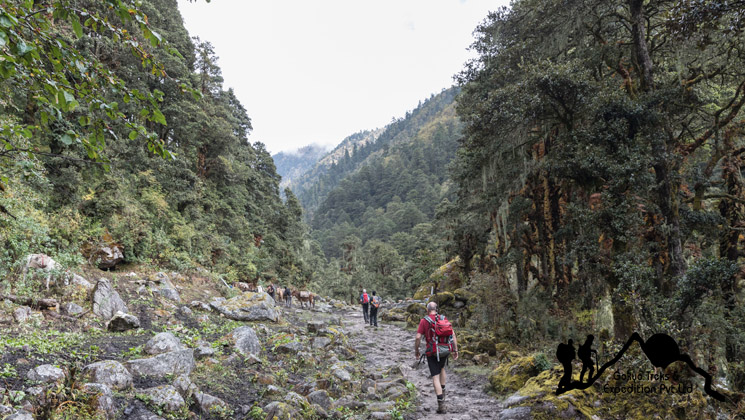 How much is the Druk path trek package Cost?
The cost of the Druk path Trip Package with a Gokyo Treks Agency (local tour agency) ranges between US$ 2198 to US$ 2510. The Druk path trek package cost depends upon the months you travel and the hotel category you choose. Generally, the price includes transportation, a guide/porters, hotels, food and accommodation, and hiking permit facilities.
It is the standard trip package price for a week's trek in Bhutan. If you are 2 tourists Druk path trek cost US$ 2390 for 7 days trek plan. We can modify the trip route and the prices according to your wish also. Here is the price list for the Druk Path treks.
Price Per Person for 7 days for Bhutan Druk Path trekking
| Number of Tourist | Price Per Person |
| --- | --- |
| 1 Person | US$ 2510 |
| 2 Person | US$ 2390 |
| 3 Person | US$ 2330 |
| 4 to 6 person | US$ 2270 |
| 7 to 9 Person | US$ 2210 |
| 10 and more than 10 Person | US$ 2198 |
If you're wondering to know about what is included and what is excluded from this trip price, kindly check on the cost given on a tab button.
Itinerary
The classical Druk Path Trek itinerary details
An express Druk path trek 7 days itinerary is a beast for all age tourists. Take a look at the special Druk trail plan itinerary as given here.
1 Day
Landing in Paro, Bhutan and explore the Paro Valley.
After visa conventions at the Paro air terminal, your aide will meet you and drive you into town for lunch. After lunch you can visit the accompanying authentic spots:
Paro Rinpung Dzong is in a real sense deciphered as the Fortress of the store of gems. It is the managerial seat of the Paro District and the yearly Paro celebration is held here.
Ta Dzong: It worked as a lookout. It was changed over into a public exhibition hall in 1968. You can see the best example of Bhutanese workmanship, show-stoppers of bronze sculptures, and artistic creations. In the evening all of you can visit Namgay Artisanal Brewery and evaluate various kinds of lager made there or you can walk around Paro town. Stay overnight in Hotel.
2 Day
Druk Path Trek Begins/Paro To Jele Dzong (3,450m/11,319 feet), 5 hours
The primary day of the trip is a continuous move from Dopshari, Paro at 2,300 meters above ocean level till 3,450 meters at Jele Dzong. Camp the night at Jele Dzong and assuming the climate favors you can see Paro valley with Mt. Jumolhari (7,314 meters) and snow-covered mountains behind the valley. The distance today that we cover is about 10-kilo meters. Stay overnight in Jele Dzong.
3 Day
Jele Dzong to Tshokam Trek (3,692m/12,113 feet), 6 hours
The trip begins with a short ascension and afterward goes through a thick snow-capped woodland of rhododendron and slowly moves till we arrive at the camp where you might see yak herders around your campground.
Following 3 hours is a potential campground (Dorjo Lakha or Jangchu Lakha at 3,770m). After an hour's climb is the better campground. Tshokam is reached, soon after a little seat. The distance from Jele Dzong to Tshokam is about 9 kilometers. Stay overnight in Tshokam.
4 Day
Tshokam to Simkotra (4,040m/13,255 feet), 6 hours
The trip that we are following will be a steady plunge till we arrive at Pangrithang which will take us somewhat more than 60 minutes, we will reach by the stream then there is a few steep moving through brambles for two hours, after some time a decent view will open up and we will arrive at Jane Tsho (Lake 3,956m). It is typically involved by yak herders. Once more, we climb a delicate incline for an hour and after an additional two hours of journey, we will arrive at our campground. The total distance that we walk today is about 9.5 kilometers.
5 Day
Simkotra to Thimphu (2,340m/7,677 feet), 7 hours
The path is great however there are not many minor trips to little passes before you at long last peer down to Phajoding Monastery and Thimphu city. Priests much of the time elapse from here en route to ruminate at the consecrated lake Jimilang Tsho. About 3 hours journey, tourists arrive at the most noteworthy pass (4,420m/13,190 feet). There is a decent view in the course of the last piece of the journey: a precarious plunge to Phajoding cloister. From here the path begins with the lofty plunging gradually through thick woods for another 2-3 hours until we arrive at the engine street. Bid goodbye to the traveling group and afterward drive to the lodging in Thimphu passing the Royal Takin save where the National Animal of Bhutan should be visible.
You might arrive at Thimphu towards the evening-in the event that is not drained you can go for a walk in Thimphu town and visit a real art market where you can purchase Bhutanese trinkets. The distance that we cover today is about 14 kilometers. Stay overnight in the hotel in Thimpu town.
6 Day
Thimphu – Paro (Paro Taktsang Hike/ 4-6 Hours)
In the first part of the day drive to Kuenselphodrang where the world's tallest Buddha Statue (169 feet) sits neglecting the Thimphu Valley. Partake in the fabulous perspective on Thimphu city.
Circumambulate the National Memorial Chorten prior to heading towards Paro. Climb to Taktsang Monastery: The Taktsang, prominently known as the "Tiger's Nest" is roosted on the bluff edge at a tallness of 900 m over the Paro valley. It is viewed as the marked spot for sightseers visiting Bhutan. Catch the sensational perspective on the religious community.
Later we will evaluate a customary hot stone shower which could be unwinding following a day's climb. Try farmhouse dinner and play a hands-on game of archery. Stay overnight hotel accommodation in Paro, Bhutan.
7 Day
Final Departure
We will drop you at the international airport for your further flights. Druk path in Bhutan Trip finish.
Not satisfied with Druk Path Itinerary?
Are you interested on planning custom trip? It takes only 2 to 3 minutes.
Cost
How much does the Druk path Trek Package Price?
The Druk Path trek price basically starts from US$ 2390 per person on double occupancy basis. However, WE ARE OPEN TO CUSTOMIZING YOUR TOUR AND PACKAGES PRICE AS PER YOUR REQUIREMENTS.
The Druk path short hiking price includes:-
Visa for Bhutan Travel
Accommodations in 3- a star Hotel. (Can be upgraded to 4 & 5-star with additional price)
All Meals full board plan (Breakfast, Lunch & Dinner) during the trip.
Druk Air airfare from Kathmandu to Bhutan and return and departure taxes.
Certified English Speaking Bhutanese Guide.
All ground transportation en route
Sightseeing spot entrance fees
A sustainable tourism Royalty of USD 65 per person per night.
Mineral Water while traveling
Complimentary from a company [ Traditional Hot Stone Bath and 1 Bhutan Sim Card with zero Balance]
Facilities provided on the trek
First Aid Box
Sleeping tent / Dining tent / Toilet tent with toilet pot/toilet paper.
Hot water bag with cover.
Cook and supporting staff.
Bhutan Government Tax, VAT, and as well as Gokyo Treks Company service charge.
The short Druk path Trek price excludes:
Travel Insurance.
Any Expenses of Personal Nature.
Gratuities for camping crew [Tip is a culture, so they expect highly].
Group join
Hike Druk path is the most beautiful trip in Bhutan. We can organize a private or group joint trip at Druk path Bhutan to start at any date if that works for you. Please contact us for more information.
FAQ
Question: Is pick-up service available on my arrival time in Bhutan?.
Answer: Yes sure. Provide us with your flight details. Our representative will come to pick you up.
Question: What kind of accommodation can I expect?
Answer: We do provide you with 3-star category hotel accommodation in the city and also Tent accommodation along the Druk trip. However we recommend you take your own sleeping bags if you have one with you otherwise, you may rent them while on tour.
Question: What kind of food can I expect on the Druk path camping trip?.
Answer: We have a professional cook who cooks a delicious range of mostly vegetarian such as potatoes, eggs, Pasta, tuna bakes, noodles, curry rice, bread, soups, and fresh vegetables. Tourists can find a variety of fresh vegetables depending upon the traveling month.
Question: What opportunities will I have a hot shower along treks?.
Answer: As you are on a camping trek, we provide you hot water bucket, and you will take a bucket shower.
Question: How do I get drinking water on the Druk path trek route?.
Answer: We suggest you bring Aqua tablets to clean the normal water as the normal water is available at the campsite and on the hiking route.
Question: Can I charge my digital camera or other batteries on my trip?
Answer: During the camping tour, there are no chances to recharge the battery. We recommend you bring an extra pair in case.
Question: Are there any communication facilities on the Druk path short trek?.
Answer: You will get a Bhutan local SIM CARD. Buy a data pack if you want to use the internet en route.
Question: Can I use credit cards in short Druk path Lodge Trek?
Answer: No. to maintain your daily extra expenses, you should walk with the local currency of Bhutan Ngultrum. The symbol for the Ngultrum is Nu.
Question: When should I book my trip and what are the payment terms?.
Answer: Our trips book up months in advance, we recommend booking early to avoid any mistakes. We will, of course, make every effort to accommodate last-second bookings.
And regarding the deposit, we prefer a 20% advance deposit [not refundable] of the total price of the trip in order to confirm your booking. And the remaining part of the money, you pay us on your arrival.
Question: Who will carry my luggage?
Answer: We do provide porters to transfer your luggage for the Druk path hiking route.
Question: How to reach Bhutan?
Answer: There are various connecting flights to reach Bhutan. At present two transporters work in Bhutan, Drukair and Bhutan Airlines. Likewise, there are three landline intersections in which you can go into the realm overland.
Question: How Much is the Bhutan Visa Cost?
Answer: Worldwide vacationer visas at an expense of USD $40 applies. This can be paid ahead of time from the Gokyo Treks Agency travel planner. For Indian visa (or VIC) holders, Bangladeshi nationals, and people from the Maldives there is no expense caused.
Question: What Does The $200/$250 Per Day Minimum Daily Package Include?
Answer: The $200 each day (low season) and $250 each day (high season) bundle incorporates at least 3-star facilities, costs for food, an accomplished aide, and transportation (with driver) inside the country. Additionally remembered for the cost is a $65 each day Sustainable Development Fee that goes towards free instruction, free medical care, and neediness easing.
Question: Is There A Limit On The Number Of Tourists That Can Enter Bhutan Each Year?
Answer: There is no restriction on the number of travelers conceded into the country every year. To secure our way of life, customs and indigenous habitat the public authority has embraced a severe approach of High Value, Low Impact Tourism. This strategy is pointed toward drawing in knowing vacationers that will regard the exceptional culture and upsides of the Bhutanese individuals while additionally furnishing the guests with a remarkable stand-out experience.
Question: What celebrations are ideal to watch in Bhutan?
Answer: Bhutan has the top 10 Festivals to watch every year. They are Thimphu Tsechu Festival, Jambay Lhakhang Drup Festival, Wangdue Phodrang Tshechu Festival, Punakha Drubchen, and Punakha Tshechu Festival. Likewise, Paro Tshechu Festival, Haa Summer Festival, Matsutake Festival, Jomolhari Mountain Festival, Nimalung Festival, and Imperial Highland Festival.
Question: Besides Druk path hikes, what are the best other trips in Bhutan?
Answer: Bhutan offers both magnificence and assortment with regard to travel in Bhutan. The realm is home to a portion of the world's most troublesome high-height journey, just as plenty of moderate climbs in the woods. Regardless of whether you're a prepared explorer or a total novice, Bhutan has a multi-day excursion to suit your necessities. Attempt the 27-day Snowman Trek, which traverses various high-elevation passes and requires setting up camp in the snow, in the event that you're searching for a requesting high-height trip that could not be overestimated. Assuming that you're searching for a more limited test, the Laya Gasa Trek gives large numbers of similar awards as the Snowman walk yet with fewer downsides. Look at the Jumolhari Trek, and Owl Treks to extend your legs all the more tenderly.
Question: When is the best time to visit Bhutan?
Answer: Bhutan is open all around the year. Although, Spring and summer fill the scene with a heap of widely varied vegetation. Pre-winter projects a radiant Golden shine on the scene. The fresh winter air and the unmistakable skies make it ideal for catching the absolute best Mountain sees. And throughout the entire year, there is a special feeling of harmony and satisfaction in the climate set apart by conventional celebrations as individuals praise the celebrations in old neighborhood customs.
The most unbelievable Druk path Trek route highlights
Partake in the quietness of the immaculate lake.
Experience the undisrupted tranquility of nature &amp: visit Thuji Dra Monastery.
Climb to Tiger's Nest Monastery or the Taktsang Goemba. Roosted on a mountain bluff at 900 meters off the ground, it is staggering and delightful. It is Bhutan's most strict site and a notable milestone.
See the Paro valley, the slopes spotted with sanctuaries empower you to discover a sense of reconciliation and serenity simply up any slopes.
Visit Historical Sites: Paro Dzong, Ta Dzong, Kichu Lhakhang.
Go through a night in the valley of Thimphu, the main capital on the planet without a traffic signal. It is likewise said the eight fortunate sign is implanted in regular elements to one side of Thimphu Valley.
Notice for Druk path Trek Visitors:-
The 7 days Druk path hiking information stated above is just a guideline. However, the trip is possible to customize at your request to adapt to your specific standards. Local politics, landslides, cancellation of local flights, weather, transport, or a multitude of other factors that are beyond our control can result in a change of schedule on tours.
It is, however, very incredible that the itinerary would be extensively altered. If alterations are necessary the leader will decide the best alternative option, taking into consideration the best interests of the whole group. When a change does occur, we do everything we can to minimize its effect, but we cannot be responsible for the results of changes or delays.
What makes Druk path short trekking special?
We at Gokyo Treks and Expedition believe in quality services. Your security and gratification are our concerns. We are a team of professional, experienced, skilled, and licensed local guides who know the destination much better than others. Not only this but also we give benefits to the local communities and help to conserve natural resources which reduced costs and consumption.
Druk Path Trek Review
Best Druk Path trek
We booked a Bhutan trip with Gokyo Treks Agency. Our Guide Ammar's local representative organized our 6 day Druk path trek in an excellent way. Our cook Sonam and his entire kitchen staffs were just friendly and helpful staff is highly appreciated. Miss you all, will definitely explore more of Bhutan with your awesome team. Thank you for giving us memorable moments for Bhutan.

From US$ 2510
0% Off
US$ 2390
| | |
| --- | --- |
| No. of people | Price Per Person |
| 1 | USD 2510 |
| 2 | USD 2390 |
| 3 | USD 2330 |
| 4 - 6 | USD 2270 |
| 7 - 9 | USD 2210 |
| 10 + | USD 2198 |
Book Now
Customize Trip
Cost & Departures
Your Trip Your Style!
ITINERARY, COST, DEPARTURES, will adjusted according to your GROUP SIZE NEED TIME
Book with Confidence
Local Guides Company.
18 Years in Business.
Lowest Price Guaranteed.
100% Customizable Trips
Excellent Customer Service
Hassle Free Booking.
90 % Repeated customers
Highly Recommended agency
Private/group tour options