Trip Summary
Tilicho Lake Trek Duration: 15 Days
Tilicho Lake Trek Difficulty: Easy to moderate
Tilicho High Altitude: 5,416 meters
Trekking Hour: 6 hours daily
Tilicho Lake Group-Size: 2-20 People
Best Time: March -November
Trip Mode: Guest House
Foods on hiking trail: Breakfast, Lunch, and Dinner
Transport: Car/Plane/bus
Overview
The Tilicho Lake trek is located at an altitude of 4920 m, undoubtedly provides some of the world's finest views. Trek Tilicho route offers a great variety of culture and diversity, the finest valley and high mountains encircling the giant Annapurna family.
Hike to Tilicho Lake is totally located in the Trans Himalayan Region in Nepal. Impressive lake Tilicho trek is technically not very difficult but because of falling dry landslides and stones, the trail becomes dangerous occasionally. Furthermore Tilicho Lake Treks, you can see the settlements of diverse communities such as Brahmin, Chhetri, Tibetian sherpa, Thakali, Magars, Tamang, Gurung, etc.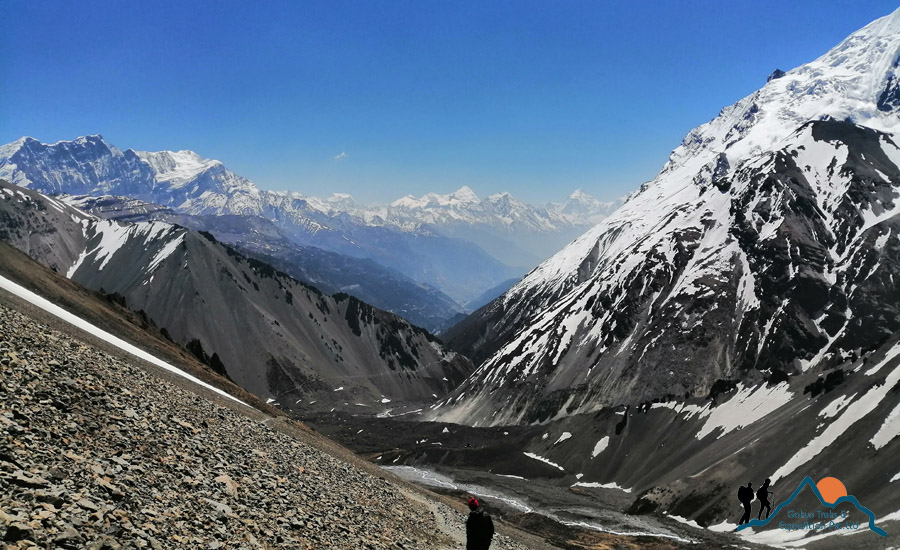 Discovering Tilicho lake is the top first most popular trek in Nepal. The trek rich in diverse culture and flora and faunas offers great Himalayan scenery of Mt.Dhaulagiri (8,167m), Mt.Annapurna Ist (8,091m) Mt.Manaslu (8,163 m), Mt.Annapurna II (7,937 m.), Mt. Annapurna III (7,555m), Mt. Annapurna IV (7,525m), Mt.Annapurna south (7,219m), Mt. Nilgiri (7,041m), Mt. Hiunchuli (6,441m), Mt. Lamjung Himal (6,986m), Tukuche peak (6,920m), Tilicho peak (7,134m).
Moreover, the tilicho lake trek cost for Nepali is a foreigner is roughly the same but only the differences are about the conservation fees. Take a look at our tilicho lake trek blog for all information about hiking routes to reach Tilicho base camp and lake. Roughly from Pokhara to tilicho lake distance is about 51.3 kilometers which you can find in the Tilicho lake trek package.
Tilicho lake in April is outstanding because of the blooming colorful Rhododendrons. Annapurna tilicho lake weather is not stable because of high mountain landscapes. Blue sheep and yaks are grazing in their surroundings. Wilderness Tilicho mustang trek is also possible crossing over Tilicho pass but the Tilicho lake temperature is still extremely cold.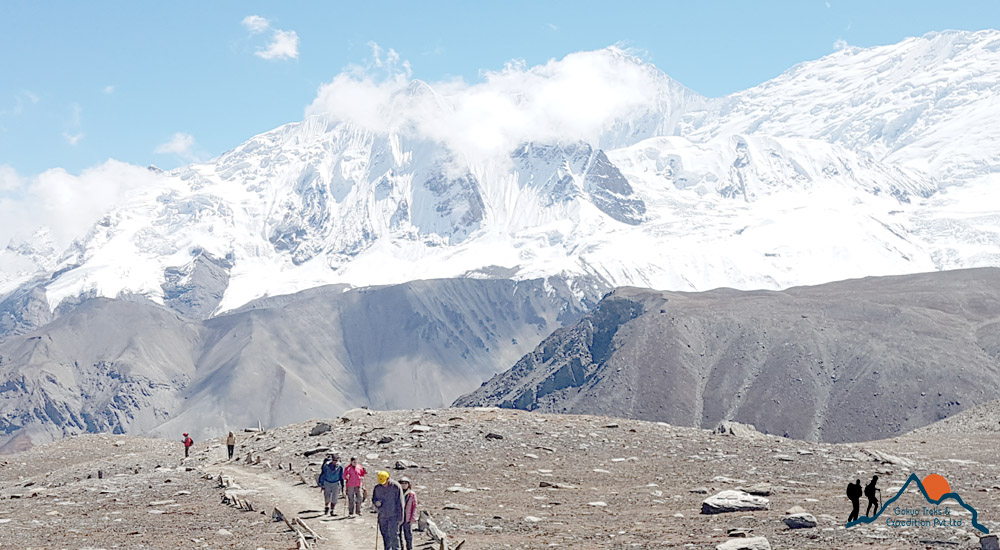 Splendid Tilicho lake in the winter season is not possible because of an icy trail and the lake is frozen. Except for wintertime, expert trekker cross Mesokanto la pass with special trekking gears to reach Jomsom airport in a day or 2. So the best way is to descend downhill to Manang with the same trail and take a jeep downhill to Besisahar.
Itinerary
Tilicho Lake Trek itinerary detail
The Tilicho lake hike is a classical but lodge basis 18 days trek itinerary compared to most walks in this region. The particular annapurna circuit trek with tilicho lake route is designed for globetrotters who wish to hike in the world's highest lake Tilicho combine Thorong la pass in a relaxing manner, can try this plan. Other travelers who have wishes to cross over Thorong la pass hiking straight away then try for Annapurna Circuit short trek – 10 Days which would be a more appropriate choice.
Day 1
Arrival at Kathmandu valley
Upon arrival in Kathmandu, Tribhuwan International Airport, we will receive you with private vehicle and transfer to hotel in Kathmandu with breakfast. Our representative will brief you Tilicho lake trekking combine Thorong la pass programs.
Day 2
Overland drive to Besisahar by bus (760m/2,485 feet), 7 hours.
Early morning, guide will come to take your hotel at 7.00 am in the morning to pick you up. We have 7 hours of driving to Besishar, 185km far from Kathmandu. On arrival at Besisahar, you will witness stunning snow caped mountain scenery.
Day 3
Local jeep drive to Syange. Trek to Chamje (1,400m/4,578 feet), 5 hours
At morning after breakfast, we take a local jeep (passenger collection basis) to Syange waterfall. The trail drops steeply to Syange at 1070m from Bahundanda. Leaving Bahundanda a large waterfall may be seen. We, crossing the Marsyangdi River on a suspension bridge. We then follow the river to the stone village of Jagat before climbing through the forest to Chamje village.
Day 4
Bagarchhap trek (2,160m/7,063 feet), 5 hours.
The day begins with the rocky mountain trails following the Marsyandi Rivers steadily uphill to Tal at 1675m, the first village in the Manang district. We make a trail verse crossing a wide, flat valley. The journey continues up and down to Dharapani at 1890m. A stone entrance chorten is typical of the Tibetan-influenced villages. Upon reaching Bagarchhap at 2160 m the typical flat-roofed stone houses of local Tibetans design along with the village surrounded by apple Orchards and maize fields.
Day 5
Walk to Chame (2,630m/8,600 feet), 5 hours.
The trail continuing through forest, but near the river, to Kopar at 2590m. As we reach the Chame, the headquarters of the Manang district, we are rewarded by the fine views of Annapurna II as you approach Chame & two small hot springs by the town. Along with this route we are introduced to a local community said to have migrated from Tibet a long time past, noticeable by their different features. With them, they have bought local Tibetan house designs and maintained their ways.
Day 6
Pisang village hiking (3,300m/10,791 feet), 5 hours.
The day starts through deep forest in a steep and narrow valley, crosses a river on a long bridge at 2,910m. Then we cross another bridge at 3,040 meters, from where the view of the soaring Paungda Danda rock face really begins to appear. From there the trail joins to climb to Pisang, which sprawls between 3,200-meter & 3300 m. In the late afternoon, visit upper Pisang for Managers and their lifestyles and as well as an amazing Himalayan view.
Day 7
Manang trek (3,540m/11,576 feet), 8 hours.
The trail leads you through the drier upper part of the Manang district, cut off from the full effect of the monsoon by the Annapurna Range. People of this region herd the yaks & raise crops for part of the year. Leaving Pisang, we have alternate trails north and south of the Marsyandi River. The southern route to Humde, with its airstrip. It involves less climbing than the northern route via Ghyaru, though there are better views on the trail that follows the northern bank of the river. From Mungji the trail continues past the picturesque but partially hidden village of Braga at 3,475 meters to nearby Manang village.
Day 8
Discovering Gangapurna glacial lakes and hiking around Manang.
Acclimatize day in Manang. Hiking and village excursion are not compulsory, however, we recommend you to spend doing some fine walks milky blue Gangapurna glacier lake at the foot of spectacular Gangapurna icefall, gangapurna hilltop for a better view of whole Manang village. You can explore Milarepa Cave if you like.
Day 9
Khangsar village hike (3,734m/12,247 feet), 5 hours
From Manang the trail descent to a Chorten and turns to northwest and goes down to the River. Cross the Jharsang Khola on a suspension bridge the hiking path leaves through the blue pine forest and the wheat fields before arriving at Khangsar, Khangsar is a Gurung village. There you find a small monastery, Chorten, Mani walls, and prayer flags. Stay overnight at camp in Khangsar.
Day 10
Tilicho Base Camp trek (4,150m/13,612 feet), 4:30 hours.
From Khangsar the trail climbs steeply past the Gompa and small chortens, a trail goes under juniper and sea buckthorn bushes. Cross afew streams and climb uphill to arrive at Tilicho base camp. Tourist can enjoy the extensive views of Tilicho Peak and the surrounding mountain. Overnight at Tilicho base camp guest house.
Day 11
Tilicho Lake trek (4,919m/16,134 feet). Descend to base camp, 5 hours.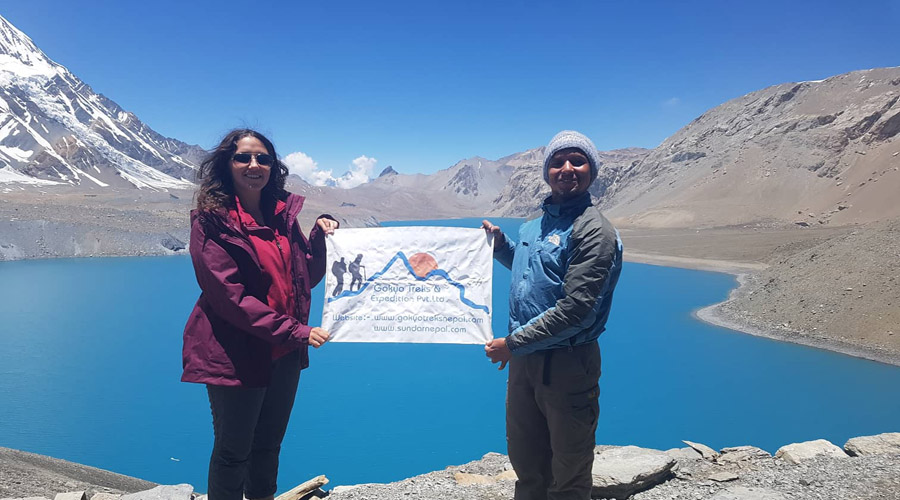 Make sure all hiking gears are ready. Check your hiking members if all is well then start your Tilicho hike. As you leave early morning, the guide will carry your packing breakfast. With 4 hours of hikes, Tourists can reach the lakeside where Tea shop also exists. During this travel, the tourist gets a remarkable view of Gangapurna, Tarkekang, Khangsar Kang. In addition, Tourists can achieve some of the finest views of Manang and Upper Pisang. Spending a memorable time at Tilicho Lake, return to Tilicho base camp via the same route for an overnight stay. Backpacker travelers can walk further to Shree Kharka guest house walking for 3 hours.
Day 12
Tilicho base camp to Yak Kharka trekking (4,050m/13,244 feet), 7 hours.
From base camp we trek down passing through the ruins of old Khangsar and follow an unmarked with a thin trail. The leads you down to cross the river on an old log bridge between Gunsang and Yak Kharka, overnight at Yak Kharka. You might also go down to Manang to drive out to Besisahar only if you are traveling within a limited time.
Day 13
Thorong Phedi trek (4,450m/14,552 feet), 3 hrs.
After ascending for two hours the trail descends to cross the river at 4310m, we again climb up to Thorong Phedi Guesthouse at 4450m. There are good guest houses and offers very good food, Bakery, as well as Internet and telephones, are also available here.
Day 14
Muktinath trek (3,800m/12,426 feet) via Thorong La (5,416m/17,710 feet), 8 hrs.
Today is challenge day rather than others. We begin our trip from very early in the morning. At sunrise, as we need to set out early to complete the crossing of the Thorong La (5,416 meters). The trail is steep right from the start, but with a slow and steady pace, we should reach the summit within three hours.
Prayer flags and hot tea await us as we reach the highest point of our trekking. Our descent to Muktinath is long, but the views of the border Himalayas and the Dhaulagiri family are simply amazing. Muktinath is a large settlement with several lodges to choose from. Hot showers and a good meal will allow for a quick recovery after today's long and difficult excursion.
Day 15
Jomsom trek (2,665m/8,715 feet), 5 hours
Our destination trek today is Jomsom Bazaar, a lovely village surrounded by apple orchards and the sweet smell of cider. Hiking at Jomsom trip, one can enjoy a cultural taste of trekking in high land in the rain shadow area similar to Tibetan land. Tourists can hike at Dumba lake, Snow leopard cave, or visit eco-museum during their half-day hikes staying in Jomsom. You can visit Jomsom markets to look for local apple brandy and fresh Apples. Jomsom markets offer great bakeries that produce apple strudel and apple cakes, which along with a rest day will be most welcome. Reconfirm the return flight from Jomsom to Pokhara for tomorrow.
Day 16
Pokhara city flight (20 minutes) & Drive to Kathmandu, 7 hours.
Early morning, fly to Pokhara city, the majestic town. Pokhara flights are available during the morning time. The strong breeze blows during and after and frequent change of the weather prevents the flight from being landed and taken off in the afternoon. During the flights in the morning, the sky looks very clear which makes you able to enjoy the splendid views of different mountain peaks.
Mountain overland drive out to Kathmandu city, takes about 7 hours. You can also fly from Pokhara to Kathmandu (USD 115 EXTRA) which takes about 20 minutes.
Day 17
Final departure day
Drop you in Kathmandu International Airport onward your final destination and our trip ends. Wish you your wonderful journey.
Cost
How much does the Tilicho Lake Trek cost?
Hike to Tilicho Lake trek cost is USD 1,225 per person. Of course, the trip price will vary according to group size. For example, if you could bring 10+ travelers (except you) to your trip, you are treated as a group leader. So you can hike tilicho lake for free of cost. Taking flights to and from Pokhara saves your time and riding buses reduces the trip expenses.
For the deluxe and luxury trekking tour plan, we add Kathmandu – Pokhara – Kathmandu round trip airfare, 3-star category hotel deluxe air-conditioned room in Kathmandu (BB PLAN) with attached bathroom while on trekking on possible places, so let us know. AND WE ARE OPEN TO CUSTOMIZE YOUR TOUR AND PACKAGES PRICE AS PER YOUR REQUIREMENTS. International tour leaders are highly encouraged to get discounts and attractive complimentary.
Tilicho Lake Trek Cost Includes
Kathmandu international airport transfer by private vehicles.
2 nights Twin sharing Tourist standard accommodation in Kathmandu with Breakfast plan
Meals on full board: Breakfast, Lunch and Dinner each day during the trek.
Fully escorted trek with fluent English speaking license holder local guide and each 2 guest 1 Porter basis.
Annapurna Conservation Area permits and TIMS permits for Trek tours
Bus transfer from Kathmandu – Besisahar & from Pokhara – Kathmandu.
All land transportation as per written on above itinerary.
Food and accommodation and salary of Nepali trekking staffs.
Insurance of guide and porters.
Latest updated Tilicho trek map for each person, you keep this map as a soveneur.
Nepal Government Tax, VAT and as well as Company service charge.
Tilicho Lake Trekking Cost Excludes :
Nepal entry visa fee cost US$ 40.
Lunch and Dinner during the staying in Kathmandu and Pokhara city.
Any kinds of battery charges, laundry service, phone calls and hot shower during the trekking.
Tourist personal trekking equipments and clothes.
Personal nature expenses, all types of drinks and bar bills.
Your travel insurance (it is mandatory in case of emergency).
Any donation and monuments entrance fees.
Tips for the crew (Note : TIPS is not compulsory but highly expected)
Any other things which are not mentioned above
Group join
We can organize private trip to Tilicho Lake Trek starting at any date that works for you. Please contact us for more information.
FAQ
Question: Is pick up service available on my arrival day in Kathmandu?
Answer: Yes sure. Provide us your flight details and request to pick up from TIA. Our representative will come to pick up you at Kathmandu international airport.
Question: Do I need the experience to do Tilicho lake trek?.
Answer: It is suitable for keen trekkers/walkers who are able to walk around 4 or 5 hours in a day, with a lightweight daypack. For this trekking, if you have about a little experience would be better.
Question: What kind of accommodation can I expect on Tilicho lake combine with the Annapurna circuit?.
Answer: We provide you tourist standard accommodation in Kathmandu and during the trekking routes. the rooms along the routes are clean with a cozy bed with a nice mattress and blankets. However, we recommend you take your own sleeping bags if you have one with you otherwise, rent the hiking gear while you are in Kathmandu city.
Question: What kind of food can I expect in Tilicho Lake Trek solo?.
Answer: All the guest houses/lodges in Annapurna trek, they have attached restaurant and they cook a delicious range of mostly vegetarian such as Pasta, tuna bakes, noodles, potatoes, eggs, bread, soups, vegetable rice. In addition, Dinner, and breakfast we provide in the same lodge you spend the night every day and Lunch will serve on the way to the next place where you walk.
Question: What opportunities will I have for shower along with express Tilicho Lake Trekking?.
Answer: Guest house trekking along the routes they have a shower which you can get it somewhere paying and somewhere without paying however if you are in camping trekking – we provide you hot water bucket then you will take a bucket shower.
Question: How do I get drinking water on Tilicho Lake Trek group?.
Answer: Holidaymakers can buy mineral water en route. But we advise against buying mineral water in plastic bottles, as currently there are no provisions for disposing of these. So please buy a metal bottle and fill the normal water along the route.
Question: Can I charge my digital camera or other batteries on my trip?.
Answer: During the lodge trekking there will be more chances to charge the battery. We recommend you bring an extra pair in case. Remember to bring your adapters! An extra battery will be recommended.
Question: Are there any communication facilities on Tilicho Lake lodge Trek?.
Answer: In this trekking route, you can get telephone services as well as internet services as well.
Question: Is it possible to rent a guide? how to hire a local trek guide?.
Answer: Yes of course. If you are not happy to go with the complete full board tilicho lake package trip, still you can hire our expert guide to make your holiday tour safer. However, visit a guide and porter hire or email us for your detail travel inquiry.
Question: Can I use credit cards in Trekking?.
Answer: No! So, for the nature trail, you need to have cash Nepali rupees because credit cards work only in the bigger city areas.
Question: When should I book my trip and what are the payment terms?.
Answer: Because our trips book up months in advance, we recommend booking early to avoid any kind of misunderstanding. We will, of course, make every effort to accommodate last minute bookings. And regarding the deposit, we prefer a 20% advance deposit of the total price of the trip in order to confirm your reservation before you arrive in Nepal. And the rest of the payment can be made after your arrival in Nepal.
Question: Who will carry my luggage on Tilicho Lake express trek?.
Answer: We provide porters to transfer your luggage. As we are a responsible trekking tour operator agency, each of our porters carries a maximum of 25 kilos of your backpack which means 2 guests (12.5 kg luggage of each guest): 1 porter basis.
Question: How much distance do I walk each day?.
Answer: When walking in the mountains, the distance you cover each day can vary greatly due to a gradient, terrain, and altitude. As such it is very hard to give specific distances on each day, however, you have to be prepared to walk roughly about 5 hours each day.
Question: Do I need walking poles?.
Answer: It is better to hike with walking poles. Learn how to use trekking poles for balance and permanence, whether on the sidewalk or on trails. Walking sticks can help prevent slips and falls. They are just recommended but not compulsory.
Question: How much additional money do I need per day?.
Answer: You can allocate US$ 08 – 10 for a lunch/dinner in Kathmandu and it depends on your spending habits. US$ 7 to 10 US$ each day will be enough to buy bottles of water, chocolates, tea coffee, and some drinks while you are on trek.

Tillicho lake and adventure Mesokanto la Pass 2018.
100%
5
star based on –
211
Based on TripAdvisor Reviews
With my wife we enjoyed trekking with guys from Gokyo Treks & Expedition in Annapurna region. Found agency on the internet and decided to trust them based on good recommendations.
Everything was organised as agreed from trekking permits to accommodation in Kathmandu and airport taxi.
Guide knows well all the NAAT trekking routes and their recent state as it is common that some trails are already collapsed due to common landslides! This can save significant amount of time. Jozef Rodanoka, Poland.

Tilicho lake with AC Trekking
100%
5
star based on –
208
Based on TripAdvisor Reviews
Ammar Raj Guni is a perfect and very reliable agent for arranging your trekking. He has also much experience as a guide, so he always knows where he is talking about. His prices are really competitive.
His calculations were transparent, our trek was some days longer than arranged, but in the end, we got no unexpected costs. He works with local people from the small villages and he treats them very socially. So during the two days, we stayed at his house, we felt very comfortable. I strongly recommend his agency if you're visiting Nepal. – Janthima Chotis, Bangkok, Thailand.
Tilicho Lake Trekking Highlights
Tilicho lake, Nepal's highest lake offers turbulent river gorges with nice waterfalls.
Visit old Buddhist monastery in Braga village – Explore beautiful Manang village
Thorong La (5416m) widest pass of this valley offers awesome view of whole Annapurna massive.
Muktinath Pilgrimage place, Typical Eco Museum in Jomsom, Views of Dhaulagiri Ice – fall,
The world deepest canyon in the Kali Gandaki River .
Notice for Tilicho Lake visitors
Hiking at Tilicho lake itinerary is subject to change due to a condition beyond our control. This is a Guideline showing tentative camp night stops. Physical, technical and natural condition may change this above itineraries.
"What makes Tilicho trek special ?"
Opportunities for challenging trekking or hiking and pleasant strolls are scattered all over this planet. You just need to know where to find them. We believe in quality services. Your safety and satisfaction is our concern. We are a team of professional, experienced, well-trained, and licensed local guides who know the destination much better than others.
From US$ 1289
5% Off
US$ 1225
| | |
| --- | --- |
| No. of people | Price Per Person |
| 1 | USD 1598 |
| 2 | USD 1225 |
| 3 | USD 1350 |
| 4 - 6 | USD 1215 |
| 7 - 9 | USD 1210 |
| 10 + | USD 1190 |
Book Now
Customize Trip
Cost & Departures
Your Trip Your Style!
ITINERARY, COST, DEPARTURES, will adjusted according to your GROUP SIZE NEED TIME
Book with Confidence
Lowest Price Guaranteed.
Excellent Customer Service
Hassle Free Booking.
90 % Repeated customers
Travelers Recommended agency
Local Guide's owned company.
Reference person
Contact in Germany
Klaus Kummer : +49-367-2351-957
Martin Aigner: +49 7904 7428
Contact in USA
John Erwin: 212-222-6389
Beth Pekol, Chicago: +1 312-364-8924
Eve Quesnel, California: 530-5879-113
Contact in Australia
Mark Panico: +61 434 784 995
Contact in France
Anne Claire Srdoc: +33 683 549 096
Contact in Austria
Verena Laner: +43 650 7110 301
Dorothee Plunger:+43 512 565 255

Contact in Switzerland
Dominik Lee, Zürich: +41 079 3826 028