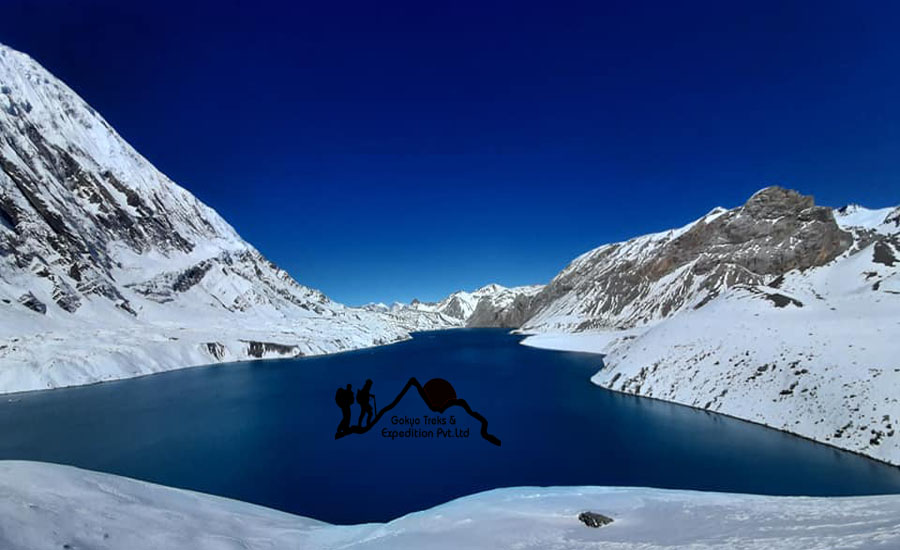 Tilicho Lake Trek Summary
Tilicho Trek Duration: 11 Days
Trek Difficulty: Moderate Level
Tilicho Lake Elevation: 4,919m / 16,139 feet
Trekking Hour: 6 hours daily
Group-Size: 1 – 14 People
Best Time: March, April, May, October, November and December
Trip Mode: Guest House
Foods on hiking trail: Breakfast, Lunch, and Dinner
Transportation: Car/Bus
Overview
The Tilicho Lake Trek in Nepal is a challenging and adventurous trek that takes you to one of the highest lakes in the world. Its a Tilicho Lake that situated at an altitude of 4,919 meters (16,138 feet) in the Annapurna range. It offers astonishing views of the Himalayan mountains, including Annapurna II (7,937m), III (7,555m), IV (7,525m), Manaslu (8,163m), Gangapurna (7,455m), Nilgiri (7,041m), and Tilicho peak (7,134m).
A journey to Tilicho Lake is undoubtedly provides some of the world's finest views. Furthermore, it has a great variety of society and diversity, with the finest valley and high mountains encircling the giant Annapurna family.
Usually begins this journey from the city of Kathmandu, where you take a scenic drive to the town of Chame, the starting point of the trek. You can hike to Tilicho through the lush forests, traditional villages, and alpine landscapes as you ascend higher toward the incredible Lake.
Moreover, travelers can experience diverse communities such as Brahmin, Chhetri, Tibetian sherpa, Thakali, Magars, Tamang, Gurung, etc. Additionally, the journey also involves visiting the viewpoint, glacial Lake Gangapurna, Ice lake, and crossing some of the oldest settlements.
A hike to Tilicho lake in the winter season is not possible because of an icy trail, landslides, and the lake being frozen. April is outstanding because of the blooming colorful Rhododendrons and Blue sheep and yaks grazing in their surroundings. Overall, the Tilicho Lake Trek is an unforgettable experience for those who seek adventure, breathtaking scenery, and a challenging trekking experience.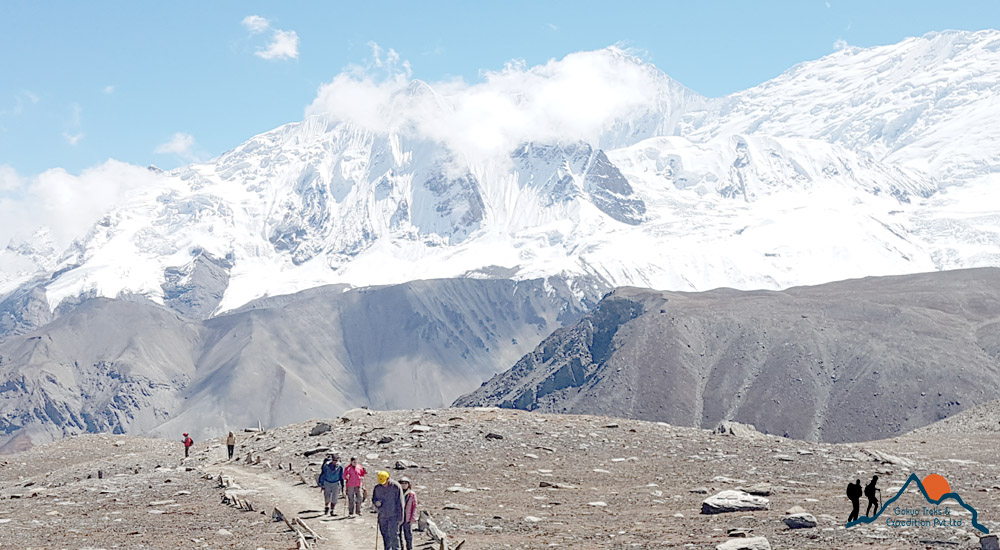 How much does Tilicho Trek Package Cost/Price?
The cost of the Tilicho trek package with a Gokyo Treks local trekking agency in Nepal ranges between US$ 750 to US$ 1050. Certainly, the trek cost will vary as per the service you choose. However, the given package price includes transportation, a guide, porters, hotels and food accommodation and hiking permits, facilities.
We have a special deal for international group leaders too. For example, if you could bring 10+ travelers (except you) on your trip, you are treated as a group leader. So you can hike Tilicho lake at 50% discount.
However, we often arrange Tilicho lake private trips in order to avoid group tours with strangers. A private tour gives you a better experience on your hikes. If you value personalization, flexibility, and in-depth experiences, a private trip customized to your personal needs will be the best option.
It is the standard trip package price for 11 days trek. If you are 2 tourists Tilicho trek cost US$ 898 for 11 days trek as per the given trekking plan. We can modify the trek route and the prices as per your wish. Here is the price list for the Tilicho treks.
Price Per Person for 11 days hikes in the Tilicho lake wilderness route.
| Number of Tourist | Price Per Person |
| --- | --- |
| 1 Person | US$ 1050 |
| 2 Person | US$ 898 |
| 3 Person | US$ 890 |
| 4 to 6 person | US$ 850 |
| 7 to 9 Person | US$ 798 |
| 10 and more than 10 Person | US$ 750 |
If you're wondering to know about what is included and what is excluded on this trek price, kindly check on the cost given on a tab button.
Itinerary
Tilicho Lake Trek itinerary detail
Hike to Tilicho lake is a classical lodge basis 10 days trek itinerary compared to most walks in the Annapurna region. The particular Tilicho lake trek route is designed for globetrotters who wish to hike in the world's highest lake Tilicho without crossing the high pass Thorong la in a relaxing manner, who can try this plan. Other travelers who wish to cross over Thorong la pass hiking straight away then try for around the Annapurna short trek – 10 Days is a better choice.
1 Day
Arrival at Kathmandu valley
Upon arrival in Kathmandu, Tribhuvan International Airport, we will receive you in a private vehicle and drive to the hotel in Kathmandu. Our representative will brief you on Tilicho lake trekking programs.
2 Day
Overland drive to Besisahar by bus, 6-7 hours. Drive further to Chame (2,630m/8,629 feet), 3 hours.
Early morning, the guide will come to take your hotel at 6:00 am in the morning to pick you up. We have 6 hours of driving to Besi Shar to cover 185 kilometers far away from Kathmandu. On arrival at Besisahar, you will witness the stunning snow-capped mountain scenery across the journey.
Guide check the scheduled jeep transfer (on sharing basis) to Chame depending upon the availability. The mountain trail ascends passing some of the unique waterfalls that are situated in Syange and Chamje. Continue to drive across the Marsyangdi River, streams, and fertile landscapes we reach Chame town.
Chame is the headquarters of the Manang district. The Mountain Hikers can see the fine views of Annapurna II as you approach Chame & two small hot springs by the town. Along with the travel route, we introduce a local community who migrated from Tibet a long time past, noticeable by their different features. With them, they have bought local Tibetan house designs and maintained their ways.
3 Day
Pisang village trekking (3,300m/10,827 feet), 6 hours.
The day starts in a deep forest in a steep and narrow valley, crossing a river on a long bridge at 2,910m and another bridge at 3,040 meters. From where the view of the soaring Paungda Danda rock face really begins to appear. From there the uphill trail joins to climb to Pisang village, which sprawls between 3,200 meters & 3300 m. If time permits, visit upper Pisang for Managers and their lifestyles and as well as for the amazing Himalayan view.
4 Day
Manang trek (3,540m/11,614 feet), 7 hours.
The trail leads you through the drier upper part of the Manang district, cut off from the full effect of the monsoon by the Annapurna Range. People of this region herd the yaks & raise crops for part of the year. Leaving Pisang, we have alternate trails north and south of the Marsyandi River. The southern route to Humde, with its airstrip. It involves less climbing than the northern route via Ghyaru, though there are better views en route that follows the northern bank of the river. From Mungji the cultural and nature path continues past the picturesque but partially hidden village of Braga at 3,475 meters to nearby Manang village.
5 Day
Explore Gangapurna glacial lake and hiking around Manang.
Acclimatize day in Manang. Hiking and village excursion are not compulsory, however, we recommend you to spend doing some fine walks milky blue Gangapurna glacier lake at the foot of spectacular Gangapurna icefall, Gangapurna hilltop for a better view of the whole Manang village. You can either explore Milarepa Cave or the ice lake as they are the top famous side trips nearby Manang Guesthouses.
6 Day
Khangsar village hike (3,734m/12,251 feet), 4 hours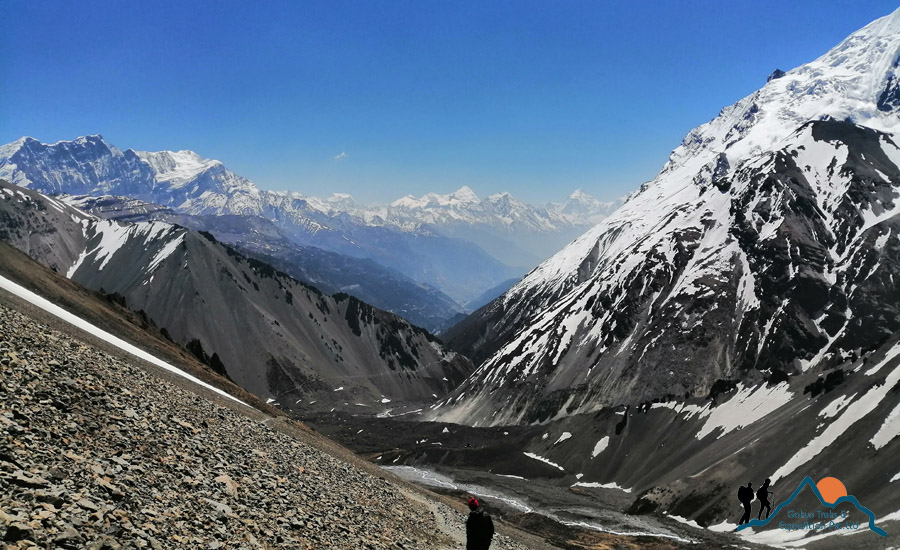 Manang is a gateway exploring Tilicho Mountains and lake. Leaving Manang village, the Himalayan trail descent to a Chorten and turns to the northwest, and goes down to the River. Cross the Jharsang Khola on a suspension bridge the hiking path leaves through the blue pine forest and the wheat fields before arriving at Khangsar, Khangsar is a Gurung village. There you find a small monastery, Chorten, Mani walls, and prayer flags. Stay overnight at camp in Khangsar lodges.
7 Day
Tilicho Base Camp trek (4,150m/13,616 feet), 5 hours.
From Khangsar the trek route climbs steeply past the Gompa and small chortens, and a trail goes under juniper and sea buckthorn bushes. Cross a few streams and climb uphill to arrive at the Tilicho base camp. Tourists can enjoy the extensive views of Tilicho Peak and the surrounding mountain. Overnight stay at Tilicho base camp guest house.
8 Day
Tilicho Lake trek (4,919m/16,139 feet) and return to base camp, 5 hours.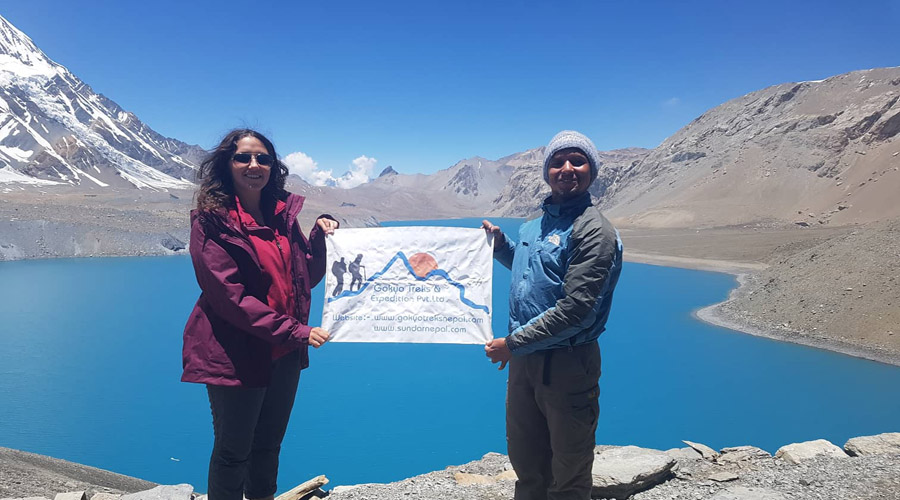 Make sure all hiking gears are ready. Check your hiking members if all is well then start your Tilicho hike. As you leave early morning, the guide will carry your packing breakfast. With 4 hours of hikes, Tourists can reach the lakeside where a Tea shop also exists. During this travel, the tourist gets a remarkable view of Gangapurna, Tarkekang, and Khangsar Kang.
In addition, Tourists can achieve some of the finest views of Manang and Upper Pisang. Spending a memorable time at Tilicho Lake, return to Tilicho base camp via the same route for an overnight stay. Backpacker travelers can walk further to Shree Kharka guest house walking for 3 hours.
9 Day
Tilicho base camp to Manang village trek (3,540m/11,614 feet), 7 hours.
From base camp we trek down passing through the ruins of old Khangsar and following an unmarked with a thin trail. The leads you down to cross the river on an old bridge Manang where we stay overnight. In the evening confirm the jeep tickets to Besi Sahar.
10 Day
Overland jeep/Bus drive to Besi Sahar (sharing local jeep), 7 hours.
Today is the last day of our Tilicho lake trek. We take an overland drive to Besi Sahar with a local sharing jeep. We drive with local people during the journey on Chame Sadak. on Arrival, at Besisahar we check into a good hotel to stay overnight.
11 Day
Drive out to Kathamndu/Pokhara, 6-7 hours.
After breakfast, Guests will have a choice to either drive to Kathmandu town or drive to Pokhara. If you wish to travvel Pokhara? our guide will book the bus tickets to Pokhara otherwise you will drive back to Kathmandu on the same road together with a guide and porter. Trip finish.
Not satisfied with above plan?
Are you interested in planning a custom trip? this might take 2 to 3 minutes.
Cost
How much does the Tilicho Lake Trek package price?
Hike to Tilicho Lake trek price US$ 898 per person is a standard trek on a double occupancy basis. For the deluxe and luxury trekking tour plan, we add a 3-5 star category hotel deluxe air-conditioned room in Kathmandu (BB PLAN) with an attached bathroom. And attached bathroom while on the trek routes in a possible place. So, WE ARE OPEN TO CUSTOMIZING YOUR TOUR AND PACKAGES PRICE AS PER YOUR REQUIREMENTS.
Tilicho Lake Trek Package Price Includes:-
Kathmandu international airport transfer by private vehicle Car on arrival.
Single night on double bedroom accommodation in a Tourist standard hotel in Thamel, Kathmandu.
10 Breakfast set, 10 Lunch and 9 Dinner [main course] serve with coffee/tea during the Tilicho Lake hikes.
Guest house accommodation along the Tilicho lake trek routes.
Annapurna Conservation Area permit fee
TIMS permit fee for Tilicho lake trekking tours
Manang to Besi Sahar transfer by available Jeep/bus (with a local passenger sharing basis).
Available Jambo Hiace Bus transfer from BG MALL in Kathmandu to Besisahar (sharing basis).
Jambo Hiace VAN transfer from Besi Sahar to Kathmandu or Pokhara (sharing basis).
Fully escorted trek with English-speaking license holder local trek guide and every 2 guests 1 Porter basis.
Insurance, Food and accommodation, and salary of Nepali trekking staff.
Seasonal fruits like apples and pomegranates as a desert for Tilicho trekking.
Agency's duffel bag (50 liters capacity), and trek poles if Necessary – return after the trek.
First aid medical kit including Oximeter to check your Oxygen level, Pulse rate to monitor every day to prepare for altitude mountain sickness.
In a worst case, help with all Helicopter Rescue and evacuation arrangements (but not the rescue bills).
Trek certificates and the Tilicho trek map – keep them as a souvenir.
Nepal Government Tax, VAT, and as well as Company service charge.
Tilicho Lake Trekking Package Excludes :
Lunch and Dinner during the staying in Kathmandu and Pokhara city.
Any kinds of battery charges, laundry service, phone calls, and hot showers during the trekking.
Tourist personal trekking equipment's and clothes.
Nature of Personal expenses, all types of beverage drinks.
Travel Insurance which covers emergency rescue, evacuation, personal loss, or damage.
Any donation and monument entrance fees.
Gratuities for guide and porters [Tip is a culture, so they expect highly].
Group join
We can organize a private trip to Tilicho Lake Trek starting on any date that works for you. Please contact us for more information.
FAQ
Question: Is pick-up service available on my arrival day in Kathmandu?
Answer: Yes sure. Provide us with your flight details and request to pick up from TIA. Our representative will come to pick up you at Kathmandu international airport.
Question: Do I need the experience to hike Tilicho lake?.
Answer: It is suitable for keen trekkers/walkers who are able to walk around 4/5 hours in a day, with a lightweight daypack. For this trekking, if you have a little experience would be better.
Question: Can I store my luggage/stuff in Kathmandu?
Answer: Yes, you can leave your luggage at your hotel or at our office. Store your stuff in the Gokyo Treks agency office for free.
Question: Is Tilicho lake hiking Safe for the Solo Female Trekkers?
Answer: Absolutely yes. Nepal is a safe country to travel to for solo travelers; tilicho trek is perfectly safe for solo female trekkers. We have been organizing the trek even for solo female travelers since its establishment.
Question: What kind of accommodation can I expect on the Tilicho lake route?
Answer: We provide you with tourist standard accommodation in Kathmandu and during the trekking routes. the rooms along the routes are clean with a cozy bed with a nice mattress and blankets. However, we recommend you take your own sleeping bags if you have one with you otherwise, rent the hiking gear while you are in Kathmandu city.
Question: What kind of food can I expect in Tilicho Lake Trek solo?.
Answer: All the guest houses/lodges in Annapurna trek, have attached restaurants. They cook a delicious range of mostly vegetarian such as Pasta, tuna bakes, noodles, potatoes, eggs, bread, soups, and vegetable rice. In addition, Dinner, and breakfast we provide in the same lodge you spend the night every day and Lunch will serve on the way to the next place where you walk.
Question: What opportunities will I have for a shower along with express Tilicho Lake Trekking?.
Answer: Guest house trekking along the routes they have a shower which you can get somewhere paying and somewhere without paying however if you are in camping trekking – we provide you hot water bucket then you will take a bucket shower.
Question: How do I get drinking water on Tilicho Lake Trek group?
Answer: Holidaymakers can buy mineral water en route. But we advise against buying mineral water in plastic bottles, as currently there are no provisions for disposing of these. So please buy a metal bottle and fill the normal water along the route.
Question: Can I charge my digital camera or other batteries on my trip?.
Answer: During the lodge trekking there will be more chances to charge the battery. We recommend you bring an extra pair in case. Remember to bring your adapters! An extra battery will be recommended.
Question: Are there any communication facilities on Tilicho Lake lodge Trek?
Answer: In this trekking route, you can get telephone services as well as internet services as well.
Question: Is it possible to rent a guide? how to hire a local trek guide?.
Answer: Yes ! If you are not willing to book a complete full-board Tilicho trek package trip, you can hire our expert guide to make your holiday tour safer and unforgettable.
Question: Can I use credit cards in Trekking?.
Answer: No! So, for the nature trail, you need to have cash Nepali rupees because credit cards work only in the bigger city areas.
Question: When should I book my trip and what are the payment terms?.
Answer: Because our trips book up months in advance, we recommend booking early to avoid any kind of misunderstanding. We will, of course, make every effort to accommodate last-minute bookings. And regarding the deposit, we prefer a 20% advance deposit of the total price of the trip in order to confirm your reservation before you arrive in Nepal. And the rest of the payment can be made after your arrival in Nepal.
Question: Who will carry my luggage on Tilicho Lake express trek?
Answer: We provide porters to transfer your luggage. As we are a responsible trekking tour operator agency, each of our porters carries a maximum of 24 kilos of your backpack which means 2 guests (12 kg luggage of each guest): 1 porter basis.
Question: How much distance do I walk each day?
Answer: When walking in the mountains, the distance you cover each day can vary greatly due to gradient, terrain, and altitude. As such it is very hard to give specific distances for each day, however, you have to be prepared to walk for roughly about 5 hours each day.
Question: Do I need walking poles?.
Answer: It is better to hike with walking poles. Learn how to use trekking poles for balance and permanence, whether on the sidewalk or on trails. Walking sticks can help prevent slips and falls. They are just recommended but not compulsory.
Question: How much additional money do I need per day?
Answer: You can allocate US$ 08 – 10 for a lunch/dinner in Kathmandu and it depends on your spending habits. US$ 7 to 10 US$ each day will be enough to buy bottles of water, chocolates, tea coffee, and some drinks while you are on your trek.
Tilicho Lake Trekking Highlights
Tilicho lake, Nepal's highest lake offers turbulent river gorges with delightful waterfalls.
Visit the old Buddhist monastery in Braga village – Explore charming Manang village
Go with a guide to Ice Lake and achieve the best Mountains vista, terrain, and Lakes.
Best rugged trail of the Annapurna route provides a breathtaking view of the whole Annapurna massive.
Best time for Tilicho Lake Trekking in Nepal
The best time to hike to Tilicho Lake in the Annapurna region of Nepal is during the spring and autumn seasons. These seasons offer the most favorable weather conditions and relatively stable trekking conditions. Here's a breakdown of the seasons and their characteristics:
March, April and May months are called spring season for trek in the Himalayas. Spring is considered the best time for hiking in the Annapurna region, including Tilicho Lake. The weather is usually clear, and the temperatures are mild and pleasant, with blooming rhododendron forests along the trail. However, popular trekking routes can get crowded during this season.
From September, October and November months are called Autumn season trek in Nepal. Hike in Autumn is another excellent season for trekking to Tilicho Lake. The weather remains dry, skies are generally clear, and the temperatures are moderate. The visibility is excellent, providing breathtaking views of the surrounding mountains and landscapes. Autumn is also a popular time for trekking, so expect some level of crowding on the trail.
During both these seasons, you can expect stable weather conditions, making the trekking experience more enjoyable. However, it's essential to check the weather forecasts before embarking on your journey, as mountain weather stays unpredictable.
It's worth noting that Tilicho Lake is situated at a high altitude (around 4,919 meters or 16,138 feet), so proper acclimatization and physical fitness are crucial. Likewise, it's also advisable to prepare with suitable gears for colder temperatures at higher altitudes, even during the best trekking seasons. So, ask us to plan your hike and ensure a safe and enjoyable experience.
Tilicho trek difficulty level
The trek to Tilicho Lake in the Annapurna region of Nepal is considered to be of a moderate to challenging difficulty level. It requires a reasonable level of physical fitness and some prior trekking experience is beneficial. Here are some factors that contribute to the trek's difficulty:
Tilicho Lake is located at an altitude of 4,919 meters above the sea level. Trekking at high altitudes can be physically demanding and may lead to altitude-related issues such as Acute Mountain Sickness (AMS). Proper acclimatization and a gradual ascent are crucial to minimize the risks associated with high altitude.
The wilderness trail to Tilicho Lake involves a variety of terrains, including steep ascents, descents, rocky paths, and narrow sections. There are also some sections with loose scree, which can be challenging to navigate. Hiking poles are helpful in providing stability and support on uneven terrain.
Generally, a trek to Tilicho Lake usually takes around 8 to 13 days, depending on the specific route and itinerary. It involves several long days of hiking, with daily distances ranging from 10 to 20 kilometers (6 to 12 miles). It's important to have the endurance to walk for several hours a day over an extended period.
Weather conditions in the high altitudes of the Annapurna region is always unpredictable and change rapidly. It's essential to prepare packing a proper hiking gears for varying weather conditions, including cold temperatures, strong winds, and occasional rainfall or snowfall.
Despite the challenges, the trek to Tilicho Lake is immensely rewarding, offering stunning views of the Himalayan landscapes and the chance to visit one of the highest lakes in the world. Hiring an experienced guide or joining a guided trekking group with us can provide additional support and enhance your overall trekking experience.
Notice for Tilicho Lake trekking visitors
A hike to Tilicho Lake requires a good level of physical fitness. A prior trekking experience is better to accomplish the trip but not compulsory. Technically not very difficult but because of falling dry landslides and stones along the journey, the up Annapurna trail becomes dangerous occasionally.
Hiking at Tilicho lake itinerary is subject to change due to a condition beyond our control. This is a Guideline showing tentative camp night stops. The physical, technical, and natural conditions may change the above itineraries.
"What makes Tilicho trek special?"
Trek to Tilicho Lake offers a unique blend of natural beauty, high-altitude adventure, cultural exploration, and a sense of tranquility. It's an opportunity to challenge yourself physically, connect with nature, and create lasting memories in one of the most scenic regions of Nepal.
We believe in quality services. First safety then success satisfaction is our prime concern. We are a team of professional, experienced, well-trained, and licensed local guides who know the destination much better than others.
Tilicho Lake Trek Review
Tilicho Lake Trek
I visited Nepal in Oct/Nov 2021. It was easy to get Visa, even an on-arrival Visa was available for vaccinated people with a recommendation from the Trekking company. We did the Tilicho Lake Trek in the Annapurna circuit area.
This was organized by Gokyo Treks and Expedition. The organization of the Trekking was excellent, I was picked up at the airport, and mandatory hotel booking for immigration was managed by the company so there was nothing to worry about in advance. The trekking itself was awesome, the guide was very experienced, I learned a lot about nature, the surrounding beautiful Annapurna Range, and the local culture.
I highly recommend Gokyo Treks and Expedition.
Concerning safety in the city area, I was positively surprised that the vast majority of people are wearing face masks in Kathmandu, even when they are outside.

Best hike at Tilicho Lake
Gokyo Treks was really affordable and easy to liaise with. We texted Ammar on a regular basis prior to the trip to clarify details, and he was always very responsive.
The guides and porters catered to our needs and the side treks that we wanted to go for, but they were also wary about our safety and were honest with the risks involved. The guides took good care of our meals and made sure we were well enough when we fell ill from the cold and AMS. They were really awesome! Thank you Bishnu, Sabin, and Bir. Highly recommend!
Response from Gokyo Treks Nepal
Thanks a lot for your excellent review about the Annapurna circuit trek – Thorong la pass trek 5,416 meters above the sea level in Nepal with our guide and porters.
Tilicho lake with AC Trekking
Ammar Raj Guni is a perfect and very reliable agent for arranging your trekking. He has also much experience as a guide, so he always knows where he is talking about. His prices are really competitive.
His calculations were transparent, our trek was some days longer than arranged, but in the end, we got no unexpected costs. He works with local people from the small villages and he treats them very socially. So during the two days, we stayed at his house, we felt very comfortable. I strongly recommend his agency if you're visiting Nepal.

Tillicho lake and adventure Mesokanto la Pass 2018.
With my wife we enjoyed trekking with guys from Gokyo Treks & Expedition in Annapurna region. Found agency on the internet and decided to trust them based on good recommendations.
Everything was organised as agreed from trekking permits to accommodation in Kathmandu and airport taxi.
Guide knows well all the NAAT trekking routes and their recent state as it is common that some trails are already collapsed due to common landslides! This can save significant amount of time.

From US$ 946
5% Off
US$ 898
| | |
| --- | --- |
| No. of people | Price Per Person |
| 1 | USD 1050 |
| 2 | USD 898 |
| 3 | USD 890 |
| 4 - 6 | USD 850 |
| 7 - 9 | USD 798 |
| 10 + | USD 750 |
Book Now
Customize Trip
Cost & Departures
Your Trip Your Style!
ITINERARY, COST, DEPARTURES, will adjusted according to your GROUP SIZE NEED TIME
Book with Confidence
Local Guides Company.
18 Years in Business.
Lowest Price Guaranteed.
100% Customizable Trips
Excellent Customer Service
Hassle Free Booking.
90 % Repeated customers
Highly Recommended agency
Private/group tour options