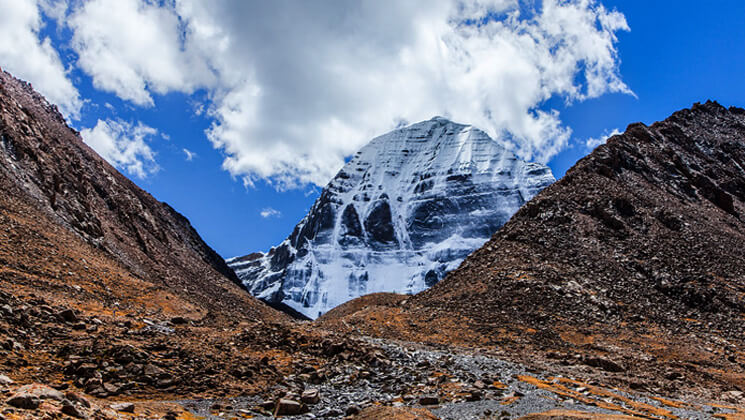 Kailash Trip Facts
Kailash Tour Duration: 10 Nights / 11 Days
Level of Difficulty: Moderate to Strenuous
Kailash Altitude: Dirapuk 4,860m
Walk Hours Daily: 7 Hours
Group-Size: 10 – 30 People
Trip Mode: Lodge Basis
Best time to visit: May, June, July, August, and September
Foods on travel: Breakfast, Lunch, and Dinner
Transportation: Bus/Jeep [sharing]
Overview
Kailash Tour information !
Mount Kailash Tour is one of the top most popular tourist activities across the Himalayas. The Mansarovar Lake situated on the foothill of Kailash Parvat is supposed to be the spiritual hub of the world. Similarly, Mount Kailash is a prime location for a purity set of pilgrimage that draws people from different religions from all around the universe.
The word 'manas' means mind, 'Sarovar' refers to the holy lake, and we call the lake as Lake of Consciousness. Lake Manasarovar lies at 4,590m (15,060 feet) above mean sea level, a relatively high elevation for a large freshwater lake on the mostly saline lake-studded Tibetan Plateau.
The sacred mountain Kailash the lake looks very entrancing, especially during the full moon day and it possesses areas of the 88-km circuit. Having a bath in the lake Mansarovar is remembered to filter all wrongdoings done throughout everyday life.
Also, the spot is a blessed focus of various religions in Nepal including Hinduism, Buddhism, Tibetan, the pre-Buddhist animistic religion, and the Jain religion. Kailash Peak and Mansarovar Lake are images of flawless engaging quality and tranquility which is genuinely amazing and provides you with the sensation of being unified with Shiva.
Although Kailash is open from spring to the beginning of autumn months, the best time to visit Mount Kailash is from May to September months.
As Gokyo Treks and Expedition is a pioneer Kailash tour operator agency based in Kathmandu, we do care about your travel plan according to your budget and time. As you are with our Kalash tour plan, you will have a chance to explore Mansarovar lake, Rakshas Tal, Atmaa Lingam, Khojarnath, Astapad, Nandi Parbat, and Kailash itself.
Book a kathmandu city day tour with Gokyo Treks Agency.