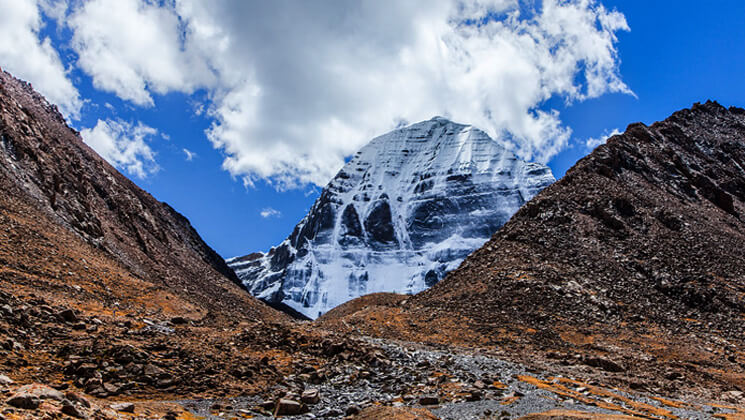 Kailash Tour Summary/Fact
Kailash Tour Duration: 12 Nights / 13 Days
Level of Difficulty: Moderate to Strenuous
Kailash Altitude: Dirapuk 4,860m
Travel Style: Drive & Trek
Group-Size: 4 – 25 People
Trip Mode: Hotel / Guest House Basis
Best time to visit: June, July, August, and September
Foods on travel: Breakfast, Lunch, and Dinner
Transportation: Bus/Jeep [sharing]
Overview
Mount Kailash Tour is one of the top most popular tourist activities across the Himalayas. The Mansarovar Lake situated on the foothill of Kailash Parvat is supposed to be the spiritual hub of the world. Similarly, Mount Kailash is a prime location for a purity set of pilgrimage that draws people from different religions from all around the universe.
The word 'manas' means mind, 'Sarovar' refers to the holy lake, and we call the lake as Lake of Consciousness. Lake Manasarovar situted at 15,060 feet above sea level, a relatively large freshwater lake at a high elevation on the mostly saline lake-studded Tibetan Plateau.
The sacred mountain Kailash the lake looks very entrancing, especially during the full moon day and it possesses areas of the 88-km circuit. Having a bath in lake Mansarovar is remembered to filter all wrongdoings done throughout everyday life.
Also, the spot is a blessed focus of various religions in Nepal including Hinduism, Buddhism, Tibetan, the pre-Buddhist animistic religion, and the Jain religion. Kailash Peak and Mansarovar Lake are images of flawless engaging quality and tranquility which is genuinely amazing and provides you with the sensation of being unified with Shiva.
Although Kailash is open from spring to the beginning of autumn months, the best time to visit Mount Kailash is from May to September months.
How much is the Mount Kailash Tour Package Cost/Price?
The cost of the Mount Kailash Tour package with a local travel company in Nepal ranges between US$ 2715 to US$ 3200. Surely, the Mount Kailash Tour cost depends upon the group size you are traveling to and the service you choose. We also have a special discount travel deal for group leaders if you are taking 10+ travelers.
However, we often arrange smaller groups for private trips in order to avoid group tours with strangers. A private tour gives you a better experience on your hikes. If you value personalization, flexibility, and in-depth experiences, a private trip customized to your personal needs will be the best option.
It is the standard trip package price for 13 days of tours. If you are 2 people Mount Kailash Tour cost US$ 2800 for 13 days as per the given plan. We can modify the travel plan and price as per your wish. Here is the price list for the Kailash cora tour.
Price Per Person for 13 days of hikes around Kailash.
| Number of Tourist | Price Per Person |
| --- | --- |
| 1 Person | US$ 3200 |
| 2 Person | US$ 2800 |
| 3 Person | US$ 2780 |
| 4 to 6 person | US$ 2750 |
| 7 to 9 Person | US$ 2735 |
| 10 and more than 10 Person | US$ 2715 |
If you're wondering to know about what is included and what is excluded from this trip price, kindly check on the cost given on a tab button.
Itinerary
Mount Kailash Tour itinerary details
Hiking on the Manasarovar and Kailash tour is one of the most impressive journeys compared to other religious tours in the Himalayas. Mountain Kailash is regarded as the axis of Earth (Axis Mundi in Latin) or the center of the world. This axis is considered to be the point where heaven meets earth. Mt. Kailash is therefore a sacred spot for pilgrims to meditate and make a connection between the physical and spiritual worlds. Follow the given tour itinerary and make your plan to Kailash accordingly.
1 Day
Arrival day in Kathmandu valley. Transfer to your hotel.
Upon arrival in Kathmandu, Tribhuwan International Airport, we will pick you up with a private car transfer to your hotel in Thamel. In the evening, the group meets up and introduces entire members.
2 Day
Visit Pashupatinath Temple and also other World Heritage sites of Kathmandu, 6-7 hours.
After breakfast or before, leave early in the morning for Pashupatinath Temple for puza. You will perform a special puja called "Rudrabhisekh", which includes bathing the Shiva Lingam with Panchamrit, which consists of Milk, Curd, Honey, Sugar, Ghee, and Lighting Diyo at the holy Hindu shrine.
Likewise, Pashupatinath temple is a holy shrine of Hindus where the cremation takes place by the holy river Bagmati. Especially after sunset every evening there is a special puja held – Arati. Hindu priests are singing and dance with fire lamps. Even these days the dead are rarely burned at the riverside, but in a new electric oven, still it is a place to be reminded that we all are going to die one day.
Take breakfast and visit the world heritage sites located nearby your hotel. Today's heritage sites tour includes visiting Boudhanath Stupa, Swayambhunath stupa, and Kathmandu Durbar Square to see glorious temples and the divine Kumari shrine. Walk further to Asan tole to get to know about the oldest markets of Nepal on your walk back to your hotel.
3 Day
Kathmandu to Timure Drive by Bus (1,762m/5,781 feet), 8-9 hours.
After a super delicious breakfast, we catch a coach to Timure near Kerung on the Tibet border. It's about 165 kilometers following Kathmandu – Trishuli Betrawoti – Dhunche and Shyaprubesi roads. Time is situated on the main entry immigration to Tibet for Kailash tours since Tatopani Barhabise is close due to road damage by heavy stone landslides in the earthquake in 2015. Stay overnight in a Hotel.
4 Day
Immigration to Tibet formalities and drive to Kerung (2,800m), 2 hours.
After the immigration formalities, we cross the friendship bridge between Nepal and China. It's the first Tibetan town Kerung (Kyorung) which is 24 kilometers far from the bridge and roughly takes about two hours. Stay overnight in a Hotel and after refreshments, you can hike some heights to get better acclimatized.
5 Day
Drive to Saga (4,640m/15,224 feet), 6 hours.
As you did some hours hike yesterday, it helps you today to adapt even at a higher altitude. Around midday, we drive to Saga for better accommodation. Likewise, you can hike also for some hours to sleep better in a lower elevation. Compared to Kerung, Saga stays with better accommodation for your stay.
6 Day
Acclimatization day in Saga.
Today, there is not any fixed plan that you have to do but it would be better for you if you could walk for some hours for acclimatization. In this way, you will have easier adapt to the climate and the chances of altitude mountain sickness is lower.
7 Day
Drive to Lake Manasarovar (4,590m/15,060 feet), 8-9 Hours.
Drive starts quite early morning after your breakfast because its a long drive from Saga to Manasarovar lake distance is 478 kilometers. It is an important day for pilgrimage travelers. The first view of Mount Kailash is seen from Lake Mansarovar. Basically, the Kailash mountain and the iceberg lake are visible from Horchu en route. We go on the Mansarovar Kora tour and drive to the guest house where we stay overnight.
8 Day
Explore Manasarovar and drive to Darchen (4,670m/15,322 feet), 1 hour.
You will have enough time to explore Lake Manasarovar and its surroundings but we have Puja and Havan in the morning. It is only an hour to drive to get to Darchen and we will do it only after Lunch. Darchen is the base camp of Mount Kailash from where we start our Kailash Parikrama. We prepare well to hike Kora and stay overnight.
9 Day
Drive about 7km and Trek to Derapuk (4,900m/16,077 feet), 4/5 hours.
For the first part of the tour, we drive about 7 kilometers through the valley of GOD. Start the Kailash Parikrama, popular as a Kailash trek to touch the Kailash either walk or rent a personal horse and helper, you will meet here. It is about 18 kilometers of easy walking towards Derapuk, the North Face of Kailash. Our Kitchen team provides you light and warm dinner. Overnight at the guest house.
10 Day
Juthulpuk Trek (4,760m) via Dolma La pass (5,623m/18,449 feet), 9-10 hours.
The second day of our Kailash trekking is a tough day of the entire journey. Start early in the morning, touch the Dolma La pass, and immediately seriously downhill to the basic tea house at the bottom of the hill and continue an easy walk to Juthulpuk. It is a trekking route entirely and takes about 10 hours in the total journey today to cover about 18 kilometers. We serve dinner and accommodation in the Juthulpuk guest house.
11 Day
End Kailas Kora. Drive to Saga (4,640m/1,223 feet), 6 hours.
For the first part, we will have an easy walk for about 3 hours till Darchen and drive back to Saga via same way. This trip is also called Kailash circuit trekking in Tibet. You also can fill holy water at Lake Manasarovar on your return journey. However, it's about 465 kilometers that we cover in 6/7 hours through the Chinese highway to reach Saga, at Saga hotel.
12 Day
Drive to Kerung and exit to Syaprubesi Bazaar.
Drive across the Jilong via Saga same route as we ascend. Again short break in Saga and Brahmaputra river then continue to the Kerung border. Enter the Nepal border and drive an hour further downhill to Syapru Besi bazaar. The drive from Saga to the Kerung border is 230 kilometers and to Syapru besi is additional 20 kilometers that we have to cover this day. Final dinner in Tibet side cooked by our staff.
13 Day
Drive back to Kathmandu, 6-7 hours
Early morning, we take a bus (private vehicle cost an extra) back to Kathmandu city through road as we took on our day 3. Transfer to your hotel situated on Thamel. You can do some last-minute shopping for souvenirs in Thamel for your family and relatives. In the evening join a typical Nepali dinner with the Gokyo Treks agency. Trip finish.
Not satisfied with above plan?
Are you interested on planning a custom trip? this might take 2 to 3 minutes.
Cost
How much does the Mount Kailash Tour cost?
Kailash circuit trekking of Mount Kailash Tour price US$ 2800 per person is a standard price on double occupancy basis. For the deluxe and luxury tour plan, we add a 4-5-star category hotel deluxe air-conditioned room in Kathmandu with breakfast. AND WE ARE OPEN TO CUSTOMIZING YOUR TOUR AND PACKAGE PRICE AS PER YOUR REQUIREMENTS. International tour leaders are highly encouraged to get discounts and attractive complimentary.
Mount Kailash Tour package price includes:-
Kathmandu international airport transfer with a private Car/Van as per plan.
2 nights double bedroom accommodation in a Moonlight Hotel in Kathmandu city center.
World heritage sites tour guide and a private car transfer for your private tours in Kathmandu valley.
13 Breakfast, 13 lunch, 13 Dinner served with Tea/coffee during the trek and driving days.
Kathmandu / Timure / Kathmandu by Bus [Kerung Yatayat or similar on shared]
Comfort Bus service on Tibetan Side.
One Support Truck depends upon the group size.
Available accommodation at Kerung, Saga, Lake Manasarovar, Darchen, Dirapuk, and Zhuthulpuk during the Kailash tour.
Full Board Vegetarian Meals set up by our Fixed Kitchen.
Complimentary 2 bottles of Mineral Water per day from Kerung onwards.
English Speaking Tibetan Guide.
One Team Leader and professionally experienced support staff.
Necessary Permits for Kailash Kora tour.
Tibet / China Visa Fee.
50 liters capacity of a duffel bag to put your gears and also a Dawn Jacket if necessary – [need to return after tour]
First aid kit, Medical Oxygen, Pulse Oximeter, and Gamow bag [with Guide].
Nepal Government Tax, VAT, and as well as Company service charge.
Mount Kailash Tour and trekking package excludes:
Lunch and Dinner during the staying in Kathmandu
Any kinds of battery charges, laundry service, phone calls …etc.
Tourist personal trek types of equipment .
Personal nature expenses, all types of drinks, and bar bills.
Travel Insurance which covers emergency rescue, evacuation, personal loss, or damage.
Extra nights in Tibetan lodges and Kathmandu Hotels (except those mentioned in the itinerary).
Evacuation Cost in the event of an emergency.
Cost of Hiring Horse / Pony / Porter during the 3 days Kailash Parikrama.
Any additional cost due to natural calamities and unforeseen circumstances such as landslides, road blockage, etc.
Gratuities for guide, cook, kitchen helpers [Tip is a culture, so they expect highly].
Other things which are not mentioned above
Group join
We can organize a private Mount Kailash Tour or Kailash circuit trekking starting at any date if that works for you. Please contact us for more information.
FAQ
Question: Is pick-up service available on my arrival day in Kathmandu?.
Answer: Yes sure! provide us with your flight details. Our representative will come to pick up you at Kathmandu international airport.
Question: Can I store my luggage/stuff in Kathmandu?
Answer: Yes, you can leave your luggage at your hotel or at our office. Store your stuff in the Gokyo Treks agency office for free.
Question: What kind of accommodation can I expect on tour?.
Answer: We provide you with 3/4 star hotel accommodation in Kathmandu and you will have lodge accommodation along the Kailash circuit routes.
Question: What kind of food can I expect?
Answer: The guest houses provide local food like MOMOs popular as a dumpling, noodles, or any Tibetan authentic cuisine. Dinners and breakfast are provided in the same hotel restaurants you spend the night and Lunch provides on the way while driving on the road or at the Local Tibetan tea houses. Expect to spend about 20 USD per day on meals with soft drinks.
Question: What opportunities will I have for a shower on tour?.
Answer: As we go in camping, we provide you with a hot water bucket for a shower.
Question: How do I get drinking water?
Answer: We provide you Aqua tablets to purify the normal water as the normal water is available at the campsite along with the journey.
Question: Can I charge my digital camera or other batteries?.
Answer: The is very little chance to charge the battery. We recommend you bring an extra pair in case. Remember to bring your own adapters!
Question: When should I book my trip and what are the payment terms?
Answer: Because our trips book up months in advance, we recommend booking early to avoid any misunderstanding. We will, of course, make every effort to accommodate last moment bookings. And regarding the deposit, we prefer a 25% advance deposit of the total price of the trip in order to confirm your reservation before you arrive in Nepal. And the rest of the payment can be made on your arrival in Nepal.
Question: Do I need walking poles?.
Answer: It is better to hike with walking poles. Learn how to use trekking poles for balance and stability, whether on the sidewalk or on trails. Walking poles can help prevent slips and falls. They are just recommended but not compulsory.
Question: How much additional money do I need per day?
Answer: You can allocate US$ 8 – 10 for a lunch/dinner in Kathmandu and it depends on your spending habits. US$ 5 to 8 US$ each day will be enough to buy bottles of water, chocolates, tea coffee, and some drinks while you are on your trek.
Mount Kailash Tour – Kailash circuit trek highlights
Darshan of Mt. Kailash (abode of Lord Shiva) and sprawling Lake Manasarovar (abode of Lord Brahma).
The entire trip is led by expert leaders with an experience over 15 years and supported by a professional Sherpa.
For safety, we are the only tour operator providing Medical Doctors that are stationed throughout principal areas concerning high altitude factors.
We serve Pure Vegetarian North Indian, Gujarati, South Indian, and Chinese cuisines.
Priest is provided for Puja at Lake Manasarovar from Pashupatinath temple.
Is the Mount Kailash tour or Kailash cora trek safe?
Mount Kailash is a popular destination for spiritual pilgrimages, and the trek to its base is considered safe for experienced trekkers who are well-prepared for high-altitude travel and physically fit.
However, there are some inherent risks associated with any high-altitude trek, such as altitude sickness, which can be a serious concern in the thin air at high elevations. The trek also involves a significant amount of physical exertion and can be challenging for those who are not used to trekking or are in poor physical condition.
Additionally, the remote and isolated nature of the region can pose logistical challenges, so it is important to be well-prepared and to have a reliable support team in place. If you are considering a trek to Mount Kailash, it is important to take these factors into consideration and to prepare thoroughly, both physically and mentally, for the journey.
Notice for Mount Kailash Tour Visitors:
This is a Guideline showing tentative camp night stops. Touring around the Kailash Mountain itinerary is subject to change due to the physical, technical, and natural conditions that may change the above itinerary.
We at Gokyo Treks and Expedition believe in quality services. Your safety and satisfaction is our concern. We are a team of professional, experienced, and licensed local guides who know the destination better.
What makes the Mount Kailash Tour special?
Opportunities for challenging trekking adventures are scattered all over this planet but Kailash is very special. Mount Kailash holds significant power, as the very tip of the mountain is the central point of the cosmos' rotation. In the Hindu ritual, the peak is the throne of the God Shiva. In Buddhism, the mountain hosts the greatest tantric meditation god, Demchong, who represents supreme bliss.
As Gokyo Treks and Expedition is a pioneer Kailash tour operator agency based in Kathmandu, we do care about your travel plan according to your budget and time. As you are with our Kalash tour plan, you will have a chance to explore Mansarovar lake, Rakshas Tal, Atmaa Lingam, Khojarnath, Astapad, Nandi Parbat, and Kailash itself.
Mount Kailash Tour Review
There are no reviews yet. Be the first one to write one.
From US$ 3368
5% Off
US$ 2800
| | |
| --- | --- |
| No. of people | Price Per Person |
| 1 | USD 3200 |
| 2 | USD 2800 |
| 3 | USD 2780 |
| 4 - 6 | USD 2750 |
| 7 - 9 | USD 2735 |
| 10 + | USD 2715 |
Book Now
Customize Trip
Cost & Departures
Your Trip Your Style!
ITINERARY, COST, DEPARTURES, will adjusted according to your GROUP SIZE NEED TIME
Book with Confidence
Local Guides Company.
18 Years in Business.
Lowest Price Guaranteed.
100% Customizable Trips
Excellent Customer Service
Hassle Free Booking.
90 % Repeated customers
Highly Recommended agency
Private/group tour options