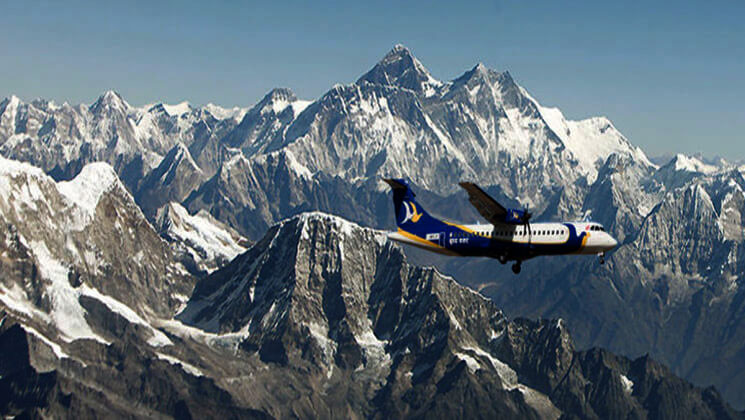 Everest mountain flight information.
Mount Everest experience mountain flight is very popular touristic activities in Nepal Himalayas.
Everest view mountain flight is recognized as a Everest experience mountain flight is one of the world's most exclusive mountain flight private day tours, is a lifetime experience. Furthermore, a flight that takes you deep into the Himalayas, flying into the valleys close to the rock face.
As you are flying over the Himalayan horizon, you can feel and see the stunning beauty of nature. With in an hour of seating into the aircraft, you can see almost all the tallest Mountains including Mt. Everest (8,848m), Nuptse (7,879 M), Lhotse (8,501 M), Cho Oyu (8,000M), Makalu (8,475 M) and Kanchenjunga (8,584 M) which is very worthy to explore.
Why to choose an experience Mt.Everest mountain flight in Nepal with either Yeti Air or Buddha Air?
Buddha and Yeti airlines have a best and latest features aircraft which will take you higher to get amazing scenery of all those tallest Mountains. They are safer and better in their aviation history.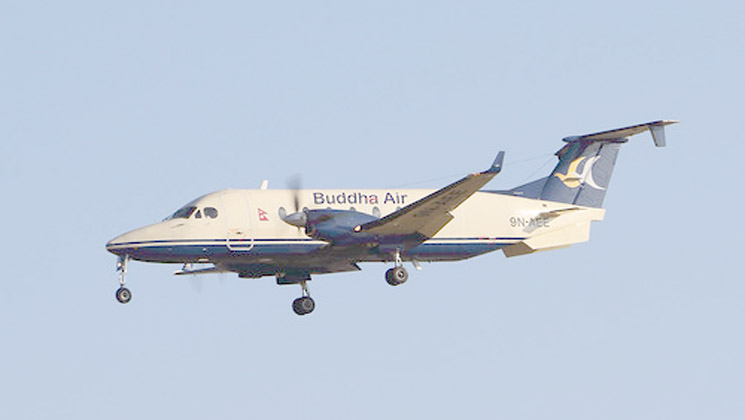 Everest mountain flight tour in this section, you can explore the Mount Everest view including several other tallest Mountains from your seat of mountain flight, designed for those who are having limited time for their stay or for those who don't want to leave Nepal without touching the sacred and majestic Himalayas.
Book your early mountain flight to watch about mount everest from aircraft plane. Search yeti airlines mountain flight price to explore the tallest mountain summits. Enjoy a comfortable flight in our air-conditioned airplane, serving with a glass of complimentary wine. We will provide you with a window seat to get the best mountain vistas. You can also choose Everest helicopter flights from Kathmandu to make your trip even more special.
Everest experienced Himalayan flight is enjoyed by thousands all the year-round, through our experience. Flying Cost and Schedule subject to change with or without prior notice. All those nepal cheap flight tickets are depending upon weather conditions. It is our pleasure to present you the certificate of honor for the trip which we are sure going to be beyond the imagination.
Everest mountain flight in Nepal highlights
The best panorama of tallest Himalayas Everest 8,848m, Shisa Pangma 8,013m, Dorje Lakpa 6,966m, Choba Bhamre 5,933m, Gauri Shankar 7,134m, Menlungtse 7,023m, Numbur 6956 m, Karyolung 6511m, Cho Oyu 8201m, Gyachungkang 7952m, Pumori 7,161m, Nuptse 7855m.
55 minute to 1 hour window seat guaranteed to explore those tallest mountains.
What are the Everest mountain flights from Kathmandu schedule?.
If you are in Kathmandu valley, do not miss this opportunity to experience the best Mountain Flight to Everest. It takes only an hour when you can fly over the majestic mountains over eight thousand including mount Everest. Get an amazing flight with your own comfortable time to explore the tallest mount Everest including more spectacular mountain vistas.
6.30 AM – 1 st Flight / EVERYDAY
7.30 AM – 2 nd Flight / EVERYDAY
8.30 AM – 3 rd Flight / EVERYDAY Monday through Sunday (7 Days a Week).
How much is the Everest mountain flight cost?.
The mount everest experience mountain flight tariff rate is USD 194 for each foreign nationals. Nepal mountain flight cheap ticket cost is USD 180 Per person only for foreign nationals after discount. But you will get even better seasonal discount – lower price on email request. Considering the tourist request, we have open the booking for 24 hours, everyday.
The mountain flight air ticket price doesn't include the transportation (Thamel – airport – waiting until flight & return directly). We can arrange a private transfer to Tribhuwan International – a domestic airport only on your request with an extra cost. Have in mind, there will be 55 minutes (roughly 1 hour) guaranteed flight and all of you will get a private window seat.
Buddha Air vs. Yeti Airlines Mountain flight
Many of our past guests suggested us to recommend the mountain flight by Buddha air. Others suggested using Yeti Airlines. To be honest, both aircraft fleet over the mountains and can reach near the summit.
I have traveled through both airlines to check their features sometimes in last years. I found both airlines are reliable, far more comfortable, and warm hospitality. Buddha Air vs. Yeti Airlines is a great choice for travelers to find better options but both airlines offer the same price US$ 190 written in the air ticket.
In addition, different seasons have different prices with discounts because of demand and availability. Its right that it seems to go booking online is the better option these days, but the airlines don't care for each individual passengers.
So, I personally suggest to you that buying air ticket via Gokyo Treks & Expedition agency, you get discounts offers (very good deal) which you don't get if you go directly with Airlines Company. We do also very good care – customer service to make your trip unforgettable and hassle-free. So just drop us your plan.
Optional possibility of Everest Base Camp Helicopter Tour Packages
Either a luxury everest helicopter tour or annapurna base camp helicopter tour is most outstanding flights in Nepal. We can arrange both trips but in terms of distance, mount everest helicopter tour cost is a little bit higher.
Basically, ascend to Everest Base Camp trek takes about 13 days, however, this helicopter tour cuts off all these days and you can get to the base camp and be back in Kathmandu in 3 to 4 hours in a day. Mount everest base camp helicopter tour cost depends upon the group size you are coming with. So, if you have enough time and budget for an amazing experience you can choose our Everest Base Camp Helicopter Tour Packages.
What about the Everest mountain flight cancellation policy?.
In case, if the weather is bad, and if there is no way to get fly because of bad weather, they declare to cancel. Likewise, if you couldn't see high mountains while you are flying, your aircraft air hostess – Pilot announces that the flight is canceled because of bad weather and cloudy. Make sure that we can reschedule your Everest flight in the next days or the full amount of money back on your request.

Nepal Everest experience mountain flight, great weather!
100%
5
star based on –
205
Based on TripAdvisor Reviews
We were a group of 8 people (six Germans & 1 British couple) started a trip to Nepal in last April, 2018, sadly we had only 3 days staying in Kathmandu. Ammar customized our travel holiday including Kathmandu valley tour, 1 days pokhara city tour combing with 1 hour Everest experience cheap mountain flight.
It was a great trip of my life as i never seen such a beautiful Himalayas and tallest mountains in a range just next to me. Really impressed flying into the Everest closely. Price was resonable and the weather was great and blue sky all the time. Ammar as our best guide ever for our city tour, thank you for his help guiding us.
Don´t hesitate to ask further questions, I am happy to answer, and had a good time there. Best wishes – Marco und Laura from Germany

Amazing mountain flight with cheaper price
100%
5
star based on –
268
Based on TripAdvisor Reviews
Very happy with the arrangement of Gokyo Treks about the mountain flight. They offered cheaper price compared to other agencies in town. Will recommend to my friends who plan to experience mountain flight! – Joy Tee, Kuala Lumpur, Malaysia
Book with Confidence
Local Guide's owned company.
So, Lowest Price Guaranteed.
Excellent Customer Service
Easy and Hassle Free Booking.
90 % Repeated customers
Travelers Recommended agency
Cost & Departures
Your Trip Your Style!
ITINERARY, COST, DEPARTURES, will adjusted according to your GROUP SIZE NEED TIME
Inquiry
Customize Trip
Reference person of Gokyo Treks !
Contact in Germany
Klaus Kummer : +49-367-2351-957
Roland Stich: +49-0271-870-031
Dr. Lars : +49-3641-5395-160
Contact in USA
John Erwin: 212-222-6389
Beth Pekol, Chicago: +1 312-364-8924
Eve Quesnel, California: 530-5879-113
Contact in Australia
Mark Panico: +61-402-526-430
Dr. Chris Hislers: +61-419-556-381

Contact in Austria
Verena Laner: +43-650-7110-301
Dorothee Plunger:+43-512-565-255

Contact in Switzerland
Dominik Lee, Zürich: +41-079-3826-028