Company Certificates about Gokyo Treks !
Before booking your trekking tours or climbing in Nepal Himalayas with trekking agency, everyone must understand about trust operator. It is quite important to know the tour company certificates. Guest need to understand whether the company legally register under the law of Nepal government authorities including trade travel associations in Nepal.
It is always very essential to be aware that there are many enterprises running a business without valid licenses; a business that does not observe the legal formalities imposed by the country act. Furthermore, we have seen many examples of trekking & tour agencies illegally operating by individuals & freelancers through their own personal websites.
Likewise, it is also come to know that some overseas tour operators involve with directly operating tours and trekking expeditions without necessary governmental licenses and without paying the appropriate taxes. Thus, if you book your trip with an unauthorized agency in Nepal or abroad, there is a greater risk in terms of their staff insurance and financial security.
Therefore, to protect yourself from these problems, take the following hints into consideration prior to confirming your journey with any trekking or travel agency in the Himalayas.
– Is this business registered within proper government authorities?
– what about the company registration within proper authorize travel associations?
– Has company insured against accidents happening to their staff?
– How about this company environmentally conscious?
– Does this firm have its own Bank account with in a reputable bank?
– Does this hiking agency clear all the back Taxes?
The agency Gokyo Treks & Expedition Pvt Ltd is a fully licensed and bonded trek/tour operator based in Kathmandu Nepal. We offer you all travelers totally hassle-free with secure travel arrangements and are committing to making your holiday safe and pleasant. The company is fully registered with the Nepal Government authorities to obtain the license to run a travel business.
We hold a license from the Office of Company Register
(Ministry of Industry)
. Ministry of Culture, Tourism and Civil Aviation Tourism Industry Division
(Department of Tourism)
. Inland Revenue Department of Tax regional office Lazimpat
(Ministry of Finance)
, Foreign Currency Exchange, National Bank of Nepal
[Nepal Rastra Bank]
.
Moreover, we are a member of various organizations like Nepal Mountaineering Association (NMA) , Trekking Agencies Association of Nepal (TAAN), Village Tourism Promotion Forum (VITOF) and International Porter Protection Group (IPPG).
Our registration and membership in such organizations mean that our accounts are subject to regular and stringent security. Be sure that the booking of your trip with us is complete confidence and fully protected. Take a look at the Tourism Business Licences (Company certificates) as given below.
Office of the Company Register
Our trek agency registered in "Office of the company register" and the agency registration number is 39829 2062/2063 BS. Gokyo Treks & Expedition agency is a sole Proprietorship business with a private limited.
Licence from the Department Small Scale Industry, Nepal
Department of Cottage and Small Industries (DCSI) promote and foster various kinds of cottage and small industries enhancing thier industrial prodicitivity increment. Gokyo Treks & Expedition is also a member ( 9210/90 ) of Department of Cotange and Small Industries.
Licence from the Department of Inland Revenue (Tax and VAT) Certificate
The Gokyo Treks & Expedition company is paying 13% VAT (Value Added Tax) and Other Taxes to the Inland Revenue Department and our VAT number is 302385791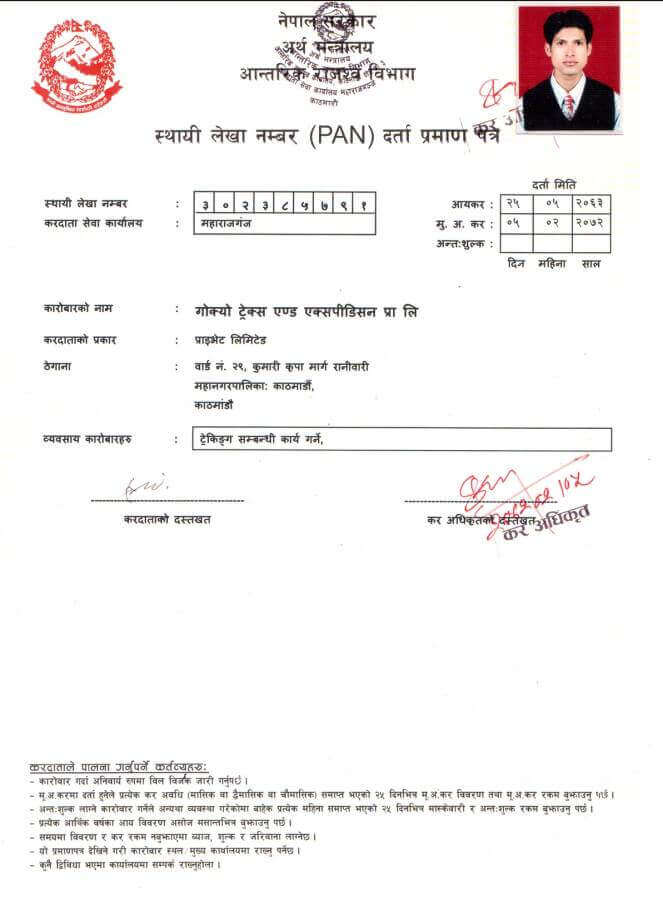 Deptment of Tourism Cercificate
To obtain the trekking permits for tourist through a trekking agency, the trek company must register under the Ministery of Tourism under under the Tourism Mahasakha. So, Gokyo Treks & Expedition's Tourism licence number is 805/063 .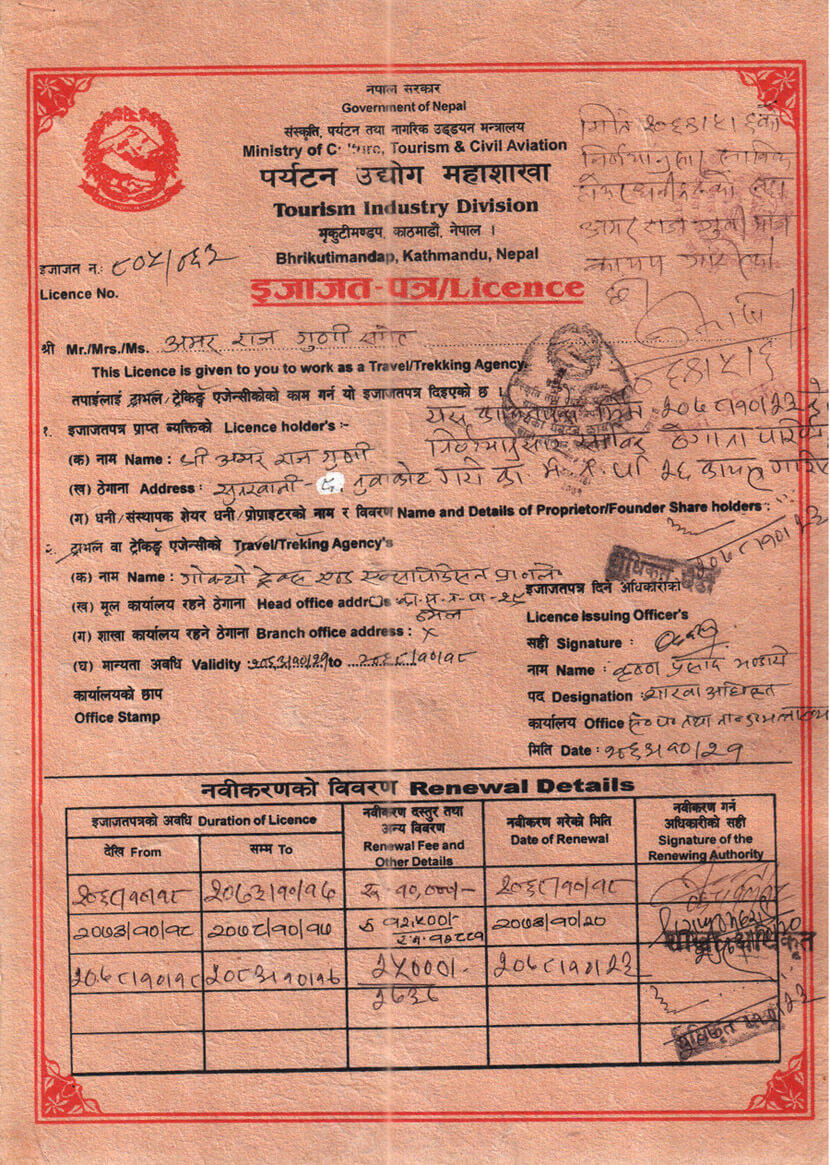 Foreign Exchange licence from the Central Bank of Nepal
Gokyo Treks and Expedition agency authorized to exchange foreign currency with thier tourist clients. The central bank of Nepal – Nepal Rastra Bank has given the licence to exchange foreign currency and the licence number is 014/76 as given certificate under.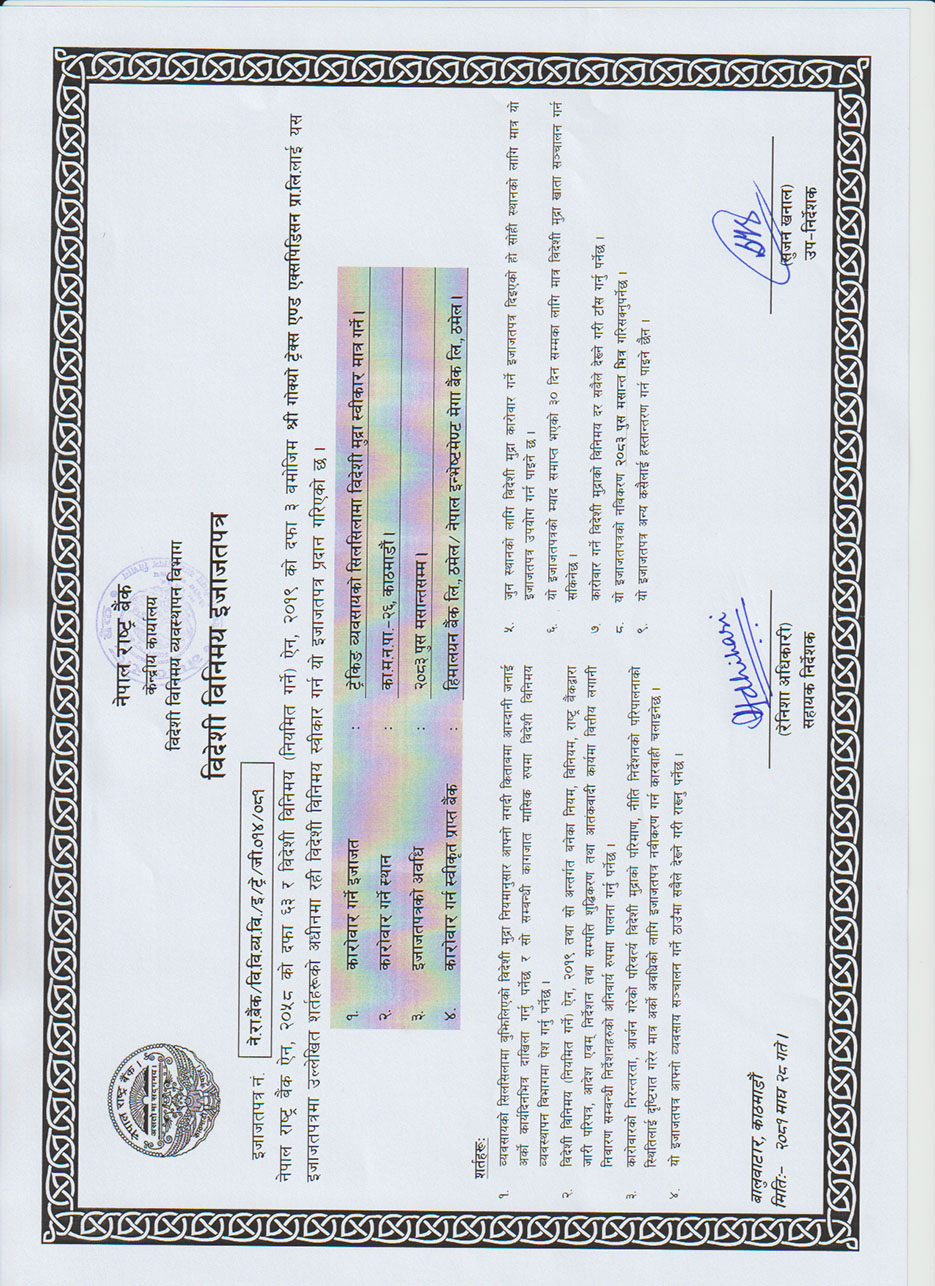 Gokyo Treks & Expedition's Staff Group Insurance
We are a TAAN registered trekking agency in Nepal. Our Guides and porters are our succession. We do very good care of them offering Trek Insurance (accedential + medical Insurance). We purchase a travel insurance for our staffs (guide, porters, porterguides, cook, sherpa) yearly in a bulk price.
Peak climbing operation linence from Nepal Mountaineering Association
Gokyo Treks & Expedition is a leading climbing operator agency that arranges peak climbing and expedition in the Himalayas. We are a registered member of Nepal Mountaineering Association (NMA) and the licence number is AM# 582 (064/06/12) .
Trek Agency Association of Nepal (TAAN) member Certificate
Trekking Agencies Association of Nepal – TAAN is our association where we registered to obtain TIMS PERMIT for our tourist to arrange thier trips to Himalayas.
Village Tourism Promotion Forum Member Certificate
We are active member of Village Tourism Promotion Forum (vitof) Nepal. Vitof Nepal forum was established with the main objective of Village Tourism promotion.