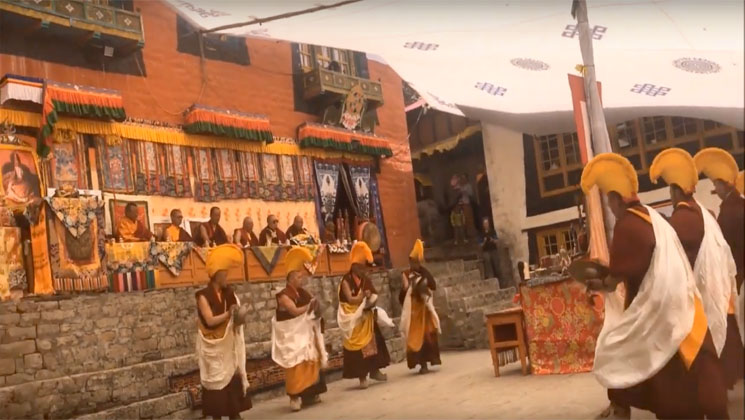 Trip Summary
Mani Rimdu Trek Periods: 10 Days
Mani Rimdu Trek Difficulty: Easy hikes
Mani Rimdu Festival Date 2021: 12, 13, and 14 November
Tengboche High Altitude: 3,870 m/12,655 feet
Trek Hour: 6 Hours daily
Hike Group-Size: 2-20 People
Trip Mode: Guest House
Meal on Trek: Breakfast, Lunch, and Dinner
Transport: Car/Plane/bus
Overview
The Mani Rimdu festival trek follows the footsteps of Edmund Hillary held in Tengboche monastery. It is located in the classical mount everest trek route in Nepal. Mani rimdu festival trekking offers the amazing composition of beautiful natural scenery with the Sherpa unique culture.
Buddhists celebrate the festival in the Himalayas to mark the founding of Buddhism by Guru Rinpoche Padmasambhava. Mani Rimdu is seen from the primary day of the tenth month of the Tibetan lunar schedule which falls between October and November under the English calendar. To figure out the date simple way, this celebration begins following Kojragat Purnima (The 10th day of Dashain).
We observe the Buddhist Dances performs by monks in the Tengboche monastery year after year. Magic dance mani rimdu festival marks celebration, conventions, and way of life of the ethnic gathering living in those remote villages in Nepal.
Best of mani rimdu festival hike takes you into Sherpa villages and their tradition with great views of the world's high mountains including Mount Lhotse and Everest. Besides that, the festival Mani rimdu was held in the Tengboche hill inside Sagarmatha national park, listed in UNESCO heritage sites.
As you hike over 11,500 feet, you can experience the tallest mountains of the world. They are Everest at 8,848m, Lhotse, Cho Oyu, and many other snow-cover top popular mountains. A trek to Tengboche monastery is best for beginners and photographers in terms of the amazing scenery of the highest mountains and festivals. Either Phaplu or Lukla is a gateway to exploring Mani rimdu festival in the Tengboche monastery on the foothill of Mount Everest.
When is Mani Rimdu for the year 2021?
The Mani Rimdu festival dates are fixed according to the Tibetan Lunar calendar. Head of the lama at the Tyangboche Monastery announces the dates. In Tengboche, the Mani Rimdu is performed in the 9th Tibetan month which usually falls in October or November during the full-moon time. The Mani Rimdu Festival date 2021 is celebrating on 12th, 13th, and 14th November.
Itinerary
The Mani rimdu festival trek itinerary details
Majestic mountain Mani rimdu festival trek 10 days itinerary is a part of ebc trek in Nepal. If this itinerary is not fit you? send us an inquiry for a tailor-made itinerary.
1 Day
Arrival at Kathmandu valley
Upon arrival in Kathmandu, Tribhuwan International Airport, we will receive you with private vehicle and transfer to hotel in Kathmandu with breakfast plan. Our representative will give you mani rimdu festival tour information.
2 Day
Early morning fly to Lukla airport (2,886m/9,437 feet). Trek to Bengkar (2,698m/8,822 feet), 5 hours
We take early flight to Lukla airport. After breakfast began the journey to Phakding village hiking. Phakding is a large settlement with enough modern lodges. Today, we pass several tiny villages such as Ghat, Phakding, Tok Tok and finally, we reach Bengkar village to stay overnight.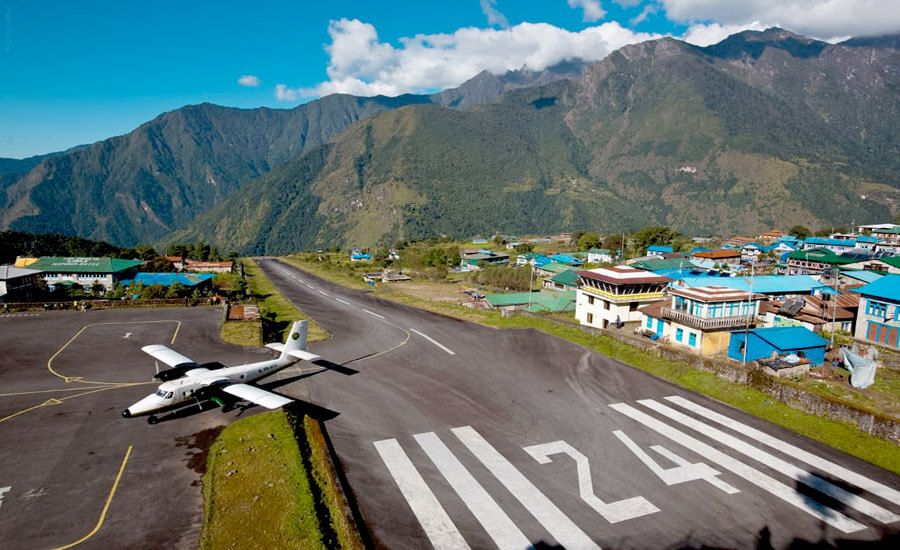 3 Day
Namche Bazaar trek (3,440m/11,249 feet.), 6 hours
The trail goes to Monjo village passing several ups and downs. Check and pay the Sagarmatha National Park entrance permit and fees into their office directly. Continue to walk further along the riverbed to Dovan, just under the Hillary bridge. There is a place where you clearly view Bhote Koshi and the Dudhkoshi river meeting each other. Furthermore, cross the Hillary bridge, the trek steep ascent all the way to Namche Bazaar. On the way, you will have the first view of Mount Everest (8,848m) and Lhotse (8,516m.). Surrounding three sides with mountain ranges, Namche Bazaar is a central hub of selling the area for food, trekking gears, and other necessary goods.
4 Day
Khumjung hiking (3,789m/12,390 feet) via Sengboche hill, 3 hours
We start with a steep one-hour climb to the Sengboche airport (3,790m), from where we will slowly ascent towards Khunde passing numerous chorten (stone Buddhist monuments) and hill station. Thus, we go to Hill station to have an excellent view of Mt. Everest, Ama Dablam, Thamserku, Nuptse, Lhotse, Tawche, Kwangde. In addition, wander further to Khumjung village, large settlements, and the foothill of the sacred peak Khumbila.
5 Day
Namche Bazaar to Tengboche lodge (3,867m/12,645 feet), 6 hours
Amazing hike leads to Tengboche Monastery passing a steep cliff that drops down to the Dudh Kosi river. Furthermore, hike through tiny villages with panoramic view Ama Dablam (6,812m), Mt. Everest, Lhotse, Nuptse (7,855m) and Tawoche (6,501m) and more. Tengboche offers a good view of sunrise and sunset at Everest and Ama Dablam.
6 Day
Mani Rimdu festival at Tengboche Monastery [12 November 2021].
Today is the beginning day of the festival in Tengboche monastery. So you can watch the blessing ceremony (wang). As you are staying in Tengboche hill, Sightseer can see the sunset on Everest mountain. You can prepare to shoot the distant view of sunset and sunrise of Mount Everest. Use a telephoto lens and Barlow lens to take a close-up shot. The scenery of sunset can better express the beauty of sunshine.
7 Day
Second day at the festival [13 November 2021].
Second day of the mani rimdu festival is also very important for eveyone. In terms of religious prespective, Tengboche Monestery is equally popular as a Rongbuk monestery in Tibet. During the festival, you will have a witness the Cham the performance of mask dance.
8 Day
Third day at the festival [14 November 2021].
The 3rd which means the last day of the festival. You can watch the Jinsak and special festival closing ceremony. In the evening, You can shoot the tallest mountains 8000 meters above sea level. Tengboche hill is the perfect place to appreciate the magnificent Mount Everest. If the weather is good at night, you can appreciate magic night scenery with shining stars.
9 Day
Monjo village hikes (2,840m/9,287 feet), 7 hours
Get an impressive sunrise at Everest. Take a hot breakfast and return to Namche Bazaar with the same mountain trail. We take a lunch at Namche lodge and descend down hill to Hillary bridge on the foothill of Khumbila peak. We cross the river and follow the classical path to Jorsale.
10 Day
Trek to Lukla bazaar (2,886m/9,337 feet.), 7 hours
We trek to Lukla village with the same road like we use on ascend. The Himalayan map house publishes that the Lukla elevation meters are 2,886 only. It is the final day of our trekking plan. Your Guide will reconfirm the Lukla to Kathmandu flight for the next morning and take a rest.
11 Day
Mountain flight from Lukla to Kathmandu. Trip Finish
We board our early flight from Lukla to Kathmandu. Upon arrival at Tribhuwan International Airport, pick you up and transfer to the hotel. In the afternoon, go shopping or request us to discover the Kathmandu city tour at an additional cost. In the evening, drop you at Kathmandu International Airport onward to your final destination and our trip ends. Wish you a wonderful trip.
Cost
How much does Mani rimdu festival trek cost?
Mani rimdu festival trek cost US$ 1,095 per person is standard trek price on double occupancy basis. But of course, the trip price will vary according to group size. For example, if you could bring 10+ travelers (except you) to your trip, you are treated as a group leader. So you can hike mani rimdu festival tour for free of cost.
For the deluxe and luxury trekking tour plan, we add 3-stars category hotel deluxe air-conditioned room in Kathmandu (BB PLAN) and Tourist standard accommodation with attached bathroom while trekking on possible places, so let us know. AND WE ARE OPEN TO CUSTOMIZE YOUR TOUR AND PACKAGES PRICE AS PER YOUR REQUIREMENTS. International tour leaders are highly encouraged to get discounts and attractive complimentary.
Cultural Mani rimdu Everest Trek Cost Includes:
Kathmandu international airport picks up on your arrival with private vehicles.
2 nights Twin sharing Tourist standard hotel accommodation in Kathmandu with breakfast plan.
Government license holder – Professional license holder Mountain Trekking Guide
Domestic flight tickets Kathmandu – Lukla – Kathmandu round trip with domestic airport taxes
Meals on full board (Breakfast, Lunch and Dinner) each day in the mountain trekking
Lodge accommodation during the trekking
Required number of porters during the trek.(1 porter = two guest basis) because our porter can carry maximum 24 kg of your bag pack.
Pay well salary, food, accommodation and insurances of Nepalese staffs.
Sagarmatha National Park entries permits and TIMS permits and as well as their fees.
Khumbu Pasang lamu municipality entrance permit fees
Nepal Government Tax, VAT and as well as Company service charge.
Tengboche monestery mani rimdu festival trek cost exclude :
Nepal entry visa fee cost US$ 40.
Lunch and Dinner during the staying in Kathmandu city.
Any kinds of battery charges, laundry service, phone calls and hot shower during the trekking.
Tourist personal trekking equipments and warm clothing.
Personal nature expenses, any drinks and bar bills.
Your travel insurance (it is mandatory in case of emergency).
Donation and monuments entrance fees.
Tips for the crew (Note : TIPS is not compulsory but highly expected)
Any other things which are not mentioned above
Group join
We can organize private but express Mani rimdu festival trekking starting at any date that works for you. Please contact us for more information.
FAQ
Question: Do I need experience for Mani rimdu festival trekking?
Answer: Mani Rimdu festival trek is suitable for keen trekkers who are able to walk around 4 or 5 hours in a day, with a lightweight backpack. Actually, Tengboche hiking is an easy route in the Everest zone, so tourists don't need any previous experience.
Question: Is pick up service available if my arrival day in Kathmandu?
Answer: Yes sure. Provide us your flight details and request for pickup. Our representative will come to pick up you at Kathmandu international airport.
Question: What kind of accommodation can I expect on Mani rimdu festival treks?
Answer: We provide you tourist standard accommodation in Kathmandu and on a trek. the rooms along the routes are clean with a cozy bed with a nice mattress. However, Guests should bring their own sleeping bags otherwise, you may rent them while you are in Kathmandu.
Question: What should my insurance policy cover during the Mani rimdu festival trek?
Answer: Travel insurance is mandatory before joining any trips to the high mountains in Nepal. And you need to get your travel insurance policy before joining your trips to Nepal. Double-check whether your travel insurance must cover the helicopter rescue in case of emergency up to 19,000 feet?. It comes in handy during medical emergencies and contingency situations. It is recommended to get it from your home country. In case you haven't bought travel insurance after arriving in Kathmandu; we can help you get one.
Question: How to prevent altitude sickness during Mani rimdu festival trek?
Answer: You should never walk too quickly too high ignoring your body symptoms. Proper altitude acclimatization is the best way to prevent high-altitude sickness. Pay attention to your body, trek gradually enjoying the best of culture and nature while giving enough time for your body to adapt to the changing atmosphere. Drink a lot of fluid & keep your body hydrated. If symptoms like a headache, difficulty in breathing, and others occur then descend to the lower elevation and take them to the hospital. If the condition worsened you will be airlifted to the hospital in Kathmandu.
Question: What will happen if my scheduled flight in Ktm-Lukla-Ktm route gets delayed or canceled?
Answer: Weather in the Himalayas is uncertain which we cannot predict. Therefore, the rate of fight delay and cancellation is high at Lukla. If this happens then you will be boarded on the flight tomorrow and you have to spend an extra night at Lukla (if you are returning Ktm) at Ktm (if you are going Lukla). Helicopter rescue can also be used, which depends upon the situation. So, we recommend you allocate a couple of extra days after your Everest trek so that you will not miss your international flight back.
Question: What are the alternates to fly from Kathmandu to Lukla?
Answer: The best-recommended way to go for any Everest trek is to board a Kathmandu-Lukla 33 minutes scenic mountain flight. Another available option is to drive from Kathmandu to Phaplu (12 hours' drive) and trek for 2 days to reach Lukla. In the present day, there is also a regular jeep service from Kathmandu to Salleri Bazaar.
Question: What kind of food can I expect in Mani rimdu festival trek?
Answer: Lodges on trek routes have attached restaurants. They cook a delicious range of vegetarian meals such as Pasta, tuna bakes, noodles, potatoes, eggs, rice curry, bread, soups, fresh vegetables. The dinner and breakfast are provided in the same lodge you spend the night every day. Likewise, Lunch will be provided on the way to the next place where you are going.
Question: What opportunities will I have to shower along with Mani rimdu festival trek?
Answer: On a lodge trek, they have a shower which you can get on pay. Whereas in camping trek, we provide you hot water on a bucket and you can have a shower.
Question: How do I get drinking water on Mani rimdu festival trekking?
Answer: There are almost all places to stay hotels and shops where excursionists can purchase pure drinking water. But we advise against buying mineral water in plastic bottles, as currently there are no provisions for disposing of those plastic materials. Instead, the guest can either buy boiled water or bring aqua tablets to purify the normal water. Normal water is available in almost every village, stream, and at the campsite en route.
Question: Can I charge my digital camera or other batteries on my trip?
Answer: During the Tea house trekking, you can charge the battery. We recommend you bring an extra pair in case.
Question: Is there any communication facilities on Mani rimdu festival trek?
Answer: In this trekking route, Voyagers can buy a local SIM Card to get telephone services as well as 3G internet.
Question: Can I use credit cards in Trekking?
Answer: No. You need to have cash Nepali rupees because credit cards work only in the bigger city tours/city areas.
Question: When should I book my trip and what are the payment terms?
Answer: Because our trips book up months in advance, we recommend booking early to avoid any kind of misunderstanding. We will, of course, make every effort to accommodate last-minute bookings.
And regarding the deposit, we prefer 20% advance deposit of the total price of the trip in order to confirm your reservation before you arrive in Nepal. And the rest of the payment can be made after your arrival in Kathmandu.
Question: Who will carry my luggage on Mani rimdu festival trek?
Answer: We provide porters to transfer your luggage. As we are a responsible trekking tour operator agency, our every porter carries a maximum of 25 kilos of your backpack which means 2 guests (12.5 kg luggage of each guest): 1 porter basis.
Question: How much distance do I walk each day?
Answer: As you hike in the mountains, the distance you cover each day can vary greatly due to a gradient, terrain, and altitude. As such it is very hard to give specific distances on each day, however, you need to prepare about 5 hours to walk daily.
Question: Do I need walking poles for Mani rimdu festival trek?
Answer: It is better to hike with walking poles. Learn how to use lightweight trekking poles for balance and stability, whether on the sidewalk or on trails. Walking poles can help prevent slips and falls. They are just recommended but not compulsory.
Question: Is it possible to hire an experienced guide? how to hire a local trek guide in Lukla?
Answer: Yes of course. If you are not happy to go with the complete full board package trip, still you can hire our expert guide to make your holiday tour safer. However, visit a guide and porter hire or email us for your detail travel inquiry.
Question: How much additional money do I need per day?
Answer: You can allocate US$ 08 – 10 for a lunch/dinner in Kathmandu and it depends on your spending habits. US$ 7 to 10 US$ each day will be enough to buy bottles of water, chocolates, tea coffee, and some drinks while you are on trek.

Mani rimdu festival in Tengboche Monestery
100%
5
star based on –
205
Based on TripAdvisor Reviews
We have booked 10 days Mani rimdu festival trek with Gokyo Treks and Expeditions in 2016. Our Guide was Ammar and 2 other friendly porters prem and ganesh rai made our trip just amazing. They were extremely kind and always wanted to ensure that we are happy. The trek was amazing. Thanks Ammar making our hikes unforgettable so, we definitely recommend and to use this company again for trekking in Nepal. – Michael Guenter, Heidelberg, Germany
Mani rimdu festival trek highlights
Discover Mt Everest, Lhotse, Nuptse, Amadablam, Thamserku view within 360 deg angle.
Brilliant scenery of divine destination cultural trek on your own styles
Sherpa Buddhism, Great Hill station, Local Sherpa and their life styles.
Mani rimdu festival trekking Notice !
The Buddhist festival tour information stated above is just a sample guideline to you. However, the trip is possible to customize at your request to accommodate your specific requirements. Local politics, landslides, cancellation of local flights, weather, transport, or a multitude of other factors that are beyond our control can result in a change of itinerary during on holiday.
It is, however, very incredible that the itinerary would be extensively altered. If alterations are necessary the leader will decide the best alternative option, taking into consideration the best interests of the whole group. Where a change does occur, we do everything we can to minimize its effect, but we cannot be responsible for the results of changes or delays.
What makes Mani rimdu festival trek special?
Opportunities for challenging trekking strolls are scattered all over this planet. You just need to know where to find them. We at Gokyo Treks and Expedition believe in attribute services. Your safety and satisfaction is our concern. We are a team of professional, experienced, trained, and licensed local guides who know the destination much better than others. Not only this but also we give benefits to the local communities and helps to conserve natural resources which reduced costs and consumption.
From US$ 1152
5% Off
US$ 1095
| | |
| --- | --- |
| No. of people | Price Per Person |
| 1 | USD 1415 |
| 2 | USD 1095 |
| 3 | USD 1199 |
| 4 - 6 | USD 1085 |
| 7 - 9 | USD 1080 |
| 10 + | USD 1050 |
Book Now
Customize Trip
Cost & Departures
Your Trip Your Style!
ITINERARY, COST, DEPARTURES, will adjusted according to your GROUP SIZE NEED TIME
Book with Confidence
Lowest Price Guaranteed.
Excellent Customer Service
Hassle Free Booking.
90 % Repeated customers
Travelers Recommended agency
Local Guide's owned company.
Reference person
Contact in Germany
Klaus Kummer : +49-367-2351-957
Martin Aigner: +49 7904 7428
Contact in USA
John Erwin: 212-222-6389
Beth Pekol, Chicago: +1 312-364-8924
Eve Quesnel, California: 530-5879-113
Contact in Australia
Mark Panico: +61 434 784 995
Contact in France
Anne Claire Srdoc: +33 683 549 096
Contact in Austria
Verena Laner: +43 650 7110 301
Dorothee Plunger:+43 512 565 255

Contact in Switzerland
Dominik Lee, Zürich: +41 079 3826 028