Planning a private trip to the Everest region with Porterguide Hire in Lukla is also a good idea to save money on their airfare. Due to the cause of Guide's expensive airfare of US$ 110, perhaps the backpacker travelers couldn't afford it therefore hiring a guide from Lukla airport could be the right decision for you.
As Porterguide and porters work from Lukla base, they have a huge experience walking over the rough terrain, rocks, glacial moraine, and high Himalayan landscapes. They know each step as they have done these trips many times before. Recognized all the guest houses, villages, mountains, and many high passes but they live in the high mountains therefore they speak basic English.
We at Gokyo Treks and Expedition agency have the best network of honest and reliable trekking guides and professional porters. During the busy hiking season, they work with us and in the off-season, they use to go to stay with their family. Guide or porter guide who works with us are professional and have more than decades of Experience in the high mountains trail of Mount Everest territory.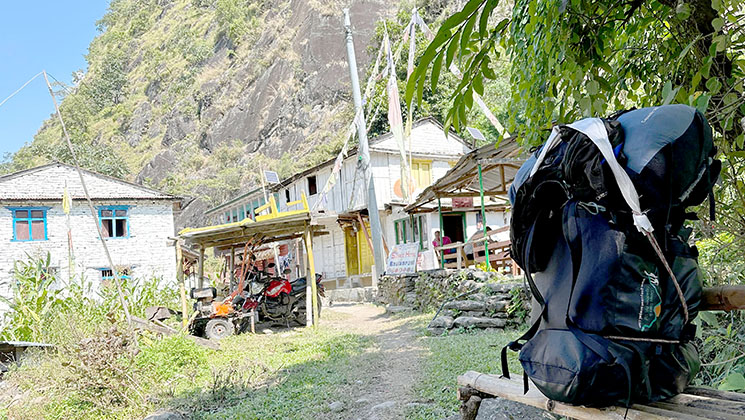 Reason to hire Guide or porterguide from Lukla with us
Finding individual porters at the airport is not a big issue as you can find them easily as there are many porters waiting to get jobs. Some are not honest. They are even ready to work at lower prices but later on, they drink alcohol, and sometimes they even take your valuable things and runway.
Therefore choosing a guide, porter, or porter guides is not an easy thing to do in Lukla individually. But as you go through our genuine agency, we have a great network of trusted guides, porters, and porter guides who are working with us for a long time and find the top five reasons for hiring them from Lukla.
1. Save Airfare
Kathmandu – Lukla – Kathmandu airfare for a guide for both ways is about US$ 115. However, fly from Ramechap to Lukla and return round trip airfare for the guide is US$ 85 which you skip if you wish to hire a guide from Lukla.
2. Certified Guides
Our Guide or porter guides are certified by the government of Nepal and have a license to guide the tourist. They have a basic knowledge of geography, wild animals, local agriculture, and flora–fauna.
3. Honest and reliable
They are honest, super friendly, and ready to help at any time of traveler's request. Furthermore, they also have a basic knowledge of AMS (Altitude Mountain Sickness). In an emergency case, they can help you to arrange the fastest way to rescue you to save your life.
4. Non-Alcoholic
Our staff such as a guide, porters, or porter guides understand the value of your amazing holidays in the Khumbu region. They always try their best to make you happy and never drink alcohol unless you offer them some drinks.
5. Well Recognized the trail
Guide will point out things that you would never notice and also knows the trail better than anyone else.
Everest Trek Permit Cost.
I.) Khumbu Pasang Lhamu Rural Municipality Entrance Permit cost Nrs 2000 per head.
II.) Sagarmatha National Park Permit cost Nrs 1600 per head [SAARC country].
III.) Also for GUIDE/Porterguide entrance fee for Sagarmatha National Park is Nrs 1500.
IV.) Sagarmatha National Park Permit cost Nrs 3000 per head [not SAARC country].
V). However, TIMS Permit (Trekkers Information Management System) cost Nrs 2000 per head.
Trekking Guide vs Porterguide for Everest
Both trekking guides and porter guides can be useful for a trek in the Everest region, but they have different roles and responsibilities.
A trekking guide is a licensed and trained professional who has extensive knowledge about the area, including its culture, history, and geography. They will provide guidance and support during the trek, including navigation, communication with locals, and helping to arrange accommodations and meals. Moreover, they are also trained in first aid and emergency procedures, which can be crucial in case of an accident or illness during the Everest trek.
A porter guide, on the other hand, is primarily responsible for carrying your gear and equipment during the trek. He will help you with your luggage, find the lodges and ensure that your belongings are safe and secure. Additionally, they may also have some knowledge of the area, but their primary responsibility is to assist with the physical demands of the trek.
In case you are an experienced trekker and have a good understanding of the area and the culture, you may choose to go with a porter. However, for those who are less experienced or unfamiliar with the region, having a guide an incredibly beneficial for a safe and enjoyable trek.
Ultimately, whether you choose to hire a trekking guide or porter guide (or both) will depend on your personal preferences, level of experience, and the specific requirements of your trek.
Local Guide, Porters, and porter guide hire from Lukla Prices [SPECIAL DISCOUNTS]
Daily Hire cost includes the travel and accidental insurance for each Nepali guide or porter as we purchase insurance in bulk for our guide-porter or porter-guide. So, do consider booking a guide and porter for your trip with a Gokyo local trek agency and make your dream trip incredible. You can find the Lukla trekking guide rate and porters price as given below.
| Trekking Guide Hire Cost from Lukla | Base Camp Trek | High Pass Trek |
| --- | --- | --- |
| Solo Tourist hire a private guide cost per day: | US$ 20 | US$ 22 |
| Travel in a group of 2 + Trekkers per day: | US$ 20 | US$ 23 |
| Professional Porter Hire Price from Lukla Cost | Base Camp Trek | High Pass Trek |
| --- | --- | --- |
| Hire a Porter from Lukla cost (solo / single tourist) per day | US$ 20 | US$ 19 |
| Porter hire cost from Lukla airport (2 tourist basis) per day | US$ 19 | US$ 22 |
Hiring a Guide or porter guide from Lukla price includes:-
– Their daily wages / salary of guide / porter – All meals & Accommodation guide / porter.  – Insurance & equipment of trek Guide or porter. 
However, the Agency service charges & all applicable Government TAX at the time of staff hiring cost will be USD 25 per Guest.
Have in mind that all our guide porters are fully insured, well paid, well equipped, and covered for medical and rescue/evacuation services in the case of an emergency. The cost of hiring a hiking guide, porter, or porter guide depends upon the month you travel.
Likewise, by paying the above price to us, we can arrange to hire a guide from Lukla. On confirmation, they will go to Lukla and stay at the guest house nearby the Airport and wait to welcome guests.
All of our hiking guides are covid-19 vaccinated. Furthermore, we have to pay 13% VAT [Value Added Tax] and 10% TAX for selling guide porter hiring services which are also included in the above price.
– The above rates are updated on 5th April 2023.