Baruntse Expedition Summary
Baruntse expedition duration days: 33 Days
Expedition difficulty: Technical difficulty
Baruntse Height: 7,129m / 23,390 feet
Climb hours: 6 Hours average
Climber Group Size: 2 – 8 People
Best for Summit climb: May and June Month
Trip Mode: Full board Tent Camping
Meals on Trek: Breakfast, Lunch, and Dinner
Transportation: Private Jeep / Car
Overview
Mount Baruntse Expedition is a top popular expedition activity in the Everest zone that offers stunning views of Mount Everest, Makalu, Cho Oyu, and Lhotse. The Baruntse height (7,129m /23,390 feet), situated in the core of the Himalayan monsters of Nepal and has a higher culmination achievement rate than comparable pinnacles.
Baruntse is a mountain in the Khumbu region of eastern Nepal, crowned by four peaks and bounded on the south by the Hunku Glacier, on the east by the Barun Glacier, and on the northwest by the Imja Glacier. It's a 7K magnificent mountain to climb that the expedition team can see Mount Nuptse (7,879m), Lhotse Shar (8,383m), and Baruntse (7,720m) itself besides the highest mountains on earth.
There is more than one way to the top! The primary route will begin at Lukla through Mera La Pass (5,800m) and across the Hunku are two distinct methods of traveling to the apex. One is from Lukla through Mera La Pass and Hunku Glacier and with a diversion to Mera Peak (6,476m) as a warm-up move prior to handling Baruntse Peak.
The other climbing route is along the Makalu trail and across the West Barun Glacier. There are 50-degree inclines that make it important to be roped – and prepared, prior to endeavoring this ascension. A danger, for example, molding should be drawn closer with extraordinary alert and have been known to abruptly sever.
To limit the risk from height affliction we will permit adequate to adapt and won't face any superfluous challenges. We will consistently trip and move to higher heights, getting going from Seto Pokhari at 5,035m to Baruntse Base Camp (5,400m) and higher to Camp 1 (6100m). We have sufficient time at Baruntse Base Camp (BBC) to adapt and get ready to get a culmination.
We will invest the energy at these higher elevations taking short ascensions higher and afterward getting back to Base Camp. When we head to the highest point, we will be well and genuinely prepared for the test ahead. We will check, and twofold check, all hardware and be certain that everybody is intellectually and genuinely alright to endeavor the move to Baruntse Summit (7,129m) which should take somewhere in the range of seven and ten hours.
Attempting the Baruntse summit climb is generally less challenging when contrasted with different mountains in the Everest district. Some specialized segments require the utilization of ascending, fixed ropes, and other mountaineering gears. The unconventionality of the climate in the mountains is likewise another pivotal factor that adds to the trouble. Thus, adventure Baruntse climbing is considered one of the safe mountains in the world to climb. Therefore, the expedition death rate is very very low till today.
Before climbing Baruntse, we advise you to complete at least two to five international or high-altitude climbing expeditions. Aconcagua, Denali, Mount Vinson, and Himalayan mountains such as Island Peak and Lobuche Peak are all excellent preparation.
According to our past climbers, we have designed the Baruntse expedition itinerary cautiously to allow for gradually ascending and proper acclimatization. The best season for the expedition group to climb is in May and June months. If the itinerary is not suitable for you, we modify the expedition travel plan as per your request and the duration of the holiday.
Itinerary
Mount Baruntse expedition itinerary details.
Our Mount Baruntse expedition 33 days itinerary is just a sample plan. Our expedition Baruntse climbing itinerary is very special, kindly contact us to get a daily travel plan. We are happy to send you the detailed expedition travel itinerary at your request.
01 Day
Arrival at Kathmandu valley
Upon arrival in Kathmandu, Tribhuvan International Airport, we will receive you in a private vehicle and transfer you to the hotel in Thamel Kathmandu. Our representative will brief you on Expedition Baruntse Mountain and information about further programs.
02 Day
World heritage site of Kathmandu valley sightseeing, 7 hours.
After breakfast the day will start with our guided trip to cultural world heritage sites in Kathmandu Valley. The day tour includes visiting the pilgrimage sites of the Hindu Pashupati temple, the world's biggest Boudhanath Stupa, visit Swoyambhunath Stupa and a historical Kathmandu Durbar Square. Or Baruntse expedition briefing. Evening pre-trip discussion and introduction with our fellow trekking staff for your adventure trip.
03 Day
Kathmandu to Lukla airport flight (2,804m/9,199 feet). Trek to Chutok (2,804m/9,198 feet), 3 hours.
An early morning start takes us to Tribhuvan International Airport in Kathmandu for the 35-minute scenic flight to Lukla Tenzing and Hillary Airport at 9,197 feet. On arrival at the airport, our expert Sherpa guide will introduce you and our porters. Meeting the entire crew member, we begin our trek towards the Chutok La pass at 2,945 meters.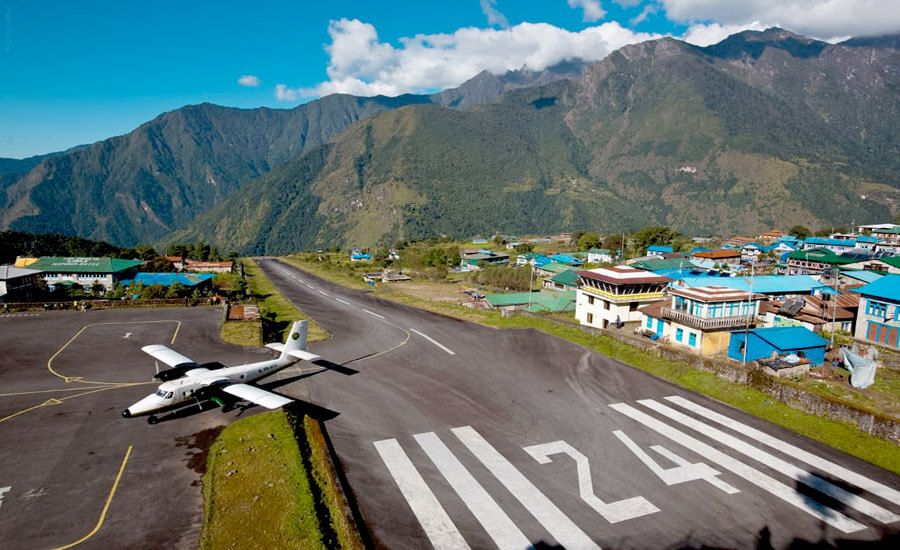 04 Day
Col Khari La (3,081m/10,108 feet) trek and to Pangkongma (2950m/9,676 feet) 6 hours.
After the pass of Col Khari La the trail carries along mountain sides through the Khari Khola valley to set up camp in Pangkongma.
05 Day
Kurke trekking (3,800m/12,467 feet), 5 hours.
Another amazing day to walk via mountain crests through rocky mountain landscapes. Passing through a splendid panorama of wooded regions below us.
06 Day
Thuli Kharka trekking (4,200m/13,780 feet), 6 hours.
Today, we climb up to a pass at 4400m and descend towards Thuli Karkha, which means " vast pasture".
07 Day
Khothey trekking (3,600m/11,811 feet), 5 hours.
We descend on hillsides, by pleasant meadows, and lower down through forests of blue Himalayan pines and rhododendrons. Mountain climbers can watch the southern side of Mera Peak's gorgeous views.
08 Day
Tangnag trek (4,350m/14,272 feet), 6 hours.
As we head to the west bank of the Hinku Khola northwards, the forest blurs in, and the valley zooms out. We spot meadows being used as grazing areas for goats, sheep, and yaks in the Upper Hinku. After several rises for 4-6 hours, we approach the summer settlement of Tangnag as we cross a single-plank bridge at Gondishung. Lying in its vicinity is 200 years old gompa resting beneath a massive boulder and a number of crude mani walls. The climbing journey offers an outstanding view of Peak 43.
09 Day
Acclimatization and Rest day at Tangnag.
Spending a day here in order to acclimatize and adjust to the thinning of the air.
10 Day
Khare trek (4,900m/16,076 feet), 4 hours.
We utilize two days getting completely acclimatized. After proper rest, we can explore other adventure possibilities like strolling by Sabal Tsho, a beautiful moraine-dammed lake that is hidden behind the Sabal Glacier, and climbing a peak up to an altitude of nearly 5000m. We can also explore Hinku Nup Glacier, which leads north toward Kangtaiga. The upper Hinku valley turns to the east at Tangnag, crossing the moraine of the Dig Glaciers.
11 Day
Mera La trek (5,415m/17,766 feet) and Base Camp Hike (5,500m/18,040 feet), 5 hours.
Progressing along the snowy glacier, we procedure the pass the slope becomes steep. We use this day for proper acclimation before the glacier adventure trailhead. Walk up to the west side of the Hinku Nup Glacier small peak, where we can reach a height of around 5,500 meters. At this point, we get to capture the stunning views of Mera La and Mera Peak. Overnight at tent camp.
12 Day
Trek from Khare to Khamedingma. 4 hours
Hike from Khare to Khamedingma is one of the most impressive parts of the journey. Tourists can see the stunning panoramas of giant mountains. Overnight at tent camp.
13 Day
Seto Pokhari Trek (4,825m/15,831 feet), 6 hours
We will follow the trail that leads higher into yak pasture grounds of the beautiful and remote valley. Our trail heads directly into the epicenter of the world's towering mountains. We trek along with magnificent views of the surrounding mountains and high alpine valleys. Our trek continues until we arrive at Seto Pokhari. Seto Pokhari literally means 'White Lake' in the Nepali language and is the first of a series of lakes in the upper Honku Basin.
14 Day
Seto Pokhari to Baruntse Base Camp trek (5,400m/17,717 feet), 5 hours
Trek from Seto Pokhari to Baruntse base camp is also very beautiful trek but bit harder comparing earlier days. And Tourists can see the towering mountains en route. Overnight at tent camp.
15 Day
Baruntse Expedition days (15 days to 27 days)
Starting day 14 until 27th are the climbing days. During this time, Tourists will climb Baruntse Summit (7,129m) & return to the Base Camp. Overnight at tent camp.
28 Day
Return at to Khamedingma, 4 hours
One of the best parts of the trek. Stunning panoramas of giant mountains. Overnight at tent camp.
29 Day
Khamedingma to Thangnak trekking, 6 hours
Today, we hike Khamedingma to Thangnak and rest at campsite. Overnight at tent camp.
30 Day
Trek from Thagnak to Chatrabu, 6 hours
Today, we Trek from Thagnak to Chatrabu and stay overnight at campsite. The journey takes about six hours.
31 Day
Trek from Chatrabu to Lukla, 6 hours
Today, we Trek from Chatrabu to Lukla and stay overnight at the guest house. Enjoying time to reflect on the trek as a group and the personal achievement of all those who took part. Also gives you time to explore the town. The journey takes about six hours..
32 Day
Scenic mountain flight from Lukla to Kathmandu.
We board our early flight from Lukla to Kathmandu. Upon arrival at Tribhuvan International Airport, domestic terminal, our representative will pick you up and transfer you to the hotel. In the afternoon, go shopping or request us to discover Kathmandu as a guided trip at an additional cost.
33 Day
Final departure day
Drop you in Kathmandu International Airport onward to your final destination and our trip ends. Wish you a wonderful journey.
Not satisfied with above plan?
Interested in planning a custom trip? this might take 2 to 3 minutes.
Cost
How much does the Mount Baruntse expedition cost?
Mountain Baruntse expedition cost US$ is a standard trek price on a double occupancy per person basis. But of course, the trip price will vary as per the expedition member group size and the service you choose.
For the deluxe and luxury trekking tour plan, we add a 4-5 star hotel deluxe air-conditioned room in Kathmandu with a breakfast plan. AND WE ARE OPEN TO CUSTOMIZE YOUR TOUR AND PACKAGES PRICE AS PER YOUR REQUIREMENTS.
Mount Baruntse expedition cost includes:-
Airport transportation as per your arrival date to join the Baruntse expedition.
3-star category [Moonlight hotel) or similar hotel accommodation in Kathmandu with Breakfast plan
Domestic flight: Kathmandu to Lukla to Kathmandu airfare as per the expedition itinerary.
Full board high altitude meal while trekking to base camp and climbing Baruntse.
Baruntse summiteers climbing Sherpa (01 Sherpa: 02 climber's ratio)
Required number of porters as per the expedition group size.
Group climbing gears like rope, ice bar, etc. for the Baruntse expedition.
Baruntse expedition peak climbing permit and all government taxes.
National park and conservation area permit fee for the expedition.
Liaison officer with all his expenses while on the Baruntse climbing expedition.
Expedition Manager, Expedition cook, support crew, and porters with their types of equipment, daily wages, food, insurance, etc.
All camping gear including base camp tents, dining tent with table and chair, kitchen and toilet tent, etc.
Mountain Hardware high altitude tents while on climbing the Baruntse
Emergency Oxygen with regulator and mask while on the Baruntse expedition.
EPI gas and burner for the high climb.
Gamow bag / Portable Altitude Chamber (PAC) All necessary climbing hardware group equipment
First aid medical kit, Oximeter to check heart rate, pulse, and oxygen saturation at higher altitude [with guide].
In a worst case, help with all Helicopter Rescue and evacuation arrangements.
Satellite Phone and Walkie-Talkie in case of emergency (pay guest).
Mount Baruntse expedition cost excludes :
Lunch and Dinner during the staying in Kathmandu town.
Medical and personal high-risk insurance.
Baruntse Summit bonus US$ 500 USD minimum for each climbing Sherpa guide.
Applicable permit fees and custom charge for Sat phone, communication equipment, and commercial filming while on Baruntse expedition.
Any kinds of battery charges, laundry service, phone calls, and hot showers during the trek.
Personal trekking and climbing equipment .
Personal nature expenses, and bar bills.
Travel insurance to cover helicopter rescue evacuation in case of emergency).
Any donation and monument entrance fees.
Gratuities for expedition staff [Tip is a culture, so they expect highly].
Any other things which are not mentioned above.
Group join
We can organize a private Mount Baruntse expedition starting at any date that works for you. Please contact us for more information.
FAQ
Question: Is pick-up service available on my arrival day in Kathmandu, Nepal?.
Answer: Yes sure. Provide us with your flight details, We will come to pick up you at Kathmandu international airport.
Question: What sort of accommodation can I expect on the Mount Baruntse expedition?.
Answer: You will have tent accommodation while on trekking and climbing days.
Question: What kind of food can I expect in expedition Baruntse?.
Answer: Our professional cook cooks a delicious range of mostly vegetarian foods. They are like noodles, potatoes, Pasta, tuna bakes, eggs, bread, soups, and fresh vegetable rice until base camp. From base camp to Baruntse expedition days, Tourists will have climbing foods. They are depending on the available seasons. We serve food with hot drinks such as tea/coffee.
Question: How do I get drinking water on Expedition Baruntse peak?.
Answer: We serve you pure drinking water after purifying using AQUA TABS while on camping days.
Question: Are there any communication facilities on Climbing Baruntse?
Answer: We can help you to arrange a satellite phone to call in an emergency and you pay. So, you can acquire telephone services.
Question: When should I book my trip and what are the payments terms?.
Answer: Because our trips book up months in advance. We recommend booking early to avoid any misunderstanding. About US$ 4,000 non-refund­able deposit upon con­fir­ma­tion of your eli­gi­bil­i­ty to join the expedition. US$ 4,000 non-refund­able bal­ance due 100 days pri­or to departure. Likewise, If you transfer money to our bank account, you should pay also the bank service charge.
No refunds on the deposit, nor bal­ance pay­ment will be pro­vid­ed for Baruntse climbing due to the huge expense incurred planning/​facilitating such an expedition. And the rest of the payment, you can pay on your arrival in Kathmandu, Nepal.
Question: Who will carry my luggage?
Answer: We do provide a high-altitude porter/Sherpa to transfer your luggage depending upon the group size.
Question: Where can I organize my personal climbing gear?
Answer: Hiring the best camping gear is a must as you go 7,000 mountain climbing. The branded gears are expensive as their life is longer than cheaper gears. Nonetheless, If you have those climbing gear at your home bring them along with you. If you don't have them, you can rent them in Kathmandu.
Question: How much additional money do I need per day?
Answer: You can allocate US$ 08 & 10 for a lunch/dinner in Kathmandu and it depends on your spending habits. US$ 12 to 15 US$ each day is almost enough to buy bottles of water, chocolates, tea coffee, and some drinks while you are in Kathmandu.
Mount Baruntse expedition highlights
Discover the eye-catching sights of Mt Everest, Lhotse, Nuptse, Cho Oyu, Makalu, and Baruntse Itself..etc.
Baruntse Summit offers the best scenery of high mountains and valleys.
Experience the Eight thousand (8,000 meters) mountain climbing.
Get to know the wildest, most pristine, and less frequented trail Makalu Base Camp hiking trail.
Adventure Barunse Climbing Permit Cost
Baruntse expedition permit fees totally depend upon the expedition season that you apply to attempt. Normally the climbing permit cost in the spring season is US$ 500, in the autumn season US$ 250, and for the winter and summer seasons is US$ 125 per person.
Notes for Baruntse mountain climbers!
The Mount Baruntse expedition information stated above is just a standard template guideline. The trip itinerary is possible to tailor at your request to accommodate your specific terms. Local politics, landslides, local flight cancellation, weather, transport, or a multitude of other causes that are out of our control can result in a modification of schedule during travel.
It is, nonetheless, improbable that the agenda would be generously adjusted. On the off chance that adjustments are essential, the pioneer will choose the best elective choice, thinking about the best worries of the entire gathering. Where a change happens, we do all that we can to limit its impact, yet we can't be liable for the after-effects of changes or postpone them.
"What makes Mount Baruntse expeditions special?"
Opportunities for adventure climbing – expeditions in low-elevation mountains are scattered all over the planet Earth. You just need to recognize where to find them. We at Gokyo Treks and Expedition believe in quality services. Your safety and satisfaction is our concern.
We are a team of professional, experienced, trained, and licensed local guides who know the purpose much better than others. Not only this but also we give benefits to the local communities and help to conserve natural resources which reduced costs and consumption.
Baruntse Expedition Review
There are no reviews yet. Be the first one to write one.
US$
| | |
| --- | --- |
| No. of people | Price Per Person |
| 1 | USD |
| 2 | USD |
| 3 | USD |
| 4 - 6 | USD |
| 7 - 9 | USD |
| 10 + | USD |
Book Now
Customize Trip
Cost & Departures
Your Trip Your Style!
ITINERARY, COST, DEPARTURES, will adjusted according to your GROUP SIZE NEED TIME
Book with Confidence
Local Guides Company.
18 Years in Business.
Lowest Price Guaranteed.
100% Customizable Trips
Excellent Customer Service
Hassle Free Booking.
90 % Repeated customers
Highly Recommended agency
Private/group tour options