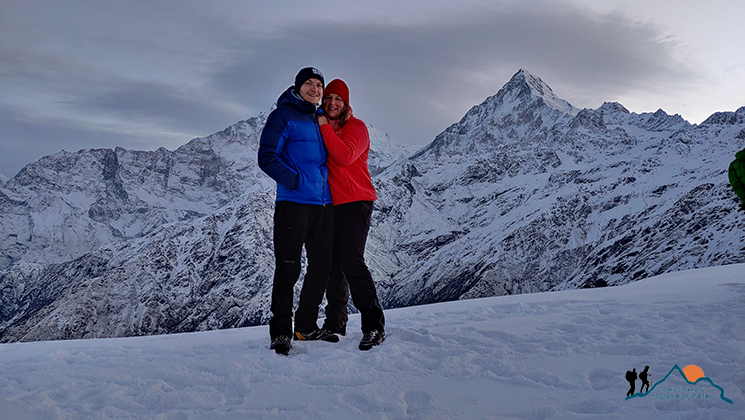 Trekking season in Nepal Himalayas!
Mainly there are four trekking seasons in Nepal which we use to call four seasons of holidays. However, the best season to visit Nepal is either the Autumn season and Spring season. Hike in the autumn season starts from the middle of September to early December and the Spring trekking season starts from March to the middle of May month.
Likewise, the Autumn season believes the best season for treks in Nepal. You will have pleasant weather with a moderate climate and the visibility of the mountains is clear.
Another best season for a trek in Nepal is after winter while the sun is getting warmer in springtime many trekkers to the Himalayas can again enjoy a comfortable climate. In the spring season, various varieties of flowers flourish on both trees and the ground and it is also the best time for mountain climbing in the Himalayas.
Winter trekking season (January and February)
Trek in the Himalayas during January and February months can be a challenging but rewarding experience, with unique natural scenery and plants to observe. But it's important to be prepared for the cold and snowy conditions. Travel with an experienced guide and have appropriate gear and equipment for trekking in winter conditions.
Weather in the Himalayan region are cold, and the mountain trails are covered with snow and ice. In the daytime, temperatures can range from 5°C to 15°C (41°F to 59°F) at lower elevations, and from -10°C to 5°C (14°F to 41°F) at higher elevations. At night, the temperature can drop from -15°C to -20°C (5°F to 4°F) at higher altitudes. As a result, the plant life in the lower elevations is generally dormant or covered in snow.
However, there are still some plants that can also observe during these months. At lower elevations, the winter-flowering species of rhododendrons can be seen blooming, with their bright red or pink flowers adding color to the landscape. Trees like pine and cedar, also stand out against the snowy backdrop, and their branches are often covered with snow.
In the higher elevations, the vegetation is limited to hardy alpine species that can survive in the harsh mountain environment. These plants are typically small and low-growing, such as mosses, lichens, and small shrubs.
One of the most striking features of the Nepal Himalayas during January and February is the snow-covered peaks. Snow-capped mountains view are often clear and breathtaking, and the landscape can appear otherworldly.
Likewise, the Himalayan areas are generally dry and sunny, with very little rainfall. Snowfall is common at higher elevations and can be heavy in some areas. The climate in the Himalayas is unstable, so it's important to prepare well enough for sudden changes in weather conditions. It's a good idea to check the weather forecast regularly and adapt your winter travel plan accordingly.
Spring season trekking (March, April and May)
Trekking in the mountains during March, April, and May is the best time to visit as the weather is mild and stable, and the natural scenery is at its best. Hike in the spring season is the best month as visitors can see varieties of flowers and trees in bloom, and the landscape is lush and green. Moreover, it makes higher-altitude hiking more comfortable and fascinating.
It is mildly warm at lower elevations and has a quite moderate climate at a higher altitude of over 3,000 meters.
In March, the weather is still chilly in the morning and evening, but the days are warm and pleasant. Trails are usually dry, and the rhododendrons start to bloom at the lower elevations. Forests are alive with birds and the occasional sighting of monkeys.
By April, the weather becomes warmer, and the hills are carpeted with colorful wildflowers, including rhododendrons, primroses, and orchids. The forests are thick with greenery, and the snow-capped peaks of the Himalayan range are visible from various vantage points.
Additionally, May is also a busy season for hiking and climbing in the Himalayas, with warm weather and clear skies. The rhododendrons are still in bloom, and the forests are alive with birds and butterflies. Hills are lush and green, and the snow on the mountain peaks begins to melt, feeding the rivers and waterfalls along the trekking route.
Overall, trekking in spring during March, April, and May is a great opportunity to experience the beauty and diversity of nature in this spectacular part of the world.
Summer season (June, July and August)
Middle of June, July, and up to the end of August months are the rainy season and involve heavy monsoon with rainfall which makes trek conditions unfavorable. However, this season is an ideal time to Trek into the trans-Himalayan region of Nepal and tour Tibet.
Some parts of Nepal are located behind the Himalayas where is actually very very less rain even in Monsoon. Mustang, dolpa, and Nar-Phu have similar landscapes similar to Tibet.
Summer season trekking in Nepal can bring you a unique experience on your hikes. Here are some things you might observe on your hike in the Himalayas:
Lush greenery:
Monsoon brings rain to the Himalayas, which can create a lush and green landscape. And the forests are filled with ferns, mosses, and other plants that thrive in damp conditions.
Waterfalls:
Rains in monsoon creates numerous waterfalls throughout the region. You may see small streams turning into gushing rivers and waterfalls cascading down the hillsides.
Clouds:
Clouds above the Himalayas can create a mystical and beautiful atmosphere. Hikers may see clouds rolling through the valleys and mountains, creating a dramatic and ever-changing landscape.
Leeches:
Unfortunately, the monsoon season also brings leeches, which can be a nuisance for trekkers. Therefore, we advise you to wear appropriate clothing and use insect repellent to minimize the risk of leech bites.
Slippery trails:
Rain can make trails and paths slippery and muddy, which can make trekking more challenging. So we suggest you wear appropriate footwear and take extra care while trekking in wet conditions.
Overall, trekking in the Himalayan landscapes during the monsoon season can be a rewarding experience, but it's important to be prepared for the challenges that come with it.
Autumn trekking season (September, October and November)
Autumn is the most popular and high season for trekking in Nepal, as the weather is a mild, dry, and unique experience. The skies are usually clear, and the mountain views are stunning. Temperatures are moderate during the day and can get chilly at night, especially at higher elevations. Here are some things you might observe:
Fall foliage:
In September and October, the leaves of deciduous trees begin to change colors, displaying a beautiful array of yellows, oranges, and reds. This can make for a stunning visual experience while trekking.
Clear skies:
The monsoon season typically ends in September, and the skies begin to clear up. You can expect clear blue skies and stunning views of the Himalayan peaks.
Harvest season:
In the lower altitudes, you may see farmers harvesting their crops. This can include rice, corn, wheat, and other grains.
Migration of Birds:
In November, many birds and animals begin their migration to warmer climates. You may be able to spot some of these creatures as you trek.
Wild Flowers:
Depending on the altitude, you may see a variety of flowers in bloom during these months. In lower altitudes, you may see marigolds, dahlias, and sunflowers. In higher altitudes, you may see rhododendrons and other alpine flowers.
Festivals
Travellers can experience visiting villages and see Hindu festivals such as Dashain and Tihar. You will have a chance to learn about the festivals, culture and their daily lives if you stay with the locals.
However, It's worth noting that weather patterns can vary from year to year and even from day to day in the Himalayas, so it's a good idea to be prepared for a range of conditions while trekking in autumn.
Trekking Season Climate Temperatures.
While autumn and spring are the best seasons for trekking in Nepal, it is possible to trek in other seasons as well. However, the weather stays more challenging during the monsoon season (June to August), with frequent rain and muddy trails, and the winter season (December to February).
Trekking in December often gets challenges due to the cold weather and snowfall. It's important to dress in warm layers, use appropriate gear, and be prepared for potentially hazardous trail conditions. Some trails may also be closed due to heavy snowfall however, it's important to plan your trip according to weather conditions.
| Temperature in the mountains | 60 to 2000 meters | 2001 to 3000 meters | 3001 to 4000 meters | Till 5000 meters |
| --- | --- | --- | --- | --- |
| Temperature in January | 0 to 12°C | -3 to 13 deg. Celsius | -12 to 4 deg. Celsius | -20 to 3 deg. Celsius |
| February temperature | 1 to 14 deg. Celsius | -1 to 13 deg. Celsius | -10 to 5 deg. Celsius | -15 to 5 deg. Celsius |
| March temperature | 4 to 18 deg. Celsius | 2 to 15 deg. Celsius | -7 to 10 deg. Celsius | -10 to 7 deg. Celsius |
| April temperature | 8 to 22 deg. Celsius | 5 to 19 deg. Celsius | -3 to 12 deg. Celsius | -7 to 11 deg. Celsius |
| May temperature | 12 to 22 deg. Celsius | 8 to 12 deg. Celsius | -2 to 14 deg. Celsius | -3 to 11 deg. Celsius |
| June temperatures | 9 to 28 deg. Celsius | 1 to 20 deg. Celsius | 1 to 17 deg. Celsius | -4 to 14 deg. Celsius |
| July monthy temperatures | 9/28 deg. Celsius | 1/20 deg. Celsius | -2/16 deg. Celsius | -6 to 12 deg. Celsius |
| August monthly temperatures | 10 to 27 deg. Celsius | 1 to 21 deg. Celsius | -2 to 17 deg. Celsius | -6 to 13 deg. Celsius |
| September temperature | 13 to 22 deg. Celsius | 11 to 19 deg. Celsius | 1 to 13 deg. Celsius | -3 to 10 deg. Celsius |
| October temperature | 10 to 21 deg. Celsius | 6 to 17 deg. Celsius | -4 to 12 deg. Celsius | -9 to 7 deg. Celsius |
| November Temperature | 4 to 17 deg. Celsius | 1 to 15 deg. Celsius | -8 to 9 deg. Celsius | -13 to 15 deg. Celsius |
| December temperatures | 1 to 14 deg. Celsius | -2 to 13 deg. Celsius | -10 to 6 deg. Celsius | -15 to 4 deg. Celsius |