Trekking season in Nepal Himalayas !
Mainly there are four trekking seasons in Nepal which we use to call four seasons of holidays. However, the best season to visit Nepal is either the Autumn season and Spring season. Hike in the autumn season starts from the middle of September to early December and the Spring trekking season starts from March to the middle of May month. Likewise, the Autumn season believes the best season for treks in Nepal. Traveling in those months, you will have pleasant weather. It has a moderate climate and the visibility of the mountains are clear.
Another best season for a trek in Nepal is after winter. The sun is getting warmer in springtime many trekkers to the Himalayas can again enjoy a comfortable climate. In the spring season, various varieties of flowers flourish on both trees and the ground and it is also the best time for mountain climbing in the Himalayas.
Autumn trekking season (September-November)
September, October, and November are fall in this trekking season in Nepal. Autumn trekking season considers the best season for hikes in the Himalayas. It offers excellent weather and tantalizing mountain views. Moderate temperature makes a good time for hikes in the Himalayas. The sky is generally clear with outstanding views. Occasionally short storms may dump considerable snow at high altitudes.
Winter trekking season (December-February)
December, January, and February months are cold days in the mountain but the days are clear in the winter season in Nepal. Furthermore, the winter season usually snowfall in higher elevations with risky winds and colder temperatures. Hence is ideal for a trek at a lower elevation.
Spring season trekking (March-May)
Spring season is also the best season to do hiking and climbing. Visitors can see varieties of wild flora blossoming of the colorful rhododendrons above 2500m and hunting paradise during the season. Moreover, it makes higher-altitude hiking more comfortable and fascinating. It is mildly warm at lower elevations and has a quite moderate climate at a higher altitude of over 3000m. In addition, March, April, and May months are the best time to travel to Nepal.
Summer season (June-August)
Middle of June, July, and up to the end of August months are the rainy season. And involves heavy monsoon with rainfall which makes trekking conditions unfavorable. In addition, this season is an ideal time to Trek into the trans-Himalayan region of Nepal and tour Tibet. Some parts of Nepal are located behind the Himalayas where is actually very very less rain even in Monsoon. Mustang, dolpa, and Nar-Phu have similar landscapes similar to Tibet.
At monsoon, you can also do Annapurna circuit trekking with tilicho pass. Those areas are the best season to do trekking in summer, a great alternative behind the Himalayas rain shadow area.
See Nepal map to get detail altitude and trek routes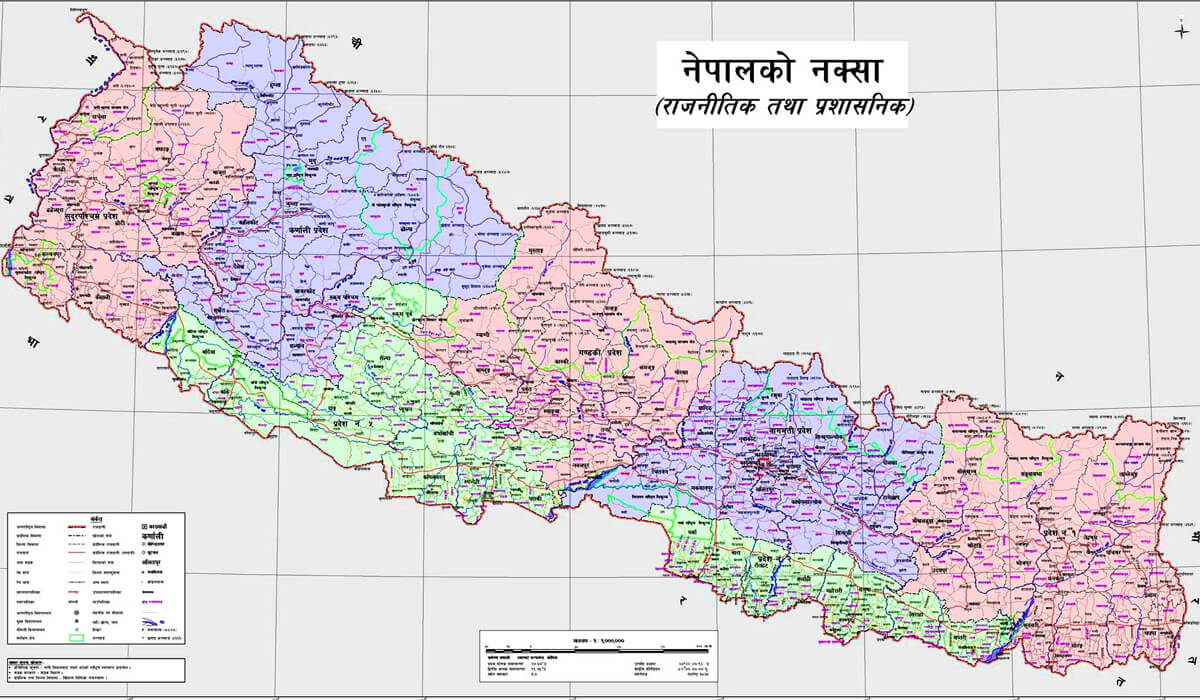 Chec out the Nepal map, click your right mouse button on any part of the map to zoom. As an alternative, you can also use the navigation tool to embed it with a map. This is a rough online location of the Nepal map for the measurement of temperature.
Trekking Season Climate Temperatures.
| Temperature in the mountains | 60 to 2000 meters | 2001 to 3000 meters | 3001 to 4000 meters | Till 5000 meters |
| --- | --- | --- | --- | --- |
| Temperature in January | 0/12 deg. Celsius | -3/13 deg. Celsius | -12/4 deg. Celsius | -20/3 deg. Celsius |
| February temperature | 1/14 deg. Celsius | -1/13 deg. Celsius | -10/5 deg. Celsius | -15/5 deg. Celsius |
| March temperature | 4/18 deg. Celsius | 2/15 deg. Celsius | -7/10 deg. Celsius | -10/7 deg. Celsius |
| April temperature | 8/22 deg. Celsius | 5/19 deg. Celsius | -3/12 deg. Celsius | -7/11 deg. Celsius |
| May temperature | 12/22 deg. Celsius | 8/12 deg. Celsius | -2/14 deg. Celsius | -3/11 deg. Celsius |
| June temperatures | 9/28 deg. Celsius | 1/20 deg. Celsius | 1/17 deg. Celsius | -4/14 deg. Celsius |
| July monthy temperatures | 9/28 deg. Celsius | 1/20 deg. Celsius | -2/16 deg. Celsius | -6/12 deg. Celsius |
| August monthly temperatures | 10/27 deg. Celsius | 1/21 deg. Celsius | -2/17 deg. Celsius | -6/13 deg. Celsius |
| September temperature | 13/22 deg. Celsius | 11/19 deg. Celsius | 1/13 deg. Celsius | -3/10 deg. Celsius |
| October temperature | 10/21 deg. Celsius | 6/17 deg. Celsius | -4/12 deg. Celsius | -9/7 deg. Celsius |
| November Temperature | 4/17 deg. Celsius | 1/15 deg. Celsius | -8/9 deg. Celsius | -13/15 deg. Celsius |
| December temperatures | 1/14 deg. Celsius | -2/13 deg. Celsius | -10/6 deg. Celsius | -15/4 deg. Celsius |