Everest high pass Island Peak
Trip Summary
Everest high pass + Island Peak Combo Tour: 19 Days
Climbing Grade: Moderate difficult
Maximum Altitude: 6,189m / 20,238 feet
Hiking Hours: 6 Hours
Trekking Group Size: 1 – 20 People
Meals on Trekking: Breakfast, Lunch, Dinner
Best Time: March, April, May, October, November and December
Trip Mode: Guest House
Transportation: Car/Plane
Overview
Mount Everest high pass Island Peak climbing is a challenging trip specially designed for adventure trekkers. Everest high pass combine with Island peak climbing is a fantastic trekking activity that demands very high in the last couple of years.
Furthermore, you can see the tallest mountains, brilliant landscapes, high mountain villages, and Buddhist monasteries, friendly Sherpa hospitality. This trek explores the breathtaking Thame Nagpa la valley to Gokyo valley and Khumbu valley. Likewise, visiting Everest two pass and three high passes in Khumbu takes extra time at Gokyo to explore the upper valley.
On Everest high pass with Island Peak route, we cross three high passes in the Everest region which are Renjo La Pass (5,340m/17,462 feet), Cho La Pass (5,420m/17,723 feet), Kongma La Pass (5,535/18,099 feet), and Island Peak (6,189m/20,238 feet). Comparing all those passes trekking island peaks is the most adventurous one but the summit offers an excellent view better than 3 high passes.
Kala Patthar Hikes
Mountain black stone is equally famous as a Kala Patthar hilltop. It is a little peak and famous hill station to observe Mount Everest and many other high mountains of the Khumbu territory in a line. Kalapatthar is the best place to look at sunrise over the Mount Everest range in the morning. Hikes at Kala Patthar hill in the morning before sunrise is tough. You should go with your headlight and enough warm clothes to avoid altitude sickness.
Along the routes, you can walk at your own pace, with plenty of stops for rest. Everest high pass with Island Peak climbing is possible anti-clockwise also. Everest high pass Island Peak climbing can be done at any time (except winter) throughout the year.
How much does for Everest high pass trek + Island Peak climb Package?
The cost of Everest high pass trek with Island Peak climb package with a Gokyo Trek Agency (a local trek operator agency for Everest) ranges between US$ 1899 to US$ 2499. Generally, the high passes climbing trip cost will vary according to group size your are travelling with.
It is the standard trip package price for 18 days trek. If you are 2 person and want to make this trip with us, it costs US$ 2099 for 18 days trek according to the given trekking plan. We can modify the trek route and the prices according to your wishes also. Here is the price list for the luxury Everest hikes.
Price Per Person for 18 days climbing in the High passes Everest.
| Number of Tourist | Price Per Person |
| --- | --- |
| 1 Person | US$ 2499 |
| 2 Person | US$ 2099 |
| 3 Person | US$ 2075 |
| 4 to 6 person | US$ 2025 |
| 7 to 9 Person | US$ 1975 |
| 10 and more than 10 Person | US$ 1899 |
If you're wondering to know about what is included and what is excluded on this trip price, kindly check on cost given on a tab button.
Itinerary
Everest high pass Island Peak climbing itinerary detail
Our 20 days hike to Everest high pass mixed with the Island Peak climbing itinerary is terrific. The particular high pass in the Everest trek route, designed for world explorers who wants a hike to the high mountain passes in a limited time? take a look at this travel itinerary. But for travelers who wish to modify Everest high pass Island Peak climbing travel plan can ask us for a tailored itinerary.
01 Day
Arrival at Kathmandu valley. The world heritage site of Kathmandu valley sightseeing, 6 hours.
Upon arrival in Kathmandu, Tribhuwan International Airport, we will receive you with private vehicle and transfer to hotel in Thamel Kathmandu. After refreshment, the day will start with our guided trip to cultural world heritage sites in Kathmandu valley. Places include pilgrimage sites of Hindu Pashupatinath temple, Boudhanath Stupa, visit Swoyambhunath Stupa. Boudhnath is one of the biggest stupas in the world likewise, Swayambhu is popular as a monkey temple.
Later on, we visit the historical Kathmandu Durbar Square with a temple: unique architecture and Kumari (living goddess) in central Kathmandu. Ammar Guni will brief your trekking package and climbing tour including heritage sites trip discussion and introduce you to our fellow trekking staff for your adventure trip.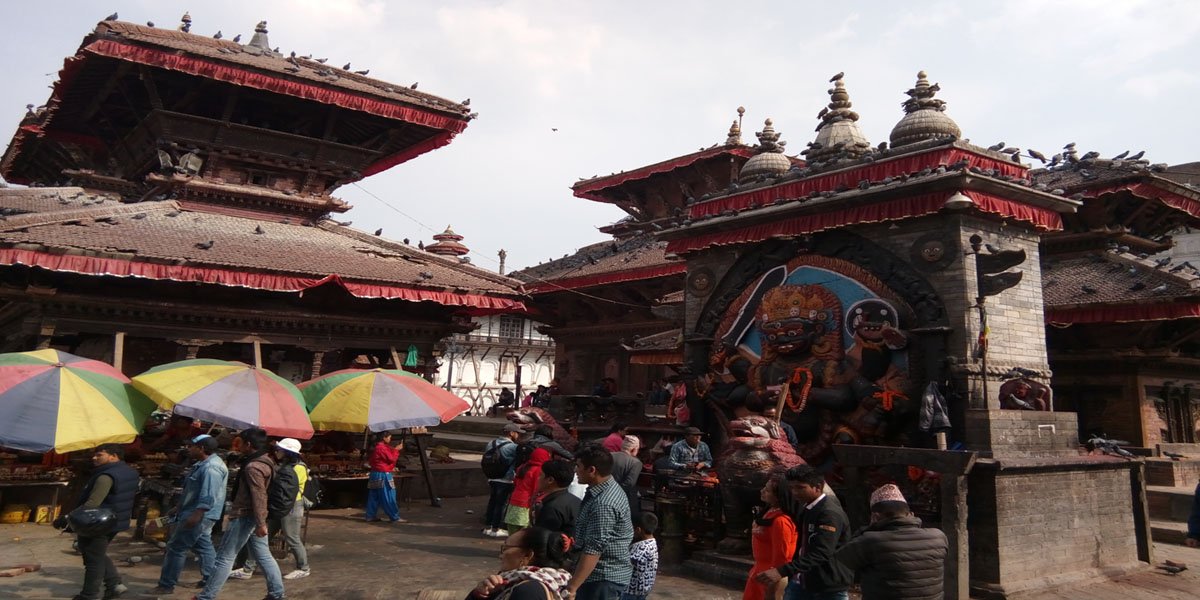 02 Day
Fly to Lukla (2,860m/9,381 feet). Trek to Bengkar (2,698m/8,822 feet.), 5 hours
We take early flight from Kathmandu to Lukla. On arrival at Lukla, we will have a breakfast and follow the main trail to Phakding (2,640 m). We trek following a gentle climb up the mountainside on the left bank of the Dudh Koshi. Peak Nupla can be seen in the opposite bank of the river. We pass several Sherpa villages such as Ghat, Phakding, Tok Tok and finally, we reach Bengkar village.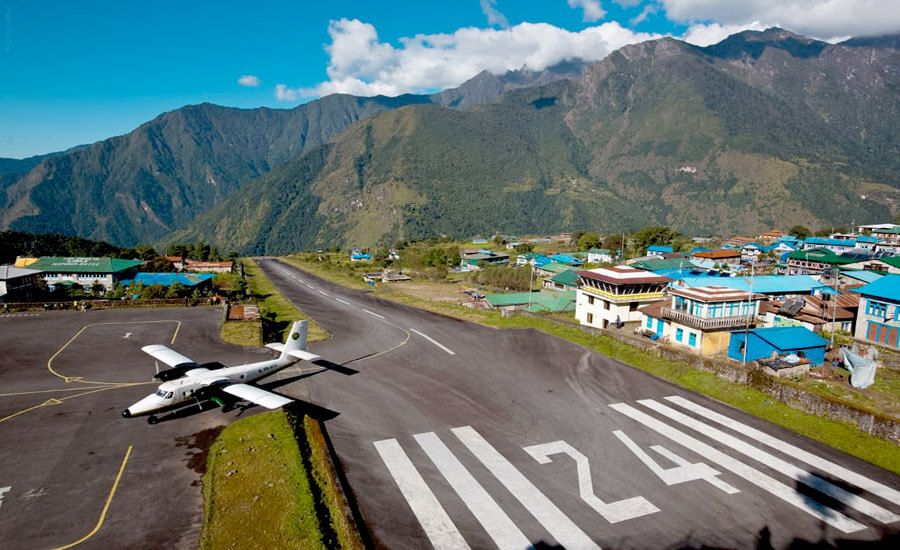 03 Day
Trek to Namche Bazaar (3,440m/11,249 feet.), 6 hours
The popular hiking trail ascends through the Koshi riverbank into the mountain, through a forest to Chumoa. We continue many ups and downs; cross a stream, and pass by the tiny village Monjo. We then come to the Sagarmatha National Park office where a park entrance fee is to pay. We follow a short walk to the major river that meets each other. Crossing over the Hillary bridge, the trek begins steep ascent to Namche Bazar. On the way, we have Mount Everest and Lhotse excellent view. Surrounded on three sides by mountain ranges, Namche Bazar is a central hub of the area for food, trekking gears and other necessary goods.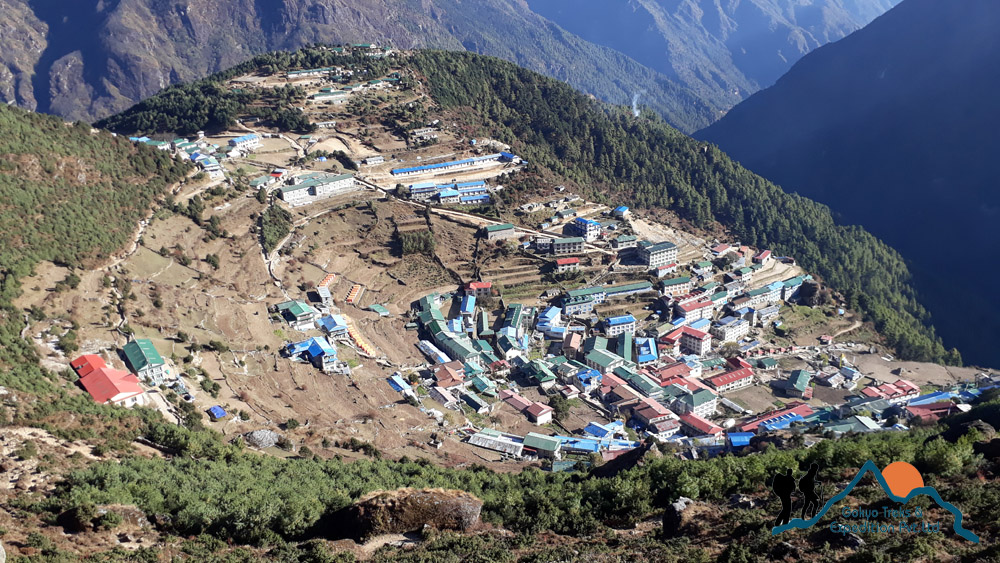 04 Day
Trek to Thame village (3,820m/12,491 feet), 4 hrs
Today, we trek easy hiking to get Thame village. Thame is the end valley of Khumbu Valley and iconic value of Thame is its terrain the people which are untouched by the effects of modern civilization. Moreover we will past a large a large array of prayer flags, Chorten and the carved mani stones.
05 Day
Thame to Lungdeng (4,500m/14,760 feet), 5 hrs
Today, we walk about 5/6 hours to Lungden, mostly uphill, the footpaths pass with many old wall of Sherpa villages. During the walking, you can observe varieties of plants and animals with unique Sherpa culture. We can probably also share with Tibetan Yak Canavans, a trading route to and from Namche to Tibet with the villagers. We will stay in available guesthouse at Lungden.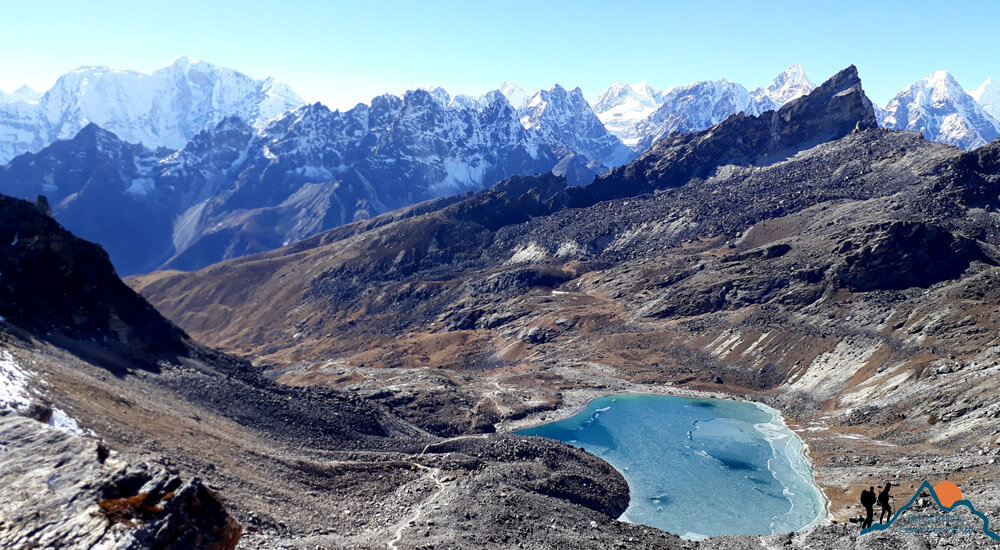 06 Day
Renjo la Pass (5,415m/17,761 feet). Descend to Gokyo Lake (4,790m/15,711 feet), 6 hours
Trek to Renjola pass often follow steeply ups and down with sandy ridge. We cross the frozen stream and walking through dramatic rock, we will pass several yak kharkas and twin Renjo Lakes, the view from Renjo La top is incredible, you can have an excellent view of 7000 to 8000 meters peaks all around including Kalapathar, Tengboche Monastery, chola glaciers and many more. Overnight stay at Gokyo resorts.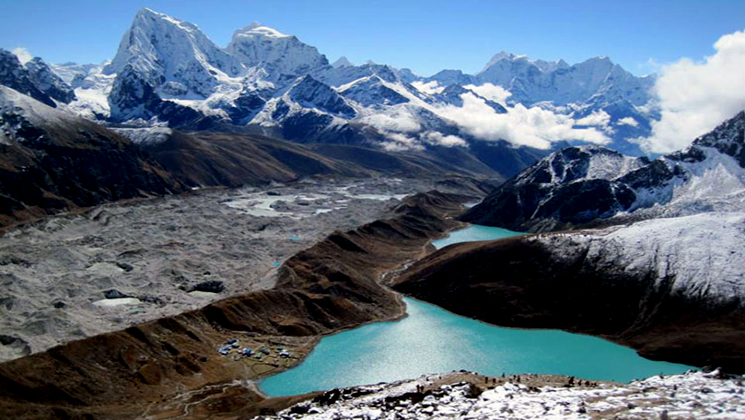 07 Day
Discover Gokyo lakes and glacier
The excursion to the Gokyo peak usually starts early in the morning. The climb is quite steep first 30 minutes, it takes an hour to reach the top with its traditional prayer flags. From where you will have a magnificent view of the highest peaks, from the west to east are Cho you (8,153m), Gyachung Kang (7,922m), Everest ( 8848m), Lhotse (8,501m), and further way Makalu, On the way to descent you can enjoy, superb view of Gokyo Lake.
08 Day
Thagnak trekking (4,700m/15,369 feet), 4 hours
We cross Gokyo glacier and Dzomba glacier than descend down hill to get Thangnak. It's an alpine trail or a climbing route through the tricky landscape in high mountains. Hikers can spend often their spare time rambling and climbing preparation for Chola pass. Thagnak offers nice lodges with modern facilities.
09 Day
Cross Cho-La and descend down to Dzongla (4,800m/15,696 feet), 7 hours
The trek through Cho La Pass (5,330m) is a rather difficult route, requires some mountaineering experience and well equipped. We suggest to you to bring warm clothes and some extra foods during the offseason trekking. However, in a peak season, Dzongla guesthouses are open. Cross Renjo La and Chola Pass are listed under the everest two pass treks in the Himalaya. Likewise, the pass is not difficult but it is steep and involves a glacier crossing. There are no technical problems and there is a thin path in the rocks beside the icefall.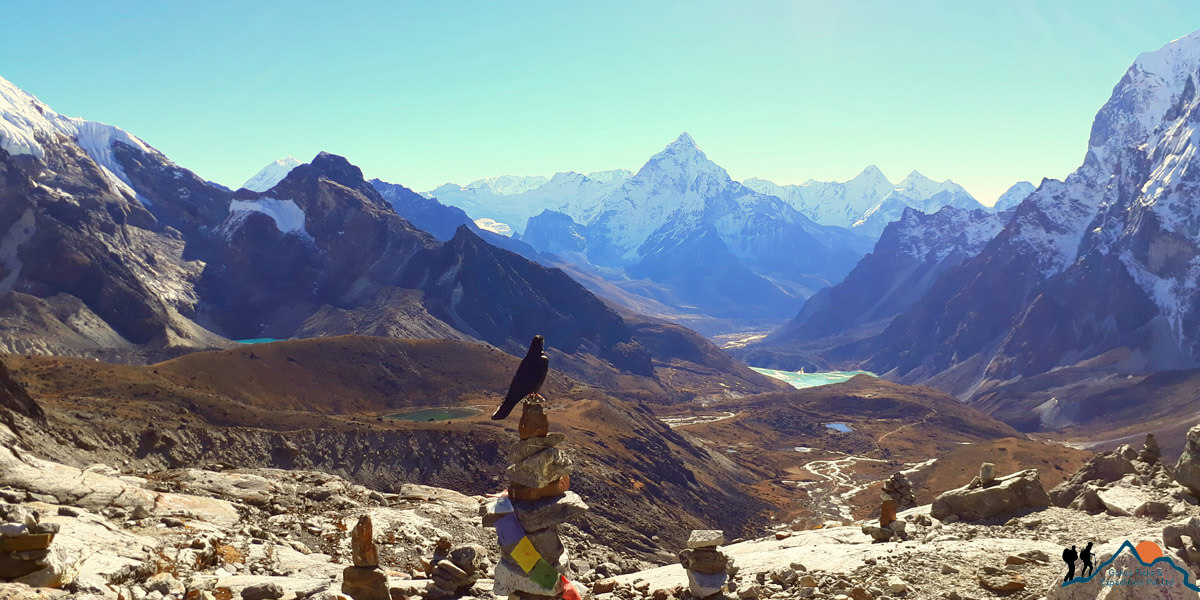 10 Day
Dzongla to Lobuche (4,930m/16,121 feet), 3 hours
Today is shortest day hiking comparing other days. We walk from Dzongla to Lobuche having a lot of relaxation and enjoying the beauty that surrounds us. We walk downhill from Dzongla and walk through the grassy trail while enjoying the view of Cholatse and Lobuche Peak including a pristine Cholatse lake. The moraine trek is curved through the wide riverbank before reaching Lobuche village. We can spend the rest of the day taking a rest which will help us prepare for the next day's long trek. Overnight in Lobuche at guest house.
11 Day
Gorakshep Trek (5,180m/16,938 feet), 7 hours
Visitor follow the grassy ablation valley with great views of Pumori then crosses tributary glaciers to reach the dry lake bed of Gorakshep. After lunch, climb the 5545m Kala Patthar for incredible view of Khumbu ice fall and Everest base camp. Return to Gorak shep for stay overnight.
12 Day
Cross over Khongma La (5,535m). Descend to Chhukung (4,700m/15,416 feet), 9 hours
Today, a long day hikes that we trek along the Khumbu glacier. Cross the adventure pass to reach Kongmala hilltop. Kongmala pass is located at an altitude in 17,445 feet above the sea level. It's an alpine ramble through the complicated terrain in high mountains. The pass offers amazing Himalayan scenery of complete Khumbu valley. Cross the Himalayan glacier and touch the Kongma la summit, and walk the next destination to Chhukung resort.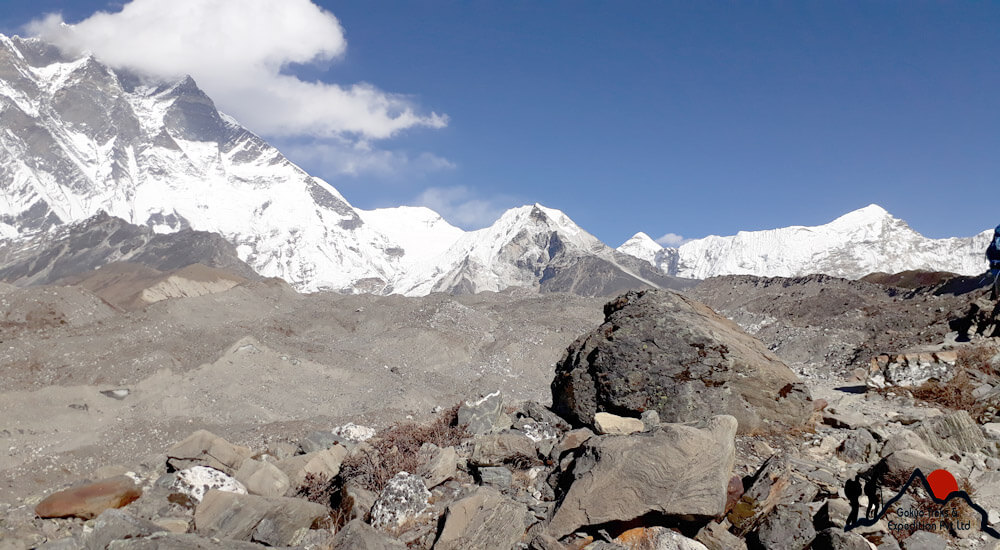 13 Day
Chhukung Ridge hiking (5,546m/18,191 feet), 4 hours
Today is acclimatization day, so go for Chukung ridge hiking. However, if you are willing to hike than Chhukung Ri will be an idle place. Chhukung Ri is a little peak located directly above the Chhukung village. The climb to Chhukung Ri involves some easy scrambling near the summit. As you are on a summit, you will have a fantastic view of Ama Dablam and Amphu Labsa peaks. We descend back to Chhukung to spend overnight.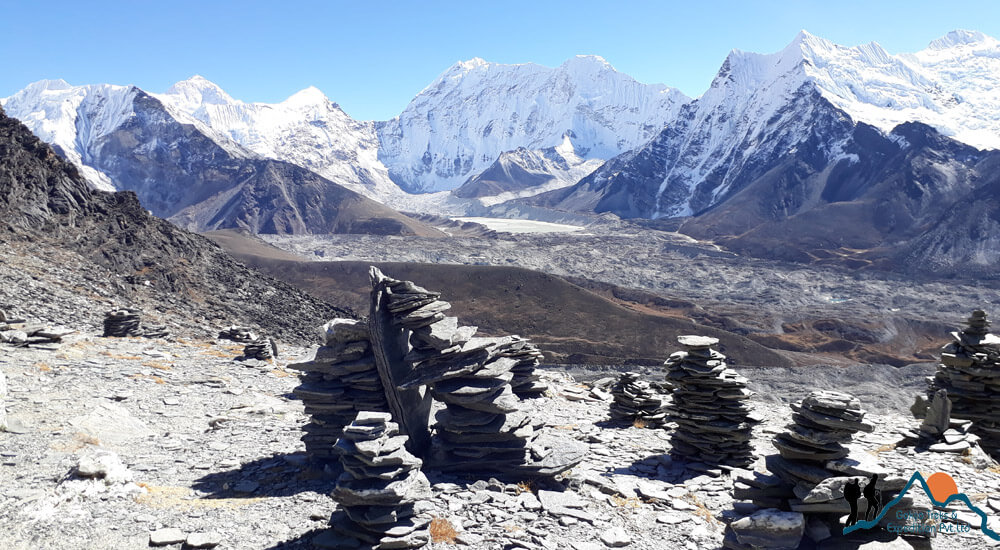 14 Day
Chhukung to Island Peak Base camp hiking (5,205m/17,020 feet), 3 hours
We arrange and recheck all climbing gears in Chhukung than we head towards Island Peak Base Camp which is on a fairly steep trail. During your walking today, you can walk over the Lhotse glacier and also connect the Amphulapcha pass hiking trail. The route to Amphu Lapcha located to the southeast. As you are in Island peak base camp guide will instruct about basic information about climbing for tomorrow early morning. Stay overnight in a Tent camp.
15 Day
Island Peak climbing to Summit (6,189m/20,238 feet). Descend to base camp, to Chhukung, 9/10 hours
A tough day that we need to wake up very early morning. You can have breakfast at around 1:30 and begin to climb. Have in mind that we need to get summit before noon because in the afternoon it's strong and windy. The trail moves up beyond the base camp for several hundred meters before striking off the steep hillside.
Furthermore climbing higher the slope of the landscape narrower. Following a ridgeline leads to an exhilarating and exposed traverse onto the snout of the summit glacier. The guides will fix a rope if it is required. A steep snow slope leads us onto the summit ridge. Both fixed rope and climbers rope will be used during the climb for safety. Use fixed rope after successfully climbing on rock. The length of the rope will usually be 350 meters.
However, the length of the rope is depended upon the season and crevasses. There are two newly formed crevasses which are approximately 3 and 4 meters long. Gokyo Treks and the expedition's expert guide will help you to cross to reach the summit. After enjoying the views, descend down to Island Peak Base Camp. Cleaning base camp we leave immediately and walk further to Chhukung. Evening, celebrating our successful Island Peak climb.
16 Day
Chhukung to Tengboche Monetary, 7 hours
From Chhukung we descend the valley of the Imja Khola, trek through the village of Dingboche with its stone-walled potatoes fields, down alpine pastures through the kharkas of Tsura, Orsho, and Shomare to the village of Pangboche, the highest year-round settlement in the valley. The Pangboche Gompa (monastery) is the oldest in the Khumbu and once used to boast the skull and hand of a Yeti.
17 Day
Namche Bazaar hikes (3,440m/12,249 feet), 6 hours
Finally, trek descends from Tengboche to Namche Bazaar passing several villages. Sanasa and Lagusasa are the most famous. You will catch the way descends from Gokyo valley. We trek furthermore twenty minutes to find a lodge for lunch and a short pause. After Lunch at Sanasa, we hike up to Khumjung village where one can visit traditional villages landscapes. You might also visit Hillary Hospital located in Khunde. And in the meantime, we follow the Monastery trail which offers Yeti Scalp. Finally, we come to Namche Bazaar in the late afternoon.
18 Day
Namche Bazaar to Lukla airport (2,860m/9,381 feet), 8 hours
We trek to Lukla with the same route like we use on our ascending. It is the last day of our trekking. Upon arrival at Lukla, check Buddha Lodge and take rest.
19 Day
Mountain flight from Lukla to Kathmandu. Trip finish.
We board our early flight from Lukla to Kathmandu. Upon arrival at Tribhuwan International Airport, our representative will pick you up to transfer to hotel. In the afternoon, go for shopping or request us to discover Kathmandu as a guided trip on additional cost.
Not satisfied with above plan?
Are you interested on planning custom trip? this might take 2 to 3 minute.
Cost
How much does Everest high pass Island Peak climbing trip cost?
The best Everest high pass Island Peak climbing cost we offer is US$ 2099 is a standard trek price on double occupancy basis. For the deluxe and luxury trekking tour plan, we add 3 stars category hotel deluxe air-conditioned room in Kathmandu (BB PLAN) and Tourist standard accommodation with attached bathroom while trekking on possible places. AND WE ARE OPEN TO CUSTOMIZING YOUR TOUR AND PACKAGE PRICE AS PER YOUR REQUIREMENTS. International tour leaders are highly encouraged to get discounts and attractive complimentary.
Everest high pass Island Peak climb Package Price includes
Kathmandu international airport picks up on your arrival in TIA with a private vehicles.
Single night Twin sharing Tourist standard hotel accommodation in Kathmandu with breakfast plan.
Domestic flight tickets Kathmandu – Lukla – Kathmandu round trip with applicable domestic airport taxes
18 Breakfast, 17 Lunch, 17 Dinner during the trekking days
Tent accommodation with climbing foods while on island peak climbing days [basecamp – island peak summit – basecamp].
Likewise, Guest House accommodation during the trekking days in the mountains.
Professional license holder Mountain Trekking Guide along teh trek routes.
An assistant guide will provide for 7 plus group tourist.
Required number of porters during the trek (1 porter = 2 guest basis) because our porter can carry maximum 24 kg of your bag pack.
Island peak climbing permits fees and Sagarmatha National Park entrance permit fees.
Khumbu Pasang lamu municipality entrance permit fees
All land transfer by Private vehicle according to programs.
First aid medical kit, Oxymeter to check heart rate, pulse, and oxygen saturation at higher altitude (with guide).
Group climbing equipment including ropes, ice screws…etc.
Duffel bag and Sleeping bag – if Necessary (return after the trekking).
In a worst case, help with all Helicopter Rescue and evacuation arrangements.
Well paid salary, food, accommodation and insurances of Nepalese staffs.
Updated high pass route in Everest + island peak climbing map 1 piece for each guest.
Nepal Government Tax, VAT and as well as Company service charge.
High pass trek + Island Peak climb Package Trip Excludes :
Nepal entry visa fees US$ 40.
Lunch and Dinner during the staying in Kathmandu city.
Any kinds of battery charges, laundry service, phone calls and hot shower during the trekking.
Trekker's personal trekking gears and Clothing.
Personal nature expenses, all drinks (except Island peak climbing periods) and bar bills.
Travel Insurance which covers emergency Rescue and Evacuation.
Any donation and monuments entrance fees.
Tips for the crew (Note : TIPS is not compulsory but highly expected)
Other things which are not mentioned above
Group join
We can organize private trek to Everest high pass with Island Peak climbing starting at any date that works for you. Please contact us for more information.
FAQ
Question: Is pick up service available on my arrival day in Kathmandu?
Answer: Yes sure. Provide us with your flight details and landing time at Kathmandu airport. Our representative will come to pick up you at Kathmandu international airport.
Question: Do I need experience with Everest high to pass Island Peak climbing?.
Answer: Everest high pass Island Peak climbing is suitable for experienced trekkers who can walk roughly about 5 or 6 hours in a day, with a lightweight day pack because as you are going to climb Island peak, you need to have experience in high altitude – somehow about 3000 meters above sea level.
Question: What kind of accommodation can I expect on Everest high pass Island Peak climbing?
Answer: We provide you tourist standard accommodation in Kathmandu and during the trekking normal but the rooms are clean cozy beds with a mattress and blankets. However we recommend you take your own sleeping bags if you have one with you otherwise, you may rent them while you are in Kathmandu.
Question: What kind of food can I expect in Everest high pass Island Peak climbing?
Answer: All the guest houses/lodges in the trekking they have attached restaurants. They cook a delicious range of vegetarian meals such as Pasta, tuna bakes, noodles, potatoes, eggs curry rice, bread, soups, and fresh vegetables (variety depends on the season)
The dinner and breakfast are provided in the same lodge you spend the night every day and Lunch will be provided on the way to the next place where you are going. However, on climbing days you will have climbing food and hot drinks.
Question: What opportunities will I have for a shower along with Everest high pass Island Peak climbing?
Answer: Guesthouse trekking all the lodges they have a shower which you can get it on pay.
Question: How do I get drinking water on Everest high pass Island Peak climbing?
Answer: During the trekking route there are all places hotels and shops where you can able to buy mineral water and you can buy it for drinking but however we advise against buying mineral water in plastic bottles, as currently there are no provisions for disposing of these. We recommend you bring aqua tablets to purify the normal water as the normal water is available at the campsite along the way.
Question: Can I charge my digital camera or other batteries on my trip?
Answer: During the guest house trekking there will be chances to charge the battery on pay. We recommend you bring an extra pair in case. Remember to bring your adapters! And we recommend you take extra batteries along with you.
Question: What should my insurance policy cover during Everest high pass Island Peak climbing?
Answer: Travel insurance is mandatory before joining any trips with us, and you need to get your travel insurance policy before joining your trips to Nepal. Your travel insurance must cover the helicopter rescue up to 6000m altitude. It comes in handy during medical emergencies and contingency situations. It is recommended to get it from your home country. In case you haven't bought travel insurance after arriving in Kathmandu; we can help you get one.
Question: How to prevent altitude sickness during Everest high pass Island Peak climbing?
Answer: You should never walk too quickly or too high ignoring your body symptoms. Proper altitude acclimatization is the best way to prevent high-altitude sickness. Listen to your body, trek gradually enjoying the best of culture and nature while giving enough time for your body to adapt to the changing atmosphere. Drink a lot of fluid & keep your body hydrated. If symptoms like a headache, difficulty in breathing, and others occur then descend to the lower altitude and take them to the hospital. If the condition worsened you will be airlifted to the hospital in Kathmandu.
Question: What will happen if my scheduled flight on Ktm-Lukla-Ktm route gets delayed or canceled?
Answer: Weather at Himalayas is uncertain which we cannot predict. Therefore, the rate of fight delay and cancellation is high at Lukla. If this happens then you will be boarded on the flight tomorrow and you have to spend an extra night at Lukla (if you are returning to Ktm) at Ktm (if you are going to Lukla). Helicopter rescue can also be used, which depends on the situation. So, we recommend you allocate a couple of extra days after your Everest trek so that you will not miss your international flight back.
Question: What are the alternates to fly from Kathmandu to Lukla?
Answer: The best-recommended way to go for any Everest trail is to board a Kathmandu-Lukla 33 minutes scenic mountain flight. Another available option is to drive from Kathmandu to Phaplu (12 hours drive) and trek for 2 days to reach Lukla. In the present day, there is also a regular jeep service from Kathmandu to Salleri.
Question: Are there any communication facilities on Everest high pass Island Peak climbing?
Answer: Everest high pass with Island Peak trek route you can get telephone services as well as internet services.
Question: Can I use credit cards in Trekking?
Answer: No. You need to have cash Nepali rupees because credit cards work only in the bigger cities or in luxury hotels.
Question: When should I book my trip and what are the payment terms?
Answer: Because our trips book up months in advance, we recommend booking early to avoid any kind of misunderstanding. We will, of course, make every effort to accommodate last-minute bookings.
And regarding the deposit, we prefer a 20% advance deposit of the total price of the trip in order to confirm your reservation before you arrive in Nepal. And the rest of the payment can be made after your arrival in Kathmandu.
Question: Who will carry my luggage on Everest high pass Island Peak Trek?
Answer: We provide porters to transfer your luggage. As we are a responsible trekking tour operator agency, every porter carry a maximum of 25 kilos of your backpack which means 2 guests (12.5 kg luggage of each guest): 1 porter basis.
Question: How much distance do I walk each day?
Answer: When walking/trekking in the mountains, the distance you cover each day can vary greatly due to gradient, terrain, and altitude. As such it is very hard to give specific distances on each day, however, you have to be prepared to walk roughly about 5 hours each day.
Question: Do I need walking poles for Everest high pass with ebc trek?
Answer: We suggest you hike with hiking poles. Learn how to use trekking poles for balance and stability, whether on the sidewalk or on trails. Walking poles can help prevent slips and falls. They are just recommended but not compulsory.
Question: Where can I organize my person climbing gears?
Answer: If you have those climbing gears at your home then bring them along with you. If you don't have them then you can rent them in Chhukung village. In Chuhkung's guest house, you can get all those gears for Island peak on rent.
Question: How much additional money do I need per day?
Answer: You can allocate US$ 08 – 10 for a lunch/dinner in Kathmandu and it depends on your spending habits. US$ 7 to 10 US$ each day will be enough to buy bottles of water, chocolates, tea coffee, and some drinks while you are on your hiking.
High Passes Trek Traveller's Review
Everest high passes with Island peak climbing was great
We were a group of four (my wife, our daughter and her boyfriend) and we started on October 20th from Kathmandu, flying into Lukla and trekking for 16 days up Everest base camp and Kalapattar. This was our third time of trekking in Nepal before we had been in Langtang/Gosainkund and in the Annapurna region up to ABC, and the Everest region is certainly the most spectacular one. But, obviously, it is also the most crowded one.
Ammar had been a perfect guide for us, extremely helpful in choosing the proper lodges, getting our food ready in time, and just making life as easy and entertaining as possible. Although he is young, he has a lot of experience in these regions, and, what is very helpful, a lot of friends among the locals. This can be useful: for example, the boss at the airport in Lukla is his friend.
You might have heard of problems arising in Lukla when the weather is bad for several days and the planes cannot fly. Then tourists are getting nervous because they might miss their international flights. And here Ammar´s friend would be very helpful and find you a place on a plane for flying out. Furthermore, Ammar´s rates are quite decent, much cheaper than when you book with one of the large trekking organizations.
Finally, he managed to choose three porters for us which were the best we had. They even came back several times, after they had reached the day's destination, to help us with our own bags. I had never experienced that with other porters we had so far. Don´t hesitate to ask further questions, I am happy to answer, and had a good time there. Best wishes, and namaste (as a training for Nepal )

Response from Gokyo Treks Nepal
Thank you so much and the great review
Memorable EBC 3 Pass Trekking 27 - 17 April 2018
I had been trekking with this company, more than 3 times, Gokyo Trek & Expedition, Ammar, thanks to give us the best guide forever, KAMAL.
He is a perfect guide who always takes care of us even though our ability trekking is so different, he can do his best for everybody, never leave us alone, especially on Khumbu Glacier before arriving at Lobuche. PERFECT!
He can manage us everything with a good mind and is very kind. We are happy with this trek even though we can across only 2 pass, Kongmala pass and Chola pass, and can not climb to Kala Pather in the early morning cause we are all sick from the bad weather.
But we may come back to trekking there again for Renjola pass and sure for Kala Pather as well. See you next time, Gokyo Trek & Expedition Pvt.

Response from Gokyo Treks Nepal
Thank you for the time to review your trip with us and hoping to serve you again.
Everest high pass Island Peak climbing highlights
Discover the best Himalayan view in 360 deg angle from Renjo la, Klapatthar & Kongma la.
Best view of Mt Everest, Lhotse, Nuptse, Amadablam, Cholatse, Cho oyu, Thamserku ..etc
Challenging Island peak offers the best scenery of all khumbu Himalayas.
Sherpa Buddhism, ancient monastery, Local sherpa and their life styles.
Everest high pass Island Peak climbing Notes
The high pass route climbing Island peak information is just a guide and standard template that we provide you, however, the trip can be customized at your request to accommodate your specific requirements. Local politics, landslides, cancellation of local flights, weather, transport, or a multitude of other factors that are beyond our control can result in a change of itinerary during the trip. It is, however, very unlikely that the itinerary would be substantially altered.
If alterations are necessary the leader will decide the best alternative option, taking into consideration the best interests of the whole group. When a change does occur, we do everything we can to minimize its effect, but we cannot be responsible for the results of changes or delays.
"What makes Everest high pass Island Peak climbing special?"
Opportunities for challenging trekking or hiking and pleasant strolls are scattered all over this planet. You just need to know where to find them. We at Gokyo Treks and Expedition believe in quality services. First safety and success satisfaction is our prime concern.
We are a team of professional, experienced, and licensed local guides who know the destination much better than others. Moreover, we give benefits to the local communities and help to conserve natural resources which reduced costs and consumption.
From US$ 2209
5% Off
US$ 2099
| | |
| --- | --- |
| No. of people | Price Per Person |
| 1 | USD 2499 |
| 2 | USD 2099 |
| 3 | USD 2075 |
| 4 - 6 | USD 2025 |
| 7 - 9 | USD 1975 |
| 10 + | USD 1899 |
Book Now
Customize Trip
Cost & Departures
Your Trip Your Style!
ITINERARY, COST, DEPARTURES, will adjusted according to your GROUP SIZE NEED TIME
Book with Confidence
Lowest Price Guaranteed.
100% Customizable Trips
Excellent Customer Service
Hassle Free Booking.
90 % Repeated customers
Highly Recommended agency
Private/group tour options
Local Guides Company.