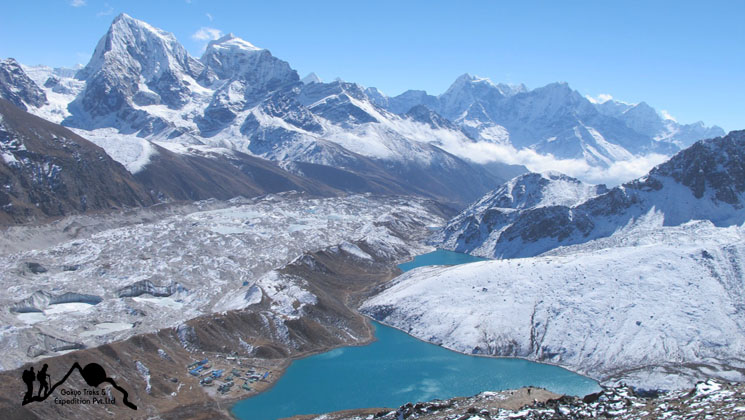 Gokyo Ri Trek Summary
Gokyo Trek Duration: 11 Days
Trek difficulty: Moderate Grade
Gokyo Ri Altitude: 5,357m/17,576 feet
Trekking Hour: 6 Hours daily
Trip Mode: Lodge Basis
Group-Size: 1 – 25 People
Best Time to Hike: March, April, May, October, November and December
Foods on Trekking: Breakfast, Lunch, and Dinner
Transportation: Car/Plane
Overview
The Gokyo ri trek is an adventure trek destination located in the Everest region. There are 19 lakes in its surroundings and all of them are formed by a freshwater system, collectively known as Gokyo Lakes. Mystical Gokyo lakes are situated on the foothill of the Ngozumpa glacier. The highest Gokyo ridge viewpoint is also called Gokyo peak and is located at an altitude of 5,357 meters.
There is a tiny Gokyo village on the foothills of Gokyo ridge along the eastern shore of Gokyo Cho Lake. Furthermore, It is a small settlement that serves tourists and normally closes in winter due to extreme cold, ice, and snowfall. The top elevation of Gokyo Trek 17,575 feet is the highest hilltop that has the proud height to look straight at Mount Everest.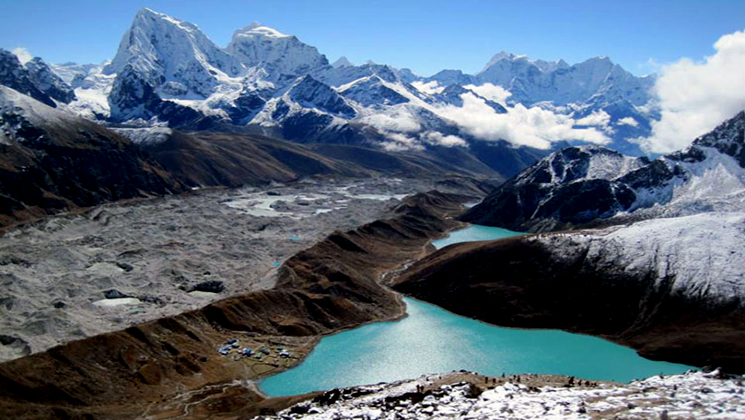 Tourists can view mount Everest from Gokyo Ri differently. Additionally, you can see the tallest mountains such as Mount Makalu, Mount Lhotse, and Mount Cho-Oyu including several other mountains in a single line. Gokyo Valley Trek route is impressive and traverses through the delightful valleys, crystal clear blue and green pristine lakes, world's biggest ice glacier called Ngozumpa glacier dominated by the nearest mountains of the Everest Himalayas range. Likewise, the Glacial Gokyo Lake trail route is a holy pilgrimage place for both Hindus and Buddhists.
An unique Gokyo trek is inhabited by a solitary Tibetan-Buddhist civilization of sherpas with antique establishments of centuries years old. Gokyo valley trek passes alongside a less traveled and tranquil route, over the 17,586 feet at Renjo La top, with stunning views of Everest, Lhotse, Ama Dablam, and Cho Oyu.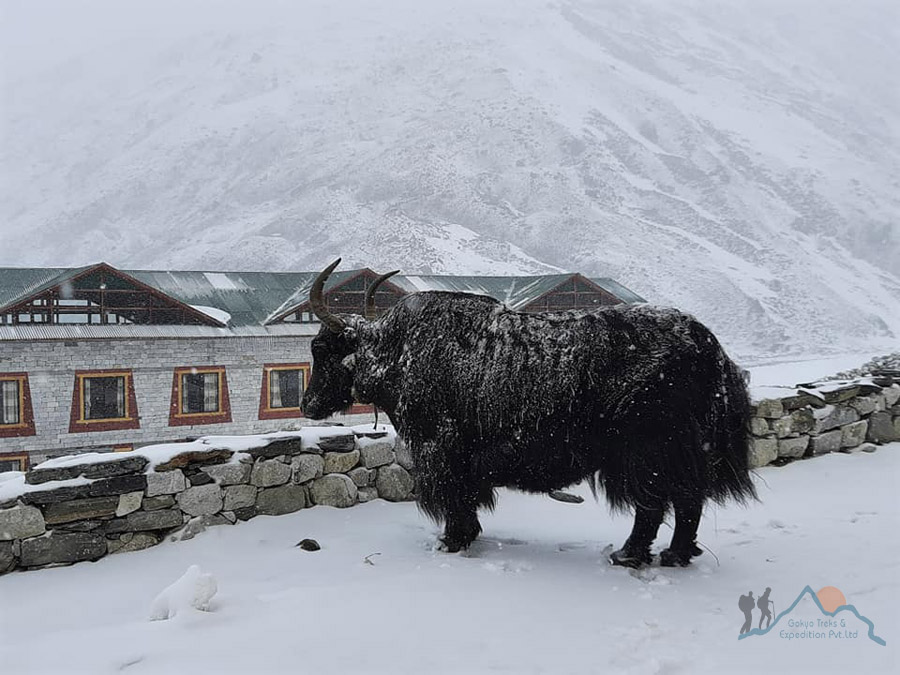 When to go Gokyo Ri Trek?
September, October, and November are called autumn months trekking in Nepal. During the trek in the Autumn season, As the skies are more clear, the mountains are revealed which offer stunning astounding perspectives. Likewise, the scenes are sublime and have less chance of flight cancellation trekkers to broaden their trip more comfortably.
Spring months are March, April, and May. During this season, there are the vast majority of travelers in Nepal and also for the Gokyo trail. Multiple colors of Rhododendrons are blooming en route which makes the journey more colorful. The weather stays almost perfect like a blue sky and the sun shining, therefore, tourists will have no confusion seeing the high mountains, glacial rivers, and valleys clearly.
In winter, the upper aspect of the excursion is completely secured with the snow stacks, and the traveling trail is obstructed in a couple of territories. Next, adventurers should experience below-zero climates which are more dangerous going higher.
In addition, Hiking in the monsoon months is also very popular in Nepal. Monsoon months are called June, July, and August and they are rainstorm summer season downpours that may influence the Everest Gokyo trip. The path gets muddy, floods, and landslides. Hence, traveling in the autumn and spring season, adventurers can travel in the Himalayas with more pleasant.
How much is the Gokyo Ri Trek Package Cost?
The cost of Gokyo Ri trek package with a Gokyo Treks local agency ranges between US$ 990 to US$ 1299. Obviously, gokyo trek package cost will modify as per the group size you are traveling to and the service you choose. Likewise, Gokyo Ri trek cost for Nepali local tourists is a little cheaper in terms of Lukla flights and hiking permits.
However, we basically arrange smaller group private trips in order to avoid group tours with strangers. A private gokyo tour gives you a better experience on your hikes. If you value personalization, flexibility, and in-depth experiences, a private trip customized to your personal needs will be the best option.
Hike the Gokyo Ri is the standard trip package price for 11 days trek. If you are 2 trekkers Gokyo ri trek cost US$ 1150 for 11 days trek. Hiking Gokyo valley in the off-season, we have cheap deals for national and international tourists also.
Group leader of 10 plus pax travel together will climb Gokyo ridge for free. We can modify the trek route and the Gokyo ri trek cost as per your wish. Here is the price list for the Gokyo Ri hike.
Price Per Person for 11 days hikes in the Gokyo Ridge Territory.
| Number of Tourist | Price Per Person |
| --- | --- |
| 1 Person | US$ 1299 |
| 2 Person | US$ 1150 |
| 3 Person | US$ 1150 |
| 4 to 6 person | US$ 1045 |
| 7 to 9 Person | US$ 1015 |
| 10 and more than 10 Person | US$ 990 |
Basically the price covers your trekking permits, transportation, food and accommodation, guide, porter, and so on. If you're wondering to know about what is included and what is excluded from this trip price, kindly check on the Gokyo Trek cost given on a tab button.
Itinerary
Gokyo RI trek 12 days itinerary detail.
Hiking gokyo ri 11 nights 12 days itinerary compared to most walks in this region leading up to the glacial lakes on the foothill of Gokyo ride. The distance of Mount Everest via Gokyo lakes trek route itineraries can vary slightly, however, the average total distance covered is 136 miles or 220 kilometers.
The particular route is designed for world travelers who wish to Gokyo ridge hike of the spectacular mountains with a restricted time-wise. Nepal visitor who wishes to reach the Gokyo Ri in a more relaxed manner can try this itinerary however if this plan doesn't suit you then send us an inquiry for a tailor-made itinerary.
01 Day
Arrival at Kathmandu valley
Upon arrival in Kathmandu, Tribhuwan International Airport, we will receive you in a private vehicle and move you to the hotel in Kathmandu. Our representative will brief Gokyo trek information and further travel plan.
02 Day
Early morning fly from Kathmandu to Lukla airport (2,860m/9,383 feet). Trek to Bengkar (2,698m/8,852 feet.), 4/5 hours
Take an early morning flight from Kathmandu to Lukla. The total distance from Kathmandu to Lukla/Kaori kharka road is 366.9 kilometers likewise, Kathmandu to Lukla flight distance is 138 km (straight line), and the flight takes 35 minutes.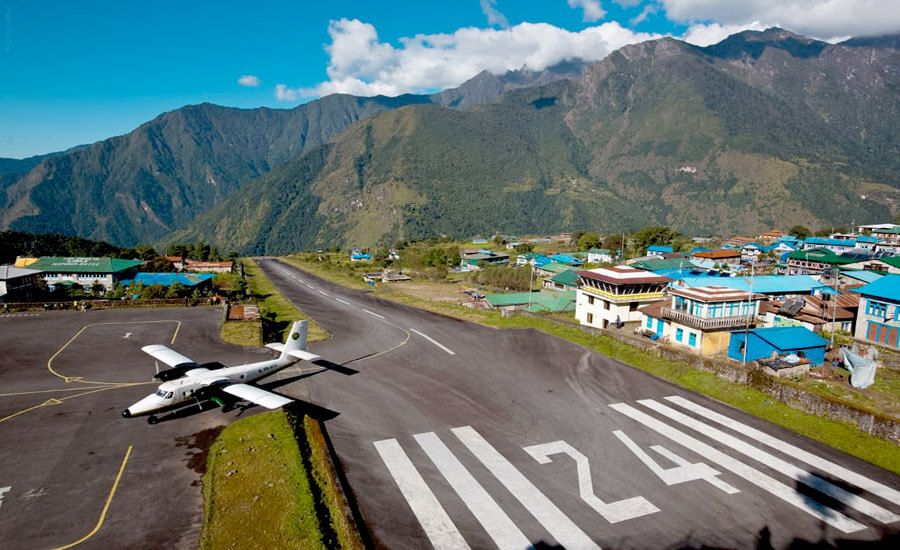 Upon arrival at Lukla, you can take breakfast in hotels until that time, the hiking crew will prepare your luggage for Lukla to Gokyo Ri trek and back. Set everything and start the journey to Phakding village. Phakding is a big settlement located at an altitude of 2,640 meters with around 50 lodges. We trek following a gentle climb up the mountainside on the left bank of the Dudh Koshi river. We pass several Sherpa villages such as Ghat, Phakding, Tok Tok, and Bengkar village.
03 Day
Trek to Namche Bazaar downtown (3,440m/11,286 feet.), 4/5 hours
We continue along the trail with many ups and downs; cross a stream, and pass by the tiny village Monjo. We come to the Sagarmatha National Park office where a park entrance fee is paid. We follow a short walk along the riverbed of this valley where the major river meets each other. Cross the Hillary bridge and walk a steep ascent to Namche Bazaar. On the way, we have excellent views of Everest (8,848m) and Lhotse (8,516m.). Surrounded on three sides by mountain ranges, Namche Bazaar – 3,440 meters is a central hub of the area for food, trekking gears , and other necessary goods.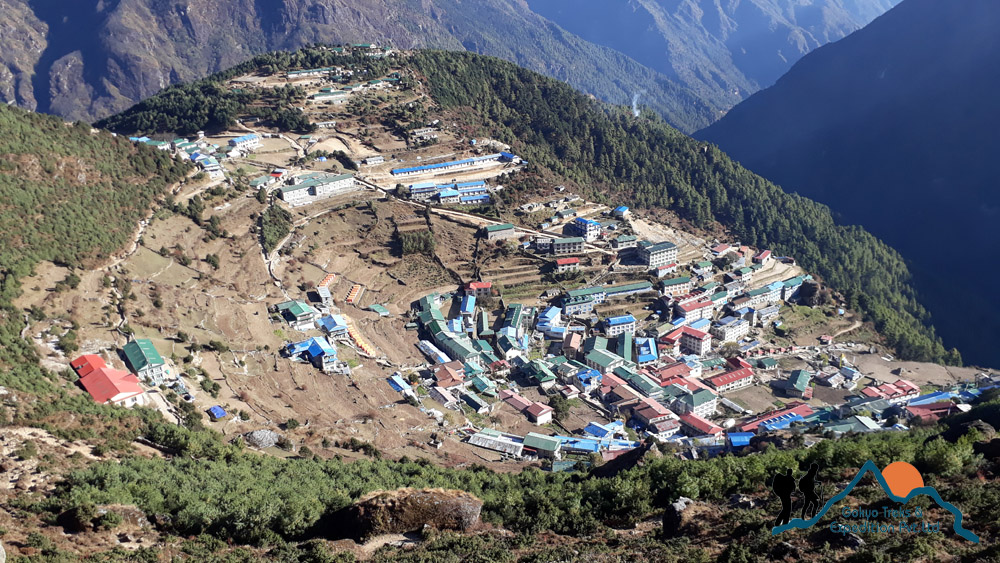 04 Day
Khumjung village trekking (3,789m/12,431 feet) via Sengboche hill, 3 hours
We start with a steep one-hour climb to the Tengboche airstrip (3,790m), from where we will slowly ascent towards Khunde passing numerous chorten (stone Buddhist monuments) and hill station. Hike the multiple hill station to have an excellent view of Mt. Everest, Ama Dablam, Thamserku, Nuptse, Lhotse, Tawche, Kwangde, and many other snow-capped mountains at 360 deg angles. We walk further to Khumjung village which is the largest village in Khumbu, at the foothill of the sacred peak of Khumbila. Visit Khumjung school or Edmund Hillary School which is supported by Sir Edmund Hillary's Himalayan Trust in 1961. We can also visit the Khumjung monastery if time permits. Khumjung is an old settlement of the Sherpa community. Mountain Sherpa at Khumjung is the first Everest summiteer in climbing history because they were born and grew up above 13,000 feet in the hidden Himalayas. have in mind that if you wish to 2 nights in Namche Bazaar then descend to Namche Bazaar to stay overnight.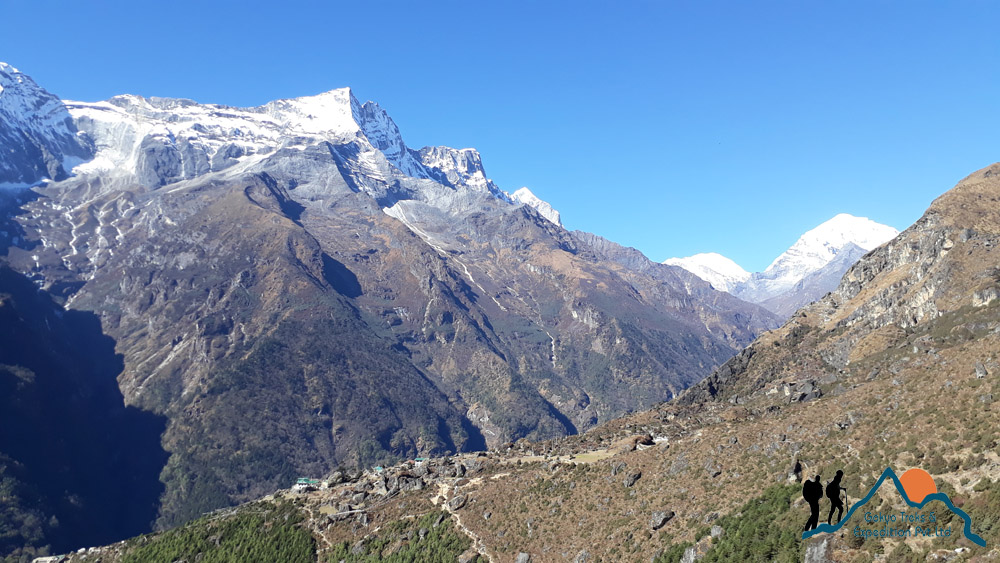 05 Day
Dole village trekking (4,040m/13,255 feet), 6/7 hours
We continue our Dole hikes with the same direction to basecamp until Sanasa trail ascends up to Mongla hill (4000m). Mong la hill offers a terrific view and stays 3 lodges. From here, you will see comprehensive views of various mountains and beautiful Shangrila. Walk downhill at Phortse Tenga for lunch. Furthermore, the trail rises steeply to Dole, through rhododendron and birch forests decorated with hanging mosses and lichens.
06 Day
Machhermo trek (4,150m/13,616 feet), 3/4 hours
After Dole, the trek leads steadily along the side of the valley, where the small and thorny bushes give way to scrub juniper as the altitude increases. The trail passes many summer settlements, which are used when yaks are taken to these pastures to graze in the summer months. Ahead of you are excellent views of Cho Oyu, while back down the valley are the peaks of Kantega and Thamserku.
07 Day
Machhermo to Gokyo lakes trek (4,750m/15,584 feet), 3/4 hours
The Gokyo trek leads over a very scenic path to Pangka and descend slightly. Continue to follow one of the melt-water Rivers which flow down the west side of the Ngozumpa Glacial moraine. Climb a steep rocky sloping into the Gokyo glacier valley and pass the first holy lakes. Cross the path and soon we arrive at the second glacial lake that heads across the glacier to Cho La (5,420m.). The third lake known as Dudh Pokhari will appear and on its eastern shore is the settlement of Gokyo resorts. Walk on the bank of the glacial Gokyo lakes, we reach our final destination Gokyo lodges. The whole Gokyo valley hiking represents a Gokyo trek in Everest territory.
08 Day
Gokyo 5th lakes Trek (glacier excursion day tour), 6/7 hours
Everest Gokyo is a trade center where the Sherpa people run lodges to provide the best services to guests. Gokyo 5th lake is situated with Ngozumpa glacier, the biggest glacier in Nepal. Today, we walk around the glacial lakes to the fifth lake. An optional trip will be to discover the 5th lake on your day trip but if you are only physically fit. Ngozumpa glacier excursion is not an easy-to-reach fifth lake although it is the best glacier hike in Nepal. Reaching out to the 5th lake is another most beautiful part of the journey like the iceberg lake glacier.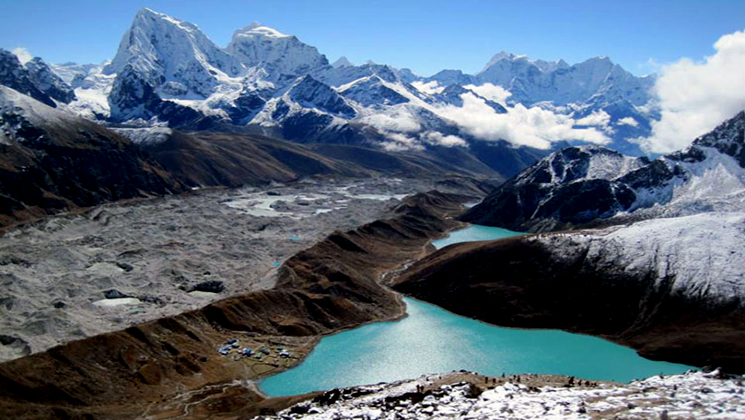 09 Day
Gokyo Ri Trek (5,483m/17,989 feet). Descend down at Lhabarma Lodge (4,330m/14,207 feet), 7/8 hours
Gokyo Ri hike looms above the village on the northern edge of the lake and we leave camp just after first light, following a steep path up the hillside. About 90% of hikers make their plan to reach the Gokyo ridge summit to achieve impressive sunlight over the mystical glacier lakes. Sightseers can get an almost outstanding sunrise view from Gokyo hill.
In addition, the Gokyo Ri summit offers the highest Cho Oyu mountains, Everest, Lhotse, Makalu ..etc. Likewise, the jaw-dropping view from Gokyo Ri additionally includes several other tallest peaks in a line.
The view of Mount Everest is much better from Gokyo ridge comparing Kala Patthar hill. After photography, we return to the Gokyo guesthouse for breakfast. Roughly we take Lunch at Machermo and we descend downhill to walk to Lhabarma to stay overnight or walk even further down to Dole to stay overnight. The journey after Machermo lodge to Dole is an easier grassy trail that takes tourists about two hours.
10 Day
Trek to Namche Bazaar. Further down to Joresalle/Monjo (2,835m/9,301 feet), 6/7 hours
Gokyo valley trail gently descends to Photse Tenga at 11,975 feet passing across rhododendron forests. The path immediately ascends to the Mongla hilltop (4,000m). Mong La is a great place to get a glimpse of the tallest Himalayas together with the Mount Everest range including Cho Oyu. The hill station is a trekker's paradise, so the climber can have a short break seeing the Everest view on the right and Gokyo valley on the left. Gently descends up to Kyanjoma (3,500m.) following small ups and down to Namche Bazaar, the backpackers' paradise.
Lunch at Name Bazaar and continue our footsteps walk downhill to Hillary Bridge over the Dudh Koshi river. Cross the river and walk along the riverbed to Joresalle. Joresalle offers nice lodges with comfortable bedrooms and super delicious foods. Stay at Joresalle or walk 20/30 minutes further to Monjo village. Monjo village is situated at an altitude of 2,835 meters has nice terraces and is a good place to view the entire valley.
11 Day
Namche Bazaar to Lukla airport (2,860m/9,383 feet), 5/6 hours
We trek to Lukla with the same trail as we use on ascend. It is the last day of our trekking journey of Gokyo valley. Upon arrival at Lukla airport hotel, you can take a rest or explore of its surrounding shops to buy or see souvenir.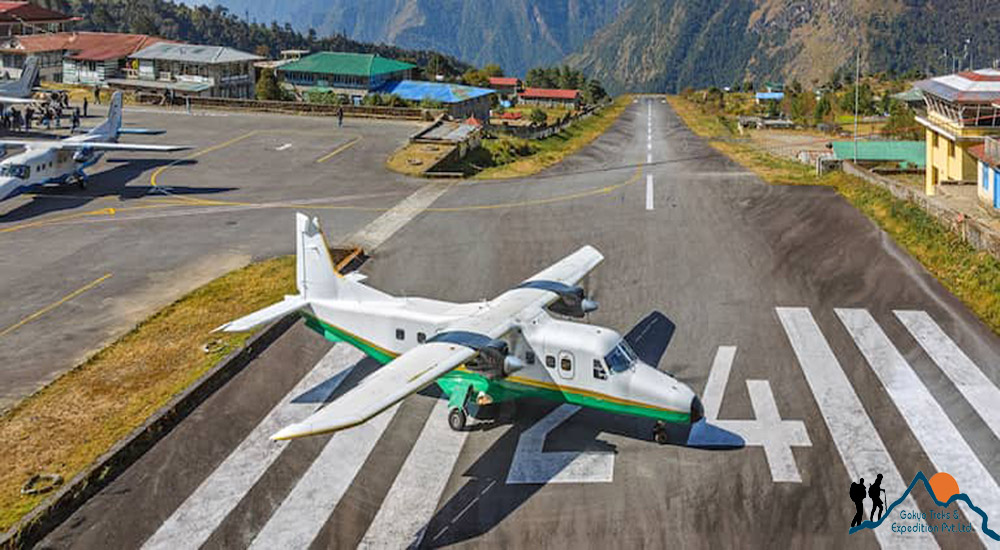 12 Day
Scenic mountain flight from Lukla to Kathmandu, 40 minutes.
We board our early flight from Lukla to Kathmandu. Upon arrival at Tribhuwan International Airport, our representative will help you to arrange a transfer to the hotel. In the afternoon, go shopping or request us to discover Kathmandu as a guided trip on an additional cost. Trip finish !
Not satisfied with above plan?
Are you interested on planning custom trip? this might take 2 to 3 minutes.
Cost
How much does the Gokyo Ri trek cost?
Hike at Everest Gokyo Ridge via Gokyo valley 12 days 11 nights package is available now to book. The Gokyo trek cost US$ 1150 per person and is a standard trek price on double occupancy basis.
For the deluxe and luxury trekking tour plan, we add 3 to 5-star category hotel deluxe air-conditioned rooms in Kathmandu. And comfort room (bed with attached toilet bathroom) while on trek routes in all places. WE ARE OPEN TO CUSTOMIZING YOUR TREK AND PACKAGE PRICE AS PER YOUR REQUIREMENTS. International tour leaders are highly encouraged to get discounts and attractive complimentary.
Nepal Gokyo ridge trek package price includes:-
Kathmandu international airport picks you up on your arrival in TIA by private vehicle.
Single night double bedroom accommodation in a tourist standard hotel in Thamel Kathmandu valley.
Kathmandu to Lukla and return to Kathmandu round trip airfare with applicable domestic airport tax.
11 Breakfast, 10 Lunch, and 10 Dinner during the Gokyo valley trek in the mountains.
Guest House accommodation (Not attached toilet bathroom) during the Gokyo trekking
License holder Professional Mountain Trekking Guide for Gokyo valley trek.
An assistant guide will provide for 7 plus group tourists.
Required number of porters during the trek (one porter = two guest basis) because our porter can carry a maximum of 24 kilos of tourist bag pack.
Well-paid salary, food, accommodation, and insurance of Nepalese Guide and porter.
Sagarmatha National Park entrance permit for Gokyo hike.
Khumbu Pasang Lamu municipality entrance permit fees
Duffel bag and Sleeping bag – if Necessary (return after the trek).
Trek completion certificate and Gokyo Ri trek map 1 piece, keep them for a souvenir.
Nepal Government Tax, VAT, and as well as Company service charge.
Gokyo ridge package trek price excludes:-
Nepal entry visa fee.
Lunch and Dinner during the staying in Kathmandu city.
Any kinds of battery charges, laundry service, phone calls, and hot showers on Gokyo valley trekking.
Personal trekking equipment and Clothing.
Kathmandu city tour guide, entrance fee, and a private car transfer if you wish to add on tour.
Private nature expenses, all types of drinks, deserts, and bar bills.
Travel Insurance to cover emergency Rescue and Evacuation in case of an emergency.
Any donation and monuments entrance fees.
Gratuities for guide and porters [Tip is a culture, so they expect highly].
Any other things which are not mentioned above
Group join
So, pack up your hiking gear, from your down jacket to your sleeping bag, and explore the vivid trekking circuits in Nepal. We can organize a private trek to Gokyo Ri trekking starting on any date that works for you. Basically, the Gokyo trek package always depends upon the trekking group size and the month you are traveling. Therefore, please contact us for more information and the lowest deal.
| Departure Date | Availbility | Price | Book |
| --- | --- | --- | --- |
| 20 Nov, 2022 – 01 Dec, 2022 | Avaiable | 1150 | |
| 05 Dec, 2022 – 16 Dec, 2022 | Avaiable | 1150 | |
| 20 Dec, 2022 – 31 Dec, 2022 | Avaiable | 1150 | |
| 20 Feb, 2023 – 04 Mar, 2023 | Avaiable | 1150 | |
| 10 Mar, 2023 – 21 Mar, 2023 | Avaiable | 1150 | |
| 10 Feb, 2023 – 21 Feb, 2023 | Avaiable | 1150 | |
| 20 Mar, 2023 – 31 Mar, 2023 | Avaiable | 1150 | |
| 25 Mar, 2023 – 05 Apr, 2023 | Avaiable | 1150 | |
| 05 Apr, 2023 – 16 Apr, 2023 | Avaiable | 1150 | |
| 10 Apr, 2023 – 21 Apr, 2023 | Avaiable | 1150 | |
| 20 Apr, 2023 – 01 May, 2023 | Avaiable | 1150 | |
| 25 Apr, 2023 – 06 May, 2023 | Avaiable | 1150 | |
| 10 May, 2023 – 21 May, 2023 | Avaiable | 1150 | |
| 20 May, 2023 – 31 May, 2023 | Avaiable | 1150 | |
| 10 Sept, 2023 – 21 Sept, 2023 | Avaiable | 1150 | |
| 20 Sept, 2023 – 01 Oct, 2023 | Avaiable | 1150 | |
| 05 Oct, 2022 – 16 Oct, 2022 | Avaiable | 1150 | |
| 10 Oct, 2022 – 21 Oct, 2022 | Avaiable | 1150 | |
| 20 Oct, 2022 – 31 Oct, 2022 | Avaiable | 1150 | |
| 25 Oct, 2022 – 05 Nov, 2022 | Avaiable | 1150 | |
| 05 Nov, 2023 – 16 Nov, 2023 | Avaiable | 1150 | |
| 10 Nov, 2023 – 21 Nov, 2023 | Avaiable | 1150 | |
Guaranteed – Trip is Guaranteed to run.
Available – Trip is available to run if minimum group size is filled
Limited – Only few space available
FAQ
Question: Do I need experience in Gokyo valley trekking?
Answer: It is suitable for keen trekkers/walkers who are able to walk around 4 or 5 hours in a day, with a lightweight day pack. For this trekking – yes, you need to have experience in high altitude – somehow about 3000 meters above sea level.
Question: Is pick up service available on my arrival day in Kathmandu?
Answer: Yes sure. Provide us with your flight details and request to pick you up from Kathmandu international AIRPORT. Our representative will pick up you from Kathmandu international airport to your hotel in Thamel.
Question: Can I store my luggage/stuff in Kathmandu?
Answer: Yes, you can leave your luggage at your hotel or at our office. Store your stuff in the Gokyo Treks agency office is for free.
Question: Is Gokyo valley trekking Safe for the Solo Female Trekkers?
Answer: Absolutely yes. Nepal is a safe country to travel to for solo travelers; this trek is perfectly safe for solo female trekkers. We have been organizing the trek even for solo women travelers since its establishment.
Question: What kind of accommodation can I expect on the Gokyo ridge lodge trek?
Answer: We provide you with the tourist standard accommodation in Kathmandu and during the trekking routes. The rooms along the routes are clean with a cozy bed with nice mattresses and blankets. However we recommend you take your own sleeping bags if you have one with you otherwise, you may rent them while you are in Kathmandu.
Question: What kind of food can I expect in the express Gokyo RI trek?
Answer: Along the trek routes have attached restaurants and they cook a delicious range of vegetarian meals such as Pasta, tuna bakes, noodles, potatoes, eggs, veg curry rice, bread, and soups. Likewise, Dinner and breakfast are provided in the same lodge you spend the night every day and Lunch will be served on the way to the next place where you hike.
Question: What opportunities will I have for a shower along the express Gokyo valley trek?.
Answer: Guest house trekking all the lodges they have a shower which you can get it on pay.
Question: How do I get drinking water on Gokyo Ri trekking?.
Answer: During the Gokyo valley trek route there are all places hotel and shops where you can able to buy mineral water and you can buy it for drinking but however we advise against buying mineral water in plastic bottles, as currently there are no provisions for disposing of these. Instead, we advise you to buy boiled water or bring aqua tablets to purify the normal water. The normal water is available at the campsite/along the way in the camping trekking.
Question: What should my insurance policy cover during the Gokyo trek?.
Answer: Travel insurance is mandatory before joining any trips with us, and you need to get your travel insurance policy before joining your trips to Nepal. Your travel insurance must cover the helicopter rescue up to 6000m altitude. It comes in handy during medical emergencies and contingency situations. It is recommended to get it from your home country. In case you haven't bought travel insurance after arriving in Kathmandu; we can help you get one.
Question: How to prevent altitude sickness during Gokyo valley lodge trekking?.
Answer: You should never walk too quickly or too high ignoring your body's symptoms. Proper altitude acclimatization is the best way to prevent altitude sickness . Listen to your body, trek gradually enjoying the best of culture and nature while giving sufficient time for your body to adapt to the changing atmosphere. Drink a lot of fluid & keep your body hydrated. If symptoms like a headache, difficulty in breathing, and others occur descend to a lower altitude and we take them to the hospital. If the condition worsened you will be airlifted to a hospital in Kathmandu.
Question: What will happen if my scheduled flight in the Ktm-Lukla-Ktm route gets delayed or canceled?.
Answer: Weather in the Himalayas is uncertain which we cannot predict. Therefore, the rate of fight delay and cancellation is high at Lukla. If this happens, you will board the early flight tomorrow and you have to spend an extra night at Lukla (if you are returning to Ktm) at Ktm (if you are going to Lukla). Rescue helicopter flights can also use, depending on the situation. So, we recommend you allocate a couple of extra days after your trek so that you will not miss the return international flight.
Question: Are there any alternates instead from Kathmandu to Lukla airport flight?.
Answer: The best-recommended way to go for any Everest trek is to board a Kathmandu-Lukla 33 minutes scenic mountain flight. Another available option is to drive from Kathmandu to Phaplu (12-hour's drive) and trek for 2 days to reach Lukla. In the present day, there is also a regular jeep service from Kathmandu to Salleri.
Question: Can I charge my digital camera or other batteries on my trip?.
Answer: During the Tea house trekking there will be more chances to charge the battery. We recommend you bring an extra pair in case. Remember to bring your adapters! And we recommend you take extra batteries along with you.
Question: Are there any communication facilities on rapid Gokyo treks?.
Answer: Everest Link is an internet service provider founded in 2014 that provides high-speed internet and Wi-Fi in the Everest Region. It is the only internet provider on the Gokyo Ri trail, making it the world's tallest internet service.
If you wish to stay connected with better WIFI then we suggest you buy Everest Link internet. It's better than other NETWORK connections and the Everest link card is possible to buy everywhere in the Everest area.
Question: Can I use credit cards in express Gokyo Ri trek?
Answer: No! So, for the Gokyo valley trekking routes, you should take cash Nepali rupees with you. But if you wish to stay in comfort hotels en route or shop either in Namche or in Lukla then take a credit card along with you.
Question: When should I book my trip and what are the payment terms?.
Answer: Because our trips book up months in advance, we recommend booking early to avoid any kind of misunderstanding. We will, of course, make every effort to accommodate last-minute bookings.
And regarding the deposit, we prefer a 20% advance deposit of the total price of the trip in order to confirm your reservation before you arrive in Nepal. And rest of the payment can be made after your arrival in Kathmandu.
Question: Who will carry my luggage on Gokyo treks?.
Answer: We provide porters to transfer your luggage. As we are a responsible trekking tour operator agency, every porter carry a maximum of 25 kilos of your backpack which means 2 guests (12 kilos luggage of each guest): 1 porter basis.
Question: How much distance do I need to hike every day?
Answer: When walking/trekking in the mountains, the distance you cover each day can vary greatly due to gradient, terrain, and altitude. As such it is very hard to give specific distances for each day, however, you have to be prepared to walk for roughly about 5 hours each day.
Question: Do I need walking poles for quick Gokyo treks?.
Answer: It is better to hike with walking poles. Learn how to use trekking poles for balance and stability, whether on the sidewalk or on trails. Walking poles can help prevent slips and falls. They are just recommended but not compulsory.
Question: By the way, is there any possibility just to rent a sherpa guide for the Gokyo trek?. or how to book a local sherpa guide?
Answer: Yes of course. If you are not happy to go with the complete full board package trip, still you can hire our expert guide to make your Gokyo lake trek safer. However, visit a guide and porter hire or email us for your detailed travel inquiry.
Question: How much additional money do I need per day?
Answer: You can allocate US$ 08 – 12 for lunch/dinner in Kathmandu. It depends on choosing a meal menu but the cost is depending upon your spending habits. US$ 7 to 10 US$ each day is enough to buy bottles of water, chocolates, tea coffee, and some drinks while you are on your trek.
Gokyo Ri trek difficulty
Gokyo ri trek difficulty level is a moderate hike that goes through some of the high passes, tough landscapes, and more extreme preliminaries in a couple of regions. Although the trek does not require technical climbing skills. As it is a long day hiking, you need to prepare roughly to walk for about 6 hours every day.
Traveling Gokyo ri trek solo is also possible but we recommend you travel within a group for a safe journey. Likewise, Gokyo lakes are often not frozen with turquoise waters and are a gateway to exploring the Everest base camp and Kala Pathar routes. But you should cross over the Chola pass which is not easy for everyone.
Tourists who have planned to Everest base camp after visiting Gokyo ridge, and the Gokyo lakes should cross over Chola Pass which is more tough trek activity. Only professional trekkers can cross Cho la to get to Everest base camp and Kala Patthar or vice versa.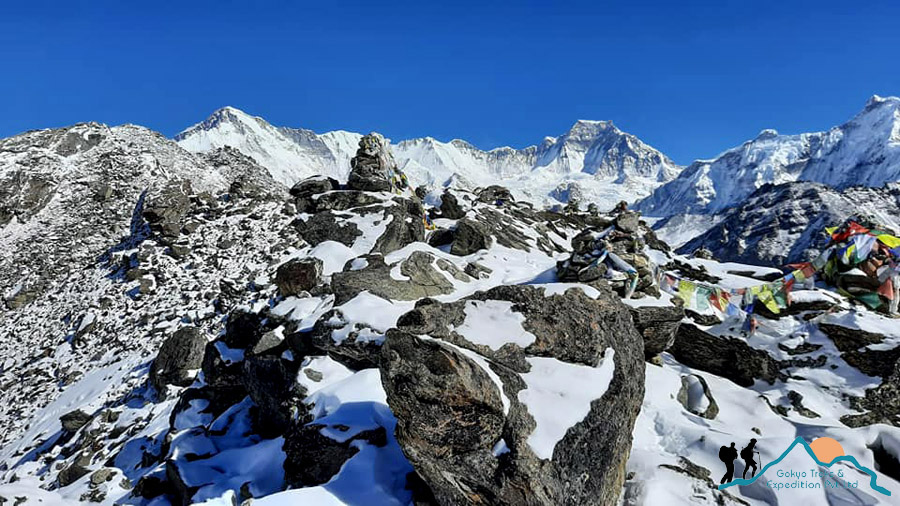 Lodge accommodation and food during the trip
All through the excursion, travelers can stay overnight in the local guesthouses with basic comforts such as rooms, restaurant services, a common toilet, wifi services, and charging stations. A room, generally has a couple of bedrooms, pillows, mattresses, and a blanket. Blankets sometimes are not clean.
Moreover, as the hiker gets into the higher rises, the accommodation becomes more normal and basic. We suggest you carry four seasons sleeping bag to be more secure in the coolest temperature.
As to food during the trip, guest houses have a set menu including Nepali, Sherpa, and western dinners. Dal Bhat, mo:mos (local dumplings), noodles, Tibetan bread, hotcakes, burger, and chips are normal food that Trekkers can get en route.
A wide range of beverages, drinks, snacks, and sweet items are available in the shops at the stops while on hikes. Have in mind that the cost of accommodation and food increments with the ascent rising.
The best Gokyo ri trek highlights and side trips
Although the Gokyo valley trek goes all the way up to Gokyo peak, there are several things to see located nearby the main trail. Some of them are very popular sight trips for tourists to go.
Lukla airport is popular as a Tenjin Hillary airport which is top thing to experience on your journey on a flight.
Namche Bazaar is a gateway to discover several things like to get a beautiful loop of Mountains, hotels, museums, and Nagpa La at 5,716m to Tibet.
Sengboche Hill at 13,000 feet altitude Everest view Hotel offers a top amazing view of the highest Mountains including Everest itself.
Khumjung village is 12,434 feet, making it one of the highest settlements in Nepal and in the world.
Discover the best Himalayan view at 360 deg angles from top viewpoints (Sengboche, Mongla, and Gokyo peak).
Journey across the impressive glacial lakes 4th lake and 5th lake.
The Ngozumpa glacier, below the sixth-highest mountain in the world Cho Oyu in Nepal, at 36 kilometers (22 miles), is the longest glacier in the Himalayas.
Stunning view of Mt Everest, Lhotse, Nuptse, Amadablam, Thamserku, and many other mountains
Sherpa Buddhism, tallest monastery, Local sherpa, and their lifestyles.
Mount Everest Base Camp vs Gokyo RI with Everest Trek
The journey along with the Gokyo Lakes Cho La Pass is tough and adventurous because of the thin air. Everest Base Camp vs Gokyo lakes significance is mostly about altitude variation and difficulty level. While both treks reach an elevation of 5,380 meters at the peak of Gokyo ridge, Everest Base Camp plus Gokyo Lakes is possibly more difficult in terms of crossing Chola pass. Not only is it slightly longer trekking over the high Himalayan rocky trail, but the Cho La pass, a glistening ice trail, is possible with tough challenges and adventure.
Gokyo trekking with the fifth lake offers a better view rather than just Gokyo ridge. Trek to Gokyo Valley route is possible to visit in all months throughout the year.
Why journey in Gokyo Ri and Gokyo Lakes? or How do you get to Gokyo Ri?
The journey at Gokyo Ridge is idle for all age tourists to visit black mountain hill station hikes in a less crowded route. The ultimate journey starts after landing in Lukla then 5 days of hikes to get to Gokyo Ri. Travelers walk on the nature of the Dudh Koshi river valley ascends to the Gokyo Lakes source. The lakes are equally spoken as a Gokyo Cho (Dudh Pokhari). Hikes along the Ngozumpa Glacier, the biggest icy mass in the Himalayas, visitors get an extraordinary feeling.
Appreciating the glimmering, primitive, and blue waters over the Gokyo Lakes, trekkers can capture 360-degree panoramic mountain views of mt. Lhotse, Everest, Makalu, and Cho Oyu. All of them are above 8,000 meters high mountains in a range. In addition, Tourists can enjoy the jaw-dropping view of mount Cholatse, Taboche, and a few other summits. Alongside the dawn and nightfall over monster tops, tourists see various vegetation during the excursion. Observing Sherpa Buddhism, way of life, celebrations, and method of living is another certifiable part of this excursion.
Day trip to 5th/6th Gokyo lakes versus the top of Renjo La Pass?
Around 60% of Everest visitors are doing the Everest Circuit anti-clockwise and intend to do Gokyo Ri after lunch on the day reaching Gokyo Lodges. No droughts and the extremely surprising views from Gokyo Ri are first-class. And it's a good choice to up in the afternoon because there will be fewer people and the sun is behind you. So the mountains are not outlined as they are in the morning. Cloud cover is more common at midday though, I hope it cooperates. It's likely that there are fewer trekkers up there in the afternoon too.
I personally can't compare the Gokyo Ri and Renjo La but others will. The views heading up the valley and from the five-six lakes are different – and still impressive, and shocking. Professional hikers can visit Cho Oyu base camp is even more worth it. The total distance from Gokyo resort to the Cho Oyu base camp trek is 39 kilometers (24 miles) and it takes some for campers. Hike from Gokyo to Cho Oyu base camp is a full camping trek basis and the cost is extra.
It's a full-day hike to the 5th or 6th lakes and back at Gokyo lodge, many adventure backpackers visit both. Hike a gradual uphill walk with a few short ascents, I would not say it's strenuous just long. You need to trail fit and acclimatized going to EBC first so I am sure it will not difficult. Visit the fifth and sixth lakes are totally quiet.
Around 2% of trekkers hike to 5th lakes to get a better experience. Additionally, special wayfarers can make a plan to go even far from Gokyo lake to Cho Oyu base camp hikes in a single day. Rare tourists make a plan to reach it although it is the best long-distance hike in the world. So it can be a respite from the crowds on the main trails especially if you are trekking in the busiest months (October, April). The routes to Gokyo Ri and up the valley are different and going to Gokyo ridge and six lakes in one day would be very long.
Nepal Gokyo ri trek notice for visitors!
Have in mind that tourists can visit Gokyo Ri and Gokyo glacial lakes even if they are traveling within a week's time. They can hike to Gokyo Lakes in 5/6 days and return from Gokyo lakes to Lukla airport by helicopter flight and catch a regular airplane to Kathmandu. This option is possible at all times on request.
Although, the information stated above Gokyo trek is just a guide and standard template. However, the trip can be customized at your request to accommodate your specific requirements. Local politics, landslides, cancellation of local flights, weather, transport, or a multitude of other factors that are beyond our control can result in a change of itinerary during on trip.
It is, however, very incredible that the itinerary would be extensively altered. If alterations are necessary the leader will decide the best alternative option, taking into consideration the best interests of the whole group. When a change does happen, we perform everything we can to minimize its effect, but we cannot be responsible for the results of changes or delays.
What makes Gokyo Ri trek special?
Opportunities for challenging similar trekking and pleasant hikes are scattered all over this planet. You just need to know where to find them. We at Gokyo Treks and Expedition believe in quality services. First safety and success satisfaction is our prime concern.
We are a team of professional, experienced, well-trained, and licensed local guides who know the destination better. Not only this but also we give benefits to the local society and help to conserve natural resources which reduced costs and consumption.
Gokyo Ri Trek Review
Great, relaxing trip with Gokyotreks
We had a super experience in Nepal as organised by Ammar. The communication was clear and easy, while the trip itself was quite flexible – we could decide from one day to the other what we want to do, including taking astrophotography, one of our primary goals there.
Our guide, Som, is an exceptionally friendly and knowledgeable person that made sure not only that our trip is absolutely stressing free, but also creating a very positive atmosphere through his personality. The porter chosen by the guide (Buddhi) was always on time, super friendly and with a huge smile on his face at all times.
We can only fully recommend using the services of Gokyotreks and also that you try to go off-season when the trails are nearly empty and you can more fully enjoy the trek.
Response from Gokyo Treks Nepal
Thank you Alex for your amazing feedback.
Our guide was exceptional
Gokyo Treks and Expeditions was exceptional. My friend and I went on a 14 day trek of Gokyo and EBC, and hired a guide through the company. Our guide Kamal made our trip incredible (request Kamal if you can, he's the best!). He was so warm, caring, and knowledgeable. We learned so much from him about the mountains, Nepali culture, etc. He went out of his way to take great care of us by making sure we got nicer rooms at lower rates. When my friend was having some altitude sickness symptoms, he knew exactly what to do and immediately took care of him. I don't think our trip would have been nearly as rewarding and stress-free if not for Kamal!
Because we were not part of a big tour group, we could be flexible with our itinerary. This allowed us to spend more time in some places and keep going in others.
The booking process was also very smooth thanks to the owner, Ammar. He could be easily reached by WhatsApp any time we had a question during the booking/planning process.
Gokyo Ri Trek Review
Wir waren zu zweit im Oktober mit dem Guide Raj und einem Träger unterwegs von Lukla bis zum Gokyo und wieder zurück.
Doch der Reihe nach: Via Internet haben wir bereits vor Monaten mit dem Geschäftsführer von Gokyo Treks & Expeditions, Ammar, Kontakt aufgenommen. Er hat uns schnell, präzise und immer geduldig Antworten gegeben, so dass wir gerne bereit waren, einen kleinen Teil der vereinbarten Summe als Anzahlung zu überweisen. Die Planung war professionell und geschah zu einem wirklich sehr fairen Preis.
Leider konnten wir nicht von Kathmandu aus nach Lukla fliegen, was aber außerhalb des Einflussbereichs von Gokyo Treks & Expeditions liegt, da nahezu alle Trekker mittlerweile zunächst per Kleinbus ins 140km entfernte Ramechap fahren müssen. Dies bedeutete, dass man etwa gegen 1 Uhr nachts aus KTM losfährt, um einen der ersten Flieger zu bekommen, um auf dem berüchtigten Flughafen von Lukla zu landen – eine echte Strapaze.
Unser Treffen mit unserem Guide geschah dann am Flugplatz und von dort an kümmerte sich Raj wirklich hervorragend um all unsere Belange. Da wir bereits zum zweiten Mal in Nepal waren, kann ich wirklich fundiert behaupten, dass dieser Guide (zusammen mit seinem Porter) wirklich alles in seiner Macht stehende getan hat, damit wir ein einmaliges Trekking-Erlebnis hatten. Auf unserer ig. 10tägigen Tour war Raj stehts an unserer Seite und hat sich über das normale Maß hinaus sehr um uns und unsere Belange gekümmert. Dafür 5 Sterne!
Der Trek war insgesamt sehr anstrengend, die Ausblicke toll und die Lodges sind wirklich sehr sehr einfach. Wichtig ist es, dass man unbedingt warme und regenabweisende Kleidung mit sich trägt; ein paar Feuchttücher müssen gelegentlich die fehlenden Waschmöglichkeiten ersetzen. Beim Essen empfiehlt es sich, auf rohe und ungekochte Dinge zu verzichten. Wasser gibt es überall zu kaufen. Europäer fühlen sich evtl. sicherer, wenn sie ihr Bett vor der Benutzung desinfizieren. Wenn man das alles weiß und sich darauf einlässt, kann man wirklich wundervolle Trekking-Tage erleben. Ach ja: bei der Höhe bitte langsam akklimatisieren (am besten nicht mehr als 500m pro Tag) und ggf. ein Mittel gegen Höhenkrankheit z.B. Diamox mitnehmen. Und überhaupt empfiehlt es sich, eine kleine Auswahl an Medikamenten mit sich zu führen, damit der Trek ein Erfolg wird. Übrigens gehen geschätzt 90% zum EBC, von daher ist der Gokyo-Trek eine echt empfehlenswerte Alternative. Den Hinweg haben wir in ca. 5-6 Tagen erwandert, den Rückweg haben wir in 3 Tagen bewältigt.
Insgesamt bleibt zu konstatieren, dass Gokyo Treks & Expeditions eine wirklich toll geführte Company ist, die zu einem günstigen Preis tolle Gegenleistung bringt. Ammar hilft geduldig, wo und wie er kann, bleibt auch während des Treks immer per WhatsApp in Verbindung und ist auch bereit, spontane Bedürfnisse nach Hoteländerung usw. zu erfüllen ohne sich daran auch nur im geringsten zu bereichern. Im Gegenteil: Ammar setzt sich für die Bildung seiner Landsleute ein – ein wirklich vorbildliche Firma, der man nur weiterhin alles Gute wünschen kann!
Für uns steht also fest: falls wir jemals wieder eine Tour in Nepal machen sollten:
Gokyo Treks & Expeditions ist hier die allererste Adresse!

Response from Gokyo Treks Nepal
Thank you so much for the great feedback.
Wonderful experience!
Three of us friends used Gokyo Treks for our trip to Nepal. Our guide, Kamal, was absolutely fantastic. We did the Gokyo lake and gokyo ri trek and he ensured our needs were met 24/7. He was patient when we were tired, and motivating when we needed an extra boost of energy. I highly recommend this company, especially Kamal khatri, for your Nepal adventure!
Response from Gokyo Treks Nepal
Dear Guest Wasserman B, California, USA
Greetings from Gokyo Treks & Expedition Pvt Ltd, Nepal. Thanks a lot for your excellent review about Gokyo lakes and Gokyo ri trek 5,380 meters above the sea level in Nepal with our guide Kamal kc and porters. So, we are very much pleased that you are highly satisfied and writing us an excellent experience exploring Nepal. Be in touch as we are looking forward to serve you again for your other holidays in Nepal Himalayas!
With best regards,
Ammar Raj Guni
From US$ 1210
5% Off
US$ 1150
| | |
| --- | --- |
| No. of people | Price Per Person |
| 1 | USD 1299 |
| 2 | USD 1150 |
| 3 | USD 1150 |
| 4 - 6 | USD 1045 |
| 7 - 9 | USD 1015 |
| 10 + | USD 990 |
Book Now
Customize Trip
Cost & Departures
Your Trip Your Style!
ITINERARY, COST, DEPARTURES, will adjusted according to your GROUP SIZE NEED TIME
Book with Confidence
Lowest Price Guaranteed.
100% Customizable Trips
Excellent Customer Service
Hassle Free Booking.
90 % Repeated customers
Highly Recommended agency
Private/group tour options
Local Guides Company.