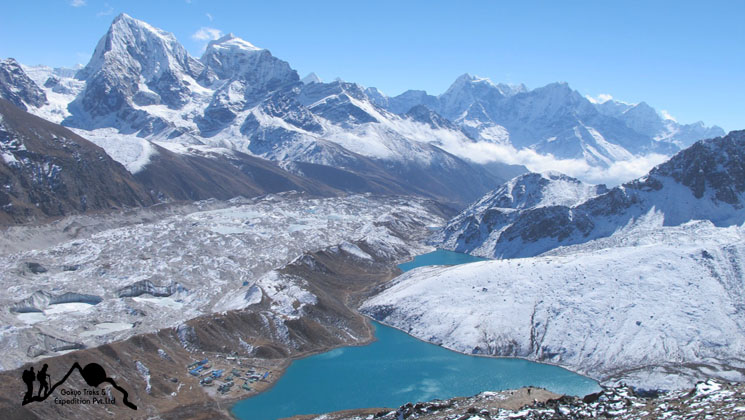 Gokyo Ri Trip Summary
Gokyo Trek Duration: 11 Days
Gokyo Ri Trek difficulty: Moderate Grade
Gokyo Ri Altitude: 5,357m/17,575 feet
Trekking Hour: 6 Hours daily
Trip Mode: Lodge Basis
Group-Size: 2 – 25 People
Best Time to Hike: March, April, May, October, November and December
Foods on Trekking: Breakfast, Lunch, and Dinner
Transportation: Car/Plane
Overview
The Gokyo ri trek is an adventure trek destination located in the Everest region. There are 19 lakes of it's surrounding and all of them are formed with a freshwater system, collectively known as Gokyo lakes. Mystical Gokyo lakes are situated on the foothill of the Ngozumpa glacier. The highest Gokyo ridge view point is also called gokyo peak and is located at an altitude of 5,357 meters.
There is a tiny gokyo village on the foothills of gokyo ridge along the eastern shore of Gokyo Cho Lake. Furthermore, It is a small settlement that serves tourists which normally closes in winter due to extreme cold and snowfall. Top Gokyo Trek is the highest hilltop at 17,575 feet that have the proud height to look straight at Mount Everest.
Can you see Everest from Gokyo Ri? Yes of course. Not only this but also you can see the tallest mountains such as Mount Makalu, Mount Lhotse, and Mount Cho-Oyu including several other snow-capped mountains in a single line.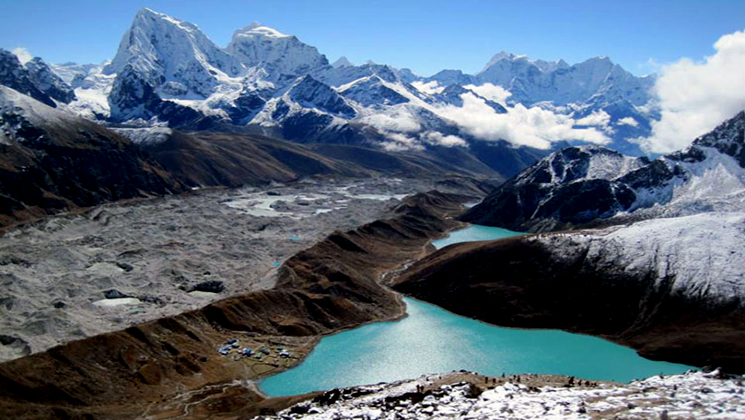 Impressive Gokyo Valley Trek route is traversing through delightful valleys, crystal clear blue and green pristine lakes, world's biggest ice glacier called Ngozumpa glacier dominated by the nearest mountains of Everest Himalaya range. The Glacial Gokyo Lakes in Gokyo trek is a holy pilgrimage place for both Hindu and Buddhists.
Majestic Gokyo trek is inhabited by solitary Tibetan-Buddhist civilization of sherpas with antique establishments of centuries years old. Gokyo Treks Nepal to Gokyo passes along a less traveled and tranquil route, over the 17,586 feet at Renjo La top, with stunning views of Everest, Lhotse, Ama Dablam, and Cho Oyu.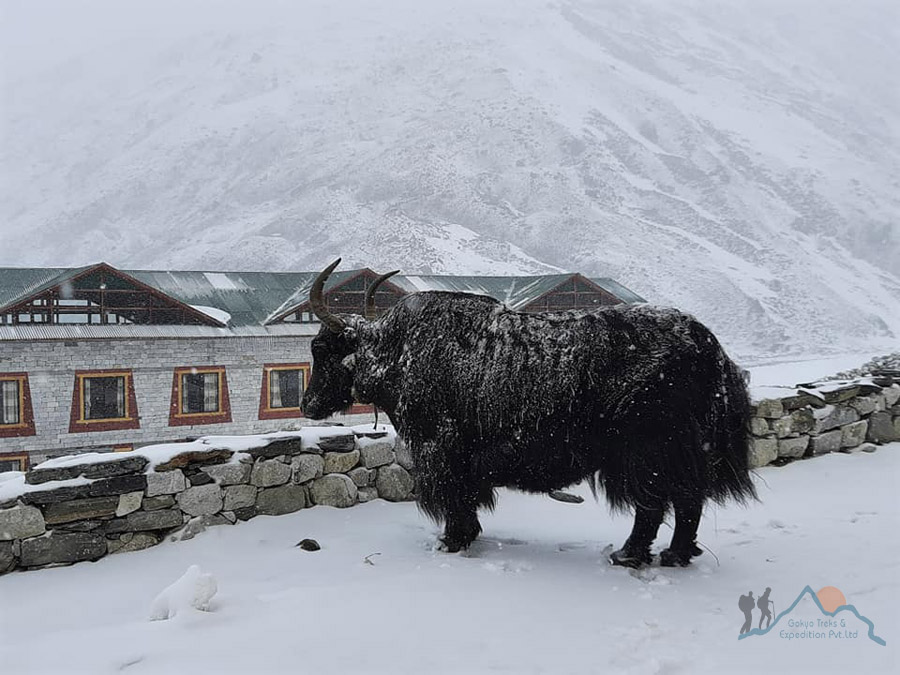 Why journey in Gokyo Ri and Gokyo Lakes? or How do you get to Gokyo Ri?
The journey at Gokyo Ridge is idle for all age tourists to visit black mountain hill station hikes in a less crowded route. The ultimate journey starts after landing in Lukla then 5 days of hikes to get to Gokyo Ri. Travelers walk on the nature of the Dudh Koshi river valley ascends to the Gokyo Lakes source. The lakes are equally spoken as a Gokyo Cho (Dudh Pokhari). Hikes along the Ngozumpa Glacier, the biggest icy mass in the Himalayas, visitors get an extraordinary feeling.
Appreciating the glimmering, primitive, and blue waters over the Gokyo Lakes, trekkers can capture 360-degree panoramic mountain views of mt. Lhotse, Everest, Makalu, and Cho Oyu. All of them are above 8,000 meters high mountains in a range. In addition, Tourists can enjoy the jaw-dropping view of mount Cholatse, Taboche, a few other summits. Alongside the dawn and nightfall over monster tops, tourists see various vegetation in the excursion. Observing the Sherpa Buddhism, way of life, celebrations and the method of living is another certifiable part of this excursion.
When to go Gokyo Ri Trek?
Gokyo lakes journey is a moderate level hike that goes some of the high passes, tough landscapes, and more extreme preliminaries in a couple of regions. Autumn (September – November) and spring (March-May) welcome the vast majority of travelers in Nepal thus does Gokyo.
In winter, the upper aspect of the excursion is completely secured with the snow stacks, and the traveling trail is obstructed in a couple of territories. Next, adventurers should experience below zero climates which is more dangerous going higher. In the storm–summer season (June-August) downpour may influence the Everest Gokyo trip. The path gets muddy, floods, and landslides.
Hence, traveling in autumn and spring, adventurers can travel in a more mollified way. As the skies are more clear, the mountains are revealed which offer stunning astounding perspectives. Likewise, the scenes are sublime and have less chance of flight cancelation trekkers to broaden their trip more comfortably.
Gokyo Ri trek difficulty
The Gokyo ri trek difficulty is moderate, you can find the details within gokyo ridge trek map as described here. Although the trek does not require technical climbing skills. As it is a long day hiking, you need to prepare roughly to walk about 6 hours every day. Traveling gokyo ri trek solo is also possible but we recommend you travel within a group for a safe journey.
Do many trekkers ask how to get to gokyo lakes? You can explore Everest gokyo lake trekking is either flying into Lukla airport or an express drive from Kathmandu to Phaplu Bazaar. The Gokyo RI Sagarmatha national park is located above Monju village.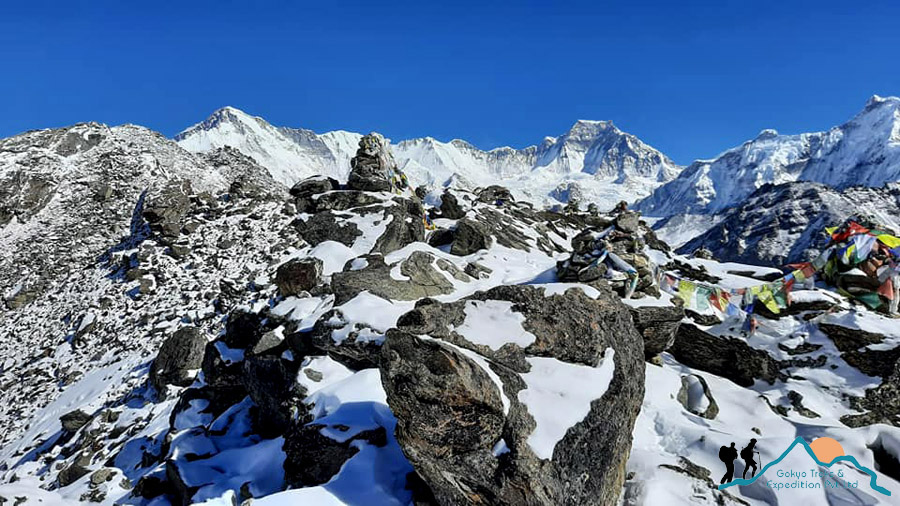 Day trip to 5th/6th Gokyo lakes versus the top of Renjo La Pass?
Around 60% of Everest visitors are doing the Everest Circuit anti-clockwise and intend to do Gokyo Ri after lunch on the day reaching Gokyo Lodges. No droughts that the extremely surprising views from Gokyo Ri are first-class. And it's a good choice to up in the afternoon because there will be fewer people and the sun is behind you. So the mountains are not outlined as they are in the morning. Cloud cover is more common in the midday though, I hope it cooperates. It's likely that there are fewer trekkers up there in the afternoon too.
I personally can't compare the Gokyo Ri and Renjo La but others will. The views heading up the valley and from the five-six lakes are different – and still impressive, and shocking. Professional hikers can visit Cho Oyu base camp is even more worth it. The total distance from Gokyo resort to Cho Oyu base camp trek is 39-kilo meters (24 miles) and it takes some for campers. Hike from gokyo to Cho oyu base camp is a full camping trek basis and the cost is extra.
It's a full day hike to 5th or 6th lakes and back at gokyo lodge, many adventure backpackers visit both. Hike gradual uphill walk with a few short ascents, I would not say it's strenuous just long. You need to trail fit and acclimatized going to EBC first so I am sure it will not difficult. Visit at fifth and sixth lakes are totally quiet.
Around 2% of trekkers hike to 5th lakes to get a better experience. Additionally, special wayfarers can make a plan to go even far from gokyo lake to cho oyu base camp hikes in a single day. Rare tourists make a plan to reach although it is the best long-distance hikes in the world. So it can be a respite from the crowds on the main trails especially if you are trekking in the busiest months (October, April). The routes to Gokyo Ri and up the valley are different and going to Gokyo ridge and six lakes in one day would be very long.
Lodge accommodation and food during the trip
All through the excursion, travelers can stay overnight in the local guesthouses with basic comforts as rooms, restaurant services, common toilet, wifi services, and charging stations. A room, generally has a couple of bedrooms, pillows, mattresses, and a blanket. Blankets sometimes are not clean.
Moreover, as the hiker gets in the higher rises, the accommodation becomes more normal and basic. We suggest you carry four seasons sleeping bag to be more secure in the coolest temperature.
As to food during the trip, teahouses have a set menu including Nepali, Sherpa, and western dinners. Dal Bhat, mo:mos (local dumplings), noodles, Tibetan bread, hotcakes, burger, and chips are normal food that Trekkers can get en route.
A wide range of beverages, drinks, snacks, sweet items are available in the shops at the stops while on hikes. Have in mind that the cost of accommodation and food increments with the ascent of rising.
How much does for Gokyo Ri Trek Package Cost/Price?
The cost of Gokyo Ri trek package with a Gokyo Trek Agency (a local agency in Kathmandu Nepal) ranges between US$ 999 to 1498. Obviously, gokyo trek package cost will modify according to the group size you are traveling with. Likewise, gokyo ri trek cost for Nepali local tourists is just a little different in terms of Lukla flights and hiking permits.
However, we basically arrange private trips in order to avoid group tours with strangers. A private gokyo tour gives you a better experience on your hikes. If you value personalization, flexibility, and in-depth experiences, a private trip customized to your personal needs will be the best option.
Hike the Gokyo ri is the standard trip package price for 11 days trek. If you are 2 people and want to hike gokyo ri privately? costs US$ 1198 for 11 days trek according to the given trek plan. Hiking Gokyo valley in the off-season, we have cheap deals for national and international tourists also.
Group leader of 10 plus pax travel together will climb Gokyo ridge for free. We can modify the trek route and the gokyo ri trek cost according to your wish. Here is the price list for Gokyo Ri hike.
Price Per Person for 11 days hikes in the Gokyo Ridge Teritorry.
| Number of Tourist | Price Per Person |
| --- | --- |
| 1 Person | US$ 1498 |
| 2 Person | US$ 1198 |
| 3 Person | US$ 1170 |
| 4 to 6 person | US$ 1050 |
| 7 to 9 Person | US$ 1025 |
| 10 and more than 10 Person | US$ 999 |
Besically the price covers for your trekking permits, transportation, food and accommodation, guide, porter, and so on. If you're wondering to know about what is included and what is excluded on this trip price, kindly check on Gokyo Trek cost given on a tab button.
Itinerary
Gokyo RI trek 12 days itinerary detail.
Hiking gokyo ri 11 nights 12 days itinerary compared to most walks in this region leading up to the glacial lakes on the foothill of Gokyo ride. The distance of Mount Everest via gokyo lakes trek route itineraries can vary slightly, however, the average total distance covered is 136 miles or 220 kilometers.
The particular route is designed for world travelers who wish to gokyo ridge hike of the spectacular mountains with a restricted time-wise. Nepal visitor who wishes to reach the Gokyo Ri in a more relaxed manner can try this itinerary however if this plan doesn't suit you then send us an inquiry for a tailor-made itinerary.
01 Day
Arrival at Kathmandu valley
Upon arrival in Kathmandu, Tribhuwan International Airport, we will receive you with private vehicle and move to hotel in Kathmandu with breakfast plan. Our representative will brief gokyo trek information and further travel plan.
02 Day
Early morning fly from Kathmandu to Lukla airport (2,860m/9,381 feet). Trek to Bengkar (2,698m/8,822 feet.), 5 hours
Take an early morning flight from Kathmandu to Lukla. The total distance of Kathmandu to Lukla/Kaori kharka road is 366.9 Kilometer likewise, Kathmandu to Lukla flight distance is 138 km (straight line), and the flight takes 35 minutes.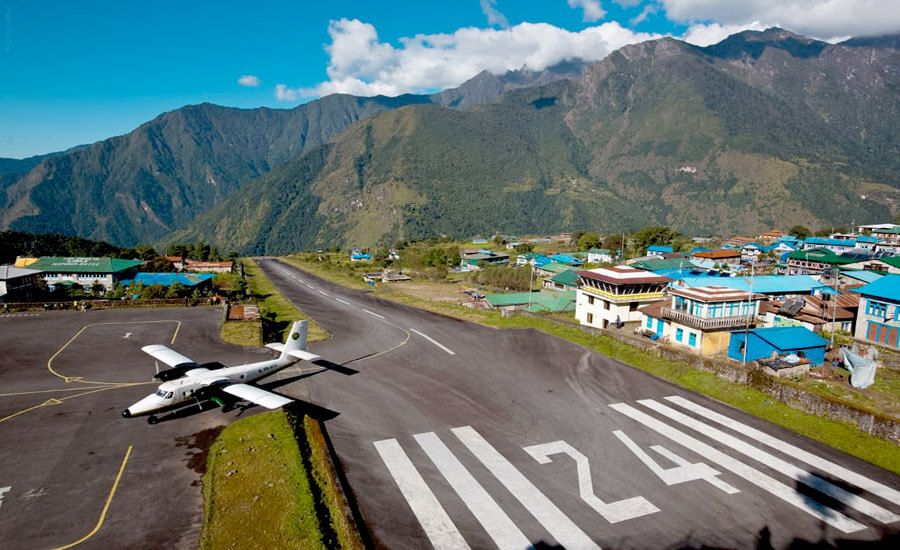 Upon arrival at Lukla, you can take breakfast in hotels until that time, hiking crew will prepare your luggage for Lukla to Gokyo Ri trek and back. Set everything and start the journey to Phakding village. Phakding is a big settlement located at an altitude of 2,640 meters with around 50 lodges. We trek following a gentle climb up the mountainside on the left bank at Dudh Koshi river. We pass several Sherpa villages such as Ghat, Phakding, Tok Tok and Bengkar village.
03 Day
Trek to Namche Bazaar downtown (3,440m/11,249 feet.), 6 hours
We continue along the trail with many ups and downs; cross a stream, and pass by the tiny village Monjo. We come to the Sagarmatha National Park office where a park entrance fee is to pay. We follow a short walk along the riverbed of this valley where the major river meets each other. Cross the Hillary bridge and walk a steep ascent to Namche Bazaar. On the way, we have excellent views of Everest (8,848m) and Lhotse (8,516m.). Surrounded on three sides by mountain ranges, Namche Bazaar – 3,440 meters is a central hub of the area for food, trekking gears , and other necessary goods.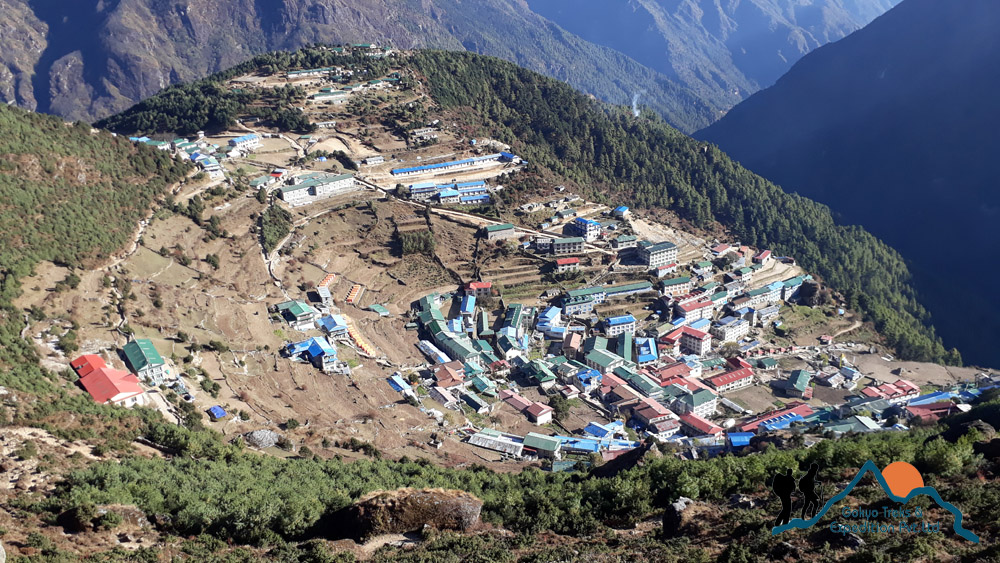 04 Day
Khumjung village trekking (3,789m/12,390 feet) via Sengboche hill, 3 hours
We start with a steep one-hour climb to the Sengboche airstrip (3,790m), from where we will slowly ascent towards Khunde passing numerous chorten (stone Buddhist monuments) and hill station. Hike the multiple hill station to have an excellent view of Mt. Everest, Ama Dablam, Thamserku, Nuptse, Lhotse, Tawche, Kwangde, and many other snow-capped mountains within 360 deg angle. We walk further to Khumjung village which is the largest village in Khumbu, at the foothill of the sacred peak Khumbila. Visit Khumjung school or Edmund Hillary School which is supported by Sir Edmund Hillary's Himalayan Trust in 1961. We can also visit the Khumjung monastery if time permits. Khumjung is an old settlement of the Sherpa community. Mountain Sherpa at Khumjung is the first Everest summiteer in climbing history because they were born and grew up above 13,000 feet in the hidden Himalayas.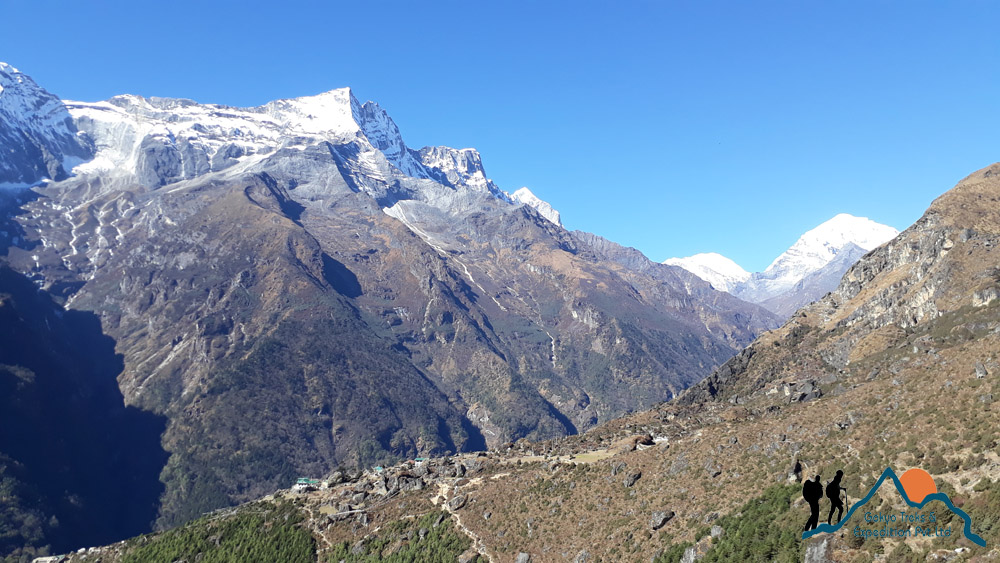 05 Day
Dole village trekking (4,040m/13,211 feet), 6 hours
We continue our Dole hikes with the same direction to basecamp until Sanasa trail ascends up to Mongla hill (4000m.). Mong la hill offers a terrific view and stays 3 lodges. From here, you will see comprehensive views of various mountains and beautiful Shangrila. Walk downhill at Phortse Tenga for lunch. Furthermore, the trail rises steeply to Dole, through rhododendron and birch forest decorated with hanging mosses and lichens.
06 Day
Machhermo trek (4,150m/13,571 feet), 4 hours
After Dole, the trek leads steadily along the side of the valley, where the small and thorny bushes give way to scrub juniper as the altitude increases. The trail passes many summer settlements, which are used when yaks are taken to these pastures to graze in the summer months. Ahead of you are excellent views of Cho Oyu, while back down the valley are the peaks of Kantega and Thamserku.
07 Day
Machhermo to Gokyo lakes trek (4,750m/15,580 feet), 5 hours
The gokyo trek leads over a very scenic path to Pangka and descend slightly. Continue to follow one of the melt-water Rivers which flow down the west side of the Ngozumpa Glacial moraine. Climb a steep rocky sloping into the Gokyo glacier valley and pass the first holy lakes. Cross the path and soon we arrive at the second glacial lake that heads across the glacier to Cho La (5,420m.). The third lake is known as Dudh Pokhari will appear and on its eastern shore is the settlement of Gokyo resorts. Walk on the bank of the glacial Gokyo lakes, we reach our final destination Gokyo lodges. The whole Gokyo valley hiking represents a gokyo trek in Everest territory.
08 Day
Gokyo 5th lakes Trek (glacier excursion day tour), 6/7 hours
Everest Gokyo is a trade center where the Sherpa people run lodges to provide the best services to guests. Gokyo 5th lake is situated with Ngozumpa glacier, the biggest glacier in Nepal. Today, we walk around the glacial lakes to the fifth lake. An optional trip will be to discover the 5th lake on your day trip but if you are only physically fit. Ngozumpa glacier excursion is not an easy-to-reach fifth lake although it is the best glacier hike in Nepal. Reaching out to the 5th lake is another most beautiful part of the journey like the iceberg lake glacier.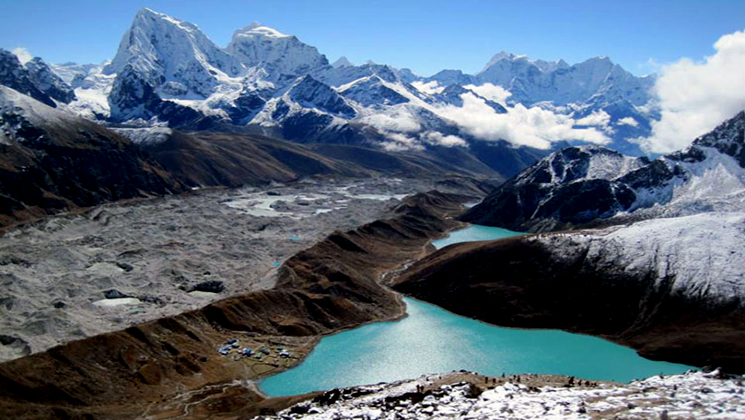 09 Day
Gokyo Ri Trek (5,483m/17,984 feet). Descend down at Machhermo, 6 hours
Gokyo Ri hike looms above the village on the northern edge of the lake and we leave camp just after first light, following a steep path up the hillside. About 90% of hikers make their plan to reach Gokyo ridge summit to achieve impressive sunlight over the mystical glacier lakes. Sightseers can get an almost outstanding sunrise view from gokyo hill. In addition, the Gokyo Ri summit offers the highest Cho Oyu mountains, Everest, Lhotse, and Makalu ..etc. Likewise, the jaw-dropping view from gokyo ri additionally includes several other tallest peaks in a line. The view of Mount Everest is much better from Gokyo ridge comparing Kala Patthar hill. After photography, we return to the Gokyo guesthouse. After lunch, we have a short hike to Machermo lodge.
10 Day
Downhill to Namche Bazaar trek (3,440m/11,283 feet), 5 hours
Gokyo valley trail gently descends to Dole and begins to step downhill to Photse Tenga (3,650m.) passing through rhododendron forests. The path immediately ascends to the Mongla hilltop (4,000m). Mong La is a great place to get a glimpse of the tallest Himalayas together with the Mount Everest range including Cho Oyu. The hill station is a trekkers paradise, so the climber can have lunch seeing the Everest view on the right and Gokyo valley on the left. Gently descends up to Kyanjoma (3,500m.) following small ups and down to Namche Bazaar, the backpackers' paradise.
11 Day
Namche Bazaar to Lukla airport (2,860m/9,381 feet), 8 hours
We trek to Lukla with the same trail like we use on ascend. It is the last day of our trekking. Upon arrival at Lukla airport hotel, take rest.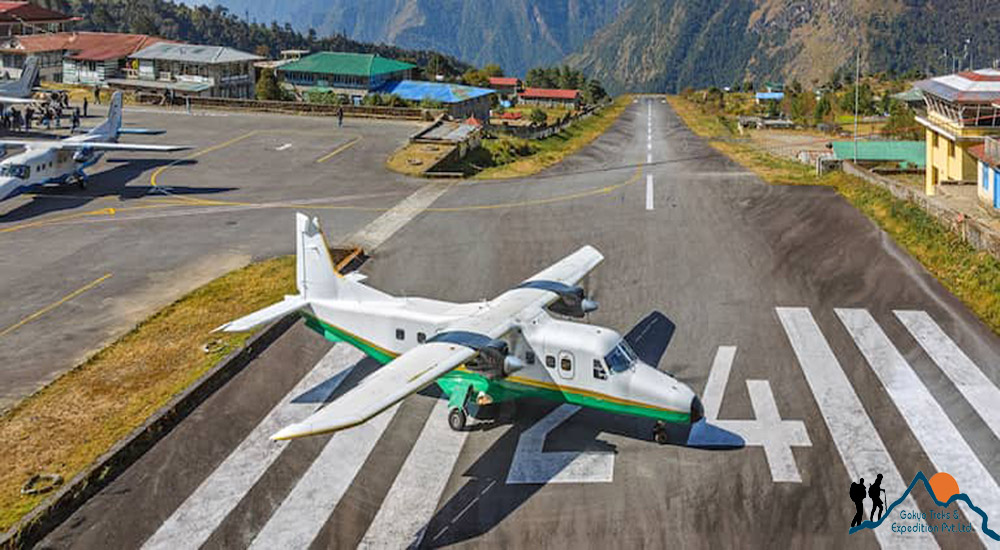 12 Day
Scenic mountain flight from Lukla to Kathmandu, 40 minutes.
We board our early flight from Lukla to Kathmandu. Upon arrival at Tribhuwan International Airport, our representative will help you to arrange a transfer to hotel. In the afternoon, go for shopping or request us to discover Kathmandu as a guided trip on additional cost. Trip finish !
Not satisfied with above plan?
Are you interested on planning custom trip? this might take 2 to 3 minute.
Cost
How much does Gokyo ri trek cost?
Hike at Everest Gokyo Ridge via gokyo valley 12 days 11 nights package is available now to book. The Gokyo trek cost US$ 1198 per person is a standard trek price on double occupancy basis.
For the deluxe and luxury trekking tour plan, we add a 3-star category hotel deluxe air-conditioned room in Kathmandu (BB PLAN) and Tourist standard accommodation with attached bathroom while trekking on possible places. AND WE ARE OPEN TO CUSTOMIZE YOUR TOUR AND PACKAGES PRICE AS PER YOUR REQUIREMENTS. International tour leaders are highly encouraged to get discounts and attractive complimentary.
Nepal gokyo ridge trek package price includes:
Kathmandu international airport picks up on your arrival in TIA by private vehicles.
2 nights Twin sharing tourist standard accommodation in Thamel Kathmandu.
Government license holder – Professional license holder Mountain Trekking Guide
Domestic flight tickets Kathmandu – Lukla – Kathmandu round trip with applicable domestic airport taxes
Meals as a full board (Breakfast, Lunch, Dinner) each day during the trek in the mountains
Guest House accommodation (Not attached toilet bathroom) during the trekking
Required number of porters during the trek.(one porter = two guest basis) because our porter can carry maximum 24 kg of your bag pack.
Well paid salary, food, accommodation and insurances of Nepalese staffs.
Sagarmatha National Park entrance permit for gokyo hike.
Khumbu Pasang lamu municipality entrance permit fees
Updated gokyo ri trek map 1 piece for each guest for soveneur.
Nepal Government Tax, VAT and as well as Company service charge.
Gokyo ridge package trek price excludes:-
Nepal entry visa fee.
Lunch and Dinner during the staying in Kathmandu city.
Any kinds of battery charges, laundry service, phone calls and hot shower during the trekking.
Personal trekking equipment and Clothing.
TIMS permit fee (it is not applicable but incase if its necessary while on travel).
Private nature expenses, any drinks, deserts and bar bills.
Travel Insurance to cover emergency Rescue and Evacuation incase of an emergiency.
Any donation and monuments entrance fees.
Tips for the crew (Note : TIPS is not compulsory but highly expected)
Any other things which are not mentioned above
Group join
So, pack up your hiking gears, from your down jacket to your sleeping bag, and explore the vivid trekking circuits in Nepal. We can organize private trek to Gokyo ri trekking starting at any date that works for you. Besically, Gokyo trek package is always depends upon the trekking group size and the month you are travelling. Therefore, please contact to us for more information and lowest deal.
Feb 20, 2022 – March 03, 2022
USD 1,198
March 10, 2022 – March 21, 2022
USD 1,198
March 20, 2022 – April 01, 2022
USD 1,198
April 05, 2022 – April 16, 2022
USD 1,198
April 10, 2022 – April 22, 2022
USD 1,198
April 25, 2022 – May 07, 2022
USD 1,198
May 05, 2022 – May 16, 2022
USD 1,198
Sept 10, 2022 – Sept. 21, 2022
USD 1,198
Sept 20, 2022 – Oct 01, 2022
USD 1,198
Oct. 05, 2022 – Oct. 16, 2022
USD 1,198
Oct. 25, 2022 – Nov. 06, 2022
USD 1,198
Nov. 10, 2022 – Nov. 21, 2022
USD 1,198
Nov. 20, 2022 – Dec. 01, 2022
USD 1,198
Nov. 30, 2022 – Dec. 11, 2022
USD 1,198
Dec. 10, 2022 – Dec. 21, 2022
USD 1,198
Guaranteed – Trip is Guaranteed to run.
Available – Trip is available to run if minimum group size is filled
Limited – Only few space available
FAQ
Question: Is pick up service available on my arrival day in Kathmandu?
Answer: Yes sure. Provide us with your flight details and request to pick you up from Kathmandu international AIRPORT. Our representative will pick up you from Kathmandu international airport to your hotel Thamel.
Question: Do I need experience for Gokyo valley trekking?
Answer: It is suitable for keen trekkers/walkers who are able to walk around 4 or 5 hours in a day, with a lightweight day pack. For this trekking – yes, you need to have experience in high altitude – somehow about 3000 meters above sea level.
Question: What kind of accommodation can I expect on the Gokyo ridge lodge trek?
Answer: We provide you with the tourist standard accommodation in Kathmandu and during the trekking routes. The rooms along the routes are clean with a cozy bed with a nice mattress and blankets. However we recommend you take your own sleeping bags if you have one with you otherwise, you may rent them while you are in Kathmandu.
Question: What kind of food can I expect in express gokyo ri trek?
Answer: Along the trek routes have attached restaurants and they cook a delicious range of vegetarian meals such as Pasta, tuna bakes, noodles, potatoes, eggs, veg curry rice, bread, soups. Likewise, Dinner and breakfast are provided in the same lodge you spend the night every day and Lunch will be served on the way to the next place where you hikes.
Question: What opportunities will I have for a shower along express gokyo ri trek?.
Answer: Guest house trekking all the lodges they have a shower which you can get it on pay.
Question: How do I get drinking water on gokyo ri trekking?.
Answer: During the gokyo valley trek route there are all places hotel and shops where you can able to buy mineral water and you can buy it for drinking but however we advise against buying mineral water in plastic bottles, as currently there are no provisions for disposing of these. Instead, we advise you to buy boiled water or bring aqua tablets to purify the normal water. The normal water is available at the campsite/along the way in the camping trekking.
Question: What should my insurance policy cover during gokyo ri trek?.
Answer: Travel insurance is mandatory before joining any trips with us, and you need to get your travel insurance policy before joining your trips to Nepal. Your travel insurance must cover the helicopter rescue up to 6000m altitude. It comes in handy during medical emergencies and contingency situations. It is recommended to get it from your home country. In case you haven't bought travel insurance after arriving in Kathmandu; we can help you get one.
Question: How to prevent altitude sickness during gokyo valley lodge trekking?.
Answer: You should never walk too quickly too high ignoring your body symptoms. Proper altitude acclimatization is the best way to prevent high-altitude sickness. Listen to your body, trek gradually enjoying the best of culture and nature while giving enough time for your body to adapt to the changing atmosphere. Drink a lot of fluid & keep your body hydrated. If symptoms like a headache, difficulty in breathing, and others occur descend to a lower altitude and we take them to the hospital. If the condition worsened you will be airlifted to a hospital in Kathmandu.
Question: What will happen if my scheduled flight in the Ktm-Lukla-Ktm route gets delayed or canceled?.
Answer: Weather in the Himalayas is uncertain which we cannot predict. Therefore, the rate of fight delay and cancellation is high at Lukla. If this happens, you will board the early flight tomorrow and you have to spend an extra night at Lukla (if you are returning Ktm) at Ktm (if you are going Lukla). Rescue helicopter flights can also use, depending upon the situation. So, we recommend you allocate a couple of extra days after your trek so that you will not miss the return international flight.
Question: Are there any alternates instead from Kathmandu to Lukla airport flight?.
Answer: The best-recommended way to go for any Everest trek is to board a Kathmandu-Lukla 33 minutes scenic mountain flight. Another available option is to drive from Kathmandu to Phaplu (12 hours' drive) and trek for 2 days to reach Lukla. In the present day, there is also a regular jeep service from Kathmandu to Salleri.
Question: Can I charge my digital camera or other batteries on my trip?.
Answer: During the Tea house trekking there will be more chances to charge the battery. We recommend you bring an extra pair in case. Remember to bring your adapters! And we recommend you to take extra batteries along with you.
Question: Are there any communication facilities on rapid gokyo treks?.
Answer: In this trekking route you can get telephone services as well as internet services as well.
Question: Can I use credit cards in express Gokyo Ri trek?
Answer: No! So, for the trekking routes, you need to have cash Nepali rupees because credit cards work only in the bigger city tours/city areas.
Question: When should I book my trip and what are the payment terms?.
Answer: Because our trips book up months in advance, we recommend booking early to avoid any kind of misunderstanding. We will, of course, make every effort to accommodate last-minute bookings.
And regarding the deposit, we prefer 20% advance deposit of the total price of the trip in order to confirm your reservation before you arrive in Nepal. And rest of the payment can be made after your arrival in Kathmandu.
Question: Who will carry my luggage on Gokyo treks?.
Answer: We provide porters to transfer your luggage. As we are a responsible trekking tour operator agency, our every porter carry a maximum of 25 kilos of your backpack which means 2 guests (12.5 kg luggage of each guest): 1 porter basis.
Question: How much distance do I need to hike every day?.
Answer: When walking/trekking in the mountains, the distance you cover each day can vary greatly due to a gradient, terrain, and altitude. As such it is very hard to give specific distances on each day, however, you have to be prepared to walk roughly about 5 hours each day.
Question: Do I need walking poles for quick gokyo treks?.
Answer: It is better to hike with walking poles. Learn how to use trekking poles for balance and stability, whether on the sidewalk or on trails. Walking poles can help prevent slips and falls. They are just recommended but not compulsory.
Question: By the way, is there any possibility just to rent a sherpa guide for the Gokyo trek?. or how to book a local sherpa guide?
Answer: Yes of course. If you are not happy to go with the complete full board package trip, still you can hire our expert guide to make your Gokyo lake trek safer. However, visit a guide and porter hire or email us for your detail travel inquiry.
Question: How much additional money do I need per day?.
Answer: You can allocate US$ 08 – 12 for lunch/dinner in Kathmandu. It depends on choosing a meal menu but the cost is depending upon your spending habits. US$ 7 to 10 US$ each day is enough to buy bottles of water, chocolates, tea coffee, and some drinks while you are on trek.
Gokyo ri trek wonderful experience review
100%
5
star based on –
256
Based on TripAdvisor Reviews
Three of us friends used Gokyo Treks for our trip to Nepal. Our guide, Kamal, was absolutely fantastic. We did the Gokyo lake trek and he ensured our needs were met 24/7. He was patient when we were tired, and motivating when we needed an extra boost of energy. I highly recommend this company, especially Kamal, for your Nepal adventure! – Bailey Wasserman, New York, USA.

Gokyo ri and Gokyo lakes trek including 5th lake trek
100%
5
star based on –
205
Based on TripAdvisor Reviews
Last April, we have done our trip to gokyo lakes and gokyo ri including 5th lake trekking.
It has a long trip for us, and its really worthy…. to see spectacular view of all the way. 5th lake excursion offers even better Himalayan scenery as well as glacial landscapes. As we not professional hikers, we were thinking whether we could complete this trip or not but together with gokyo trek and expedition's professional team, we prepare our journey and completed it in reality – Erin Mayer, Innsbruck, Austria.

Fantastic guiding service for the Gokyo and Everest Base Camp trek
100%
5
star based on –
200
Based on TripAdvisor Reviews
Ammar and his team were instrumental in making our trip to Gokyo and Everest Base Camp a success. For several months, Ammar responded promptly and in detail to all our questions regarding the trip. Our guides, Kamal and Som, are both outstanding and attentive.
Their strong knowledge of the Khumbu valley and personal connections with local business owners ensured that we were able to secure choice accommodations at each stop. This experience also allowed them to quickly rearrange a different program for some members of the group who needed to detour to lower elevations. I would highly recommend Ammar and his team for a trek in the Everest region! – Valerie Choy, Singapore.

Amazing trek and professional service!
100%
5
star based on –
198
Based on TripAdvisor Reviews
I did the Gokyo valley trek in May 2018. It was truly a spectacular journey and we had very helpful and professional guides Kamal and Som who went out of their way to accommodate the needs of the group. Highly recommend this trek and the organization! – Nina, Brussels, Belgium

Gokyo ridge / gokyo valley trekking including 5th lake trek review
100%
5
star based on –
201
Based on TripAdvisor Reviews
Last April, we have done our trip to gokyo valley including 5th lake trekking in Nepal.
It has long journey for us, and its really worthy…. to see spectacular view of all the way. 5th lake excursion offers even better Himalayan scenery as well as glacial landscapes. As we not professional hikers, we were thinking whether we could complete this trip or not but together with gokyo trek and expedition's professional team, we prepare our journey and completed it in reality. – Erin Mayer, Innsbruck, Austria.
The best Gokyo ri trek highlights
Discover the best Himalayan view in 360 deg angle from Syangeboche & from gokyo ridge.
Amazing view of view of Mt Everest, Lhotse, Nuptse, Amadablam, Thamserku and many other mountains
Sherpa Buddhism, tallest monastery, Local sherpa and their life styles.
Mount Everest Base Camp vs Gokyo RI with Everest Trek
The journey along with the Gokyo Lakes Cho La Pass is tough and adventurous because of the thin air. Everest Base Camp vs Gokyo lakes significance is mostly about altitude variation and difficulty level. While both treks reach an elevation of 5,380 meters at the peak of Gokyo ridge, Everest Base Camp plus Gokyo Lakes is possibly more difficult in terms of crossing Chola pass. Not only is it slightly longer trekking over the high Himalayan rocky trail, but the Cho La pass, a glistening ice trail, is possible with tough challenges and adventure.
Find about gokyo ri trek blog and also the reviews of our agency. Gokyo trekking with the fifth lake offers an even better view rather than Gokyo ridge. Trek to Gokyo Valley route is possible to visit at any time (except winter) throughout the year.
Nepal Gokyo ri trek notice for visitors!
The information stated above Gokyo trek is just a guide and standard template. However, the trip can be customized at your request to accommodate your specific requirements. Local politics, landslides, cancellation of local flights, weather, transport, or a multitude of other factors that are beyond our control can result in a change of itinerary during on trip.
It is, however, very incredible that the itinerary would be extensively altered. If alterations are necessary the leader will decide the best alternative option, taking into consideration the best interests of the whole group. Where a change does happen, we perform everything we can to minimize its effect, but we cannot be responsible for the results of changes or delays.
What makes Gokyo ri trek special?
Opportunities for challenging similar trekking and pleasant hikes are scattered all over this planet. You just need to know where to find them. We at Gokyo Treks and Expedition believe in quality services. Your safety and satisfaction is our concern. We are a team of professional, experienced, well-trained, and licensed local guides who know the destination better. Not only this but also we give benefits to the local society and helps to conserve natural resources which reduced costs and consumption.
From US$ 1261
5% Off
US$ 1198
| | |
| --- | --- |
| No. of people | Price Per Person |
| 1 | USD 1498 |
| 2 | USD 1198 |
| 3 | USD 1170 |
| 4 - 6 | USD 1050 |
| 7 - 9 | USD 1025 |
| 10 + | USD 999 |
Book Now
Customize Trip
Cost & Departures
Your Trip Your Style!
ITINERARY, COST, DEPARTURES, will adjusted according to your GROUP SIZE NEED TIME
Book with Confidence
Lowest Price Guaranteed.
100% Customizable Trips
No extra booking fees
Excellent Customer Service
Hassle Free Booking.
90 % Repeated customers
Highly Recommended agency
Private/group tour options
Local Guides Company.