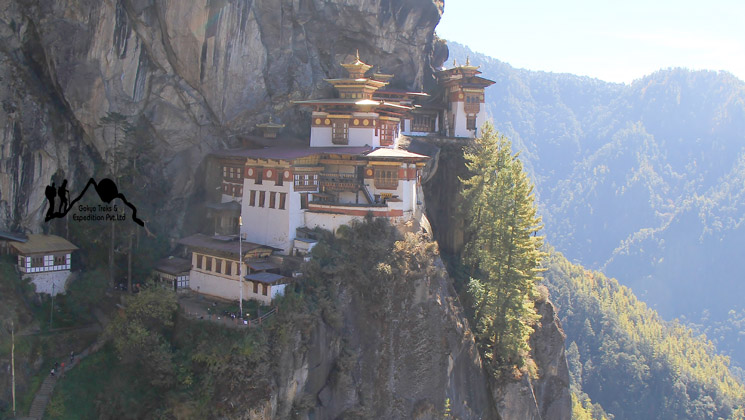 Glimpse of Bhutan Tour Summary
Tour duration: 04 Days
Bhutan Glimpse Tour Difficulty: Easy Grades
Altitude: 3,220m/10,565 feet
Average Hours: 5/6 Hours daily
Group-Size: 2 – 20 People
Trip Mode: Hotel Basis Group Tours
Best time to hike: March, April, May, June, September, October, and November
Foods on Tours: Breakfast, Lunch, and Dinner
Transportation: Car/Plane/bus
Overview
The Glimpse of Bhutan Tour covers the maximum vital sightseeing locations of Bhutan. A glimpse of the Bhutan tour includes the past and present merge, a glimpse of Bhutan cover Paro, and a Thimphu town.
isitrs who travel less than a week and want to see a maximum of Bhutan, then the Glimpse of Bhutan tour is the nice excursion you could choose for. Don't go together with the name, this excursion will now no longer simply come up with glances on the regular lifestyles and extremely good structures, monasteries, and religion.
Discover the top wonders of Thimphu – Punakha & Paro valley. The excursion initiates from Paro, which showcases its herbal amazingness, beauty, and customary-styled houses of the residents. Paro has turned out to be so well-known because of its vicinity which is surrounded by the aid of using hills and its latticed pattern.
Relishing on the extremely good perspectives of the growing and falling mountains, even as using Thimphu, you could prevent with the aid of using TachogLhakhang in which you could get the texture of medieval time.
The subsequent day, after searching at exclusive nearby visitor spots just as the large statue of Buddha at Thimphu, we head toward Punakha valley thru Dochula Pass in which you could witness the grand Himalayas; you may be left with hundreds of recollections and cherish-cabin position experiences.
In addition, Tourists can the well-known Divine Madman temple or attempt rafting at Punakha. And for your closing day, you may be traveling to one of the pinnacle spots, The Tiger's Nest; it's far one of the conventional icons of the nation.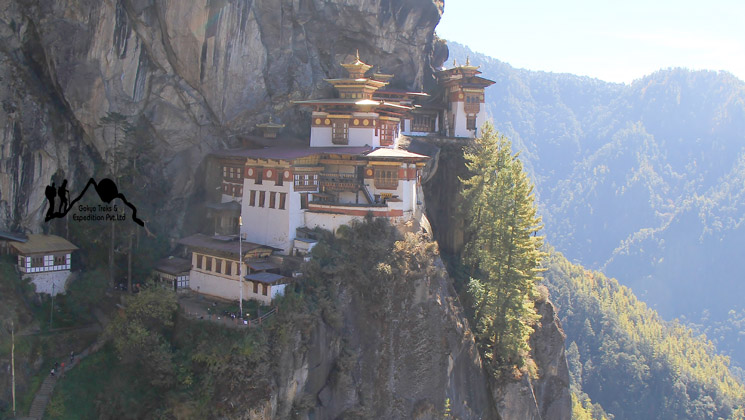 How much is the glimpse of Bhutan Tour package Cost/price?
The glimpse of the Bhutan Tour package cost with a Gokyo Treks Agency (local tour agency) ranges between US$ 1025 to US$ 1399. However, the trip price will vary according to the group size you are traveling to and the service you choose.
It is the standard trip package price for 4 days tour in Bhutan. If you are 2 tourists for a glimpse of Bhutan Private Tour costs US$ 1250 for 4 days trek according to the given sightseeing plan. We can modify the tour plan and the prices according to your wishes also. Here is the price list for a glimpse of Bhutan Tours.
Price Per Person for 4 days for Bhutan glimpse Tour
| Number of Tourist | Price Per Person |
| --- | --- |
| 1 Person | US$ 1399 |
| 2 Person | US$ 1250 |
| 3 Person | US$ 1200 |
| 4 to 6 person | US$ 1150 |
| 7 to 9 Person | US$ 1050 |
| 10 and more than 10 Person | US$ 1025 |
If you're wondering to know about what is included and what is excluded from this tour price, kindly check on the cost given on a tab button.
Itinerary
The classical Glimpse of Bhutan Tour itinerary details
The finest glimpse of Bhutan Tour 3 nights 4 days itinerary is best for all age tourists. Take a look at a special tour plan itinerary as given here.
1 Day
Arrival at Paro Airport (Thimphu Town), (55kms/1.5 hours).
The flight into Bhutan takes you near the remarkable mountains, imparting an astonishing scenic view of a number of the world's highest glacial peaks. Landing in Paro valley, you may sweep beyond forested hills with the silvery Pa Chu (Paro river) meandering down the valley. Paro Dzong (fortress) and Ta Dzong (watchtower) at the hills above the metropolis provide a high-quality sight.
Discover the majestic mountains, sacred temples, and monasteries for your adventure from Paro to Thimphu. In the manner prevented at Tachhog Lhakhang (the Iron Chain Bridge), a temple placed throughout the iron chain bridge was built over the meandering Paro River. Devour yourself into the invigorating atmosphere of the cool-sweeping wind and shiny colored prayer flags.
Upon arriving in Thimphu town, check your hotel and clean up earlier than traveling to the superb large shape of Thimphu Tashichoe Dzong- a high-quality instance of Bhutanese structure. Set into the Grand Kuenrey, the top room of the Tashichho Dzong. The assemblies of clergymen carry out their everyday prayers right here earlier than the good-sized statue of the Buddha.
Take a walk withinside the night around Thimphu town and soak up the mystical ecosystem of the capital metropolis at the same time as shooting the sight of modern-day Bhutanese life. Overnight stay at the Hotel in Thimphu.
2 Day
Thimphu town to Punakha (71 km), 3/4 hours
The local Guide and the driver will pick you up and continue for sightseeing.
Buddha Dordenma:
Capture the colorful Buddha Dordenma statue withinside the early morning sunrise. Apart from the serenity of the location, the view of the Thimphu metropolis from this mountain is gorgeous. /p>
We take a wreck at DochuLa Pass at 3,100 meters. Sip a cup of warm espresso in the DochuLa cafeteria at the same time as taking part in the captivating panoramic view of the Himalayan ranges. On a clear day, travelers can see the top Himalayan peaks closer to the northeast will be revealed in all their glory. Take withinside the 108 stupas superbly embellished with the blue sky making the backdrop.
On arriving at Punakha
Hike alongside the course via the conventional homes of Sopsokha village amidst agricultural fields of rice and mustard, main to a hillock in which the temple of the Divine Mad monk is placed. Sopsokha village is a normal instance of clustered settlement. You might also additionally witness uncommon artwork of phallus on partitions of the homes. The phallus artwork is historically believed to beat back evil effects and awful mouths/gossip of others that carry awful luck.
Punakha Dzong is simply as putting inner as outdoor and it's far arguably the maximum lovely Dzong in Bhutan. Located magnificently among Pho Chhu (Male River) and Mo Chhu (Female River) confluence, the complicated carving, and first-rate structure of the Dzong is a notable supply of inspiration. This famous shape constructed in 1637 has plenty to inform approximately the ancient heritage and diverse Tibetan invasions gained from this strategically placed Dzong. It is additionally home to the kingdom's maximum sacred relic, the "Rangjung Karsa-pain". Tourists can try out river rafting (optional tour). Overnight stay at Hotel in Punakha.
3 Day
Punakha to Paro (130 km), 4/5 hours , 6 hours
Start your adventure to Paro after a delicious breakfast at your hotel in Punakha.
Tiger's Nest Tour (Taksang Monastery Hiking), 4/5 hours
Hike the Taksang Monastery is equally popular as a Tiger Nest Tour. Some tourist speaks the same tour as a Tiger's Nest monastery. Be rewarded with an amazing sight monastery resting on the brink of a cliff 900 meters above Paro valley. Tiger's Nest Monastery or Taktshang Gompa is one of the holiest sites of Bhutan. And acquires its call from the legend of its foundation, while withinside the eighth Century Guru Rinpoche, broadly respected as the second Buddha, arrived at this location from Tibet flying through the mountains at the return of a tigress and blessing the whole location.
The hike may be damaged down into diverse stages. The first level is the trek to the cafeteria that's located on a rocky outcrop throughout a ravine from the monastery. This leg of the trek takes about 45/60 minutes, relying on your stage of fitness. At the Cafeteria, we will prevent for a few tea or espresso and biscuits even as brooding about the adventure beforehand and searching for the monastery, the gap above us.
The second level of hiking is from the cafeteria to the lookout contrary to the monastery takes 1 hour. Tourists can take photographs and return to the cafeteria. The subsequent level is the trek/climb down the 475 steps withinside the cliff face to the lowest of the ravine which crosses over a move and a waterfall earlier. Continue the track once more ascends about 300 typical steps to the doorway of the monastery, and check out the cave where Guru Rinpoche meditated.
Visit the historical Kichu Lhakhang, one of the oldest temples constructed internally in the seventh century. Stay overnight hotel in Paro.
4 Day
Final Departure
We will drop you at the Paro international airport for your further flights. Bhutan Trip finished.
Not satisfied with above Itinerary?
Are you interested on planning custom trip? It takes only 2 to 3 minutes.
Cost
How much does the glimpse of Bhutan Tour Package Price?
The glimpse of Bhutan tour package price basically starts from US$ 1250 per person on double occupancy basis. However, WE ARE OPEN TO CUSTOMIZING YOUR TOUR AND PACKAGES PRICE AS PER YOUR REQUIREMENTS.
The glimpse of Bhutan tour price includes:-
Visa for Bhutan Travel
Accommodations in 3-star properties. (Want to upgrade 4 & 5-star? possible at extra cost.).
All Meals (Breakfast, Lunch & Dinner) according to the given Bhutan travel plan.
Both-way airfare from Kathmandu to Bhutan and return to Kathmandu with airport departure taxes.
English Speaking Bhutan's Local Certified Guide.
All ground transportation is according to the above Bhutan tour plan.
Bhutan's local taxes and charges including Entry Fees.
A sustainable tourism Royalty of USD 65 per person per night.
Mineral Water while traveling.
Complimentary from company: Traditional Hot Stone Bath & a Bhutan Sim Card
Bhutan Government Tax, VAT, and as well as Gokyo Treks Company service charge.
The short Glimpse of Bhutan Tour price excludes:
Travel Insurance.
Any Expenses of Personal Nature.
Gratuities for tour guide and driver [Tip is a culture, so they expect highly].
Group join
Tour in Butan is an impressive journey and a glimpse of Bhutan tour is simply an outstanding tour. We can organize a private or group joint trip in Bhutan to watch its glimpse start at any date if that works for you. Please contact us for more information.
FAQ
Question: Is pick-up service available on my arrival time in Bhutan?.
Answer: Yes sure. Provide us your flight details. Our representative will come to pick you up.
Question: What kind of accommodation can I expect?
Answer: We do provide you with 3-star category hotel accommodation in the city.
Question: What kind of food can I expect?.
Answer: You will get delicious food in the hotel. Please inform us if you need any special vegetarian meals en route.
Question: Can I charge my digital camera or other batteries on my trip?
Answer: You can recharge a battery in the hotel.
Question: Are there any communication facilities on a glimpse Bhutan tour?.
Answer: You will get a Bhutan local SIM CARD. Buy special 4 days data pack and use it for calls and internet browsing.
Question: Can I use credit cards?
Answer: Yes, if you wish to upgrade hotels in town and pay an extra cost, you can pay by credit card. But for a little shopping, you need to pay cash.
Question: When should I book my trip and what are the payment terms?.
Answer: Our trips in Bhutan book up months in advance, we recommend booking early to avoid any kind of confusion. We will, of course, make every effort to accommodate last-second bookings.
And regarding the deposit, we prefer a 20% advance deposit [not refundable] of the total price of the trip in order to confirm your reservation. And the rest of the payment, you pay us on your arrival.
Question: How to get to Bhutan?
Answer: There are various air terminals where you can fly into Bhutan. At present two transporters work in Bhutan, Drukair and Bhutan Airlines. Likewise, there are three landline intersections in which you can go into the realm overland.
Question: How Much is the Bhutan Visa Cost?
Answer: Worldwide vacationer visas at an expense of USD $40 applies. This can be paid ahead of time from the Gokyo Treks Agency travel planner. For Indian visa (or VIC) holders, Bangladeshi nationals, and people from the Maldives there is no expense caused.
Question: What Does The $200/$250 Per Day Minimum Daily Package Include?
Answer: The $200 each day (low season) and $250 each day (high season) package incorporates at least 3-star facilities, costs for food, an accomplished aide, and transportation (with driver) inside the country. Additionally remembered for the cost is a $65 each day Sustainable Development Fee that goes towards free instruction, free medical care, and neediness easing.
Question: What season is the best to visit Bhutan?
Answer: Although, Bhutan is open all around the year. Spring and summer fill the scene with a heap of widely varied vegetation. Pre-winter projects a radiant Golden shine on the scene. The fresh winter air and the unmistakable skies make it ideal for catching the best Mountain view. .
The most unbelievable Glimpse of Bhutan Tour route highlights
Explore the most scenic 3 towns (Thimphu, Punakha & Paro).
Hike to the exceptional Tiger's Nest Monastery located at the cliff aspect in Paro city.
Visit Dochula Pass and revel in the dazzling panoramic view of the Eastern Himalayan peaks.
Enjoy the Architectural grandeur of Tashichodzong and Punakha Dzong.
Discover the invigorating Tachog Lhakhang at the manner to Thimphu.
Catch the colorful Buddha Dordenma statue and revel in the view of the Thimphu valley.
Spread advantage with the aid of using hoisting Prayer flags.
Walkthrough rural Sopsokha village main to the mythical Chimmi Lhakhang.
Visit the nearby archery floor in where the locals have a good time in the countrywide sport.
Note for Glimpse of Bhutan Travellers:-
The 4 days glimpse of Bhutan Tourking information stated above is just a guideline. However, the trip is possible to customize at your request to adapt to your specific standards. Local politics, landslides, cancellation of local flights, weather, transport, or a multitude of other factors that are beyond our control can result in a change of schedule on tours.
It is, however, very incredible that the itinerary would be extensively altered. If alterations are necessary the leader will decide the best alternative option, taking into consideration the best interests of the whole group. When a change does occur, we do everything we can to minimize its effect, but we cannot be responsible for the results of changes or delays.
What makes the glimpse of the Bhutan tour special?
We at Gokyo Treks and Expedition tour agency consider quality guiding services. Your security and gratification are our concerns. We are a team of professional, experienced, skilled, and licensed local guides who know the destination much better than others. Not only this but also we give benefits to the local communities and help to conserve natural resources which reduced costs and consumption.
Glimpse of Bhutan Tour Review
Short tour in Bhutan
We booked a Bhutan tour with Gokyo Treks Agency. Our Guide Miss Geeta a local representative organized our 4 days glimpse of the Bhutan Tour in an excellent way. Our cook Sonam and his entire kitchen staffs were just friendly and friendly staff is highly appreciated. Miss you all, will definitely explore more Bhutan tours with your awesome team. Thank you for giving us memorable hospitality in Bhutan.

Response from Gokyo Treks Nepal
Thank you for the review
From US$ 1427
2% Off
US$ 1250
| | |
| --- | --- |
| No. of people | Price Per Person |
| 1 | USD 1399 |
| 2 | USD 1250 |
| 3 | USD 1200 |
| 4 - 6 | USD 1150 |
| 7 - 9 | USD 1050 |
| 10 + | USD 1025 |
Book Now
Customize Trip
Cost & Departures
Your Trip Your Style!
ITINERARY, COST, DEPARTURES, will adjusted according to your GROUP SIZE NEED TIME
Book with Confidence
Lowest Price Guaranteed.
100% Customizable Trips
Excellent Customer Service
Hassle Free Booking.
90 % Repeated customers
Highly Recommended agency
Private/group tour options
Local Guides Company.