Poon Hill Trek Summary
Hike to Poon Hill Duration: 4 Days
Trek Difficulty: Easy Grade
Poon Hill Height: 3,220m / 10,565 feet
Trekking Hour: 6 Hours daily
Hiking Group-Size: 1 – 14 People
Trip Mode: Guest House Basis
Best Time: February, March, April, May, October, November and December
Foods on Poon hill route: Breakfast, Lunch, and Dinner
Transportation: Car/Plane/Bus
Overview
The Poon Hill trek is located at an altitude of 10,562 feet and is a famous place to explore sunrise over the Annapurna mountain range. Hike the poon hill is considered to be an introduction to the excellent wonders of trekking in the Annapurna Region.
Ghorepani Poon Hill trek is an idle place to discover breathtaking mountain scenery and beautiful hill villages have made an all-time famous short trek from Pokhara. The poon hill trek distance is roughly 52 kilometers (32 miles) from Pokhara town.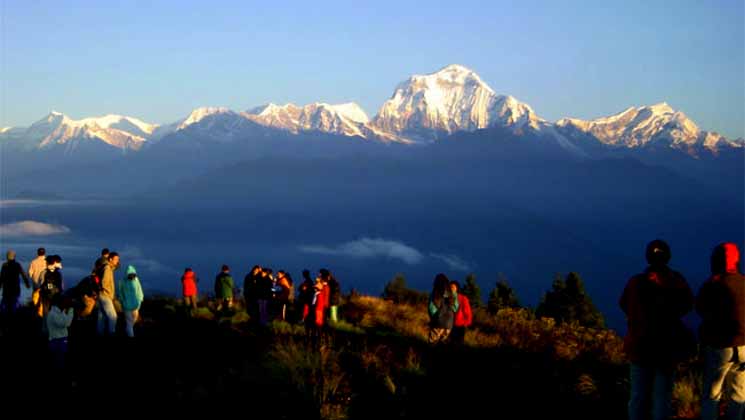 Hike to Ghorepani village and trek to poon hill are the top 10 best short treks from Pokhara. It is also the best trek route for first-time visitors. Poon hill sunrise trek is a world-famous and demanding trek route about 210 kilometers far from Kathmandu to Pokhara. It is equally common for national and international tourists to explore sunrise over the Annapurna massif within 5 kilometers or less in distance. Likewise, the poon hill hike is striking as the cheapest trek in Nepal.
Mount Annapurna 1st (8th tallest) mountain on earth is one of the most magnificent peaks in the world that can see from Poon Hill tower. Numerous voyagers plan for top viewpoint treks in the Annapurna in fact poon hill trekking is the top Annapurna view trek in Nepal. As per the travelers, the poon hill trek is possible in 3 days or in 4 days according to your holiday in Nepal.
In addition, fast trekkers like Nepali local tourists can visit Poon hill 2/3 days after Pokhara if they travel within a very tight schedule. Walk through the colorful rhododendrons forest, and bamboo and take to Gurung and Magar ethnic communities. However, the
poon hill trek for 6 days
is the best to walk at normal speed exploring almost all aspects and taking enough photos.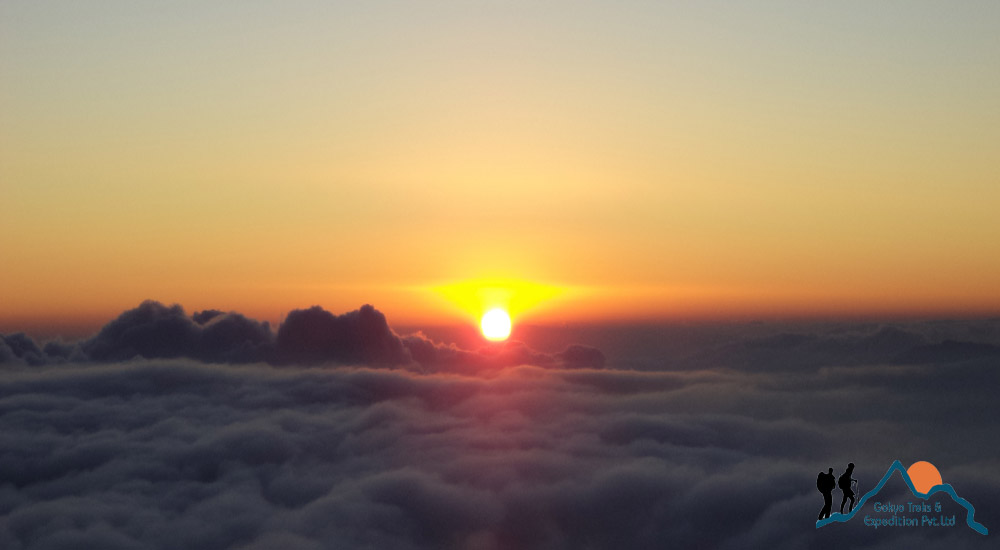 The poon hill trek 5 days
Hike to poon hill station's main attraction is to watch sunrise and sunset. Sunrise from poon hill is a top thing to do during your hiking. Nayapool is a gateway to exploring the Annapurna range. Thus, we go for a short hike to reach Birethanti and stay overnight there.
The next day you can take a private local jeep to go up to Ulleri (pay the extra cost) and you can hike to Ghorepani. Ulleri to Ghorepani trail is a much easier part and the best location for bird watching.
You can choose the poon hill trek for 5 days for your trip to the Annapurna area in Nepal because the level of trek difficulty is easier and listed under the soft adventure treks. Hike for the poon hill route is possible for tourists and school and college students of all ages.
Choose the best month to get the best weather in Poon Hill.
Before proceeding to visit a poon hill station, check about the latest poon hill weather because the hill station called Poonhill tower often gets foggy and cloudy, especially in the Monsoon periods.
Hike to Poonhill is not recommended in June, July, and August months because the areas are called Nepal's most rainfall places. June, July, and August months are the peak monsoon period in Nepal. Mountains are located very far from here, so roughly a 10% chance to catch the best glimpse of the Annapurna massif.
Other than the Monsoon months, you will have the best weather all the time, and possible to see an amazing outlook of the complete Annapurna massive from the poon hill ridge. Traveling to Poonhill either in the spring or autumn season stays the best weather with the sun shining and blue sky.
Trek in spring is even more interesting as the whole jungle turns to red, pink, and white with rhododendron flowers. This path is equally popular as a mini Annapurna express trekking tour stays an easy difficult and happy trek best 4 days trek in Nepal. It is also the best beginner trek in the Himalayas and is possible to hike at any time throughout the year.
How much does Poon Hill Trek Package Cost/Price?
The cost of the Poon hill trek package with a Pokhara local trek agency ranges between US$ 235 to US$ 398. However, the Poon hill hike cost is depending upon the group size you are wayfaring to. Likewise, the poon hill trek package for Nepali local tourists is a bit cheaper because of conservation permits.
We also have a discount deal for leaders. For example, if you could bring 10+ travelers (except you) to your hikes, you are treated as a group leader. So you can hike Poon hill for free of cost.
However, we often arrange Poon hill private trips in order to avoid group tours with strangers. A private tour gives you a better experience on your hikes. If you value personalization, flexibility, and in-depth experiences, a private trip customized to your personal needs will be the best option.
Poon Hill Package is a standard trip package price for 4 days trek. If you are 2 Tourists Poon Hill trek cost US$ 299 as per the given trekking plan. We can modify the trek route and price as per your travel plan and budget. Here is the price list for the poon hill treks.
Price Per Person for 4 days Poon Hill route hike.
| Number of Tourist | Price Per Person |
| --- | --- |
| 1 Person | US$ 398 |
| 2 Person | US$ 299 |
| 3 Person | US$ 290 |
| 4 to 6 person | US$ 270 |
| 7 to 9 Person | US$ 250 |
| 10 and more than 10 Person | US$ 235 |
If you're wondering to know about what is included and what is excluded from this trip price, kindly check on the cost given on a tab button.
Itinerary
Poon Hill Trek itinerary details.
Amazing sunrise and sunset at poon hill is a classical trek with 4 days itinerary compared to most walks in the Annapurna Zone. The particular route is designed for world explorers who wish to hike in a more relaxed manner than take a look at this itinerary. However, for travelers who wish to do Poon hill quickly but are walking with limited time wise Poon Hill Trek in 3 days is also possible. Just ask us for a tailor-made itinerary if you wish for the best short trek near Pokhara.
1 Day
Tourist Bus to Pokhara city (850 m/2,789 feet), 7/8 hours
2 Day
Drive to Ulleri, 4 hours. And Ghorepani trek (2,875m/9,433 feet), 4 hours
3 Day
Poon Hill Trek (3,220m/10,565 feet) and Further to Ghandruk village hiking (1,940m/6,363 feet), 8 hours
4 Day
Return to Pokhara Phewa Lakeside by Bus/Jeep, 4 hours
Cost
How much does the poon hill trek cost?
Our Poonhill hiking or poon hill hike price is US$ 299 per person on 2 people traveling together base. As per the given Annapurna mountain trip, 3 nights 4 days is the cheapest Ghorepani poon hill trek package from Pokhara.
Likewise, taking flights to and from Pokhara saves your time, and riding the bus reduces trip expenses. For the deluxe and luxury trekking tour plan, we add Kathmandu – Pokhara – Kathmandu round trip airfare, 3 to 5-star category hotel deluxe air-conditioned room in Kathmandu and in Pokhara town. In addition, standard lodge accommodation with an attached toilet/bathroom while on trekking routes. AND WE ARE OPEN TO CUSTOMIZING YOUR TOUR AND PACKAGE PRICE AS PER YOUR REQUIREMENTS. International tour leaders are highly encouraged to get discounts and attractive complimentary.
4 days Poon hill trek package price includes:
Single night double bedroom accommodation on a tourist standard hotel in the Phewa lakeside, Pokhara.
3 Breakfast, 4 Lunch, and 3 Dinner during the Poon hill tour treks.
Lodge accommodation while on Poon hill trekking routes.
Tourist Bus transfer from Kathmandu – Pokhara and from Pokhara to Kathmandu as a round trip.
Fully escorted trek with English-speaking license holder trek guide for poon hill hike.
Poon Hill Trek Permits (Annapurna Conservation permits + TIMS permits) and their fees.
Pokhara to Ulleri village transfer by Local Bus/jeep (shared basis).
Ghandruk to Pokhara Bus station (Bus Park) transfer with an available local Bus. And Bus stop to Phewa lakeside hotel transfer with a private taxi/car.
Duffel bag and Sleeping bag – if Necessary (return after the trek).
Seasonal fruits like apples and pomegranates as a dessert after dinner for Poonhill trekking.
Insurance, Food, accommodation, and salary of Nepali trekking staff.
Latest Poon hill trek map for your hikes which you keep yourself for a souvenir.
Agency's Certificate of appreciation after the successful trekking Poon hill.
Nepal Government Tax, VAT, and as well as Company service charge.
Sunrise Poon hill Package trek price excludes:-
Nepal entry visa fees
Foods during your stay in Kathmandu and Pokhara city.
Any kinds of battery charges, laundry service, phone calls, and hot showers during the trekking.
Guest's Personal trekking gear, other hiking equipments .
Personal nature expenses, all types of drinks, and bar bills.
Travel insurance is mandatory in case of emergency while hiking in the Annapurna mountain.
Any donation and monuments entrance fees.
Trekking porter if you need to carry your backpacks.
Gratuities for guide and porters [Tip is a culture, so they expect highly].
Any other things which are not mentioned above
Group join
Book this trip with Gokyo Agency to get a free Ghorepani – poon hill trek map which helps to find the right location and heights. The map is about 1:50,000 scale with 500 series and publishes from Himalayan Map House, Thamel.
We can organize private Poon hill trekking starting on any date that works for you. Please contact us for more information.
| Departure Date | Availbility | Price | Book |
| --- | --- | --- | --- |
| 05 Dec, 2022 – 08 Dec, 2022 | Avaiable | 299 | |
| 20 Dec, 2022 – 23 Dec, 2022 | Avaiable | 299 | |
| 25 Dec, 2022 – 28 Dec, 2022 | Avaiable | 299 | |
| 30 Dec, 2022 – 02 Jan, 2023 | Avaiable | 299 | |
| 10 Jan, 2023 – 13 Jan, 2023 | Avaiable | 299 | |
| 20 Jan, 2023 – 23 Jan, 2023 | Avaiable | 299 | |
| 30 Jan, 2023 – 02 Feb, 2023 | Avaiable | 299 | |
| 10 Feb, 2023 – 13 Feb, 2023 | Avaiable | 299 | |
| 20 Feb, 2023 – 23 Feb, 2023 | Avaiable | 299 | |
| 10 Mar, 2023 – 13 Mar, 2023 | Avaiable | 299 | |
| 20 Mar, 2023 – 23 Mar, 2023 | Avaiable | 299 | |
| 25 Mar, 2023 – 28 Mar, 2023 | Avaiable | 299 | |
| 05 Apr, 2023 – 08 Apr, 2023 | Avaiable | 299 | |
| 10 Apr, 2023 – 13 Apr, 2023 | Avaiable | 299 | |
| 20 Apr, 2023 – 23 Apr, 2023 | Avaiable | 299 | |
| 25 Apr, 2023 – 28 Apr, 2023 | Avaiable | 299 | |
| 10 May, 2023 – 13 May, 2023 | Avaiable | 299 | |
| 20 May, 2023 – 23 May, 2023 | Avaiable | 299 | |
| 10 Sept, 2023 – 13 Sept, 2023 | Avaiable | 299 | |
| 20 Sept, 2023 – 23 Sept, 2023 | Avaiable | 299 | |
| 05 Oct, 2023 – 08 Oct, 2023 | Avaiable | 299 | |
| 10 Oct, 2023 – 13 Oct, 2023 | Avaiable | 299 | |
| 20 Oct, 2023 – 23 Oct, 2023 | Avaiable | 299 | |
| 25 Oct, 2023 – 28 Oct, 2023 | Avaiable | 299 | |
| 05 Nov, 2023 – 08 Nov, 2023 | Avaiable | 299 | |
| 10 Nov, 2023 – 13 Nov, 2023 | Avaiable | 299 | |
| 20 Nov, 2023 – 23 Nov, 2023 | Avaiable | 299 | |
Guaranteed – Trip is Guaranteed to run.
Available – Trip is available to run if minimum group size is filled
Limited – Only few space available
FAQ
Question: Do I need the experience to visit poon hill?
Answer: No ! Hike poon hill is one of the easiest hikes in Nepal best for beginner tourists. Although the hill station is about 10,500 feet above sea level offers the best Annapurna mountain range. The terrain is a nice uphill trail, which is easier across the Gurung village. Thus, you do not need any experience to trek.
Question: Is pick-up service available on my arrival day in Kathmandu?
Answer: Yes sure. Provide us with your flight details. Our spokesperson will come to pick up you at Kathmandu international airport.
Question: Can I store my luggage/stuff in Kathmandu?
Answer: Yes, you can leave your luggage at your hotel or at our office. Storing your stuff in the Gokyo Treks agency office is free.
Question: Is Poon Hill trekking Safe for the Solo Female Trekkers?
Answer: Absolutely yes. Nepal is a safe country to travel to for solo travelers; the Poon Hill hike is perfectly safe for solo female trekkers. We have been organizing the trek even for solo female travelers since its establishment.
Question: What kind of accommodation can I expect on the rapid Poon hill sunrise tour?.
Answer: We provide you tourist standard accommodation in Kathmandu and on trekking. The rooms along the routes are clean with a cozy bed with a nice mattress and blankets. Be that as it may, we recommend you take your own sleeping bags if you have one with you otherwise, you may rent them while you are in Kathmandu.
Question: What kind of food can I expect in the express Poon hill lodge trek?.
Answer: Your journey on Poon Hill Trek, they have attached restaurants. They cook a delicious range of mostly vegetarian such as Pasta, tuna bakes, noodles, potatoes, eggs, rice curry, bread, and soups.
Question: How do I get drinking water on poon hill Trek short?.
Answer: We advise you to bring Aqua tablets to refine the normal water as the normal water is available at the campsite or in every local village.
Question: Can I charge my digital camera / Phone or other batteries on my trip?
Answer: Yes, there are changing stations where you can recharge the battery. We recommend you bring an extra pair in case. Remember to bring your adapters! An extra battery will be suggested.
Question: Are there any wifi facilities on Poon hill for short trekking?.
Answer: At the Poonhill trek route, you can get telephone services but they are a bit expensive. Thus, suggest the guest buy a local Sim Card to get 4G internet data service for calls and messages.
Question: Can I use credit cards in Poon hill tea house Trekking?.
Answer: Not yet! So, for the outdoor route, you need to have cash Nepali rupees because credit cards work only in the bigger city areas.
Question: When should I book my trip and what are the payment terms?.
Answer: Our tours book up months in advance, we recommend booking early to avoid any misunderstanding. We will, of course, make every effort to accommodate last-minute bookings.
And regarding the deposit, we prefer a 20% advance deposit of the total price of the trip in order to confirm your reservation before you arrive in Nepal. And the remaining part of the payment can be made on your arrival in Nepal.
Question: Who will carry my luggage on poon hill short trekking?
Answer: We provide porters to transfer your luggage. As we are a responsible trekking tour operator agency, each of our porters carries a maximum of 24 kilos of your backpack which means 2 guests (12 kilos luggage of each guest): 1 porter basis.
Question: Pokhara to poon hill distance?.
Answer: The poon hill ridge is the highest hill station area to watch the best sunrise and sunset over the Annapurna mountain range. Travelers can reach there with a 1-day drive and 1 full-day hike. Pokhara to poon hill's distance is 61.4 (38 miles) kilometers. Because the distance from Phewa lakeside Pokhara to Nayapool is around 45.4 km (28.2 miles). Likewise, the Kathmandu to Poon Hill distance is around 271 kilometers.
Question: How much distance do I walk each day?
Answer: When walking in the Annapurna mountains, the distance you cover each day can vary due to gradient, terrain, and altitude. As such it is very hard to give certain distances each day, nevertheless, you need to prepare for roughly about 5 hours to walk each day.
Question: Is it possible to hike Poon hill without a guide?.
Answer: Splendid Ghorepani trek is the most popular and easy trek difficulty in Nepal. Trekkers can visit poon hill without a guide for sure but the trail is connected with several small cow trails to go to the old villages. So there might be some confusion to find out the right route. Trekking, especially in the winter months cover full of snow and the tiny trail is icy in some parts. To avoid loss and in terms of safety, we recommend you hire at least a guide. It is not a matter of money but having a guide is the right company for your safety as you are traveling into the wilderness Himalayas.
Question: Is it possible to rent a guide? how to hire a local trek guide?
Answer: Yes of course. If you are not happy to go with the complete full board package about poon hill treks, still you can hire our expert guide to make your holiday tour safer. However, visit a guide and porter hire or email us for your detailed travel inquiry.
Question: Do I need walking poles for the Poon Hill sunrise trek?
Answer: It is better to hike with walking poles. Learn how to use trekking poles for balance and stability, whether on the sidewalk or on trails. Walking poles can help prevent slips and falls. They are just recommended but not compulsory.
Question: How much additional money do I need per day?
Answer: You can allocate US$ 08 – 10 for a lunch/dinner in Kathmandu and it depends on your spending habits. US$ 7 to 10 US$ each day will be enough to buy bottles of water, chocolates, tea coffee, and some drinks while you are on your trek.
Poon Hill Trek Highlights
Poon hill trek offers Annapurna Himalayas within 160 deg angle from poon hill ridge.
Stroll through cultivated fields, excellent views of Dhaulagiri, Nilgiri, Annapurna South, Fishtail & more.
Natural hot springs and nice waterfalls along the trek routes
Meeting the Gurung and other ethnic groups and their local lives.
How safe is trekking to Ghorepani Poon Hill in Nepal?
Security is absolutely the main concern so first safety and success. That is the reason why we just don't think twice about it comes to keeping the expense of our climbs and trekkings low. Our traveling guides have been chosen based on their specialized capability, demonstrated security execution, flawless judgment, amicable mentality, and capacity to give valuable and master guidelines. They are additionally exceptionally expert and very much prepared in medical aid and individual insurance gear. Medical aid packs are accessible on totally directed journeys and climb on Ghorepani Poon Hill.
What To Pack for The Poon Hill Trek?
Your stuff is your dearest companion while being out in the mountains. It, truth be told, doesn't make any difference where you are going, your gear is critical. In outrageous cases, stuff can have an effect on life and passing. For each situation, the right hardware can have the effect between you living it up and winding up hopeless.
You have booked your tickets, your aide in Nepal is pausing and presently you rock up with a too-substantial knapsack, a medium-thick coat, and shoes that are probably going to give you rankles. What a waste. Pack the right stuff and make a greater amount of your excursion to Poon Hill.
Before we start, note something significant. We are traveling, not climbing. Henceforth, you can leave the ropes, the chalk, and the carabiners in your wardrobe.
Underneath we present you an essential exhaustive pressing rundown reasonable for any journey in Nepal including the Poon Hill Trek:
Duffel Bag
Rucksack with Rain Cove Daypack
Hiking Boots
Sandals or Shoes
Hiking Socks
Trekking Poles
Inner Socks
Thermal Baselayer
T-Shirts
Fleece Pullover or Jacket
Light Weight Thermal Tops
Waterproof Jacket
Sports Bra for Her
Hiking Shorts
Hiking Pants
Waterproof Pants
Clearly there is more you can pack and bring along. Everybody is unique, so everybody has their own necessities.
4 days Poon Hill Trekking Notes;-
Hike to Poonhill solo is also possible if you are an individual client. But you can join the group trip is better and cheaper comparing the prices. The Poon hill hike information is subject to change due to a condition out of our control.
This is a simple Guideline showing tentative camp night stops. If guests want a customized poon hill trek itinerary for 3 days then it is also possible. Nevertheless, physical, technical, and natural conditions may change the above itineraries.
"What makes Poon Hill Trek special?"
Opportunities for challenging trekking or hiking and pleasant strolls are scattered all over this planet. You need to know where to find them.
We at Gokyo Treks and Expedition believe in quality services. Your safety and satisfaction is our concern. We are a team of professional and licensed local guides who know the destination better than others.
Poon Hill Trek Review
Excellent Poon Hill Trek
I booked Poon hill trek with Gokyo Treks & Expedition and their service is just excellent. I am a solo female traveler and I felt very safe and well taken cared of during the entire trip.
Ammar, the owner is very responsive and accommodating to all my inquiries and requests, I need not worry anything about the trip's logistics. Som, my guide, is very dependable, knowledgeable, and speaks English really well.
Gurung, my porter, is very reliable too. I will not forget how good Nepali hospitality is, I was treated not as a client but like a family guest. I intend to return someday and will definitely book their services again. Rated 5/5!
Response from Gokyo Treks Nepal
Thank you
Flexible and Personal service
Ammar was able to patiently work with us through all of our planning questions and trip organizing. We were able to personalize our trip even up to the last few days before arrival and while on our beautiful trek.
Ammar has the experience and knowledge to provide personal and flexible plans. Once on the trail I was assured that Ammar, our guide, and our porter definitely had our backs, which made our adventure hassle free.
Thanks to Ammar and Goyoko Treks for a life-changing trip. Looking forward to returning to beautiful Nepal. – Lisa M. Centennial, Wyoming, United States

Response from Gokyo Treks Nepal
Thank you dear Lisa for the time to review your trip and our service. Hoping to welcome you again to Nepal.
Poon Hill Trek is the best, Highly Recommends
Stunning experience. Ammar made our journeying as agreeable as anyone might imagine. We booked Poon Hill Trekking with Gokyo Treks. Ammar (Manager of Gokyo Treks) made our excursion entirely agreeable. He organized everything about Trips.
Bishnu was our aide and he did likewise extraordinary occupation during the outing. All went without a hitch and we had nothing to stress over. We likewise found support for the pcr test on appearance, which was truly useful and appreciated. Much obliged Ammar for everything. – Corien Pardoel, Clifton, New Jersey, USA
Response from Gokyo Treks Nepal
Thank you Corien Pardoel for your time to review your Poon Hill trekking with us. We hope to see you again in the Himalayas.
5 day Poon Hill Trek
Had the best time on the Poon Hill 5 day trek with Gokyo Treks. Our guide Bharat and also our porter was amazing and made our trek an unforgettable experience. Choosing and booking the trek was made easy by messaging Ammar before our arrival in Kathmandu.
He explained the different options full board/ half board etc and gave us advice on what to bring. He regularly checked in to ensure everything was going well throughout our trek. Our guide Bharat was friendly, spoke great English, and made sure we were happy and comfortable at all times.
In addition to the incredible scenery, we loved that Bharat and Ammar looked after us so well. I can't recommend Gokyo Treks Nepal and Bharat enough!!

Response from Gokyo Treks Nepal
Thank you dear Becca Elseworth for your excellent review of our service. We are very much looking forward to serving you again for your next trips to the Himalayas. Stay connected
From US$ 305
2% Off
US$ 299
| | |
| --- | --- |
| No. of people | Price Per Person |
| 1 | USD 398 |
| 2 | USD 299 |
| 3 | USD 290 |
| 4 - 6 | USD 270 |
| 7 - 9 | USD 250 |
| 10 + | USD 235 |
Book Now
Customize Trip
Cost & Departures
Your Trip Your Style!
ITINERARY, COST, DEPARTURES, will adjusted according to your GROUP SIZE NEED TIME
Book with Confidence
Lowest Price Guaranteed.
100% Customizable Trips
Excellent Customer Service
Hassle Free Booking.
90 % Repeated customers
Highly Recommended agency
Private/group tour options
Local Guides Company.