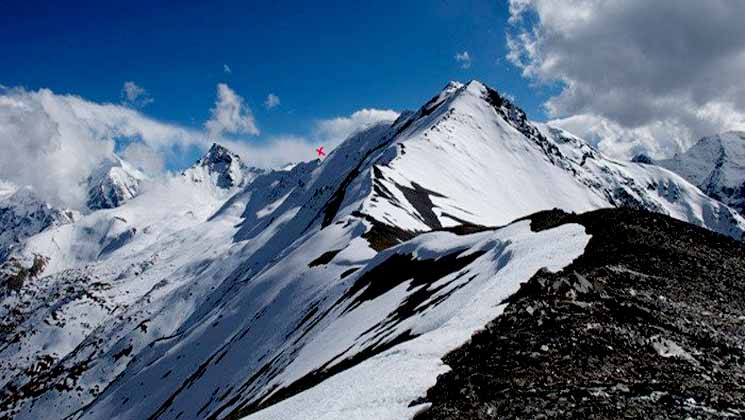 Trip Summary
Teri La Pass Trek Duration: 25 Days
Teri La Pass Trek Difficulty: Adventure high passes
High Altitude at Teri La: 5,595 meters
Trekking Hour: 6 hours daily
Hiking Group-Size: 2 – 15 People
Best Time: April to November
Trip Mode: Lodge + Tent Camping
Foods: Breakfast, Lunch, and Dinner
Transportation: Car/Plane/bus
Overview
Teri La Pass Trek is a unique but very special wilderness trek route of the Nepalese Himalayas, offers magnificent Himalayan vistas, unique cultures, and typical lifestyles. TeriLa pass 18,296 feet recognized as an adventurous trek throughout the Annapurna region.
Impressive but adventurous Teri La Pass is totally wilderness hikes in Mustang zone that are frequented by only a few guests every year. Trek at Teri la, is a newly explored trekking trail from Naar to Mustang area. Tourists hike to cross the high pass route taking special hiking gear. As the lodges and charging stations are not available, tourists must go with a full camping base trekking.
Trek into Nar Phu valley combine with the upper Mustang, you need to have a special permit issued by a department of immigration of Nepal. Furthermore, Teri la passes hiking, you can see the medieval Tibetan culture in undisturbed form, dramatic mountain view, and great alpine scenery.
Teri la pass is an outstanding trek in Nepal like Hikers in heaven. Hike from Mustang to Nar phu over Teri la is a tough trek that gives a courageous enjoy as well as physical outfits. As you are on the top of Teri la, you will have a magnificent view of the Annapurna family, Gangapurna, Tilicho peak.
As soon as you cross over Teri la pass from Mustang landscape, you could continue your trip to Nar and Phu villages. Cross Teri la is a difficult trek in Nepal that is recently updated by the Nepal government and possible to do as an alpine-style Tent trek in Nepal.
Itinerary
Teri la pass trek itinerary detail
This trek teri la adventure is designed for world travelers who wish to trek through beautiful hidden fortified hamlets Nar Phu and Upper Mustang passing over Teri la 5,595 meters. For Professional trekkers who wish to go in a relaxing manner try this itinerary. However, if you are planning with limited time-wise and if this itinerary is not suits you then request us for a customized itinerary.
Day 1
Arrival at Kathmandu valley
Upon arrival in Kathmandu, Tribhuwan International Airport, we will receive you with private vehicle and transfer to hotel in Kathmandu with breakfast plan. Our representative will give you information about further programs.
Day 2
Kathmandu World Heritage sites (1,348m/4,422 feet) tour, 6 hours.
All aspects of gear and conditions are discussed to make sure you're fully preparation for the trip, and any last-minute questions answered. After lunch, we explore this medieval Kantipur town, the capital city. We visit Boudhanath, also known as Little Tibet. Then we visit Pashupatinath, a holy temple of Hindu where the cremation takes place by the holy river Bagmati. Later we visit Kathmandu Durbar Square and Syambhunath Stupa. And transfer to the hotel.
Day 3
Overland drive to Syange waterfall (1,100m/3,597 feet), 9 hours
Early morning from Gongabhu Bus station of Kathmandu city, express drive to Besi Sahar / Bhulbhule through Prithvi High way. From Besisahar or Bhulbhule take a local jeep to Syange waterfall. The highway drive passes through the River view, greenery local villages, and beautiful mountain scenery.
Day 4
Dharapani village Trek (1,960m/6,409 feet), 6 hours.
Afeeter breakfast start the working through the jungle after we left Chamje from chamje the trail goes bank of Marshyangdi river mostly climbing before arriving in Tal. Then the trail continues through barley, rice, potato fields, and pine forests past the village of Kodo taking us to Dharapani, which is one of the big villages in the Manang valley.
Day 5
Koto village trekking (2,670m/8,731 feet), 5 hours.
The trail goes through in and fir forest and then follows the river for a time among the higher oak and maple trees. On the way you will have an excellent views of some snow covered mountains.
Day 6
Dharmasala hiking (3,300m/10,791 feet), 6 hours
We walk through a steep and constrictive path through the dense forest, afeeter crossing the river the trek leads to Nar phu valley with passing the beautiful pine forest with wide waterfall before arrive the Dharmasala, we will get to see several small shelters (caves and a pilgrims "Dharmasala".
Day 7
Kayang treks (3,560m/11,641 feet), 6 hours.
The trail climb up the valley along the small river before arriving Meta (3,700m), a non permanent winter settlement of Nar, the trail passes through white rocks, low shrubs, junipers, scattered evergreen. We can have best Mountain View on the way, afeeter passing the Junam we will arrive Chako formally a Khampa settlement.
Day 8
Phu village trek (4,200m/13,734 feet), 5 hours.
Walk down hill along the river bank and past the submarine rock with small campsites, than we have best view of chortens with the canyon lands and gorges takes us to the Phu gate from where we can see the three village of Phu.
Day 9
Rest at Phu village for Acclimatization and for explore Phu valley.
Again walking up and coming back lower is better than just resting in high altitude. We can walk up to alley to the summer grazing settlement at Ngoru, can spend the time interact with local people visit Gompa.
Day 10
Nar trek (4,150m/13,570 feet), 5 hours.
Today we will trekking back to Phu gate Khyang, Chyarkha and Jhunam to reach to Nar. During your journey, we'll get to see some beautiful gorges and some breathtaking scenery also. We will pass wonderfully painted, bamboo topped Chortens and arrive Nar gates on the top of the hill.
Day 11
Explore day at Nar and surroundings s area. Visit Monasteries and village.
Day 12
Dharmasala hikes (4,200m/13,734 feet), 5 hours
Todays, we follow Lapse Khola then cross the river and continue walk up to Chubse kharka (4,400m Lunch Place) and walk straight for an hour then walk down to the river side at our camp.
Day 13
Trek to Lapse khola camp (4,500m/14,715 feet), 5 hours
We walk continue up to Labse khola t passing a number of side valleys. We set up our camp near the River.
Day 14
High camp trek (4,900m/16,023 feet), 4 hours
Ascending to the High camp following the Labse Khola valley. Overnight camp at high camp.
Day 15
Teri La Pass trek (5,595m/18,296 feet). Descend to Pasphu Khola (4900m) camp, 4 hours
get the summit of Teri la pass which is the highest elevation of whole trek. We start our hike early morning, summit the Teri La at 5,595m /18,296 feet from where you can superb views the Annapurna & Chulu mountains & Teri La Peak, Purtun Himal region. As soon as Photograph finish, we hike further to Pasphu Khola where we fix our camp to stay overnight.
Day 16
Further to Yak pa trek (4,300m/14,061 feet), 6 hours
Walking several ups and downs with tiny narrow trails, crumbing ways continue descending downhill to Yakpa Khola river where 2 river meets. We fix our camp tonight.
Day 17
Tangge trek (3,300m/10,791 feet), 7 hours
Several high ridges later we descend into the Tangge village, Tangge is a village of twenty houses, many sheep, goats and large mastiffs and the largest chorten in Mustang, over fifty feet high. There was a massive mudslide some years ago which wiped out many of the houses and barley fields on both banks; an elder of the village told us there were over a hundred houses in Tangge before this disaster. We fix our campsite tonight to stay overnight.
Day 18
Yara village trekking (3,600m/11,772 feet), 7 hours
Leaving Tangge heading northeast we cross the plateau on a little-used trail, following it through more fantastic landscapes, and eventually the green village of Yara below, across the Puyung Khola. Descend to the rocky river bottom, we cross the river and head for the village. We camp for the night in the courtyard of a local guest-house in the lower section of Yara, a bustling campsite full of Mustang life. Have a walk above the village in the afternoon, sun shining through the willow leaves which brighten the village.
Day 19
Lo Manthang trek (3,820m/12,426 feet), 6 hours
Heading to the capital of Mustang, we trek through a magical world of salt drips, narrow canyons, pebbly flood plains and soaring cliffs. The right fork heads to the 14th-15th century Chos Sung Gompa. The nomads to the north hold the key to the main gompa. We have reached the fabled walled city of Lo, with a single entrance through which only the King, Queen, and Kempo (Abbot) are allowed to ride.
All others must walk, to pay their respects to Chenrizig, the Buddha of Compassion. King Jigme Palbar Bista, called 'Lo Gyelbu' by the Mustang people, still inhabits his four-storied palace inside the city walls. He is an avid horseman and keeps his own stable of horses, some of the best in Mustang. These days, the king plays a somewhat ceremonial role although he is well-loved and respected throughout Mustang.
Day 20
Lo-Manthang day tour. Lomanthang dai hikes to visit around
Another day in Lo manthang gives you the chance to explore its many sights; the Tall Champa Lakhang (God house,) the red Thugchen Gompa, Chyodi Gompa and the Raja's Palace; as well as to gaze at the surrounding panoramic views of the Tibetan Plateau and the Himalaya. Besides that, Lo-Manthang there are two other interesting valleys worth visiting.
The western valley Tingkhar, the sight of Raja's summer palace, Kimling and Phuwa as well as the Gompa of Namgyal (The Monastery of Victory) is the newest and most active Gompa in Lo. In the eastern valley lies the village of Chosar, also rich in gompas and the valley is the main trading route to Lhasa.
Day 21
Descend from Lo-Manthang to Dhakmar (3,520m/11,510 feet), 9 hours via Ghar Gompa.
This is an opportunity to visit two other villages on your return trek. The trail climbs steadily to the pass marked by a cairn, offering a last glimpse of Lo-Manthang. We cross the highest pass this trek and arrive in Ghar Gompa (3,920 Meters). This monastery is very old and older than Samye monastery in Tibet, supposed to be built around 730AD. After crossing the pass around 4,100 meters, we descend down to the way in Dhakmar (3,520m) where we fix our campsite to stay overnight.
Day 22
Dhakmar to Samar hiking (3,540m/11,576 feet), 6 hours
From Dhakmar the way goes down to until Ghami 11,314 feet the huge greenery village in Mustang where we can see the ancient monastery and stupas with. You can see the local houses here like cave. Than afeeter the trail goes ascend until Nyi La pass and descend to Samar through the same route. We fix our camp for stay overnight here.
Day 23
Samar to Kagbeni trekking (2,800m/9,156 feet), 5:30 hours
Today, we trek descend downhill to Chhusang. The trail offers panoramic red stone cliffs. Afeeter Chhusang we will climb little more than arrive in Tangbe village and finally we will be in Kagbeni.
Day 24
Kagbeni to Jomsom bazaar hiking (2,720m/8,894 feet), 4 hours
We trek to Jomsom with the valley of Kaligandaki River which is also known as windy valley where every day big wind blowing and overnight in Jomsom. You will explore in Jomsom village.
Day 25
Fly out from Jomsom to Pokhara, 25 minutes. Sightseeing
Early morning we fly to Pokhara with thrilling spectacular Mountain View including Dhaulagiri, Nilgiri, Annapurna South, Annapurna I, and Machhapuchre during the flight. Transfer to the hotel to check-in for a hot shower and relax. Then we drive back through the scenic countryside and during the route will stop for breakfast & lunch. On arrival at Kathmandu, a guide will transfer to the hotel and rest of the day to relax or explore the surrounding areas.
Day 26
Final departure day
Drop you in Kathmandu International Airport onward your final destination and our trip ends. Wish you your wonderful journey.
Cost
How much does the Teri la pass trek cost?
Annapurna teri la high pass trek cost US$ 2890 is the standard trek price on double occupancy basis. At this price, we offer you Tourist Standard accommodation located near Thamel, Kathmandu, and tourist standard accommodation in Pokhara Fewa lakeside, and of travel price will vary according to group size. Taking flights from Jomsom to Pokhara and to Kathmandu saves your time and riding buses reduces the trip expenses.
For deluxe and luxury trekking plan, we add Jomsom – Pokhara – Kathmandu airfare, 2-star boutique category hotel deluxe air-conditioned room in Kathmandu (BB PLAN), and 2/3-star hotel standard accommodation in Pokhara (BB plan) with attached bathroom while on trekking on possible places, so let us know. AND WE ARE OPEN TO CUSTOMIZE YOUR TOUR AND PACKAGES PRICE AS PER YOUR REQUIREMENTS. International tour leaders are highly encouraged to get discounts and attractive complimentary.
Teri La Pass Trek Cost Include:
Kathmandu international airport transfer by private vehicles.
2 nights twin sharing on tourist standard accommodation in Kathmandu Bed with Breakfast Plan
1 night twin sharing Tourist standard accommodation in Pokhara within Bed with Breakfast Plan
Meals on full board: Breakfast, Lunch and Dinner each day during the trek days
Micro Bus transfer from Kathmandu – Besisahar for you guest and Nepali crew
Domestic flight: Jomsom to Pokhara airfare with applicable domestic airport tax
Upper Mustang special permits cost USD 500 for each guest for each 10 days.
Fully escorted trek with fluent English speaking license holder local guide, professional cook and each guest = 1 Porter basis.
Nar and phu village special permit USD 100 for each person for each week
Annapurna Conservation Area permits and their fees
Alpine style camping & guest house accommodation along the routes.
Guided tour in Kathmandu city world heritage sites transfer by private vehicle.
Tourist Bus transfer from Pokhara to Kathmandu for you guest and Nepali crew
All land transportation as per written on above itinerary.
Food and accommodation and salary of Nepali trekking staffs.
Insurance of guide, cook and porters.
Latest updated teri la pass trek map for each person, you keep this map as a soveneur.
Nepal Government Tax, VAT and as well as Company service charge.
Teri La Pass Trek Cost Exclude :
Nepal entry visa fee cost US$ 40.
Lunch and Dinner during the staying in Kathmandu and Pokhara city.
Any kinds of battery charges, laundry service, phone calls and hot shower during the trekking.
Guest personal trek equipments .
Personal nature expenses, any drinks and bar bills.
Your travel insurance (it is mandatory in case of emergency).
Any donation and monuments entrance fees.
Tips for the crew (Note : TIPS is not compulsory but highly expected)
Any other things which are not mentioned above
Group join
We can organize private Teri La Pass Trek starting at any date that works for you. Please contact us for more information.
FAQ
Question: Is pick up service available on my arrival day in Kathmandu?
Answer: Yes sure. Provide us your flights detail and request for pickup. Either me or one of our representative will come to pick up you on Kathmandu international airport.
Question: Do I need experience to do Teri la pass trek?.
Answer: Basic experience is better. Moreover, it is suitable for keen trekkers/walkers who are able to walk around 4 or 5 hours in a day, with a lightweight daypack. For this trekking, if you have about a little experience would be better.
Question: What kind of accommodation can I expect on Teri la pass?.
Answer: We provide you tourist standard accommodation in Kathmandu and during the trekking routes. The rooms along the routes are clean with a cozy bed with a nice mattress and blankets. However we recommend you take your own sleeping bags if you have one with you otherwise, you may rent them while you are in Kathmandu.
Question: What kind of food can I expect in Teri la pass trek?.
Answer: All the guest houses they have attached restaurant and they cook a delicious range of mostly vegetarian such as Pasta, tuna bakes, noodles, potatoes, eggs, bread, soups, rice with vegetables. Likewise, the dinner and breakfast are provided in the same lodge you spend the night every day and Lunch will be provided on the way to the next place where you are going. Our cook cooks delicious vegetarian meals if there are no lodges.
Question: What opportunities will I have for a shower along express Teri la pass trek?
Answer: Tea house trekking all the lodges they have a shower which you can get it somewhere paying and somewhere without paying however if you are in camping trekking – we provide you hot water bucket then you will take a bucket shower.
Question: How do I get drinking water on Teri la pass Trekking?.
Answer: During the trekking route there are all places hotels and shops where you can able to buy mineral water and you can buy it for drinking but however we advise against buying mineral water in plastic bottles, as currently there are no provisions for disposing of these. Instead, we provide boil water or bringing chlorine tablets to purify the normal water as the normal water is available at the campsite.
Question: Can I charge my digital camera or other batteries on my trip?.
Answer: During the lodge trek there will be more chances to charge the battery. We recommend you bring an extra pair for in case. Remember to bring your adapters! An extra battery will be recommended.
Question: Are there any communication facilities on Teri la pass trekking?
Answer: In this trekking route, you can get telephone services as well as internet services as well.
Question: Can I use credit cards in Trekking?.
Answer: No! So, for the nature trail, you need to have cash Nepali rupees because credit cards work only in the bigger city areas.
Question: When should I book my trip and what are the payment terms?.
Answer: Because our trips book up months in advance, we recommend booking early to avoid any kind of misunderstanding. We will, of course, make every effort to accommodate last minute bookings.
And regarding the deposit, we prefer a 20% advance deposit of the total price of the trip in order to confirm your reservation before you arrive in Nepal. And the rest of the payment can be made after your arrival in Nepal.
Question: Who will carry my luggage on Teri la pass trek?.
Answer: We provide porters to transfer your luggage. As we are a responsible trekking tour operator agency, each of our porters carry a maximum of 25 kilos of your backpack which means 2 guests (12.5 kg luggage of each guest): 1 porter basis.
Question: Is it possible to rent a guide? how to hire a local trek guide?.
Answer: Yes of course. But if you hike as camping-based trekking, trek guide hiring is not enough to organize your trip. So we suggest you take a full board special camping trek.
Question: How much distance do I walk each day?.
Answer: When walking in the mountains, the distance you cover each day can vary greatly due to a gradient, terrain, and altitude. As such it is very hard to give specific distances on each day, however, you have to be prepared to walk roughly about 5 hours each day.
Question: Do I need walking poles?.
Answer: It is better to hike with walking poles. Learn how to use trekking poles for balance and stability, whether on the sidewalk or on trails. Walking poles can help prevent slips and falls. They are just recommended but not compulsory.
Question: How much additional money do I need per day?
Answer: You can allocate US$ 08 – 10 for a lunch/dinner in Kathmandu and it depends on your spending habits. US$ 7 to 10 US$ each day will be enough to buy bottles of water, chocolates, tea coffee, and some drinks while you are on trek.

Professional precious help and super friendly
100%
5
star based on –
219
Based on TripAdvisor Reviews
Great trek, run by competent people, a special guide called SOM Shrestha and Kamal Khatri and a nice carrier. Fantastic landscapes and unforgettable encounters. Gokyo Treks is the right agency to make a trek in Nepal!!! Thanks at all!. – Cristiano Lissoni, Milano, Italy.
Teri la pass trek Highlights
Narphu valley offers picturesque villages, turbulent river gorges with nice waterfalls.
Visit old Buddhist monastery in Braga village – Explore beautiful Manang village
Kang la 5315m valley offers awesome view of whole Annapurna Himalayan ranges.
Exotic hidden villages "Nar and Phu", Many ancient monasteries and chortens.
Exotic hidden treasures "Upper Mustang – The forbidden kingdom", Many ancient monasteries, chortens and caves.
Encounter with Languor Monkeys, Musk deer, snow leopards and blue sheep and many other wild animals
Teri La Pass Trek Note:
The above Teri La hikes subject to change due to a condition beyond our control. This is a Guideline showing tentative camp night stops. Physical, technical and natural condition may change this above itineraries.
What makes Teri la pass trek special?
Opportunities for challenging trek or hiking and pleasant strolls are scattered all over this planet. You just need to know where to find them. We at Gokyo Treks and Expedition believe in quality services. Your safety and satisfaction is our concern. We are a team of professional, trained, and licensed local guides who know the destination much better than others.
From US$ 3042
5% Off
US$ 2890
| | |
| --- | --- |
| No. of people | Price Per Person |
| 1 | USD |
| 2 | USD 2890 |
| 3 | USD 2890 |
| 4 - 6 | USD 2870 |
| 7 - 9 | USD 2850 |
| 10 + | USD 2790 |
Book Now
Customize Trip
Cost & Departures
Your Trip Your Style!
ITINERARY, COST, DEPARTURES, will adjusted according to your GROUP SIZE NEED TIME
Book with Confidence
Lowest Price Guaranteed.
Excellent Customer Service
Hassle Free Booking.
90 % Repeated customers
Travelers Recommended agency
Local Guide's owned company.
Reference person
Contact in Germany
Klaus Kummer : +49-367-2351-957
Martin Aigner: +49 7904 7428
Contact in USA
John Erwin: 212-222-6389
Beth Pekol, Chicago: +1 312-364-8924
Eve Quesnel, California: 530-5879-113
Contact in Australia
Mark Panico: +61 434 784 995
Contact in France
Anne Claire Srdoc: +33 683 549 096
Contact in Austria
Verena Laner: +43 650 7110 301
Dorothee Plunger:+43 512 565 255

Contact in Switzerland
Dominik Lee, Zürich: +41 079 3826 028