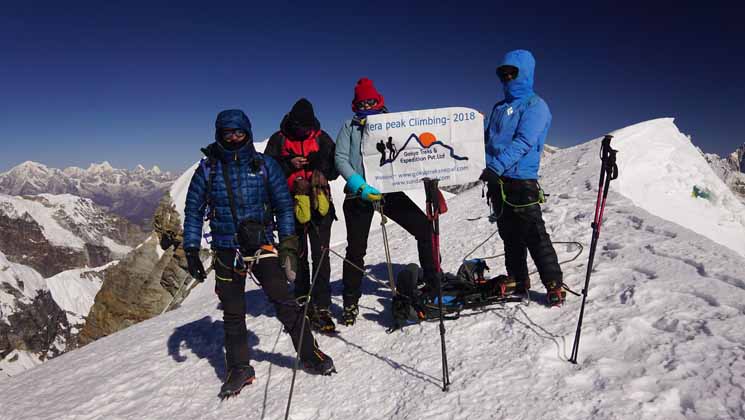 Mera Peak Climbing Summary
Climb Duration: 16 Days
Mera Peak Climbing Difficulty: Moderate to Strenuous
Mera Summit Altitude: 6,476m/21,248 feet high
Trekking Hours: 6 Hours daily
Climbing Group-Size: 1 – 12 Climbers
Meals: Breakfast, Lunch, and Dinner
Climb Mera La Best Time: March, April, May, October, and November
Transportation: Regular Plane
Overview
Begin on an exhilarating adventure Mera Peak climbing trip, ascending to the summit at an awe-inspiring altitude of 6,461m/21,190 feet, making it the highest trekking peak in Nepal. This expedition is tailor-made for daring trekkers seeking an adrenaline-pumping challenge.
The Mera Peak summit, also known as Mera La, rewards climbers with some of the most breathtaking vistas in the Himalayas, featuring five majestic peaks. They are towering above 8,000 meters: Mount Everest (8848m), Cho-Oyu (8201m), Lhotse (8516m), Kanchenjunga (8586m), and Makalu (8463m). Along the way, you'll also catch sight of Nuptse (7855m), Chamlang (7319m), and several other snow-covered peaks, adding to the splendor of your climbing journey.
To optimize your chances of a successful ascent, plan your Mera Peak adventure during either the spring season (March, April, and May) or the autumn season (September, October, and November) – the ideal periods for Himalayan climbing. Although the Mera Peak trail may be less frequented compared to the classical journey to Everest, it offers a unique opportunity to immerse yourself in the region's abundant flora and fauna.
Traveler's can stay at local guest houses available at almost every camping site along the route, ensuring you have comfortable accommodations during your expedition. In recent times, climbing Mera Peak has become more accessible as lodges are now available until Mera Peak base camp at an elevation of 5,045 meters.
Additionally, fixed tent camping facilities are provided at the high camp, enabling tourists to undertake the full trek and climb while enjoying the convenience of lodge-based accommodations. Ascending during these months grants you the privilege of witnessing the mesmerizing Himalayan Vista, leaving you in awe of nature's grandeur.
Prepare yourself for a remarkable journey to the summit of Mera Peak, where you'll be rewarded with unforgettable panoramas and a sense of accomplishment that only a true adventure of this magnitude can bestow upon you.
How much does Mera Peak Climb Package Cost?
The cost of the Mera peak climbing package with a Gokyo Treks Agency (local climbing operator agency in Nepal) ranges between US$ 1599 to US$ 2245. But surely, the Mera peak climb cost varies according to the group size you are traveling to and the service you choose.
It is the standard climbing package price for 16 days. If you are 2 climbers Mera peak climbing cost US$ 1875 for 16 days of summit climbing according to the given trekking plus climbing plan. We can modify the climbing route and price according to your wish also. Here is the price list for Mera Peak Lodge trek Plus climbing.
Price Per Person for 16 days Mera peak climbing route.
| Number of Tourist | Price Per Person |
| --- | --- |
| 1 Person | US$ 2245 |
| 2 Person | US$ 1875 |
| 3 Person | US$ 1799 |
| 4 to 6 person | US$ 1765 |
| 7 to 9 Person | US$ 1690 |
| 10 and more than 10 Person | US$ 1599 |
If you're wondering to know about what is included and what is excluded from this trip price, kindly check on the cost given on a tab button.
Itinerary
Mera peak climbing itinerary details
A trek to Mera Peak is compared to most walks in this Hinko Valley territory leading up to Mera Peak summit. The particular mera climb route is designed for a world explorer who wishes to hike to the high mountain summit but is restricted time-wise. Ask us for your own travel itinerary. But for travelers who wish to go in a more relaxed manner, try this climbing Mera peak itinerary.
01 Day
Landing in Kathmandu. The world heritage site of Kathmandu Valley sightseeing, 3-4 hours.
Upon arrival in Kathmandu, Tribhuwan International Airport, we receive you in a private vehicle and transfer you to a hotel in Kathmandu with a breakfast plan. Around midday after Lunch, we plan for a quick visit to Kathmandu city's world heritage sites.
The sightseeing day will start with our guided trip to cultural world heritage sites in Kathmandu Valley with a professional Guide Ammar. The day tour includes the Buddhist and Hindu pilgrimage sites: Hindu's holy Pashupati Temple and the world's biggest Boudha Stupa.
In addition, we also visit the historical Kathmandu Durbar Square with the special temple, unique architecture, and living goddess Kumari temple. In the evening, pre-trip discussion and introduce to our fellow trekking staff for your Mera climbing adventure trip.
02 Day
Landing in Lukla airport. Trek to Paiya (2,730m/8,957 feet), 5-6 hours.
An early morning start takes us to Tribhuvan International Airport in Kathmandu for the 35-minute scenic flight to Lukla Tenzing and Hillary Airport at 9,318 feet. On arrival at the airport, our guide will introduce the entire porters before beginning the trek towards the Paiya.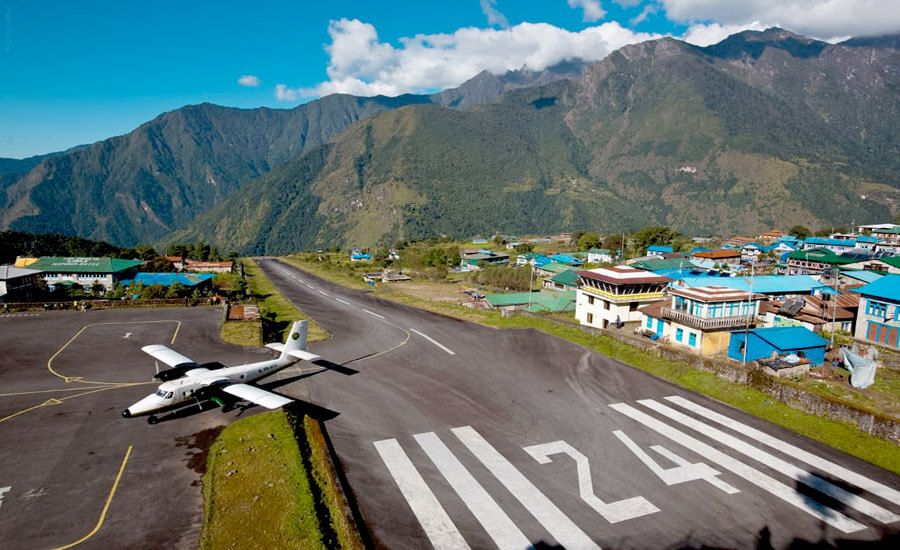 After packing up all gears, we knock the trail south. We descend first to Surke to cross the river, then a steep rise to Chutok La. The rest of the way to Paiya is flat but undulating terrain and a good end to our first day of trekking. The distance is roughly 11 kilometers and takes 7 hours of hiking from Lukla in front.
03 Day
Panggom trekking (2,804m/9,200 feet), 6-7 hours.
We continue our Mera peak hike and cross the Piya Khola river, after a gentle descent to a sturdy wooden bridge. On the other side, it is another steep climb up the valley side to reach Kari La pass. Once again, the last leg of the trek is over fairly flat terrain until we reach Panggom village. About 13 kilometers is the total length of hikes today.
04 Day
Ramailo Dada trekking (3,276m/10,748 feet), 6-7 hours.
Another amazing day to walk via mountain crests through rocky mountain landscapes. Passing through a splendid panorama of wooded regions below us however the hiking distance today is about 14 kilometers.
05 Day
Chetrakhola Trekking (3,122m/10,243 feet), 5-6 hours.
Today's hikes pleased the many tourists that flocked to see the yaks caravan that dwelt in the forest. This is where we really get off the beaten path and we will need to carry a packed lunch with us.
We begin with a zig-zag trail to the Tama Khola River. We continue through bamboo and rhododendron mixed forest and the distance is 11 kilometers hikes.
06 Day
Khothe trekking (3,580m/11,746 feet), 6-7 hours.
We descend on hillsides, by pleasant meadows, and lower down through forests of blue Himalayan pines and rhododendrons. You can see the Mosom Kharka and the Inkhu Khola river which offers Mera Peak's south side view. The hiking distance today is 11 kilometers roughly so we follow the river to the Khote village Lodge to spend the night.
07 Day
Thangnag or Tangnag trek (4,358m/14,299 feet), 3-4 hours.
As we head to the west bank of the Hinku Khola northwards, forest blurs in and the valley zooms out. We spot meadows being used as grazing areas for goats, sheep, and yaks in the Upper Hinku. We approach the summer settlement of Tangnag as we cross a single-plank bridge at Gondishung.
Lying in its vicinity is a 200-year-old gompa resting beneath a massive boulder and a number of crude mani walls. The Mera peak trail offers an outstanding view of Peak 43 and others.
Spending almost a half-day here in order to acclimatize and adjust to the thinning of the air. However interested, visitors can hike to Charpate Himal Glacier if the weather permits. Glacier hiking offers unbelievable Mountain views, rivers, and the valley.
08 Day
Khare trekking (5,045m/16,553 feet), 4-5 hours.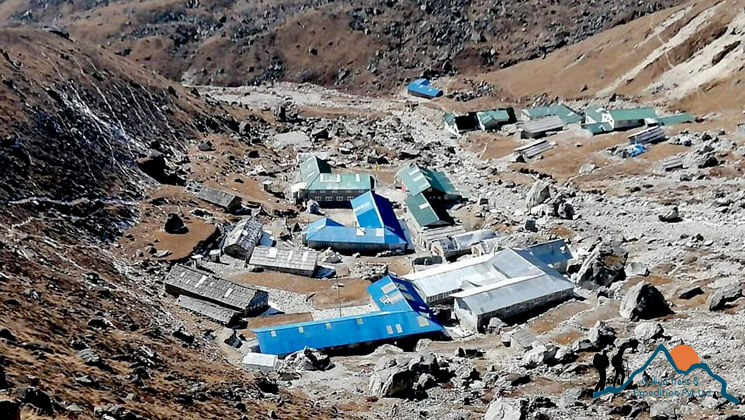 After proper rest and short hikes, we can explore other adventure possibilities like hiking at Sabal Tsho. It is a beautiful moraine-dammed lake that is hidden behind the Sabal Glacier and climbs a peak up to an altitude of nearly 5000 meters. We can also explore Hinku Nup Glacier, which leads north toward Kangtaiga.
The upper Hinku valley turns to the east at Tangnag, crossing the moraine of the Dig Glaciers. Reach Khare Lodge and check your climbing gears, or rent the gears if they are necessary for your climbing trip. Personal rental climbing gears are available in Khare Lodge at extra cost.
09 Day
Rest for acclimatization. Mera Base Camp Hike (5,350m/17,553 feet), 5-6 hours.
Hike the snowy glacier on the west side of the Hinku Nup Glacier, where we can reach a height of around 5,500m at Mera Base Camp. The hike to Mera Base Camp is an optional day tour rather than staying all day in Khare.
At this point, we get to capture the stunning views of Mera La and Mera Peak. Stay for better acclimation so you can rest to save energy they just walk an hour and stay in the Khare guest house to acclimatize.
10 Day
Climb the High Camp (5,780m/18,964 feet), 4-5 hours
After proper rest and acclimatization, we ascend to high camp today. Before heading to high camp, check your proper climbing gears which is a must. Very good climbing gear makes your journey better and safer. Don't you have good gear along with you? request at the guesthouse in Khare to rent.
Besically your climbing starts today at Mera peak high camp. In the wintertime, all over Khare is covered with heavy snowfall, and sometimes the trail will not allow climbers to go ahead however, climbing in the wintertime is super amazing in terms of view.
Likewise, the scenery and other landscapes are super like nowhere in Makalu territory. Our climber told us that hiking the high camp is one of the best parts of the entire Mera Peak trek route.
Stunning panoramas of giant mountains rising above 7000m, among the highest on earth Chamlang (7,290m ), Makalu (8,475m ), and Baruntse (7,220m) to the east, Everest (8,848m), Lhotse (8,501m ), and Nuptse to the north. Continuing westward the peaks of Ama Dablam, Cho Oyo (8,153m) and Kantega fill our view. Overnight at tent camp.
11 Day
Mera peak climbing (Mera summit 6,476m/21,248 feet). Return to Khare Lodge, 7-8 hours.
Start very early in the morning depending on the weather condition. Check your climbing gear before breakfast. After a hot drink and a heavy breakfast, we will attempt the Mera Peak summit, the path follows the main glacier and crosses on the south side to the snowy humpback ridge. The 30-degree slope is difficult, but not really a technical climb.
After passing behind the ridge, we will head diagonally west, our mountain guide will tie a fixed rope for the last steep climb, and we will use our ice axes and jumars to do the last 30 meters (at a 55-degree angle). The mountain view from the Mera Peak top is all you can hope for, including the mighty Everest in the distance.
12 Day
Reserve day for contingency
There is no such guarantee that we can get quite good weather on our plan for a summit day. So this day is used as a contingency in case we are unable to summit due to bad weather conditions or some other reasons. If the weather gets exceptionally unfavorable we wisely have to postpone the program of climbing the Mera summit.
In case someone gets some problems acclimatizing well enough to make the ascent; the day can be used in that condition too. If the trip goes smoothly, we do not need this spare day.
13 Day
Khote trek (3,580m/11,748 feet), 6-7 hours
Leaving the mountains behind us our descent takes us through Tangnag before continuing back to Khote village located at an altitude on 3,600 meters. We hike around 8 kilometers to reach Khote via Hinku Valley again. Stay overnight at Khote Lodge.
14 Day
Thuli Kharka trekking (4,200m/13,780 feet), 6-7 hours.
After having our early morning breakfast, we will start our trek to Thuli kharka. It is a very beautiful journey again through the lovely Rhododendron forest. On our way, Tourists can gain the Mera peak overall view and spend their night at Thuli kharka Guest House. The distance today that we need to walk is about 13 kilometers.
15 Day
Thuli Kharka to Lukla trek (2,840m/9,318 feet), 7-8 hours.
Finally we return to Lukla Airport passing Zatrwa La pass [4,610m/15,125 feet]. Enjoying time to reflect on the trek as a group and the personal achievement of all those who took part. Also gives you time to explore the Lukla Bazaar. Tracking and climbing ventures will in general hugely affect the knees and subsequent to journeying for countless days individuals begin to get drained.
An awesome tips use traveling poles for this segment it will help you. When we arrive at Lukla the time has come for the party. Lukla hosts a sort of get-together you can discover a few bars and you will have a chance to sponsor your climbing crew after such an incredible climbing experience and accomplishment for delicious dinner and drinks. Stay overnight in a Buddha Lodge.
16 Day
Scenic flight from Lukla to Kathmandu town.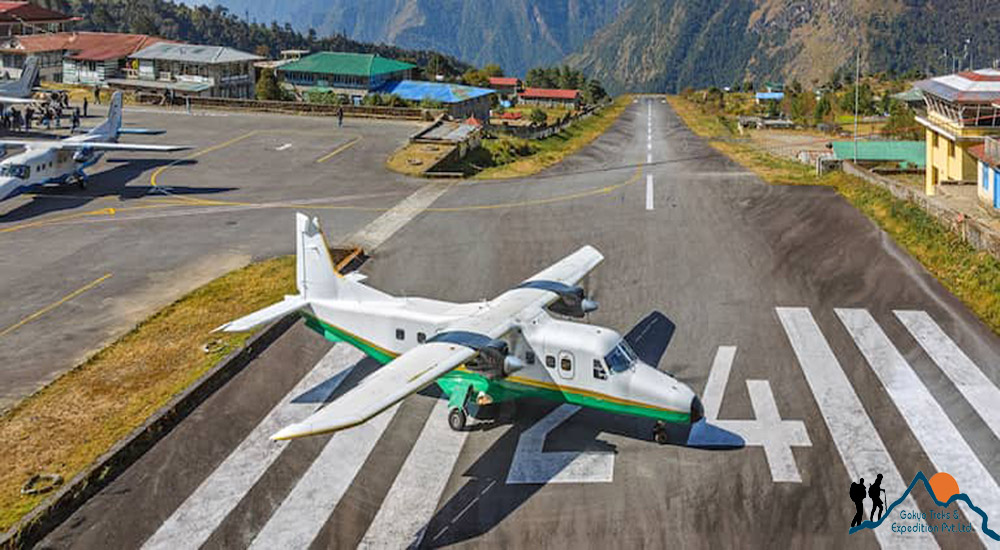 We board our early flight from Lukla to Kathmandu. Upon arrival at Tribhuwan International Airport, our representative will help you to transfer to the hotel. In the afternoon, go shopping or request us to discover Patan and Bhaktapur heritage sites as a guided trip (with an additional cost). Trip ends. Wish you a wonderful journey back home.
Not satisfied with above plan?
Are you interested in planning a custom trip? this might take 2 to 3 minutes.
Cost
How much does Mera peak climbing cost?
The journey to Mera peak trail is lodge basis that's why it's Cheap. However, the climbing Mera peak package price is US$ 1875 is a standard price on a double occupancy basis.
For the deluxe and luxury trekking and climbing plan, we add a 3 to 5-star category hotel with a deluxe air-conditioned room in Kathmandu. Likewise, lodge accommodation with an attached bathroom while trekking in possible places. AND WE ARE OPEN TO CUSTOMIZING YOUR TOUR AND PACKAGES PRICE AS PER YOUR REQUIREMENTS.
Mera peak climbing package price includes:-
Kathmandu international airport [TIA] pick up on your arrival with a private Car/Taxi on arrival.
Single night double bedroom on Tourist standard hotel accommodation in Kathmandu.
NMA Registered climbing guide [salary, transport, equipment, bonus, and Insurance] for Mera peak climbing period (1 night 2 days).
Extra climbing Guide on 5+ climbing groups.
Domestic flight tickets Kathmandu – Lukla – Kathmandu round trip with applicable airport taxes.
15 Breakfast, 14 Lunch, 14 Dinner during Mera peak trekking & climbing days.
15 Nights Guest House accommodation during the Mera peak trekking and climbing days en route.
One night in tent camp accommodation in Mera Peak Base Camp / High camp.
Certified 1 trek Guide for complete trekking days from Kathmandu with a round trip.
Required porters to carry your climbing gear during the trek. (2 guests = 1 porter basis) because each porter carries a maximum of 24 kilograms of your bag pack.
Extra Sherpa trekking guide from lukla airport on 7+ climbers.
Mera peak climbing permit fee, Makalu Barun National Park entrance permit, And local Government Permit fees.
Climbing food and drink (water/Tea/coffee) while on Mera peak expedition time (Khare – Mera peak summit – Khare section).
Group climbing equipment including harness, ropes… etc.
Well-paid salary, food, accommodation, and insurance of Nepalese guide and porter.
Agency's duffel bag (50 liters capacity), and trek poles if Necessary – return after the trek.
First aid medical kit including Oximeter to check your Oxygen level, Pulse rate to monitor every day to prepare for high altitude risk.
In a worst case, help with all Helicopter Rescue and evacuation arrangements (but not the rescue bills).
Nepal Government Tax, VAT, and as well as Company service charge.
Nepal Mera peak climb Package price excludes:-
Lunch and Dinner during the staying in Kathmandu city.
Any kinds of battery charges, laundry service, phone calls, and hot showers during the trek.
Personal trekking and climbing types of equipment ..
Personal nature expenses, all types of drinks during the trekking, and bar bills.
Travel Insurance which covers emergency rescue, evacuation, personal loss, or damage.
Any donation and monument entrance fees.
Gratuities for guide and porters [Tip is a culture, so they expect highly].
Any other things which are not mentioned above.
Group join
We can organize a private trek and climb at Mera Peak starting at any date if that works for you. Please contact us for more information.
| Departure Date | Availability | Price | Book |
| --- | --- | --- | --- |
| 10 Sept, 2023 – 26 Sept, 2023 | Available | 1875 | |
| 20 Sept, 2023 – 05 Oct, 2023 | Available | 1875 | |
| 05 Oct, 2023 – 21 Oct, 2023 | Available | 1875 | |
| 20 Oct, 2023 – 05 Nov, 2023 | Available | 1875 | |
| 30 Oct, 2023 – 13 Nov, 2023 | Available | 1875 | |
| 10 Nov, 2023 – 26 Nov, 2023 | Available | 1875 | |
| 20 Mar, 2024 – 06 Apr, 2024 | Available | 1875 | |
| 10 Apr, 2024 – 26 Apr, 2024 | Available | 1875 | |
| 20 Apr, 2024 – 05 May, 2024 | Available | 1875 | |
| 28 Apr, 2024 – 13 May, 2024 | Available | 1875 | |
| 01 May, 2024 – 16 May, 2024 | Available | 1875 | |
| 10 May, 2024 – 26 May, 2024 | Available | 1875 | |
| 20 May, 2024 – 05 Jun, 2024 | Available | 1875 | |
Guaranteed – Trip is Guaranteed to run.
Available – Trip is available to run if minimum group size is filled
Limited – Only few space available
FAQ
Question: Is pick-up service available on Kathmandu arrival day?
Answer: Yes sure. Just provide us with your flight details. Our representative will come to pick up you at Kathmandu international airport.
Question: Do I need experience in Mera peak climbing?
Answer: It is suitable for professional trekkers who can walk roughly about 4 or 5 hours in a day, with a lightweight day pack because as you are going to climb a peak, you need to have experience in high altitude – somehow about 4,000 meters above sea level.
Question: What kind of accommodation can I expect on Mera Peak Express climbing?
Answer: We provide you tourist standard accommodation in Kathmandu and during the trekking normal private room. The rooms are clean with cozy beds with nice mattresses and blankets. However we recommend you take your own sleeping bags if you have one with you otherwise, you may rent them while you are in Kathmandu.
Question: What kind of food can I expect in Mera peak climbing and mera lodge trek?.
Answer: The guesthouses along the trek routes have attached restaurants. They cook a delicious range of mostly vegetarian such as Pasta, noodles, potatoes, rice, eggs, bread, soups, and fresh vegetables. Dinner and breakfast are provided in the same lodge you spend the night every day and Lunch will be provided on the way to the next place where you go. However, on climbing days you will have climbing food served with hot tea/coffee in the Tent Camping.
Question: What opportunities will I have for a shower?.
Answer: As you go lodge trek, you can get a shower at almost every lodge, so prepare a budget of US$4 per shower to pay directly.
Question: How do I get drinking water on Mera peak lodge trekking?.
Answer: You can buy bottled mineral water at the guesthouses. But we advise against buying mineral water in plastic bottles, as currently there are no provisions for disposing of those plastic waste materials. We recommend you bring aqua tablets to purify the normal water as the normal water is available at the campsite or at streams along the trail.
Question: Can I charge my digital camera or other batteries on my trip?.
Answer: As you go over a lodge trek, Tourists can recharge the battery on pay. We recommend you bring an extra pair in case. Remember to bring your adapters! And we recommend you take extra batteries along with you.
Question: Are there any communication facilities?.
Answer: Everest Link is an internet service provider founded in 2014 that provides high-speed internet and Wi-Fi in the Everest Region. It is the only internet provider at the Mera Peak trail, making it the world's tallest internet service.
If you wish to stay connected with better WIFI to your family, friends, or business, we suggest you buy Everest Link Internet. It's better than other NETWORK connections and you can buy an Everest link card easily in the shops, hotels, or any small lodges in the Everest zone.
Question: Can I use a credit card on the Trek route to manage my extra expenses?.
Answer: No. Not yet.
Question: When should I book my trip and what are the payment terms?.
Answer: Because our trips book up months in advance, we recommend booking early to avoid any kind of misunderstanding. We will, of course, make every effort to accommodate last-minute bookings.
And regarding the deposit, we prefer a 15% advance deposit of the total price of the trip in order to confirm your reservation before you arrive in Nepal. For and rest of the payments, you need to settle on your arrival in Kathmandu.
Question: Who will carry the luggage for our climbing group?
Answer: We provide porters to transfer your luggage. The total number of porters are depending upon the climbers. As we are a responsible trekking tour operator agency, every porter carries a maximum of 24 kilos of your backpack which means 2 guests (12-kilogram luggage of each guest) = 1 porter basis.
Question: How much distance do I walk each day?
Answer: When walking/trekking in the mountains, the distance you cover each day can vary greatly due to gradient, terrain, and altitude. As such it is very hard to give specific distances for each day, however, you need to prepare to walk roughly about 5/6 hours each day.
Question: Where can I organize my personal climbing gear?
Answer: If you have those climbing gear at your home? bring along with you. Or rent them in Khare village at a low cost so you won't need to carry them all the way. It's also a good idea to make your backpack lighter to fly in a small plane to Lukla. Khare is a base camp and a gateway to Mera Peak. Your trip from Lukla to Khare village and return is on a lodge basis. At Khare guest house, you can get climbing gear on rent.
Question: How much additional money do I need per day?
Answer: You can allocate US$ 08 – 10 for a lunch/dinner in Kathmandu and it depends on your spending habits. US$ 8 to 12 US$ each day will be enough to buy bottles of water, chocolates, tea coffee, and some drinks while you are on your trek.
Climb the Mera Peak Permit Cost
Nepal's mount Mera peak climbing permit fees totally depend upon the climbing season that you apply to attempt. Each climbing permit fee for a Nepali climber cost Nrs 2,000 rupees. Likewise, the climbing permit cost for foreigners is diversified according to the climbing months.
| | |
| --- | --- |
| Months / Seasons | each international tourist climber |
| Spring season (March to May) | US$ 250 per climber |
| Autumn season (September to November) | US$ 125 per climber |
| Winter season (December to February) | US$ 70 per climber |
| Summer season (June to August) | US$ 70 per climber |
Mera peak luxury climbing tours
Mera Peak is the most demanding highest trekking peak in Nepal that is characterized as 'traveling tops'. At 6,476m it is an extremely high mountain in spite of the fact that it requires practically zero specialized jumping on its typical route.
Despite that, we suggest climbers for climbing Mera Peak in late April, May, late September, October, and November. We find that when we get on Mera Peak, by and large, the greatest months are May and October. On the off chance that you choose to move in late March, early April, or late October into November, you should be prepared for colder conditions.
To prepare for Mera top climbing you need deep and lengthy fortitude alongside perseverance. You can incorporate lungs, and step heart stimulating exercises into your preparation program is incredible for this.
Indeed, some climbers who don't have enough time for climbing peaks in the Himalayas, especially Mera La summit, usually choose a luxury climbing plan which includes the Helicopter flight from Lukla to Khare Guesthouse and after climbing the summit Mera tour then they take again a helicopter flight back to Lukla. But then the chances of altitude sickness are higher, so this type of option is available for professional climbers only. And they choose a regular flight on a good weather day from Kathmandu to Lukla and return otherwise chopper flights. In terms of cost, regular Planes are more efficient and cheaper to fly because they can travel faster and further on less fuel.
The Mera Peak vs island peak climbing
Mera Peak and Island Peak are two enticing climbing destinations in Nepal. Mera Peak, the highest trekking peak in Nepal at 6,461 meters, offers a challenging ascent for experienced climbers seeking breathtaking Himalayan views.
Island Peak, standing at 6,189 meters, is a popular choice for climbers stepping into higher-altitude mountaineering. While Mera demands technical expertise, Island Peak serves as a less challenging introduction to the world of Himalayan peaks.
Both journeys reward climbers with stunning panoramas including high mountains, villages and a sense of accomplishment, making each ascent a memorable experience.
What sort of personal climbing gears do I need to climb Mera peak?
Just as all the standard units you require for traveling in Nepal, which you can discover here, you will likewise require some expert things of mountaineering hardware.
In the event that you don't possess these things, they can be employed in Khare Lodge. Better quality and more decisions are accessible and available in Kathmandu, however, hiring climbing gear at Khare Lodge is cheaper. Any remaining climbing gear (ropes and so on) will be given.
Climbing Boots:
High height, Insulated hardened soled climbing boots (B3). Scarpa and La Sportiva make great climbing boots. However, the Climbing boot hires cost: is US$ 20 for each pair.
Crampons:
C2 crampons that fit your climbing boots. And for crampons rental cost: is US$ 15 for each pair.
Climbing Helmet:
Black Diamond or Petzl make great quality climbing caps. Ensure your warm beanie fits under your cap easily. The rental cost for the Helmet is US$ 6.
Dropping gadget:
Descending or belay gadget.
Rising gadget:
Ascending gadget or Jumar.
Ice hatchet:
Choose one with a wrist lash (reasonable for climbing).
Climbing Harness:
Standard climbing tackle. Petzl and Black Diamond make great quality climbing saddles. Harness rental charges in khare are US$ 10.
Tape sling:
220cm tape sling (open) or 2 x 120 cm tape sling (shut) – UIAA tried.
Carabiners:
2 x lockable carabiners and 2 x non-locking carabiners.
Prussik circle:
Good quality press circle.
Gloves:
A mix of silk liner gloves or comparable; warm protected fingered gloves with safety belts that permit plentiful adroitness and grasp for use with a jumar or open/lock carabiners; and over gloves with safety belts that fit over your protected fingered gloves to give extra warmth and wind security.
Adventure Mera peak climbing highlights
Discover the best Himalayan view at 360 deg angle from Mera la summit.
Best view of Mt Everest, Lhotse, Nuptse, Amadablam, Cholatse, Cho Oyu, Thamserku ..etc
Challenging Mera summit offers the best scenery of all Khumbu Himalayas.
Sherpa Buddhism, an ancient monastery, Local sherpa, and their lifestyles.
Alternative option to climb Mera peak
It's an alternative but the best option to climb Mera Peak is to drive in and drive out from the Phaplu-Salleri Bazaar. As you drive from Kathmandu to Salleri/Phaplu and start your trek to Mera then you will have sufficient time to get well-acclimatize your body. In this way, the chances of AMS ( Altitude Mountain Sickness ) is also very very low and the climb result is 100% successful.
Dive with an overland jeep from Kathmandu to Salleri and return is an amazing journey by road and in the meantime, you skip the scary flight to Lukla.
Phaplu – Mera peak – Phaplu 18 days daily itinerary
Day 01: Arrival at Kathmandu
Day 02: Drive to Phaplu (2,600m/8,530 feet), 8 hours
Day 03: Drive to Khola Kharka (2,010m/6,595 feet), 4/5 hours.
Day 04: Trek to Ramailo danda (3,276m/10,748 feet), 4/5 hours
Day 05: Trek to Chatra Khola (2,800m/9,187 feet), 4/5 hours
Day 06: Trek to Kothe (3,691m/12,110 feet): 4/5 hours
Day 07: Kothe to Tangnang (4,350m/14,270 feet), 4/5 hours
Day 08: Tangnang to Khare (5,045m/16,486 feet), 3/4 hours
Day 09: Acclimatization Day at Khare Guest House.
Day 10: Khare to High camp (5,780m/18,958 feet], 6/7 hours
Day 11: Mera High Camp to Summit (6,461m/21,1907 feet) and back to Khare Lodge, 8/9 hours.
Day 12: Extra Day in case of Bad Weather.
Day 13: Khare to Kothe (3,600m/11,808 feet), 5/6 hours
Day 14: Kothe to Khola kharka (Pach Pokhari) (3,600m/11,811 feet), 4/5 hours
Day 15: Trek to Cholem Kharka (3,600m/11,811 feet), 4/5 hours
Day 16: Trek to Bung (4,336m/14,226 feet), 4/5 hours
Day 17: Drive to Phaplu (2,600m/8,530 feet), 5 hours
Day 18: Phaplu to Kathmandu Jeep/Bus drive, 8/9 hours
The top adventure Mera peak climbing notice
The Mera peak summit climb information stated above is just a guideline and standard template that we provide for climbers. However, the trip itinerary is possible to modify at your request to accommodate your specific requirements. Local politics, landslides, cancellation of local flights, weather, transport, or a multitude of other factors that are beyond our control can result in a change of itinerary en route.
It is, however, very unlikely that the itinerary would be substantially altered. If amendments are necessary the leader will decide the best alternative option, taking into consideration the best interests of the whole group. When a change does occur, we do everything we can to minimize its effect, but we cannot be responsible for the results of changes or delays.
What makes Mera peak climbing special?
Opportunities for challenging hiking and pleasant climbing tours are scattered all over this planet. You just need to know where to find them. If Climbers wish only our services like Mera peak climbing permits, guide services from Khare to Mera peak summit climbing, and return to Khare, we can also arrange it for you on a cheap deal. Despite that Gokyo Treks and Expedition believe in quality services at the lowest climbing prices.
First safety and satisfaction is our concern. We are a team of professional, experienced, and licensed local guides who know the destination much better than others. Not only this but also we give benefits to the local communities and help to conserve natural resources which reduced costs and consumption.
Mera Peak Climbing Review
Mera Peak Summit Climbing for breathtaking view in our life
A friend of mine recommended Gokyo Treks and Expedition for our holiday in Nepal. We plan our holiday seriously and checking their impressions in the internet forum. We found a lot of good reviews of the agency so we have no dought to book our trip with them.
Firstly they are local agency based in Kathmandu and secondly, their prices are unbelievably lower than others. He arranged Makalu barun National park permit, Mera peak climbing permit and issued our Lukla flight tickets, and sent us a copy for proof his duty before we landed in Kathmandu. So, we received all permits and tickets originally right on our arrival.
Our climbing Sherpa Guide was professional, and well equipped so we were not worrying while we had bad weather in a high camp. Some other climbers were stuck near 100 meters above the high camp and rescued. Luckily the weather on the next day was sunny morning so we ascend the Mera peak summit and descend down to Khare quickly.
And yes! It's not an easy trail to everyone!
Our porter Dewan Kulung carried our luggage all the way and was very friendly and honest. While reaching back at hotel in Kathmandu, Ammar Guni, owner of the agency handover the successful climbing mera peak certificate. What a surprise for us.
Thank you Gokyo treks agency making our climbing trip lifetime memorable by serving the best guide and porter. We can't wait to return again for our next climbing in the Himalayas.

Response from Gokyo Treks Nepal
Dear Leodolter, Thank you for writing us a review about your Mera peak climbing trip recently. We are hoping to serve you again for your next climbing trip in the Himalayas.
Mera Peak Climbing, Outstanding Journey of Life.
Gokyo Treks and Expedition is the best travel service you can envision!! Ammar, the proprietor, coordinated our Mera peak summit climbing in a very expert manner. He responded to many inquiries so persistently and he was consistently fair with regard to what is possible or not.
During our climbing and hiking excursion to Mera Peak, we generally kept in touch with him and we knew whether there would have been any issues Ammar would have had organized everything to help us.
He truly needs that you have a great time in Nepal. You can feel that! Many thanks!!! We previously did a lot of outings and mountain tours, yet this one was exceptionally unique. We think it was a direct result of the delightful nature yet significantly more on account of the Nepalese individuals like Ammar!

Response from Gokyo Treks Nepal
Dear Simona Nistl,
Your review has filled us with absolute delight! We emphasize that customer satisfaction is our top priority and express our sincere gratitude for the kind words and appreciation.
Your appreciation motivates us to continually strive for excellence in delivering exceptional mountain adventures. We eagerly look forward to welcome you on another remarkable trip in the near future.
Your return will be a true pleasure for us. And we say thank you choosing our services and assure you that we are always available to assist with any questions or assistance needed.
Warm regards, Ammar Guni
Mera Peak and Amphu Lapcha Pass with Gokyo Treks & Expeditions
We had pleasure to use services of Gokyo Treks & Expeditions during our tour. It was 19 days in the mountains, trekking and Mera Peak and Amphu Lapcha Pass climbing. Services were professional, stuff was really helpful and friendly.
During our trip there was good communication with Ammar, so we could be sure that someone is escorting us. I can highly recommend this agency and will use their services again for sure.

Response from Gokyo Treks Nepal
Thank you Justyna for your time in writing us about Mera peak summit climbing combined Amphu Laptsa pass climbing in Nepal. We are very much looking forward to serve or your next climbing trip in the Himalayas.
From US$ 2291
2% Off
US$ 1875
| | |
| --- | --- |
| No. of people | Price Per Person |
| 1 | USD 2245 |
| 2 | USD 1875 |
| 3 | USD 1799 |
| 4 - 6 | USD 1765 |
| 7 - 9 | USD 1690 |
| 10 + | USD 1599 |
Book Now
Customize Trip
Cost & Departures
Your Trip Your Style!
ITINERARY, COST, DEPARTURES, will adjusted according to your GROUP SIZE NEED TIME
Book with Confidence
Local Guides Company.
18 Years in Business.
Lowest Price Guaranteed.
100% Customizable Trips
Excellent Customer Service
Hassle Free Booking.
90 % Repeated customers
Highly Recommended agency
Private/group tour options