Annapurna Panorama Trek Summary
Panorama Trek duration: 7 Days
Trip Mode: Guest House
Group-Size: 1 – 14 People
Best Time : March, April, May, October, November and December
Annapurna Panorama Trek Difficulty: Easy Grade
Maximum height: 3,220m / 10,555 feet
Trekking Hour: 5/6 hours
Trekking Foods: Breakfast, Lunch, and Dinner
Transportation: Car/Bus
Overview
The Annapurna panorama trek is a short trek route in the heart of Annapurna massif that provides unlimited views of wonderful scenery. Panorama trekking in the Annapurna includes the tallest mountains, river, amazing landscape, lush forests, and valleys.
The route is also popular as an Annapurna view trek, best suitable for beginner trekkers especially families with kids. Nevertheless, you can visit without having any prior experience. It is one of the most magnificent trek routes to capture almost the top highlights in the Annapurna Himalayas. It is the most demanding lodge trek that takes you to the heart of the Annapurna region in Nepal.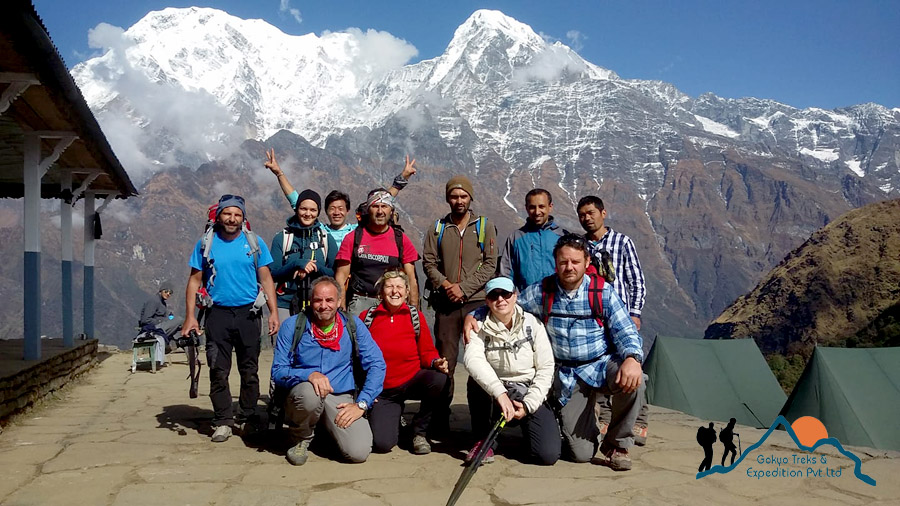 The highest elevation of Annapurna hikes is ultimately Poon Hill Tower. Annapurna Panorama treks offer a supreme sunrise over the Annapurna Himalayan ranges. You can see an outstanding view of Mt.Dhaulagiri I (8,167m), Mt.Tukuche, Mt.Nilgiri (6,930m), Mt.Annapurna South, Mt.Annapurna I (8,091m), Mt.Hiunchuli (6,420m), Mt.Machhapuchhre (6,993m), Mt.Annapurna II, Mt.Annapurna III, Mt.Annapurna IV and Mt.Manaslu (8,157m)..etc.
Exploring Ghorepani, Poonhill, Tadapani, and Ghandruk is the most rewarding section to get admirable mountains to view over the Himalayan horizon. They are the best hill stations to take Annapurna panorama photographs. If you are a photographer and have no longer than a week's time to trek Annapurna then the panorama journey is idle for you.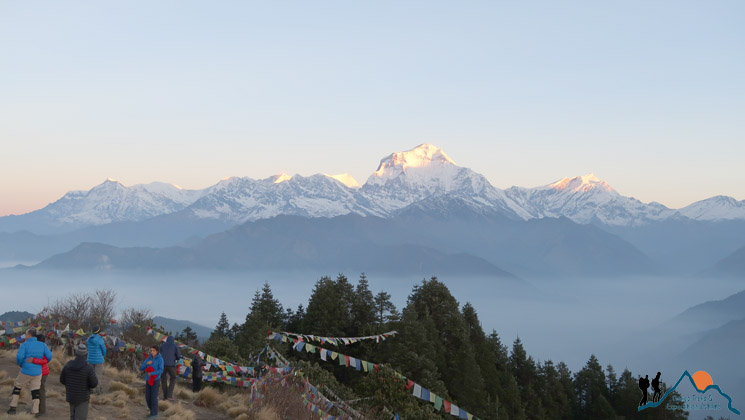 Incredible Annapurna view is a cheap trek near Pokhara town and is a combination of short hikes into the depth of Annapurna. Furthermore, travelers can experience the Gurung and Magar ethnic communities. Tourists can experience their typical culture and lifestyles. The top panorama of Annapurna view treks is even more interesting in the March and April months (spring season) as the whole forest along the trail turns red, pink, and white with rhododendron flowers.
Splendid panorama view trek is marked under an easy trek route in Nepal and is also spoken as an express mini Annapurna Panorama tour and is possible to visit all time over the year.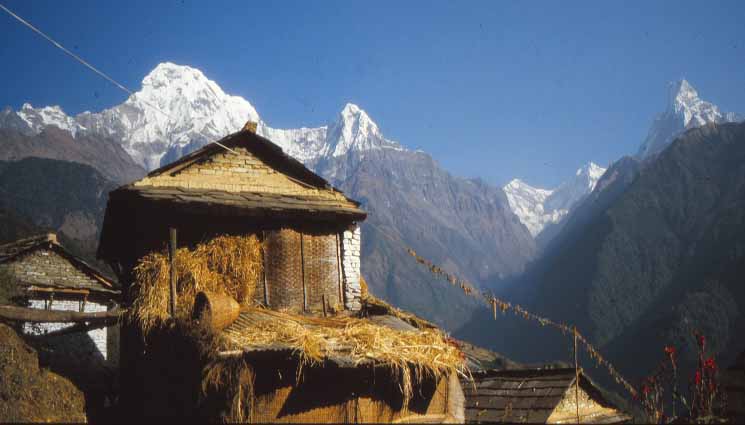 How much does for Annapurna Panorama Trek Package Cost?
The cost of the Annapurna Panorama Trek Package with a Gokyo Treks Agency ranges between US$ 370 to US$ 650. Gokyo Treks and Expedition is a local guide-owned trekking agency in Nepal that offers all trip costs at a low price. The Annapurna panorama trek cost varies as per the group size you are traveling to and the service you choose. The price includes transportation, a guide/porters, hotels, food and accommodation, and hiking permit facilities.
We have also a discount deal for international group leaders. For example, if you could bring 10+ travelers (except you) for the Annapurna Vista trek, you are treated as a group leader. So you can hike the panorama journey for free.
However, we basically arrange private trips in order to avoid group tours with strangers. Hiking privately gives you a better experience on your hikes. If you value personalization, flexibility, and in-depth experience, a private trip customized to your personal needs is an idle option.
Panorama Journey in the Annapurna is the standard trip package price for 7 days trek. If you are 2 folks Annapurna panorama trek cost US$ 480 for 7 days trek. We can modify the trek routes and the prices as you wish. Here is the price list for the Annapurna view trek.
Price Per Person for 6 days Annapurna panorama journey
| Number of Tourist | Price Per Person |
| --- | --- |
| 1 Person | US$ 650 |
| 2 Person | US$ 480 |
| 3 Person | US$ 470 |
| 4 to 6 person | US$ 450 |
| 7 to 9 Person | US$ 398 |
| 10 and more than 10 Person | US$ 370 |
If you're wondering to know about what is included and what is excluded from this trip price, kindly check on the cost given on a tab button.
Itinerary
Annapurna Panorama Trek itinerary details
Our short Annapurna trek is a classical 7 days itinerary compared to most walks in this region. The particular route is designed for world travelers who wish to Annapurna hike in a more relaxed manner. take a look at the Annapurna view trek itinerary. Be that as it may for travelers who wish to hike the Annapurna hills quickly but are walking with limited time wise than ask us for a tailor-made itinerary.
01 Day
An express drive to New Bridge, 7-8 hours. Trek to Sudame (1,160m/3,805 feet), 2 hours
In the morning, a guide will come to meet you in your hotel and transfer to the bus station to catch a coach to Nayapool. The bus drives along the Trishuli and Marshyangdi valleys to reach Pokhara. As you are driving by bus, you can experience some of the impressive mountains of Langtang, Mt.Ganesh Himal, Mt.Manasalu, Lamjung Himal, and naturally the Annapurna. Likewise, we continue to drive to Nayapool via the scenic Annapurna view without stopping in Pokhara town.
Tourists can also fly from Kathmandu to Pokhara airport city paying an extra cost of US$ 110 per person. However, a flight is better to avoid a long day drive and also in terms of the Mountains view of the Himalayas.
Pokhara is a beautiful town, get your way to visit Annapurna trails.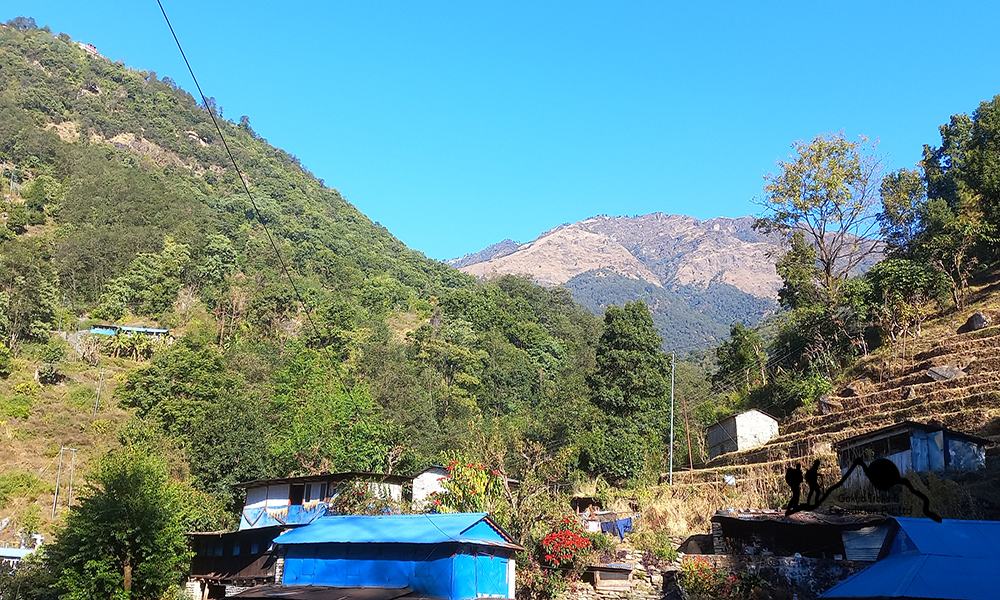 Reaching Nayapool Bazaar, we begin our thrilling Annapurna vista trek to Birethanti. Birethanti is a center point of hotels, cafes, a police check post, a bakery shop, a bank, and a nice little village town to have fun.
After checking Annapurna permits at the ACAP office, we continue about 2 hour hike to get to Sudame village. The route winds through the lush green forest and fertile fields to Sudame. This Sudame village offers nice guest houses with delicious organic meals.
02 Day
Ghorepani village trek (2,874m/9,429 feet), 6-7 Hours
Today, especially for the first part to reach Hile and Tikhedhunga village is much easier. Tourist walk across the tiny village and settlements. Cross Tikhedungha bridge and ascend gently up at Ulleri village passing two thousand stone steps which are the hardest ascending on this hiking.
Trek a little further to Banthanti Guest House for Lunch. During the destination Ghorepani journey, you will see a grand view of Mount Fish Tail (6997m.), mount Hiunchuli (6441m.), and as well as Annapurna (7219m) south. Moreover, the nature trail is quite easier after Banthanti to Ghorepani passes across the thick Rhododendron forest to get higher above the hill.
Ghorepani literally means the Horse Water is a top hike nearby Pokhara, an impressive town. The best place to enjoy the mind-blowing views of the Annapurna ranges, Dhaulagiri, and Nilgiri mountains at sunset but you should hike higher above the Ghorepani lodges. The journey takes roughly six to seven hours on foot to get to the final campsite at Ghorepani Guest House.
03 Day
Hike to Poon Hilltop (3,220m/10,565 feet.), Trek to Tadapani Lodges (2,650m/8,666 feet), 7 hours
Today, we start our panorama journey very early in the morning. Poon Hill hiking at 3,220 meters, is very famous to get morning sunrise view over the mountain Annapurna range.
Mt. Dhaulagiri (8,167m.), Tukuche Peak (6,920m.), Nilgiri (6,940m.), Varaha Shikhar (7,847m.), Mt. Annapurna I (8,091m), Annapurna South (7,219m), Annapurna III (7,855m), Machhapuchhare (6,998m), Annapurna IV (7,525m), Annapurna II (7937m), Lamjung Himal (6931m) are possible to see from the hilltop. Additionally, tourists can see the numerous snow-capped mountains with the rising sun.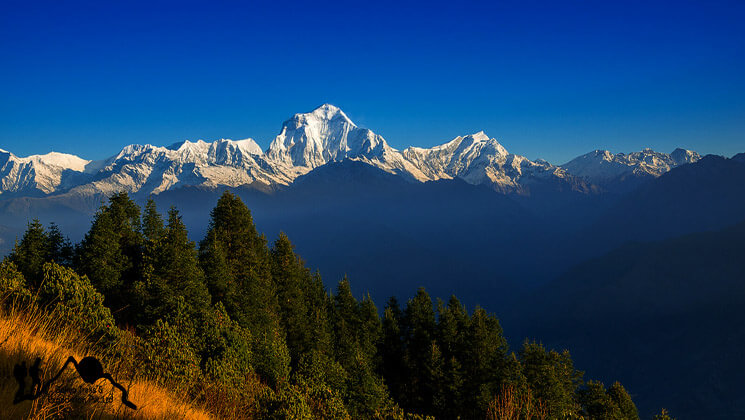 After a unique experience, we hike down to Ghorepani's guest house for breakfast. And continue our trek to Tadapani village through the Rhododendron forest, streams, and gorges. Rhododendron is a beautiful flower that makes the jungle colorful in spring when they flourish. Tadapani is a nice viewpoint to watch the Annapurna mountains range even closer in a single line.
04 Day
Descend to Jhinu Natural Hot Springs (1,736m/5,695 feet), 5-6 hours
Tadapni is a Junction to go to base camp or descend downhill to Ghandruk village. we will descend to Jhinu Danda today to enjoy a relaxing bath in a natural hot spring. We start going steeply downhill towards the Jhinu following the trail that offers a great view of the natural glamor of the Annapurna region.
Several guest houses are available at Jhinu Danda and our expert guide will take you to one of the nice hotels. Upon reaching Jhinu Guest House, we take a calm bath in the natural hot spring situated on the bank of the Modi River.
However choosing the eastern trail takes you across the picturesque route with views of Annapurna South, Hiun Chuli, Fishtail, and Gangapurna Mountains. Continue to cross the blooming rhododendron trees, walk exceeds all the way through dense forest and Bhaisi Kharka to reach Ghandruk village.
Tadapani to Ghandruk trek distance is 6.5 kilometers or just 4 miles possible to complete in three hours. Crossing the downhill and flat trail to reach Gurung countryside Ghandruk village takes about three hours. The elevation of Ghandruk village is 1,940 meters above sea level.
Ghandruk is an impressive village that offers a majestic view of Annapurna Mountain and a splendid sunrise and sunset. The Ghandruk trek is most popular for its wonderful Gurung culture, geographical landscapes, and natural colorful houses and gardens. Not only this but also at the village will have fantastic views of the mountains of south Annapurna (7,219 m), Machhapuchhare (6,993 m), and Hiun chuli (6411 m).
Remember that there are not many things to see in Ghandruk on your visit besides Gurung Museum. The museum is very tiny and packed with items that explain life both past & present in Nepal which we found very informative. Ask your guide for a better plan for trekking in the area & introduce yourself to the locals who were very friendly & happy to share stories of your one-hour stay. Continue a two-hour downhill journey that takes you to the Jhinu Hot spring.
05 Day
Trek to Bhichok or Pritam Deurali (2,100m/6,890 feet), 6-7 hours.
Jhinu Danda to Landruk village guest houses trek distance is about 9.9 km [6.1 miles] and takes around three hours. Travelers can reach Landruk village in a Sherpa guest house crossing Chhomrong Khola and Modi Khola via New Bridge, Himalpani. Landruk has mainly inhabitants of Gurung and Magar ethnic groups who demonstrate simple yet fascinating cultural kinds of stuff.
Later Lunch, the trail continues often with some stone staircases overviewing Landdruk and Ghandruk village to Tolka village. Walk through the beautiful rhododendron and birch forest to Deurali hilltop often possible to see wild animals such as deer, bears, leopards, etc. The Annapurna ranges in the backdrop are absolutely enchanting, you might also get a glimpse of rare birds in the forest.
06 Day
Trek to Astam village (1,568m/5,145 feet), 5-6 hours.
Pittam Deurali is a center point to descend either to Landruk or continue your journey to Mardi Himal or returning gateway to Pokhara. Almost three lodges with comfortable beds are available at this place.
Pothana is a nice Gurung settlement that offers a great panorama of the entire Annapurna range and has the last check post to exit from the Annapurna hikes. Continue our journey over the Annapurna panorama, we reach Dhampus village where we take Lunch.
A journey to Astam village today is also super amazing that takes you all the way through the beautiful terraced farmlands and small villages like Pothana and Dhampus along the way. It's a downhill walk through a dense forest and opens up to a beautiful valley.
Astam is a small and lovely village situated on 1,568m with stunning views of the Annapurna range. You can stay overnight in a guesthouse that serves an organic meal and enjoy the peaceful surroundings. However, it's 20 km northwest of Pokhara marked top hiking destination of Annapurna to enjoy the wonderful massive landscapes.
Tourists will have a pleasant stroll through a lovely woodland and traditional, ancient homes, some of which are over a century old. There is really no hardship or challenge to the hike. Walk passing typical homes where men and women are engaged in their everyday tasks, which is rather amusing to witness.
07 Day
Descend to Hemja (950m/3,117 feet) and return with a Bus to Pokhara city, 2-3 hours.
Take breakfast having a stunning vista to Annapurna and walk on the wilderness trail where you can enjoy the sound of birds and other animals en route. Your journey to the Hemja to touch at Baglung highway takes about two hours hike and we take a bus back to Pokhara city. Gokyo Treks Agency's guide will arrange a private taxi for you to transfer to your hotel on the Phewa lakeside. Trip Finish.
Likewise, the guide and porter will return with a night Tourist Bus to Kathmandu city via Prithvi Highway with a Tourist Bus across Trishuli Valley takes about seven hours to Kathmandu. Trip Finish.
Not satisfied with above travel Itinerary?
Are you interested on planning custom trip? It takes only 2 to 3 minutes.
Cost
How much does the Annapurna panorama trek Package price?
Hike to Annapurna panorama trek package price US$ 480 per person is a standard trek price for 2 tourist basis. Taking flights from Kathmandu – Pokhara – Kathmandu saves your time and riding the bus reduces the trip expenses.
For the deluxe and luxury trekking tour plan, we add Kathmandu – Pokhara – Kathmandu round trip airfare, 4-5 star category hotel with a deluxe air-conditioned room in Kathmandu and Pokhara Town. Likewise, a private room with an attached toilet bathroom as per above given travel plan. AND WE ARE OPEN TO CUSTOMIZING YOUR TOUR AND PACKAGE PRICE AS PER YOUR REQUIREMENTS.
The Annapurna panorama trekking Package Price Includes:
An express Bus drive from Kathmandu to New Bridge [Naya pool] passing via Pokhara Town.
6 Breakfast set, 7 Lunch and 5 Dinner [main course] serve with a cup of tea/coffee on route.
Guest house accommodation in Annapurna mountains panorama journey.
Fully escorted trek with an English-speaking licensed local trekking guide.
An assistant guide will provide for 7 plus group tourists.
Professional porter as per the group size (every 2 guests = 1 Porter basis) because every porter carries a maximum of 24 kilograms.
Annapurna Conservation trek permit and TIMS permit for Annapurna trekking tours.
Likewise, a Bus transfer from Hemja [Milan Chowk] to Bus Park [sharing basis].
Pokhara Bus station to your hotel on Phewa lakeside transfer with a private Taxi/Car.
Night Tourist Bus transfer from Pokhara to Kathmandu for guide/porters.
Agency's duffel bag (50 liters capacity) and hiking poles if Necessary – return after the trek.
Seasonal fruits like apples and Pomegranates as a dessert after dinner in trekking.
Food and accommodation, insurance, and salary for trekking Guides and porters.
First aid medical kit, Oximeter to check oxygen level and heart rate every day to prepare better for high risk.
Annapurna Panorama Trek map and a trek certificate after the successful Panorama Journey.
Nepal Government Tax, VAT, and as well as Company service charge.
Panorama trek Annapurna package price excludes:-
Lunch and Dinner during your stay in Kathmandu and Pokhara city.
Kathmandu to Pokhara domestic flight airfare with airport departure tax.
Any kinds of battery charges, laundry service, phone calls, and hot showers during the trekking.
Guest's annapurna hiking gears including clothes.
Personal nature expenses, water, and bar bills.
Travel Insurance which covers emergency Rescue and Evacuation.
Any donation and monument entrance fees.
Gratuities for guide and porters [Tip is a culture, so they expect highly].
Any other things which are not mentioned above
Group join
We can organize a private journey at Annapurna starting at any date if that works for you. Please contact us for more information whether you wish to book a group trek or an individual private trip.
| Departure Date | Availability | Price | Book |
| --- | --- | --- | --- |
| 10 Sept, 2023 – 15 Sept, 2023 | Available | 480 | |
| 20 Sept, 2023 – 25 Sept, 2023 | Available | 480 | |
| 05 Oct, 2023 – 10 Oct, 2023 | Available | 480 | |
| 10 Oct, 2023 – 15 Oct, 2023 | Available | 480 | |
| 20 Oct, 2023 – 25 Oct, 2023 | Available | 480 | |
| 25 Oct, 2023 – 30 Oct, 2023 | Available | 480 | |
| 05 Nov, 2023 – 10 Nov, 2023 | Available | 480 | |
| 10 Nov, 2023 – 15 Nov, 2023 | Available | 480 | |
| 20 Nov, 2023 – 25 Nov, 2023 | Available | 480 | |
| 05 Dec, 2023 – 10 Dec, 2023 | Available | 480 | |
| 20 Dec, 2023 – 25 Dec, 2023 | Available | 480 | |
| 10 Feb, 2024 – 15 Feb, 2024 | Available | 480 | |
| 20 Feb, 2024 – 25 Feb, 2024 | Available | 480 | |
| 10 Mar, 2024 – 15 Mar, 2024 | Available | 480 | |
| 20 Mar, 2024 – 25 Mar, 2024 | Available | 480 | |
| 25 Mar, 2024 – 30 Mar, 2024 | Available | 480 | |
| 05 Apr, 2024 – 10 Apr, 2024 | Available | 480 | |
| 10 Apr, 2024 – 15 Apr, 2024 | Available | 480 | |
| 20 Apr, 2024 – 25 Apr, 2024 | Available | 480 | |
| 25 Apr, 2024 – 30 Apr, 2024 | Available | 480 | |
| 01 May, 2024 – 05 May, 2024 | Available | 480 | |
| 10 May, 2024 – 15 May, 2024 | Available | 480 | |
| 20 May, 2024 – 25 May, 2024 | Available | 480 | |
Guaranteed – Trip is Guaranteed to run.
Available – Trip is available to run if minimum group size is filled
Limited – Only few space available
FAQ
Question: I am a first-time visitor, do I need the experience to accomplish the Annapurna view lodge trekking?
Answer: Actually Annapurna Panorama journey is suitable for keen trekkers who are able to walk approximately 3 or 4 hours in a day, with a lightweight day pack. The panorama journey at Annapurna is an easy hiking route, so all ages visitors can hike there without hassle.
Question: Is pick up service available on my arrival in Kathmandu?
Answer: Yes sure. Provide us with your flight details. Our representative will come to pick up you at Kathmandu international airport.
Question: Can I store my luggage/stuff in Kathmandu or in Pokhara?
Answer: Yes, you can leave your luggage at your hotel or at our office. Store your stuff in the Gokyo Treks agency office for free.
Question: Is Annapurna vista trekking Safe for Solo Female Trekkers?
Answer: Absolutely. Nepal is a safe country to travel to for solo travelers; this trek is perfectly safe for solo female trekkers. We have been organizing the Annapurna base camp trek even for solo female travelers since its establishment.
Question: What kind of accommodation can I expect on Annapurna Panorama Trekking?.
Answer: We provide you tourist standard accommodation in Kathmandu and en routes. Rooms along the routes are clean with a cozy bed with a nice mattress and blankets. However, we suggest you take your own sleeping bags, if you have one with you otherwise, you may rent them while you are in Kathmandu or in Pokhara town.
Question: What kind of food can I expect on this trek?
Answer: Annapurna guest houses, have attached restaurants. They cook a delicious range of mostly vegetarian such as Pasta, tuna bakes, noodles, soups, potatoes, eggs, rice curry, bread, and fresh vegetables. We serve seasonal fresh vegetables.
Dinner and breakfast are provided in the same lodge you spend the night every day and Lunch will be provided on the way to the next place where you are going.
Question: What opportunities will I have for a shower along with Annapurna view Trek?.
Answer Every lodge, they have a shower which you can get somewhere on pay and somewhere without paying.
Question: How do I get drinking water on express Annapurna Panorama Lodge Trek?.
Answer: Almost all places stay in hotels and shops where you can get mineral water. Despite that, we advise against buying mineral water in plastic bottles, as currently there are no provisions for disposing of these. Instead, we advise you to buy either boiled water or bring AQUA tablets to purify the normal water as the normal water is available at the campsite.
Question: Can I charge my digital camera or other batteries on my trip?
Answer: During the lodge trekking there will be more chances to charge the battery. We recommend you bring an extra pair in case. Remember to bring your adapters! An extra battery will be recommended.
Question: Are there any communication facilities on express Annapurna Panorama guest house trekking?.
Answer: Buy a local NAMASTE SIM card, so you can get cheap call services as well as 4G internet services.
Question: Can I use credit cards in Trekking?.
No. For panorama journey routes you need to have cash Nepali rupees because credit cards work only in the bigger city areas.
Question: When should I book my trip and what are the payment terms?.
Answer: Because our trips book up months in advance, we recommend booking early to avoid any kind of confusion. We will, of course, make every effort to accommodate last-minute bookings for your cheaper Annapurna view hikes in the Himalayas.
And regarding the deposit, we prefer a 10% advance deposit of the total price of the trip in order to confirm your reservation before you arrive in Nepal. And the rest of the payment can be made after your arrival in Nepal.
Question: Who will carry my luggage on cheap Annapurna Panorama Trekking?.
Answer: We provide porters to transfer your luggage. As we are a responsible trekking tour operator agency, each of our porters carries a maximum of 24 kilos of your backpack which means 2 guests (12 kg luggage of each guest): 1 porter basis.
Question: How much distance do I walk each day?
Answer: When walking in the mountains, the distance you cover each day can vary greatly due to the gradient, terrain, and altitude. As such it is very hard to give specific distances for each day, however, you have to be prepared to walk for roughly about 5 hours each day.
Question: Are hiking poles necessary for my hikes in the Himalayas?
Answer: It is better to hike in the Himalayas with walking poles. Learn how to use trekking poles for balance and stability, whether on the sidewalk or on trails. Walking poles can help prevent slips and falls. They are just recommended but not compulsory.
Question: Is it possible to hire a professional local trekking guide for the Annapurna trek?
Answer: Yes of course. If you do not have a wish to book a complete the full board package trip, still you can hire our expert local trekking guide to make your holiday tour safer and enjoyable. Email us to get their hiring daily cost quotation.
Question: How much extra money do I need per day?
Answer: You can allocate US$ 08 – 10 for lunch/dinner in Kathmandu, depending on your spending habits. US$ 7 to 10 US$ each day will be enough to buy bottles of water, chocolates, tea coffee, and some drinks while you are on your trek.
Annapurna panorama trek highlights
Visit the Annapurna hills to get Annapurna massif between sunrise-sunset.
Dhaulagiri, Nilgiri, Annapurna South, Hiunchuli, Fishtail… etc mountain vista in a single line.
Wander through cultured fields, rice terraces, and pleasant waterfalls along the journey.
Experience to bath in the Natural hot springs on Jhinu Danda.
Enjoy the serene beauty of Astam village, nestled in the hills near Dhampus.
Gurung, Magar, and other ethnic groups and their Himalayan lifestyles.
Best time to explore for Annapurna Panorama trekking.
The best periods to visit the Annapurna Panorama trek are during the pre-monsoon (spring) and post-monsoon (autumn) seasons. These months offer the most favorable weather and optimal trekking conditions:
Pre Monsoon or Spring season
Spring months are always amazing time for trekkers to visit. March to May is an excellent time to trek in the Annapurna to capture of its best sceneries. During this season, the weather is generally clear, and the landscapes come alive with blooming rhododendrons and other colorful flowers. Hike in those months, the temperatures are moderate, and the views of the mountains are usually clear and stunning.
Post monsoon or Autumn season
Likewise, post monsoon months are called September, October and November and it's another great period for the trek. After the monsoon rains, the skies become clearer, and the air is crisp. Additionally, the climate is pleasant, and the views of the mountains are again spectacular. This is a popular time for trekking in Nepal, so you can expect more fellow trekkers on the trail.
Both of these seasons offer comfortable temperatures, good visibility, and less chance of rain, making them ideal for a rewarding and enjoyable Annapurna Panorama trekking experience.
Trek in the Monsoon time
Besides the high season, trekking in the other season like Monsoon and as well as winters are also feasible but it can be quite challenging due to heavy rainfall, muddy trails, and potential landslides. The visibility of the mountain views is often limited, and some parts of the trail may be inaccessible or difficult to navigate. While it's not the ideal time for the trek, If you choose to visit Nepal during the monsoon months in that case we plan your trip carefully.
Winter months Trek to the Himalayas
Likewise, December to February months are called winters and it comes with colder temperatures, especially at higher altitudes. Additionally, certain parts like hiking from Deurali hill to Tadapani guest house trail may be more challenging due to icy conditions. If you're comfortable with colder weather and properly prepared for winter trekking, you can still enjoy the beauty of the region during this time.
In summary, while the Annapurna Panorama trek is more popular and enjoyable during the spring and autumn months due to better weather and trail conditions, it is possible to undertake the trek in the monsoon months and winters with the right reparation and expectations.
Notes for Annapurna panorama trekkers!
The Annapurna panorama trek information stated above is just a simple guideline. However, the trip is possible to customize at your request to accommodate your specific requirements.
Local politics, landslides, cancellation of local flights, transport, weather, or a multitude of other factors that are beyond our control can result in a change of itinerary during on trip. It is, however, very incredible that the itinerary would be extensively altered.
If alterations are necessary the leader will decide the best alternative option, taking into consideration the best interests of the whole group. When a change does occur, we do everything we can to minimize its effect, but we cannot be responsible for the results of changes or delays.
"What makes Annapurna panorama trek special?"
The Annapurna Panorama trekking is considered a super special due to its stunning cultures and diverse landscapes. It includes the breathtaking views of snow-capped peaks like Annapurna and Machapuchare, charming traditional villages, lush forests, and terraced fields.
This relatively shorter trek offers a perfect blend of natural beauty, cultural experiences, and moderate trekking challenges, making it accessible and rewarding for a wide range of trekkers.
We at Gokyo Treks and Expedition believe in quality services and safety and satisfaction is our prime concern. We are a team of professional, experienced, well-trained, and licensed local guides who know the destination much better than others. Not only this but also we give benefits to the local communities and help to conserve natural resources which reduced costs and consumption.
Annapurna Panorama Trek Review
Wonderful trip with Gokyo treks!
My best friend and I had been talking about doing a trek through the Himalayas for almost two years before we made it happen. We finally settled on Ammar's company and don't regret it. We had a wonderful guide named Bishnu who ended up feeling like more of a friend by the end of it and an incredibly sweet porter who's name I feel terrible misspelling, but sounds like "Saloos". They made our trip feel homey and comfortable, and while sometimes we had to turn down certain hikes due to physical tiredness or illness, Bishnu always found an alternative.
If we make it back to Nepal, we will be using this company again and hopefully getting to request the same guide and porter. Ammar always responded quickly through the booking process and was incredibly honest when we were issued a small refund for something we didn't even know about! I definitely recommend this company.
Response from Gokyo Treks Nepal
Dear Guest Rachelle, California, USA
Greetings from Gokyo Treks & Expedition Pvt Ltd, Nepal. Thanks a lot for your time writing us an excellent review of the Langtang trek 4,600 meters above the sea level in Nepal with our guide and porters. So, we are very much pleased that you are highly satisfied and writing us an excellent experience exploring Nepal. Be in touch as we are looking forward to serve you again for your other holidays in Nepal Himalayas!
With best regards,
Ammar Raj Guni
Annapurna Panorama Journey with Gokyo Treks Agency.
We got a chance to know Ammar from some of our hiking friends in the Alps. Me and my wife were curious to know to visit the Annapurna mountains and for a 3 years, we were making a plan to go there.
Luckily, we got a 2 weeks holiday from our job and book the Annapurna panorama journey with Gokyo Treks and Expedition agency in Kathmandu. I thoroughly recommend them for their excellent service, genuine friendliness and hospitality and not least because of their very reasonable prices.
Ram was a fantastic guide, who runs the show, is a delightful man. He bends over backward to make sure his guests have well looked after. Nothing is too much trouble for him. Given that I had back pain problems, I had some initial concerns as to whether I could make it up the mountains, but Ram was extremely flexible with the itinerary and could modify details to suit us at the last minute. I would like to thank our guide and Dipendra our friendly porter. Ammar, the owner of the agency was super friendly and responsible all the time, and without them, we wouldn't have made it to the Annapurna Panorama journey.
In addition, I do believe this company is considered trusted and offers cheaper treks than most others out there. Don't hesitate to contact them for a great trip for a lifetime!

Response from Gokyo Treks Nepal
Thank you so much.
Impressive Annapurna Panorama Journey
My Travel made and I hiked the ABC trek through Gokyo Treks and it was a wonderful experience.
We were very thankful for our guide Lila, as he took great care of us. Our experience would not have been the same without him, especially as it was during monsoon season and we had to take a few detours because of rain.
Gokyo treks is a reputable and honest company, and they did everything they could to make our trip the best possible. I would highly recommend!

Amazing trip to Annapurna
Being a novice trekker Gokyo's organized trek with extremely helpful and encouraging guides Shree Ram and Bude waiba porters made it a very memorable experience. Would highly recommend them to anyone who wishes to trek in Nepal, especially at a very reasonable price without any compromise on the quality!

From US$ 684
5% Off
US$ 480
| | |
| --- | --- |
| No. of people | Price Per Person |
| 1 | USD 650 |
| 2 | USD 480 |
| 3 | USD 470 |
| 4 - 6 | USD 450 |
| 7 - 9 | USD 398 |
| 10 + | USD 370 |
Book Now
Customize Trip
Cost & Departures
Your Trip Your Style!
ITINERARY, COST, DEPARTURES, will adjusted according to your GROUP SIZE NEED TIME
Book with Confidence
Local Guides Company.
18 Years in Business.
Lowest Price Guaranteed.
100% Customizable Trips
Excellent Customer Service
Hassle Free Booking.
90 % Repeated customers
Highly Recommended agency
Private/group tour options